News
With the year starting to wrap up, you're probably starting to wonder "Hey, where are the Strictly Discs staff top tens? Are those guys OK?" First off, thanks for your concern, and second: have no fear, we are hard at work getting them all dolled up for you and ready to unveil next week, so stay tuned. I must say its the most impressive, wide-ranging selection of titles we've ever chosen. There aren't too many brand new releases hitting the floor this late in the year, but boy oh boy, are there some long-awaited reissues, starting off with a real big one. Longtime fans of the band HUM know just how hard it's been to track down a legit vinyl copy of their 1995 classic 'You'd Prefer An Astronaut'. Personally, I do a double take every time I see a zebra. The Champaign-Urbana quartet got swept up in the ever-Nevermind major label signing boom and delivered a doozy with 'YPAA', a prototypical slab of melodic spacerock imbued with the the heavy fuzz and post-hardcore riffiness that's come to define the term "midwest emo". The album had modest initial success, but nothing like the lasting critical acclaim that has continued to accrue at its hooves, which makes finding originals nearly impossible. The fellas themselves have fixed this with an incredible new remastered edition that expands it to 2 LPs at 45 rpm for maximum punch, with a dope gatefold. Sticking with the melodic Illinois indie theme, the Numero Group continues their slowcore anthropology with 'Dream Backwards' an immense 3 LP set summing the entire output of the postrock trio C-CLAMP, who also began life in Champaign before moving to Chicago. Bass-forward songwriting, distortionless guitar, and gently complex rhythms generate a lot of warmth in this band's catalog which, as always with these Numero sets, somehow still sounds fresh and necessary today. We're big fans of the humble and talented Chicago musician JAMES ELKINGTON around here; type of dude to stop in the store with a casual "oh yeah, I'm playing with Jeff Tweedy tonight". His production and playing is all over a lot of our recent faves (Steve Gunn, Joan Shelley, Itasca, etc), and now he delivers 'Me Neither', an extended collection of guitar explorations that is some of his most rewarding work yet, full of heady instrumental studies that stimulate the mind without overwhelming it. Heartfelt singer-songwriter JOANNA STERNBERG put out one of 2023's best albums, the instantly out-of-print 'I've Got Me', which gets a new color press just in time for year-end list season.
Speaking of records we've never, ever had in stock before, let's dial up a big name in that category: FIONA APPLE. The mere mention of her name is to give this store-stocker an anxious shudder. Fiona Apple albums? On vinyl? You kiddin me pal? Anyhoo, that's all behind us as of this week, as we welcome her entire catalog back to the waxen realm. We got 'Tidal': her debut, with the single "Criminal" that stood out as something no 18-year old should reasonably be able to create, and won her Grammys and MTV Music Awards which she shrugged off in the coolest, absolutely most 90s-ish way possible. We got 'When The Pawn...' her much-anticipated sophomore album which featured slower, sadder, sultrier songs written entirely on her own, and baffled some critics right out of the gate with its world record-length full title. It's been truncated for this version, perhaps reflecting an older, wiser Apple who no longer wishes to rub everyone the wrong way. We got 'Extraordinary Machine', her third album after a long hiatus in the early 00s that expanded her sound and thrilled fans. And we got 'The Idler Wheel...', which emerged in 2012 after an even longer hiatus, and introduced us to the raw, playful, unfiltered Fiona we came to love even more on her lockdown-era bedroom rocker 'Fetch The Bolt Cutters'. That one's still in stock, as well, which means the full catalog is here at last.
When you've lived as much, reinvented and returned, and rocked stages as long as NEIL YOUNG has, what even *is* an "old one"? The singular hero takes a trip through his catalog on a new acoustic album called, 'Before and After', selecting his personal favorites to revisit and reinterpret. That's his faves, not fan faves: no Cinnamon Girl or Sample and Hold on here (ok maybe that second one is just me). We're looking forward to hearing this one in full during a listening event today (Friday) at 5pm, where we will be giving away some cool lithographs, bandanas, tshirts and even a hoodie. Looking for some other folk-rock and country gems to file next to your Neil? Try SANDY DENNY's 'Early Home Recordings', GRAM PARSONS and THE FLYING BURRITO BROTHERS' 'Sleepless Nights', and an Early DOLLY PARTON collection called 'Early Dolly'.
Its been five years since the BOYGENIUS debut EP hit the racks and the time has just flown by. Revisit the initial spark from this elite firm of Baker, Bridgers & Dacus, LLC, with a new yellow vinyl version, now in a gatefold with printed lyrics. Folk-rock odysseyans BIG THIEF revisit their early gem 'Masterpiece', pressed on the ever-appealingly named "eco mix" color vinyl. CAR SEAT HEADREST commemorate a big bank of NYC shows with a new live album, 'Faces From The Masquerade', and the recent classic from MANCHESTER ORCHESTRA, 'The Million Masks of God' returns in a deluxe edition available in two different colors.
It's been ten years since DJ RASHAD poured up 'Double Cup', an album that singularly defined its genre (footwork) in a rare way, like 'Kind Of Blue' did for cool jazz, or 'Kill 'Em All' did for speed metal. Frenetic drum patterns, ingenious sampling, and a relentless swagger make it the standard against which everything else is compared. A ten year anniversary edition bathes this nugget in gold: gold vinyl, gold artwork, lest you forget just how priceless it is. The American new age composer JOANNA BROUK has come to be posthumously recognized as one of the greatest contributors and expanders of that genre; here 1981 cassette 'Sounds of The Sea' is on vinyl for the first time. The Manchester label AFICIONADO, run by venerated record heads Jason Boardman and Moonboots, has long been a reliable outpost for the deepest and dopest Balearic dance cuts. A new comp celebrates 25 years of the label with 2LPs worth of rare bangers. Brazilian trickster gods OS MUTANTES belong in the psych pop trinity alongside the Beatles and 13th Floor Elevators. Their essential greatest hits comp, 'Everything Is Possible!' is back in print on yellow wax.
The Studio One / Soul Jazz reissue juggernaut laces us with two essentials this week. Stone-cold rocksteady gems from JACKIE MITTOO AND THE SOUL BROTHERS on 'Last Train To Skaville', and a new vinyl edition of volume 2 of STUDIO ONE ROOTS, with deep cuts from Cedric Brooks, Count Ossie, and more. Before he went there, LEE SCRATCH PERRY recorded one last album called 'Heaven', and its here on vinyl now. Not as celebrated, but just as potently-laced with reggaefied soulful funk is the sophomore album from CYMANDE. If you love their self titled debut, you also need 'Second Time Round'.
New hip-hop is in, including APOLLO BROWN & PLANET ASIA's 'Sardines' on green. Detroit rhymer BOLDY JAMES teams up with young producer CHANHAYS on 'Prisoner Of Circumstance'. I mean real young, kid looks like he's about 10! A bunch of color vinyl represses are in from DENZEL CURRY including his banger 'Unlocked' with KENNY BEATS, and there is a new EP from Rhymesayers rap explainer GRIEVES with 'The Collections of Mr. Nice Guy'.
Post-metalcore giants BRING ME THE HORIZON embraced electronics and Deftones vibes on 'Sempiternal', which gets a ten year picture disc version, alongside a new album from ATREYU, 'The Beautiful Dark of Life' in on red, yellow and teal swirl vinyl. Enjoying your Khanate reissues? Go back one more step with 'Towers' from BURNING WITCH, a classic slab of 90s doom metal featuring future members of Goatsnake and SunnO))), plus a terrifying vocalist named "Edgy". And you thought you were edgy? If you feel like quitting booze for the holidays (widely recommended by doctors, therapists, and your mom), what better way to celebrate than with the early straight-edge anthems by SS DECONTROL on 'The Kids Will Have Their Say'?
The Verve Acoustic Sounds and Verve By Requests series go absolutely hambone this week with new editions of COLEMAN HAWKINS and BEN WEBSTER's classic 'Coleman Hawkins Encounters Ben Webster', MELVIN JACKSON's 'Funky Skull', JUNIOR MANCE's 'Junior', and MAX ROACH's 'Moon Faced And Starry Eyed'.
More jazz! COLIN STETSON is back with another invigorating session called 'When We Were That What Wept For The Sea'. Cool down with new copies of BILL EVANS' 'Conversations With Myself' and GETZ / GILBERTO's '#2', and enjoy the vibrant cover versions from a quartet led by Japanese keyboardist, arranger and style god T. HONDA on 'Whats Goin On'.
Read more...
Read more...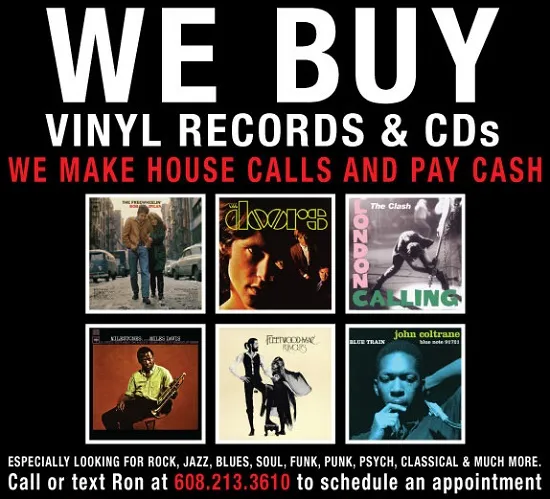 Read more...