July 9, 2020
BILLBOARD MAGAZINE'S WEEKLY FEATURE ON STRICTLY DISCS: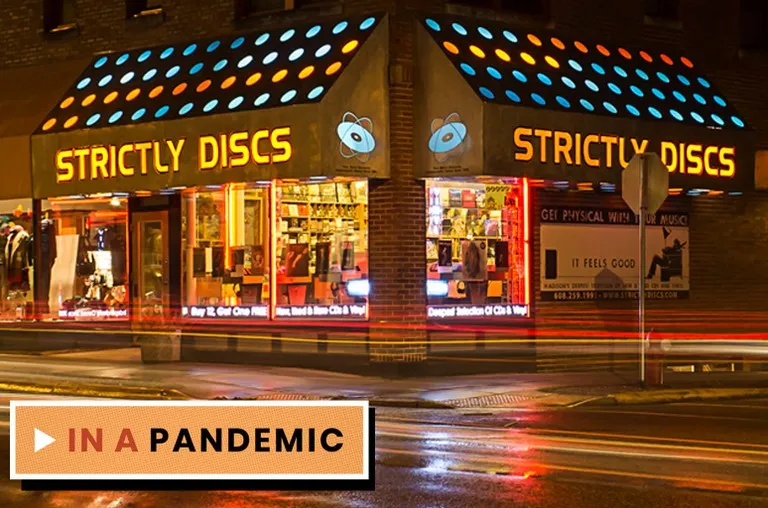 As part of Billboard's efforts to best cover the coronavirus pandemic and its impacts on the music industry, Chris Eggertsen has been speaking with Angie every other week to chronicle the experience of an independent record store throughout the crisis.  Here is a link to the stories in the series so far:
Billboard Article #5 June 12th
Billboard Article #6 June 19th
Billboard Article #7 June 26th



NEW THIS WEEK AT THE SHOP:
Holy moly what a spread this week! Remember, if you are a Spotify user, follow us there for a freshly updated weekly playlist, "Strictly Selectos", for sample tracks from just about every title featured here!
Way back before quar' began, we were promised a new record from MARGO PRICE; something to look forward to beyond the quiet months. Well we're still wearing masks, but it's finally here! 'That's How Rumors Get Started' delivers bigtime on the promise of her first two albums, announcing a compelling new star of true country music. While copies last, we have the limited indie edition with a bonus 7" included. THE JAYHAWKS return victoriously with a lush new record called 'XOXO', and we celebrate THE GRATEFUL DEAD's rootsy folk classic 'Workingman's Dead' turning the big 5-0 with a new picture disc vinyl edition, and a three disc CD set full of bonus material and studio takes. 
Americana realist SARAH JAROSZ uncorks an emotional doozy on 'World On the Ground', and we have an irresistible album of 'metamodern country' from DOUGIE POOLE, whose 'Freelancers Blues' hits a clever spot somewheres between Father John Misty and Sturgill S. A great new locally produced folk-pop record is here from SLEEPY GAUCHO. 'Morning Light' just got dropped off this week, and features none other than Wilco's Pat Sansone guesting on a couple of tracks. 
What we really need in these stress-laden times is a new record from JULIANNA BARWICK. The mistress of neo-classical vocal drift paused her career for personal reasons for a few years, and returns emphatically with 'Healing Is A Miracle', perhaps her finest work yet, in the house in a limited edition with a signed art print included. Charlift singer CAROLINE POLACHEK's latest release 'Pang' finally gets a vinyl edition, and we have a rollicking good new record from THE PHENOMENAL HANDCLAP BAND, a long-running NYC act who pull off the same genre-bending party anthemics of LCD Soundsystem or Chik-Chik-Chik.
Big news is we have an LP edition finally of EARL SWEATSHIRT's latest fast-rap stunner 'Feet Of Clay', a fever dream of spine-tingling wordplay and wrecked beats. Singer and composer EUGENE MCDANIELS put his doo-wop suits in deep storage when he released the fiery 'Outlaw' in 1970. This LP of spiritual poetry and funk rock wasn't commercially successful, but found its way into an early hip-hop tradition, helped along by a well-placed sample by the Beastie Boys (That's Eugene's "see what's happening" on 'Get It Together'). Listening to this record again this week confirms that our explosive 2020 summer could not be a better time to put this one on. We also welcome a repress of Detroit rap vet APOLLO BROWN's 2010 debut, 'The Reset', with guests like Black Milk and Oddisee.
Mourning the loss of his beloved brother Donald, saxophone deity ALBERT AYLER tossed the Impulse label quite a curveball with 1969's 'New Grass'. His ballistic, world-rending horn remained, but these songs had a poppy/psychedelic quality to them that few jazz fans were ready for. The album was brutalized by critics, and it has become something of an obscurity in his catalog. Third Man Records, the all-in-one tool of the record biz, steps in with a gloriously remastered and restored edition of this misunderstood classic. A quartet of modern jazz legends helmed by JOSHUA REDMAN turns in a lovely new LP for Nonesuch called 'RoundAgain'; Brad Mehldau, Brian Blade and Christian McBride fill out the session here. Chicago guitarist MATT GOLD has an incredible new record in called 'Imagined Sky'. If you've caught any of Makaya McCraven's trio sets recently (well, not *too* recently), you've probably seen him. 'Imagined Sky' opens up a very supple, serene realm, aided especially on the cuts with guest vocals from Macie Stewart and Sara Serpa.
Iconic vocal jazz spiritualism is back in print from DEE DEE BRIDGEWATER, who has a newly restored edition of her 1974 classic 'Afro Blue' back in print. A pair of unbeatable latin/afro fusion heaters are back in stock from CYMANDE. 'Promised Heights' and 'Second Time Round' are party mood-setting staples. South African funky soul gem 'Modiehi' from MARUMO also gets a timely repress. 
Lucky for us and lucky for you, we have come into an impressive stash of sealed deadstock originals of piano solo music from departed legend HORACE TAPSCOTT, dating to the early 80s. 'Tapscott Sessions' Vols 2 through 7 are here, and surely (hopefully?) not for long. Tapscott was a leader of the Los Angeles spiritual jazz scene and an elder figure in the movement that brought us Kamasi Washington, marshaling the force of a creative community on the West Coast not dissimilar from the world of Sun Ra in Philadelphia. These LPs are sourced to benefit his estate directly, and are a must for any jazz fan. 
Cool, introspective loft jazz from South African ASHER GAMEDZE is in on 'Dialectic Soul', and we have a compelling fusion of desert blues and Ethio groove on 'Afropentatonism', a new duo album from ALHOUSSEINI ANIVOLLA and GIRUM MEZMUR. South African improv unit SPAZA made plenty of year-end lists for their fantastic 2019 self-titled album, which is back in print now, along with one of my personal faves of last year from Iranian spike fiddle player SABA ALIZADEH. 'Scattered Memories' is an overpowering listen. full of anguish, grief and hope. 
Around the same time that Flying Lotus was re-igniting American audiences' love of jazz-funk, UK multi-instrumentalist KAIDI TATHAM was keeping pace. His 2008 stunner 'In Search of Hope' gets a gorgeous reissue this week, full of tunneling, pneumatic basslines and elegant keys, like Jan Hammer playing a cookout. If you thought UK breaks maestro LUKE VIBERT fell off, or retired to the old folks home for 90s ravers, think again. The dude returns this week with not one but two explosive new records (with a third promised next month) that have him at the top of his game. 'Amen Andrews' sports some of the most imaginative breakbeat-verging-on-footwork that anyone's heard in years, while 'Modern Rave' flips nearly every classic garage house sample into a party-prone hall of mirrors.  
Who exactly is SVEN WUNDER? Is it a guy? Is it a band? Is it Madlib in disguise? Reader I do not know, and I've been too busy jamming both of their recent records to figure it out. Thematic library jazz channeling Hancock, Hutcherson, Coltranes Alice and John and many other touchstones abounds on these modest, yet beautiful LPs. 'Eastern Flowers' rolls with a Turkish influence, whereas 'Wabi Sabi' taps into the veins of Japanese jazz. 
Cinematic, fluttery electronica is in from RODRIGUEZ JR on 'Blisss', which really earns those extra esses. Long-respected minimal techno boss SLEEPARCHIVE unfurls a ridiculously strong double album called 'Trust', and the latest from experimental composer OKKYUNG LEE is her most riveting yet. 'Yeo-Neun' is full of beauty, strangeness, and poise.
Few prefixes do as much heavy lifting these days as the 'post' in 'post-punk', and a trio of new records from 3 corners of the globe prove it well. From Britain we have ES, whose new one 'Less Of Everything' sounds like a bleached version of SY's 'Dirty'. From Australia, PRIMO! bring addicting angularity on 'Sogni', and West coast mutants LITHICS have yet another record of pitch perfect taut-rock on 'Tower of Age'. 
Animal Collective 'Hollinndagain', a bigtime oldie from the early catalog of ANIMAL COLLECTIVE, has a new LP press this week. Gothic, punky, smudgy brilliance is back in print from early 80s UK group HANGMAN'S BEAUTIFUL DAUGHTERS on 'Smashed Full Of Wonder'. If you never got to take in the purely singular madness of a SUN CITY GIRLS live set, a new collection 'Live at the Sky Church 2004' is the next best thing, featuring a set list drawn from all over their expansive catalog, and a DVD of the whole thing, to watch in your DVD player. 
Ambient marvels of the past! First up, not too far back we go for the first ever LP pressing of JAN JELINEK's deliriously goopy 2006 album 'Tierbeobachtungen'. An overlooked highlight of the British dark ambient ensemble O YUKI CONJUGATE returns with a gorgeous new die-cut edition of 'Peyote', which hits the sweet spot between Jon Hassell and Coil. 'Batiscafo' is an eccentric delight in the catalog of Madrid classical composer GREGORIO PANIAGUA. This 1980 marvel of folk-pop ambience sets the table for later groups like Finis Africae and Orquesta de Las Nubes.
USED VINYL ALERT:
Heading downstairs for this week's Used Vinyl Alert, we have a seriously potent crop of new arrivals to kick off the weekend. Some of our faves are in the house this week, from MC5 and Hawkwind, to Dave Pike and Mal Waldron, and even some lovely ones from the dearly departed Ennio Morricone.
Plenty of rock HOFers in the house, including Pink Floyd, Led Zeppelin, the Stones, Fleetwood Mac, Bob Dylan, Tom Petty, Rush, Neil Young, and David Bowie.
Deeper gems are in from X, Steve Young, Lyle Lovett, Norman Blake, Fairport Convention, Taj Mahal, Derek Bailey, Spice (yes, THAT Spice: one of the rarest tax scam LPs of all time), Cowboy Junkies, Jimmy Cliff, and Taj Mahal.
An incredible stack of mostly 80s (read: audiophile) jazz pressings are in from John Coltrane, Miles Davis, Red Garland, Horace Silver, Joe Henderson, Shirley Scott, Jimmy Smith, and a great deal more.
Soul greats come through from Isaac Hayes, Stevie Wonder, James Brown, Otis Redding, the Temptations, Mandrill, Janet Jackson, Marvin Gaye, Aretha Franklin. and Wilson Pickett. Newer pop and R&B is in from some crucial ladies: Destiny's Child, Katy Perry, Corinne Bailey Rae, Halsey, and Ariana Grande, to name a few. 
A slew of cool picture discs includes many rarities (Pink Floyd!), plus we have a very interesting variety of spoken word, political, sound effect and novelty LPs. 
USED CD ALERT:
A veritable index of all good things awaits you in the front window of CDs this week, from Abba to Zappa, with many stops in between! Classics, must-owns, and a whole lot of seldom-sold-back rarities to flip through this go-round, from classical, to classic rock, to contemporary folk, blues, jazz and indie.
RECORD STORE DAY IS NOW RSD DROPS SPREAD OVER 3 DATES:
It's an unusual year, which means unusual news about Record Store Day.
Earlier this spring, Record Store Day announced a rescheduled June 20 date for the annual holiday, but with ongoing health and safety concerns, we now have a new plan.
Instead of a single-day global celebration, the 2020 releases will now be available over a series of monthly RSD Drops events, from August to October, followed by a regularly-scheduled Black Friday in November. This means we'll have four months of release events – the RSD 2020 exclusives spread out over three months, followed by a new round of exclusives for Black Friday – to end this strange year on a high note.
WISHLISTS:
Since so much has changed with Record Store Day, you will need to start a new list for any or all of the three dates. Lists made prior to April are no longer active/valid.
We will try to have ample stock (one of the deepest in the midwest) of all items, but please know that some of these products are extremely limited and will sell out quickly.
THE DEADLINE FOR WISHLISTS FOR THE AUGUST 29TH DATE IS WEDNESDAY JULY 8TH.
WE STRONGLY ENCOURAGE YOU TO MAKE A WISHLIST AS THEY WILL HELP US TO EASE CONGESTION/TRAFFIC INSIDE THE STORE ON AUGUST 29TH. 
We appreciate your patience and understanding as we evolve on the fly with this one. Our goal is to keep the RSD spirit intact, connecting musicians, fans and record stores in a time where we need eachother the most!
Here's the official announcement from Record Store Day headquarters:
Since 2008, Record Store Day has grown into the world's largest single-day music event, shining a light on the culture of the indie record store across the globe. In 2020, that world is different, so Record Store Day will be, too. RSD is now scheduled to be celebrated with special, properly-distanced release dates on Saturdays in August, September and October.
Record Store Day will look very different this year, but supporting indie record stores may be more important than ever. We don't know what sort of rules will be in place, or what sort of gatherings people will be in the mood for this year, so we're focusing on the music and getting the really great titles on the RSD official list this year into the stores and into your hands, in the most financially and socially responsible way.
Stay tuned for many more details in the coming weeks.
STRICTLY DISCS IS HIRING:
VINYL PRICING SPECIALIST:
Required skills:
Excellent customer service skills; ability to anticipate customer needs
Computer proficient

A passion for music, and a broad, deep base of recorded music history
Knowledge of Goldmine standards & experience grading and pricing records

Knowledge of stereo equipment/functionality
Availability to work nights and weekends
Ability to lift and carry 50 pounds repeatedly
RETAIL/FRONT COUNTER STAFF:
Required skills:
Excellent customer service skills; ability to anticipate customer needs
Computer proficient

A passion for music, and a broad, deep base of recorded music history
Availability to work nights and weekends

To apply, submit letter of interest & resume to angie@strictlydiscs.com
STRICTLY DISCS IS ON SPOTIFY!
Dogs and cats living together! Strictly Discs now has a Spotify channel. Every time one of us at the shop puts on a record, it's because we think someone else within earshot is going to like it, too. One of the things we've missed the most about having our doors temporarily closed is not being able to select the in-store play tunes for our customers to hear. It's the fun part of this job, and we want it back! Spotify users, point yourselves to our profile

 

HERE and click around. We've compiled a number of playlists, with more to come. Be sure to subscribe and check in on the "STRICTLY SELECTOS" playlist, as it will change each week with a fresh rundown of the titles we are featuring in this very email! New songs will appear there every Thursday, and are available to order online or over phone/email.
SELL US YOUR CDS & LPS:
Yes, we are still buying! Call Ron to schedule (608.213.3610).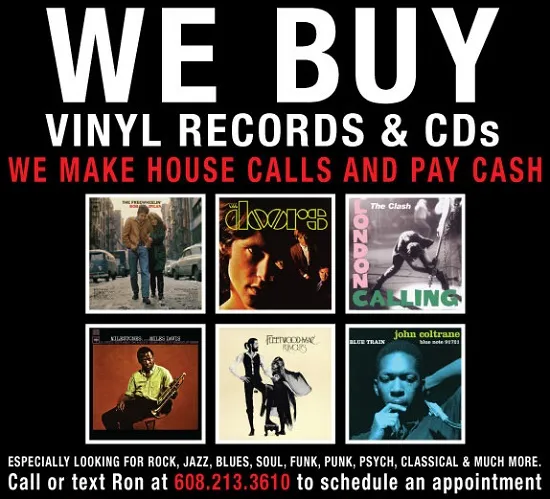 Ron, Ryan, Angie, Marty, Evan, Ben, Matt, Will, Isaac, Ed, Larry, Mark, Jack, Eric & Dave