HOLIDAY HOURS AND STOREWIDE SALE
They say that Fourth of July Weekend comes but once a year, and it's almost always an occasion for one of our rare storewide sales. In the current environment, rallying too many of you to come into the shop at once would not be a wise idea, so this year's two-day sale will be available both in-store AND online at strictlydiscs.com on both Sunday & Monday.
Mention the sale at the counter or when you check out online in the special instructions field, to receive 15% OFF any combination of New or Used CDs, LPs, box sets, books, accessories, shelving, turntables and gear. If it's not already discounted, it's on sale (cannot be combined with other promotions).
Our hours will be a bit shortened for the holiday: Saturday we will be open from 10AM until 4PM and Sunday will be 11AM until 4PM.
We look forward to seeing you, be it in person and masked, curbsie or online at a distance.
Have a safe, happy, & peaceful holiday.
Strictly Discs will be open:
Saturday July 4th 10AM-4PM
Sunday July 5th 11AM-4PM
BILLBOARD MAGAZINE'S WEEKLY FEATURE ON STRICTLY DISCS: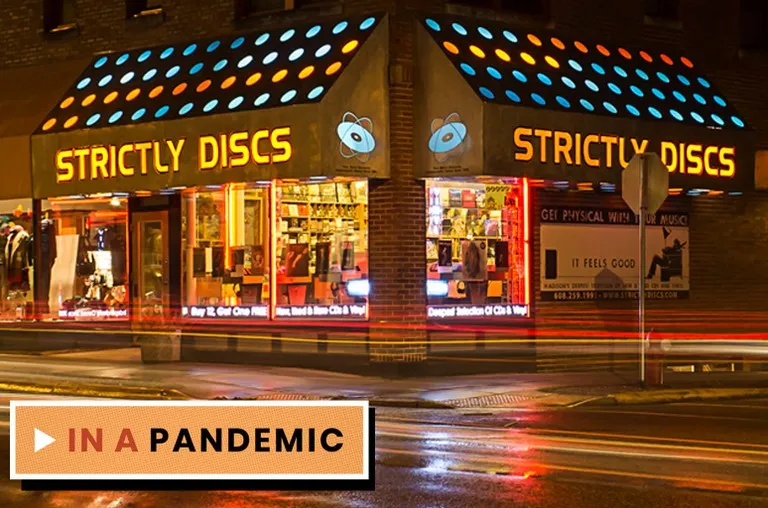 As part of Billboard's efforts to best cover the coronavirus pandemic and its impacts on the music industry, Chris Eggertsen has been speaking with Angie each week to chronicle the experience of an independent record store throughout the crisis.  Here is a link to the stories in the series so far:
Billboard Article #5 June 12th
Billboard Article #6 June 19th
Billboard Article #7 June 26th



NEW THIS WEEK AT THE SHOP:


This week's incredible slate of new arrivals brings plenty worth celebrating, beginning with a special arrival from CYGNUS, the long-running project from Dallas producer Phillip Washington. Though not a household name, Washington could easily stake a claim as top American techno artist so far this century, with a flurry of stone classic EPs on the cult label Central Processing Unit, and head-turning gigs opening up for none other than Autechre. Bubbling up from a fertile Texas underground, Cygnus translates the machine-soul of Detroit and the android funk of Sheffield into a dream escalator of icy bleep, too gangster to be called "chillwave". A 2LP release from the World Building label collects the top tracks from a 2018 digital only album called 'Rainy Days'. Jog east to Washington DC for the latest from experimental hip-hop clan MODEL HOME, led by MC Nappy Nappa, with programming and percussion from Patrick Cain and Max D of Future Times/Lifted fame. 'One Year' is a nocturnal alternative to Madvillainy, a gumbo of samples, voices, and rhythm patterns. Cleveland neo-soul collective MOURNING [A] BLKSTAR have an incredibly potent fusion of cosmic, pedagogical boom-bap on 'The Cycle. 
UK pianist and producer GREG FOAT attains master status with his most assured work of stardusted jazz yet, 'Symphonie Pacifique'. Balearic duo COYOTE deliver dusky chillout perfection on 'Buzzard Country', and a new pressing of the first volume of classics from NYC label NU GROOVE captures the spacy, soulful end of 90s deep-house.
Some gems from reliable sources this week include a new album from WILLIE NELSON, who continues to fulfill his decades long role as America's wiser uncle on 'First Rose of Spring'. Longtime psychedelic wanderer MASAKI BATOH has a new album after the dissolution of his band Ghost called 'Smile Jesus Loves You'. A limited new album 'Bella' collects spectral guitar instrumentals from former Liquid Liquid percussionist DENNIS YOUNG, and a new acoustic-only album captures a different side of WINO aka Scott Weinrich, who altered the course of metal history with bands like The Obsessed and Saint Vitus. 
Polish jazz unit BLOTO craft dense, canny, and improvisationally-light quartet jams on an extremely top-notch new album called 'Erozje'. KELEKETLA is the name of a long-simmering transcontinental jam between Ninja Tune bosses Coldcut, and a team of South African musicians that includes SD faves like Yugen Blakrok, Thabang Tabane, and Sibusile Xaba. Add UK guests like Tony Allen (RIP), Tenderlonious, and Shabaka Hutchings to the mix and you've got some real firepower, none of which is wasted on an epic album of township jazz-pop, high life, and cool rare groove. Brazilian auteur THIAGO NASSIF carries on a style of artfully fragmented songform, influenced (perhaps) by Arto Lindsay, Sufjan Stevens, and Moses Sumney. 
Vancouver DJ vet JOSEY REBELLE blesses the Beats in Space label wth a curated DJ comp. 'Josey In Space' contains four killer, unfindable house tracks on LP, with a link to a larger 20 track mix. A new EP from JAYDA G captures her at a peak of sunsetted deep house. The debut album from Aussie singer NATALIE SLADE is snappy R&B produced by the Hiatus Kaiyote team. Slade has some unreal chops; If you didn't look at the album cover you might guess this was Erykah Badu.
We celebrate black icons this week with the first vinyl pressing in 20 years of the platinum-selling debut album from JILL SCOTT, 'Who Is Jill Scott?, which has lost none of its mellow potency. TAANA GARDNER soundtracked roller-rinks nationwide with her hit tune 'Heartbeat', but her lone solo album, a 1979 self-titled affair, contains even more jams. With Kenix production and piano from Bernard Wright, this album hits the pinnacle of disco-soul, and now gets an expanded reissue. The LA four-piece FANNY made history in 1970, becoming the first all-female band to sign a major label record deal. Led by Filipino sisters Jean and June Millington, the group's debut is a lost gem of psychedelic garage pop, remastered now for a new era. 
When BLANCK MASS peeled off from his group Fuck Buttons in 2011, he dropped a doozy of a debut album that sounds like a planet loudly dying, which went out of print immediately, and now returns in a gorgeous new 2LP edition. Deadly catchy, esoteric pop-soul is here from LA PRIEST. Also, can't say too much directly about this one, but we have LP copies of the most beloved record by an obscure Irish band named after a slasher movie, which rhymes with 'Gloveless'.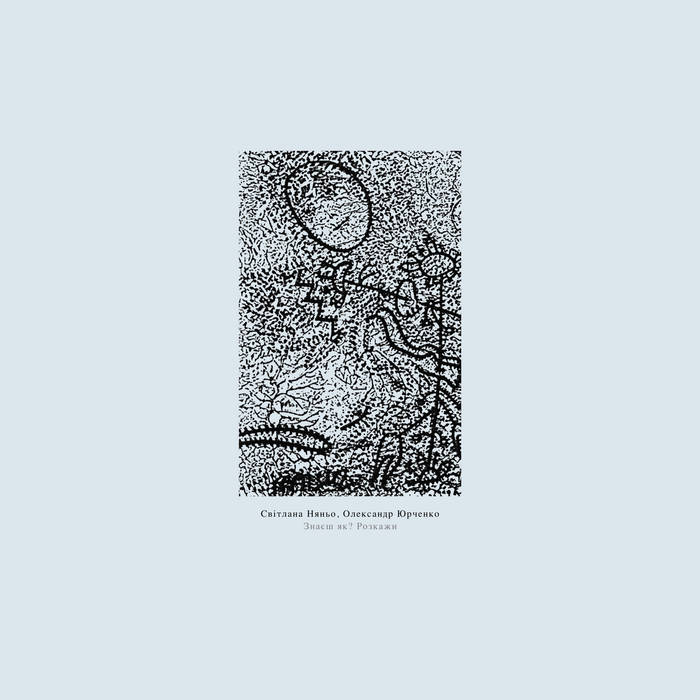 Art-pop reanimators DIRTY PROJECTORS return with a lovely new EP, and we have the latest from Montreal singer-songwriter KLO PELGAG, who sounds a bit like St. Vincent or Feist, singing in French. A stunning release of 1990s Ukrainian avant-folk alchemy from SVITLANA NIANIO has arrived; an LP reissue of a cassette release called 'Znayesh Yak? Rozkazhy' (Do you know? Then tell me.) is folksong adrift on a moonlit path, like a Crimean Current 93. 
Maybe you're like me and slept on the records of Austin band PURE X for too long. Based on the name, I figured this would be something entirely different. I don't know what, but certainly not the Texan sun-drenched shoegaze you get on records like 'Crawling Up The Stairs' or 'Pleasure'. Both of those albums have been repressed, alongside their 2020 self-titled release, and they're all here.
Elf Power spinoff band NANA GRIZOL has a fantastic new album of politicized pop called 'South Somewhere Else', plus we have a greatly expanded edition of the unsung power pop gem 'Square' from THE ORANGE PEELS. America's most successful stoner landlord WAVVES released his era-defining (?) 'King of The Beach', which now gets an expanded anniversary edition with new art. 
USED VINYL ALERT:
Heading downstairs for this week's edition of the Used Vinyl Alert, its a heaping helping of classics awaiting you. Beloved records from Neil Young, Prince, Led Zeppelin, Pink Floyd, Harry Nilsson, Bruce Springsteen, Roxy Music, the Faces, Moby Grape, the Grateful Dead, Van Morrison, The Band, the Allman Brothers, Jimi Hendrix, Tom Waits, Lou Reed, Tom Petty, and more. 
Heaviness is in from Black Sabbath, Kiss, King Crimson, Dokken, Styx, Blue Oyster Cult, Iron Maiden, and the Scorpions, plus a hall of fame cast of punk and early alternative classics from the New York Dolls, the Ramones, the Heartbreakers, Talking Heads, Buzzcocks, Bad Brains, the Clash, Ministry, Soft Cell, the Smiths, the Knitters, the Dead Boys, the Triffids, Flesh for Lulu, Depeche Mode, the Au Pairs, Band of Susans, Iggy Pop, and the Creatures.
Some primo jazz is in from Miles Davis, Thelonious Monk, Sonny Stitt, Grant Green, Steve Tibbetts, Horace Silver, Art Blakey, Oliver Nelson, and Dave Brubeck. A slew of chill exotica is in, alongside reggae from The Wailers, Bob Marley, and the Specials, and a nice variety of international, classical, and soundtrack jams, from Beat Street to Back to the Future.
Country and folk is in from the Outlaws, Willie Nelson, Flatt and Scruggs, Alan Lomaz, Dave Van Ronk, Jerry Jeff Walker, Emmylou Harris, and Ryan Bingham, plus some blues from John Lee Hooker, BB King, and Buddy Guy.
USED CD ALERT:
A killer selection of fresh used CDs are in the front window this week, including a deep run of recently released/remastered classics from names like the Beach Boys, Jefferson Airplane, the Rolling Stones, Cream, John Prine, Bob Dylan, and many more. We also offer up a nice selection of rare blues CDs, deep jazz, and assorted indie gems!
RECORD STORE DAY IS NOW RSD DROPS SPREAD OVER 3 DATES:
It's an unusual year, which means unusual news about Record Store Day.
Earlier this spring, Record Store Day announced a rescheduled June 20 date for the annual holiday, but with ongoing health and safety concerns, we now have a new plan.
Instead of a single-day global celebration, the 2020 releases will now be available over a series of monthly RSD Drops events, from August to October, followed by a regularly-scheduled Black Friday in November. This means we'll have four months of release events – the RSD 2020 exclusives spread out over three months, followed by a new round of exclusives for Black Friday – to end this strange year on a high note.
We appreciate your patience and understanding as we evolve on the fly with this one. Our goal is to keep the RSD spirit intact, connecting musicians, fans and record stores in a time where we need eachother the most!
Here's the official announcement from Record Store Day headquarters:
Since 2008, Record Store Day has grown into the world's largest single-day music event, shining a light on the culture of the indie record store across the globe. In 2020, that world is different, so Record Store Day will be, too. RSD is now scheduled to be celebrated with special, properly-distanced release dates on Saturdays in August, September and October.
Record Store Day will look very different this year, but supporting indie record stores may be more important than ever. We don't know what sort of rules will be in place, or what sort of gatherings people will be in the mood for this year, so we're focusing on the music and getting the really great titles on the RSD official list this year into the stores and into your hands, in the most financially and socially responsible way.
WISHLISTS:
Since so much has changed with Record Store Day, you will need to start a new list for any or all of the three dates. Lists made prior to April are no longer active/valid.
We will try to have ample stock (one of the deepest in the midwest) of all items, but please know that some of these products are extremely limited and will sell out quickly.
Stay tuned for many more details in the coming weeks.
STRICTLY DISCS T-SHIRT TO BENEFIT SHOP:
After Record Store Day was postponed, the custom clothing company Bonfire out of Richmond, VA contacted us wanting to design a limited edition Strictly Discs shirt highlighting our current message of safety & hope during these unprecedented times.
Bonfire's mission is To Strengthen & Inspire Communities. Well, we are humbled by our community that believes, like we do, that music is essential.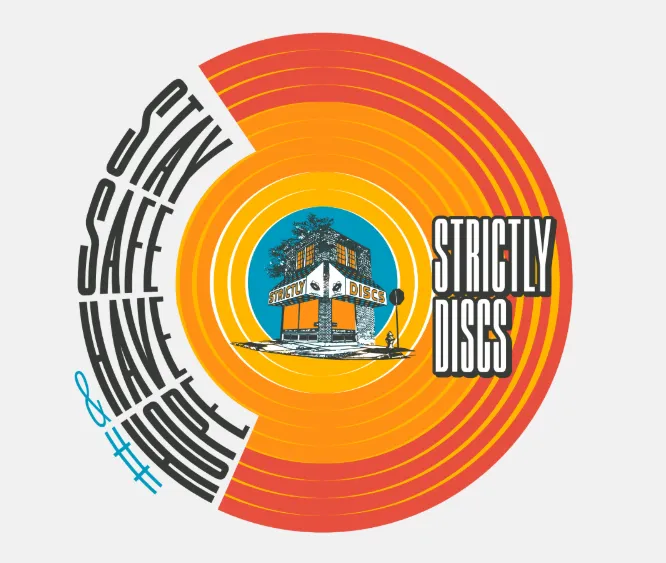 The related t-shirts/hoodies for adults/children will be delivered directly to your door.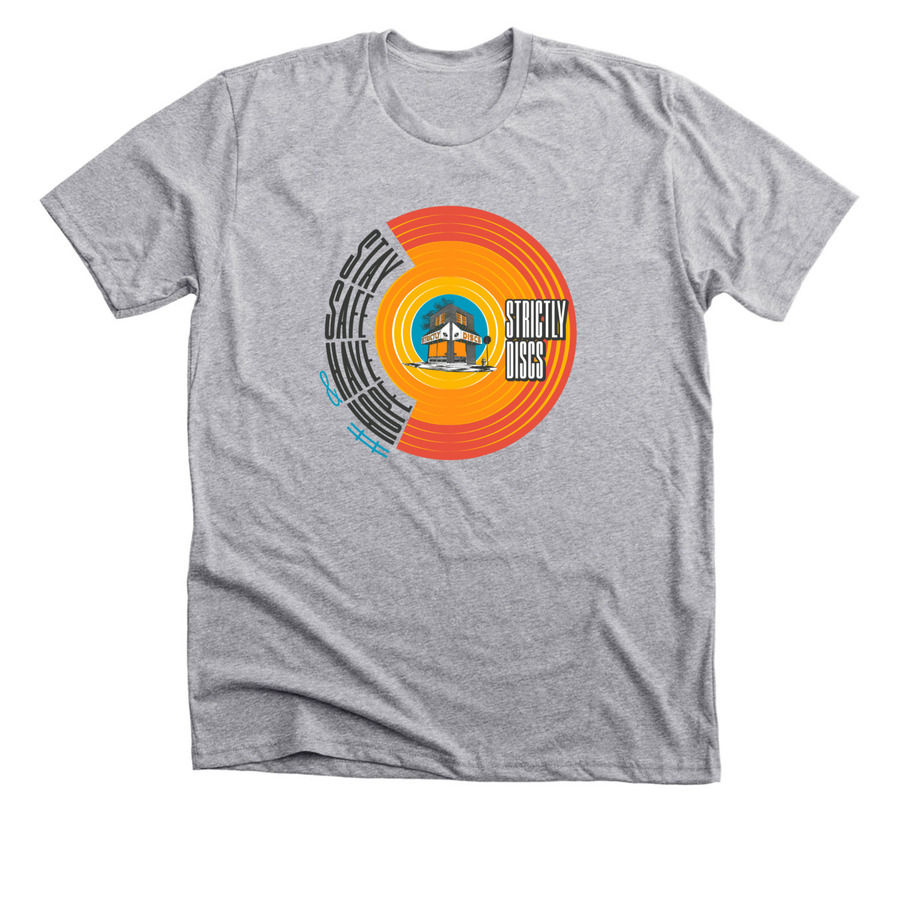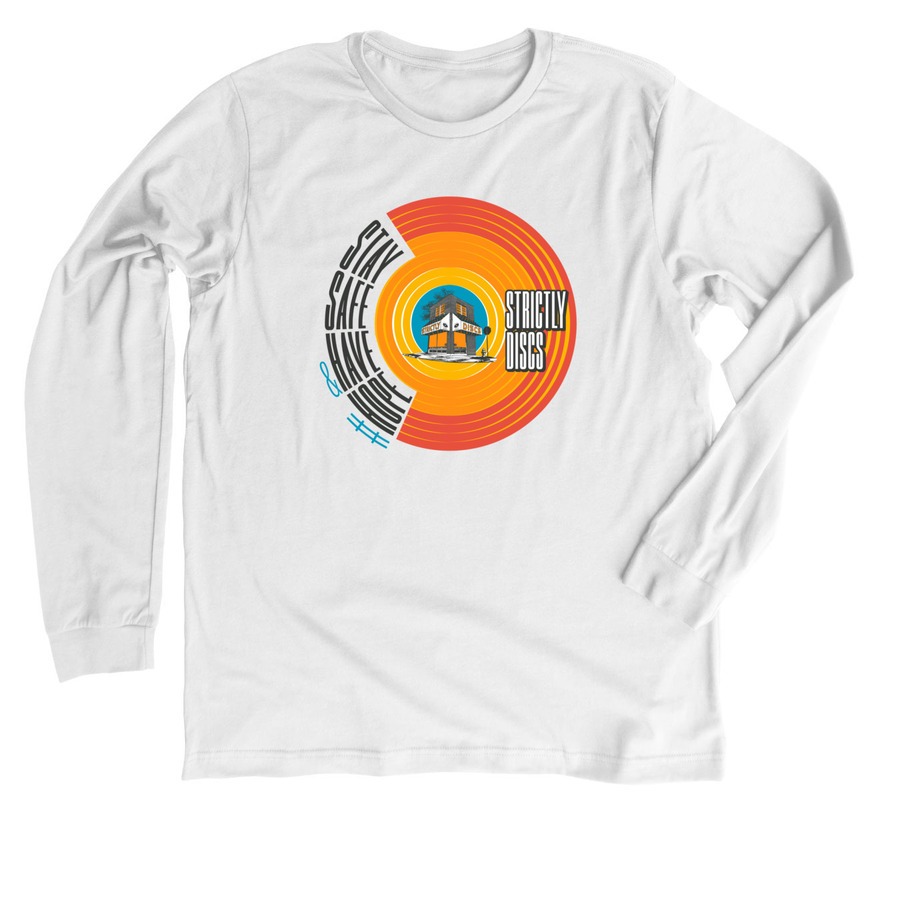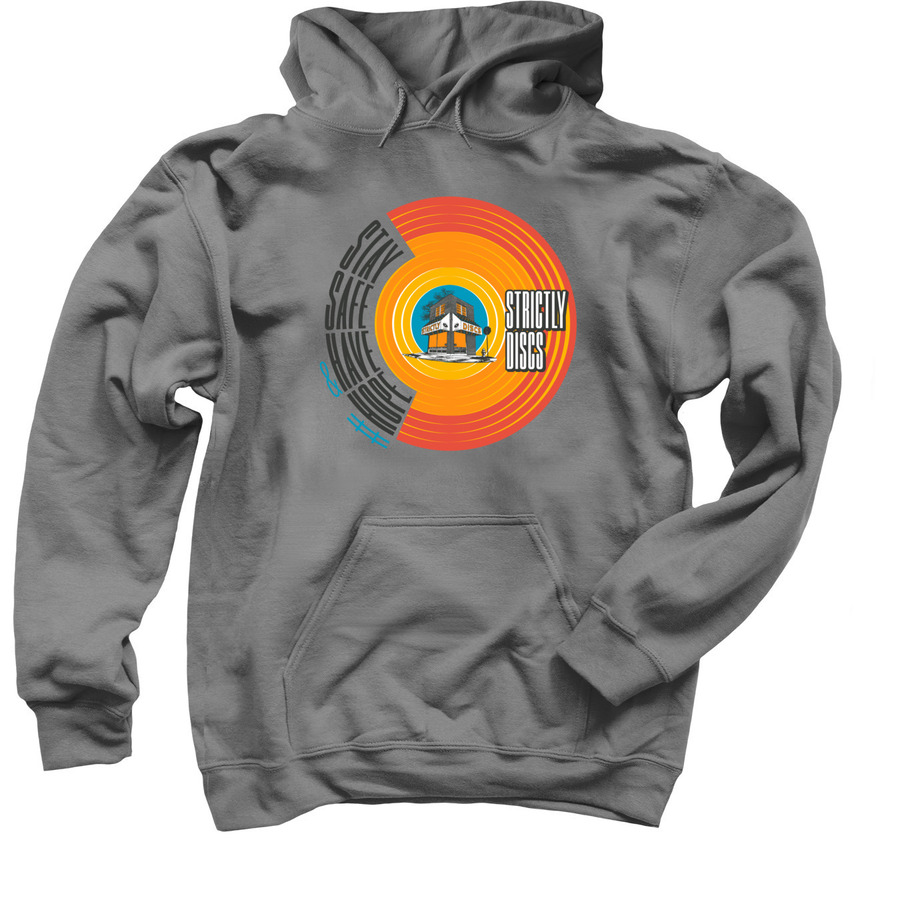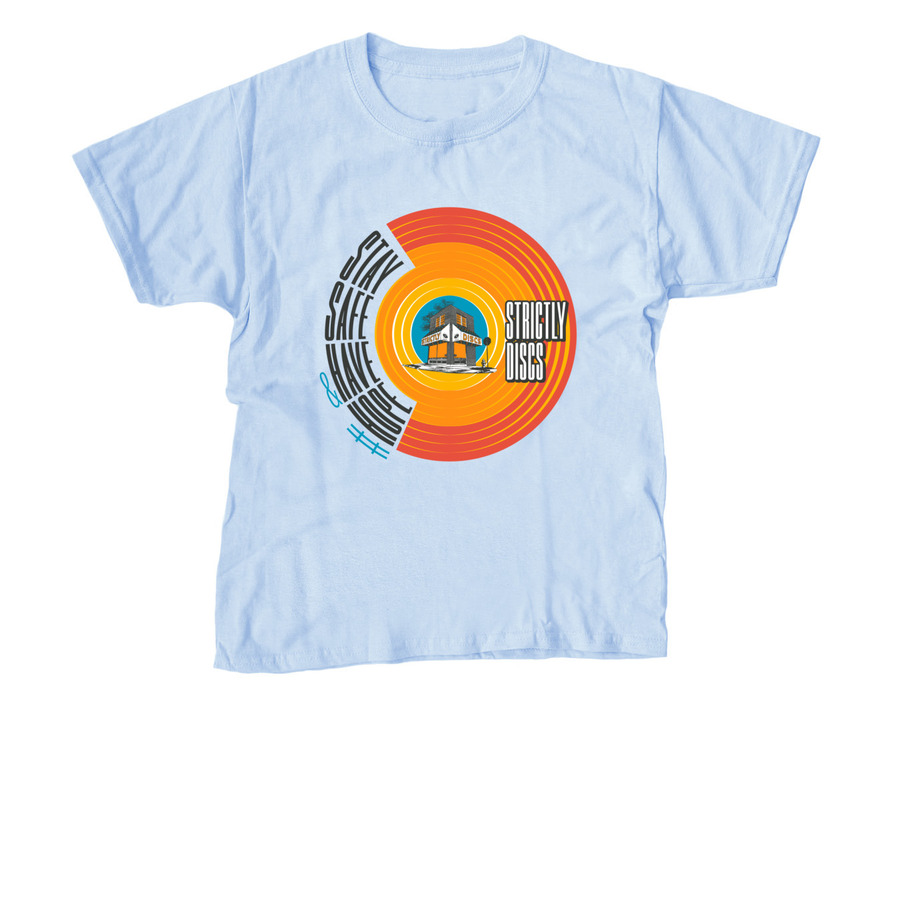 For our campaign Bonfire is donating proceeds back to us as they too are fans of Strictly Discs. Now that's rad.
Purchases help ensure Strictly Discs survives this crisis and continues to be your music resource. We are humbled by our community who believes, like we do, that music is essential. 
Our staff thanks you all for your ongoing support. Stay safe & have #hope. 
STRICTLY DISCS IS HIRING:
VINYL PRICING SPECIALIST:
Required skills:
Excellent customer service skills; ability to anticipate customer needs
Computer proficient

A passion for music, and a broad, deep base of recorded music history
Knowledge of Goldmine standards & experience grading and pricing records

Knowledge of stereo equipment/functionality
Availability to work nights and weekends
Ability to lift and carry 50 pounds repeatedly
RETAIL/FRONT COUNTER STAFF:
Required skills:
Excellent customer service skills; ability to anticipate customer needs
Computer proficient

A passion for music, and a broad, deep base of recorded music history
Availability to work nights and weekends

To apply, submit letter of interest & resume to angie@strictlydiscs.com
STRICTLY DISCS IS ON SPOTIFY!
Dogs and cats living together! Strictly Discs now has a Spotify channel. Every time one of us at the shop puts on a record, it's because we think someone else within earshot is going to like it, too. One of the things we've missed the most about having our doors temporarily closed is not being able to select the in-store play tunes for our customers to hear. It's the fun part of this job, and we want it back! Spotify users, point yourselves to our profile

 

HERE and click around. We've compiled a number of playlists, with more to come. Be sure to subscribe and check in on the "STRICTLY SELECTOS" playlist, as it will change each week with a fresh rundown of the titles we are featuring in this very email! New songs will appear there every Thursday, and are available to order online or over phone/email.
SELL US YOUR CDS & LPS:
Yes, we are still buying! Call Ron to schedule (608.213.3610).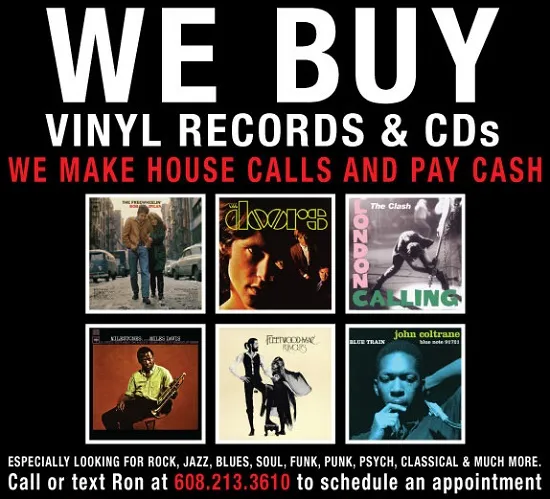 Ron, Ryan, Angie, Marty, Evan, Ben, Matt, Will, Isaac, Ed, Larry, Mark, Jack, Eric & Dave