June 18, 2020
BILLBOARD MAGAZINE'S WEEKLY FEATURE ON STRICTLY DISCS: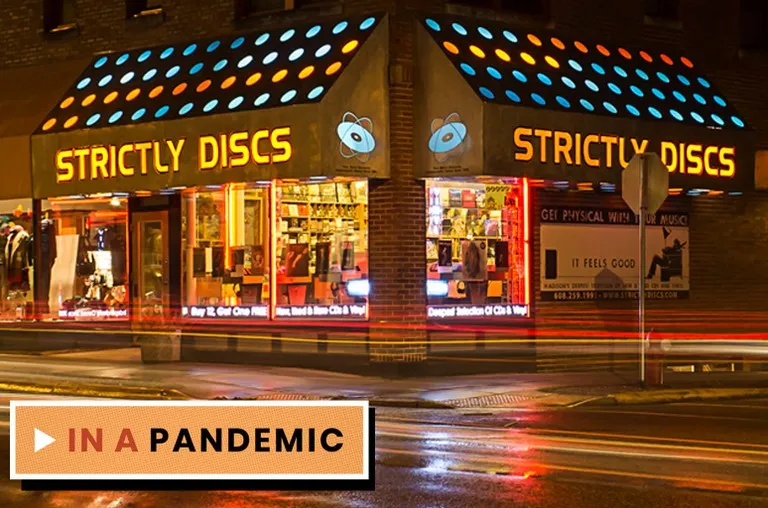 As part of Billboard's efforts to best cover the coronavirus pandemic and its impacts on the music industry, Chris Eggertsen has been speaking with Angie each week to chronicle the experience of an independent record store throughout the crisis.  Here is a link to the stories in the series so far:
Billboard Article #5 June 12th


STRICTLY DISCS OPERATIONAL UPDATES - EXPANDED HOURS:
Starting Monday, Jun 22nd the shop hours will expand:
Monday - Thursday 10AM-6PM
Friday 10AM-8PM
Saturday 10AM-6PM
Sunday 11AM-5PM
Thank you for your continued support. 
NEW THIS WEEK AT THE SHOP:
Welcome to a huge week for new releases, as we celebrate a month of being re-opened to the public, and the record pipeline is chugging along at full speed. First up, we now have the vinyl edition of KAYTRANADA's 'Bubba', an album he dropped on the world digitally at the close of 2019. This one's worth the wait; few producers play so confidently with as many strands of rap production as Kaytra does, whipping up tracks of transcendent soul, pulsing house and true funk, drawing vocal contribs from Kali Uchis, Mick Jenkins, Pharrell, Tinashe and more. UK beatmaker LORAINE JAMES released 'For You and I' late last year as well, but copies of this clever take on UK funky and footwork have finally landed here. Atlanta producer DIVINE INTERFACE blesses us with his latest, 'Seeking Arrangements', a devilishly snappy album of low-slung house productions that serve as a bed for his sing-song horndog raps. Loving this one!
The sophomore album from PHOEBE BRIDGERS is called 'Punisher'. Not sure what the title refers to but a solid guess might be the dudes visiting her merch table since her first record blew up. One listen to this one confirms instant classic status; these songs take on marvelous lives of their own from humble beginnings, striking the sweet spot between emo and folk. The latest archival release from NEIL YOUNG is a real doozy. 'Homegrown' was recorded for release in 1975, but shelved once Young decided it was too personal, opting instead to release the much more upbeat 'Tonight's the Night'. 45 years later, it finally sees the light of day, and we have some limited edition copies in stock with an art print of the lovely album cover. Motivational protest-rocker MICHAEL FRANTI has a new record of uplifting dance-rock called 'Work Hard and Be Nice'. 
THE NATIONAL celebrate ten years since the release of their career-defining album 'High Violet' with an expanded anniversary edition on 3LPs. Well over a dozen albums into their career, artpop innovators DEERHOOF check in with another spectacular record of Beefheartian scree called 'Future Teenage Cave Artists'. The latest from SONDRE LERCHE is gorgeous, classical pop, and we've got a new LP that finds BUILT TO SPILL covering their favorite tunes from the vast catalog of the dearly departed outsider pop icon DANIEL JOHNSTON.
One of jazz guitarist SONNY SHARROCK's earliest bursts, 'Monkie-Pockie-Boo', is back in print, as well as a new pressing of the mighty TOOTS AND THE MAYTALS slow-burning 1974 album 'In The Dark'. Italian group GHOST HORSE have a brisk take on progressive jazz, flecked with touches of prog and house, via Jamal Moss (Hieroglyphic Being) Mathematics label. 
We've been trying to lay our hands on vinyl from the Buffalo, NY, rap scene known at large as Griselda for quite awhile now, and at last we see a trio of absolute bangers from the crew that carries the grimy spirit of early Wu-Tang and Mobb Deep into the 21st century. FRED THE GODSONs 'God Level', ELCAMINO's 'Elcamino 2', and 38 SPESH x BENNY THE BUTCHER's 'Stabbed and Shot' are all here until they are not. 
'African Rhythms', the 1975 debut from the massively influential group ONENESS OF JUJU, gets a nice repress, the better to enjoy its percolating blend of funk and African traditional sounds. Well over a decade before they introduced the world to go-go via the infectious single 'Da Butt' in the Spike Lee movie 'School Daze', E.U. were known as EXPERIENCE UNLIMITED, and cut one of the single funkiest albums of all time for a small DC label called Black Fire. With that pressing almost mythically scarce, Now Again brings it back to the people. Detroit ensemble POSITIVE FORCE combines fervent spiritual jazz with agit-prop spoken word on the essential 'Oracy', and we welcome a deeply-sourced compilation of unheard funky soul tunes from Atlanta producer and guitarist RICHARD MARKS.
Spectral, Hassell-ian ambience is here from Italian artist AGOSTINO NIRODH FORTINI, and we welcome the latest archival vinyl reissue from the mighty MUSLIMGAUZE, who has had his vast catalog attended to with great care by the Staalplaat label. By far the fuzziest new record this week comes from CHARLEMAGNE PALESTINE. The playfully innovative pianist and composer is known for performing with a pile of stuffed animals atop his instrument (said to help him overcome stage fright), so it's about time we got a record from him absolutely covered in bright, plush fur. 'Ffroggssichorddd' sees the artist constructing a new tone system based in Pythagorean theory, for performance on the harpsichord, on an album that is as delightfully strange on the inside as it is on the outside. 
A frequent collaborator with Badbadnotgood, JONAH YANO steps out with a lovely album of genre-blurring soul on 'Souvenir'. UK duo DARKSTAR continue to craft lovely, noirish post-dubstep on 'Civic Jams'. Swedish duo GOOSE have a new LP consisting of two sidelong collage pieces that take Dj Shadow's sampladelic approach to flutey, psychedelic folk-hop. 
Sound designer GIUSEPPE IELASI utterly nailed it ten years ago with 'Aix', an album of minimalist glitch-jazz that sits alongside the work of Jan Jelinek and Oren Ambarchi. This stunningly warm album of abstractions is on vinyl for the first time. The Folkways label reissues the killer new age rarity from CRAIG KUPKA. Look for 'Crystals' in a new section dedicated to the fantastic LPs the revived label is doing. We've also got a snappy new LP edition of MOTOHIKO HAMASE's 1992 album 'Technodrome', which blends Jon Hassell's nebulous spaces with thrumming, almost-housey beats. 
Borderless jazz composer MURIEL GROSSMANN sees a new release collect the most stellar tracks from her last decade or so of releases. 'Elevation' is loaded with expressionist beauty. A pair of releases celebrate the piano as a personal space. ANN MARGARET HOGAN's 'Honeysuckle Burials' echoes the phenomenal work of players like Virginia Astley, Grouper, or Wim Mertens, while TOM JAMES SCOTT reflects the shoreline isolation of Andrew Chalk on 'Mine is the Heron'. 
Veteran UK producer NATHAN FAKE has a cracking new album of punchy dance swatches on 'Blizzards'. Polish producer Bartosz Kruczynski has made great records recontextualizing the jazz and pop of his homeland as Ptaki, and now steps into a more R&B oriented realm as PEJZAZ. A new record from Italian producer POPULOUS celebrates the ladies with a different female vocalist on each track across a record of bouncy, tropical house. 
Charms from the Middle East this week include a smoking reissue of 1990s reggae-pop from Libya' AHMED BEN ALI, a collection of striking early 80s electronic pieces from Algerian soundtrack producer AHMED MALEK, and the first ever legit repress of SALAH RAGAB's Cairo Free Jazz Ensemble album 'Heliopolis'. 
Sun-kissed Balearic funk is here from Japanese producer PEPIN and modern boogie master OURRA. Ukrainian chillout legend A VISION OF PANORAMA returns with a flawless new EP called 'Sentimental Coast'.
We close out with some fantastic compilations. Music historian Tim Lawrence wrote the definitive history of the 1970s NYC dance world with 'Love Saves the Day', and we now get the first volume of a companion compilation with the same name. The Optimo crew bless us with 'Join The Future', an deep overview of 'UK Bleep', a briefly-extant genre of British dance music that bridged the gaps between rave, jungle and IDM with style. Also back in stock, the latest pair of comps from Music For Dreams: 'Oto No Wa' covers 90s/00s electronic gems from Japan, and 'Proper Sunburn' reflects the esoteric, emotional jazz selections of Growing Bin boss Basso. 
USED VINYL ALERT:
Heading downstairs for this week's Used Vinyl Alert, we hit you with a dose of deep hiphop, punk, soul and classic rock in this week's responsibly spaced selection of 500 fresh used LPs.
Big names in rock this week include Queen, Led Zeppelin, King Crimson, AC/DC, Pink Floyd, the Beatles, Frank Zappa, Warren Zevon, Steely Dan, Whitesnake, Yngwie, Rush, Cream, and the Allmans. Glam and fancy pop is here from Wham, Peter Gabriel, Talk Talk, Prince, David Sylvian, Robert Gorl, Roxy Music, U2 Peter Baumann, INXS, and Chaz Jankel. Big punk records from the Dead Kennedys, the Clash, the Dead Boys, Sisters of Mercy, Blondie, and the Talking Heads. 
Choice reggae is in from Scientist and Bob Marley, plus hot jazz from AK Salim, Miles Davis, Keith Jarrett and Jan Garbarek. A deep run of classical and soundtracks joins some recent LPs from Andrew Bird, Angel Olsen, Kendrick Lamar, Gorillaz, Leonard Cohen and Tom Waits.
An absolute who's who of 90s hip-hop and R&B hits the racks this week, plus a few gems from the 80s and 00s. Black Sheep, Tribe, Aaliyah, De La Soul, UTFO, Run DMC, Public Enemy, TLC, Deee-Lite, DJ Clue, Guru, Eminem, Cool Breeze, LL Cool J, Ashanti, Eve, Mya, Foxy Brown, Usher, C&C Music Factory, and on and on.
Plenty of soul leaning into disco this week, from names like Stevie Wonder, Shalamar, Gloria Gaynor, Lakeside, Junior Walker, the Stylistics, Teddy Pendergrass, Tower of Power, Maze and Grace Jones, plus some great dance records from Paul Parker, Man Parrish, the KLF, and a slew of 90s house from labels like Peacefrog and Strictly Rhythm, and some Italo and new beat gems.
USED CD ALERT:
Look out! Used CDs are back. Point your peepers to the Monroe Street facing flipbins formerly known as "the listening stations", where a solid selection of 200 fresh used discs await your selection. When it comes to the compact discs around here, we've always leaned hard on the jazz, and this week is no exception. Big picks this time include Sonny Rollins, Pharaoh Sanders, Cecil Taylor, Chet Baker, Charles Mingus and Art Blakey, with so many more in between. But that aint it! We've also got big'ns from the Grateful Dead, Earl Saunders, the Velvets, Bob Dylan, Clifton Chenier, David Bowie and the like. The creator has a master plan, baby!
RECORD STORE DAY IS NOW RSD DROPS SPREAD OVER 3 DATES:
It's an unusual year, which means unusual news about Record Store Day.
Earlier this spring, Record Store Day announced a rescheduled June 20 date for the annual holiday, but with ongoing health and safety concerns, we now have a new plan.
Instead of a single-day global celebration, the 2020 releases will now be available over a series of monthly RSD Drops events, from August to October, followed by a regularly-scheduled Black Friday in November. This means we'll have four months of release events – the RSD 2020 exclusives spread out over three months, followed by a new round of exclusives for Black Friday – to end this strange year on a high note.
We appreciate your patience and understanding as we evolve on the fly with this one. Our goal is to keep the RSD spirit intact, connecting musicians, fans and record stores in a time where we need eachother the most!
Here's the official announcement from Record Store Day headquarters:
Since 2008, Record Store Day has grown into the world's largest single-day music event, shining a light on the culture of the indie record store across the globe. In 2020, that world is different, so Record Store Day will be, too. RSD is now scheduled to be celebrated with special, properly-distanced release dates on Saturdays in August, September and October.
Record Store Day will look very different this year, but supporting indie record stores may be more important than ever. We don't know what sort of rules will be in place, or what sort of gatherings people will be in the mood for this year, so we're focusing on the music and getting the really great titles on the RSD official list this year into the stores and into your hands, in the most financially and socially responsible way.
WISHLISTS:
Since so much has changed with Record Store Day, you will need to start a new list for any or all of the three dates. Lists made prior to April are no longer active/valid.
We will try to have ample stock (one of the deepest in the midwest) of all items, but please know that some of these products are extremely limited and will sell out quickly.
Stay tuned for many more details in the coming weeks.
STRICTLY DISCS T-SHIRT TO BENEFIT SHOP:
After Record Store Day was postponed, the custom clothing company Bonfire out of Richmond, VA contacted us wanting to design a limited edition Strictly Discs shirt highlighting our current message of safety & hope during these unprecedented times.
Bonfire's mission is To Strengthen & Inspire Communities. Well, we are humbled by our community that believes, like we do, that music is essential.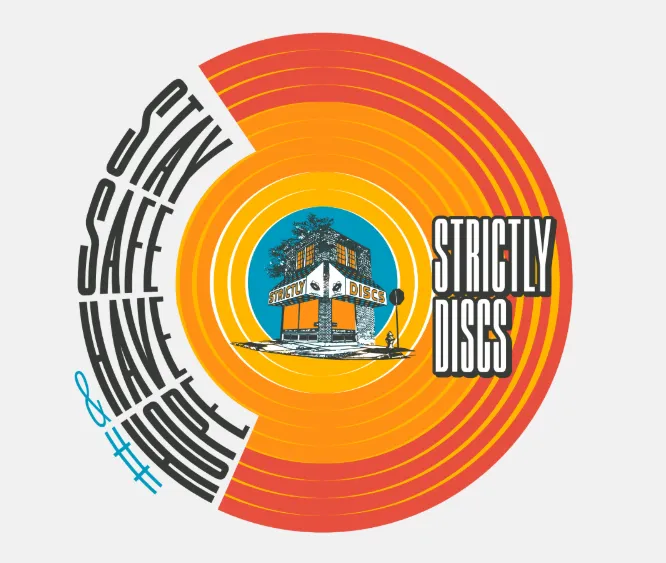 The related t-shirts/hoodies for adults/children will be delivered directly to your door.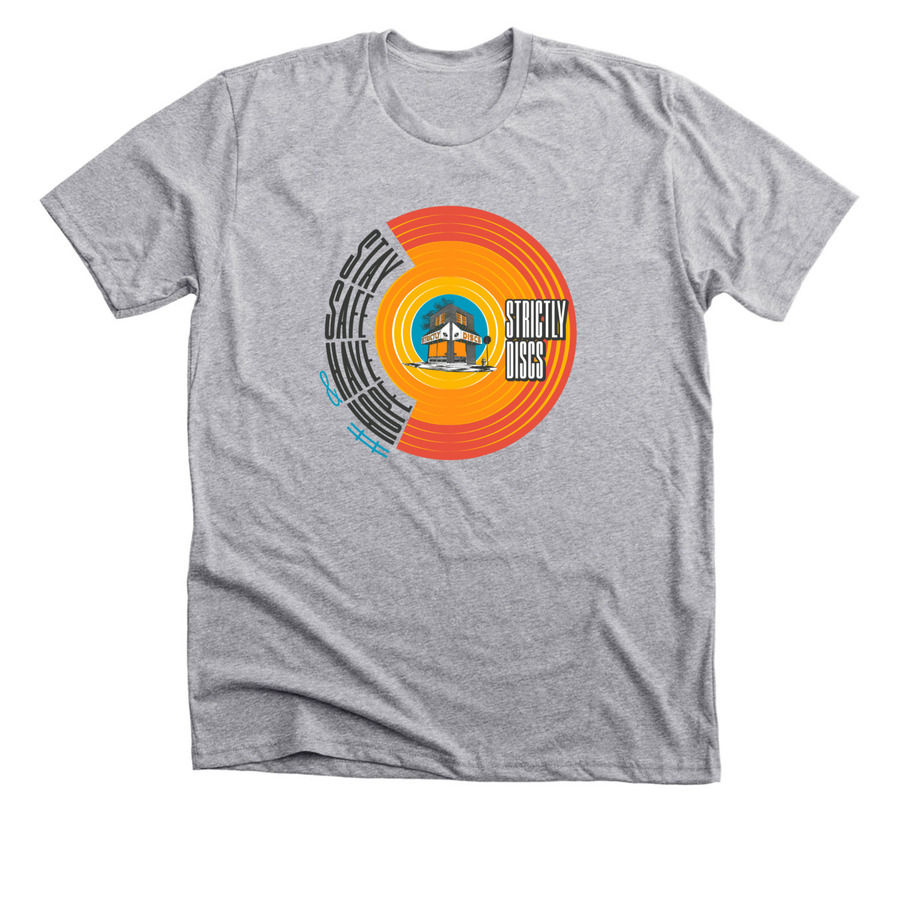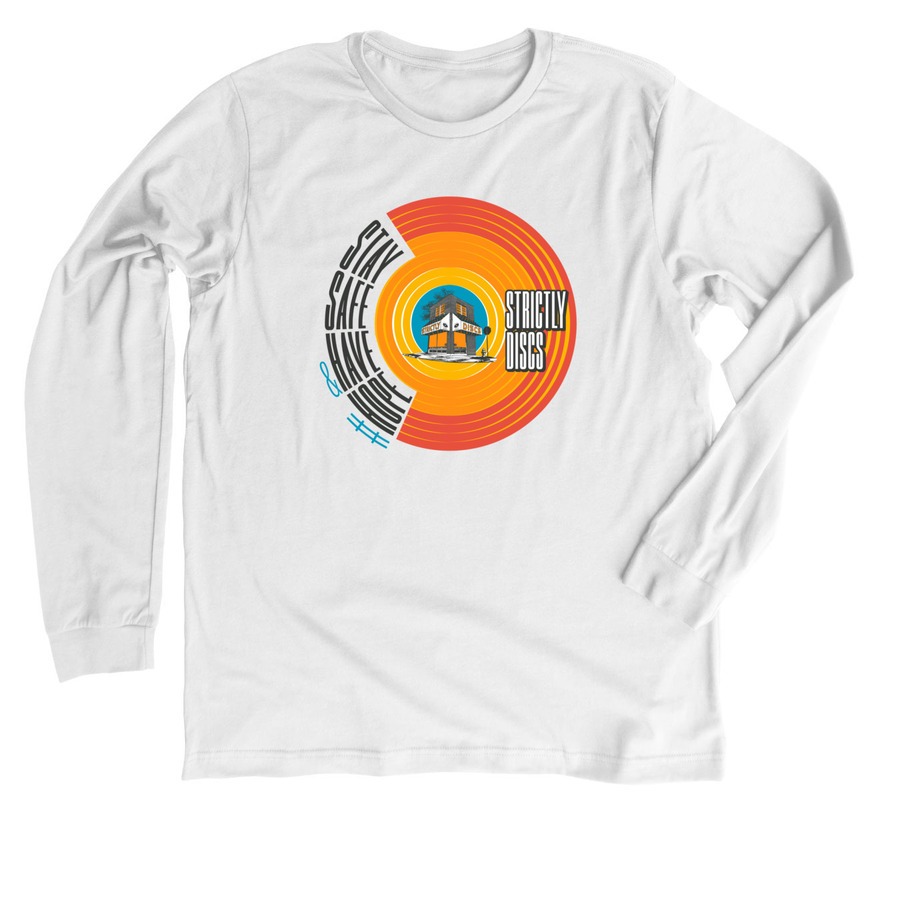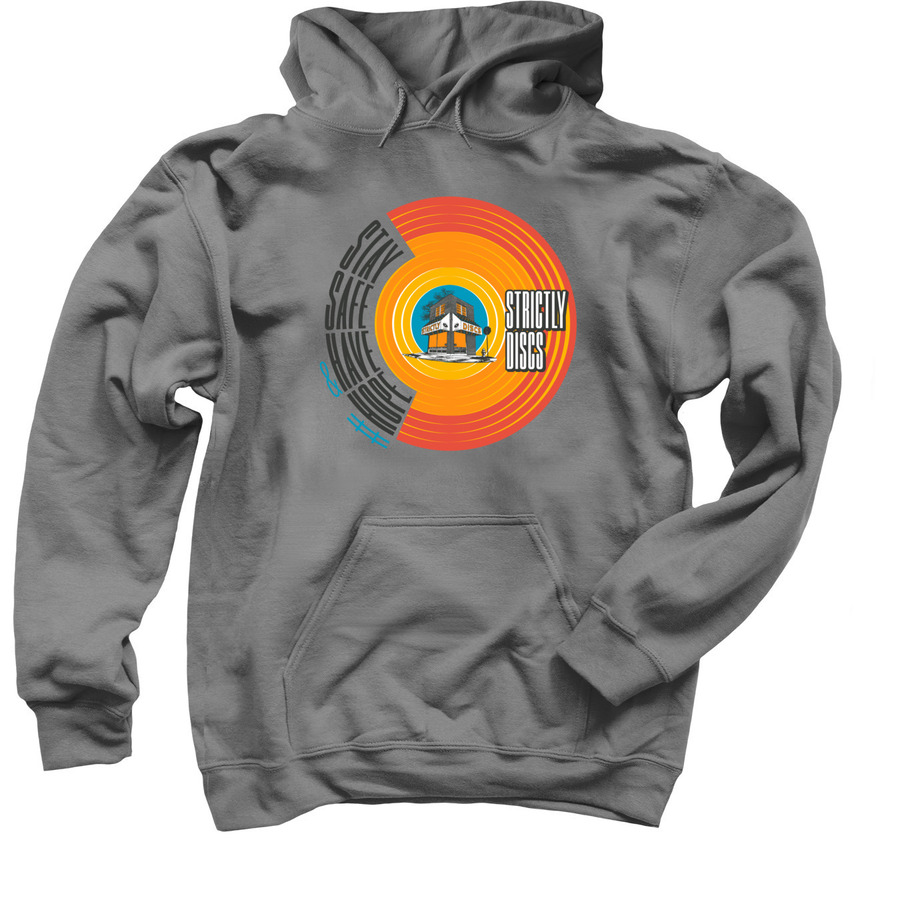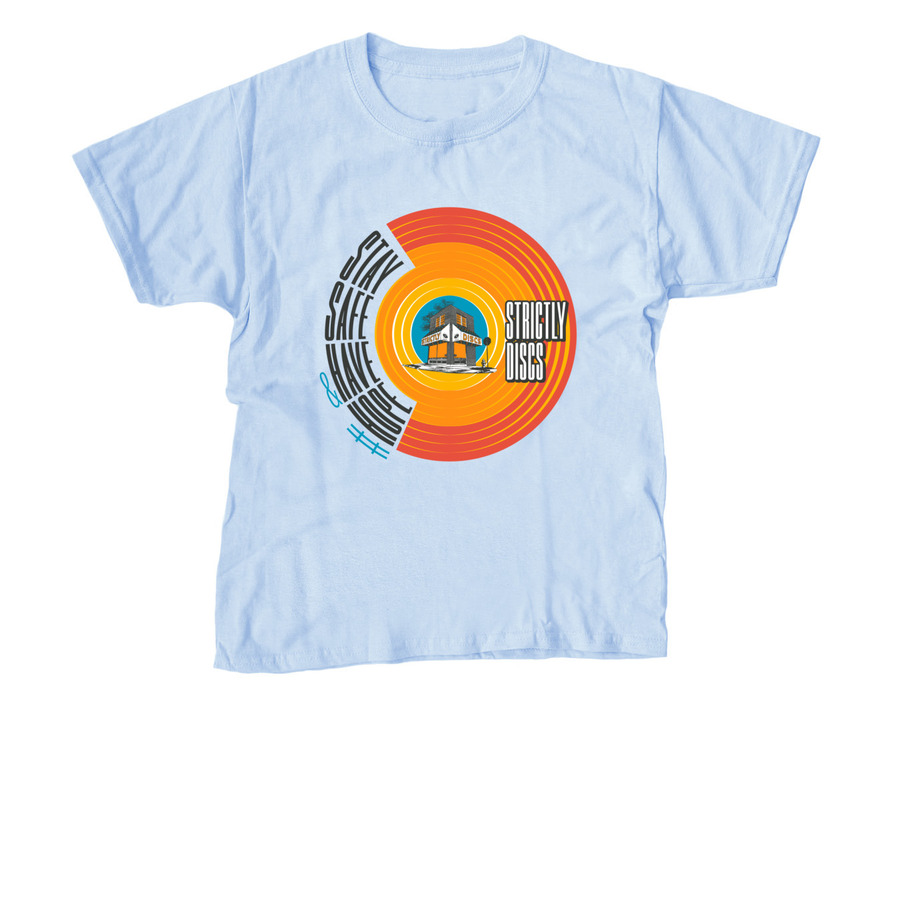 For our campaign Bonfire is donating proceeds back to us as they too are fans of Strictly Discs. Now that's rad.
Purchases help ensure Strictly Discs survives this crisis and continues to be your music resource. We are humbled by our community who believes, like we do, that music is essential. 
Our staff thanks you all for your ongoing support. Stay safe & have #hope. 
STRICTLY DISCS IS HIRING:
VINYL PRICING SPECIALIST:
Required skills:
Excellent customer service skills; ability to anticipate customer needs
Computer proficient

A passion for music, and a broad, deep base of recorded music history
Knowledge of Goldmine standards & experience grading and pricing records

Knowledge of stereo equipment/functionality
Availability to work nights and weekends
Ability to lift and carry 50 pounds repeatedly
RETAIL/FRONT COUNTER STAFF:
Required skills:
Excellent customer service skills; ability to anticipate customer needs
Computer proficient

A passion for music, and a broad, deep base of recorded music history
Availability to work nights and weekends

To apply, submit letter of interest & resume to angie@strictlydiscs.com
STRICTLY DISCS IS ON SPOTIFY!
Dogs and cats living together! Strictly Discs now has a Spotify channel. Every time one of us at the shop puts on a record, it's because we think someone else within earshot is going to like it, too. One of the things we've missed the most about having our doors temporarily closed is not being able to select the in-store play tunes for our customers to hear. It's the fun part of this job, and we want it back! Spotify users, point yourselves to our profile

 

HERE and click around. We've compiled a number of playlists, with more to come. Be sure to subscribe and check in on the "STRICTLY SELECTOS" playlist, as it will change each week with a fresh rundown of the titles we are featuring in this very email! New songs will appear there every Thursday, and are available to order online or over phone/email.
FACE MASKS AVAILABLE TO BENEFIT MONROE STREET:
BACK IN STOCK! Need a face mask? The Monroe Street Merchants Association has commissioned a batch of professionally-made cotton masks in a variety of colors and patterns. They are available now for $10 and can be added to any curbside/delivery order. Proceeds from the sale of the maskes will support promotions to help Monroe Street businesses recover from the pandemic once we are all able to reopen. Please call us to coordinate payment/pick-up (608.259.1991). 



SELL US YOUR CDS & LPS:
Yes, we are still buying! Call Ron to schedule (608.213.3610).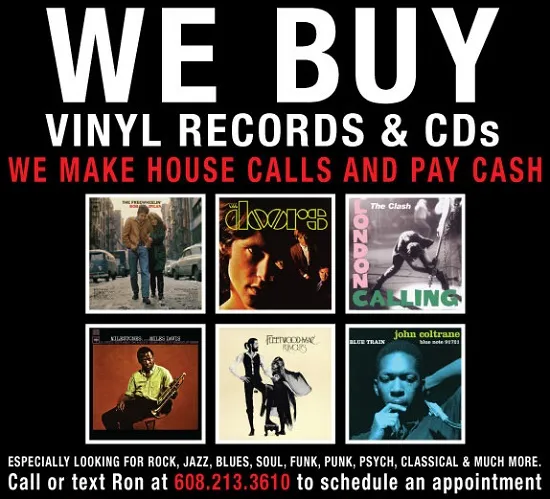 Ron, Ryan, Angie, Marty, Evan, Ben, Matt, Will, Isaac, Ed, Larry, Mark, Jack, Eric & Dave