June 11, 2020
BILLBOARD MAGAZINE'S WEEKLY FEATURE ON STRICTLY DISCS: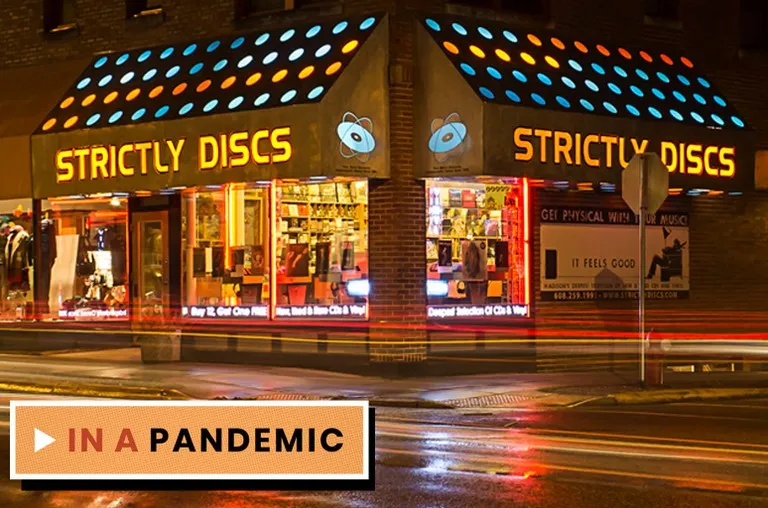 As part of Billboard's efforts to best cover the coronavirus pandemic and its impacts on the music industry, Chris Eggertsen has been speaking with Angie each week to chronicle the experience of an independent record store throughout the crisis.  Here is a link to the stories in the series so far:
STRICTLY DISCS OPERATIONAL UPDATES - THURSDAY 6/11:
We continue to evaluate our safety procedures based on guidance from the Centers For Disease Control & Prevention. As a result, customers are no longer required to wear gloves in the shop. We still have them and are happy to provide them for you if you would like but it is not required.
A face mask is still required. 
Thank you for your continued support. 
NEW THIS WEEK AT THE SHOP:
Percussionist and composer KAHIL EL'ZABAR has been an active leader of the Chicago progressive jazz scene since helping found the Ethnic Heritage Ensemble in the mid-70s. His latest sprawling album 'Spirit Groove' heavily features another living legend, saxophonist DAVID MURRAY. A decade back, relentlessly innovating bassist WILLIAM PARKER convened a group of contemporary players to perform tender explorations of the internal mechanisms of some of Curtis Mayfield's most beloved tunes. The results, with contributions from AMIRI BARAKA, HAMID DRAKE, DAVE BURRELL and LEENA CONQUEST, are an organic re-blooming of some essential tunes, and we now have this one on vinyl for the first time. Ohio soul unit 24-CARAT BLACK gave the world one of the most sample laden records ever with 1974's 'Ghetto: Misfortune's Wealth' and the Numero Group has celebrated the output of their influential producer Dale Warren. With 'III', we get a listen to some unheard demos just before his death in 1980, which chart a dreamy, illuminatingly slinky path into a new decade of soul music. 
A beautiful new album from BIBIO continues the producer's path into moody, pastoral folktronics. Not a lot of vocals on 'Sleep On The Wing', but what little I hear really enhances the Seu Jorge vibes coming here. Few producers consistently out-do themselves like FOUR TET, who has pushed his celestial tech-jazz to even greater heights on 'Sixteen Oceans', now in the house on CD and a lovely vinyl edition after some delays. You expect any new music from SONIC BOOM to be pretty trippy, the co-founder of Spacemen 3 is nearly-single handedly responsible for dosing the UK rock scene in the 1980s. He's certainly influenced folks like Panda Bear, who turns up to collab on this album of tantric, spectral synthrock, 'All Things Being Equal'. 
Beloved pop icon CARLY RAE JEPSEN has kept it so real across a career of heartfelt hooks, even an album of 'leftovers' from her 2019 record stands up on its own. 'Dedicated Side B' shows off the singer's continuous range. Emotional pop saturation reigns as well on the latest from THE 1975. 'Notes On A Conditional Form', which sees the UK group stride away from the feet of their influences Arctic Monkeys and Foals. Another British fella with some solid tunes in his repertoire is LIAM GALLAGHER, who has a new 'Unplugged' release out on CD and LP, documenting a show he played last year to make up for missing Oasis' unplugged gig in 1996 with an illness.
From Soundcloud to Blue Note inside of ten years is truly a job well done for UK pop/jazz hybrid composer TOM MISCH, who teams up with percussionist YUSSEF DAYES (of Yussef Kamaal) on a sparkling new record called 'What Kinda Music', which fulfills a promise of a new funky generation. Multi-instrumental whizzery continues with the latest from NICK HAKIM, a DC artist with South American heritage. 'Will This Make Me Good?' overflows with DIY funk ingenuity and gently psychedelic vigor. Jazz trio GOGO PENGUIN continue to perfect their poignant groove on a new self-titled album. 
Rare jazz gems abound this week, with a trio of hard-to-come by albums from Detroit pianist and drummer DOUG HAMMOND, who helped found the Detroit Creative Musicians Association or "The Tribe", the D's answer to the AACM. 'Ellipse', 'Folks' and 'Spaces' date to a fertile span between 1977 and 1982, and feature contributions from Byard Lancaster, Steve Coleman, and Karen Joseph. Step back almost a decade earlier for a pair of absolutely massive records from RASHIED ALI, dating to the drummer's first performances as a leader outside of John Coltrane's band (where he replaced Elvin Jones). 'Duo Exchange', his titanic effort alongside tenor FRANK LOWE, is expanded to 2LPs with unheard studio takes, and 'First Time Out' documents a 1967 quartet performance for the first time, both officially released via Survival Records, the label Ali himself founded. 
DC punk-pop auteurs THE BEAUTY PILL have periodically pinged up to describe their strange surroundings over the years, since forming out of the ashes of Smart Went Crazy, one of Dischord's most underrated bands. 'Please Advise' continues their tradition of twitchy, catchy irreverence. High-demand session guitarist BLAKE MILLS has lent his studio depth to artists as eclectic as Alabama Shakes, Jenny Lewis, and Bruce Hornsby, and now brings us a startlingly gorgeous new solo album called 'Mutable Set', an elusive fog of a songwriter's record that marks a big departure from the country rock of his past effort. Speaking of country-rock, a pair of records from a band that took this sound in bold new directions in the 1980s, THE MEKONS, see two of their classics come back on LP, 'Fear And Whiskey' and 'The Edge of the World'.
Ohio jazz unit LEMON QUARTET are the latest formation of Akron musicians that includes guitarist G.S. Schray and Kit Freund from the new age jazz group Aqueduct Ensemble. On 'Crestless', the group limns sparse, elegant arrangements with horn, synth and vibraphone, to a powerful, yet calming effect. NYC jazz unit EL MICHELS AFFAIR, whose members have lent oomph to various groups on the Daptone label, return triumphantly with 'Adult Themes', a new record of crisply sleazy funk instrumentals. In 1973, Norwegian composer SVEN LIBAEK recorded themes for an Australian nature program called 'Inner Space', which have stimulated beat-diggers for decades and may have even inspired John Williams' 'Jaws Theme'. This legendarily artworked LP is back in stock in its full original form. 
The latest album from RAFAEL ANTON IRISARRI sees the reliable post-classical ambient composer turning to rougher textures; 'Peripateia' shares the blasted, almost metal source-sounds of Virgins-era Tim Hecker, delivered with the crushing weight of a waterfall. A similar sensation comes from 'Hymn To Moisture', the latest full-length from elusive producer RROSE, who conjures unstable, shifting techno in the vein of Pan Sonic. Throughout the 90s, UK techno pioneers Mark Pritchard and Tom Middleton created organic, ambient bleep-bombs as GLOBAL COMMUNICATION. Their 1994 masterwork, '76:14' gets a limited repress this week. We've also got a very not-boring new EP from the UK producer DJ BORING, on the Technicolour label.
The Tuareg singing trio LES FILLES DE ILLIGHADAD were one of the highlights of last year's World Music Festival on Willy St, and we now have a fresh pressing of their 2016 self-titled debut. A new compilation called 'Kinshasa 1978' collects some new tracks from the Congotronics scene, including the almighty KONONO No1. An incredible deep-dive into the little heard world of Japanese post-punk awaits you on PALE COCOON's 'Mayu', a 1984 album originally released only on cassette, that daringly combines dreamy pop, minimal synth, and traditional folk. 
City Pop in full effect on MOMOKO KIKUCHI's 1986 album 'Adventure'; a glittering boogie-funk album that lent one of its standout tracks to the excellent 'Pacific Breeze 2' comp. French psychstress LAURENCE VANAY (nee Jacqueline Thibault) crafted Magma-adjacent folky prog in the 1970s that is criminally overlooked. 'Le Petite Fenetre' collects tunes from the period that haven't been released at all until now. New Age pioneer PETER DAVISON has composed music for meditation across four fertile decades. His very first release, 1980's 'Music On The Way', is back in a new vinyl edition and ready to soothe you.
USED VINYL ALERT:
Heading downstairs for this week's Used Vinyl Alert, we've got a healthy spread of fresh arrivals to have a look at! Lots of classics and staff favorites this week, deep dives into jazz and soul, and a more robust than usual crop of contemporary releases, including some things that are already quite scarce!
A deep run of classics from the Beatles is here, plus nice ones from Neil Young, Gram Parsons, the Beach Boys, Jimi Hendrix, Alice Cooper, Donovan, Frank Zappa, the Doors, T Rex, Tin Tin, Jon Anderson, Lou Reed, Brian Eno, and Sweetwater.
Jazz gems include classics from Miles Davis, Herbie Hancock, Jimmy Smith, Gabor Szabo, Keith Jarrett, Ramsey Lewis, Donald Byrd, Weather Report, Lonnie Smith, Dexter Gordon, Jackie McLean, Randy Weston, and Art Farmer.
Soul aplenty here from Junior Walker, Donny Hathaway, Roy Ayers, Roberta Flack, Tracy Chapman, Tower of Power, Billy Preston, Aretha Franklin, War, Stevie Wonder, William Bell, Wilson Pickett, and more. Some great 80s rap 12s are here along with killer slabs from Future, Diplo, and Whodini.
Folk, blues, country, and everything in between this week comes from Dr. John, Leroy Carr, BB King, Koerner Ray and Glover, Robert Johnson, Dave Van Ronk, Leo Kottke, Flatt and Scruggs, Pete Seeger, Joan Baez, Fotheringay and the Fugs.
Recent indie, pop and rock is in the house from Vampire Weekend, Alex G, Lucius, Beach House, Stereolab, the 1975, White Stripes, Homeshake, Karen Elson, Of Monsters and Men, Grizzly Bear, Milky Chance, Amy Winehouse, Jay Som, and The Shins.
RECORD STORE DAY IS NOW RSD DROPS SPREAD OVER 3 DATES:
It's an unusual year, which means unusual news about Record Store Day.
Earlier this spring, Record Store Day announced a rescheduled June 20 date for the annual holiday, but with ongoing health and safety concerns, we now have a new plan.
Instead of a single-day global celebration, the 2020 releases will now be available over a series of monthly RSD Drops events, from August to October, followed by a regularly-scheduled Black Friday in November. This means we'll have four months of release events – the RSD 2020 exclusives spread out over three months, followed by a new round of exclusives for Black Friday – to end this strange year on a high note.
We appreciate your patience and understanding as we evolve on the fly with this one. Our goal is to keep the RSD spirit intact, connecting musicians, fans and record stores in a time where we need eachother the most!
Here's the official announcement from Record Store Day headquarters:
Since 2008, Record Store Day has grown into the world's largest single-day music event, shining a light on the culture of the indie record store across the globe. In 2020, that world is different, so Record Store Day will be, too. RSD is now scheduled to be celebrated with special, properly-distanced release dates on Saturdays in August, September and October.
Record Store Day will look very different this year, but supporting indie record stores may be more important than ever. We don't know what sort of rules will be in place, or what sort of gatherings people will be in the mood for this year, so we're focusing on the music and getting the really great titles on the RSD official list this year into the stores and into your hands, in the most financially and socially responsible way.
WISHLISTS:
Since so much has changed with Record Store Day, you will need to start a new list for any or all of the three dates. Lists made prior to April are no longer active/valid.
We will try to have ample stock (one of the deepest in the midwest) of all items, but please know that some of these products are extremely limited and will sell out quickly.
Stay tuned for many more details in the coming weeks.
STRICTLY DISCS T-SHIRT TO BENEFIT SHOP:
After Record Store Day was postponed, the custom clothing company Bonfire out of Richmond, VA contacted us wanting to design a limited edition Strictly Discs shirt highlighting our current message of safety & hope during these unprecedented times.
Bonfire's mission is To Strengthen & Inspire Communities. Well, we are humbled by our community that believes, like we do, that music is essential.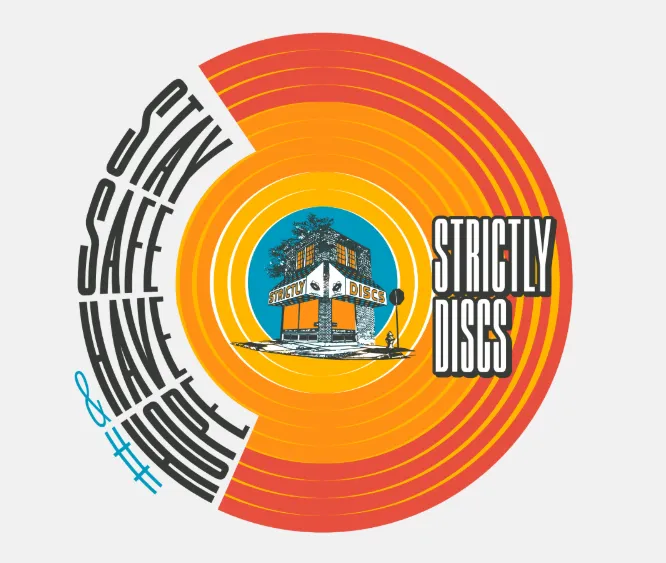 The related t-shirts/hoodies for adults/children will be delivered directly to your door.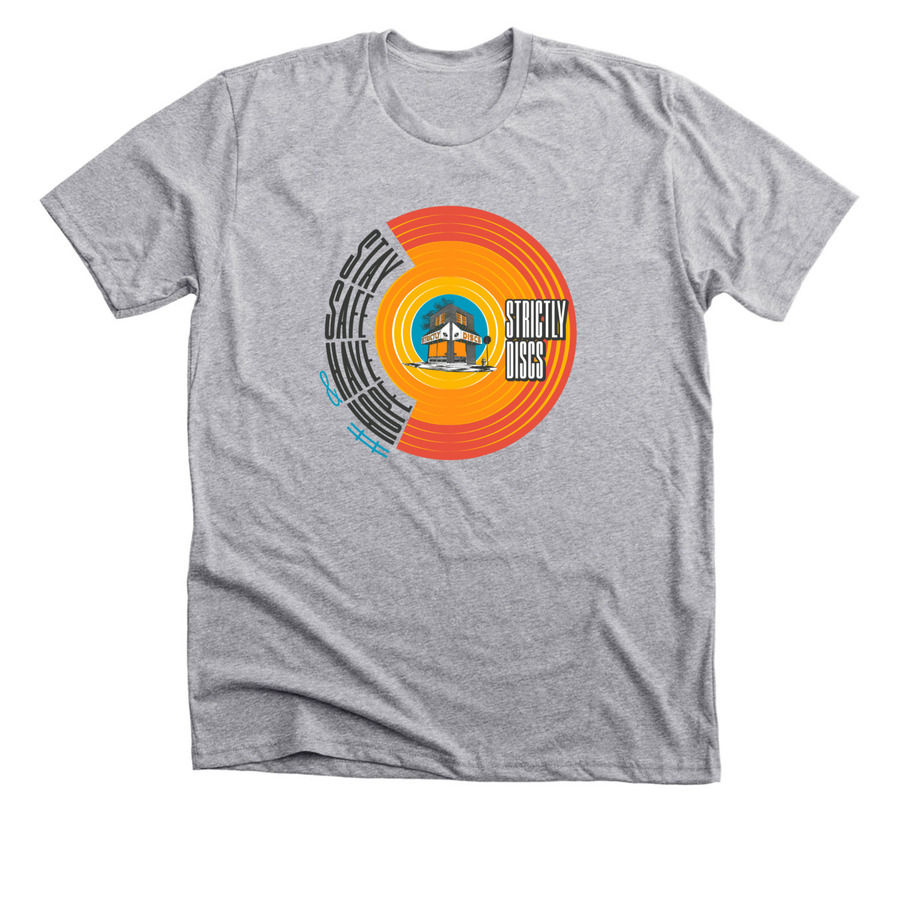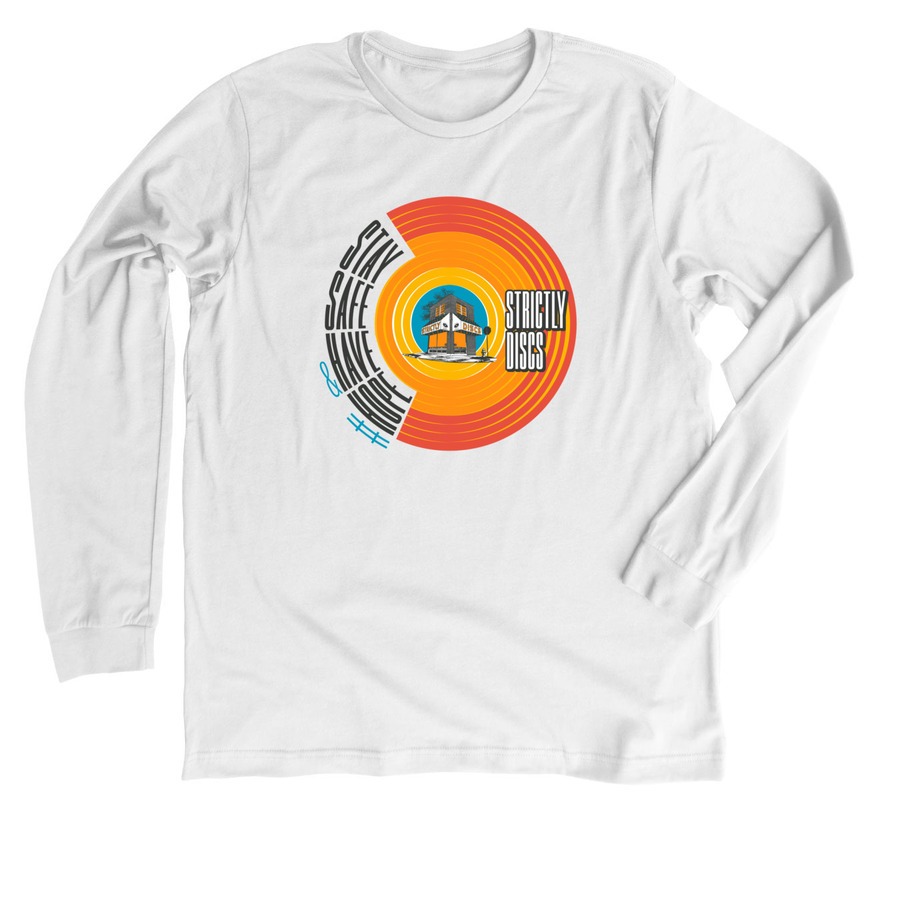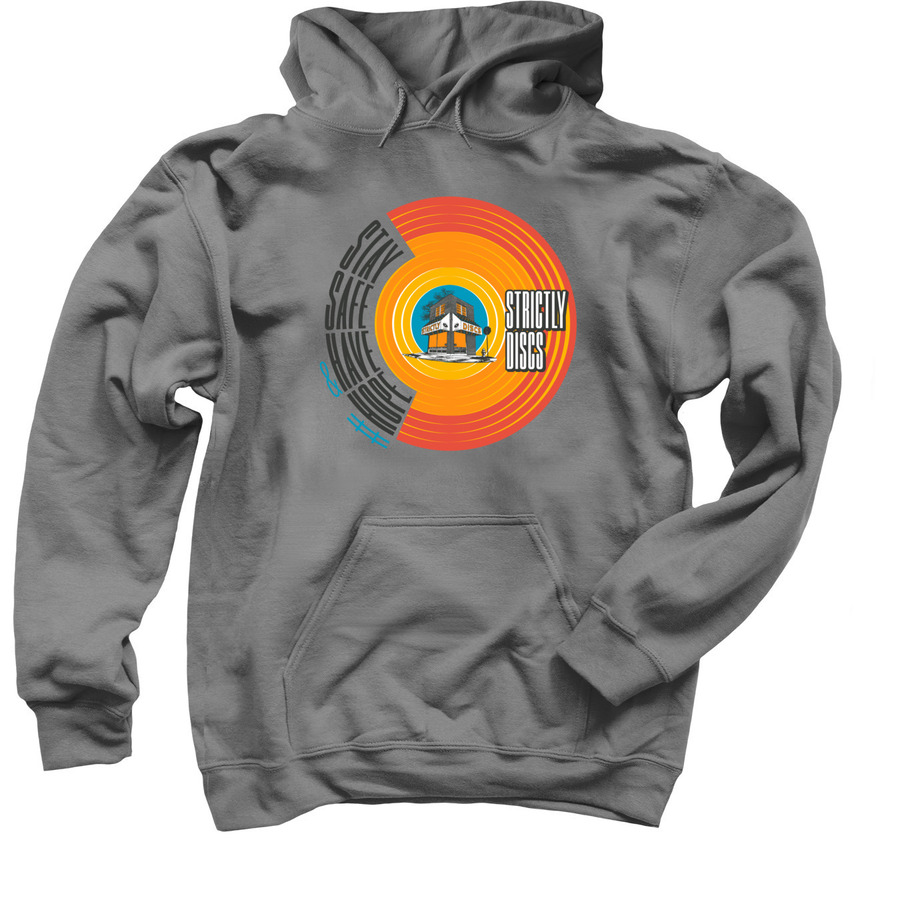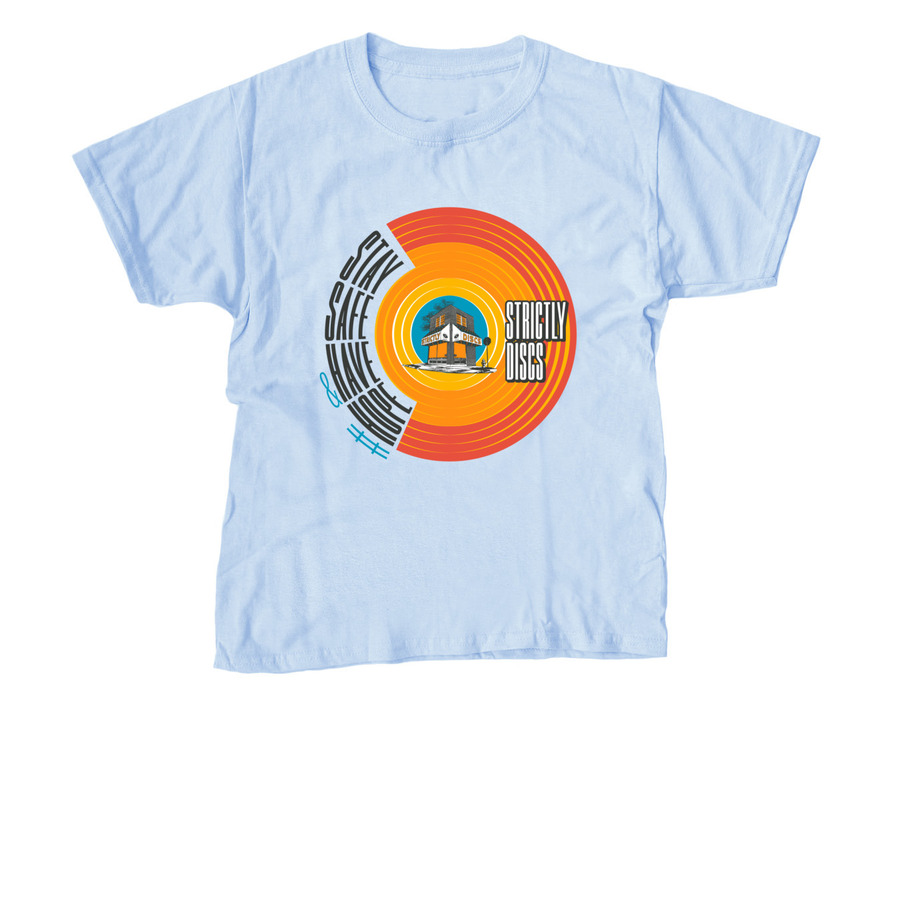 For our campaign Bonfire is donating proceeds back to us as they too are fans of Strictly Discs. Now that's rad.
Purchases help ensure Strictly Discs survives this crisis and continues to be your music resource. We are humbled by our community who believes, like we do, that music is essential. 
Our staff thanks you all for your ongoing support. Stay safe & have #hope. 
STRICTLY DISCS IS HIRING:
VINYL PRICING SPECIALIST:
Required skills:
Excellent customer service skills; ability to anticipate customer needs
Computer proficient

A passion for music, and a broad, deep base of recorded music history
Knowledge of Goldmine standards & experience grading and pricing records

Knowledge of stereo equipment/functionality
Availability to work nights and weekends
Ability to lift and carry 50 pounds repeatedly
RETAIL/FRONT COUNTER STAFF:
Required skills:
Excellent customer service skills; ability to anticipate customer needs
Computer proficient

A passion for music, and a broad, deep base of recorded music history
Availability to work nights and weekends

To apply, submit letter of interest & resume to angie@strictlydiscs.com
STRICTLY DISCS IS ON SPOTIFY!
Dogs and cats living together! Strictly Discs now has a Spotify channel. Every time one of us at the shop puts on a record, it's because we think someone else within earshot is going to like it, too. One of the things we've missed the most about having our doors temporarily closed is not being able to select the in-store play tunes for our customers to hear. It's the fun part of this job, and we want it back! Spotify users, point yourselves to our profile

 

HERE and click around. We've compiled a number of playlists, with more to come. Be sure to subscribe and check in on the "STRICTLY SELECTOS" playlist, as it will change each week with a fresh rundown of the titles we are featuring in this very email! New songs will appear there every Thursday, and are available to order online or over phone/email.
FACE MASKS AVAILABLE TO BENEFIT MONROE STREET:
BACK IN STOCK! Need a face mask? The Monroe Street Merchants Association has commissioned a batch of professionally-made cotton masks in a variety of colors and patterns. They are available now for $10 and can be added to any curbside/delivery order. Proceeds from the sale of the maskes will support promotions to help Monroe Street businesses recover from the pandemic once we are all able to reopen. Please call us to coordinate payment/pick-up (608.259.1991). 



SELL US YOUR CDS & LPS:
Yes, we are still buying! Call Ron to schedule (608.213.3610).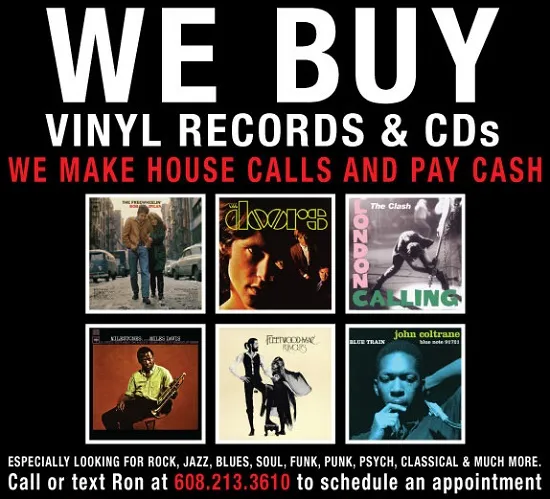 OTHERS TALK BACK:


This isn't the spot to lay down odds on the third race. OTB is where Others Talk Back and give you the lowdown on what they've been feeling lately. This one's for the customers.
This is the third release from this all-woman Spanish band since 2011..  Their first two albums were noted for exuberant low-fi sixties-eighties garage rock.   But "The Prettiest Curse" changes the band's game plan - they have musically embraced the new century.  In fact, the album is a case study on the joys of 2020 modern rock. It is a testament to their musical skill that the group sounds as confident and assured now as they did playing garage rock.  Rest assured, the band knows how to write memorable songs in any style.  "The Prettiest Curse"  is just as fun as the prior albums.  It is just slightly different. - Ted

Ron, Ryan, Angie, Marty, Evan, Ben, Matt, Will, Isaac, Ed, Larry, Mark, Jack, Eric & Dave