Tuesday's Sales to Benefit Freedom, Inc.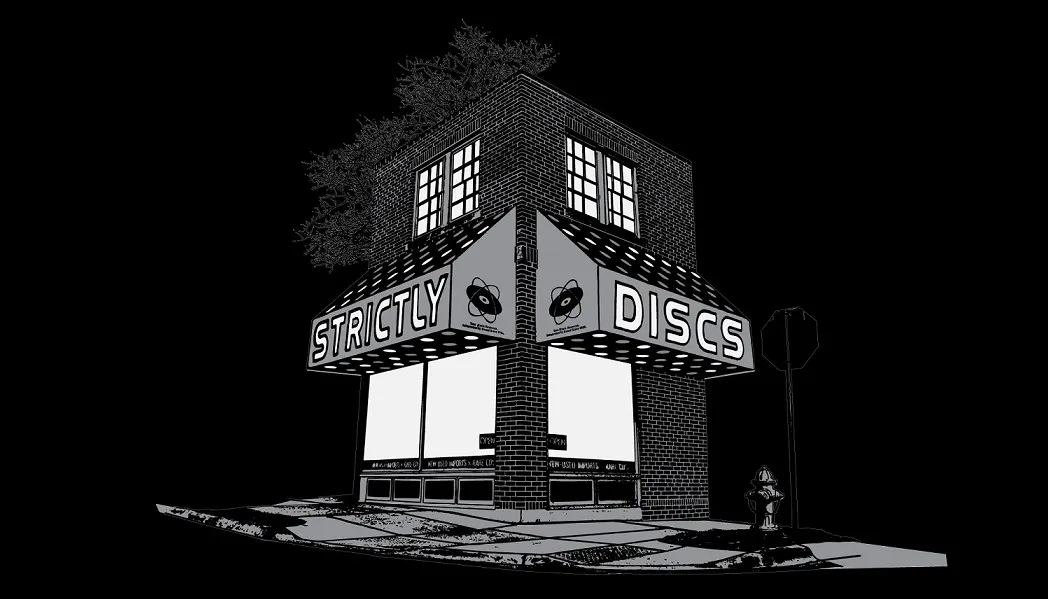 Each Tuesday in June, Strictly Discs will be donating 15% of all sales to local charities and initiatives that support our local communities of color. We stand with these groups to condemn the systemic racism that must be rooted out of our society, and to support the most vulnerable members of these communities.
Thanks to your support, last week we donated $300 to the Black Lives Matter general fund. 
This Tuesday, June 9, we will be making our donation to

 

Freedom, Inc, a leadership development and community organizing campaign based here in Madison. They have done remarkable work organizing peaceful demonstrations throughout the city this past week, and providing educational resources for folks looking to be more informed and involved. For more information on what they are doing, check out http://freedom-inc.org/
Our donation tally includes all online sales on Tuesday, as well as in-store purchases.
RECORD STORE DAY IS NOW RSD DROPS SPREAD OVER 3 DATES:
It's an unusual year, which means unusual news about Record Store Day.
Earlier this spring, Record Store Day announced a rescheduled June 20 date for the annual holiday, but with ongoing health and safety concerns, we now have a new plan.
Instead of a single-day global celebration, the 2020 releases will now be available over a series of monthly RSD Drops events, from August to October, followed by a regularly-scheduled Black Friday in November. This means we'll have four months of release events – the RSD 2020 exclusives spread out over three months, followed by a new round of exclusives for Black Friday – to end this strange year on a high note.
We appreciate your patience and understanding as we evolve on the fly with this one. Our goal is to keep the RSD spirit intact, connecting musicians, fans and record stores in a time where we need eachother the most!
Here's the official announcement from Record Store Day headquarters:
Since 2008, Record Store Day has grown into the world's largest single-day music event, shining a light on the culture of the indie record store across the globe. In 2020, that world is different, so Record Store Day will be, too. RSD is now scheduled to be celebrated with special, properly-distanced release dates on Saturdays in August, September and October.
Record Store Day will look very different this year, but supporting indie record stores may be more important than ever. We don't know what sort of rules will be in place, or what sort of gatherings people will be in the mood for this year, so we're focusing on the music and getting the really great titles on the RSD official list this year into the stores and into your hands, in the most financially and socially responsible way.
WISHLISTS:
Since so much has changed with Record Store Day, you will need to start a new list for any or all of the three dates. Lists made prior to April are no longer active/valid.
We will try to have ample stock (one of the deepest in the midwest) of all items, but please know that some of these products are extremely limited and will sell out quickly.
Stay tuned for many more details in the coming weeks.
STRICTLY DISCS T-SHIRT TO BENEFIT SHOP:
After Record Store Day was postponed, the custom clothing company Bonfire out of Richmond, VA contacted us wanting to design a limited edition Strictly Discs shirt highlighting our current message of safety & hope during these unprecedented times.
Bonfire's mission is To Strengthen & Inspire Communities. Well, we are humbled by our community that believes, like we do, that music is essential.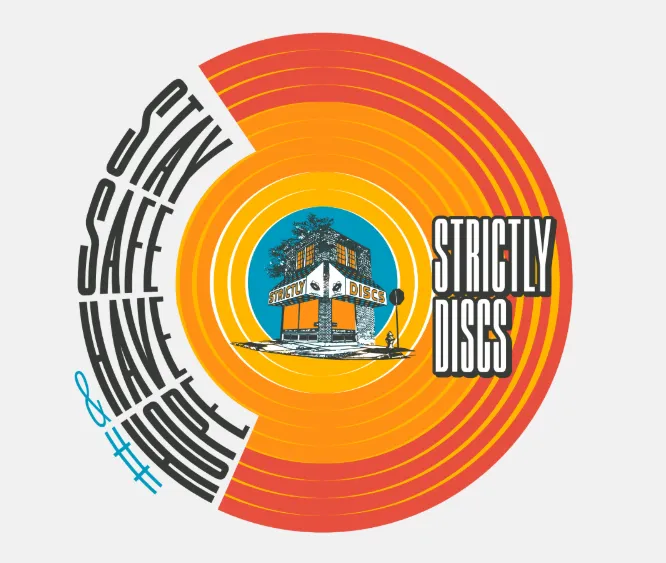 The related t-shirts/hoodies for adults/children will be delivered directly to your door.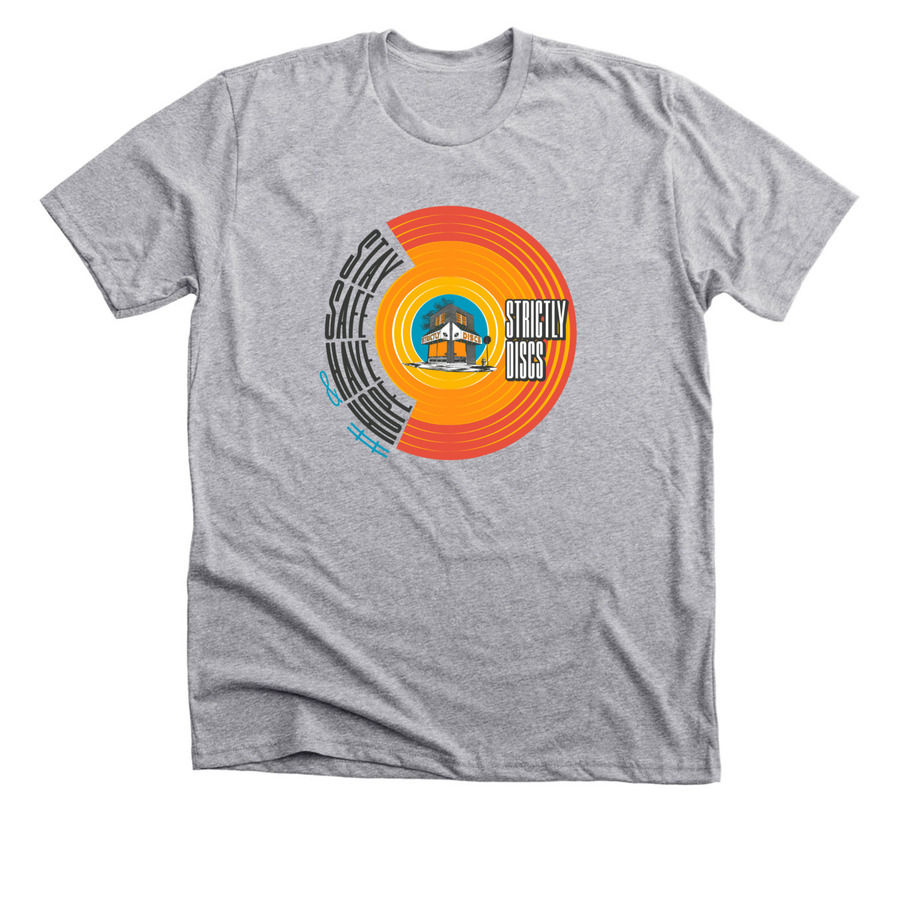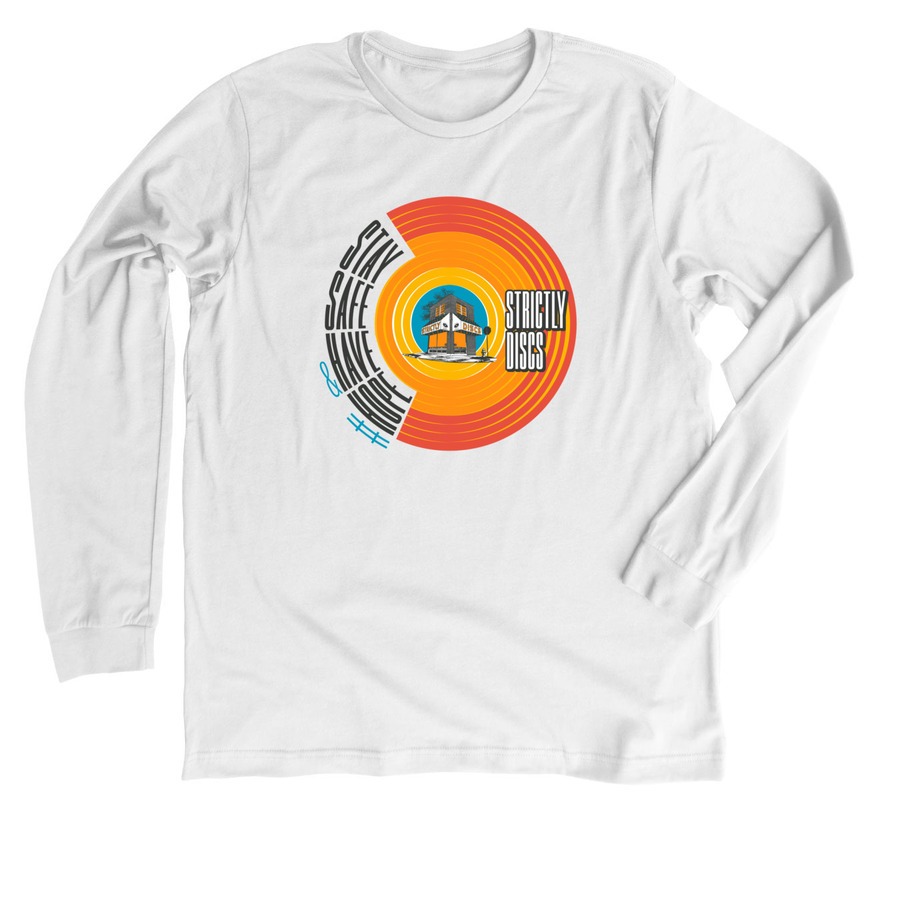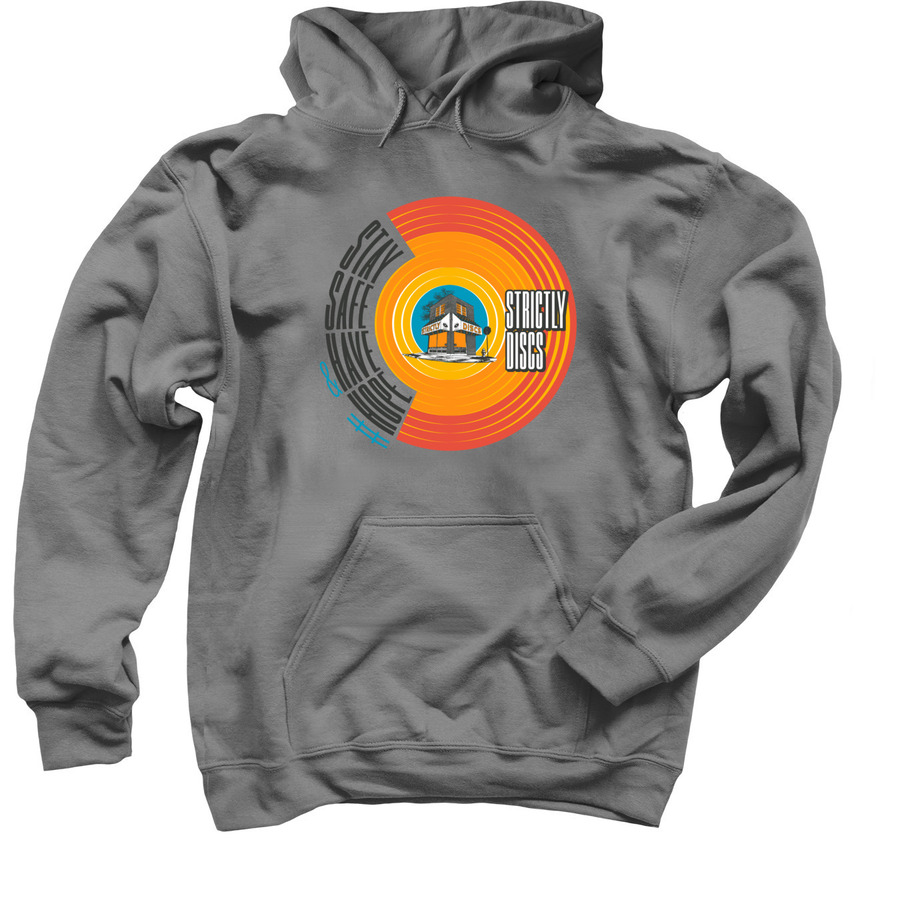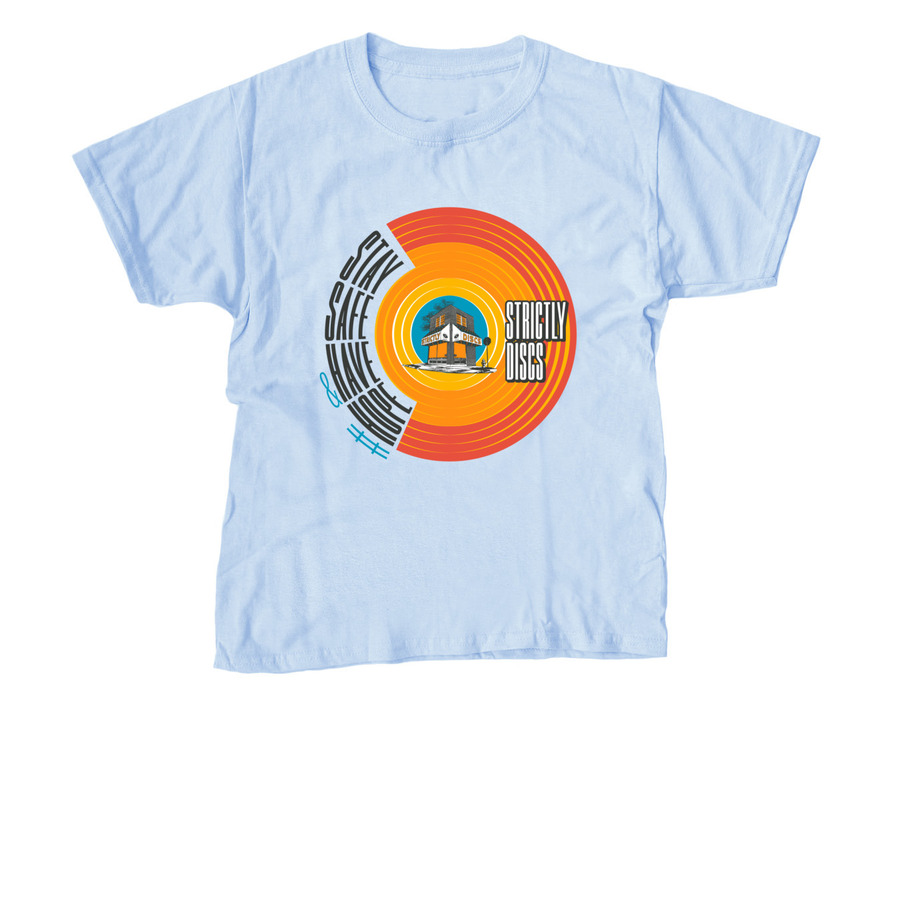 For our campaign Bonfire is donating proceeds back to us as they too are fans of Strictly Discs. Now that's rad.
Purchases help ensure Strictly Discs survives this crisis and continues to be your music resource. We are humbled by our community who believes, like we do, that music is essential. 
Our staff thanks you all for your ongoing support. Stay safe & have #hope. 
NEW THIS WEEK AT THE SHOP:
Legends of NYC boom-bap PETE ROCK & CAMP LO are back like they never left with '80 Blocks From Tiffanys', an explosive new record of classic production and lyricism from guests like Mac Miller, Ab-Soul, Talib Kweli, and more. STRETCH & BOBBITO pay tribute to some of hip-hop and dance's most sampled tracks with a killer record of adapted instrumentals called 'The M19's Band'. SMOKE DZA blesses smooth-riding soulful beats with his expertly chilled-out flow on 'A Closed Mouth Dont Get Fed'.
A pair of fantastic new records from producer MNDSGN are here. His 2013 cassette release, 'Bed', still stands out as one of his best, and we've got it on vinyl for the first time. A new release, 'Vivians', pairs the mixer up with rapper KOREATOWN ODDITY for a funky, slappy, oftentimes hilarious ride. Producer WHOAREI has gained some acclaim making beats for Kendrick Lamar and others, and now lays a gorgeous new LP of supple, soulful instrumentals on us with 'Love Spectrum'. 
CAMILA CABELLO's radio-dominating 2018 album 'Romance' finally gets a beautiful vinyl pressing this week, and we have a lovely new record from pop-folkies MT. JOY. Twisted garage pop grrl-group HINDS returns with 'The Prettiest Curse', in stock on colored vinyl while it lasts. 
MUZZ, the long-simmering project of Interpol's Paul Banks, at last gets its debut LP off the ground, and its some tenderly-rendered dark pop brilliance that you would hope for from one of the 21st century's most poignany mopers. A lovely new record from WESTERMAN squares the space between Nick Drake and Damon Albarn. Chicago folk-rocker VV LIGHTBODY brings us her new LP 'Make A Shrine Or Burn It', giving me some Sun Kil Moon vibes. 
Veteran Swedish musician BJORN OLSSON (Soundtrack of Our Lives, etc) sees a reissue of his incredible 1997 album 'Instrumentalmusik' return to the vinyl format. Fans of Bo Hansson's 'Lord of the Rings' album or the majesty of Morricone will want to sink into this one and never come back. Via the Feeding Tube label, we've got an absolutely spectacular double album of music from NAUJAWANAN BAIDAR, a contemporary psych band with roots in Afghanistan. Collecting two rare cassettes released last year, this set depicts a sort of dream-world where Trad Gras och Stenar plied their unending riffage in Central Asia instead of Sweden. Venezuelan electronic musician MIGUEL NOYA sees his 80s synth sketches collected on a staggeringly great 2LP set called 'Canciónes Intactas'. 
DJ PYTHON has been appointment listening ever since his incredible 2016 album 'Dulce Compania', which cleverly blended reggaeton rhythms with dreamy IDM. On 'Mas Amable', he leaves that formula largely intact, but stretches the scope of his tracks out even farther, on a continuously mixed album that I've had on repeat since quarantine started. Underrated late 90s electro practitioner RX-101 releases a new archival collection called 'Serenity', and we have a woozy doozy of a new record from moody beatmaker ITAL TEK. 
One of the more iconic, and impossible to find, of the American private press guitar records is WILLIAM EATON's 1978 album 'Music By William Eaton'. Restored in a new edition by the Morning Trip label, now all can enjoy these abstract yet engaging guitar soli which ebb and flow with a timeless ease. Contemporary improvisers MCCANN, SULLIVAN and TWOMEY have a great new record of trio excursions on McCann's Recital label. The classic debut of the art-damaged mods TELEVISION PERSONALITIES, 'And Dont The Kids Just Love It', gets a fresh pressing on colored vinyl. A deeply sourced 2LP collection brings together beautiful 4th world instrumentals from the CD-only discography of California musician CONRAD PRAETZEL.
The ballistic psychedelic guitarwork of MUNEHIRO NARITA is scarcely available on LP, though his work with the mighty High Rise has influenced generations of heavy players, most notably Boris and Comets on Fire. A recent, crisply-captured live set from San Francisco is in the house on vinyl. 1970s Greek psych pop from teen idol MARIANGELA is here on LP, produced by none other than VANGELIS himself. Uruguayan percussionist JORGE TRASANTE would later pay the bills with the Gipsy Kings, but in the late 1970s he recorded a rare album of afro-latin percussion that is exploding with ideas and textures. Perhaps the greatest cold-wave record to come out of Canada is CERAMIC HELLO's 1983 album 'The Absence of a Canary', out of print forever and back now with a lovely pressing. 
With nods to organic jazz pioneers like Jon Hassell and Steve Tibbetts aplenty, the new record from German duo MINAE MINAE bubbles over with rhythmic invention. A timely reissue of the 2003 album 'Be Yourself' from THE NEW MASTERSOUNDS offers a refresher on jazz-hop. Last year we had copies of the Canadian jazz group EUCALYPTUS fantastic LP 'Kick It Till You Flip It' fly right out of here, and now we've got a couple more. 
Veteran cloud/chill/wave/rap pioneer CLAMS CASINO returns with 'Moon Trip Radio', and it's just as dreamy as you want it to be. A pair of LPs from BATHS collects some of the eclectic ambient producer's strongest work. A new EP from the APT E label collects tracks from 3 great up and coming Seattle electro/breaks producers. 
A trio of fantastic EP reissues from a new label called Mixed Signals celebrate unheard dance music gems, and will get your google fingers walking. EROS is 80s New Jersey garage disco that could have/should have been on Motown. New Yorker HAROLD LUCIOUS played a bit with Brother Ahh, before making one dead-rare LP of street soul in 1990. LITIA=LOE were a short-lived Chicago project that rode the 2nd wave of house and techno in a raw and spirited fashion, combining influences of Chitown tape-loop don Ron Hardy with elements of EBM. 
USED VINYL ALERT:
Heading downstairs for this week's Used Vinyl Alert, we have a seriously eclectic blend of new arrivals for you to check out. French-Canadian folk, liberation poetry, Bollywood soundtracks, dulcimer records, Indian devotional music, academic classical electronics, obscure blues rock, latin synth pop, plus whatever genre you would like to put Muhammad Ali versus Mr. Tooth Decay in!
On the jazz front, we've got some heavies from Miles Davis, John Coltrane, Mongo Santamaria, Quincy Jones, Johnny Shacklett, Jan Garbarek, Norman Connors, Reuben Wilson and many more. Soul and R&B is in from Sam Cooke, Chares Wright, Gil Scott Heron, Stevie Wonder, Jimmy Castor, Earth Wind and Fire, Maxine Brown, Grace Jones, Vanity 6, and the Fatback Band, plus some clutch hiphop from Ice Cube, NWA, and MIA.
Classic rock represents with deep runs from the Who, the Kinks, the Stones, ZZ Top, Steely Dan and Bruce Springsteen, plus more from the Beatles, John Lennon solo, the Byrds, Neil Young, Queen, King Crimson, ELP, Genesis, Todd Rundgren, Joni Mitchell, Stevie Nicks, Jackson Browne, and Dire Straits. 
A nice stash of heavy contemporary rock and stoner-adjacent slabs are in from Whirr, Weed, Sleep, A Place to Bury Strangers, Nothing, The Black Angels, and more, plus other indie gems from Unknown Mortal Orchestra, Mates of State, Portishead, and the Swirlies.
A deep run of Folkways compilations accompanies roots classics from Pete Seeger, the Neville Brothers, and Woody Guthrie, and we fill things out with plenty of soundtracks, sports/novelty LPs, 20th century classical, and regional punk/noise/hardcore.
FRESH USED CDS HAVE RETURNED & ARE NOW LOCATED ON TOP OF THE CD LISTENING STATIONS IN THE FRONT WINDOWS.
New incoming used CD update, who dis? Normalcy is a currency scant in circulation, but here's the back-to-business business. We're welcoming the first Friday in June with beats, rhymes and range. Crucial material from J-Lin, Blood Orange, Anderson.Paak, the hip-hop Steve Lacy, Leon Bridges, Janelle Monae and Lizzo herald the new month, along with trusty favorites like Marvin Gaye, J Dilla, Robert Glasper and Pete Rock. Jazzy flavors run the gamut this week from Steve Lacy the saxophonist to Sons of Kemet. Included amongst the haul are Alice Coltrane's revelatory private press compilation on Luaka Bop, a pair from instrumental polymath Rahsaan Roland Kirk, two from crowd-pleaser Cannonball Adderley, ace bossa jazz from Jobim, Getz and Charlie Byrd and top-shelf loosies from Sonny Rollins, Wes Montgomery and Nerija. Rounding out this week's dispatch are sad-sack sounds from the Smiths and Mazzy Star, mindbending madness from Aphex Twin, Young Marble Giants, and Brian Eno, and heavy crunch from Dino Jr, Buzzcocks,  and The Raconteurs. Let's close with the latest material from Jenny Hval, The Breeders, Tegen and Sara and M83. Meanwhile, practice some chill.
STRICTLY DISCS IS HIRING:
VINYL PRICING SPECIALIST:
Required skills:
Excellent customer service skills; ability to anticipate customer needs
Computer proficient

A passion for music, and a broad, deep base of recorded music history
Knowledge of Goldmine standards & experience grading and pricing records

Knowledge of stereo equipment/functionality
Availability to work nights and weekends
Ability to lift and carry 50 pounds repeatedly
RETAIL/FRONT COUNTER STAFF:
Required skills:
Excellent customer service skills; ability to anticipate customer needs
Computer proficient

A passion for music, and a broad, deep base of recorded music history
Availability to work nights and weekends

To apply, submit letter of interest & resume to angie@strictlydiscs.com
STRICTLY DISCS IS ON SPOTIFY!
Dogs and cats living together! Strictly Discs now has a Spotify channel. Every time one of us at the shop puts on a record, it's because we think someone else within earshot is going to like it, too. One of the things we've missed the most about having our doors temporarily closed is not being able to select the in-store play tunes for our customers to hear. It's the fun part of this job, and we want it back! Spotify users, point yourselves to our profile

 

HERE and click around. We've compiled a number of playlists, with more to come. Be sure to subscribe and check in on the "STRICTLY SELECTOS" playlist, as it will change each week with a fresh rundown of the titles we are featuring in this very email! New songs will appear there every Thursday, and are available to order online or over phone/email.
FACE MASKS AVAILABLE TO BENEFIT MONROE STREET:
BACK IN STOCK! Need a face mask? The Monroe Street Merchants Association has commissioned a batch of professionally-made cotton masks in a variety of colors and patterns. They are available now for $10 and can be added to any curbside/delivery order. Proceeds from the sale of the maskes will support promotions to help Monroe Street businesses recover from the pandemic once we are all able to reopen. Please call us to coordinate payment/pick-up (608.259.1991). 



SELL US YOUR CDS & LPS:
Yes, we are still buying! Call Ron to schedule (608.213.3610).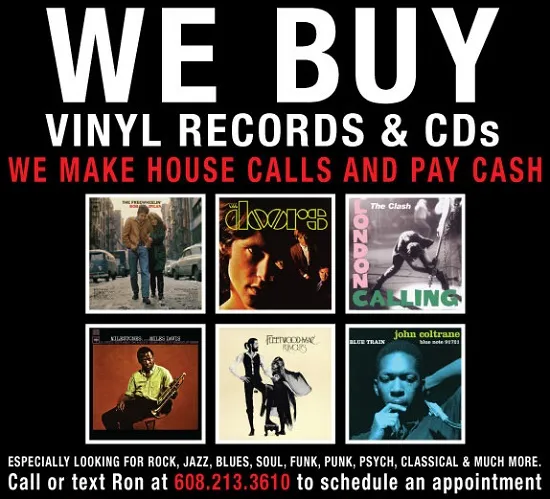 Ron, Ryan, Angie, Marty, Evan, Ben, Matt, Will, Ed, Larry, Mark, Jack, Eric & Dave