May 7, 2020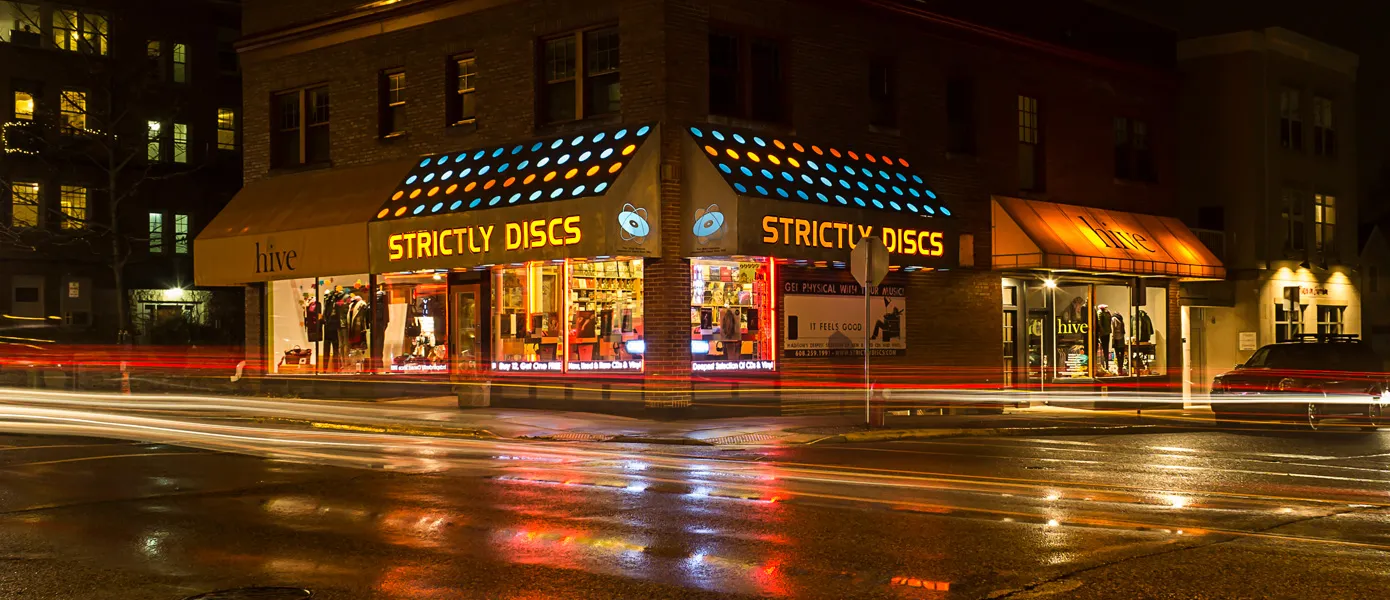 METCALFE'S MARKET GIFT CARD SALE:
We are a participating business in Metcalfe's Market NEIGHBORS HELPING NEIGHBORS program. 
For every $25 Strictly Discs gift certificate purchased HERE, you will receive a bonus certificate for $20 off a $100 purchase at Metcalfe's. 
STEVE EARLE VIRTUAL IN-STORE NEW RELEASE BUNDLES:
Steve Earle LOVES indie record stores and he has created an in-store/pre-order bundle that directly benefits OUR SHOP. 
- Pre-order a copy of Ghosts of West Virginia on CD, LP or Limited Edition Indie Only Vinyl (while supplies last) through this LINK 
- Each order includes a ticket to a virtual in-store that will go live on May 15th.
- Each pre-order will be shipped to your door on or before May 22nd.  
- A link and password to the in-store will be sent to you on May 14th from New West Records.
BOOM! Simple as that. Thank you Steve Earle and New West Records!
STRICTLY DISCS IS ON SPOTIFY!
Dogs and cats living together! Strictly Discs now has a Spotify channel. Every time one of us at the shop puts on a record, it's because we think someone else within earshot is going to like it, too. One of the things we've missed the most about having our doors temporarily closed is not being able to select the in-store play tunes for our customers to hear. It's the fun part of this job, and we want it back! Spotify users, point yourselves to our profile HERE and click around. We've compiled a number of playlists, with more to come. Be sure to subscribe and check in on the "STRICTLY SELECTOS" playlist, as it will change each week with a fresh rundown of the titles we are featuring in this very email! New songs will appear there every Thursday, and are available to order online or over phone/email.
FACE MASKS AVAILABLE TO BENEFIT MONROE STREET:
BACK IN STOCK! Need a face mask? The Monroe Street Merchants Association has commissioned a batch of professionally-made cotton masks in a variety of colors and patterns. They are available now for $10 and can be added to any curbside/delivery order. Proceeds from the sale of the maskes will support promotions to help Monroe Street businesses recover from the pandemic once we are all able to reopen. Please call us to coordinate payment/pick-up (608.259.1991).



NEW THIS WEEK AT THE SHOP:
We sure do love JASON ISBELL here at the shop, and based on how much hustle the man and his label have put forth to get indie record stores copies of his new album, 'Reunions', the feeling seems to be mutual! We don't think you'll be disappointed with this, another instant classic in Jason's catalog of direct-from-the-heart Americana. On a similar note, the latest record from the ever-impressive songwriter MARK LANEGAN has wowed us from the first note, and we're thrilled to have copies of the anticipated solo debut of HAYLEY WILLIAMS of Paramore fame. 'Petals For Armor' might scratch the itch you picked up from the new Fiona Apple record. French songwriter EZECHIEL PAILHES has stayed under our radar until now, but his latest record 'Oh!' is quite a delight. Electrified emotional songcraft reigns here, on a record that sits on the same shelf as the last couple from Bon Iver, Thom Yorke, or Sebastien Tellier.
Drummer, composer, teacher, and bandleader TONY ALLEN is one of the 20th century's greatest repositories of rhythm. The visionary musician's work spanned generations, from decades with Fela Kuti's band, to collaborations with contemporary musicians like Damon Albarn, Moritz Von Oswald, Charlotte Gainsbourg, and Angelique Kidjo. Mr. Allen passed away last week, and we commemorate his legacy with two recent LPs from the man: 2018's 'The Source' and the recently released 'Rejoice!', his final collaboration with HUGH MASEKELA.
A nice spread of great compilations roll in this week.  'Bongo Beats and Bankruptcy' collects tunes from ten years of the I'M A CLICHE label, the French imprint that champions the cheeky, cosmic end of the modern dance spectrum. The SPIRITUAL JAZZ compilation series arrives at a long-awaited station with a volume dedicated to the 'SteepleChase' label. While keeping a relatively low profile, this label cranked out stunning albums of progressive and spiritual jazz across the late 70s and 80s, leaving behind a vast discography for diggers in the know. This set attempts to sum up the imprint in one set, featuring amazing tunes from names like Johnny Dyani, Jackie McLean, and Mary Lou Williams. A new collection from Kingston Sounds, 'BORN TO LOVE YOU', collects roots reggae scorchers focused on the topic of love and longing. 
The Mule Musiq label reissues an absolute modern classic of Brazilian-style jazz fusion with a hint of deep house from producer SKYMARK. 'Primeiras Impressoes' got a hyper limited release back in 2013 and now returns with new artwork. 'Uzun Havalar', the 2019 album from Turkish group ANADOL would have easily made my top ten list last year, if it hadn't immediately gone out of print, but now we have the repress! It's truly tough to sum this one up in words; this vaporous album of song-clusters unfolds like a half-awake dream, skittering along a line between ghostly lounge music, distant jazz, and esoteric synth-pop. It's been way too long since we've seen copies of MORPHINE's smoky, smirking sophomore classic 'Cure For Pain' in the house on vinyl. 
Style, elegance, and technique commingle on 'Fly Cruzeiro', a reissued rarity from the collaboration of Brazilian jazz-pop icons MARCOS VALLE and AZYMUTH. The rare 1977 of Suriname flautist RONALD SNIJDERS receives an essential repress, for all the funky flute fans out there. Contemporary Afrobeat group AFRICAN CONNECTION sees their debut emerge on vinyl, carrying the Fela torch with pride, and we have the first-ever repress of Nigerian keyboardist SEGUN BUCKNOR's 1972 debut. 'Son of January 15th' includes the all-time great tune 'La-La-La', which you might recall from the first Nigeria 70 compilation. 
Not long after his legendary run of records with the Yellow Magic Orchestra, RIUICHI SAKAMOTO took a slight detour to help invent techno wth 1980's 'B-2 Unit'. This stark collection of synthetic miniatures has never sounded more prescient, or more hi-fi, as it receives a fresh 2019 remaster on this Japan-only reissue. The Music For Dreams label continues it's fascinating 'Collector's Series' of DJ-curated comps with OTO NO WA, selected by Ken Hidaka, Max Essa, and Dr. Rob of Test Pressing Magazine. This set focuses on overlooked gems from the world of 90s Japan: pseudo-reggae, dreamy IDM, and fragrant pop nuggets. If you've never heard the one-of-a-kind listening experience that is 'Through The Looking Glass' by MIDORI TAKADA, now's your chance, as a small repress has shown up. Vibraphone, gongs, and piano populate a dense forest of sound on a slab that truly unlocks the transporting potential of your turntable. 
Literally the inventor of 'new age', musician IASOS still doesn't get the proper credit he is due, largely because some of his great albums are so hard to find. I should also say, when you do find them, they kinda look insane! Nevertheless, we are over the moon to have copies of three of the all-time greatest now in stock on LP: 'Inter-Dimensional Music', 'Realms of Light', and 'Angelic Music'. 
Last up, we've got a real sweet haul of audiophile jazz LPs that have just been repressed, at a nice price from the Speakers Corner label. Check out 'The Blue Yusef Lateef' from YUSEF LATEEF, 'Pithecanthropus Erectus' from CHARLES MINGUS, 'Stitt Plays Bird' from SONNY STITT, plus classics from the MAX ROACH TRIO and FREDDIE HUBBARD!
STRICTLY DISCS CURATED BOXES OF 45S & LPS:
2020: year of the "Rando!" We've seen incredible demand for these curated boxes of vinyl from our warehouse, so much so that we are now over 1 week out on requests! If you'd like one, please expect to wait a little while, but if you don't want to wait, consider our CLASSICAL RANDO and 45 RANDO boxes! We've delivered a few of these classical boxes to some folks, and they've been amazed at their depth! If you've ever wanted a tastefully selected classical music collection to just *appear* in your house, this is the way. Our 45 boxes have also been drawing raves, as they are chock-full of pop, soul, country and rock gems.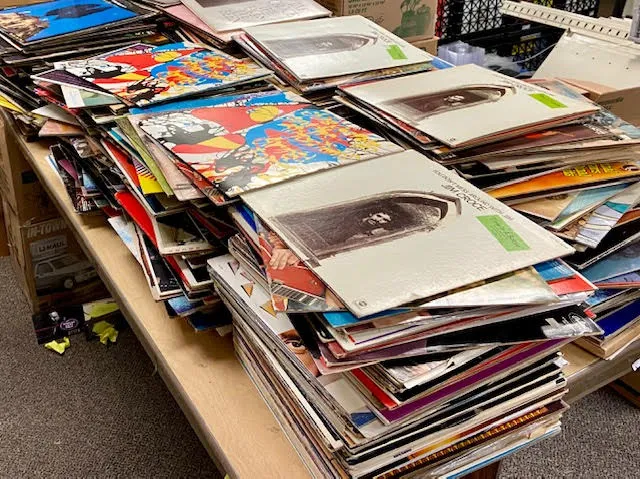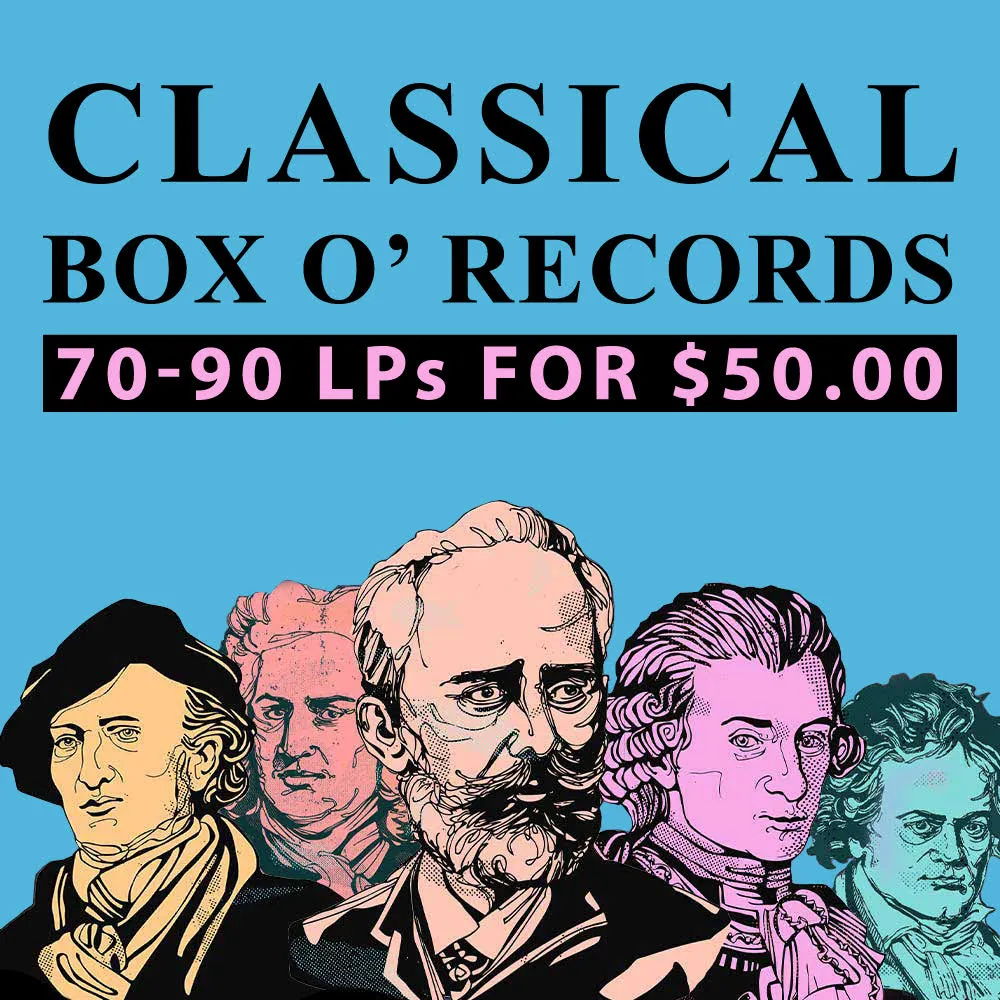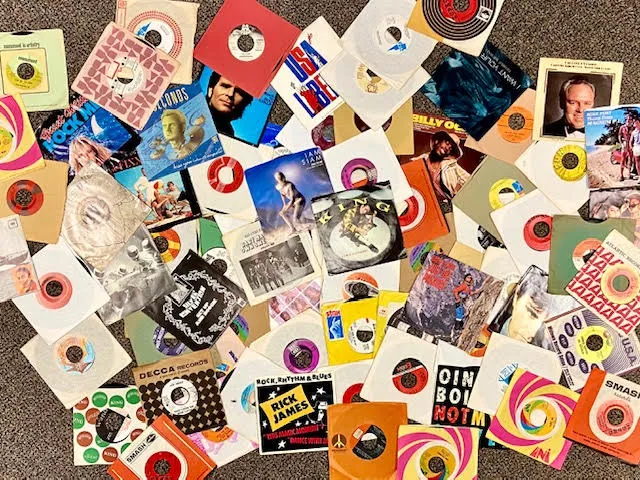 Still available for ordering. Expect something from any genre you can think of and nothing has any real condition issues. Every record is a surprise! $50.00 for a big stack of LPs (+/- 60-80) and $35 for 45s (100). Available for doorstep drops. We can send them as gifts and we can drop them on door stops as gifts.
These options available for pick up and delivery by calling the shop between 10AM and 5PM Monday - Saturday.
IMPORTANT RECORD STORE DAY UPDATE!
It's an unusual year, which means unusual news about Record Store Day. 
Earlier this spring, Record Store Day announced a rescheduled June 20 date for the annual holiday, but with ongoing health and safety concerns, we now have a new plan.
Instead of a single-day global celebration, the 2020 releases will now be available over a series of monthly **RSD Drops** events, from August to October, followed by a regularly-scheduled Black Friday in November. This means we'll have four months of release events – the RSD 2020 exclusives spread out over three months, followed by a new round of exclusives for Black Friday – to end this strange year on a high note.
If you missed the deadline to make a wishlist earlier this year, great news! On or around June 1, we will be rolling out a new, revised wishlist system to reflect the new RSD Drop schedule. If you already completed a wishlist, you will need to re-create one. We will have more instructions on this in a forthcoming email.
We appreciate your patience and understanding as we evolve on the fly with this one. Our goal is to keep the RSD spirit intact, connecting musicians, fans and record stores in a time where we need eachother the most!
Here's the official announcement from Record Store Day headquarters:
Since 2008, Record Store Day has grown into the world's largest single-day music event, shining a light on the culture of the indie record store across the globe. In 2020, that world is different, so Record Store Day will be, too. RSD is now scheduled to be celebrated with special, properly-distanced release dates on Saturdays in August, September and October.
Record Store Day will look very different this year, but supporting indie record stores may be more important than ever. We don't know what sort of rules will be in place, or what sort of gatherings people will be in the mood for this year, so we're focusing on the music and getting the really great titles on the RSD official list this year into the stores and into your hands, in the most financially and socially responsible way.
The titles on the RSD 2020 official list, launched on March 5, will be released at participating record stores on one of these three RSD Drops: Aug. 29, Sept. 26 and Oct. 24. The new version of The List, with newly assigned RSD Drops dates, will launch on June 1, so check back here for a look at when you'll be able to pick up the titles on your RSD 2020 wishlist.
SELL US YOUR CDS & LPS:
Yes, we are still buying! Call Ron to schedule (608.213.3610).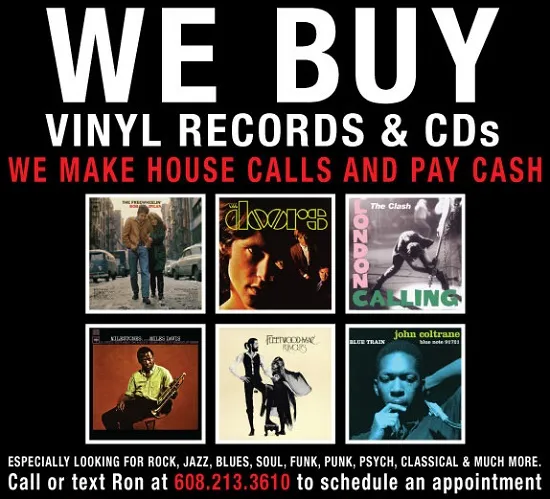 OTHERS TALK BACK:
This isn't the spot to lay down odds on the third race. OTB is where Others Talk Back and give you the lowdown on what they've been feeling lately. This one's for the customers.
Ride - "Clouds in the Mirror (This Is Not A Safe Place reimagined by Petr Aleksander)"-  Ride's 2019 album is almost completely redone by the English duo Petr Aleksander.  All of Ride's instrumentation is stripped away, with only the vocals remaining from the original album.  Petr Aleksander adds piano, synthesizers and violin to the vocals giving the proceedings an ambient underpinning. The duo then tops off everything with a string quartet.  The strings take everything up several notches, achieving a majestic classical feel that galvanizes the listener.  And it is surprising how well Ride's vocals and melodies lend themselves to such a radical treatment. "Clouds in the Mirror" is a radical reimagining of the shoegaze/indie sound of the original Ride album by Petr Aleksander.  It is almost a completely new album, with just enough of the original album to satisfy Ride fans; but also with enough of the new to hook serious music fans. - Ted

Ron, Ryan, Angie, Marty, Evan, Ben, Will, Ed, Larry, Isaac, Mark, Jack, Eric & Dave