February 20, 2020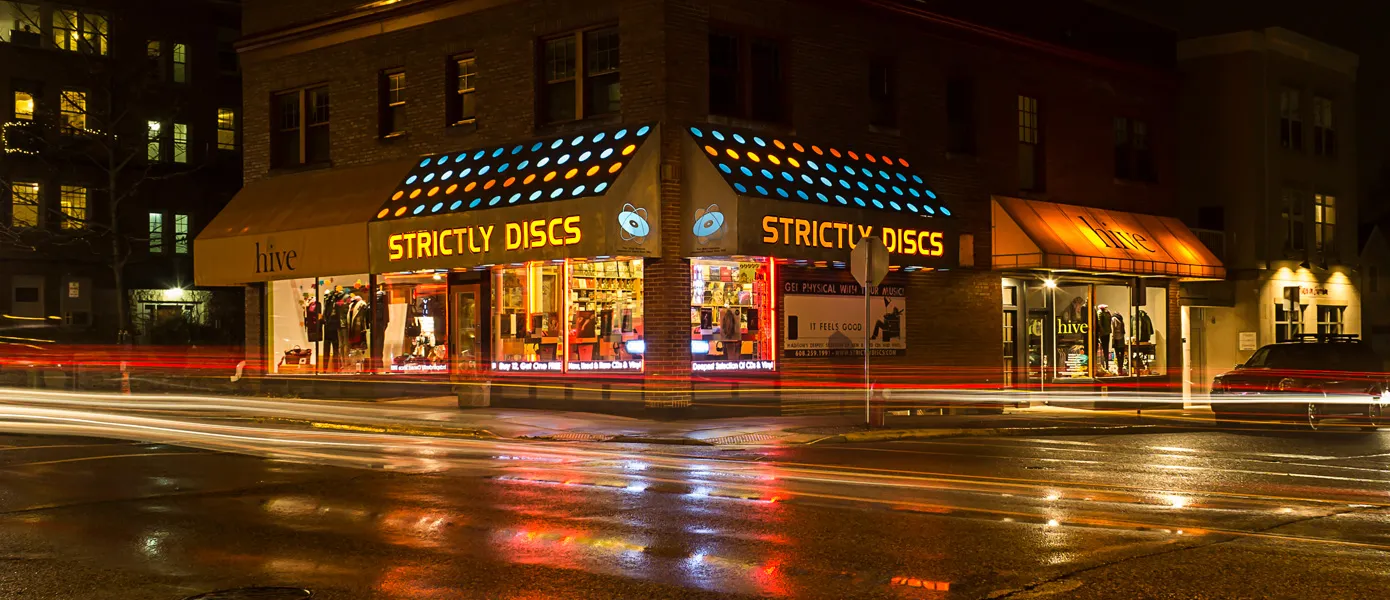 NEW THIS WEEK AT THE SHOP: 
This week brings big new albums from some of the pop fringe's gloomiest (if not doomiest) voices, starting with 21st century digital discontent from GRIMES, who confronts, while seeming to revel in our societal malaise on her latest album, 'Miss Anthropocene', which is a much less blistering, significantly more dreamy affair than her 2015 breakout 'Art Angels'. Aussie slouchpop savant COURTNEY BARNETT examines her already vast catalog on a new 'Unplugged' album, and we get a potent new record from the still-mysterious KING KRULE, the young songwriter who has had big expectations from the UK music press since his early teens. On 'Man Alive', he delivers his strongest work yet, a blurting, roaring processional of an album that tempers his potent anguish with more cerebral moments of reflections of fatherhood. The week's most startling release, hands down, comes from CINDY LEE, the evolving solo project of Pat Flegel from the defunct band Women, and their LP 'What's Tonight To Eternity'. I've spent all week listening to this record, a shambolic collection of chaotic and poignant pop dirges that wobble as if they could achieve clarity or be consumed by static at any moment. Flegel's sound is singular; a kind of revisionist girl group vocal pop cast in glinting noise, or as I heard someone else describe them: "like the Supremes in a wind tunnel".  
One of modern pop's most tender, sensuous voices returns with the latest album from AGNES OBEL, and we welcome the re-emergence of 2010s good feeling superstars BEST COAST with their first new record in some time, 'Always Tomorrow'. That's the spirit guys. Pop star SELENA GOMEZ appears to have survived into adulthood without going insane, and celebrates that rare achievement with a new LP called 'Rare', and we have the debut album from the harmonizin youths of PURR.
New stuff abounds from trusted names in the heady indie pantheon, starting with a lovely new record from CALIFONE. 'Echo Mine' is yet another gem from the longtime Chicago group who manage to make anti-modern folk jams sound positively kinetic. Eternal cosmic rambler SIX ORGANS OF ADMITTANCE celebrates his decades in the game with the swarthy 'Companion Rises', a dense slab that reminds us that Ben Chasny was plying his hypnotic guitar meditations years before Kurt Vile and Steve Gunn made their names with this sound. Beloved badboy GREG DULLI returrns with 'Random Desire', and we've got the latest monthly installment from the GUIDED BY VOICES megacorp, 'Surrender Your Poppy Field'.
A remarkably vital collection of traditional music is here, full of tunes with little exposure to the world beyond it's home country, from the Soul Jazz label. APALA GROUPS IN NIGERIA collects 1960s recordings from the orbit of the massively-respected vocalist Haruna Ishola and his Apala sound, a ceremonial music of rhythmic chant, group percussion, and thumb piano. The 1982 postpunk dub masterpiece 'Station M.X.J.Y.' from MAXIMUM JOY is back in print for the first time in decades, reviving the UK scene's equivalent of the Tom Tom Club's debut LP. Out of the mists of an obscure NYC improv live archive, we get a LP pressing of a 1990 solo performance from saxophonist LENNY PICKETT, who's main claim to fame is his decades-long stint in the SNL band. On this beautifully artworked LP, we hear Pickett playing music for dance performance on reeds and tape loops.
Dark ambient and freeform investigations of occult sound are here on new records from WREKMEISTER HARMONIES and ELUVIUM, and we've got a splendid record of BARDO POND material that hasn't ever turned up on LP before, capturing the longtime Philly psych band's distinct mindmeld.
I'd never heard of the 70s Swiss prog band KEDAMA before, but one listen to their sole 1976 release of majestically poppy guitar and organ innovations made me immediately wonder why. Perhaps a similar impulse is what possessed the Castle Face label to release a comprehensive 3 LP set of all of their material, heard and unheard, on one doozy of a set. These guys had more riffs that you ever thought possible could come from Switzerland. The GRATEFUL DEAD's first ever "Wall Of Sound" show took place at the Cow Palace in San Jose, early 1974, and was commemorated for volume 24 of the legendary Dick's Picks series, which now gets it's first ever vinyl release. The 1965 album from the Pacific Northwest garage band the Sonics, 'Here Are the Sonics!', is enough to make you question the validity of the space-time continuum entirely. In one blistering LP of originals and covers that spends most of its runtime blissfully in the red, you can hear the entire arc of particular brand of American punk, from the Ramones and Black Flag to the Wipers and Nirvana, conjured by teenagers living during the rule of Lyndon Baines Johnson. WTF. This one's been hard to get a hold of in a nice vinyl edition for too long. 
'Grave of a Dog' is the new album from SIGHTLESS PIT, a new supergroup of sludge featuring members of Full of Hell, the Body, and Lingua Ignota's Kristin Hayter. Back in 2001, the American underground was put on notice by a pair of Providence true believers known as LIGHTNING BOLT, who made a cacophony too jubilant to be called 'grindcore', too approachable to be called 'noise', and too maddeningly driven to be called 'pop'. Looking back on two decades of rock's repeated post-mortems, its tempting to call 'Ride the Skies' the first and last great rock record of the 21st century, and if you disagree, sucks to be you. This one's back in print for the first time in a long time, so you can finally pick one up or maybe, in my case, replace the copy you traded for a taco dinner many years ago.
A solid week for gems from the UK post-industrial blueberry bog, as we welcome reissues of the first two albums from eldritch dub-muckers BOURBONESE QUALK. 'Hope' and 'Laughing Afternoon' are two challenging, yet rewarding excursions recommended to fans of Dead Can Dance or early 23 Skidoo. Obscure synth-spazz DIY brilliance is back in print from MR CONCEPT, and we have the near-mythical 1987 album of tenuous fourth world from O YUKI CONJUGATE, called 'Into Dark Water'. 
Here and gone too briefly last year was the massive double album 'Fog FM' from NYC house mainstay ANTHONY NAPLES. A fresh repress of this beautiful record cements it as his finest work yet; deliriously grooving tech-house flirts with lofi before heading towards the stars, with plenty of lush, lyrical comedown moments. Finally, we close with a new album from the somewhat unknown producer MULTICAST DYNAMICS, who releases his first album for the Astral Industries label that has long been appointment listening. It's hard to know what to call this expansive, engrossing listen. It's four sides contain long pastiches of aquatic dub and embroidered glitch, all arranged with the precision chaos of one of those artworks created by an AI. You know, the one's where theres a dog with like...17 eyes? You know what I'm talking about, right? Welp, good talk.
Multicast Dynamics - Ancient Circuits
Heading downstairs for this week's edition of the Used Vinyl Alert, we pull back the curtain (well, technically it's a sheet) on another crop of sweet ones.
Lots of timely refreshments from the SD hall of classics this week, including a variety of catalog titles from Led Zeppelin, Pink Floyd, Fleetwood Mac, Prince, David Bowie, Bruce Springsteen, the Beatles, the Kinks, Bob Dylan, the Doors, and Queen. Further along, there's some Lou Reed, Gentle Giant, King Crimson, Moby Grape, the Pretty Things, the Left Banke, Linn County, Ronnie Hawkins, Traveling Wilburys, Elton John, Frijid Pink, ELP, and the Eagles.
New wave gems come through from Patti Smith, REM, Elvis Costello, The Cramps, Duran Duran, and the Smiths, plus blues from Big Joe Turner, Junior Wells, and more. Folk and country from Sandy Bull and Webb Pierce. 
A deep and wide assortment of jazz this week, with far-out catalog titles from names as eclectic as Jaco, Airto, Szabo and Deodato. Browse heavies from John Carter, Al Cohn, Anthony Davis, Donald Byrd, Jan Hammer, Herbie Mann, John Coltrane, Milt Jackson, Willie Bobo, Art Pepper, Marion Brown, Lonnie Liston Smith, Gato Barbieri, Mal Waldron, Bennie Maupin, Gary Peacock, and so many more. Deep, deep runs on early percussion wizards like Buddy Rich and Louie Bellson, as well!
A smattering of cool disco and house 12"s pair up with LPs from Newcleus, Lou Rawls, Sam Cooke, and Stevie Wonder. A nice selection of female vocalist jazz records includes several from Julie London, and we have offerings of exotica, Esquivel, Hawaiian trad, children's LPs, musicals, instructional oddities, and breaks compilations to round us out!
This week the pickings are not as voluminous as some Fridays but brother, the quality is still there, particularly if overdriven guitars find purchase in your household. Look for early White Stripes, Detroit Cobras, King Gizzard, Ted Leo and "Ultraglide in Black," the revved-up album of caffeinated soul covers by the Dirtbombs. This is one of those longtime store favorites. In the quiet corner, there's multiple offerings from both Steve Gunn and Camera Obscura, Love's immortal "Forever Changes," and a pair from Americana firecracker Caitlin Rose. We still got some old standbys from warhorses like Tom Waits, Led Zep [the killer 3-cd "How the West Was Won] and Smooth Bobby Dylan. There's still ace stuff from last week including the remnants of a jazz deluge and ace singer/songwriters like Fleet Foxes, Elliot Smith and Sleater-Kinney. The roads are clear, the weather should be less oppressive and you need to occupy yourself before Wilder-Fury II on Saturday night.
STRICTLY DISCS IS HIRING:
VINYL PRICING SPECIALIST:
Required skills:
Excellent customer service skills; ability to anticipate customer needs
Computer proficient

A passion for music, and a broad, deep base of recorded music history
Knowledge of Goldmine standards & experience grading and pricing records

Knowledge of stereo equipment/functionality
Availability to work nights and weekends
Ability to lift and carry 50 pounds repeatedly

To apply, submit letter of interest & resume to angie@strictlydiscs.com
OTHERS TALK BACK:


SELL US YOUR CDS & LPS: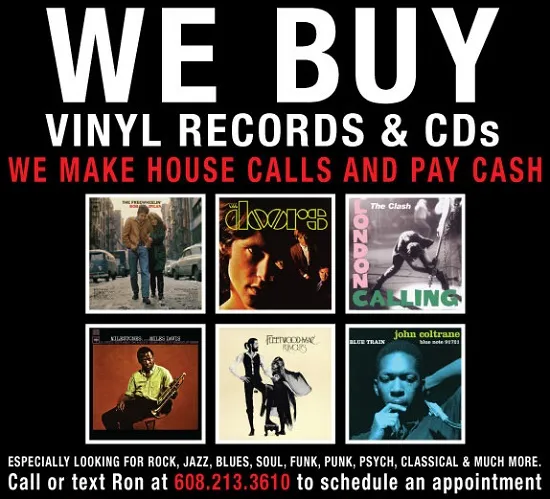 Ron, Ryan, Angie, Marty, Evan, Matt, Ben, Ed, Isaac, Larry, Mark, Jack, Eric & Mike