January 2, 2020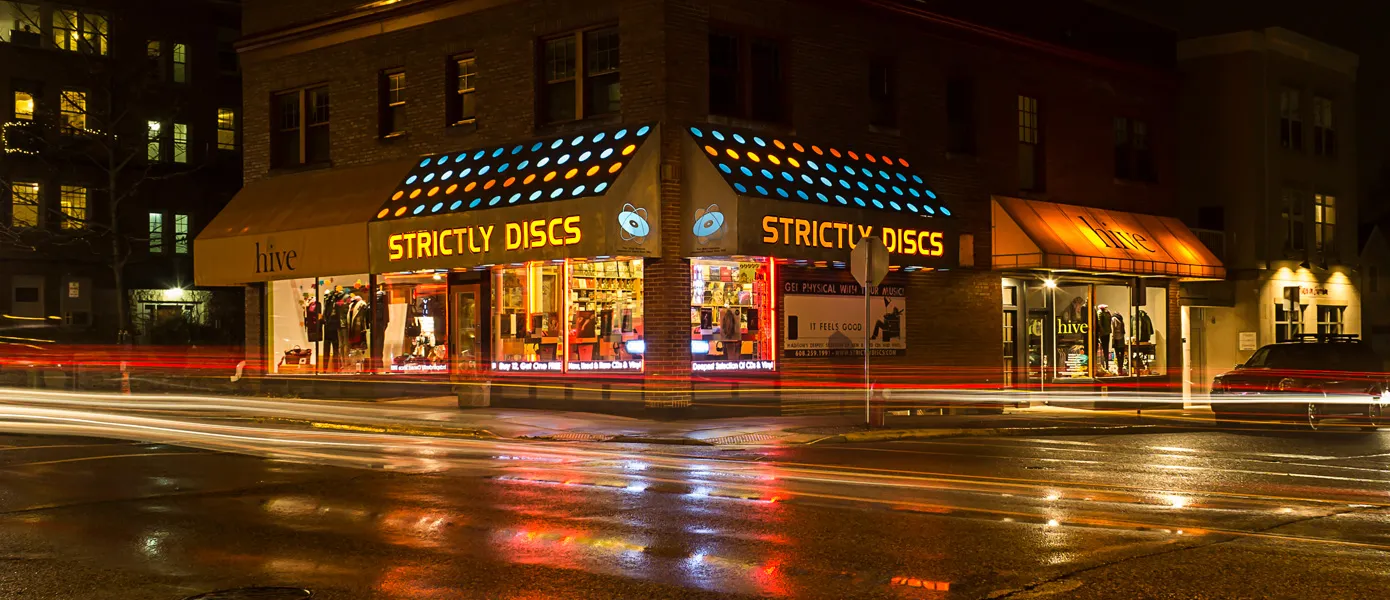 We kick the year off in classic style in the new arrivals this week, with a whole host of classic Bob Dylan albums, several Rolling Stones essentials and scarce bootlegs, plus trusty slabs from the Beatles, Lou Reed, Fleetwood Mac, Jimi Hendrix, Joni Mitchell, Sir Douglas Quintet, the Kinks, Roxy Music, Hall and Oates, Elton John, Uriah Heep, T.Rex, Mahogany Rush, Dust, Siegel-Schwall, and Rhinoceros.
80s pop from The The, The Clash, They Might Be Giants, Pat Benatar, XTC, Sparks, and Rain Parade joins up with some contemporary hits from Protomartyr, Fleet Foxes, the Mountain Goats, Radiohead and Weyes Blood. Folk and blues from Muddy Waters, Leadbelly, and John Renbourn meets classic vocalists like Julie London, Frank Sinatra, and Ella Filtzgerald.
Some choice soundtrack and children's LPs turn up alongside funk and disco from Quincy Jones, Rufus and Chaka, Bobby Thurston, Michael Jackson, and Gino Soccio, plus we have a whole range of jazz LPs, from Django Reinhardt, Charlie Parker, Gil Evans, Stan Getz, and Gabor Szabo, to Keith Jarrett, Art Blakey, Buddy Rich, Tony Williams, Cedar Walton, John Coltrane, Eddie Harris, Wes Montgomery, Randy Weston, Shirley Scott, and Ken Nordine!
We're shaking off our nog benders/kid germs/general 2019 ennui and are back with an abbreviated but still tasty chronicle from the front line, er, rack. As we further excavate the murky soil of gray-area recordings, we've pulled up another choice batch of boots. There's a ton of live Springsteen this week, and as befits the indefatigable one, most of'em are multi-disc sets and dating from the pre-River days. Skipping across the pond, we have a wealth of Zep digipaks and classy cardboard sets, proof that not all dubious captures are the same. Of course, there's the expected dates from heavies like Bob, The Dead and SRV, but the ace among the whole desk is a crisp 2-disc of Uncle Tupelo's last show. Sounds great, looks great and is priced at a fraction of what it had been back in the day.  We'll get back to full re-ups next week, so stay tuned.
STRICTLY DISCS 2019 STAFF TOP 10s: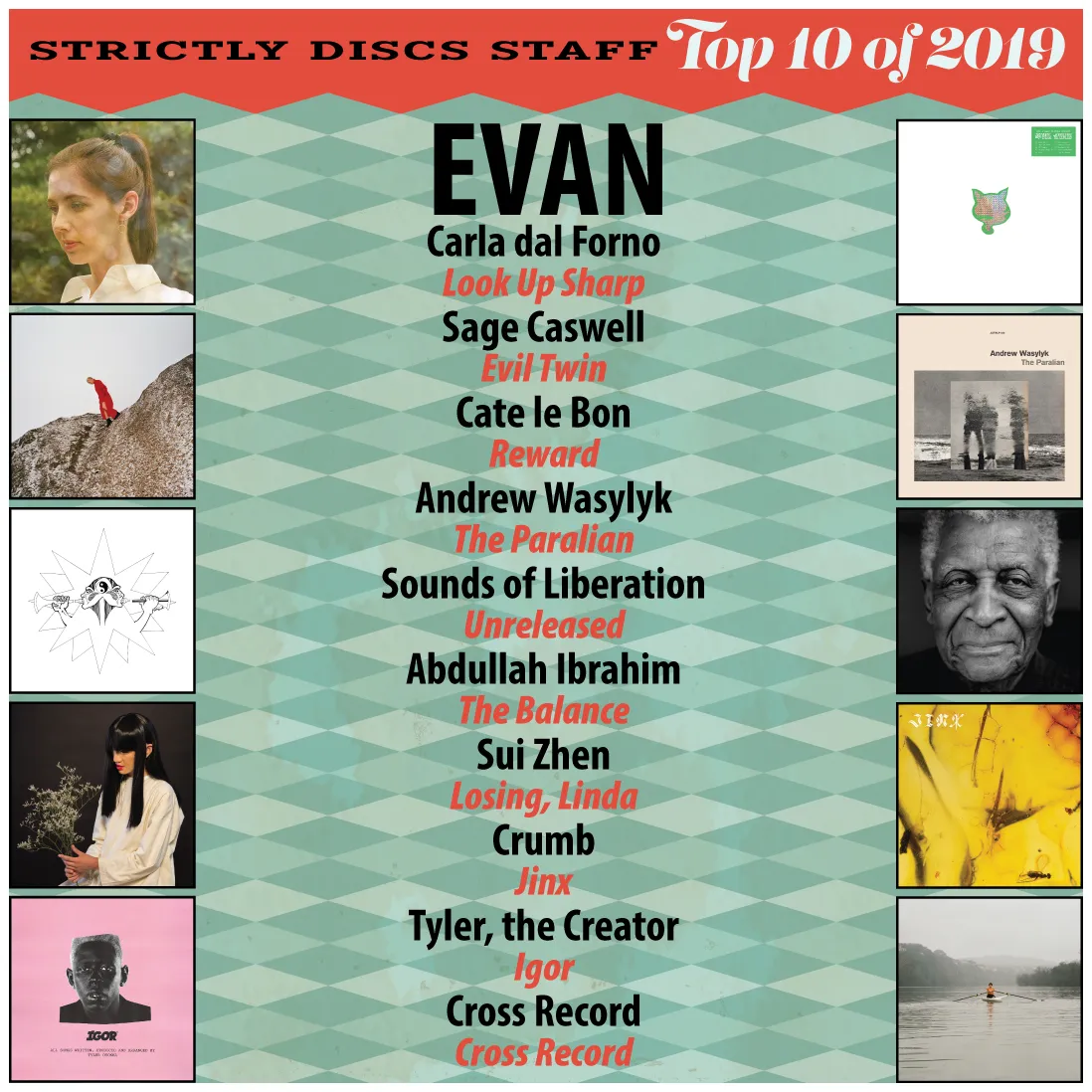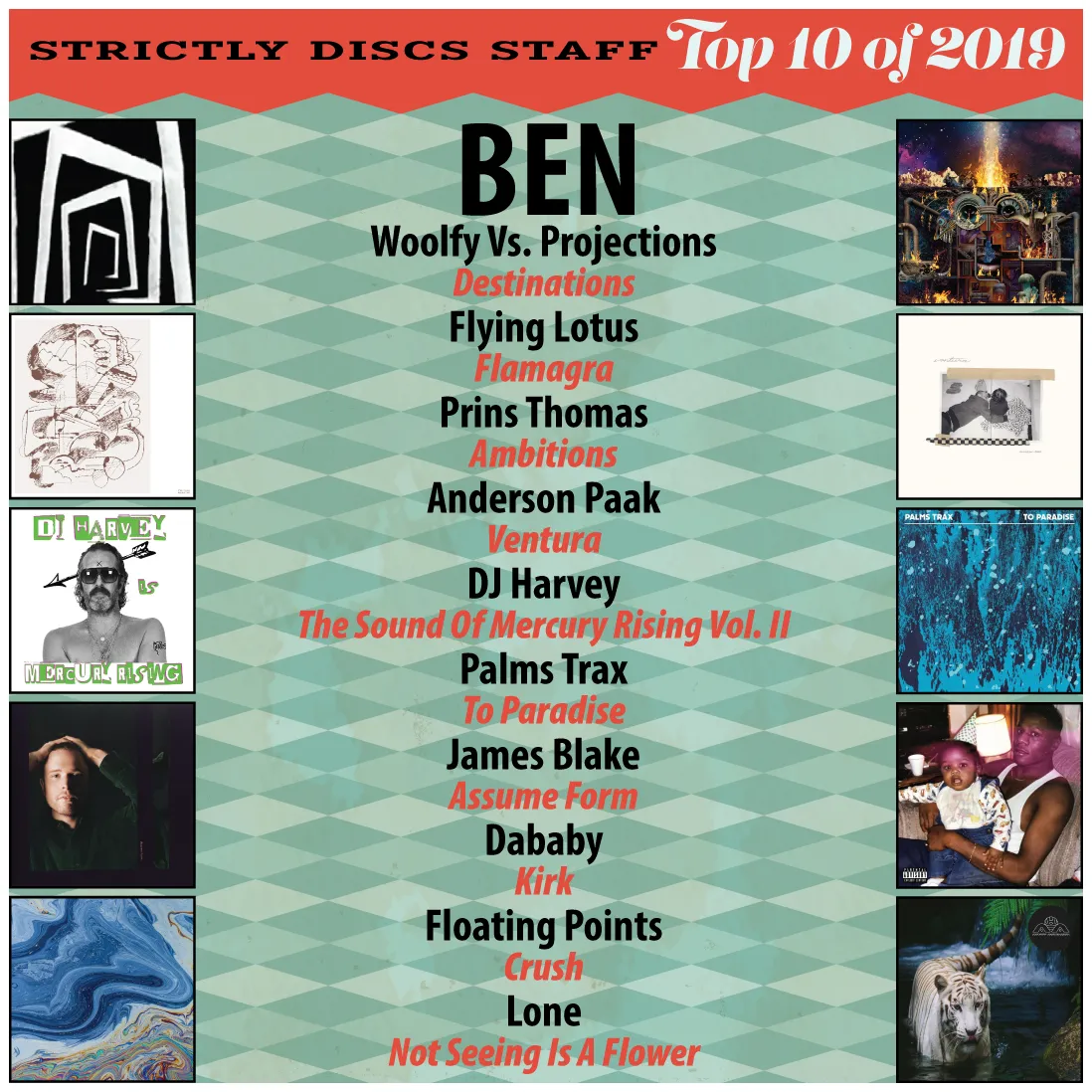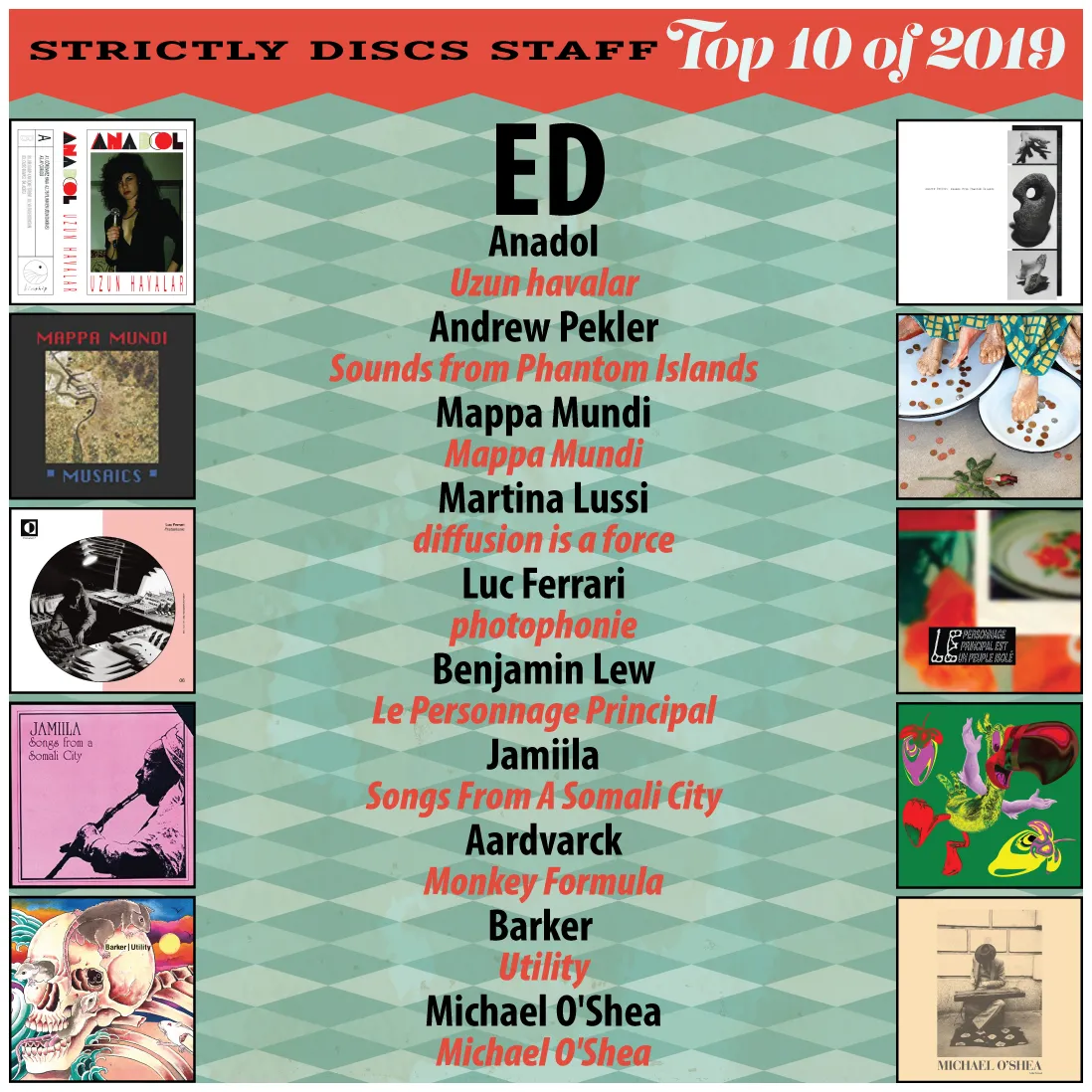 STRICTLY DISCS CUSTOMER TOP 10S: 
R.I.P. Hayman- Dreams Of India & China (Recital)
Joshua Abrams & Natural Information Society- Mandatory Reality (Eremite)
Maria Marquez & Frank Harris- Echoes (Strangelove)
Brannten Schnure- Erinnerungen An Gesichter (Low Company)
Erika De Casier- Essentials (Independent Jeep Music)
Kali Malone- The Sacrificial Code (Ideal)
Yu Su- Roll With The Punches (Second Circle)
G.S. Schray- First Appearance (Last Resort)
Shabason/Gunning- Muldrew (Seance Centre)
Various Artists 'A Short Illness From Which He Never Recovered'
JD McFarlane's Reality Guest 'Ta Da'
Chronophage 'Prolog For Tomorrow'
Bill Callahan 'Shepherd In A Sheepskin Vest'
Aviador Dro 'Nuclear, Sí'
Arthur Russell 'Iowa Dream'
Beat Detectives 'Nefertiti Abstract Movie'
Murs, 9th Wonder & The Soul Council - The Iliad Is Dead and The Odyssey Is Over
Brother Ali & Evidence - Secrets & Escapes
Homeboy Sandman - Dusty
Rapsody - Eve
Freddie Gibbs & Madlib - Bandana
Self Jupiter - Sexy Beast
Gang Starr - One Of The Best Yet
Epic Beard Men - This Was Supposed To Be Fun
Nikki Jean - Beautiful Prison
Czarface - The Odd Czar Against Us
1. Purple Mountains - Purple Mountains
2. NAPPYNAPPA - Autonomous
3. Loraine James - Fore You and I
4. Your Old Droog - It Wasn't Even Close
5. Maria Usbeck - Envejeciendo
7. Freddie Gibbs & Madlib - Bandana
8. Lolina - Who is experimental music?
9. Sudan Archives - Athena
10. Autoerotichrist - Cabin Fever
Caterina Barbieri: Ecstatic Computation (Editions Mego)
Celer: "Xièxie (Two Acorns)
Ian Hawgood + Stijn Hüwels: No Voices (Home Normal)
Brian Eno With Daniel Lanois & Roger Eno: Apollo: Atmospheres & Soundtracks [Extended Edition] (Virgin/EMI)
Arve Henriksen: The Timeless Nowhere (Rune Grammofon)
Akira Rabelais: CXVI (Boomkat Editions)
Éliane Radigue: Occam Ocean 2 (Shiiin)
Tomeka Reid Quartet: Old New (Cuneiform)
Saariselka: The Ground Our Sky (Temporary Residence Limited)
Laurie Spiegel: Unseen Worlds (Unseen Worlds)
Carl Stone: Himalaya (Unseen Worlds)
Telefon Tel Aviv: Dreams Are Not Enough (Ghostly International)
Dan Trueman: Songs That Are Hard To Sing (New Amsterdam)
Various Artists: Kankyō Ongaku [Japanese Ambient, Environmental & New Age Music 1980 - 1990] (Light in the Attic)
Various Artists: Place Language (Fluid Audio)
Top ten Death & Black Metal Albums
1). Blood Incantation "Hidden History of the Human Race"
2). Sinmara "Hvísl Stjarnanna" 
3). Vothana "Không Bao Giờ Nộp / Never To Submit"
4). Teitanblood "The Baneful Choir"
5). Darkened Nocturn Slaughtercult
 

"
Mardom"
6). Tomb Mold "Planetary Clairvoyance" 
8). Krypts "Cadaver Circulation"
9). 
Abyssal "A Beacon in the Husk"
10). 

Bloodsoaked Necrovoid

 "
The Apocryphal Paths Of The Ancient 8th Vitriolic Transcendence"
11). Bonus EPs: Ossuary "Supreme Degredation" & Suffering Hour "Dwell"
Brad Mehldau - Finding Gabriel
Nick Cave & the Bad Seeds - Ghosteen  
Matmos - Plastic Anniversary
Mohammad Reza Mortazavi - Ritme Jaavdanegi
clipping. - There Existed an Addiction to Blood  
Damien Jurado - In the Shape of a Storm
1.) Raphael Saadiq - Jimmy Lee
2.) Underworld - Drift Series 1
3.) Various Artists - WXAXRXP Sessions WARP 30th Anniversary Box Set
4.) Patrick Cowley - Mechanical Fantasy Box
5.) Pete Rock - The Return of the SP1200
6.) The Midnight Hour - Live at Linear Labs
7.) Solange - When I Get Home
8.) Beth Gibbons and the Polish National Symphony Orchestra Conducted by Krzysztof Penderecki - Henryk Górecki: Symphony No. 3 "Symphony of Sorrowful Songs" Op. 36
9.) Prince - Originals/Prince - 1999 Super Deluxe Edition Vault Tracks
10.) New Order - ∑(No,12k,Lg,17Mif) New Order + Liam Gillick: So it goes.. 
Jessica Pratt - Quiet Signs
Tomb Mold - Planetary Clairvoyance
Tomeka Reid Quartet - Old New
Salami Rose Joe Louis - Zdenka 2080
Full of Hell - Weeping Choir
Blood Incantation - Hidden History of the Human Race
Bernie Worrell - Pieces of Woo: The Other Side (Reissue)
1- Lost Crowns, Every Night Something Happens
2- Evelyn Drach, Up with the Smoke
3- Laster, Het Wassen Oog
4- Cate Le Bon, Reward (+ Myths 004)
5- Alexander Noice, Noice
6- American Football, American Football LP3
7- Zulya Kamalova, Six Days Loving
10- Liturgy, H.A.Q.Q. (+ "Apparition of the Eternal Church")
Stereolab, Dots and Loops + Cobra and Phases Group reissues!
Eric Rosenberg
Apollo Brown, Sincerely, Detroit
Loraine James, For You and I
FBK, More Stories from the Future
Moodymann, Sinner
808 State, Transmission State
Hieroglyphic Being, Synth Expressionism/Rhythmic Cubism
Laurel Halo D J Kicks
Holly Herndon, Proto
Weval, The Weight
DJ Python, Derretirse
Floorplan, Supernatural
Oilcan Boyd
David Kilgour, Bobbie's A Girl
Chicos de Nazca, Since You Got It
Proper Ornaments, Six Lenins
Brian Jonestown Massacre, Brian Jonestown Massacre
Steve Gunn, The Unseen In Between 
Follakzoid I
Mekons, Deserted
L'Epee, Diabolique
Surf Friends, Doing Your Thing
Easy Way – The Cactus Blossoms
From Out of Nowhere – Jeff Lynne's ELO
Western Stars – Bruce Springsteen
The Highwomen - The Highwomen
Bobbie Gentry's The Delta Sweete Revisited - Mercury Rev
Travelin' Thru, 1967-1969: The Bootleg Series Vol. 15 - Bob Dylan
What's My Name - Ringo Starr
Live in Hollywood - Linda Ronstadt
Once Upon a Time In Hollywood Soundtrack  
Self titled, Nick Waterhouse
Remind me of Tomorrow, Sharon Van Etten
Can you really find me, Night Moves
Paranoid Cocoon, Cotton Jones
Take it from the Man, The Brian Jonestown Massacre
Bônus: Transa, Caetano Veloso
1. People Under The Stairs Sincerely the P
2. Marlon Craft Funhouse Mirror
4. Pixies Beneath the Eyrie
5. Durand Jones & The Implications American Love Call
6. P.O.S. Never Better 10th Anniversary Edition
7. Murs and 9th Wonder The Illiad Is Dead and The Odyssey Is Over
8. Sturgill Simpson Sound and Fury
9. The Teskey Brothers Run Home Slow
10. Ernest Hood Neighborhoods 
Goes West / William Tyler
The Trip Home / The Crystal Method
Big Blue World / Unruly Child
The Highwomen / The Highwomen
Various Artists / Midnight in Tokyo Vol. 3


SELL US YOUR CDS & LPS: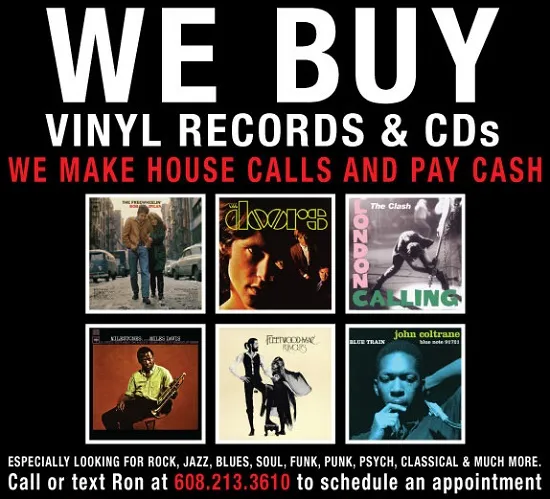 Ron, Ryan, Angie, Marty, Evan, Matt, Ben, Ed, Isaac, Larry, Mark, Jack, Eric & Mike