December 26, 2019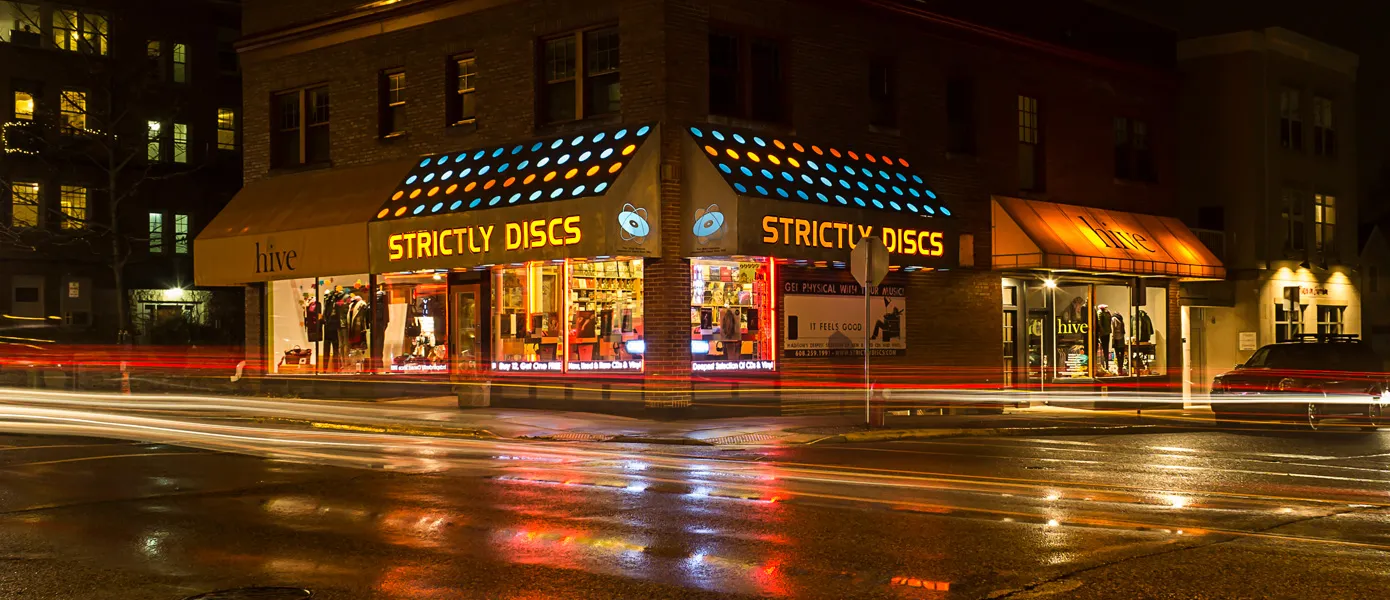 NEW YEARS HOLIDAY HOURS:
Monday, December 30- 10AM-8PM
Tuesday, December 31 - 10AM-5PM
Wednesday, January 1 - CLOSED (HAPPY NEW YEAR FROM ALL OF US AT STRICTLY DISCS!)
Thursday, January 3 - 10AM-8PM
NEW THIS WEEK AT THE SHOP: 
Hey there! With the dust settling on a very busy holiday season, we thought we'd check in right quick with an update on what's new at Strictly Discs. Even though we spent most of the last week pulling Santa duty, we've still gathered some new things in the shop to check out. In fact, upon perusing the LPs on display upstairs, we really have quite the spread of lovely 2019 titles, both mainstream and obscure. Given all the challenges we were up against in the world of music retail this year (you may have seen some articles in Pitchfork and Billboard to this effect), I must say we've managed to keep the place pretty well stocked! A big thank you goes out to all of our supporters this year, regular and irregular, and to that point, we also include a selection of some customer 2019 favorites at the end of this email! On with the new stuff!
We welcome the vinyl edition of the new album from the sensational KING PRINCESS, a delayed arrival of a great new record from Brad Mehldau and David Bowie collaborator MARK GUILIANA, and a vibrant new EP from FOUR TET.
A lively 1981 set from HUGH MASEKELA, 'Live In Lesotho', is now available on vinyl, plus we have the latest in the SPIRITUAL JAZZ compilation series, focusing on the Prestige label, and a reverent new record from the British jazz quartet AHMED, a tribute to Ahmed Abdul-Malik.
A late-year influx of vinyl titles from the legendary jazz label ECM has come through, including beautiful editions of older titles from ANOUAR BRAHEM, TERJE RYPDAL, JAN GARBAREK, and several more.
For many years now, the Very Polish Cut-outs label has dazzled with curious EPs collecting dancefloor edits of obscure Polish pop tunes. They expand beyond the republic's borders for the first edition of 'Eastern European Cut-Outs'. South African disco duo SKYF CONNECTION had a hand in many hit tracks of the SA bubblegum era, but the four tunes on 'Ten To Ten' have never been released before, and they're all bombs!
Downtempo legends ULTRAMARINE follow their incredible 2019 album (still in stock!) with a companion EP of deep ambient called 'Meditations'. Australian duo DIE ORANGEN return with another vividly rendered album of kraut and industrial influenced hypno-pop that recalls groups like Shriekback and Follakzoid, and Nine Inch Nails sideman ALESSANDRO CORTINI sees second editions emerge of two of his most-demanded LPs of dark ambient, 'Sonno' and 'Risveglio'.
Heading downstairs for this week's Used Vinyl Alert, it certainly looks like we've found some gems for you to spend this year's holiday loot on. Most impressive are the jazz LPs, which include some extremely rare records from Miles Davis, Sun Ra, Sam Rivers, Michael White, and Randy Weston, plus classics from Art Tatum, Jimmy Witherspoon, Herbie Hancock, Freddie Hubbard, Jimmy Yancey, Kenny Dorham, Oliver Nelson, Ray Bryant, and Lester Young.
An eclectic mix of contemporary and recent records are in from names like Halsey, Evanescence, Gorillaz, Lana Del Rey, Justin Bieber, the XX, Chvrches, My Chemical Romance, Panic at the Disco, Umphrey's McGee, and Local Natives.
Crowd-pleasers from Fleetwood Mac, David Bowie, the Doors, Jimi Hendrix, and Frank Zappa are joined by gems from the Kinks, Robert Palmer, Tom Petty, Jethro Tull, Toy Factory, the Hollies, and Roy Wood. Many of our fave female vocalists are in the mix this week, including Astrud Gilberto, Patti Smith, Stevie Nicks, the Roches, Laura Nyro, and Kate & Anna McGarrigle.
Heavy stuff is here from Krokus, Black Sabbath, and Molly Hatchet, plus a deep dive through new wave with records from Prefab Sprout, Depeche Mode, Gary Numan, Squeeze, Culture Club, INXS, Wham, and a whole lot more.
Soul and funk is in from Otis Redding, Marvin Gaye, James Brown, GQ, Ray Charles, Junior Walker, Stevie Wonder, Rene and Angela, Roy Ayers, Smokey Robinson, Aretha Franklin, Brenton Woods, the Undisputed Truth, and Bill Withers, plus we've got a cool assortment of reggae and other caribbean LPs from UB40, Blind Blake, Bob Marley, Jimmy CLiff, Denroy Morgan, and Yellowman!

STRICTLY DISCS CUSTOMER TOP 10S: 
R.I.P. Hayman- Dreams Of India & China (Recital)
Joshua Abrams & Natural Information Society- Mandatory Reality (Eremite)
Maria Marquez & Frank Harris- Echoes (Strangelove)
Brannten Schnure- Erinnerungen An Gesichter (Low Company)
Erika De Casier- Essentials (Independent Jeep Music)
Kali Malone- The Sacrificial Code (Ideal)
Yu Su- Roll With The Punches (Second Circle)
G.S. Schray- First Appearance (Last Resort)
Shabason/Gunning- Muldrew (Seance Centre)
Various Artists 'A Short Illness From Which He Never Recovered'
JD McFarlane's Reality Guest 'Ta Da'
Chronophage 'Prolog For Tomorrow'
Bill Callahan 'Shepherd In A Sheepskin Vest'
Aviador Dro 'Nuclear, Sí'
Arthur Russell 'Iowa Dream'
Beat Detectives 'Nefertiti Abstract Movie'
Murs, 9th Wonder & The Soul Council - The Iliad Is Dead and The Odyssey Is Over
Brother Ali & Evidence - Secrets & Escapes
Homeboy Sandman - Dusty
Rapsody - Eve
Freddie Gibbs & Madlib - Bandana
Self Jupiter - Sexy Beast
Gang Starr - One Of The Best Yet
Epic Beard Men - This Was Supposed To Be Fun
Nikki Jean - Beautiful Prison
Czarface - The Odd Czar Against Us
1. Purple Mountains - Purple Mountains
2. NAPPYNAPPA - Autonomous
3. Loraine James - Fore You and I
4. Your Old Droog - It Wasn't Even Close
5. Maria Usbeck - Envejeciendo
7. Freddie Gibbs & Madlib - Bandana
8. Lolina - Who is experimental music?
9. Sudan Archives - Athena
10. Autoerotichrist - Cabin Fever
Caterina Barbieri: Ecstatic Computation (Editions Mego)
Celer: "Xièxie (Two Acorns)
Ian Hawgood + Stijn Hüwels: No Voices (Home Normal)
Brian Eno With Daniel Lanois & Roger Eno: Apollo: Atmospheres & Soundtracks [Extended Edition] (Virgin/EMI)
Arve Henriksen: The Timeless Nowhere (Rune Grammofon)
Akira Rabelais: CXVI (Boomkat Editions)
Éliane Radigue: Occam Ocean 2 (Shiiin)
Tomeka Reid Quartet: Old New (Cuneiform)
Saariselka: The Ground Our Sky (Temporary Residence Limited)
Laurie Spiegel: Unseen Worlds (Unseen Worlds)
Carl Stone: Himalaya (Unseen Worlds)
Telefon Tel Aviv: Dreams Are Not Enough (Ghostly International)
Dan Trueman: Songs That Are Hard To Sing (New Amsterdam)
Various Artists: Kankyō Ongaku [Japanese Ambient, Environmental & New Age Music 1980 - 1990] (Light in the Attic)
Various Artists: Place Language (Fluid Audio)
Top ten Death & Black Metal Albums
1). Blood Incantation "Hidden History of the Human Race"
2). Sinmara "Hvísl Stjarnanna" 
3). Vothana "Không Bao Giờ Nộp / Never To Submit"
4). Teitanblood "The Baneful Choir"
5). Darkened Nocturn Slaughtercult
 

"
Mardom"
6). Tomb Mold "Planetary Clairvoyance" 
8). Krypts "Cadaver Circulation"
9). 
Abyssal "A Beacon in the Husk"
10). 

Bloodsoaked Necrovoid

 "
The Apocryphal Paths Of The Ancient 8th Vitriolic Transcendence"
11). Bonus EPs: Ossuary "Supreme Degredation" & Suffering Hour "Dwell"
Brad Mehldau - Finding Gabriel
Nick Cave & the Bad Seeds - Ghosteen  
Matmos - Plastic Anniversary
Mohammad Reza Mortazavi - Ritme Jaavdanegi
clipping. - There Existed an Addiction to Blood  
Damien Jurado - In the Shape of a Storm
1.) Raphael Saadiq - Jimmy Lee
2.) Underworld - Drift Series 1
3.) Various Artists - WXAXRXP Sessions WARP 30th Anniversary Box Set
4.) Patrick Cowley - Mechanical Fantasy Box
5.) Pete Rock - The Return of the SP1200
6.) The Midnight Hour - Live at Linear Labs
7.) Solange - When I Get Home
8.) Beth Gibbons and the Polish National Symphony Orchestra Conducted by Krzysztof Penderecki - Henryk Górecki: Symphony No. 3 "Symphony of Sorrowful Songs" Op. 36
9.) Prince - Originals/Prince - 1999 Super Deluxe Edition Vault Tracks
10.) New Order - ∑(No,12k,Lg,17Mif) New Order + Liam Gillick: So it goes.. 
Jessica Pratt - Quiet Signs
Tomb Mold - Planetary Clairvoyance
Tomeka Reid Quartet - Old New
Salami Rose Joe Louis - Zdenka 2080
Full of Hell - Weeping Choir
Blood Incantation - Hidden History of the Human Race
Bernie Worrell - Pieces of Woo: The Other Side (Reissue)
1- Lost Crowns, Every Night Something Happens
2- Evelyn Drach, Up with the Smoke
3- Laster, Het Wassen Oog
4- Cate Le Bon, Reward (+ Myths 004)
5- Alexander Noice, Noice
6- American Football, American Football LP3
7- Zulya Kamalova, Six Days Loving
10- Liturgy, H.A.Q.Q. (+ "Apparition of the Eternal Church")
Stereolab, Dots and Loops + Cobra and Phases Group reissues!
Eric Rosenberg
Apollo Brown, Sincerely, Detroit
Loraine James, For You and I
FBK, More Stories from the Future
Moodymann, Sinner
808 State, Transmission State
Hieroglyphic Being, Synth Expressionism/Rhythmic Cubism
Laurel Halo D J Kicks
Holly Herndon, Proto
Weval, The Weight
DJ Python, Derretirse
Floorplan, Supernatural
Oilcan Boyd
David Kilgour, Bobbie's A Girl
Chicos de Nazca, Since You Got It
Proper Ornaments, Six Lenins
Brian Jonestown Massacre, Brian Jonestown Massacre
Steve Gunn, The Unseen In Between 
Follakzoid I
Mekons, Deserted
L'Epee, Diabolique
Surf Friends, Doing Your Thing
Easy Way – The Cactus Blossoms
From Out of Nowhere – Jeff Lynne's ELO
Western Stars – Bruce Springsteen
The Highwomen - The Highwomen
Bobbie Gentry's The Delta Sweete Revisited - Mercury Rev
Travelin' Thru, 1967-1969: The Bootleg Series Vol. 15 - Bob Dylan
What's My Name - Ringo Starr
Live in Hollywood - Linda Ronstadt
Once Upon a Time In Hollywood Soundtrack  
Self titled, Nick Waterhouse
Remind me of Tomorrow, Sharon Van Etten
Can you really find me, Night Moves
Paranoid Cocoon, Cotton Jones
Take it from the Man, The Brian Jonestown Massacre
Bônus: Transa, Caetano Veloso
1. People Under The Stairs Sincerely the P
2. Marlon Craft Funhouse Mirror
4. Pixies Beneath the Eyrie
5. Durand Jones & The Implications American Love Call
6. P.O.S. Never Better 10th Anniversary Edition
7. Murs and 9th Wonder The Illiad Is Dead and The Odyssey Is Over
8. Sturgill Simpson Sound and Fury
9. The Teskey Brothers Run Home Slow
10. Ernest Hood Neighborhoods 
Goes West / William Tyler
The Trip Home / The Crystal Method
Big Blue World / Unruly Child
The Highwomen / The Highwomen
Various Artists / Midnight in Tokyo Vol. 3
STRICTLY DISCS 2019 STAFF TOP 10s: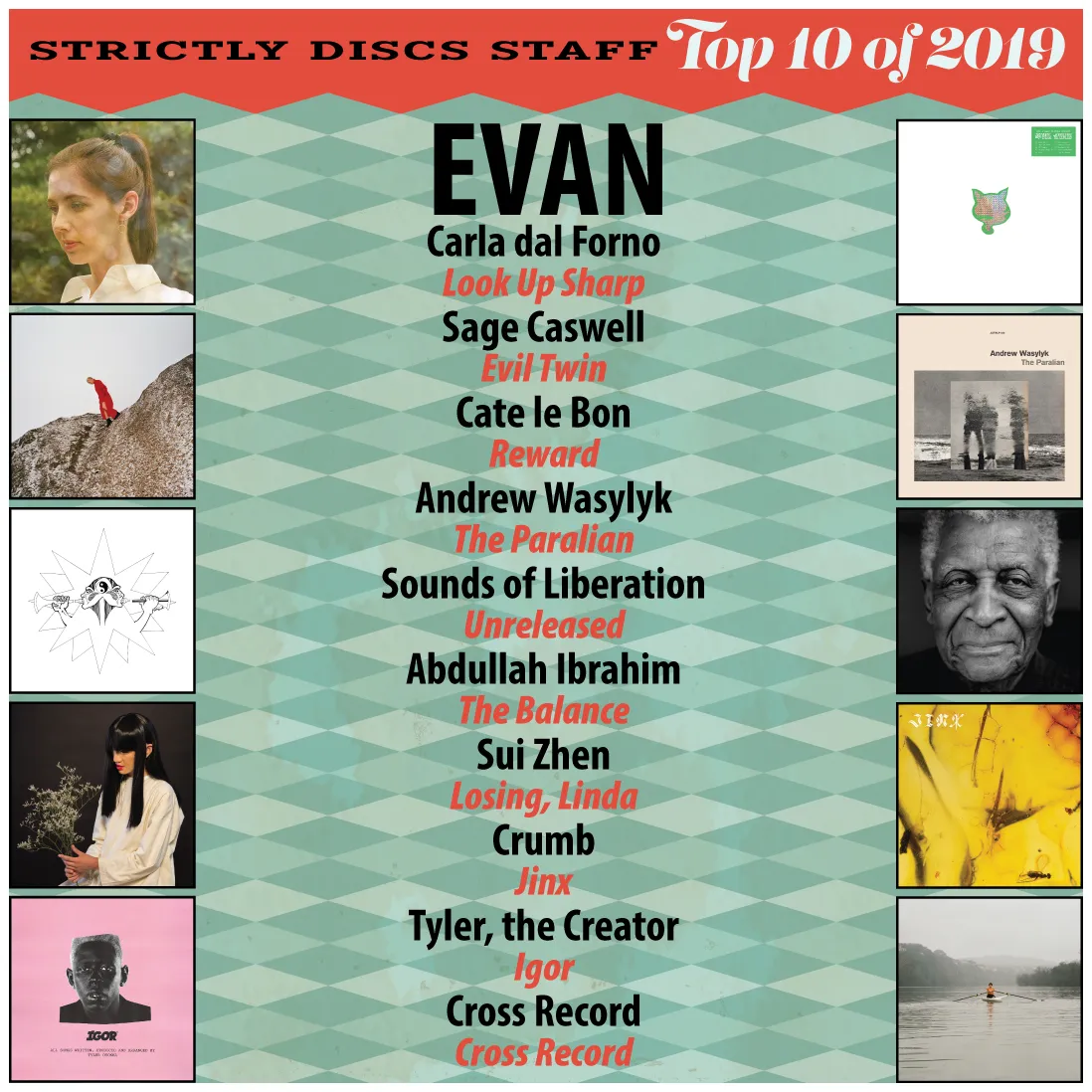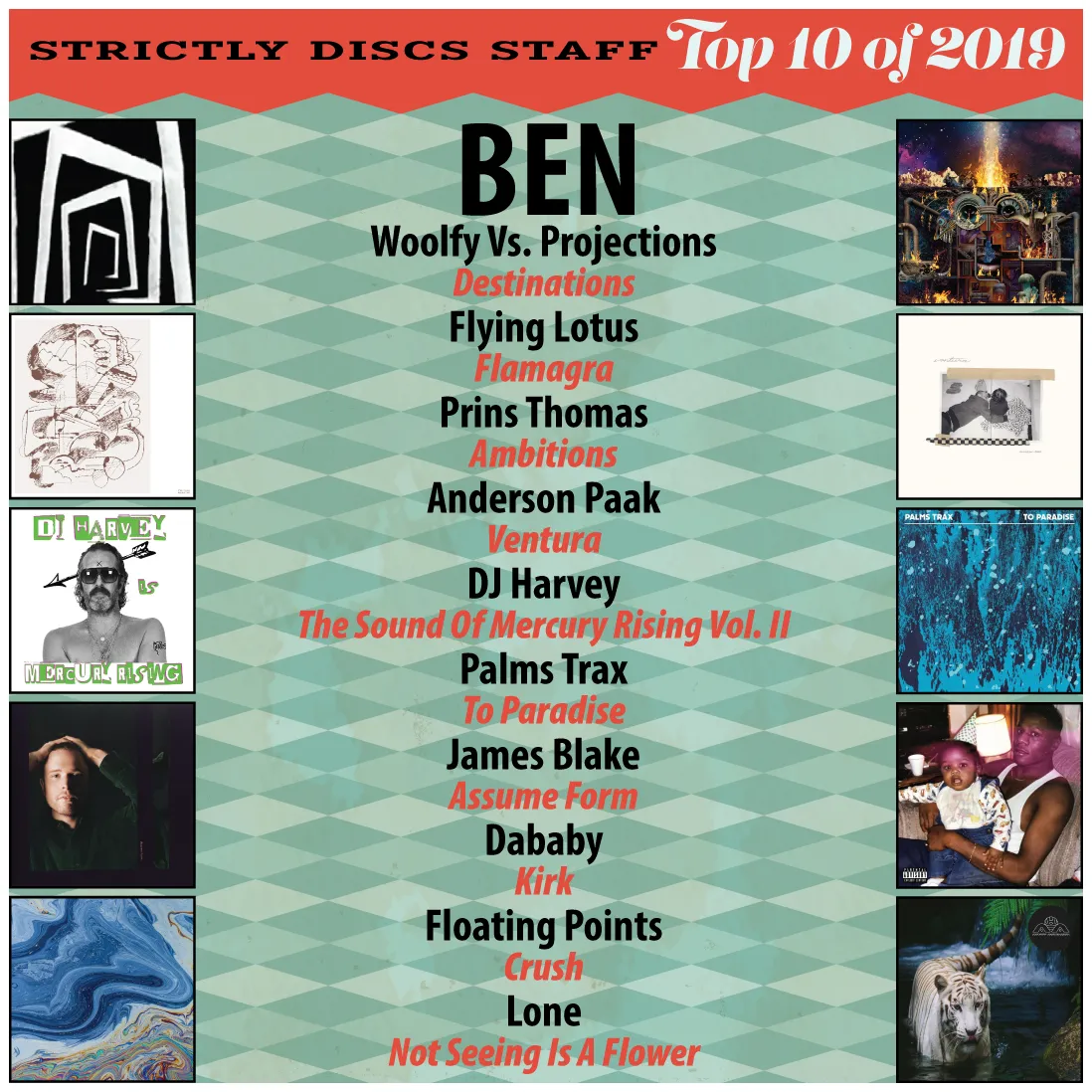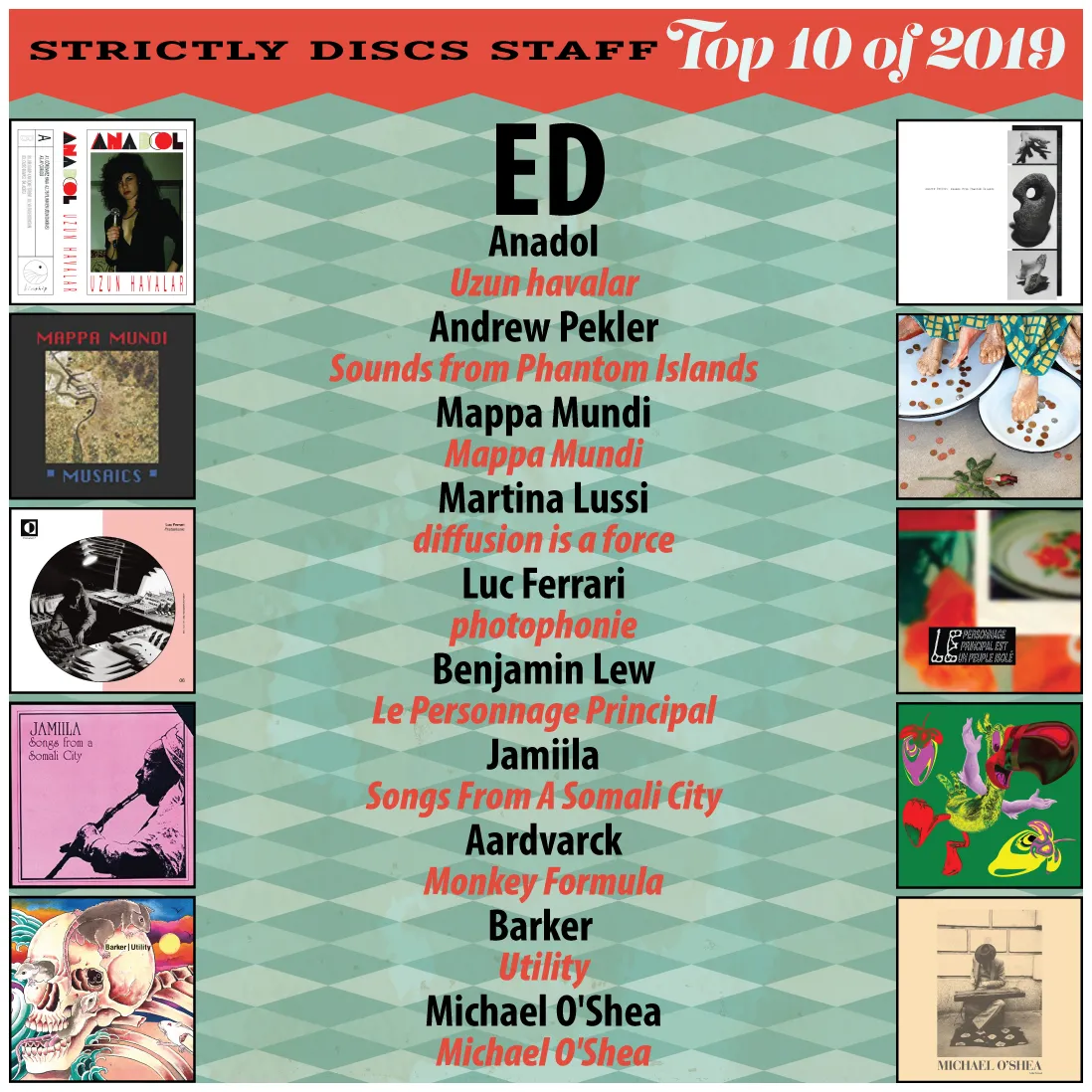 SELL US YOUR CDS & LPS: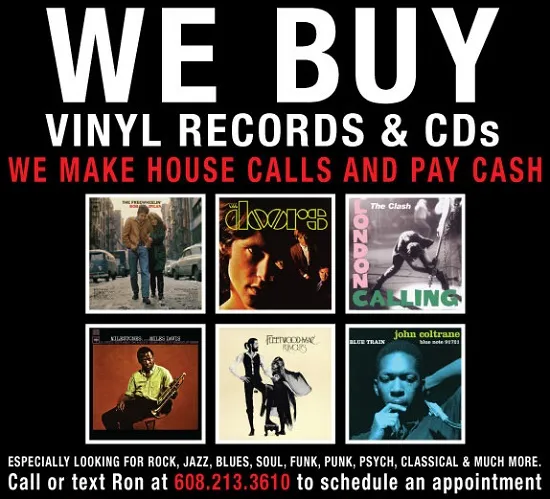 Ron, Ryan, Angie, Marty, Evan, Matt, Ben, Will, Ed, Isaac, Larry, Andy, Mark, Jack, Eric, Mike & Abe