December 19, 2019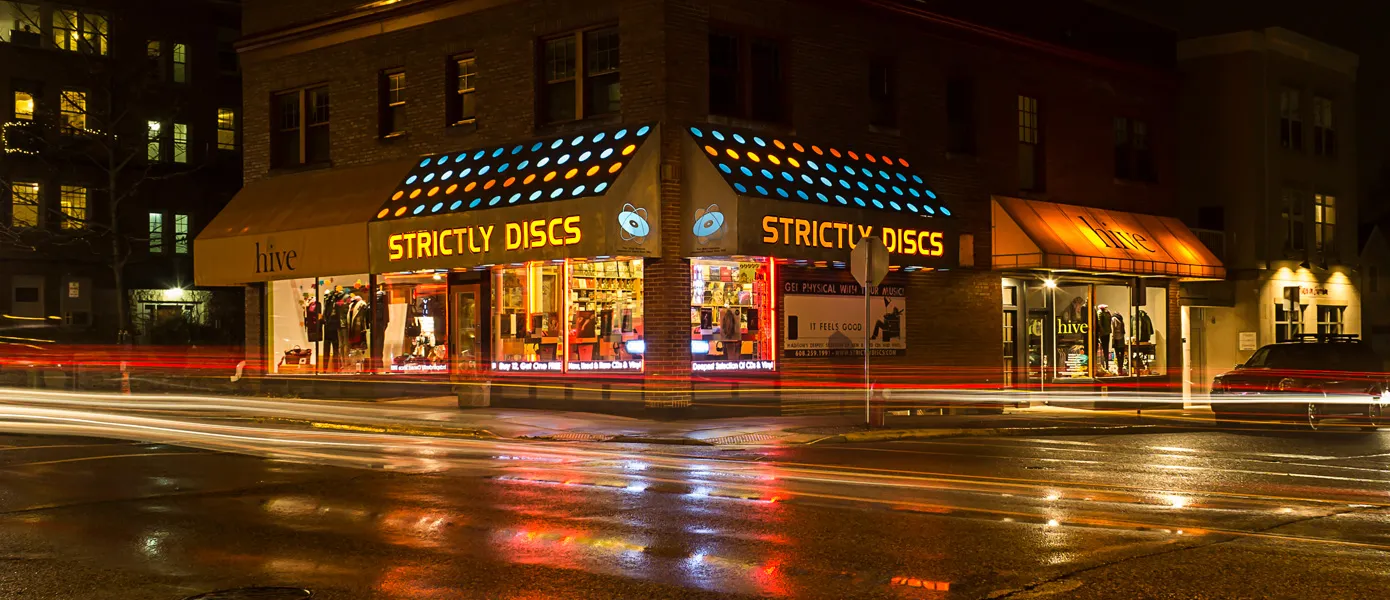 HOLIDAY GIFTS/SPECIAL ORDERS IN PLENTY OF TIME: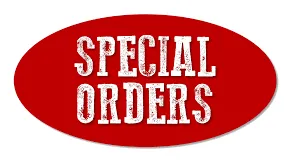 The store is stocked with great CDs, LPs, Turntables, Stereo Gear, Books and Accessories that all would make great gifts. But if what you need is not here, we still have plenty of time to get it for you!
Order by†4PM†Monday, December 23 for†Tuesday, December 24th delivery.
NEW THIS WEEK AT THE SHOP:†
Greetings newsletter readers! Suffice to say, we have plenty going on round these parts, so I regret that this message will be on the brief side. The holidays might be starting next week but that hasn't stopped the influx of great new records into the shop, and to ignore them wouldn't do, now would it. So here we go: this week brings the second LP from rap experimentalist JPEGMAFIA, a third volume of 'Watchmen' soundtrack work from TRENT REZNOR. A new LP from VILOD features the pairing of techno icons RICARDO VILLALOBOS and MAX LODERBAUER, and the UK post-punk heroes IDLES celebrate a successful year with a new live album, which we have in three different color variants.
Two more QUEENS OF THE STONE AGE albums are back in print: 'Lullabyes to Paralyze' and 'Era Vulgaris', joining a trio of other QOTSA LPs we've recently gotten back in stock. HILDUR GUDNADOTTIR already delivered one great soundtrack this year with the score from 'Chernobyl', and now she follows that up with her musical contribution to 'The Joker,' a movie about a very funny man that I am told is in theaters now.†
Sly Stone's earliest band was a doowop group called THE VISCAYNES, and we now have their unheard songs back on vinyl. We've also got choice soul nuggets back on LP from ETTA JAMES and JOHNNIE TAYLOR.†
Fans of the recent Outro Tempo compilations ought not miss the reissue of an incredible electronic folk album from 80s Brasil, LEONARDO BOCCIA's 'Homenagem'. In 1974, on the heels of his groundbreaking 'Clube Da Esquina', MILTON NASCIMENTO and his band of geniuses scored the soundtrack to a ballet, 'Maria Maria', including many songs he would later re-record as album hits. The 1971 self titled album from DILA also captures the vivid period of artistic ferment in Brazil, and sounds like a favela funk version of Etta James herself.
Rare groove nuggets continue to turn up at our door. Check the blazing 1971 Colombian cumbia album from EL AFROCOMBO, a live (but studio-sounding) album from the Australian organ funk group COL. NOLAN and THE SOUL SYNDICATE that must be heard to be believed, and a nice new repress of the best Afro-funk song of all time, 'Funky Boogie' from JOHN OZILA!
†
†
Looking for cool techno? How about a half-dozen absolute bangers. FUNCTION's epic space-electro symphony 'Existenz'; FLORIST's latest tech house wizardry on the Trilogy Tapes label; an entrancing re-emergence from outside-the-outside-of-the-box producer MADTEO, a new EP of dub-bient meets Anatolian folk from JAY GLASS DUBS; the latest pulsating cosmic nu-disco hitter from ICHISAN, and a lovely, time-stopping album of glitchy breaks from one of Canadia's techno tastemakers EX-TERRESTRIAL.
You can't go wrong with any record from the ambient legend known as GAS, but 2000's 'Pop' is his finest moment as far as I'm concerned, and it's now back in print for the first time in a decade. Japanese freeform house guru KUNIYUKI shining hour, 2007's 'All These Things', has somehow never been on vinyl until now, and it still sounds fresh as hell; an easy pick for fans of the greats like Theo Parrish and Moodymann. Italian individual AMBIENTI COASSIALI releases a 2005 session of hallowed processed guitar, synth, and vox, and we have a crisp new pressing of the mother of all experimental albums: ROBERT ASHLEY's 'Automatic Writing'!
We close with some jazz digs, including a gorgeous vinyl edition of the MILES DAVIS QUINTET's complete Prestige sessions, on 6LPs in a hardbound old school folio. South African jazz rares are here from GIDEON NXUMALO; the MAL WALDRON TRIO's 'Free At Last' is back on LP in an expanded edition, and we have a nice repress of one of the rarest American private press jazz records, MIKE SELESIA's 'Flavor', recorded in one session while the whole band was eating acid-laced Tootsie Rolls. Seems like a nice note to leave on, so we'll see you at the shop!†
Heading downstairs for this week's edition of the Used Vinyl Alert, we go heavy on the heavies this time around, with all y'all holiday shoppers in mind. Check out some choice pressings from names like Zeppelin, the Beatles, the Dead, David Bowie, Bob Dylan, the Stones, Fleetwood Mac, Tom Petty, Frank Zappa, Pink Floyd, Van Morrison, and Queen.†
Even more rock and pop gems are in from the Kinks, Tommy James and the Shondells, John Cale, Chuck Berry, Paul Simon, Steve Young, Richard and Linda Thompson, Steely Dan, Emitt Rhodes, Frijid Pink, the Flying Burritos, King Crimson, Roy Orbison, Stevie Nicks, Harry Nilsson, and Bruce Springsteen.
Some quite burning jazz is in the house for the cool cats on your list: Miles Davis, Kenny Burrell, Cal Tjader, Louis Armstrong, Johnny Hartman, Richard Groove Holmes, Cecil Taylor, Sonny Rollins, George Benson, Sonny Stitt, Gil Scott-Heron, Art Pepper, Freddie Hubbard, and Charles Mingus.
Some soul stunners are in the racks from Aretha Franklin, Ike & Tina, The Temptations, Otis Redding, and War, plus some fine blues LPs from Stevie Ray Vaughan, Buddy Guy, and Willie Dixon, and a selection of folk and country from Loretta Lynn, John Prine, Charlie Louvin, Leadbelly, and Johnny Cash.
We've got an eclectic assortment of contempo LPs from Coldplay, Chelsea Light Moving, Agnes Obel, MGMT, Dead Weather, Vetiver, and dozens more, plus a nice mix of classical, children's LPs, and some essentials from Tomita, Tangerine Dream, and Kraftwerk.
STRICTLY DISCS 2019 STAFF TOP 10s: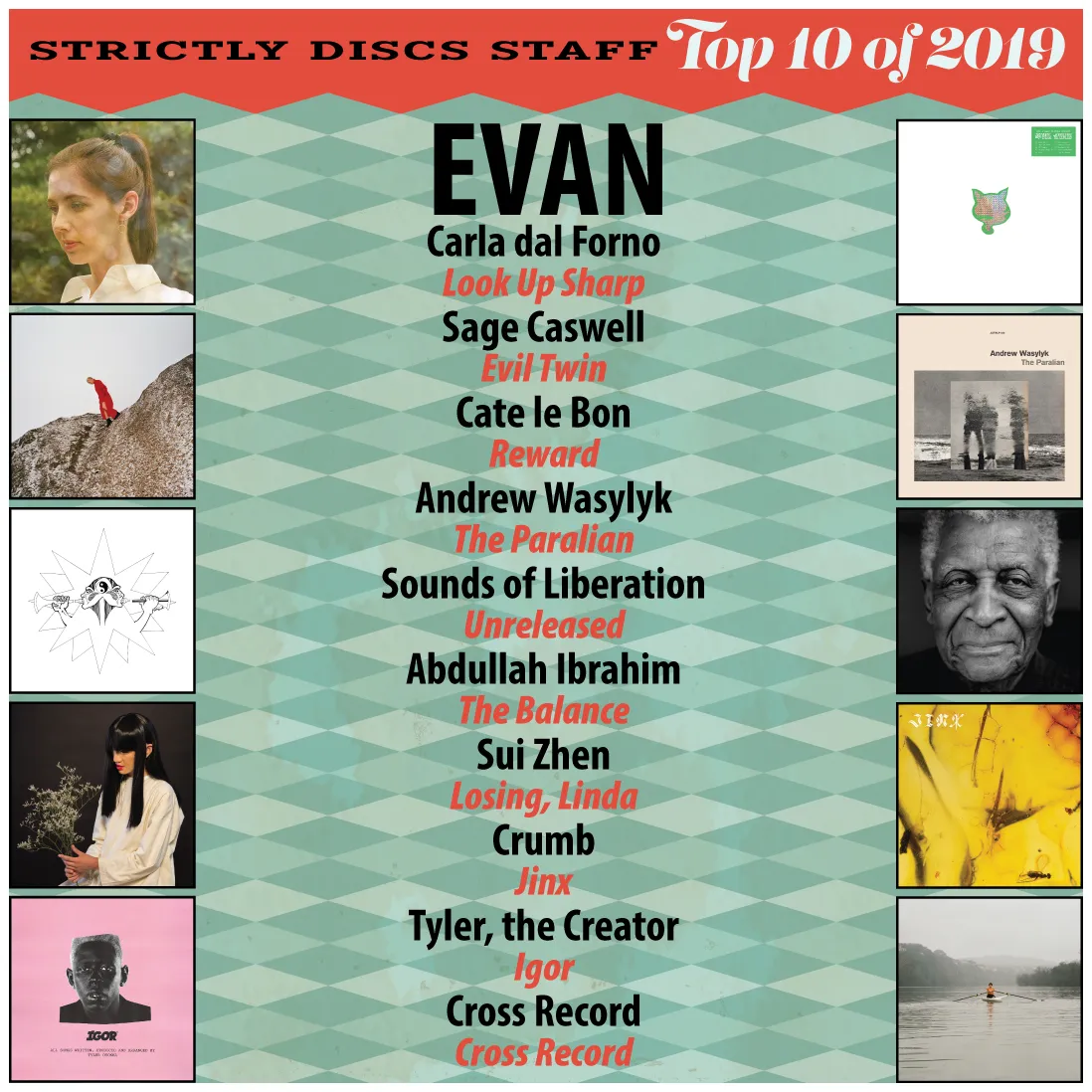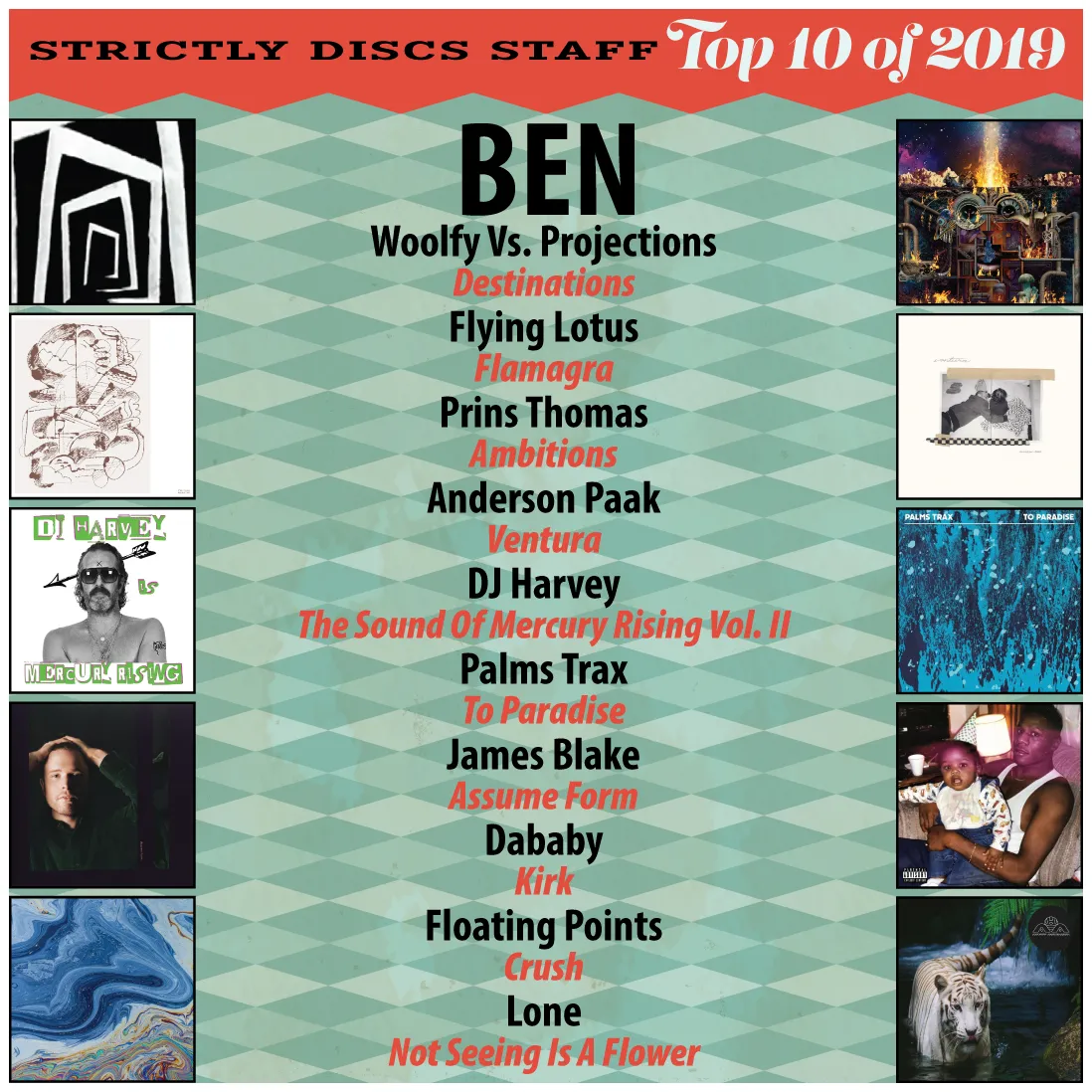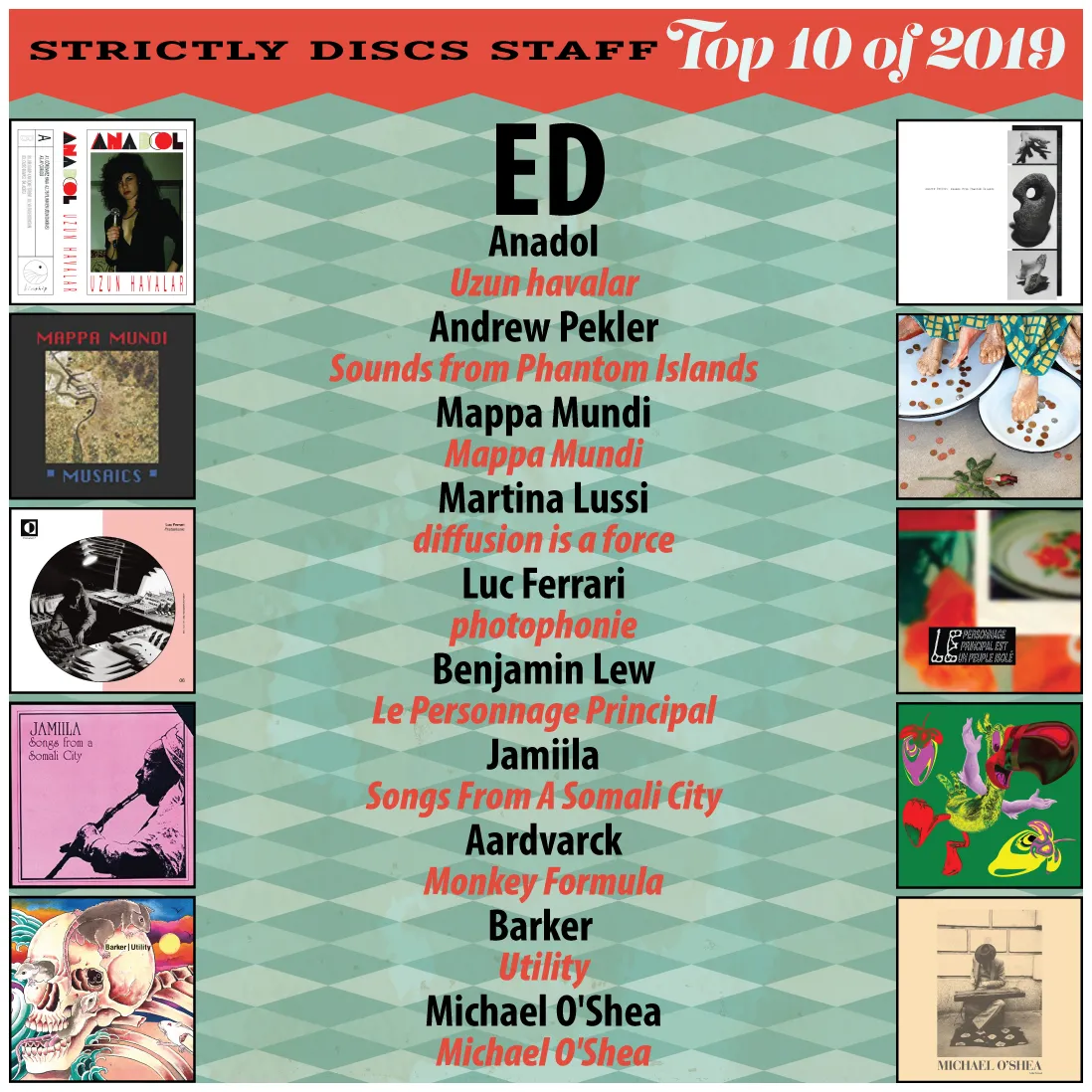 SELL US YOUR CDS & LPS: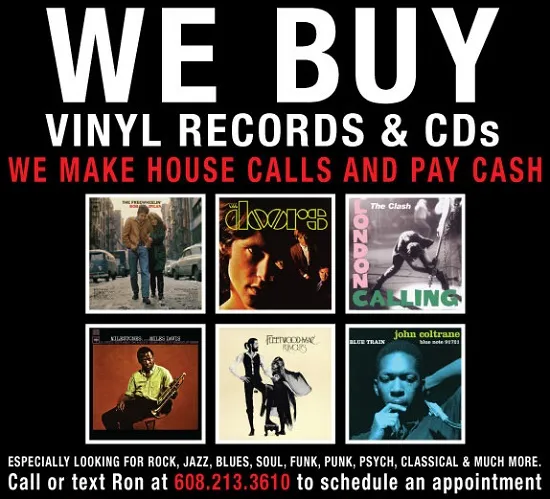 OTHERS TALK BACK:
This isn't the spot to lay down odds on the third race. OTB is where Others Talk Back and give you the lowdown on what they've been feeling lately. This one's for the customers.
Eddy Current Suppression Ring - ďAll in Good TimeĒ I honestly thought that the band had broken up,† After all, it has been over a decade since their last studio album. I hadnít heard one word about the band, but all of a sudden this album just appears out of nowhere.† And the greatest thing is that even after eleven years the band hasnít changed one tiny bit. Their punk-psych-kraut rock sound is just as primal and exciting as it was in the past.† The only change that I can detect is that the lyrics tackle subjects beyond what irritates them about living in Australia and they ask a few big questions about life. But rest assured, they do ask those questions† in their own deadpan way. Eddy Current Suppression Ring was at one time one of the greatest of Australian bands.. With ďAll in Good TimeĒ they can once again make that claim. - Ted

Ron, Ryan, Angie, Marty, Evan, Matt, Ben, Will, Ed, Isaac, Larry, Andy, Mark, Jack, Eric, Mike & Abe