November 27, 2019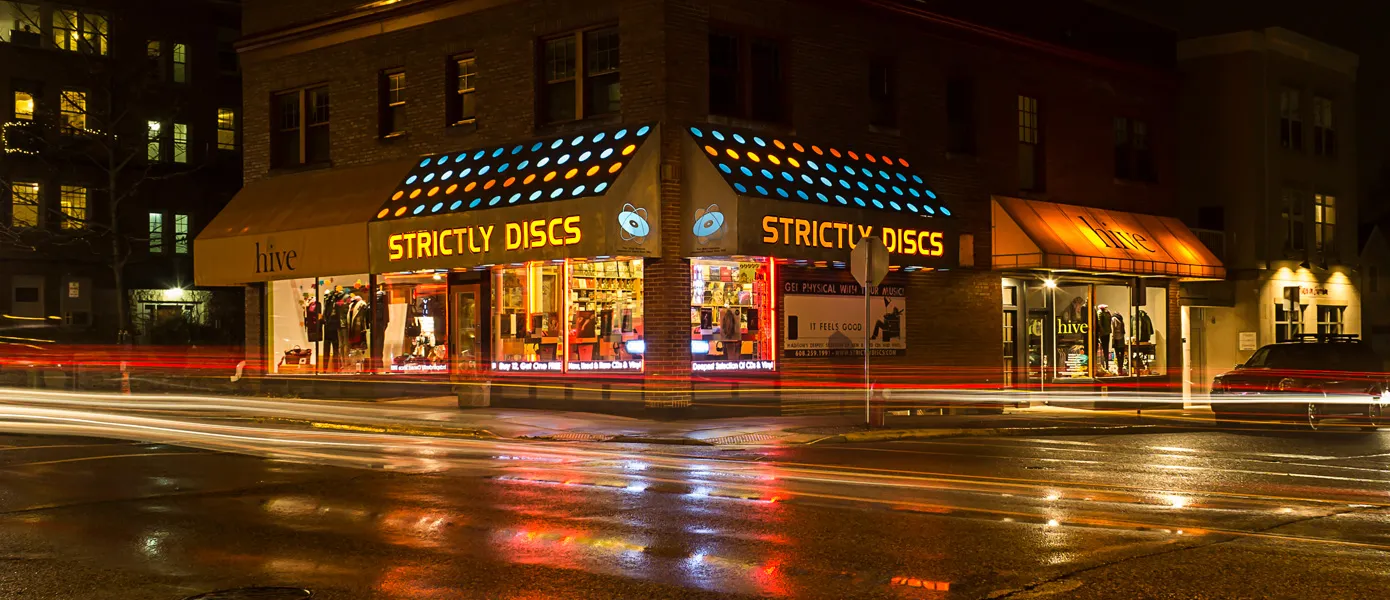 HAPPY THANKSGIVING:
Happy Thanksgiving from all of us at Strictly Discs. We will be CLOSED Thursday but back at it bright and early on Friday when we open at 8AM.
BLACK FRIDAY RECORD STORE DAY IS NOVEMBER 29: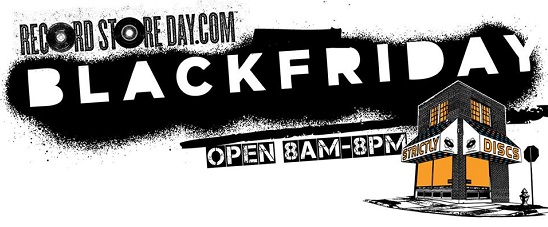 Strictly Discs will be†the†place to be this Post-Thanksgiving-Shopping-Melee-Day, also known as Black Friday.†
And that's because certain indie stores across the country will be the place to get special releases created just for you, for giving and getting this holiday season, and they're scheduled for release on Black Friday, November 29, 2019.††

Now, this is not Record Store Day, Jr., but it is brought to you by the powers-that-be at Record Store Day. This is a group of special releases you can only find at certain independent record stores nationwide. The magic of these pieces (many uber-limited) is that every one of them is something someone will really LOVE to get, and you'll really ENJOY giving.† And you may have the added nice feeling of supporting a local, independently owned (Strictly Discs, Independently Owned since 1988) business during the holidays.
WE ARE OPEN FROM 8AM-8PM with deep stock on Black Friday exclusive release.†And while we will try to have ample stock (one of the deepest in the midwest) of all items, please know that some of these products are extremely limited and will sell out quickly.
N
EW THIS WEEK AT THE SHOP:
†
With Black Friday drawing nigh, with all of its special exclusive releases, you might not think we had time to roll in some regular new titles. Well, you're wrong! And happy Thanksgiving! Here's a quick rundown of our fresh selections this week, starting with a pair of stunning, long-awaited vault excavations.
Pop icon PRINCE left behind a zip-code's worth of unreleased material when he left this world, which his estate has been judiciously making available for the first time. For it's 37th anniversary, the eminently visionary '1999' album now gets the deluxe treatment on a five-CD or 10-LP set collecting the original album remastered, over 40 unheard vault tracks, and two live sets. For a rare few artists, a trip into the archives reveals much more than just 'alternate takes'; we've got a whole alternate universe taking shape here. The same effect hits you while listening to 'Iowa Dream', a new double album set of unheard songs from progressive songwriter savant ARTHUR RUSSELL. In his too-short life, Arthur traveled in seemingly every experimental music circle, through stints on the West Coast, his birthstate of Iowa, and his spiritual home of downtown NYC. Where previous collections of Russell's music have focused on a specific style, 'Iowa Dream' accounts for them all, with demos and home recordings (all sounding quite "finished", naturally) reflecting his love for winsome country-pop, avant-garde investigations of echo, the rollicking pastiche of collaborators Blue Gene Tyranny and Robert Ashley, mutant funk-punk, and mournful love songs. It's truly marvelous. We already have a dozen timeless Arthur Russell records, we don't deserve any more, and yet here's 2 more LPs full of absolute crushers.


THE FLAMING LIPS celebrate twenty years of their landmark album 'The Soft Bulletin' with a new vinyl edition of the album played in full at Red Rocks with the Colorado Symphony. Not what I would have expected when I first heard "She Don't Use Jelly" on the radio back in junior high, but life is truly full of surprises. PINK FLOYD do us a super solid with a 'Best of the Later Years' 2LP set collecting top tunes from their late 80s and 90s albums.†
Open up and say ANDY STOTT. The UK bass auteur's first new music since 2016's 'Too Many Voices' is here; 'It Should Be Us' (damn, always with the great titles) sees the man heading back to the churning, slow-mo techno he first made his name on, with an ever keen eye on haunting detail. While they last, we have a few of these on limited pink vinyl. Just as revered is the Italian producer DONATO DOZZY, whose contribution to the 'One Instrument' label's series of albums made with, yep, one instrument is an absolutely marvelous full-body ambient trip, all composed on the rare early 70s EMS Synthi AKS. One of the pop†world's greatest cold cases is JAI PAUL, sees his beguiling EP 'BTSTU' come back in print. There's supposed to be so much more coming from this cat, but for now we have two versions of one very, very good song. The Italians Do It Better tease their impending release of a new Chromatics LP with another album length stunner from a newcomer, JORJA CHALMERS, which has a lovely Julee Cruise vibe laid over classic Johnny Jewel production.†
Classics old and new from the underground rap world this week. SCALLOPS HOTEL, a seemingly-improvised side project from rapper Milo, released a great album of off-the-cuff raps and brainy beats†last year called 'Sovereign Nose of Your Arrogant Face', and we now have a vinyl repress. There's a great new one from emcee MICK JENKINS, and a fresh repress of the timeless, druggy jazz-bient instrumental album from FAT JON called 'Wave Motion'. Insane Clown Posse top dog SHAGGY 2 DOPE has a new LP called 'Fuck Off'. I won't, but thanks!
The Numero Group's steady accounting for the classic, out of print LPs from the influential art-core band UNWOUND reaches the group's restless apex, 1995's 'The Future of What'. They're so tight on this record, they seem mad at themselves. Merge collects the double-EP debut from beloved guitar rockers POLVO, which opened the decade of the 90s with incredible stringbending†promise. New Zealand mopey psych kingpin ROY MONTGOMERY sees his incredible 1995 solo debut 'Scenes From the South Island' come back on LP. Roy was a crucial link in the Kiwi guitar rock underground chain, capable of constructing vast, unpeopled landscapes with his dense and hazy playing, and he's in best form here.
†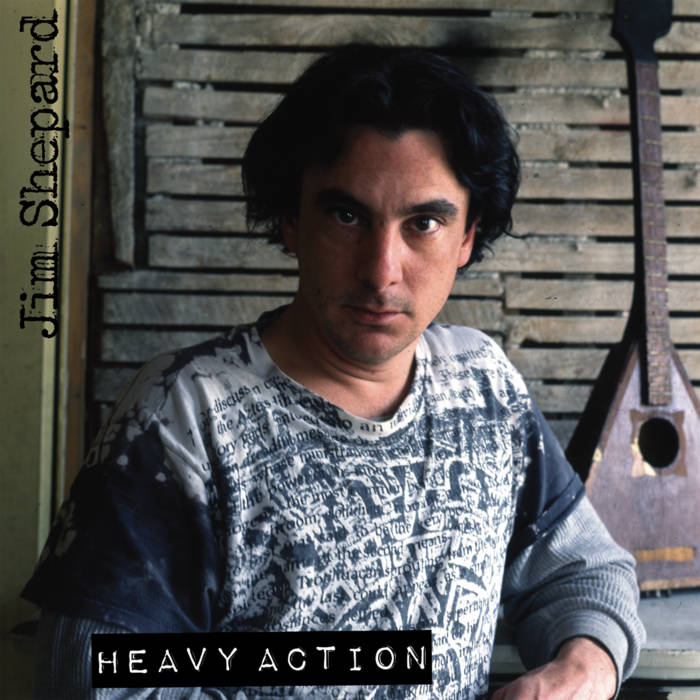 Some obscurities from the catalogs of a couple legends are in this week: MIKE COOPER's early bluegrass rumble 'Oh Really!?', STEVE LACY's 'Threads', with ALVIN CURRAN and FREDERIC RZEWSKI from AMM in the mix, and ROKY ERICKSON's 1985 smoker 'Clear Night For Love'. Tragically little-heralded Ohio DIY rock legend JIM SHEPARD laid the groundwork for groups like Guided by Voices with his limitless, ramshackle garage scuzz, now celebrated on a new 2 LP of unheard takes called 'Heavy Action'.
Funky stuff incoming. LES MASQUES were a one-off combination of a French vocal group and a Brazilian jazz trio, and their lone 1969 album took decades to find an audience. Lovely, lively bossanove here, before we turn up the funk for the French library record from JACKY GIORDANO, 'Organ Plus', with good vibes galore. There's a new pressing of the timetraveling†classic from producer Adrian Younge and THE DELFONICS, and, what's that? Somehow we've come up on new copies of long, long, longtime SD staff fave, 'Sweetback' by IVAN BOOGALOO JONES. If you listen well, you can still hear Ron whispering his name on the wind!
Sensational Denver deathmetal real ones BLOOD INCANTATION achieved the metal dream, as the first pressing of their latest album 'A Hidden History of the Human Race' sold out the weekend of its release. This is a truly insane ripper of an album, and we were lucky to snap up some of the last copies out there! We've also got the incredible new Japanese ambient album 'Stealth', from TAKAO back in the house, and a new LP from underground indie-pop heroes ROCKETSHIP that's good n gazey.
A pair of releases from the sadly departed composer JOHANN JOHANNSSON are in the house: 2004's classic 'Virdeglu Forsetar', and a new vinyl release called '12 Conversations'. The Swedish folkrock collective ENHET FOR FRI MUSIK see their incredible 2017 album 'Det Finns Ett Hjšrta Som FŲr Dig' (There is A Heart For You) come back in print, striking a perfect poise between their forbears like Trad Gras and Parson Sound with an occult, nocturnal bent. The Etats-Unis label reveals a deep rarity in the 80s album from experimentalist TERRY FOX, who removed piano wires from their typical location and generated new rhythmic possibilities.†
†
We mourn the sudden loss of LA production legend RAS G with a new edition of his final album, the housey, righteous 'Dance of the Cosmos'. Ohh Ras! Trombonist and bandleader RYAN PORTER sees his latest album hit vinyl at last, and we have a new collection of demos for 'The Pleasure Principle', the iconic synth-pop cookbook from GARY NUMAN. Last up, some late 80s synthwave devilry from the unsung legends DARK DAY, who had shrugged off most of their punky trappings by now, and head straight for haunting, bleak atmospheres. Good times!
Heading downstairs for an extra juicy Black Friday edition of the Used Vinyl Alert, we're happy to report that once again, all the stops have been pulled out for the big day. We go heavy on rare LPs from classic and obscure names this week, in all the genres under the sun.
With an emphasis on rare bootlegs, early pressings, and super-clean/seldom-seen, we have a full spread of big names like the Rolling Stones, the Beatles, Nirvana, Pink Floyd, Dick Dale, the Replacements, Bob Dylan, Tom Waits, Harry Nilsson, the Beach Boys, Pearls Before Swine, Brian Eno, Neil Young, David Bowie, Prince, Tom Petty, and Led Zeppelin. Plenty of eye-poppers from some lesser known names like Osanna, Elephant's Memory, Silver Method, Left End, Jim Ford, and Budgie.†
Punk, metal and new wave is in from Killing Joke, Flesh for Lulu, Kate Bush, Black Sabbath, Primus, Pere Ubu, Hawkwind, Devo, Bauhaus, the Melvins, Soundgarden, the Dead Kennedys, Fugazi, Minutemen, Rancid, New York Dolls, Descendants, Dropkick Murphys, GBH, the Damned, the Ramones, and Joe Strummer. Somehow, we have the closest we've ever come to seeing every Guided By Voices, Robert Pollard, and GBV related LP ever, and we've got some more recent LPs from Radiohead, the Beastie Boys, Menomena, Beastie Boys, and Anderson Paak.
Some truly mindbending†jazz LPs hit the racks, including timeless essentials from Sun Ra, Pharoah Sanders, John Coltrane, Miles Davis, Korla Pandit, Charles Mingus, Eugene McDaniels, Horace Silver, Ralf Nowy, John Lewis, Hadley Caliman, Alphonse Mouzon, Tony Scott, and Gene Russell. Curiosities from labels like Actuel, Flying Dutchman, and Black Saint are in the mix.
We go real, real nuts with some rare, and a couple *really rare* underground disco grails across the board, mostly originating on the West Coast. Soul, funk, disco, soca, electro, reggae, dub-disco, and other unclassifiable bombs dot the bins. White labels, promo mixes galore, from labels like SAM, Prelude, West End, and many more reputable labels are in the mix for the diggers with keen eyesight or proper prescription spectacles. We've also got some electronic staples from Patrick Cowley, Giorgio Moroder, the criminally slept-on Gino Soccio, John Carpenter, and Kraftwerk!
More delights await you from the soul and funk realms, with big LPs from Sam Cooke, William Bell, Darrell Banks, the Five Stairsteps, Aretha Franklin, Gil Scott-Heron, Nolan Porter, and Marvin Gaye. Female vocalists across the board are here, such as Nancy Sinatra, Edith Piaf, Ella Fitzgerald, Blossom Dearie, and Wanda Jackson. We wrap it up with an eclectic mix of soundtracks, some great 70s Latin records, Brazilian bombs from Jobim, Gilberto Gil, Os Mutantes, and Luiz Henrique, and a smattering of rare reggae!
SELL US YOUR CDS & LPS: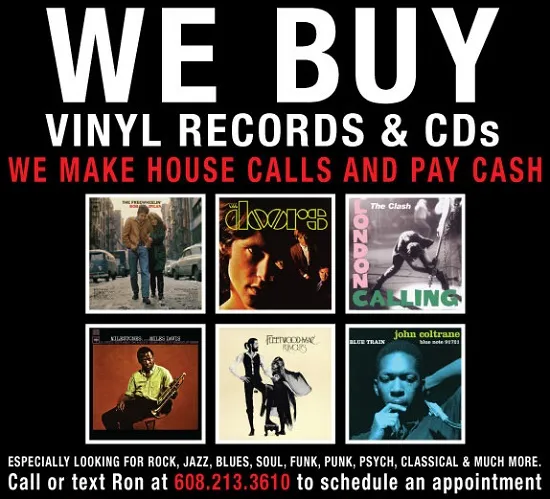 Ron, Ryan, Angie, Marty, Evan, Matt, Ben, Will, Ed, Isaac, Larry, Andy, Mark, Jack, Eric, Mike & Abe