November 14, 2019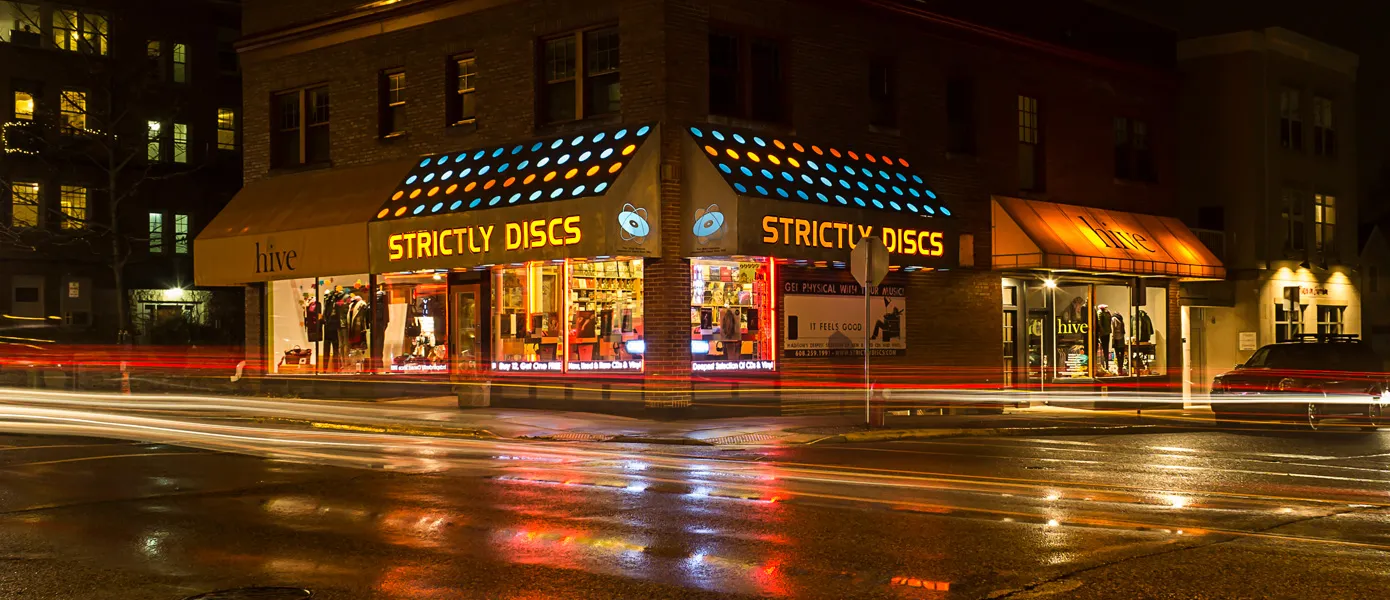 N
EW THIS WEEK AT THE SHOP:
A cool week of new releases commences with the first proper studio album from BONNIE PRINCE BILLY in many years, after quite a few reissues, cover albums, collaborations, and whatnot. 'I Made A Place' is one of the more grounded records I've heard from Will Oldham under any of his guises; you get the sense that he's responding to the country's political and cultural turmoil in his own way (and it's hard to shake the image of Stable Will comforting his flock in the wake of the tragic passing of his friend David Berman). The songs on this album are more or less in a straight bluegrass mode, with a band that includes the cask-aged voice of Joan Shelley, plus ample banjo, horns, and fiddle. Where past albums have dwelt on topics like sex and death and whatever happens in between, here BPB has a renewed focus on faith (in what, I can't say), resilience, and simplicity, while still taking time for whatever mild psychedelics allow him to write a song about "the eye of the squid". A few years back, we were blessed with an incredible album of unheard 1970s gamelan from DANIEL SCHMIDT, a largely overlooked California artist in the instrument-building tradition of pioneers like Harry Partch and Lou Harrison. That was easily one of the most beautiful albums we'd ever heard, and now the Recital label carries Schmidt's story onward into the 1980s with another record of unheard material called 'Abies Firma'. In this period, Schmidt began experimenting with his own song structures outside of the traditional scales of Javanese gamelan, and the results are just as startling as his earlier material, although much more varied. Working alongside his mentor Harrison, utilizing Frippertronics-style tape loops, and reflecting upon changes in his life after becoming a father, Schmidt crafted sound at a wondrous fringe that still feels untrodden in the present day. This is quite an edition here, with the LP augmented by an extensive booklet of essays and photos, and a CD that includes an even longer version of the album. 
USED VINYL ALERT:
Down the stairs we go for this week's edition of the Used Vinyl Alert, where the new arrivals bin (LP & 7") is chock full of rare and obscure post-punk and new wave, classic hip-hop, disco and soul, and much more.
In addition to rare and collectible Beatles, Grateful Dead, Kinks, Captain Beefheart, Led Zeppelin, Jimi Hendrix, Tim Buckley, and Frank Zappa, we see some crucial LPs from Crazy Horse, John Prine, Alexis Korner, Caravan, and the Nice. Metal is in from a host of obscure one-offs, as well as bigger names like Black Sabbath, Dio, Great White, Guns n Roses, and Suicidal Tendencies.
A deep and beguiling spread of lesser known 80s indie rock and new wave comes through from too many names to list, including The Weeds, Hollywood Autopsy, Bruce Joyner, One Plus Two, Scruffy the Cat, Nothing Painted Blue, and many more. On the synth and industrial end of things, we go even farther, with LPs and EPs from A Certain Ratio, Happy Mondays, OMD, Art of Noise, Play Dead, Portion Control, Flying Lizards, Ministry, Section 25, Cabaret Voltaire, the Membranes, Sex Gang Children, and oodles more.
A hall of fame of early hiphop is here, including EPs from Spoonie Gee, T La Rock, Naughty By Nature, House of Pain, Mantronix, Digital Underground, Sugar Hill Gang, Queen Latifah, Paris, Boogie Down Productions, Eric B and Rakim, and several more.
Jazz rolls in from Chico Hamilton, Moondog, Buddy Rich, Miles Davis, the LA Four, Rufus Harley, and Max Roach. Plenty of classical and international cheapies are here, and we've got some more contemporary LPs from Of Montreal, Die Antwoord, Courtney Barnett, the Oh Sees, the Men, Ought, Parquet Courts, Future Islands, Father John Misty, and Cigarettes After Sex.
BLACK FRIDAY RECORD STORE DAY IS NOVEMBER 29: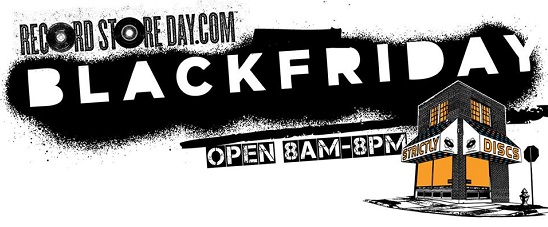 Strictly Discs will be the place to be this Post-Thanksgiving-Shopping-Melee-Day, also known as Black Friday.
And that's because certain indie stores across the country will be the place to get special releases created just for you, for giving and getting this holiday season, and they're scheduled for release on Black Friday, November 29, 2019.  

Now, this is not Record Store Day, Jr., but it is brought to you by the powers-that-be at Record Store Day. This is a group of special releases you can only find at certain independent record stores nationwide. The magic of these pieces (many uber-limited) is that every one of them is something someone will really LOVE to get, and you'll really ENJOY giving.  And you may have the added nice feeling of supporting a local, independently owned (Strictly Discs, Independently Owned since 1988) business during the holidays.
Our list of Black Friday exclusives can be found HERE. You've got to register for our list or you can also jump over to the RSD site which shows the list (just without our pricing). And while we will try to have ample stock (one of the deepest in the midwest) of all items, please know that some of these products are extremely limited and will sell out quickly.

If you created a wishlist  (deadline was October 16th), it will be updated within our system prior to November 29, 2019. We expect that you will be in the store on November 29th to pick up any requested items. And remember, a wish is NOT an order. Thank you!
SELL US YOUR CDS & LPS: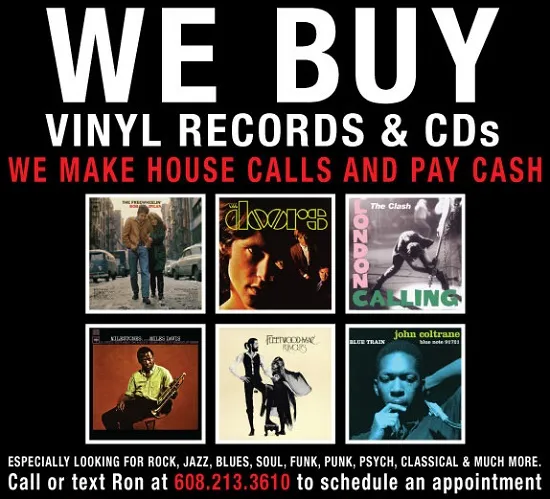 OTHERS TALK BACK:
This isn't the spot to lay down odds on the third race. OTB is where Others Talk Back and give you the lowdown on what they've been feeling lately. This one's for the customers.
Nick Cave and the Bad Seeds -"Ghosteen"  This album is a tribute to Conway Savage, the keyboard player in the Bad Seeds, who died in 2018 of a brain tumor  "Ghosteen" is a double album, the first that the band has released since 2003. Given the subject matter, the album is a song cycle about loss and remembrance.  Consequently, it is a quiet and sparse album, but with touches of electronics. Many of the songs are augmented by a string section, And those strings really set the mood for most of the album.  "Ghosteen" also features probably the best singing from Mr. Cave in quite a few years. Nick Cave and the Bad Seeds have never released a bad album in their almost four decade long career. In fact, the band has released more than a few classics.   "Ghosteen" definitely fits into the classic category. - Ted
Various Artists - "Jon Savage's 1969-1971 - Rock Dreams on 45"  Music Journalist Jon Savage has released a series of albums focusing on specific years in the mid to late sixties.  In the series, Mr Savage tries to find the overarching mood of the time, via the music released during each year. For the first time, the series leaves the sixties, and moves into the early seventies.  The mood for that period is that music moved into a "Heavy" music phase. That definition features lots of loud electric guitars and "subversive" counterculture subject matter. It features cuts from such well known bands like Mountain, Alice Cooper, the Byrds, the James Gang, Faces, The Youngbloods,  KIng Crimson, Free, the Kinks, the Guess Who and Procol Harum. But it also features tracks from the Stooges, MC5, Velvet Underground, Amon Duul ll, Flamin' Groovies and Tangerine Dream - bands that would influence the late seventies but were considered anomalies back in the early seventies. All in all, Mr.Savage has curated an album that superbly gives us a taste of that specific time frame. - Ted
Gene Clark - "No Other"  When "No Other" was released in the fall of 1974, it was universally panned by critics and ignored by the public.  Mr. Clark had put his heart and soul into the album, and the rejection deeply wounded him. Some say that he never recovered from the failure of the album.  It was only when the album was reissued in the nineties that a reevaluation of the album began, Many now felt it was a lost classic and perhaps the best thing that Mr. Clark ever released.  Nominally a singer-songwriters and country rock album, it is much more than those descriptions, Mr. Clark goes beyond the simple genres. It really is in a league of its own. The songs are some of the most emotive  and lyrically complex songs that Mr. Clark had written up to that point - perhaps even better than the songs he wrote for the Byrds. And the intricate playing and production help the album rise to the masterpiece stage.  The two disc version adds an album of outtakes. Some of those outtakes are a bit different than the released versions. There is also a single disc and a super deluxe edition. And in all versions the original album is lovingly remastered to bring out the best possible sound possible. - Ted

Ron, Ryan, Angie, Marty, Evan, Matt, Ben, Will, Ed, Isaac, Larry, Andy, Mark, Jack, Eric & Mike