November 7, 2019
Heading downstairs for this week's edition of the Used Vinyl Alert, we keep the heat flowing in the new arrivals bin with records from every side of the world.
We continue to winnow through some recent collections of eclectic international, jazz and classical albums, with arrivals of South American traditional and folk, Brazilian LPs from Luiz Bonfa, Gilberto Gil, Elis Regina, Airto Moreira and more, latin rhythm music from Joe Cuba, Eddie Palmieri, and more, plus LPs from India, Israel, Jamaica, among others.
Strong jazz LPs turn up from John McLaughlin, Stan Getz, Miles Davis, Cal Tjader, Preservation Hall Jazz Band, Gary Burton, Pat Metheny, Cannonball Adderley, Dave Brubeck, Dollar Brand, Eberhard Weber, Ray Bryant, and George Duke.
Big names in classic rock turn up, like Jimi Hendrix, the Rolling Stones, Pink Floyd, the Doors, Bruce Springsteen, Moby Grape, Area Code 615, UFO, Amboy Dukes, Robin Trower, the Grateful Dead, Neil Young, Frank Zappa, and the Flying Burrito Brothers. More folk and traditional leaning things are here from John Prine, Tom Rush, the Indigo Girls, Leo Kottke, Pete Seeger, Tom Paxton, Bert Jansch, and Levon Helm.
Soul, funk and disco is in from James Brown, Tower of Power, Earth Wind and Fire, New Edition, Angela Bofill, Kat Mandu, and Stevie Wonder, and we see a little blues from Albert Collins, Taj Mahal, Luther Allison, and Paul Butterfield.
80s pop and new wave is in from the Psychedelic Furs, Violent Femmes, REM, U2, Roxy Music, Peter Gabriel, the GoGos, Cheap Trick, Van Halen, John Cale, and Suburban Lawns, and we see a variety of newer releases from names like Cass McCombs, the Black Keys, Foo Fighters, Cymbals Eat Guitars, James Blake, Dawes, and Spoon.
Back in the waning days of the 20th century approximately 5000 internet years ago, we had a wall full of imports. You remember those days, you fossils? Anyway, the front rack is going to look like the back wall. There's some real choice grey-area recordings from Bonnie Raitt, Van Morrison, Townes Van Zandt, The Band and Neil Young for the nostalgia-inclined. The above-ground rock stuff is dominated by the Grateful Dead and all the satellites spinning around the pranksters. Vibes is present with reggae ravers from Black Uhuru, Third World, Dennis Brown and Israel Vibration. Miles and Trane are a mainstay of our jazz arrivals, but there's great less-circulated sessions from Johnny Griffith (one on Cadet, one on Blue Note), Bill Evans, Medeski Martin and Wood and the soundtrack to "Coffy" from Roy Ayers, every bit as good as "Shaft" and "Trouble Man" in terms of blaxploitation classics. Finally, we have have come across a deep trove of metal that will be rolled out in coming weeks. This week leans on the aquanet side of the spectrum, but we still found room for the Slayers, Anthraxes, etc. 
BLACK FRIDAY RECORD STORE DAY IS NOVEMBER 29: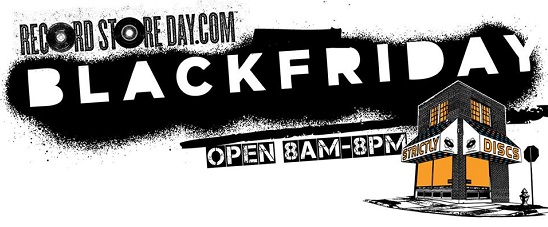 Strictly Discs will be the place to be this Post-Thanksgiving-Shopping-Melee-Day, also known as Black Friday.
And that's because certain indie stores across the country will be the place to get special releases created just for you, for giving and getting this holiday season, and they're scheduled for release on Black Friday, November 29, 2019.  

Now, this is not Record Store Day, Jr., but it is brought to you by the powers-that-be at Record Store Day. This is a group of special releases you can only find at certain independent record stores nationwide. The magic of these pieces (many uber-limited) is that every one of them is something someone will really LOVE to get, and you'll really ENJOY giving.  And you may have the added nice feeling of supporting a local, independently owned (Strictly Discs, Independently Owned since 1988) business during the holidays.
Our list of Black Friday exclusives can be found HERE. You've got to register for our list or you can also jump over to the RSD site which shows the list (just without our pricing). And while we will try to have ample stock (one of the deepest in the midwest) of all items, please know that some of these products are extremely limited and will sell out quickly.

If you created a wishlist  (deadline was October 16th), it will be updated within our system prior to November 29, 2019. We expect that you will be in the store on November 29th to pick up any requested items. And remember, a wish is NOT an order. Thank you!
STRICTLY DISCS IS HIRING:
VINYL PRICING SPECIALIST:
Required skills:
Excellent customer service skills; ability to anticipate customer needs
Computer proficient

A passion for music, and a broad, deep base of recorded music history
Knowledge of Goldmine standards & experience grading and pricing records

Knowledge of stereo equipment/functionality
Availability to work nights and weekends
Ability to lift and carry 50 pounds repeatedly

To apply, submit letter of interest & resume to angie@strictlydiscs.com
SELL US YOUR CDS & LPS:



OTHERS TALK BACK:
This isn't the spot to lay down odds on the third race. OTB is where Others Talk Back and give you the lowdown on what they've been feeling lately. This one's for the customers.
Rolling Stones - "Let It Bleed"  This November 29th is the fiftieth anniversary of the release of this seminal album.  And it was the first to be released after the departure of the founder of the band, Brian Jones.  It should be noted, however, that Mr. Jones appears on just two of the album's tracks. "Let It Bleed" was a continuation of the return to their blues and rock roots that began on "Beggars Banquet."  But it was a return to the roots on the Stones' terms. Listen to 'Gimme Shelter," Midnight Rambler" and "You Can't Always Get What You Want" for their blending of the blues and rock and roll along with their own take on sixties counterculture decadence.  And those three songs are still performed live by the band fifty years later. And by the way, the sound is just fantastic. You feel as if you are in the studio with the Stones. The sound is much better than the last time the album was remastered way back in 2002.  And the 2002 remaster was quite good. It should be noted, that there is also a deluxe edition that includes a book, lithographs, vinyl and SACDs. - Ted
Kelly Stolz - "My Regime" 2019 is the twentieth anniversary of Mr. Stolz as a recording artist.  And he celebrated that anniversary with this, his tenth solo album. Most of his past albums were an idiosyncratic combination of garage rock mixed with sixties pop rock.  "My Regime" dispenses with that sound. This album is his homage to the eighties. He handles synth pop, power pop and moody Echo and the Bunnymen guitar rock (whom he has played with in the past as a sideman).  Mr. Stolz's songwriting prowess almost guarantee that all the songs on the album are listenable and quite memorable, even if they are out of his comfort zone. It appears, Mr. Stolz can move from musical style to musical style with aplomb and still be an engaging performer.  And that is a rare thing in this one-trick pony musical climate. - Ted

Ron, Ryan, Angie, Marty, Evan, Matt, Ben, Will, Ed, Isaac, Larry, Andy, Mark, Jack, Eric & Mike