October 24, 2019
N
EW THIS WEEK AT THE SHOP:
Heading downstairs for this week's Used Vinyl Alert, we roll out a fresh crop of records that ticks off just about the whole list of must-own classic rock, psych, jazz, punk and new wave records. All killer, no filler this week! Unless, of course, you like filler.
On the classic front, we've got standout titles from Led Zeppelin, Bob Dylan, Pink Floyd, Leonard Cohen, David Bowie, the Kinks, Fleetwood Mac and Buckingham/Nicks, Van Morrison, David Bowie, the Beatles, Neil Young, and Tom Waits.
Psych and hard rock of many stripes is here from names like the Electric Prines, Budgie, T.Rex, Rainbow Band, Frijid Pink, Gypsy, Jethro Tull, Soft Machine, Atomic Rooster, Captain Beefheart, Hawkwind, Uriah Heep, Gentle Giant, the Seeds, King Crimson, the Fugs, Tim Buckley, and Captain Beyond.
Heavy stuff is here from Dio, W.A.S.P., Quiet Riot, Black Sabbath, Van Halen, and Alice Cooper, plus we have the punk and new wave hall of fame here, with essentials from the Talking Heads, the Slits, the Sex Pistols, the Clash, Husker Du, Joy Division, Black Flag, the Buzzcocks, the MC5, X, Wire, the New York Dolls, the Butthole Surfers, Pere Ubu, the Cult, Blondie, Sparks, and the B52s.
Some titanic jazz LPs in the building from Dave Brubeck, Miles Davis, Lonnie Liston Smith, Herbie Hancock, Keith Jarrett, Roland Kirk, John Coltrane, Art Blakey, Ornette Coleman, Thelonious Monk, John Klemmer, Wardell Gray, Don Ellis, and Pharaoh Sanders!
Soul comes through from Curtis Mayfield, the Temptations, Billy Preston, Brothers Johnson, Isaac Hayes, and the BT Express. We've got a cool crop of 80s rap and electro EPs, plus some more recent techno releases, and two sought after Brian Eno LPs, a nice bit of reggae, and a spooky assortment of Halloween-themed soundtracks and novelty LPs.
This is a no candyass blues week. We're big fans of the Fat Possum label, particularly their two standard bearers, RL Burnside and Junior Kimbrough. Get familiar if you haven't already. RL is responsible for the coldest quote we ever heard. After having fired the gun that killed an attacker, RL minimized his role in the, ahem, incident, by saying "I shot him once in the head and once in the chest, but him dying was between him and the Lord." The father to their style, Mississippi Fred McDowell will be repped on Friday, along with choice gems from Sonny Terry, Howlin' Wolf and JB Hutto. Not recommended for the Blueshammer set. Occupying the space between the diaspora and the cosmos, look out for albums from Pharoah Sanders, Sun Ra and assorted goodies from the P-Funk universe. Big influx this week for the alternative-indie-whathaveyou section, courtesy of heavy hitters like Bon Iver, Dismemberment Plan, M83, Low, Bjork and St Vincent
. Finally, we're busting out a healthy selection from minimalist giants Terry Riley, Steve Reich, John Adams, Lou Harrison and Phil Glass.
BLACK FRIDAY RECORD STORE DAY IS NOVEMBER 29: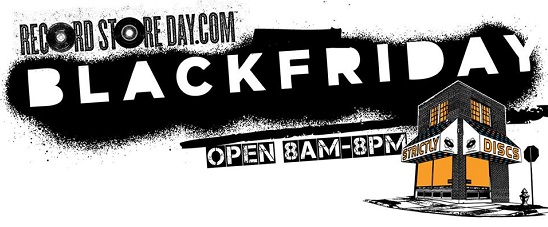 Strictly Discs will be the place to be this Post-Thanksgiving-Shopping-Melee-Day, also known as Black Friday.
And that's because certain indie stores across the country will be the place to get special releases created just for you, for giving and getting this holiday season, and they're scheduled for release on Black Friday, November 29, 2019.  

Now, this is not Record Store Day, Jr., but it is brought to you by the powers-that-be at Record Store Day. This is a group of special releases you can only find at certain independent record stores nationwide. The magic of these pieces (many uber-limited) is that every one of them is something someone will really LOVE to get, and you'll really ENJOY giving.  And you may have the added nice feeling of supporting a local, independently owned (Strictly Discs, Independently Owned since 1988) business during the holidays.
Our list of Black Friday exclusives can be found HERE. You've got to register for our list or you can also jump over to the RSD site which shows the list (just without our pricing). And while we will try to have ample stock (one of the deepest in the midwest) of all items, please know that some of these products are extremely limited and will sell out quickly.

If you created a wishlist  (deadline was October 16th), it will be updated within our system prior to November 29, 2019. We expect that you will be in the store on November 29th to pick up any requested items. And remember, a wish is NOT an order. Thank you!
STRICTLY DISCS IS HIRING:
VINYL PRICING SPECIALIST:
Required skills:
Excellent customer service skills; ability to anticipate customer needs
Computer proficient

A passion for music, and a broad, deep base of recorded music history
Knowledge of Goldmine standards & experience grading and pricing records

Knowledge of stereo equipment/functionality
Availability to work nights and weekends
Ability to lift and carry 50 pounds repeatedly

To apply, submit letter of interest & resume to angie@strictlydiscs.com
SELL US YOUR CDS & LPS:



OTHERS TALK BACK:
This isn't the spot to lay down odds on the third race. OTB is where Others Talk Back and give you the lowdown on what they've been feeling lately. This one's for the customers.
Jason Isbel and the 400 Unit - "Jason Isbell and the 400 Unit" and "Here We Rest"   "Jason Isbell and the 400 Unit" was originally released in 2009, while "Here We Rest" followed in 2013.  Both of these albums have not only been remastered, but both also have been remixed. Mr. Isbell must have been disappointed with the original sound of the albums to take the time and expense to remix the discs. The care that was taken to bring theses reissues up to speed is obvious from the first listen.  The slightly 2D sound of the original albums becomes quite expansive 3D and widescreen in their new sonic clothes. Both albums were released before Mr. Isbell's classic 2013 album "Southeastern." But both of these albums contain some of his best songs, equal to the best of his work with the Drive-By-Truckers and his subsequent solo career.  The attention that was paid to both of these albums to make them sonic equals to the rest of Mr. Isbell's solo career makes them almost mandatory listens for any Jason Isbell fans and for any self-respecting alt-country fans. - Ted
Marvin Gaye - "What's Going On Live" When "What's Going On" was released in 1971, it became Mr. Gaye's biggest seller to date and has since been declared by everyone as a classic album for the last thirty-eight years,  In 1972, Mr. Gaye decided to make a return to live performing. He had not sung live since the death of Tammi Terrell in 1968. This live album chronicles his return to the live stage on May 1, 1972 at the Kennedy Center in Washington D.C..  It's obvious that Mr. Gaye had a case of the nerves when he started the show, but he quickly came up to speed to gave a legendary performance of a collection of songs from a legendary album. It is a treat for the listener to hear these songs performed live for the very first time.  Though I can't really fathom why it took almost forty years for this show to see the light of day. - Ted

Ron, Ryan, Angie, Marty, Evan, Matt, Ben, Will, Ed, Isaac, Larry, Andy, Mark, Jack, Eric & Mike