Black Friday Wish List Deadline This Wednesday at Noon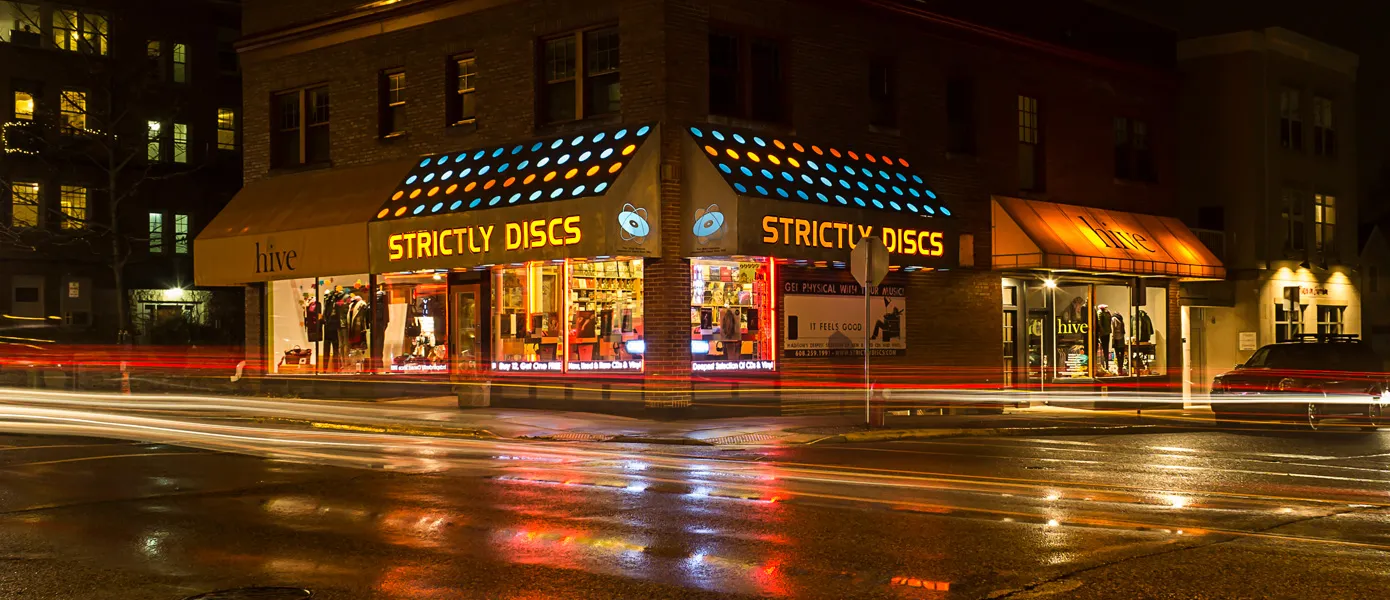 BLACK FRIDAY WISH LIST DEADLINE:
The deadline to create a Black Friday Record Store Day WISH LIST is Wednesday, October 16th at NOON.
BLACK FRIDAY RECORD STORE DAY IS NOVEMBER 29: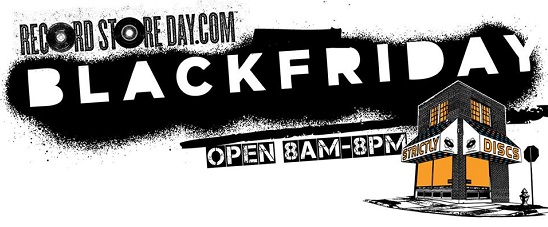 Strictly Discs will be the place to be this Post-Thanksgiving-Shopping-Melee-Day, also known as Black Friday.
And that's because certain indie stores across the country will be the place to get special releases created just for you, for giving and getting this holiday season, and they're scheduled for release on Black Friday, November 29, 2019.  

Now, this is not Record Store Day, Jr., but it is brought to you by the powers-that-be at Record Store Day. This is a group of special releases you can only find at certain independent record stores nationwide. The magic of these pieces (many uber-limited) is that every one of them is something someone will really LOVE to get, and you'll really ENJOY giving.  And you may have the added nice feeling of supporting a local, independently owned (Strictly Discs, Independently Owned since 1988) business during the holidays.
Our list of Black Friday exclusives can be found HERE. You've got to register for our list or you can also jump over to the RSD site which shows the list (just without our pricing). And while we will try to have ample stock (one of the deepest in the midwest) of all items, please know that some of these products are extremely limited and will sell out quickly.

If you create a wishlist, it will be updated within our system prior to November 29, 2019. We expect that you will be in the store on November 29th to pick up any requested items. And remember, a wish is NOT an order. Thank you!


N
EW THIS WEEK AT THE SHOP:
I know we say this every week, but man oh man, do we have some great new records in the house for you today. It can be a challenge to keep up with the deluge week after week, but hopefully these messages help you narrow down your selections! So lets start, then, with a band that's already given us one great album this year, Brooklyn's BIG THIEF. Few bands have hit the ground running with as much force as this quartet, who seem to have a dozen songwriters packed into their lean lineup. 'Two Hands' is the 'earth twin' to May's 'U.F.O.F.', and finds the band pitched a bit less cosmically, as they elegantly bang out folk rock gems that sound at home on a modernized indie version of the Festival Express tour. KIM GORDON is a diamond, revealing more facets with each turn, and she does a proper 180 with her first true solo album, 'No Home Record'. The thrill of encountering an artist like Kim, the co-founder of Sonic Youth and a multi-generational cultural icon, is her natural accessibility. Dating back to the last blinks of the 1970s, Gordon has been making sound-art from the scraps of modernity, ugly pop with beautiful melodies, bathed in a film of noise; her voice has always been more of an offstage narration than a siren, whether describing a meeting on a train, a parade of swimsuit models, or fake male feminists, and it has a powerful presence here. AND AS A BONUS, THE FIRST PERSON TO SNAG A COPY ON CD OR LP, WILL ALSO TAKE HOME A TEST PRESSING OF THE FIRST SINGLE! As you listen to an album that has more fresh and strange ideas than plenty of records done by people half her age, it's startling to reflect on how perceptibly she has done this for across close to four decades. 'Joey Always Smiled' is the naturally foreboding title of a new collaborative album from MARK KOZELEK and PETRA HADEN, who turns in a great performance as a foil to the Koz' trademark taciturnity. Pianist and producer KIEFER continues his blissful ride through warm boogie vistas on 'Superbloom', an album that follows his recent production work for Anderson.Paak. 
The War on Drugs guitarist Anthony LaMarca steps out as THE BUILDING with a new album called 'Petra' that is quite tender, and we have a phenomenal new album from the ALLAH LAS, that finally delivers on the band's true promise. We've loved all the Las jams so far, but this one, which is called, helpfully, 'LAHS', sees the band way out from shore, on some kind of terminal blues cruise chock full of CSN 'Dark Star', Poco, and Agitation Free vibes. Neon art-grind lifers LIGHTNING BOLT have been the freakiest band on earth for literally half of my puny existence, and they might be the last band on the planet ever, if 'Sonic Citadel' is any indication of their continued might. Speaking of freaks, its been ten years now since KURT VILE sold his soul to the corporate rock machine of Matador Records with the release of the mini-album 'Childish Prodigy'. Back in print now, this is the record that announced Kurt's brilliance to the wider world, mingling his savage bedroom melodies with aspirations to the arena/stoner/blues world that he's ended up properly ensconced within. It's nice when a prophecy comes true.
Panamanian singer and bandleader RUBEN BLADES conjures a sparkling new band on 'Paraiso Road Gang', a killer romp of ska and spaghetti western influenced Nueva Cancion. LEE SCRATCH PERRY lands on the Stones Throw label with a new EP remixed in modern dubplate style by none other than longtime SD basement denizens Aaron and Indra of PEAKING LIGHTS. A new compilation called RADIO VERDE collects disco and electro sounds from Cape Verde, in a sort of sequel to the 'Space Echo' comp from a few years back, which documented how a lost shipment of rare synths launched an electronic music revolution on the small Atlantic archipelago. Every track on this one is a scorcher! The Numero Group continues to pluck gems of international disco, heading to late 70s Armenia and the necksnapping, understatedly titled 'Armenian Pop Music' by HAMLET MINASSIAN. Alas, poor disco! I knew him well. 
Lots of words in the English language might prepare you to listen to 'Neighborhoods', the sole 1975 album from a self-taught sound engineer named ERNEST HOOD, but they pale in comparison to the singularly unique experience that is listening to it. A beloved eccentric living in Portland, OR, Hood spent decades collecting the detritus of his home city, including countless hours of field recordings. Children playing, grandpas telling old tales, shopkeepers shooing loiterers away from their door, basketballs bouncing along to singsong taunts, crickets chirping. In 1975, using his own DIY recording rig, he wove these voices and sounds together with interludes of zither and synthesizer, creating an album that sounds like a sci-fi soundtrack, but for a movie where literally nothing at all is going wrong. In the incredibly still soundfield that Hood created (again, with no training or professional studio gear!), ice cream truck jingles become distant galaxies before your ears, and mundane overheard conversations gather a cosmic weight. This 'audio postcard' comes back to us via the loving heads at Freedom to Spend, who have blessed this rare recording with a new stereo cut that truly comes to life in your living room. Believe me I tried it the other night and it's a miracle that I even came back. Rolling on with records that don't really sound like anything else, we have a collection of unheard ballads from the Namibian singer BEN MOLATZI. 'No Way To Go' compiles the hauntingly memorable songs the protest singer recorded in 1981, while living under apartheid, which stride an unusual line between political folk, reggae and calypso styles. The landmark 1978 album by LINO CAPRA VACCINA, 'Antico Adagio', is back in stock in all its hypnotic minimalist grandeur, and we have a spectacular collection of unheard 80s and 90s music from Bay Area synth whiz JOHN DI STEFANO, which runs wild in a Ralph Records art-punk meets gamelan style.
Three later-period releases from KING CRIMSON are back in print on heavyweight vinyl: 'Thrak', 'Reconstrukction', and 'The Power To Believe'.
We've got a slick LP version of the latest from CURREN$Y and STATIK SELEKTAH; 'Gran Turismo' celebrates the duos love of weed and cars over genius, laidback instrumentals. Detroit producer FLEET DREAMS joins up with vocalist Aj Magic for an expansive EP of Balearic R&B that could be dominating any commercial airwaves if it had half a chance. We've got two new arrivals from NAS: a second volume of his 'Lost Tapes' on CD, and a new LP edition of 'It Was Written'. 
Into the foggy home studios we go with a wildly varying grip of releases from bygone DIY projects. Eighties Irish group OPERATING THEATRE craft dubby CabVol style miniatures and more sweeping, baroque pieces on the new compilation 'Miss Mauger'. German pop savant Christian Pfluger released several scintillating tapes in the 80s as DIE WELTTRAUMFORSCHER, making haunting, strange pop along the continuum traveled by R Stevie Moore, Martin Newell, and Ariel Pink. 'Die Singende Sternlaterne / Folklore Des Weltalls 1982' collects two of his best releases. French darkwave ensemble A GETHSEMANI released 'Ame Triste' themselves in 1987, and it still holds up as one of the headier heights of east-meets-west ethereality. Dutch producer RX-101 filled several cans of tape full of his killer, hummable, early Aphex-style melodic IDM in the late 90s, but they were never released until recently. We now have 'Dopamine', a strongly-curated 2LP set of the best tracks from the vault. Thinkin-folks dance music at its finest right here. 
The Russian label GOST ZVUK turns 5 years old and celebrates their potent stable with a lovely 3LP set featuring every one of their artists. We'd have no idea what was going on over there in the cold streets of Moscow and St. Petersburg if not for this groundbreaking label, and this comp lays that out with a quickness. Having shed his prior moniker Ital, we have a great new album of spectral, psychedelic techno from RELAXER, and a similarly brainstem-rubbing new double album from SPECIAL REQUEST, packaged in stunning silver foil. Detroit techno hardware warrior H-FUSION has a new collection of dusty, freewheeling beatdown on the Death of Rave label. 
Right on the heels of their gig at the Crucible last night, we have a new expanded repress of the 'Country Girl EP' by BOY HARSHER. The Running Back label delivers a snappy, happy comp of sparkling nu-disco called 'One Swallow Doesnt Make A Summer', and we have a new EP on the more clubby end of things from SUZANNE KRAFT.
On the jazz tip, we've got the latest International Anthem release from JAMIE BRANCH, 'Fly or Die II'. Toronto jazz unit EUCALYPTUS convene a lovely session of mellow, vibey horn-led jams on 'Kick It Till You Flip It'. Rising UK phenom NEUE GRAFIK has yet another entry in the long list of great British jazz records this year on 'Foulden Road'. Plus, we've got a new CD from DAVE HOLLAND. 
Duos! Guitarist BILL MACKAY joins cellist KATINKA KLEIJN for an elevated session of folk instrumentals called 'Stir'. British improv dudes JACOB SAMUEL and BEN VINCE craft liminal, yet strident pieces centered around courageously frail piano. UK unit MOSQUITOES return with 'Vortex Veering Back To Venus', an unpeggable record of post-industrial bleakness drawing on the teachings of This Heat. JATINDER SINGH DURHAILAY and DAVID EDREN deliver 'Tea Notes', a therapeutic album of classical Indian strings and synth meant to enhance the sipping experience. This is a nice one for when you are looking to go night-night soon. 
Last up, we've got releases from a handful of labels who are really doing the on-the-ground work of unearthing funk biz and rare grooves from round the world. Not quite a household name but no less astounding is the Brazilian singer ANA MAZZOTTI, whose 1974 album 'Ninguem Vai Me Segurar' is a stunning slab of bossa nova pop with its ambitions pointed towards the coming eras of funky soul. Belize's BRO DAVID released some scarce albums of funky soul he called 'cungo' in the 80s and now sees a compilation of the best ones out called 'Modern Music From Belize'; really heart-lifting stuff here. South African boogie funk scarcely sounds more timeless than on this new collection from KUMASI, titled 'I Know You Feel It' with much deserved confidence. 90s R&B from the Bahamas with a distinct poetic edge comes through from F.J., and we have a nice repress of the Haitian folk-fusion bomb from MUSHI & LAKANSYEL.
USED VINYL ALERT:
Heading downstairs for this week's Used Vinyl Alert, you'll be pleased to see some spectacular new arrivals this week. We've refreshed the recent 45 arrivals and the LP bins are loaded up with everything from Buena Vista Social Club to Boards of Canada, from Candlemass to Sam Cooke, from Mount Rushmore to Mission UK, from Lonnie Smith to Patti Smith.
The classics front is well-covered this week, with seminal titles from the Beatles, the Stones, Cream, Neil Young, Led Zeppelin, the Grateful Dead, Tom Petty, the Kinks, Jimi Hendrix, Pink Floyd, Frank Zappa and the Mothers, Van Morrison, the Box Tops, King Crimson, Beach Boys, David Bowie, Bruce Springsteen, the Who, the Doors, and Lou Reed.
Some crucial, seldom seen titles in jazz are in from Lonnie Smith, James Moody, Bill Evans, Charles Mingus, John Coltrane, Duke Ellington, Chick Corea, and Ron Carter.
Country comes through from Jeannie C Riley, George Jones, Hawkshaw Hawkins, Emmylou Harris, Merle Haggard, Ernest Tubb, Johnny Cash and June Carter, Waylon Jennings, and Hank Williams.
Heavy classics from Metallica, Def Leppard, AC/DC, Candlemass, and Blue Oyster Cult are joined by new wave from INXS, Blondie, the Cars, Tears For Fears, and Nick Lowe. We've got some great indie things in from Bis, Panda Bear, Of Montreal, Whitney, the Pixies, Deerhoof, Belle and Sebastian, and an early rarity from the Flaming Lips. 
We wrap up with some great 80s soundtracks and an incredible vinyl set of Akira Kurosawa filmscores, plenty of disco EPs and LPs, some hip-hop, blues, and folk oddities, and some lovely Japanese traditional LPs!
I ask for respite, yet the inventory regenerates and the consumer remains unsatiated. The Academy Award for used inventory in the compact discs category is five 
Rolling Stones digipacks spanning the immediate interval right before their classic run, a mixture of late and early Talking Heads and more Jerry Garcia material, some with the Dead, some with Merl Saunder and some as the headliner. There's also some choice gray area live dates [nudge/wink] from George Harrison, Van Morrison with Chet Baker (?) in 1974 (!), and a tidy version of Neil's "Journey Through the Past." Scattered amongst are tasty comps from Jimi, choice Dylan, a pair from Peter Green and a handful of prime Moody Blues. Bluesville is populated this week by Luther Allison, BB KIng, Taj Mahal and Dr. John. We'll close out the week with jazz. Look for digipacks of Miles' sinister "Live-Evil" and "Live at Fillmore East," along with multi-disc sets capturing the quintet with Coltrane in its last tour. Let's throw in classics like "Sunday at the Village Vanguard" from Bill Evans and "Impressions" from the Trane-Eric Dolphy group and split for the week.
STRICTLY DISCS IS HIRING:
VINYL PRICING SPECIALIST:
Required skills:
Excellent customer service skills; ability to anticipate customer needs
Computer proficient

A passion for music, and a broad, deep base of recorded music history
Knowledge of Goldmine standards & experience grading and pricing records

Knowledge of stereo equipment/functionality
Availability to work nights and weekends
Ability to lift and carry 50 pounds repeatedly

To apply, submit letter of interest & resume to angie@strictlydiscs.com
SELL US YOUR CDS & LPS: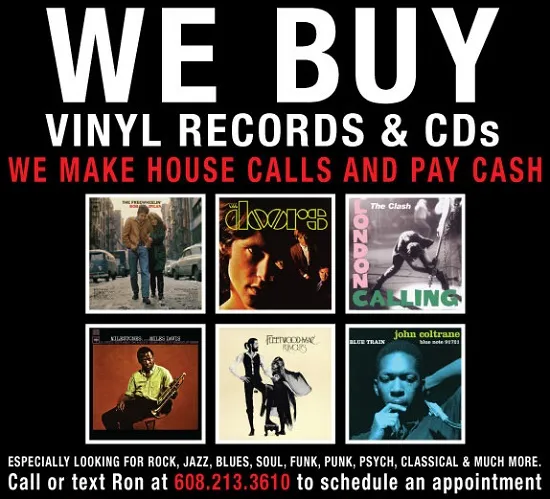 OTHERS TALK BACK:
This isn't the spot to lay down odds on the third race. OTB is where Others Talk Back and give you the lowdown on what they've been feeling lately. This one's for the customers.
The Avett Brothers - "Closer Than Together"  The Avett Brothers have trod a lot of musical ground since they exploded on the scene about fifteen years ago.  But the last several albums have seemed to be lacking in the fire that fueled their earlier recordings. "Closer Than Together" is a concept album detailing the state of the United States the last several years.  Most concept albums can be rather turgid affairs which often sacrifice good songwriting for the sake of the concept's overarching theme. That is not the case with "Closer Than Together." The album is a breath of fresh air, with some of the best songwriting that the band has produced in years.  I noticed that Rick Rubin produced the album, and it may be that Mr. Rubin kicked some butt to get such inspiring performances and songs out of the Brothers. The songs are freed from the fancy production that dogged the last several albums. The production of "Closer Than Together" is sparse but it spotlights the songs and performances.  "Closer Than Together" is a simple return to the excitement that the band generated back in the 2000s. - Ted
Angel Olson - "All Mirrors"  Angel Olson has has always worn her emotions on her sleeve.  She was not shy about exposing her soul to her public with her songs.  "All Mirrors" is finally the vehicle that Ms. Olson needed to finally liberate the deep emotions that her songwriting conveys.  The vast majority of the tracks have a small string section that quite simply highlights what is good and great about her music.  But the string sections are not used as classical light, rather the string arrangements are used almost in a psychedelic sense that immediately draws the listener into the raw sentiments of the songs,  And the album's eleven songs are the best that she has written so far. It may be premature to declare "All Mirrors' as the best album of the year. But I believe, that those who hear the album will immediately agree with that ranking. - Ted

Ron, Ryan, Angie, Marty, Evan, Matt, Ben, Will, Ed, Isaac, Larry, Andy, Mark, Jack, Eric & Mike