Black Friday Record Store Day - THE LIST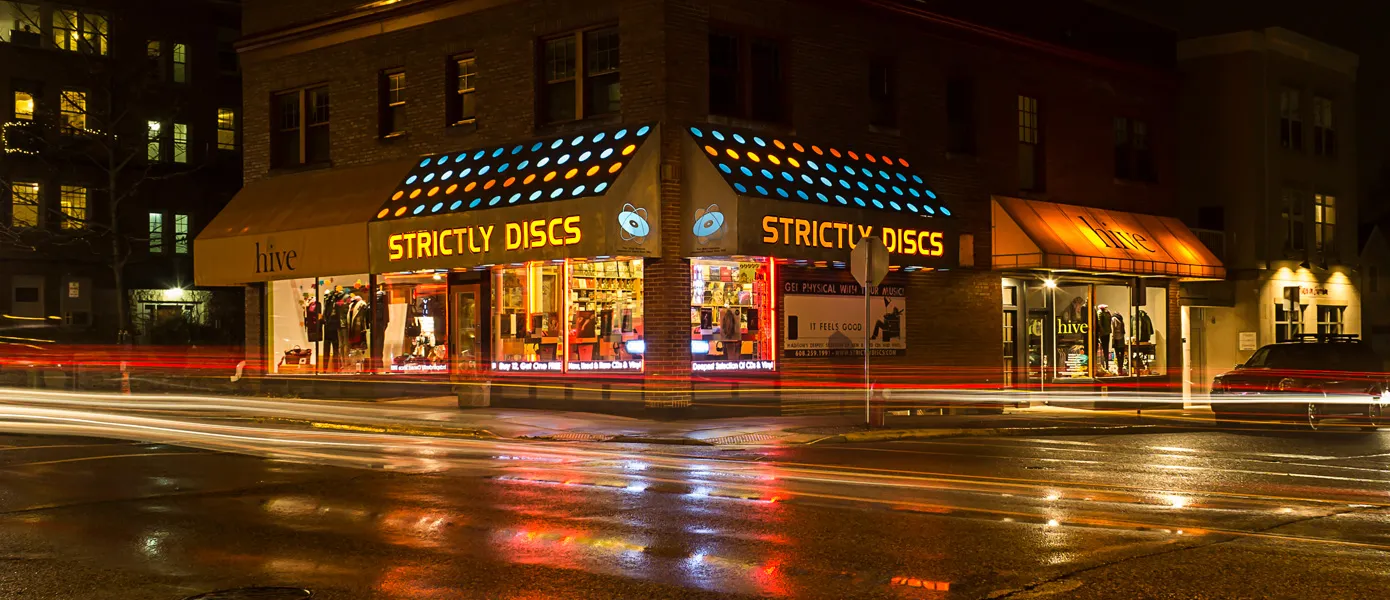 BLACK FRIDAY RECORD STORE DAY IS NOVEMBER 29th - THE LIST: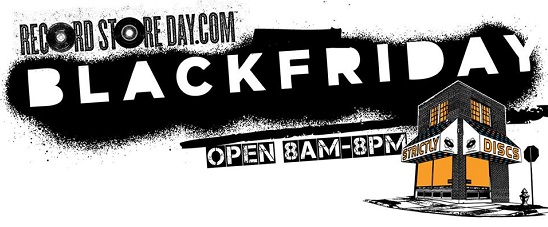 Strictly Discs will be the place to be this Post-Thanksgiving-Shopping-Melee-Day, also known as Black Friday.
And that's because certain indie stores across the country will be the place to get special releases created just for you, for giving and getting this holiday season, and they're scheduled for release on Black Friday, November 29, 2019.  

Now, this is not Record Store Day, Jr., but it is brought to you by the powers-that-be at Record Store Day. This is a group of special releases you can only find at certain independent record stores nationwide. The magic of these pieces (many uber-limited) is that every one of them is something someone will really LOVE to get, and you'll really ENJOY giving.  And you may have the added nice feeling of supporting a local, independently owned (Strictly Discs, Independently Owned since 1988) business during the holidays.
Our list of Black Friday exclusives can be found HERE. You've got to register for our list or you can also jump over to the RSD site which shows the list (just without our pricing). And while we will try to have ample stock (one of the deepest in the midwest) of all items, please know that some of these products are extremely limited and will sell out quickly.

If you create a wishlist, it will be updated within our system prior to November 29, 2019. We expect that you will be in the store on November 29th to pick up any requested items. If you are unable to be here that day or want us to send any remaining stock after Record Store Day, please email angie@strictlydiscs.com now to make those arrangements. And remember, a wish is NOT an order. Thank you!


N
EW THIS WEEK AT THE SHOP:
An absolutely breathtaking week of new releases hits the shop, kicking off whats sure to be an impeccable fall. Everyman heroes Wilco return with 'Ode To Joy', an unassuming but potent new album that finds the band bathed afresh in sincerity, hearkening back to YHF-era on this one which we have on limited pink wax. The legend of Angel Olsen grows ever more epic with her latest, 'All Mirrors', a greatly expanded, even symphonic boldening of her sound here on crystal clear vinyl. Blood Orange continues to produce beaming, eclectic R&B on 'Angel's Pulse', which features heavy influences from Arthur Russell and Arca, and finds Project Pat and Gangsta Boo turning up on a track. We have this one on color wax, a beautiful picture disc, CD and cassette. Around ten years ago, the quieter quarter of Animal Collective known as Deakin began work on a solo tape that would become one of the most sought after releases in the AC discography. At last, 'Sleep Cycle' has been rescued from Ebay-land with a legit CD and LP pressing. Direct yet abstract, this moving personal journey of a record is really not to be missed.
Plenty more great indie and rock and indie rock is here starting with the re-emergent DIIV, who bring a crisp, hummable influence of early Ride or True Widow to their great new one, 'Deceiver', on grey marble wax. Black Mountain spinoff unit Lightning Dust are back with a cool bomb of haunting synth-rock, and we have the last album from Gospelbeach, helmed by the dearly departed Neal Casal. Check out new records from Empath and the Menzingers, as well as the startlingly true debut album from songwriter Clairo.
Early indie and underground classics abound with four lovely expanded reissues of the heart of the Dinosaur Jr lineup: 'Where You Been', 'Green Mind', 'Without A Sound', and 'Hand It Over' all get the two disc treatment here. New Zealand legend Peter Jefferies releases a vinyl trove of unreleased material on 'Last Ticket Home', a potent, homespun collection of driving piano-rock that hits a similar zone as classic Nick Cave work, if a little less refined. The Replacements see two crucial later 80s albums restored to LP: 'Tim' and 'All Shook Down'. We've also got a fresh vinyl pressing of the timeless early 90s NJ pop-punk classic 'Hello Bastards' from Lifetime.Jap
Japanese heavy legends Boris return with a double album of melodic sludge called 'Love and Evol', accompanied by a brief vinyl reissue of their most demanded album, 'Akuma No Uta'. Thee Oh Sees latest, 'Face Stabber', is finally here on vinyl, and we also have the latest album from local garage heroes The Hussy, which features a cover photo of the band standing in front of Mickey's Tavern. Hey, I'm sitting there right now! Just kidding (or am I?).
Some truly heavy ones from the rap world in the shop this week, beginning with the long-awaited vinyl version of Tyler the Creator's 'IGOR'. If you've heard this one, you know you need it on LP, and if you haven't, treat yourself to one of the most compelling albums from any genre to hit the public in 2019. Can't say enough about this one (and a lot has already been said); an already very successful artist completely remade his whole sound with this one, and it's surely one of the year's best. We've also got great new releases from Big Krit, Black Milk, Machine Gun Kelly, and Shredders, plus a nice double CD set of Gucci Mane bangers called "House of Trap God'. The Beastie Boys' underappreciated gem of an EP 'Root Down' is back in print on CD and LP, with copies of 'Ill Communication' and 'Paul's Boutique' due to arrive in the coming weeks.
Not one or two but three deliriously wonderful collections of rare Japanese ambient music hit the floor this week. The duo Inoyama Land released a trove of elegant, gently strange music during the 80s, mostly for use in films and museum installations. 'Commissions' collects the bulk of this little heard work across two LPs of enigmatic sketches and swooning settings. The Music From Memory collects an equally stunning set from Toshifumi Hinata, who operated later in the decade. 'Broken Belief' heads in a slightly more serene direction, evoking still-as-glass surfaces of shimmering piano and synth.
The rare bonus-only EP of Massive Attack Mad Professor dubs gets its first ever standalone release, and we have a new LP repress of the high point in avant-punk strangeness that is Sun City Girls' 'Dawn of the Devi'. Erstwhile Sonic Youthian Thurston Moore collects a large stash of recent solo/collab performances on the hulking 3 disc set 'Spirit Counsel'.
The 80s catalog of avant-folk duo Kath Bloom and Loren Mazzacane Connors is impressively hard to access in any form (even on the internet, if you can believe that), but the Chapter Music label has begun sorting that out with some affordable vinyl reissues. This week we have 'Moonlight' and 'Sand In My Shoe', two early examples of the pair's fragile brilliance. On a similar note, the loosely-arranged yet spectacular guitarwork of Six Organs of Admittance's Ben Chasny was never in better view than on the 2003 rarity 'For Octavio Paz', now back in print in a very pretty LP edition. Last year we said a sudden goodbye to the legendary contemporary classical composer Johann Johannsson, which has necessitated a revisiting of some of his landmark works. They don't get sweeter than 2004's 'Virdeglu Forsetar', a magnificient suite of billowing strings and horns that sound like a pair of happily mating glaciers.
Chicago spiritual jazz fixture Angel Bat Dawid's previously cassette only release 'The Oracle' is now here on 2019. After turning up on records by Damon Locks and Makaya McCraven, we awaited this one with great relish, and its paid off. In a year full of huge statements in jazz, Dawid's ought to rate high. UK fringe guitarist Julia Reidy delivers another great album of dense beauty, and we have a reissue of the must-hear 1988 album from Marnie, 'Songs Hurt Me', an indelible LP of artsy, troubled industrial pop. Marnie Weber is best known as the artist behind the painting on the cover of Sonic Youth's 'A Thousand Leaves', but she left quite the trail of tunes leading up to that.
Some of the year's best metal releases come back to us on vinyl this week, with albums from Tomb Mold, Full Of Hell, and Oozing Wound in the house, plus a new pressing of Abbath's 2016 self titled album.
Rare grooves abound with a reissue of Japanese flautist Hozan Yamamoto's 1971 album 'Beautiful Bamboo-Flute', the debut 1977 album from the duo that would become Toure Kunda, a double-pack of 80s album reissues from Afro-funk legend Buari, and the staggeringly great 1973 debut from Loleatta Holloway, in a more rootsy soul-blues mode, years before she found fame in the disco era.
The second volume of DJ Harvey compilation honoring his Ibiza residency at Pike's, 'Mercury Rising', is packed with even more modern club-chug and retro-disco rarities than the first set. Pick this up and let it handle the entire party for the rest of the night. We've got new EPs from DMX Krew and DJ Central, plus some deep, auteur-style synth records from producers at the boundaries of dub, industrial, and synthwave: Stiletti Ana, Kris Baha, and Tribe of Colin.  
USED VINYL ALERT:
Heading downstairs for this week's edition of the Used Vinyl Alert, we're happy to unveil a real exciting batch of records. Our Fall squirreling away of records has commenced, and we have a truly eye-popping collection of affordable, essential records, almost entirely in the best shape of their lives. Spruce up your collection this week from staples across the worlds of blues, jazz, new wave, folk rock and classic pop.
On the popular front, we come through with a lovely collection of 1980s Japanese pressings of a slew of big records, all still with their obi strips, ready to replace the beater copy you found underneath a blender at a garage sale. Classics abound from Fleetwood Mac, the Allmans, Harry Nilsson, David Bowie, Toto, Frank Zappa, Bob Dylan, Queen, Link Wray, Tom Waits, Elton John, Neil Young, Lynyrd Skynyrd, Jimi Hendrix, and the Band.
A properly comprehensive selection of great blues is here from names like Willie Dixon, Lowell Fulsom, Lightning Hopkins, Bobby Bland, Sonny Boy Williamson, Big Bill Broonzy, ZZ Hill, Clarence Carter, Albert Collins, Champion Jack Dupree, Elmore James, plus an exceptionally deep run through the catalogs of Mississippi John Hurt and John Lee Hooker, plus even more. We've also got some choice jazz LPs from Miles Davis, Bobby Timmons, Frankie Young, and John Klemmer.
An aficionado's journey through new wave, electro-pop, and industrial continues this week with great LPs and EPs from Modern English, Echo and the Bunnymen, Blancmange, Blondie, Magazine, Peter Gabriel, Meat Beat Manifesto, the Cult, Freeez, Kraftwerk, Shriekback, New Order, OMD, Culture Club, Oingo Boingo, Eurythmics, Lydia Lunch, DAF, Siouxsie, Material, Telex, Sylvester, John Rocca and a couple wild things such as the Tears For Fears 'Everybody Wants to Rule the World' test pressing. :O
Plenty of good country is here this week from Dolly Parton, Johnny Cash, Conway Twitty, Jimmie Rodgers, Hank Williams, David Allan Coe, Patsy Cline, Waylon Jennings, Tammy Wynette, Jerry Reed, Kenny Rogers, Slim Whitman and a whole lot more.
Of course there's a whole lot more in between, from the Ventures to Vangelis, from William Bell to Jim Schwall, from Madonna to Aretha, so come on through and have yourself a look.
It's a three-course meal for this week's batch. We continue to unearth some country and folk gems, from the high and lonesome to the rollicking and raucous. More good stuff this week from Dolly, along with a trio from Rosanne Cash, three from the Nitty Gritty Dirt Band "Circle" series and a pair from Hag. Look out for single-disc surveys from consummate craftsmen Tom T. Hall, Don Williams, John Stewart, Pete Seeger and Dwight Yoakam, as well as roots-adjacent sides from Dougie Sahm and Gram Parsons. Moving over to the rock section of town there's tasty vitals like the expanded versions of "McCartney I" and Dave Crosby's "If I Could Only Remember My Name," along with sturdy standards like the White Album and the soundtrack to "Easy Rider." Ol' Neil factors in heavy with 70s highlights "Zuma" and "On the Beach," along with the earthier "Old Ways
" and the recent archives release of his work with the International Harvester. Plenty of Garcia this week, covering his work with his eponymous band, his tenure in the New Riders of the Purple Sage and, of course, the Dead. We'll close with another strong jazz selection. The Blue Note deluge continues, with lesser-seen dates from Tony Williams and Joe Henderson, along with a 3-cd Mosaic set from Horace Silver sideman Carmell Jones. In addition, pay particular attention to the material this week coming off well-regarded but undercirculated labels like Soul Note, Black Lion and Muse, proof that great jazz was still coming out whether attention was directed earwards or not.
SELL US YOUR CDS & LPS: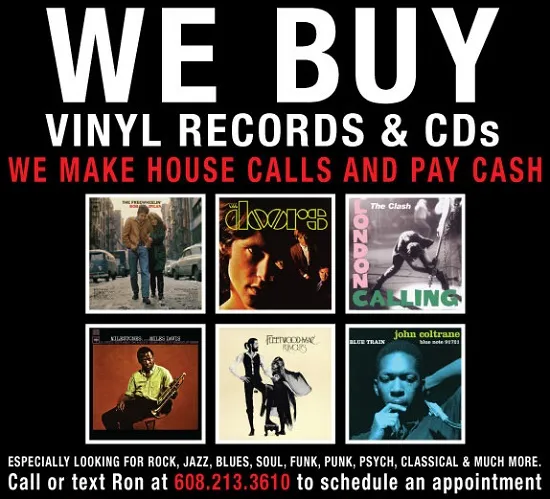 OTHERS TALK BACK:
This isn't the spot to lay down odds on the third race. OTB is where Others Talk Back and give you the lowdown on what they've been feeling lately. This one's for the customers.
The New Pornographers - "In the Morse Code of Brake Lights"  Hard to believe that this album is only their eighth album in nineteen years.  I had thought that the band has released more than just eight. While this indie Super Group" has shed a few members over the decades it is still basically the same band that released their first album in November of 2000,  And it is still basically the same style. You know, bouncy power pop with a slight idiosyncratic twist to the proceedings. And the New Pornographers have yet to make a bad album. Heck, they have never released even a boring album.   And "In the Morse Code of Brake Lights" is yet another stellar release. Just like all their other releases. - Ted
Tegan and Sara - "Hey, I'm Just Like You" Identical twins Tegan and Sara were looking through their archives during research for a book.  In the materials, they found cassettes from the beginning of their careers. The sisters then decided to rework some of the songs from the cassettes.  The good news is that the redone material is very reminiscent of the music from when they started. There are even loud electric guitars and acoustic guitars on this disc..  Listening to this album reminds me why I fell in love with their music so many years ago. And back in the nineties you had a special sort of a relationship with the sisters because they touched you so deeply.  I have to admit that I stopped caring several years ago about Tegan and Sara after a number of albums of dance music. But "Hey, I'm Just Like You" has got my attention again. I now care again. And I feel the same way now as I did so long ago. - Ted
Moon Duo - "Stars Are the Light" I knew we were in for a treat when I found out that Sonic Boom (of Spiritualized fame) was mixing the album.  Although normally classified as a psychedelic band, Moon Duo are so much more. The duo has a very noticeable Krautrock/Silver Apples electronic feel too.  And that is the side of the band that is more prevalent on "Stars Are the Light." The band gives the electronics a more spaced out feel that only Moon Duo are capable of.  The band is definitely in an experimental mood on this album. Moon Duo even somehow venture into proto-funk territory. But they are such great musicians that they make even that so compelling.  "Stars Are the Light" is an intriguing and imaginative album that really gets better every time you listen to it. - Ted

Ron, Ryan, Angie, Marty, Evan, Matt, Ben, Will, Ed, Isaac, Larry, Andy, Mark, Jack, Eric & Mike