September 5, 2019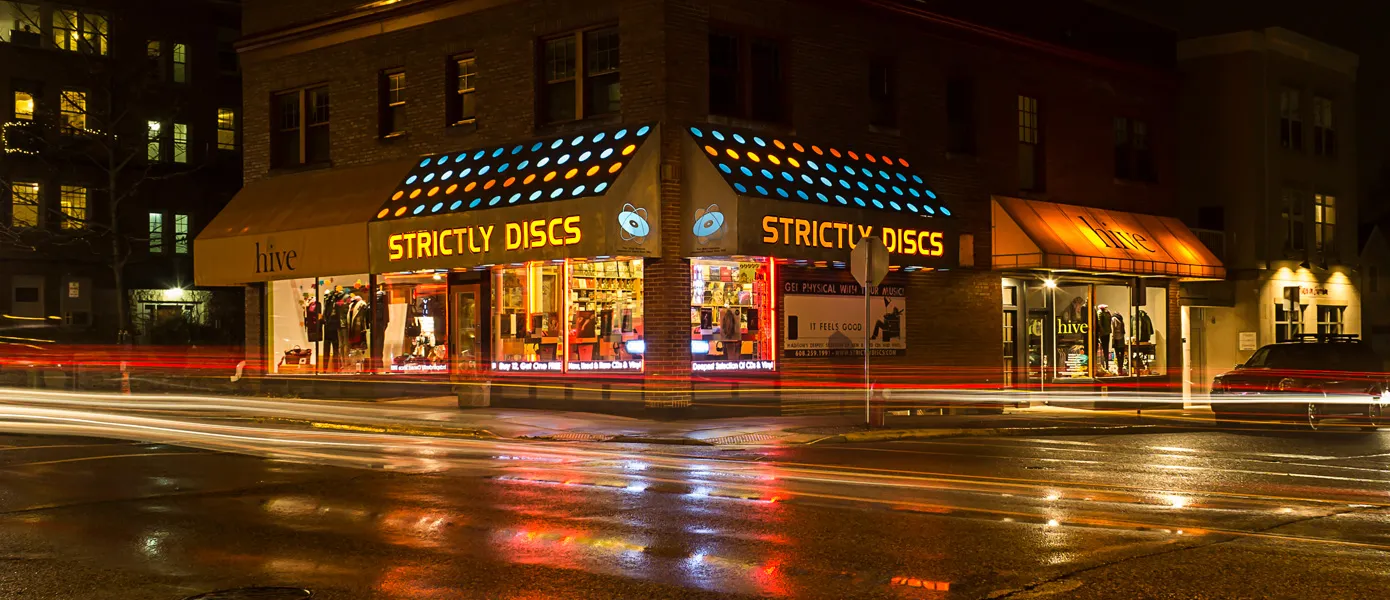 NEW THIS WEEK AT THE SHOP:
This week brings us a phenomenal new album from Lower Dens called 'The Competition'. The Baltimore indie mainstays continue to lace their moody post-punk with wide-open soaring synths, crafting their most potent album yet, led by Jana Hunter who sounds less like a frontperson and more like an all-seeing deity with each passing album. We've also got another instant classic from Frankie Cosmos called 'Close It Quietly', full of happy, fuzzy hooks that will easily distract you from the world's unending inferno.
Hip-hop legends we'd never want to be without drop long-awaited discs this week. Murs and 9th Wonder return with 'The Iliad Is Dead And The Odyssey Is Over', while Ghostface hits us with 'Ghostface Killahs'. CDs only on these for now but vinyl shouldn't be far behind.
If beloved Milwaukee duo The Frogs can be said to have a "breakout" album, it's the oft-maligned, sometimes-banned, rarely-understood 1989 classic 'It's Only Right And Natural'. If you're a certain age, you might remember it as one of Kurt Cobain's frequently listed favorite albums, namechecked in any interview with Billy Corgan, or the source of "That was a good drum break" on Beck's 'Where It's At'. None of this really prepares you for the transcendentally-offensive, shambolic pop genius of this album, nor could it, but it belongs in the collection of any fan of the American underground, and it's worth a pick-up for Gerard Cosloy's liner notes alone. A new EP is in the house from Hammered Hulls, a DC punk supergroup of sorts featuring Alec Mackaye, Mary Timony, and Chris Wilson. Producer Flume lit up the youtubes earlier this year with his mixtape 'Hi This Is Flume', a collection of slappy trap beats and moody interludes that immediately staked a claim as his best stuff yet, and now we have it on a nice deluxe vinyl set. Godfathers of desert blues Tinariwen return with a lush new LP called 'Amadjar' which features guest appearances from gringos like Cass McCombs, Warren Ellis and Stephen O'Malley. 
Alt-country queens Brandi Carlile, Natalie Hemby, Maren Morris and Amanda Shires have a new formation called The Highwomen, and their debut is now in stock on CD with an LP later in the month. The lead single from the surprise new Post Malone album 'Hollywood's Bleeding' has a pretty strong Tame Impala vibe to it which, sure, why not. That's here on CD. We've also got the long-awaited sophomore album from pop star Melanie Martinez in the house, and a new disc from Lindsey Stirling. 
A pair of gorgeous new ECM titles hit the floor from Avishai Cohen and the thrilling duo of Enrico Rava and Joe Lovano.
Two of this year's strongest dark ambient releases come in the form of soundtracks to critically acclaimed films. Icelandic cellist Hildur Gudnadottir made an already-terrifying 'Chernobyl' sound like a world disintegrating, grain by doomed grain, and the Haxan Cloak's Bobby Krlic crafted a deeply transfixing score for "Midsommar', which I greatly enjoyed listening to since I will never, ever see the movie. We now have both of these in the house on vinyl! 
More new stuff this week is here from UK downtempo zoners Moonchild, songwriter Barns Courtney, shapeshifting Bat For Lashes and the legendary Chrissie Hynde!
Last up, a poetic pairing of Dylan LP. We've got 'Blood on the Tracks' here in a Mobile Fidelity 45 rpm pressing, and a new LP printing of 'Infidels'. Fidelity, Infidels, get it? Ah, better luck next week maybe.

Heading downstairs for this week's Used Vinyl Alert, we have a collection for ya that rounds all of our favorite bases, including some extra special heat from the worlds of metal and hiphop.
In addition to a slew of collectible and classic LPs from the Stones, Pink Floyd, Velvet Underground, and Led Zeppelin, check out some heavy stuff from names like Raven, White Lion, AC/DC, Fierce Heart, Def Leppard, Krokus, Blue Oyster Cult, Jethro Tull, Autograph, Keel, Whitesnake, Ram Jam, Metallica, Kid Rock, Budgie, The Clash, the Amboy Dukes, King Crimson,  Bush, Rage Against the Machine, How To Destroy Angels, Dio, Ozzy, Van Halen, Swans, and Limp Bizkit.
Hip-hop is here from Madlib, LL Cool J, J Dilla, Camp Lo, Public Enemy, KRS One, and he Weeknd, plus soul from Rick James, the Platters, Otis Redding, and the Coasters.
A wide spread of some our favorite female vocalists in the building this week includes Sade, Grace Jones, FKA Twigs, Chelsea Wolfe, Mary Wells, Mavis Staples, Astrud Gilberto, Ell Ftizgerald, Laura Lee, and Aretha Franklin.
Plenty of classic rock and pop is here from Fleetwood Mac, Harry Nilsson, Bruce Springsteen, Warren Zevon, Styx, the Who, Yes, Ventures, Tom Petty, Queen, INXS, Love and Rockets, Wham, Creedence, plus newer stuff from Beck, Blink 182, Godspeed You Black Emperor, Smashing Pumpkins, and Sublime
Blues and country is here from Big Bill Broonzy, Champion Jack Dupree, Stevie Ray Vaughan, Ernest Tubb, Hank Thompson, Loretta Lynn, Merle Haggard, Johnny Cash, Rosanne Cash, and Diana Trask, and we've got a nice spread of jazz from Dave Brubeck, George Benson, Miles Davis, Vince Wallace, Terry Gibbs, Billy Cobham, Jimmy Smith, Oliver Nelson, Horace Silver, Yusuf Lateef, and John Coltrane. We wrap it up with some great soundtracks, and a couple electro-nic LPs from Coil, Tangerine Dream, JM Jarre, and the Knife!
MONROE STREET FESTIVAL - SATURDAY, SEPTEMBER 14TH:
Join us this Saturday from 9:30AM - 5:30PM for the 42nd annual Monroe Street Festival / Sidewalk Sale.

 

FREE BRITTANY HOWARD 7" WITH PREORDER: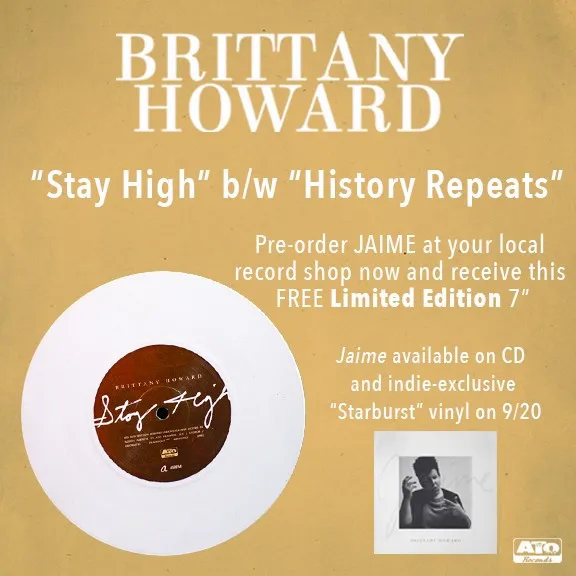 SELL US YOUR CDS & LPS: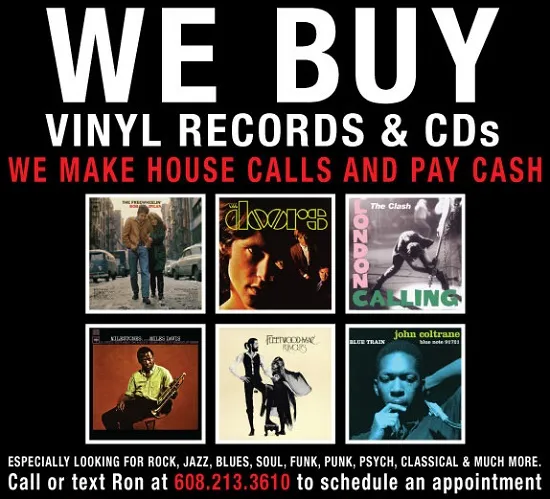 OTHERS TALK BACK:
This isn't the spot to lay down odds on the third race. OTB is where Others Talk Back and give you the lowdown on what they've been feeling lately. This one's for the customers.
Gregg Allman - "Laid Back" Originally released in late 1973, this was the first "official" solo release from a member of the Allman Brothers Band.  Judging by the information in the booklet, this album started out in the grief following his brother Duane's death in 1971. Original demos were recorded in 1972, and when a song ("Queen of Hearts") that Mr. Allman thought was one of the best things he had ever written was rejected by the Allman Brothers Band, Mr. Allman decided to go whole hog on starting his solo album.  The original release is remastered and includes many bonus cuts. In fact, there is a whole second disc to give all the bonus material its place in the sun. For the first time all the original 1972 demos are collected in one place. In fact, in my estimation, those original stark and sparse demos leave the album cuts in the dust. And the original album cuts are quite excellent.  In addition, the whole original album is mirrored by earlier and different mixes. Throw in a few alternative versions along with live and rehearsal cuts and you really have a thorough and well thought out reissue of a seminal seventies album that should now get a second or even a third look from the music buying public. - Ted
Robert Gordon & Chris Spedding - "Tear Up the House"  Even though British guitar whiz Chris Spedding played guitar on only one of Mr. Gordon's seventies album ("Rockabilly Boogie"), it is perhaps Mr. Gordon's most beloved album..  They both got back together about fifteen years ago and still perform to this day This double disc release highlights two live shows, one in 2008 and the other way back in 1979.  I would give the nod to the 1979 disc due to the raw seventies energy and expansive track listing. The 2008 show includes a horn section and back-up vocalists and is a primer on fifties rock and roll.  Both Mr. Gordon and Mr. Spedding are in fine form on both concerts, even though twenty-nine years separates the shows. It is safe to say that you don't know how to rock and roll if you don't have this concert retrospective. - Ted

Ron, Ryan, Angie, Marty, Evan, Matt, Ben, Will, Ed, Isaac, Larry, Andy, Mark, Jack, Eric & Mike