August 15, 2019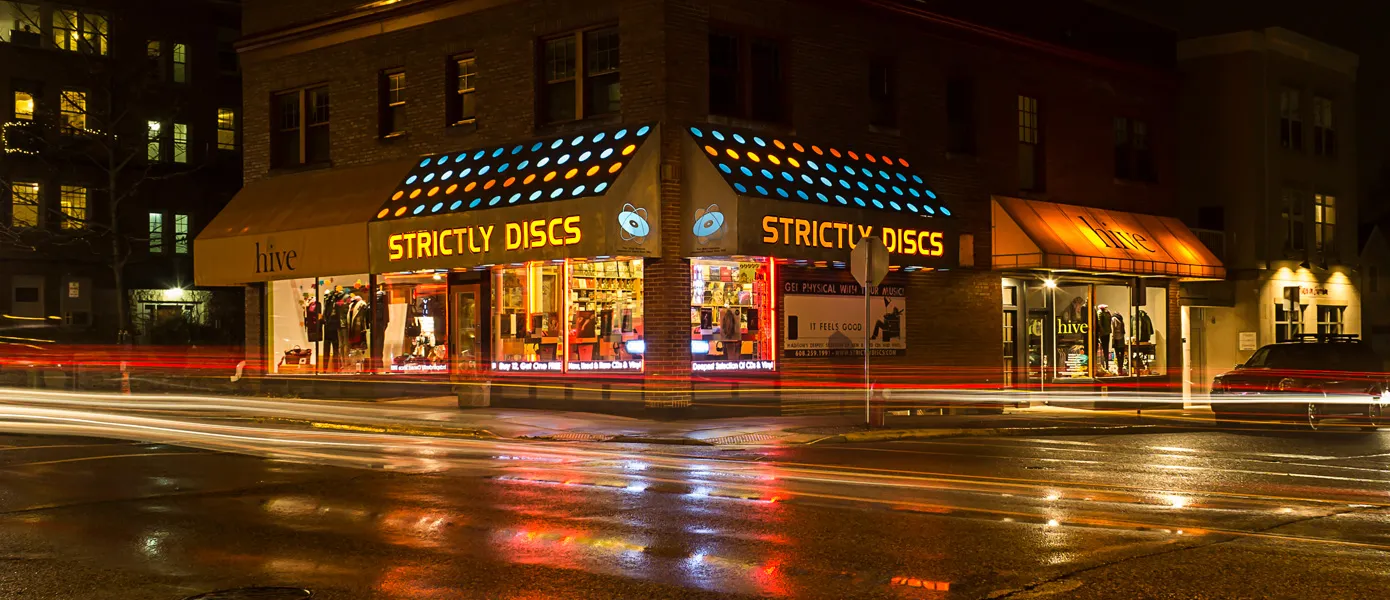 NEW THIS WEEK AT THE SHOP:
This week's short but very sweet new release roundup comes to you via remote location just off the boardwalk of Point Pleasant Beach, New Jersey, starting off with the slightly un-beach friendly new album from Australian reigning rock-tet King Gizzard and the Lizard Wizzard. The shape-shifting group takes a new form with each record, and on 'Infest the Rats Nest' the boys have gone death metal. This one's in the house on picture disc vinyl and colored vinyl while the limited versions last. The feminist punk underground has grown up with Sleater-Kinney, who deliver their final album in their original trio form with 'The Center Wont Hold', available on colored wax as well as a deluxe version with bonus 7". Fiddler and vocalist Lillie Mae brings us her sophomore effort for Third Man, a standout new release in the evolving country landscape called 'Other Girls'.
Rejuvenated dream-rockers Ride return with their second album since reuniting, 'This Is Not A Safe Place'. Twin Cities veterans The Hold Steady make to the brainy-rock scene they helped define with a new vinyl-only release called 'Thrashing Thru The Passion', and we've got new discs from Americana faves Eilen Jewell and Drew Holcomb & the Neighbors.
A pair of ambient beauties that never hit the shop in their limited runs last year are now here. Ana Roxanne's breathtaking '~~~' is an elusive blend of seaside tone drift and layered voice devotionals that deserves a second look (and a third, fourth, etc). Takao's 'Stealth' loops gorgeous piano and chiming, Reichian slips of reeds and keys in a complex album of avant easy-listening.
From the mighty musically rich land of Brazil, we have at last a new pressing of Music From Memory's second volume in the 'Outro Tempo' compilation series, which collects deeply-sourced gemstones from the country's rich tradition of experimental pop, jazz, and electronics. On the contemporary end of things, we have a delightful new record from MPB-folkie Sessa called 'Grandeza', which channels heroes like Caetano and Gil for a slightly-updated take on breezy Brazilian folk pop.
A trove of vinyl delights showcase the infinite range of music emerging from the continent of Africa this week, starting with an LP release of a 2003 CD by the trio of Cheikh Tidiane Fall, Bobby Few, and Jo Maka, which turns the rollicking piano/horn interplay of traditional South African township jazz skyward. 1983 vinyl rarity 'Nakara Percussions' has been repressed; this mostly instrumental album of thumb piano, hand percussion and chants is a timelessly vibey session of rhythmic contemplation. 80s Ethiopian cassette treasure 'Ahadu' by vocalist Asnake Gebreyes is on LP for the first time, a swinging session of snappy Ethio-jazz that will appeal to fans of Mahmoud Ahmed. 'Voun' is the new album from singer and percussionist Zanmari Bare, heralded on his home island of Reunion in the Indian Ocean, but little known beyond there. This wonderful record captures the maloya style perfectly, an invigorating mix of shaker rhythms, plaintive vocals, and a curved string instrument called a 'bobre'.
Two massive vinyl represses from the eternally potent well of afro-rock this week, starting with the 1972 album from Ghana's Mack Porter. 'Peace on You' is a unique entry in the canon, with its progressive blend of spiritualist, agitated folk slotting it closer to Rodriguez or Jose Feliciano than to anything from West Africa. Ofege's dead-rare funky blazer 'Higher Plane Breeze' is also reprinted on vinyl for the first time since 1977.
Light in the Attic continues to shine its rays upon Japanese folk delights with a deluxe repress of Sachiko Kanenobu's 1972 album 'Misora', a fleet-footed album of crisply-strummed soul that sounds like Ned Doheny if he were a lady from Osaka. Gwakasonne is the name of the lifelong project of the recently-departed Guadeloupe musician Robert Oumaou, and 'Vwayaje' collects many of his most potent songs dating back to the 80s. Hypnotic zouk-jazz mingles with electronics and political fervor on this essential set of must-hear unheard tunes. New age lifer Beverly Glenn Copeland continues to bless us with their blissed-out brand of relaxation on 'Primal Prayer'.
We close out with a couple of classics back in print. Downtempo savants Zero 7 see their 2003 epic 'When It Falls' expanded, and we have a new colored vinyl version of the red and evergreen album from Belle & Sebastian, 'If You're Feeling Sinister'.
The mistress has me on double-duty this week as Evan suns himself on a New Jersey beach, so here's the advance word on this week's vinyl batch.
Decidedly Californian bent to the rock section this week, with LA grabbing up a lot of the new bin real estate. Listen, I know a lot of you might not care for The Eagles, but everyday I stay ringing up their discography. It'll happen again this week. Check other sunshine standbys like Fleetwood Mac (Rumours), The Flying Burrito Brothers, Rickie Lee Jones, Warren Zevon and Canadian exiles Joni Mitchell and Neil Young.
The Liverpool lads are also well-repped, though curiously, no solo Lennon. A clean copy of "All Things" makes up for that, as do more than a handful of early mono Beatles pressings. It's a nice week for soundtracks, and while we have killer stuff from Morricone and classics like "The Graduate" and "Easy Rider," the real pull is the group of 80s popcorn faves. Check out these Reagan-era blockbusters: "Ghostbusters 2," "Empire Strikes Back," "Goonies," "Meatballs," and "Breakfast Club."
Jazz this week is distinguished by a bunch of Blue Note reissues that we have priced to move. Great way to get foundational sessions from Lee Morgan, Stanley Turrentine and Wayne Shorter. There's also the hip "Sweet Love, Bitter" soundtrack by Mal Waldron on a handsome Impulse gatefold. Aside from three albums from cosmic folkie Sandy Bull, look for stray shots from Willie Colon, Van Dyke Parks, Andre Cymone, Stevie Wonder, Jimmy Caster and the very groovy, very overlooked collaborative full-length from Roy Ayers and Wayne Henderson.
Bully.
Look, at this point I'd settle for The Darkman's solo joint but that ain't happening either. Despite empty chambers, there is some non-Wu goodness to be had this week. Hip-hop leads the way with classics from Pete Rock & CL Smooth, Outkast, Hov, Snoop and The Fugees, while the R&B side is propped up by D'Angelo's "VooDoo" and "Fresh" by Sly. Things is getting funky courtesy of the Ohio Players, Bootsy, Tower of Power and Prince. The jazz racks are replenished, highlighted by Ornette's "Shape of Jazz to Come," a session from Art Pepper backed by Miles' first classic quintet rhythm section, Don Cherry and Ed Blackwell's "El Corazon" and "Everybody Digs Bill Evans" by Bill Evans. Plenty other sweet sides from Charlie Haden, Lou Donaldson, Trane and Dave Brubeck are going out as well. The high heat of late summer is perfectly synchronized with the heady desert stylings of Calexico and we have a five-pack spanning the Arizonans' career. There's also a pair of the recent Buzzcocks digipack reissues as well as stray shots from Jonathan Richman and Lou Reed. Of more recent vintage, peep material from Sigur Ros, Fleet Foxes, Postal Service and Tool. Lastly, the experimental and avant garde gets some shine with hotly-tipped sides from Eno, Terry Riley, Arvo Part and John Zorn.
NEXT WAREHOUSE POP-UP SALE/EVENT - AUGUST 29TH: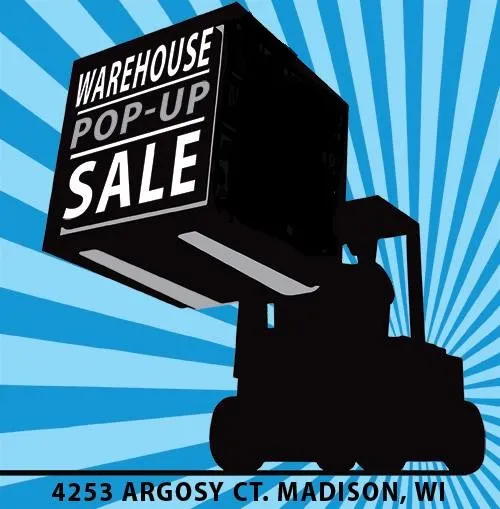 It's warehouse pop-up season again! Last summer's road construction led us to broaden our horizons with a series of sales over at our eastside warehouse location. With a huge spread of bargain LPs, CDs, 45s, books, DVDs, and posters outside joined by a primo selection of collectible vinyl inside, we brought out a really great crowd, and many of you have asked when we would do it again! 
Save the date for August 29th!
FREE BRITTANY HOWARD 7" WITH PREORDER: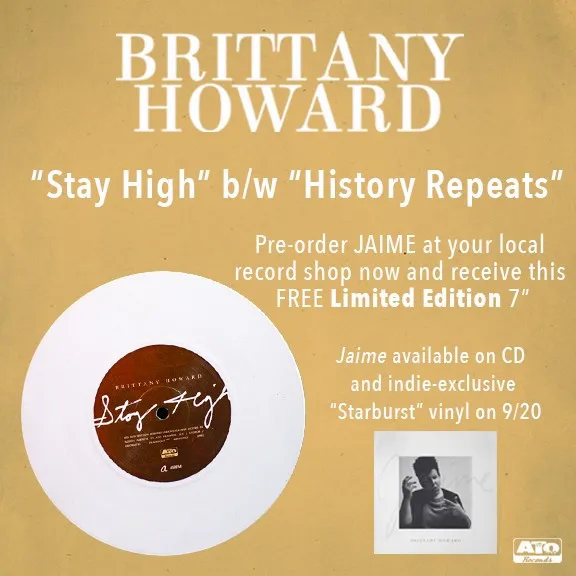 SELL US YOUR CDS & LPS: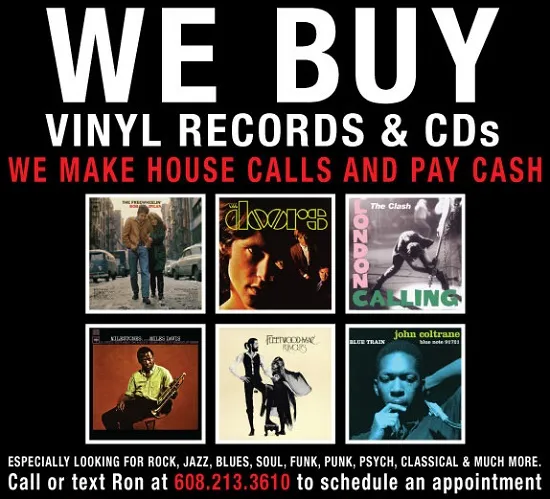 Ron, Ryan, Angie, Marty, Evan, Matt, Ben, Will, Ed, Isaac, Larry, Andy, Mark, Jack, Sam, Eric & Mike