August 8, 2019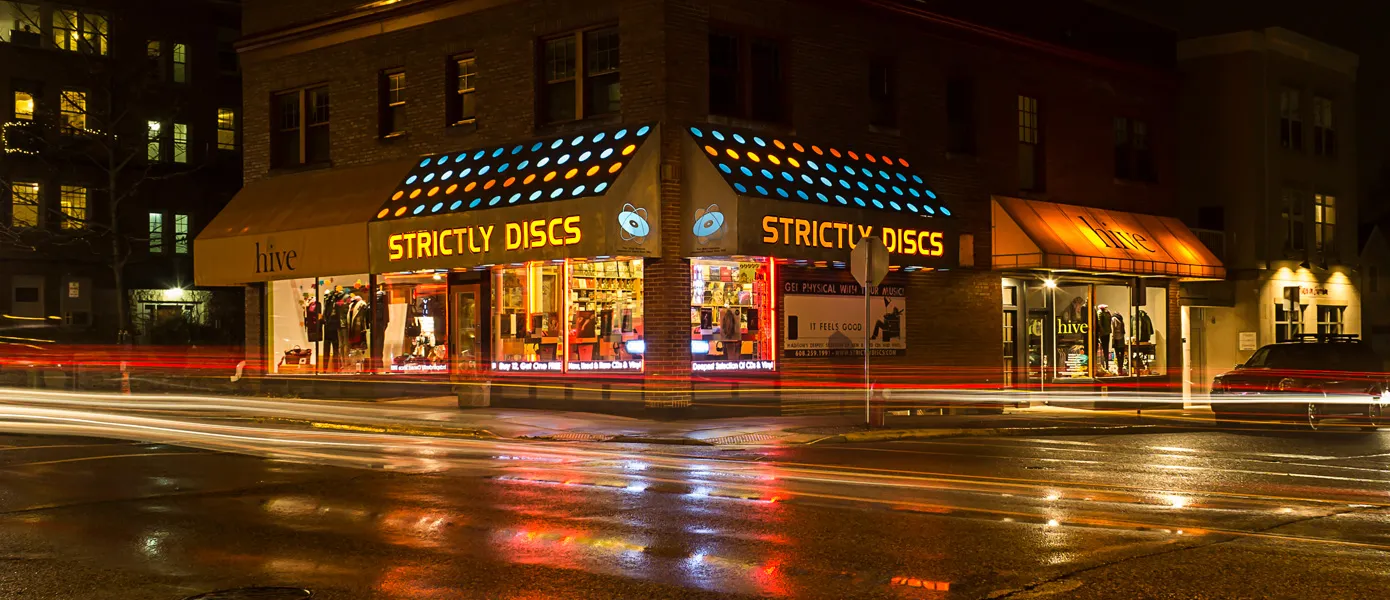 NEW THIS WEEK AT THE SHOP:
Songwriter and poet David Berman departed our company this week, leaving behind a remarkable body of writing and music that will stand up decades and decades on as a glittering example. Not just for it's clarity, economy of phrasing, and unhurried power, but also for how Berman casually illuminated the inner workings of the human mind as it struggled with big ideas and mundane existence. We will all miss him and cherish his work. He recently returned to the public eye with a new project called Purple Mountains, which had surpassed his naturally pessimistic expectations to achieve immediate acclaim. We still have copies left and urge you to check it out, along with the rest of his work. RIP David Berman. 
A potent week of new releases kicks off with the timely arrival of a gorgeous new album from Grouper's Liz Harris, this time operating under her Nivhek alias. The double LP  'After Its Own Death/Walking In A Spiral Towards the House' was available for about a day through mailorder earlier this year and now returns, a resplendent meditation of bells, chimes, voice, and the occasional lumbering synth. These records reward patience, a world away from the dreamy folk of an album like 'Ruins'. However, the latest album from Cross Record fills that void in spades. The self titled album revives the solo project of Austinite Emily Cross, recently seen in the Sub Pop band Loma, in a clarion set of pensive, drifting modern folk songs that occasionally emerge from their murk to resolve in beautiful vocal glissandos. The third album from Lingua Ignota, the solo project of NYC's Kristin Hayter, is called 'Caligula', and brings her particularly extreme brand of operatic metal and noise to staggering new heights. 
Julia McFarlane peels off from her duties in the band Twerps for a phenomenal solo album as J. McFarlane's Reality Guest. 'TA DA' finds an artist busy in her minimalism, crafting narcotic pop from sprigs of synth, bass, and voice that call to mind 'Eating Noddemix' from the Young Marble Giants, or a more scaled down version of this year's record from Cate Le Bon. From a country over come the Kiwi sister duo Purple Pilgrims, who carry on the hazy Flying Nun sound with assistance from lofi production guru Gary War. English pop comes with a couple winks and nods on Marika Hackman's second album for Sub Pop, 'Any Human Friend'.
The pairing of Not Waving (the ongoing frigid synth project of Italian Alessio Natalizia) and Dark Mark (aka Mark Lanegan) wouldn't have occurred to most people familiar with either artist, but such collaborations tend to bear the most interesting fruit. So it goes with 'Downwelling', an album that perfectly captures both artists' ouevres in a strange sync, recalling the spooky lunar-noir of later Scott Walker, or the unnerving pre-post-rock of Talk Talk or Long Fin Killie. Next up, we have a new printing of the pair of debut 2017 EPs by the New York band Crumb, who have garnered a ton of much-deserved buzz with their new album 'Jinx'. If there's any justice, this band's ultra-cool brand of psychedelic jazz and tweaked, agitated R&B will make them a huge deal very soon. We've also got new albums from beloved indie bands Ra Ra Riot and the Black Peaches.
We juice up our new metal section this week with a new album from veteran freaks Slipknot, three classic Ulver vinyl reissues, and a first-time vinyl edition of the 2003 collaboration between Neurosis and Swans' vocalist Jarboe.
Some deep yet classic jazz reissues come our way this week, starting with a great CD from Italian tenor and bandleader Enzo Scoppa. 'Mild Maniac', the 1974 album from guitarist Volker Kriegel and Spectrum, finds the father of German jazz-rock paired with a band that includes Eberhard Weber on bass, for an album of intoxicating grooves and peculiar arrangements. The Donald Byrd 1972 rarity 'Ethiopian Knights' is back in print, hitting that precise jazz-funk sweet spot accompanied by Bobby Hutcherson and Joe Sample, and we welcome back a new pressing of Lou Donaldson's 'Alligator Boogaloo'.
The Huerco S-helmed label West Mineral Ltd continues to deliver elegant, vexing rhythmic ambient gems, with a new double LP from the duo of Pontiac Streator and Ulla Straus. '11 Items' offers up an even vaster display of smudgy, unidentifiable sound loops that burble like an active seafloor. 'Rice Field Silently Riping in the Night', the 2000 album from Japanese artist Reiko Kudo, is a singular delight of spare, haunting folk not far off from the music of her partner's group Maher Shalal Hash Baz. Australian producer Andras Fox returns with a new EP called 'Boom Boom', built around samples of the on/off alert tones from a popular Bluetooth speaker, which turns out to be a much more potent well of inspiration than you'd imagine!
We welcome the vinyl edition of the final album by too-soon-departed producer Avicii, a new album from rapper Denzel Curry on CD and LP, and the vinyl version of the latest from MC/beatmaker Nav.
Special reissues abound this week with a new printing of Gregory Isaacs's classic third album, 'Mr. Isaacs', the CD of which includes an extra disc of dubs. Bonobo's early classic 'Animal Magic' is back on LP, as well as a disc of BBC recordings from the band Yes, and two crucial late 80s slabs from the Cure / Fields of Nephilim soundalikes Pink Turns Blue. Finally, we get a 20th anniversary (gulp) extended reissue of My Morning Jacket's breakout early album 'The Tennessee Fire'. 
Last up, a trio of delights from the Numero Group, who continue a rather voluminous year of essential archive products with a second volume of Pastor TL Barrett's 'Do Not Pass Me By', a masterpiece of gospel choir funk, Rupa's Bollywood-gone-Salsoul gem 'Disco Jazz', and New-age virtuoso Don Slepian's 1981 album 'Sea of Bliss', which is aptly named, I will tell ya what.
Heading downstairs for this week's Used Vinyl Alert, we try to chase away those summer dog days with one of the more eye-popping collections we've seen since the temperatures began to rise. In addition to a big trove of classic rock, folk, pop and jazz, we have an especially breathtaking selection of rare soul and psych this week. Read on!
Early pressings from big names like Bob Dylan, Led Zeppelin, Pink Floyd and the Grateful Dead are joined by must-gets from Neil Young, the Velvet Underground, the Band, David Bowie, Small Faces, Old n In the Way, Chuck Berry, Tommy James, Country Joe, JJ Cale, Lee Hazelwood, Michael Chapman, Tom Waits, Guns N Roses, Nick Cave, AC/DC, and Motorhead.
Psych and prog of many varieties strike this week, from names like Amon Duul, Le Orme, Gentle Giant, Syd Barrett, the Fugs, Spooky Tooth, Banco, Boffalongo, Clicker, Stained Glass, Beast, Good God, Azurite, Frantic, Hawkwind, Coven, Tasavallaan Presidentti, Roy Harper, Colours, Bonzo Dog Band, and more. Quite a haul!
New wave and early indie is here from Patti Smith, Fishbone, Depeche Mode, Cat Butt, Continental Miniatures, the Glaxo Babies, Green on Red, the Cure, X, Devo, and a super-rare KBD grail from Debris. Whoa.
Jazz on the cheap and the not so cheap side is here from Miles Davis, Billy Cobham, Duke Jordan, Clifford Brown, William Bell, Frank Foster, Page Cavanaugh, Rudolph Johnson, Lou Donaldson, Duke Pearson, Roland Kirk, Jimmy McGriff, and a seldom seen progressive jazz bomb from Ian Carr and Nucleus!
Soul classics from Otis Redding, James Brown, Earth Wind and Fire, Bootsy Collins, Funkadelic, the Crusaders, Mandre, Aretha Franklin, Marvin Gaye, Osibisa, and Prince joined by rare titles from the Chantels, the Miracles, Lorraine Ellison, Vernon Burch, and Rex Garvin, plus some very cool original/early LPs from Sam Cooke!
Folk and country is in from Woody Guthrie, the Stanley Brothers, Johnny Cash, Jaime Brockett, and John Fahey, plus blues from John Lee Hooker and Howlin Wolf. Reggae is strong with LPs from Sly and Robbie, Black Uhuru, Bob Marley, UB40, and Jimmy Cliff, plus a couple timeless exotica LPs from Martin Denny and Esquivel. Electronic gems from Tin Man and Tycho follow on with a landmark synth LP from Suzanne Ciani.
Lastly, this week brings far, far more private press and/or hyper-obscure records than normal. Live on the edge and come check out LPs from household names like Bobby Brown, Hal Jepsen, Renzo Fraiese, Mike Burke, Space People, Indelible Murtceps, Brother Bait, Robert Ahwai, Eddie Mottau, Terry Garthwaite, and John Buzon. Wait a minute, John Buzon? That guy owes me ten bucks!
USED CD ALERT:

Very hip material this week, though the Rebel INS is sadly absent from the pack. Plenty of great Wu adjacent albums, though. Peep these Shaolin highlights: "Only Built for Cuban Linx," "Liquid Swords," "The Pretty Toney Album," and "Enter the Wu-Tang." We're also showcasing  a few installments from Madlib's "Medicine Show" series along with his first encounter with Freddie Gibbs. AND get the legendary debuts from Nas and Biggie, as well killer prime Public Enemy. The goodies extend over to the edm side and spans pioneering work from Terry Riley and Silver Apples, up to African Head Charge, and ending with contemporary work from The Bug and Burial. Whew! There's also adventurous work from Os Mutantes, Mr. Bungle, Ween and The Slits sprinkled in. There's but a handful of jazz this week, but it's top-notch: mellow madness from Lonnie Liston Smith, guitar cacophony from Sonny Sharrock and spiritually-inclined Afrocentrism from Gary Bartz. Nerding out level is at dangerous levels this week.
NEXT WAREHOUSE POP-UP SALE/EVENT - AUGUST 29TH: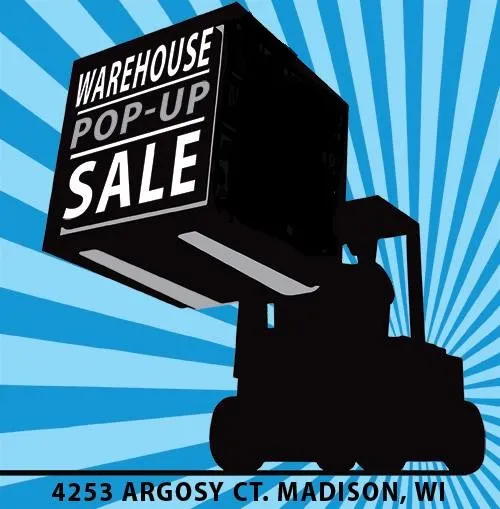 It's warehouse pop-up season again! Last summer's road construction led us to broaden our horizons with a series of sales over at our eastside warehouse location. With a huge spread of bargain LPs, CDs, 45s, books, DVDs, and posters outside joined by a primo selection of collectible vinyl inside, we brought out a really great crowd, and many of you have asked when we would do it again! 
Save the date for August 29th!
FREE BRITTANY HOWARD 7" WITH PREORDER: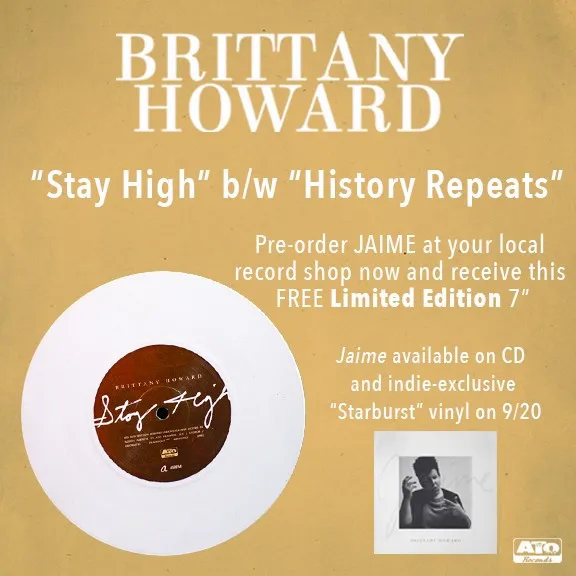 SELL US YOUR CDS & LPS: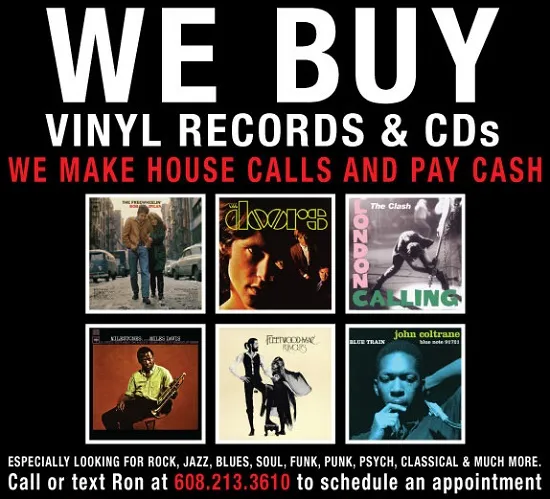 OTHERS TALK BACK:
This isn't the spot to lay down odds on the third race. OTB is where Others Talk Back and give you the lowdown on what they've been feeling lately. This one's for the customers.
Richard Thompson - "Across a Crowded Room Live at Barrymore's 1985"  No, this is not from the Barrymore Theater in Madison, but from a club in Ottawa, Canada.  This was originally released as a Laser Disc (remember them?) and now makes its first release in any other format.  As the title says, Mr. Thompson was touring off his then current "Across a Crowded Room," and eight of the album's twenty tracks come from that album.  That 1985 studio release was only his third solo album since he stopped touring with his ex-wife, Linda Thompson following their divorce. And "Across a Crowded Room" was one of his seminal solo releases.  Mr. Thompson still plays a number of songs live from that album thirty-five years later. "Across a Crowded Room Live at Barrymore's 1985" is classic live Thompson. His guitar playing is simply astonishing, and he tackles the songs, both lyrically and musically, as if his life depended on getting these songs done right.  There are also a number of Richard and Linda Thompson classics on the album that now get a singular Richard Thompson solo treatment. Richard Thompson has played in the Madison area so many times in the last thirty or so years. He never disappoints and he never gives less than 100%. "Across a Crowded Room Live at Barrymore's 1985" is a statement of that simple premise. - Ted
Creedence Clearwater Revival - "Live at Woodstock"  John Fogerty thought the sound quality of their set was subpar and did not allow any tracks to be used on those classic Woodstock albums.  I don't know why Mr. Fogerty thought that there was something lacking in their set. There are a few technical glitches on the first song, but those problems disappear for the rest of their almost hour long performance.  CCR's Woodstock set was the band in their prime - fiery and passionate. Quite simply, I really don't think that there is another live album from CCR that equals "Live at Woodstock." - Ted

Ron, Ryan, Angie, Marty, Evan, Matt, Ben, Will, Ed, Isaac, Larry, Andy, Mark, Jack, Sam, Eric & Mike