June 6, 2019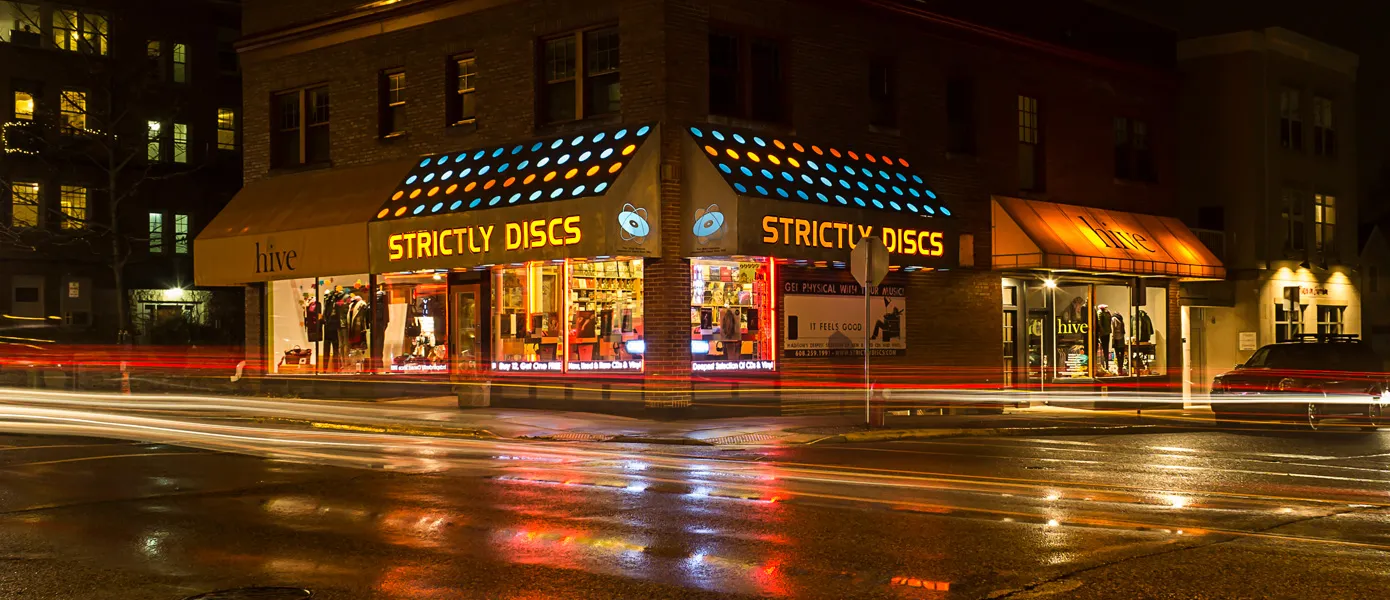 NEW THIS WEEK AT THE SHOP:
A huge week of new releases kicks off with the creme de la creme of the rock aristocracy. Neil Young opens his live vault once again for 'Tuscaloosa', a 1973 performance from the 'Time Fades Away' tour. Guitar legend Carlos Santana takes a remarkably fresh approach on  'Africa Speaks', with his tone very much on the dirty side, even channeling Sonny Sharrock at times. I ran that by both of SD's Sharrock experts, Ryan and Andy, and they both agree. Bob Dylan revisits Volume 5 of his Official Bootleg Series with an expanded version of 'Rolling Thunder Revue'. And I do mean expanded: the CD version is 14 discs! If that's too daunting, we've also got the original version on vinyl for the first time in a 3 LP set. 
The hall of famers continue with a new expanded version of the Rolling Stones' 'Rock n Roll Circus', a 25th anniversary blue vinyl version of Pink Floyd's 'The Division Bell', and a new vinyl version of the Black Crowes rarities collection, 'Lost Crowes'. The Grateful Dead's best and trippiest album (yep, I said it!) 'Aoxomoxoa' has a 50th Anniversary deluxe CD edition and picture disc LP. Miles Davis' genre-defining 'Birth of the Cool' is reprinted in an expanded vinyl edition, and we have a new pressing of Phish's 'Slip Stitch and Pass'. 
Monsters of indie rock deliver great new records this week. Check out freshy fresh from Silversun Pickups, Yeasayer, and the Gotobeds, plus another surprisingly heartfelt sad folk album from Tim and Eric's Tim Heidecker. 
Tragically departed EDM icon Avicii sees his posthumous album 'Tim' emerge on CD, with vinyl to follow. We've got a snappy new record from the Scandinavian dark new wavers Lust For Youth. The Mattson 2 continue to mine the high-fidelity middle ground between Ariel Pink and Toro Y Moi with a great new album, and we have a lovely new record of femme-style Elliott Smith-isms from Palehound.
A trio of heavy, hazy post-post-post-metal albums come our way this week including the dreamy 'Duress' from Froth, and new records from Cave In and Pelican. 
Every week there's a new release that totally blows us away unannounced, and this week it comes from the Australian musician Ned Collette, who sees his 2018 album 'Old Chestnut' released stateside. An opus of dreamtime folk that reaches for gently psychedelic expanses with selective restraint, this LP shows traces of the Antipodean scene it emerges from (Peter Jefferies, Alastair Galbraith), while simply being a whole lot prettier than anything else I've heard from down under in a long time. We've also got equally great new folk-rock records from 
Eleni Mandell and 
Jake Xerxes Fussell!
Big hip-hop releases on vinyl this week: Khalid's sophomore album 'Free Spirit', 
Boogie's breakout 'Everything is for Sale' album, plus a repress of 
NERD's 'Seeing Sounds' LP.
Folk and blues classics of a deep, strong variety are in the house on CD this week. June Tabor's wonderful album 'Airs and Graces' and 
Dick Gaughan's moving Irish trad album 'Handful of Earth' are both restored with additional material by the Topic label; the Seldom Scene deliver a new disc called 'Changes', plus we've got fresh collections of tunes from Lonnie Mack and Sister Rosetta Tharpe.
Some mindblowers from the 70s underground hit this week, starting with the rather unbelievable 1973 album from Minnesota teenager Tom Nehls. 'I Always Catch the Third Second of a Yellow Light' was engineered by a young Paul Stark, five years before he founded Twin/Tone Records, and is an epic album of soft, psychedelic prog that reminds a little of Comus or those nutty Sigmund Snopek private press records. Something in the lakes up there! We've also got the first vinyl repress of 'The First Supper Last', the earliest recordings of the Australian hard rock legends Coloured Balls. Led by the lick innovation of guitarist Lobby Loyde, the Balls can be easily called the grandfathers of the expansive psych-rock sound now traded on by the King Gizzard boys. Next up, Japanese New Wave icon Akiko Yano's marvelous 1977 album 'Iroha Ni Konpeitou', which gathers a strikingly disparate handful of sounds (funk, lounge, jazz, art-rock) into one indescribable braid. 
Aurora's latest art-pop concept crossover 'A Different Kind of Human' is joined by striking new synth-pop albums from Patience (former frontperson of Veronica Falls) and Tamaryn.
Eternally on-point EDM producer Plaid returns with a great new record called 'Polymer'. Multi-talented San Francisco mixer Vin Sol drops a doozie on us with 'Planet Trash', a big double LP that zooms from cryptid ambient to clanging 4AM techno, and we have a delectably heady new record of Detroit-style house and moon-walks from the underrated UK artist A Sagittariun. 
A trio of PhD level sound designers deliver new material this week. Eluvium releases his first non-soundtrack work in a while with 'Pianoworks', Tim Hecker's latest, 'Anoyo' is finally here on the vinyl format, and we have a deeply arresting new record from UK producer Helm, who always manages to capture a wordless zeitgeist, from his last record 'Olympic Mess' to his latest, 'Chemical Flowers'. 
Jawbox mainman and producer/engineer for basically every punk/hardcore band of the last two decades J Robbins releases his first solo material ever. Coinciding with their Instagram feed-rattling reunion shows, we've got LP represses of two records by Riot Grrl stalwarts Bikini Kill. The Clean's formerly-cassette only odds and ends collection 'Odditties' is back in the house on LP, as well as a repress of Baroness' ferocious early albums, 'First/Second', packaged together on color wax. 
'Par les damne-e-s de la terre: Des voix de luttes 1969-1988' is the name of a wonderfully conceived compilation that collects jazz, rock, soul and in-between songs from former French colonies that feature vocals (often of the spoken word variety) sung in French. Got that? What these parameters achieve is rather stunning: a collection of seemingly every kind of popular music, bent to revolutionary means through use of the language of the colonizer. If this doesn't mean something to you, you should read some Frantz Fanon! Heck, even if you just like hearing French spoken over killer tunes, you can get something out of this one. Very different but somehow the same is this vinyl repress of 'Ihunke', the 2001 album from the Japanese traditional vocalist Umeko Ando.
Some proper burners from the experimental end of the psych world this week. Philly-via-Japan guitar massager Yuzo Iwata sees a second pressing of his stunning album 'Daylight Moon', which pairs well with the latest from Bay Area drone-folkie 
Steven R Smith. Two longtime UK institutions of tone float team up for a great new record of motorik ambient: 
Astral Social Club and Grumbling Fur.
The peerless Brazilian percussionist Airto's purely psychedelic classsic 'Natural Feelings' is back on LP, as well as the mighty Mikey Dread's nocturnal roots zoner 'Dubwise'. A great new set collects tracks from Nigerian high life meets disco star Julie Coker; some seriously haunting tunes on this one, as well as on the essential 'Psych Funk 101' compilation, back in print now. This was one of the first comps to introduce Western audiences to the wide world of international psych, and it still holds up as one of the strongest. 
We close with some ambient delights! TV Victor was a German artist who released an amazing album called 'Moondance' (bold, right?) in 1989 in small amounts. Now reissued by none other than Tresor, we can behold this interstellar beauty more properly. It sounds like Coil remaking the 'Fantastic Planet' Soundtrack. That's a good thing! We also get a new LP version of the icy cool 00s Japanese ambient album from Sora, which sounds a whole lot like Jan Jelinek. Lastly, a repress of the iconic, century-concluding LP 'Konigsforst', by German ambient legend Gas. 
USED VINYL ALERT:
Heading downstairs for this week's used vinyl alert, we've got our customary wide selection of fresh arrivals, genre-wise, with a special emphasis on hip-hop and soul, techno and dance, and metal!
It's too rare that we toss hard to find metal and hardcore your way, so let's fix that this week with some LPs from Lamb of God, Sepultura, Unearth, Discordance Axis, Pallbearer, the Locust, Job For A Cowboy, Between the Buried and Me, Fear Factory, Opeth, Shadows Fall, Dio, and Tool. Plus we've also got some cool ones here from Julian Cope, the Violent Femmes, the Sluglords, Kurt Vile, Xiu Xiu, Hot Chip and Light Asylum!
Quite a range of cool hip hop from the present day way back to the beginnings of the style, with LPs from Jazzy Jeff and the Fresh Prince, Akon, the Lost Boyz, Kid Cudi, 9th Wonder, Grandmaster Flash, the Sugar Hill Gang, Whodini, LL Cool J, Memphis Bleek, Silkk the Shocker, Quasimoto, Wiley, Mellowhype, Krayzie Bone, Run-DMC, and Doug E Fresh.
We have plenty of soul to go along with it, including a lot of classic, cheap heat in the 80s R&B/New Jack Swing era. Check out records from Bernard Wright, Grace Jones, Stevie Wonder, Kool and the Gang, Diana Ross, Marvin Gaye, Cameo, Teddy Pendergrass, the Whispers, New Edition, Al B. Sure, Keith Sweat, the System, and many more. Don't disturb this groove!
The techno vein runs deep this week, with some rare bangers from Boards of Canada, Drexciya, Actress, Shlohmo, Andy Stott, New Order, Aphex Twin, Underworld, Autechre, Kraftwerk, William Orbit, Huerco S, Basic Channel, Venetian Snares, Evian Christ, Falty DL, Nocow, Lucy Railton, plus a trove of deeply dug 90s 12"s ranging from acid, house, to leftfield techno.
Jazz this week comes in from Lee Morgan, Modern Jazz Quartet, Illinois Jacquet, Egberto Gismonti, Art Farmer, and Eddie Jefferson. Folk, country and blues is here from Taj Mahal, Siegel-Schwall, Norman Blake, Tut Taylor, Eddy Arnold, Bill Monroe, Johnny Cash, and Hank Snow. Plenty of rock and pop as well from David Bowie, Bob Dylan, CSNY, Aynsley Dunbar, Rush, Blue Oyster Cult, the Who, James Gang, Boston, Bob Seger, Nazz, HP Lovecraft, and Moby Grape!
USED CD ALERT:
A week passes and no used copies of Inspectah Deck. However, we got an expansive slice of rough and tumble blues largely sourced from the unimpeachable Fat Possum galaxy. There's the expected efforts from label standbys RL Burnside, T-Model Ford and Junior Kimbrough, but what makes this week special is the one-offs from the obscure likes of Cedell Jones, Joe Callicot and JW Warren. In addition, we have some blues-gospel that goes just as hard as the secular counterparts, including a 3-cd set off of Big Legal Mess and the crucial Numero comp "Apocryphal Hymns." Still, there's rock-solid straight-ahead blues from guys like Mud and Junior Wells. Stellar all around. There's a small influx of soul and hip-hop, but albums from The Spinners, Kendrick and Curtis Mayfield make it worthwhile. Outside of the rhythm and the blues, look for three separate high-period works from Sterolab and stray shots from Deerhunter, Television, Devendra Barnhart, Built to Spill and M83. Rock-wise, we have the face-melting sole record put out by The Monks, Nilsson's "The Point" and the expanded version of "Stink!" by The Replacements, a snotty caffeinated blast pre-dating Paul Westerberg's turn to the writerly. Maybe we'll have some Deck next week.
SELL US YOUR CDS & LPS: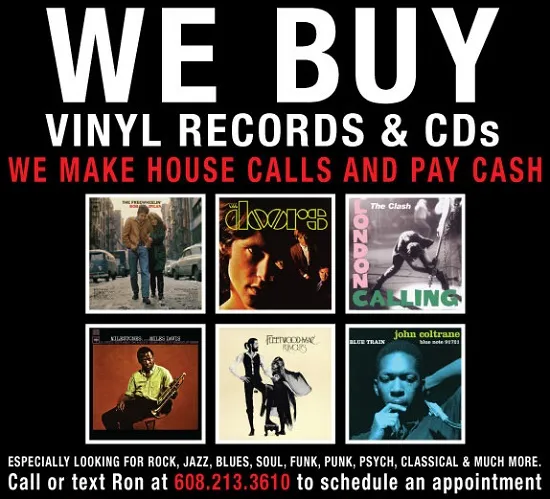 OTHERS TALK BACK:
This isn't the spot to lay down odds on the third race. OTB is where Others Talk Back and give you the lowdown on what they've been feeling lately. This one's for the customers.
Duff McKagan – "Tenderness"  Mr. McKagan is probably best known as the onetime member of Guns N' Roses and also Velvet Revolver.  Mr. McKagan released one solo album back in the nineties and now after over twenty-five years here comes his second release.   The music that he plays solo is bit different than the other bands that he has played in.  The last one was a bit punky and Replacementsesque.  This one is even more different from that one.  "Tenderness" is produced by Scooter Jennings (son of Waylon Jennings).  And you would be right in assuming that "Tenderness" is a bit country.  Well, maybe more than a little bit.  The production has music stripped down and rootsy and Mr. McKagan brings his A game to the proceedings.  He has composed the best set of songs he has ever written and that has elevated this album to perhaps the best project he has ever been involved with.  Even with adding all the famous bands he has been involved with. - Ted
Richard Hawley – "Further" For the last eighteen years or so Mr. Hawley has released seven albums of splendid melancholy.  The quality of those seven albums is astoundingly consistent throughout the decades.   Mr. Hawley has simply never released anything that is less than great.  And his eighth album, "Further," is no different than the ones that came before.  This album may have a bit more electric guitar than before, but the songs may have never sounded as achingly beautiful as they do on this album.   The sweet string section backing the songs really delivers them to another emotional level entirely.  "Further" is another great album from a performer that not many have heard of before.  But those who are intimate with Mr. Hawley's past work know what a great thing a new Richard Hawley album is. - Ted

Ron, Ryan, Angie, Marty, Evan, Matt, Ben, Will, Ed, Isaac, Larry, Andy & Mark