May 31, 2019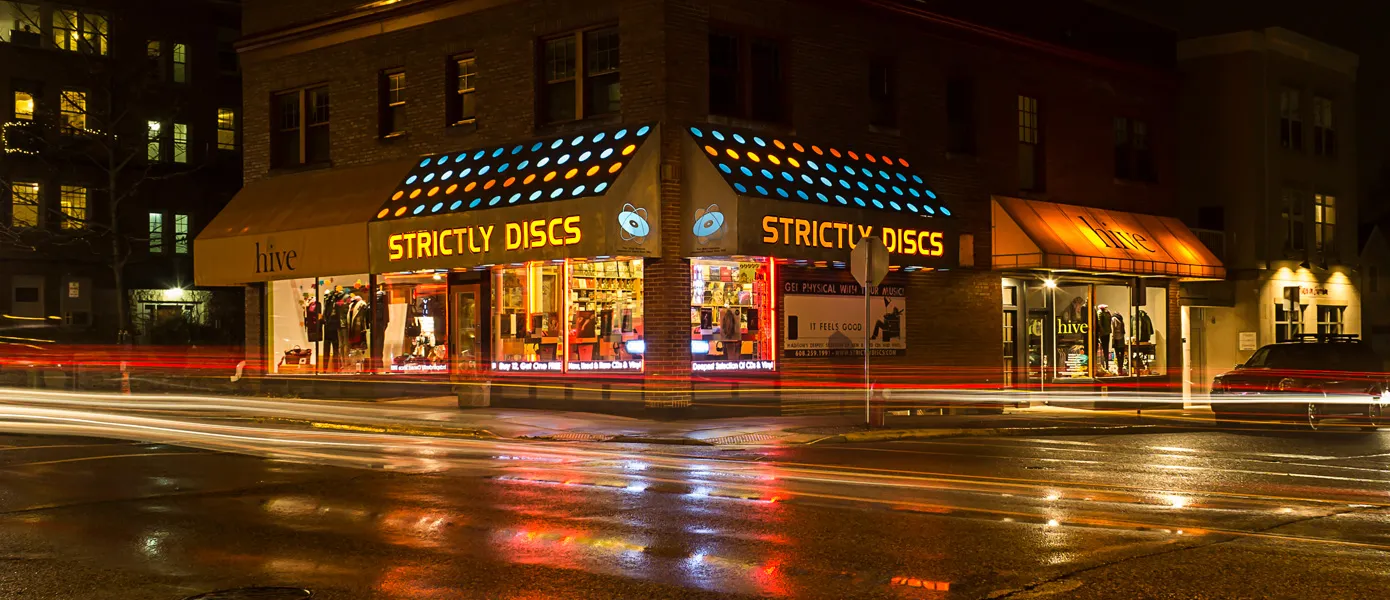 NEW THIS WEEK AT THE SHOP:
Sinkane, the NYC band of expats led by Sudanese immigrant Ahmed Gallab, deliver their most potent psych-pop meditation yet in the form of 'Depayse'. Inspired by that French term for "feeling displaced from one's usual surroundings", the album is a multi-genre rumination on the immigrant experience these days in our super-great, friendly and welcoming country. It's been several years since we last heard an album from indie duo JR JR (not ringing a bell? Before that, they were called Dale Earnhardt Jr. Jr. Ahh, right. There we go), and it turns out that delay is largely due to some "Industry Rule 4080" business. 'Invocations/Conversations' is an album that combines songs the band's major label wouldn't release, and songs they wrote while getting out from under the contract. Japanese-American composer and songwriter Kishi Bashi returns with 'Omoiyari', a poignant reflection on the Japanese internment period in mid-century America, rendered in symphonic, lush folk. 
We revisit two great and underrated records from the early 90s this week! 25 years after it's initial release, indie lodestars Superchunk revist their classic album 'Foolish' with an acoustic re-creation of the whole record. Joined by guests like Owen Pallett, Jenn Wasner, and Allison Crutchfield, the band quickly reminds us how they've endeared themselves to a multi-generational fanbase. Rebuilt from a minimal standpoint, the complexity of the pop perfection they achieved with this album is even more enhanced. 'Captain My Captain' was the second and final album from the fiery Olympia band Team Dresch, one of the more dynamic early Riot Grrl acts. Fusing clever post-grunge snarl with sadly still-relevant upfront lyricism, this was arguably the best record to come out of the whole movement, and paved the way for modern day practitioners of the sound, such as Speedy Ortiz, Priests, and Swearin. 
More new indie stuff is here this week from Apex Manor, Sacred Paws, and Repeat Repeat. What was that? I said Repeat Repeat.
Old dudes! Check out a brand new record from intergalactic reggae fireman Lee Scratch Perry with none other than Adrian Sherwood driving the bus behind the boards. Tears For Fears' 'The Hurting' is back in print on LP. We've got fresh copies of the Jerry Garcia Band's 'Almost Acoustic' which ran out quickly last year, plus a new album from Jesse Colin Young!
Two underground hip hop vets, A-Plus of Hieroglyphics and Sunspot Jonz of Living Legends have teamed up on a new disc called 'Stoney Hawk', plus we've got the latest CD from up and comer Mozzy. Offset's fantastic 2019 album, the slowed-up, introspective 'Father of 4' is now in stock on vinyl. 
The 'Outro Tempo' compilation that the Music From Memory label unveiled two years back covered a breathtaking amount of ground, in terms of eclectic, obscure-yet-lifechanging music from the Brazilian electronic pop and jazz underground of the 80s and 90s. Naturally, a country and culture so vast couldn't possibly be summed up in one volume, so the label is back with a second installment which easily hits the same high bar as the first set, curated once again by the intrepid collector John Gomez. Gleaming, limpid synth-pop sits alongside doleful folk and jungle-dense avant abstractions here, as well as on the 'Single Promocional', with two more tracks that needed a home on vinyl. 
Speaking of Brazil, we crack open quite the crate of rare groove masterpieces with a lovely new pressing of Azymuth's rare 1977 album 'Águia Não Come Mosca'. Samba fusion seldom comes any classier, or more mellow, than on this fantastic record. The band would go on to pioneer a distinctly Brazilian brand of whipsmart jazz-funk on their later records, but on this one they lingered on a loungey brand of MPB that's truly timeless. A bit to the west and a few years earlier, we find the fiery 1974 debut from Colombian folk-rock duo Elkin & Nelson, 'Angeles y Demonios'. Fueled by the pair's intense dual acoustic guitars, this record and the one that immediately followed it have remained DJ favorites for decades; the motorized funk groove 'Jibaro' is as close to a universal good times jam as exists anywhere. Minoru Muraoka released scores of records of his shakuhachi flute playing, but his 1970 album 'Bamboo' became a record-diggers delight after dudes like DJ Shadow and Egon started flipping samples out of it's crossover-heavy repertoire of covers of Brubeck, the Beatles, and Jobim. Like contemporaries Gabor Szabo or Hugo Montenegro, Muraoka takes standards to a whole nother realm on this one. Also check out the latest volume of the Mr. Bongo Record Club compilations, jam packed with rare latin, afro-disco, and deep soul party rockers that all fetch crazy collector dollars on line.
Elusive electronica karma chameleon Amon Tobin returns with his first fresh material in many years. 'Fear In A Handful of Dust' (shoutout TS Eliot) is the result of Tobin's self-professed change in direction, and it might just be the best album he's ever released. Completely devoid of rhythm tracks, and a lot of the excruciating attention to detail that's made his recent work a bit challenging, this record is quite the electro-acoustic experience. Same goes for this surprise new record from Manchester duo Rainer Veil, called 'Vanity'. Years removed from their storming pair of EPs for Modern Love, they return to the label for a full length album of brittle, blissful, dubbed out approaches to UK hardcore. The fourth volume of the label-trotting 'Elsewhere' compilation is here, full of esoteric electronic treats from some underexposed european talents. 'Dismeteo' is the latest mini-album from Russian producer Oleg Buyanov, and he describes it as 'concrete blocks lost in the woods'. Accurate!
Two of the past couple years' more evocative producers of abstract electronic music, Noy Moving and Jay Glass Dubs connect with a new project called Not Glass. Irish reissue label AllChival strikes some real gold with a reprint of the lone 1982 album by itinerant outsider musician Michael O'Shea. A street performer who played a customized string instrument built on a door-frame (!!!), O'Shea was invited into the studio by Wire's indomitable weirdo half, B.C. Gilbert and Graham Lewis, and now we can hear the results. Truly one of the more moving solo folk records out there, period. Chocolate Hills is the duo of the Orb's Alex Patterson and Paul Conboy of Bomb the Bass, and on 'A Pail Of Air' they restart the project with much vigor, delivering an album of lovely, playful ambient music that fans of the Orb have been waiting patiently for since the 90s. And speaking of ambient music, and waiting, and patience, we have fresh LP pressings of two of Leyland Kirby's titanic missives to melancholy: 'When We Parted, My Heart Wanted to Die' and 'Sadly the Future is No Longer What it Was'.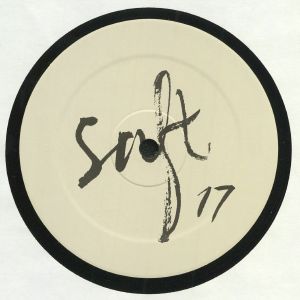 The annual Movement festival took place in Detroit last weekend, so let's close with some heat from the D. Elder statesman Carl Craig delivers a well-curated state of the union with 'Detroit', a comp CD collecting a lot of killer recent talents. Veteran beatmaker 14KT brings us 'For My Sanity', a crisp and funky suite of boom-bap jazzy fusion. Linkwood's incredible 2009 album 'Linkwood System' gets a 10-year repress, and reminds us that twitchy, lighthearted nu-disco can sometimes age very well! Fans of Metro Area and Daft Punk should check this one. We've also got a healthy assortment of fresh dance EPs from DJ Sotofett, Studiomule, Pilotwings, and the Polish duo Mchy I Porosty.
USED VINYL ALERT:
Let us head down below for this week's Used Vinyl Alert, where some fantastic records await you, especially if you like jazz, hip hop, and electronic music!
The jazz really goes this week, with a lot of rare pressings on the Blue Note and Prestige labels, from names like Grant Green, Andrew Hill, Elvin Jones, Sonny Rollins, Yusef Lateef, Horace Silver, Oliver Nelson, Donald Byrd, Jimmy Smith, Billy Taylor, Clark Terry, Charles Mingus, Don Patterson, Buddy Tate, Coleman Hawkins, Arnett Cobb, Joe Henderson, Leon Thomas, Big John Patton, Duke Pearson, Art Blakey, Lou Donaldson, and Philly Joe Jones.
We've got just about the entire hip-hop hall of fame in the new arrivals this week, with LPs from E-40, Mobb Deep, Killer Mike, Pete Rock & CL Smooth, the Hot Boys, Timbaland and Magoo, Freddie Gibbs, Talib Kweli, Common, 50 Cent, Rakim, Artifacts, Madlib, JJ Doom, Quasimoto, Aceyalone, Raekwon, LL Cool J, King Britt, Roc Marciano, Grandmaster Flash, MC Hammer, Evidence, Mystikal, and the one and only Snoop Lion.
A deep trove of electronic records covers a lot of ground this week, from recent classics to some 90s deep ones, including records from Portishead, Mark Pritchard, Aphex Twin, Autechre, Andy Stott, Royksopp, Junior Boys, Underworld, Teebs, Lithops, Zomby, Sleeparchive, Monolake, Special Requests, Boards of Canada, and Lee Bannon, plus a cool selection of rare and must-hear deep house and minimal techno 12's.
Plenty of great ones here from the Beatles, Neil Young, Led Zeppelin, the Grateful Dead, Roxy Music, Fleetwood Mac, Chuck Berry, and Little Richard, plus more from Quiet Song, the Lemon Pipers, Nick Low, John Lennon, Rush, Steve Forbert, Whitesnak, and Kiss, folk and blues from Richard and Mimi Farina, Spider John Koerner, John Mayall, Holy Modal Rounders, and Pete Seeger, and some soul from Stevie Wonder, Curtis Mayfield, Randy Crawford, Cameo, and Con Funk Shun.
Lastly, we've a bunch of recent indie and hardcore LPs from names like Diiv, Between the Buried and Me, Devil Wears Prada, Gallows, Expire, Hierophant, Borknagar, and Carcass! 
USED CD ALERT:
We're going roots on this week's replenishment. The Byrds might have been the initial spark to bring together the rednecks and the hippies. We have four titles which include members who graduated to The Flying Burrito Brothers, including the essential "Sweethearts of the Rodeo." There's Wilco-affiliated material from Jay Farrar, Jay Bennett and Golden Smog, as well as three titles from Lucinda Williams and loosies from Calexico and Richard Buckner. There's a nice haul of UK-affiliated blues from John Mayall and Climax Blues Band, as well as a pair from guitar hero Mike Bloomfield. Staying overseas, we have more aggro sounds from Throbbing Gristle and The Buzzcocks, along with a trio of peak Bowie and "Flowers" by the Stones. We have a pair of reunited Big Star live dates, along with Chris Bell's fragile masterpiece "I Am The Cosmos." Other notables include two apiece from both Tim and Jeff Buckley, a pair from Van the Man (including the superlative "Street Choir") and a huge amount of Beach Boys up through "Wild Honey."
VINTAGE WOOD CRATES IN STORE:
Vintage wood crates $7 (slightly different than pictured)
SELL US YOUR CDS & LPS: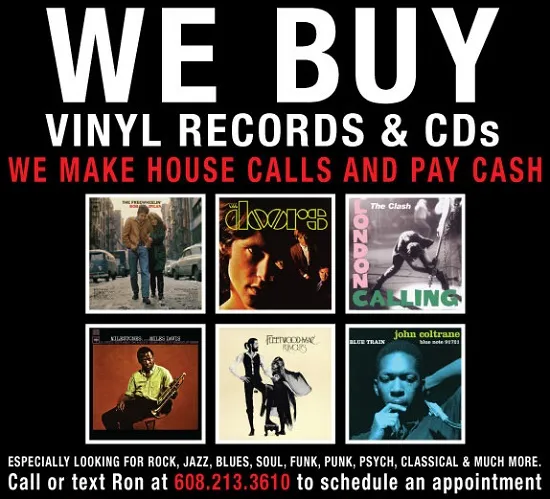 OTHERS TALK BACK:
This isn't the spot to lay down odds on the third race. OTB is where Others Talk Back and give you the lowdown on what they've been feeling lately. This one's for the customers.
Amyl and the Sniffers – "Amyl and the Sniffers"  This is really the band's first album.  Their first long-player was their first two eps cobbled together.   Amyl and the Sniffers hail from Melbourne, Australia and their sound may best be described as old school punk rock.  The band is obviously too young to have been around in the seventies and eighties.  After all, most of the band members are still in their early twenties.   Rest assured, however, that this isn't a band going through tired old clichés.  The band's youthful enthusiasm really revitalizes the old school context.  The band's lead singer and lyricist, Amy Taylor, is perhaps their most potent member.  Her vocal performance on the album brings to mind Joan Jett, Poly Styrene from X-Ray Spex, and perhaps a little bit of early Siouxsie Sue.  Yes, she is that good.  "Amyl and the Sniffers" is proof positive that punk rock is not dead.  It revitalizes itself as each successive generation comes into contact with the music.  And each new generation adds something new to the form.  Discover what Amyl and the Sniffers bring to the music on this album. - Ted
Cate Le Bon – "Reward"  Ms. Le Bon also utilizes the past to revitalize the future.  She is a very long way from the folk-rock days of her 2009 debut album.   On her 2016 release, "Crab Day," she left guitar-led music behind.  On "Reward" she looks back to the seventies and eighties for inspiration.  But she really doesn't go for any obvious influences.  She looks back to outré performers like Slap Happy, UT, Lora Logic, Lizzy Mercier Descloux and the Slits for inspiration.  And I think she found what she was looking for by looking back to the past.  The songs are richly arranged but quiet.  She lets the music lead the songs to wherever the songs want to go.  This is striking music and at times also strikingly beautiful.   "Reward" is very personal music, but it is certainly not impenetrable.   In fact, there is a sense of universality that lets one in quite quickly.  And the album really gets further under your skin with each successive listen.  Quite simply, "Reward" has more than its share of rewards.  All l you have to do is only let it. - Ted

Ron, Ryan, Angie, Marty, Evan, Matt, Ben, Will, Ed, Isaac, Larry, Andy & Mark