May 16, 2019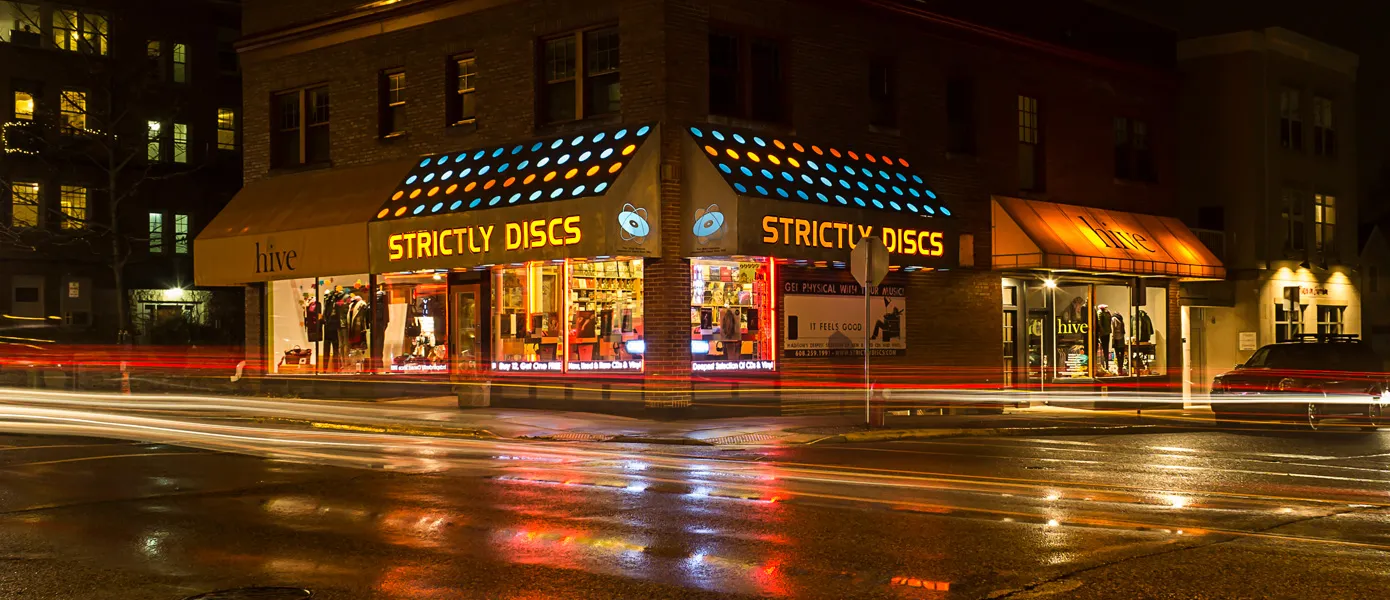 STRICTLY DISCS IS HIRING:
Vinyl Pricing Clerk:
Required skills:
Excellent customer service skills; ability to anticipate customer needs
Computer proficient

A passion for music, and a broad, deep base of musical knowledge
Knowledge of Goldmine standards & experience grading and pricing records

Knowledge of stereo equipment/functionality
Availability to work nights and weekends
Ability to lift and carry 50 pounds

To apply, submit letter of interest & resume to angie@strictlydiscs.com

NEW THIS WEEK AT THE SHOP:
A super solid week of new music begins with new records from some beloved indie mainstays. Seattle's the Head and the Heart have traveled a rocky road to this, their fourth album, which finds them parting with a founding member and rekindling a new vitality. We've got this one on limited transparent green and black vinyl. Vitality's never been an issue for The National, who continue to be as reliable as the tides on 'I Am Easy To Find', their 8th studio album. Despite it's title, this record finds the band withdrawing a bit from the anthemic monochrome of 2017's 'Sleep Well, Beast', and engaging their more sprawling side, with a host of welcome female voices entering the mix. In arrangements that range from conversational to orchestral, we hear from Gail Ann Dorsey (longtime Bowie band singer), Sharon Van Etten, Lisa Hannigan, Kate Stables, and the 25-strong Brooklyn Youth Chorus. Fans of the National's lush, moderne approach will be rewarded beyond the music with some lovely artwork and packaging, particularly on the exclusive color vinyl and deluxe vinyl editions, which are suitable for framing. Not to be outdone, reclusive everyman David Berman has suddenly re-emerged. A decade on from his last album as the Silver Jews, the bearded observator has more to say, and we have a lovely, if brief EP in stock that teases a full length album promised later in the year. 
Chillwave vet Com Truise continues to maintain cruising altitude on his latest album 'Persuasion System'. Sound-art deviant Holly Herndon continues to break new ground on 'Proto', a new record for which she created a benevolent AI baby and taught it how to make music on it's own. Artificial Intelligence is no match for the conscious post-pop star Carly Rae Jepsen, who delivers a pitch-perfect follow-up to 2015's 'Emotion' with 'Dedicated', which is only out on CD for now, frown emoticon.
Jazz, folk, soul and the spaces in between are covered this week with some lovely new CDs from Carlton Jumel Smith, Brad Mehldau, Eliza Carthy and Dave Douglas.
This week brings a surprise reissue of a lost oughties gem from the daft-disco one-off duo The Naturals. 'On the Way to the Laughing Light Of Plenty' was the brainchild of LA producer Eddie Ruscha of Medicine (and, later on, the incredible psych-techno project Secret Circuit) and UK/NYC freak Thomas Bullock (Rub n Tug, ARE Weapons, and a jillion other debauched projects). Ten years on from it's release, it stands up well as the Balearic disco album Ween never made, perfect for the easygoing windows-down weather we got going on here. Also suitable springtime jams: the latest one-sided smasher from KH aka Four Tet (this ones got a Nelly Furtado sample!), and a fresh repress of the classic early Boards of Canada EP 'Hi Scores'.
More new indie business is in from Epic Beard Men (new duo of rappers Sage Francis and B. Dolan), the Mystery Lights, Alex Lahey, and Swedish doom-poppers Death and Vanilla.
Deep gems from times of yore come in this week! Cher's criminally underappreciated 1969 album of folk and rock covers '3614 Jackson Highway' gets a lush repress via the Run Out Groove label. Kenyan blues-rock titans Black Savage were hugely popular among the late 70s youth of Nairobi, but virtually no vinyl evidence of their efforts existed today, until this great new compilation came along. NYC burner legends Endless Boogie first lurched onto the scene at the turn of the century with two limited edition LPs that immediately became collector items, now reissued in one package. The cult following their improvised power choogle garnered them attests to this day (for evidence, I enter the Endless Boogie chest tattoo Tim from Strand of Oaks showed me after his in-store here last month). Two absolute belters from the UK library label KPM are repressed in full remastered analogue glory by the Be With label: Alan Parker & John Cameron's 'Afro Rock', and Keith Mansfield and Alan Hawkshaw's 'Beat Incidental'; both of which remain standards for putting your hifi settings to the test. The Anthology label releases another deeply researched, felt and rendered compilation of lost 70s mope-rock called 'Sad About The Times', which features rare, crucial songs from names like Space Opera, Norma Tanega, and the Perth County Conspiracy. If you dug their set of Aussie rock, 'Follow The Sun', consider this the North American counterpart.
Some downright magical albums from contemporary torchbearers for traditional sounds come to us on vinyl this week. I mean, wow. I'd be elated to hear these albums within one lifetime, let alone all at once, but here we are. First up, the debut album from Brazilian guitarist Rodrigo Tavares. 'Congo' is a patient, meditative ceremony of guitarwork that reflects on the influence of Veloso and Nascimento, drenched in ponderous reverb that reminds me of the deep end of Talk Talk and Durutti Column, or the tantric vibe of Josh Abrams' latest work. Colombian musician Nidia Gongora has collaborated on Ondatropica and several other Quantic-related projects, and now delivers a gorgeous album of marimba-led folk fusion, performed by several families of multi-generational singers and players, called 'Canalon de Timbiqui'. Moroccan musician Moulay Ahmed El Hassani has self-released scores of CDs in his homeland, but 'Atlas Electric' is the first collection of his music to be available abroad, and is an incredibly deep introduction to a modern master. Channeling North African folk and a cloudy, updated version of the rai sound, El Hassani has crafted his own kind of polyrhythmic genre that will draw you in for good. Last up, the latest masterclass in nu-jazz from UK stepper Alfa Mist. 'Structuralism' proves the performance on his last album, now super out-of-print, was no fluke.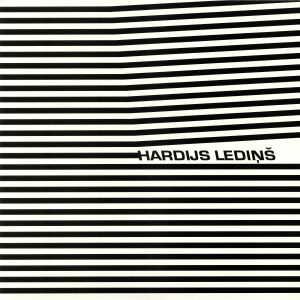 Electronica pop obscura comes to us from all over this week, starting with a cool EP of tracks from Karen Marks, the Australian who's song 'Cold Cafe' was a standout of 2016's 'Sky Girl' compilation also known as the greatest mixtape ever made. Also from down (under) is the synthesist and composer David Chesworth, best known for his work with the pop group Essendon Airport. His 1981 solo album 'Layer on Layer' is a lost classic of DIY synth-pop. Same goes for the late Estonian musician Hardijs Ledins, the grandfather of Baltic synthpop who founded the multimedia art project known as NSRD, or the "Restoration Workshop of Unprecedented Feelings". His 2000 CD, 'Tiny Crabs of Deep Waters', is an enveloping ambient delight, and is now available on LP for the first time. Last up, 'True Image', the 1983 album from US modern soulman Steve Elliott best known as the original home of 'One More Time', the sexiest song from the essential Personal Space compilation.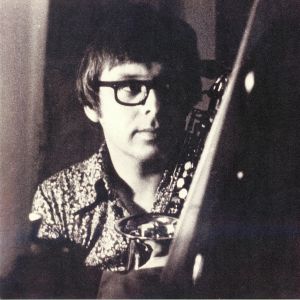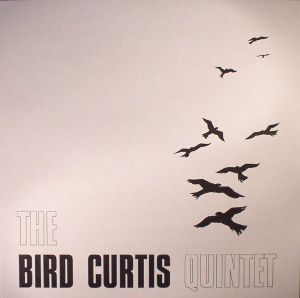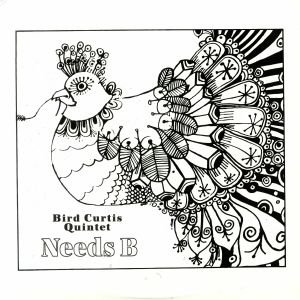 Far out jazz from all over creation is back in print this week, starting with Sonny Sharrock's volcanic 1989 album 'Ask the Ages', two freshly reprinted discs from LA mainstay and Kamasi Washington mentor Horace Tapscott, rare 60s post-bop from the UK's Bird Curtis Quintet, and a blazing reissue of the 1971 album from Norwegian bandleader Erik Andresen.
More new jazz in a spiritual vein is here on CD from Kahil El'Zabar's Ethnic Heritage Ensemble, John Zorn, and John Abercrombie.
The ECM label continues to trawl their immense vaults, bringing us some of their all-time most requested titles back on low-price CDs. You can't go wrong with any of these discs from Gary Burton and Chick Corea, Don Cherry and Ed Blackwell, the Dave Holland Trio, Jack DeJohnette, and my two all-time fave ECM's: Steve Kuhn's 'Trance' and Julian Priester's 'Love, Love'.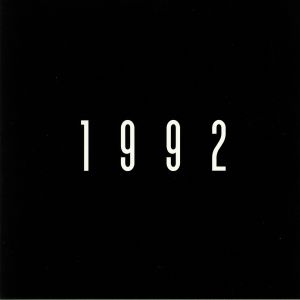 Some stunners from the house and techno world this week include an incredible debut EP from South Korean producer Park Hye Jin, a new project from Tin Man called DOVS, a fresh, instant classic EP from the mysterious UK producer Roy of the Ravers that's full of cheeky, strobey acid. Ahead of his world-historic appearance at La Fete next month, we have the latest release from Detroit underground legend Omar S, as well as a couple older classics of his back in stock.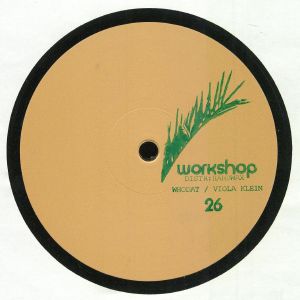 Last up, we get some banging, Drexciyan techno from Jodey Kendrick, a new mini album of delirious breaks from Head High, also known as Shed, new electro from VC-118A, experimental house from Whodat and Viola Klein, a killer full length of rugged beatscapes and tranquil interludes from Tracey on the Dial label, and last up, a star-studded album of Luke Slater remixes, featuring appearances from Lucy, Silent Servant, and Marcel Dettmann, and an extremely rare remix job from the one and only Burial!
USED VINYL ALERT:
Heading downstairs for the latest Used Vinyl Alert, we celebrate our shaking off of the winter blues this week with a healthy dose of the musical blues. One of the deepest spreads of that genre we've seen all year is here this go-round, including big scores from Mississippi John Hurt, Johnny Winter, Sonny Boy Williamson, Fenton Robinson, Blind Gary Davis, Howlin Wolf and, incredibly, Little Howlin Wolf (no relation), BB King, Memphis Minnie, Muddy Waters, Professor Longhair, Buddy Guy, Slim Harpo, Junior Parker, Champion Jack Dupree, Freddie King, Willie Dixon, Bukka White, Dr. John, Leadbelly, Spider John Koerner, Stevie Ray Vaughan, Bonnie Raitt, and Magic Sam.
Audiophile, are ye? We've got some delectable Mobile Fidelity pressings from a wide range of acts, including Steely Dan, Moody Blues, the Doors, the Beatles, and Pink Floyd. Not MoFi, but just as guaranteed to please, are classic LPs from Bob Dylan, the Stones, David Bowie, Tom Petty, the Beatles, Velvet Underground, AC/DC, Neil Young (including lots of bootlegs and Archive Series titles), the Kinks, Pink Floyd, Tom Waits, U2, Frank Zappa, The Zombies, Brian Eno, Flying Burrito Brothers, Link Wray, Old and In the Way, John Prine, King Crimson, and the Yardbirds! Also be sure to check out rare, heavy and/or freaky records from the Flock, Def Leppard, Black Sabbath, Wicked Lady, Doug Jerebine, Incredible String Band, Osanna, Arthur Brown, Junior's Eyes, Joshua, Bert Jansch, and Human Instinct.
Contemporary used vinyl is here from Beach House, the Hussy, White Stripes, Sharon Jones, Archers of Loaf, Kikagaku Moyo, Olivia Tremor Control, Lana Del Rey, Howlin Rain and Jonathan Wilson. Some killer hip-hop in the house from Blu & Exile, Eminem, Cypress Hill, LL Cool J, Ol Dirty Bastard, and DJ Rashad. Classic punk, wave and underground slabs are in from Madness, Patti Smith, MC5, Roky Erickson, Firehose, Devo, the Clash, and Ministry.
Jazz LPs this week include McCoy Tyner, Ahmad Jamal, John McLaughlin, Bill Evans, Herbie Hancock, and Chick Corea. Country is in from Johnny Cash, Hank Williams, Loretta Lynn, and Marty Stuart, plus we've got some reggae staples from Jimmy Cliff and Bob Marley, plus some Indian classical LPs including a few from Ali Akbar Khan.
NEXT STRICTLY DISCS MUSIC TRIVIA IS JUNE 18TH:
Join us Tuesday, May 14th for Music Trivia at the High Noon Saloon. 

Test your music knowledge monthly at High Noon!

Registration starts 5:30 | First question at 6:00 PM
FREE | 21+

New prizes to the winning team each month and a cumulative prize for the top team of the year includes a golden ticket to every show at High Noon Saloon the next year! 

June 18 | July 16 | August 13 | September 17 | October 15 | November 12 | December 17
SELL US YOUR CDS & LPS: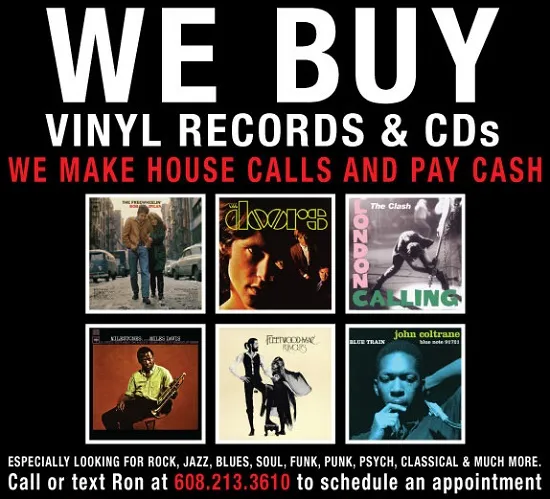 OTHERS TALK BACK:
This isn't the spot to lay down odds on the third race. OTB is where Others Talk Back and give you the lowdown on what they've been feeling lately. This one's for the customers.
Protomartyr – "No Passion All Technique"   This album is a reissue of their ultra-rare debut album from 2012.  Only a minuscule number of vinyl and cassette copies were released back then and they quickly sold out.  At the time, the band had four hours of recording booked and figured that all they had time to record was a single.  Instead, they came out with a single and a debut album.  Recording that many songs in a short time meant that the band didn't have the luxury to correct mistakes or add any finesse to their songs.  These are raw and loud songs, perhaps the rawest that they have ever recorded.  The band now feels mannered in comparison to this record.  The music on this is more garage and punk rock than where the band is now.  And with Protomartyr that isn't necessarily a bad thing. - Ted
The Get Up Kids – "Problems"  The Get Up Kids were one of the best emo bands of the nineties.  They continued into the new century but broke up with a large amount of acrimony in 2005.  They reformed in 2008, and released a rather ordinary comeback album in 2011.  And now, "Problems" is their first release in eight long years.  You know, it is sort of hard to remember what emo was all about 20 years ago.  Maybe all emo was back then was just rock and roll. Because "Problems" is just a pretty good straight ahead rock and roll album.  Not punk rock, garage rock, country-rock or any other hyphen rock.    And the songs here are probably the best group of songs that the band has come up with since the nineties. "Problems" is a rather impressive album from a band that was a trailblazing outfit all those years ago. - Ted

Ron, Ryan, Angie, Marty, Evan, Matt, Ben, Will, Ed, Isaac, Larry, Andy & Mark