May 9, 2019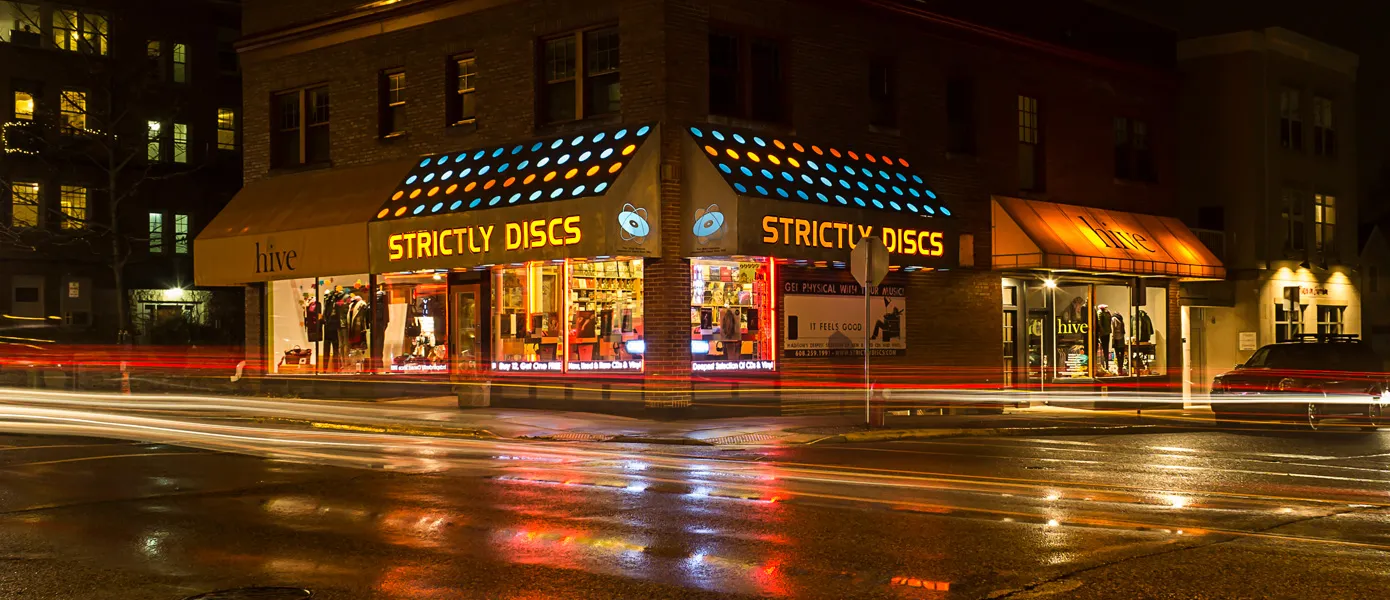 STRICTLY DISCS IS HIRING:
Vinyl Pricing Clerk:
Required skills:
Excellent customer service skills; ability to anticipate customer needs
Computer proficient

A passion for music, and a broad, deep base of musical knowledge
Knowledge of Goldmine standards & experience grading and pricing records

Knowledge of stereo equipment/functionality
Availability to work nights and weekends
Ability to lift and carry 50 pounds

To apply, submit letter of interest & resume to angie@strictlydiscs.com

NEW THIS WEEK AT THE SHOP:
All this rain has had us holed up inside, but feeling like lucky ducks as we collect all sorts of new musical items from every edge of the globe. What's that you say, the globe is round? Moving on...
We start with the latest from jazz crossover phenom 
Esperanza Spalding. The bassist and vocalist is now seven albums into a career that has led us to expect the unexpected, and '12 Little Spells' rewards her true believers with some of her most compellingly offbeat pazz and jop yet. Released digitally last year, that was enough to land this album on the NYTimes best jazz of the year list; now we have it available for you, the people for whom a 'memory stick' sounds like some kind of cool vitamin supplement. Speaking of healthy guys, we have the latest from the crowned slacker Mac DeMarco, who reckons with his inexplicable (what else?) fame on his latest, 'Here Comes the Cowboy', in the house on indie only colored vinyl. No matter how you listen to it, the latest opus from Joshua Abrams and the Natural Information Society is a true work of art. For a limited time, we've got this organic jazz seance available in a hand-screened double vinyl edition that comes in at just under half a bill. It's worth every cent, but we've also got the much more affordable double CD version of 'Mandatory Reality' here as well. 
Soul-rap ingenue Jamila Woods follows her breakout album with 'Legacy! Legacy!', a lushly-rendered reflection on 20th Century black heroes. Across bumping tracks like 'GIOVANNI', 'MILES', 'ZORA', and 'EARTHA', Woods reconstructs a history that's personal, but vast enough to serve as a complete curriculum of cultural forces. Foxygen singer Jackie Cohen steps out on her own with a quirky solo album called 'Zagg'. Jessie Reyez emerged as a fresh voice for disaffected teenagers with two very potent EPs, 'Being Human in Public' and 'Kiddo', that blend confessional pop with rap bravado, and they've now been combined for a physical release.
What a world we live in. Time was, if you walked into a record store and found a single Alice Coltrane LP, you'd do best to say a small prayer to the god of your choosing. Nowadays, virtually her entire catalog is back in print, concluding with these reissues of her final 4 late 70s albums for them Warner Broz, 'Eternity, 'Radha-Krsna Nama Sankirtana', 'Transcendence' and 'Transfiguration'. You don't get more diversity in Alice's wonderland than on this quartet: from space-age drones, to fusiony Arp odysseys, to spoken mantras. 
Laura Nyro's 1971 live recording 'Spread Your Wings And Fly' from the Fillmore East is held in such high regard, it's said to be as great as ayn album within her scant discography, and it's been remastered for us on CD. It's been ten years since the release of the mellow legend 'Paranoid Cocoon' by the Maryland cutie pies Cotton Jones, and it's easy blend of rustic psych pop only sounds more potent now, with an anniversary vinyl reissue. Songs:Ohia's landmark 2000 record 'The Lioness' gets force multiplied with a bonus disc containing a whole new album's worth of unheard songs. It's hard to pick a single S:O record from his vast, finely-wrought catalog of anguished songcraft, but if you forced my hand it would be this one. In 1994, two of Philly's finest delivered the ladies' take on New Jack Swing with Zhane's 'Pronounced Jah-Nay', now back in print on LP. Also pronounced Jah-Nay is the obscure 80s synth-popper from the south of France, Philippe Chany, whose debut album 'Rive Gauche' is an untouchable classic in a genre of its own, seamlessly merging lounge jazz with synthwave and an Eastern sense of the theatrical.
New rock, pop, blues and wave is here from Daddy Long Legs, the 
Get Up Kids, 
Dreamers, 
Greys, 
Clinic, and 
Martha!
A powerful gang of four female-driven postpunk albums are here from all over the place this week. Leeds trio Drahla channel early UK DIY, Confusion is Sex-era Sonic Youth, and a little Unwound on a killer new record of taut agit-wave called 'Useless Coordinates'. Japan's MAZE deliver a new EP of Shop Assistants-esque pop sketches for underground institution Lumpy Records. Oakland's The World are back with another great record of Raincoats-style punk cheek, just as strong as their last album, 'First World Record', which is still in stock for some crazy reason! Last up, a killer new one from Brazilian duo Rakta, which adds a layer of motorik haze to their gravely-rendered postpunk. 
If I had a dollar for every time a customer asked "Got any Popol Vuh CDs?" I'd be a thousandaire at least. For too long, the answer's been No, but now we've got fresh remasters of some of the group's core albums: 'Affenstunde', 'Aguirre', 'Hosianna Mantra', 'Nosferatu', and 'Einsjager Siebenjager'. Now there can be a little more Vuh in all of you.
Malawian folk musician Gasper Nali makes incredibly complex afrobeat with his 3 meter-long, single string instrument called a 'babatoni', and we have a great new LP from him. Producer Nobody delivers a killer record of cookout-ready funky instrumentals on 'All Too Familiar', and we have a new disc in stock from Mexican songwriter Lila Downs.
Crystalline, Kate Bushian synthpop is here from Canadain songwriter Lydia Ainsworth, spectral folk rock is in from Phosphorescent collaborator Jo Schornikow, and we've got a new one from AA Bondy called 'Enderness'.
A nice variety of soulful jazz-trad blends hit the shop this week, starting with a great new one from the UK's Reginald Omas Mamode IV, who explores his ancestral homeland of Mauritius with a burbling record called 'Where We Going?' that reminds me a lot of the great recent LPs from Mo Kolours, which makes sense since that is his brother. Storming UK five-piece Ezra Collective have made major waves in the bustling London jazz scene and now deliver their debut album, 'You Can't Steal My Joy', with a slew of guests from that scene. Indian beatmaker Jitwam drops a funky new masterpiece called 'Honeycomb', and we have a new disc from Chicago jazz titan Ken Vandermark with Dutch improviser Terrie Ex called 'Scaffolding'.
Four generational talents from the wild world of "serious" electronic music bring us bar-raising new albums this week. Synthesist Craig Leon is famous in cult circles for his groundbreaking 80s LPs 'Nommos' and 'Visiting', and he at last delivers a fitting 3rd piece of that trinity with 'The Canon', his first new material in many years. Tim Hecker follows last year's startling 'Konoyo' with a companion album of some more demonstrative material that didn't make the record, called 'Anoyo'. Reclusive synth-wizard Steve Moore (of Zombi fame) gathers together his first non-soundtrack work in many years with the engrossing, eclectic new album 'Beloved Exile', which blends guestwork from Mary Lattimore and vocalist Emel with his surging, emotional arrangements. Modern Italian minimalist Caterina Barbieri has a phenomenal new album of contemplative analog trances with 'Ecstatic Computation'.
A pair of Euro wunderkinds deliver delightfully lucid, brightly punchy techno and house. Moscow's Kedr Livanskiy hits us with the EBM-flecked 'Your Need', while Sweden's 
Kornel Kovacs brings the more ethereal, bouncy 'Stockholm Marathon'.
Last up we conjure some darkness with a new collab record between GYBE's Efrim Manuel Menuck and Growing's Kevin Doria, a new slab of occult ambient from the French project 
Black Zone Magick Chant, abstract dancehall weirdness from 
Kelman Duran, and a fresh compilation of Russian techno from the 
Muscut label.
USED VINYL ALERT:
Heading downstairs for this week's Used Vinyl Alert, we've got a trippy selection for you this time around! Lots of early psych-pop, garage, paisley underground, and miscellaneous freak trains are here on LP from names like Ultimate Spinach, the Easybeats, Elephant's Memory, the Corporation, Mo Tucker, the Pretty Things, Country Weather, Coven, Ecology, the Seeds, Orphan Egg, Sky Saxon, Caravan, Trapeze, Sandy Denny, Nick Drake and Tom Rapp.
Nothing there yanking yer chain? Well we've got a bevy of must-haves from the Hall of Fame. Check out nice pressings from names like Tom Petty, Van Morrison, the Beatles, Queen, Leonard Cohen, Pink Floyd, the Grateful Dead, Lynyrd Skynyrd, the Who, Bloodrock, George Harrison, Frank Zappa, Led Zeppelin, Paul Simon, Little Richard, Neil Young, Fleetwood Mac, Bob Dylan, Lou Reed, the Rolling Stones, and Jimi Hendrix.
Punk and wave is here from the Stooges, Ultravox, Echo and the Bunnymen, Crimpshrine, Husker Du, Talking Heads, Sham 69, Mission of Burma, Dream Syndicate, Dinosaur Jr, the Ramones, the Residents, and Renaldo and the Loaf!
Jazz across the decades comes through from Lester Young, Barney Kessel, Hubert Laws, Dave Brubeck, Wilbert Longmire, Herbie Hancock, Randy Weston, Phil Woods, Chick Corea, Ron Carter, Clark Terry, Don Ellis, Freddie Hubbard, and Max Roach, as well as vocal LPs from Sarah Vaughan, Julie London, Ella Fitzgerald, and Billie Holiday.
Quality soul LPs are in from Esther Phillips, Al Green, Parliament, Marvin Gaye, Aretha Franklin, Stevie Wonder, Jimmy Ruffin, and many more. Blues is well represented with records from Blind Willie McTell, Magic Sam, Leadbelly, Louisiana Red, Johnny Copeland, Otis Rush, Bonnie Raitt, Little Milton, Freddie King, Johnny Winter, and John Mayall. Country and folk LPs are here from Tammy Wynette, Bobby Gentry, Dwight Yoakam, Johnny Cash, Emmylou Harris, Phil Ochs, Jean Ritchie, Danny Hollen, and Kate & Anna McGarrigle.
We close with some great recent releases from Radiohead, Shannon and the Clams, the National, King Khan, Elastica, Animal Collective, Gorillaz, Local Natives, Deer Tick, Earthless, and the Flaming Lips!
USED CD ALERT:
This week is about the orphans and the loosies, the unpaired socks and those without a country. Think breadth not depth this week. From the blues spectrum, there's stray shots from Bobby Blue Bland, Muddy Waters, Sonny Terry and John Lee Hooker. On top of that, new this week is the fab 2-cd James Brown blues set, something that moves with a quickness when it hits the racks. Rock-wise, be on the lookout for works from Jeff Beck, John Prine, Traffic, Talking Heads and The Pogues. There's glacial heaviness from Low and Godspeed, as well as guitar goodness from Third Man affiliates Dead Weather and Raconteurs. Folkie folks, there is something for you in the form of Woody Guthrie, Fairport Convention and John Hartford. Let's close out with a couple multi-discs sets in the form of Bill Evans "Complete Live at the Village Vanguard" and the very crucial "Soulful Reggae" various artists set on Trojan, now discontinued and increasingly sought after. You know what you have to do know, ballbags.
NEXT STRICTLY DISCS MUSIC TRIVIA IS MAY 14TH:
Join us Tuesday, May 14th for Music Trivia at the High Noon Saloon. 

Test your music knowledge monthly at High Noon!

Registration starts 5:30 | First question at 6:00 PM
FREE | 21+

New prizes to the winning team each month and a cumulative prize for the top team of the year includes a golden ticket to every show at High Noon Saloon the next year! 

May 14 | June 18 | July 16 | August 13 | September 17 | October 15 | November 12 | December 17
SELL US YOUR CDS & LPS: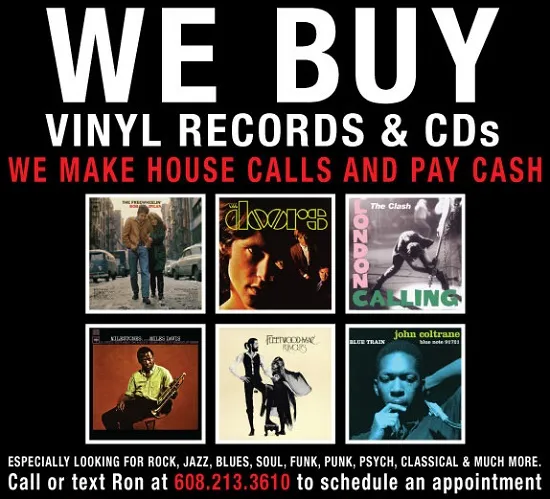 OTHERS TALK BACK:
This isn't the spot to lay down odds on the third race. OTB is where Others Talk Back and give you the lowdown on what they've been feeling lately. This one's for the customers.
Stereolab – "Transient Random-Noise Bursts with Announcements" and "Mars Audio Quintet" These two reissues continue Stereolab's 2019 reissue campaign.    "TR-NBWA" originally came out in 1993 and "MAQ" followed in 1994. Both albums are freshly remastered and each has a bonus disc of rare material.  Both albums are without a doubt the definitive works of the band's early history.   These discs are the paramount achievements of their Space Age Bachelor Pad Music stage.  At the time, the synthesis of Sixties electronic music with nineties indie was a startling and novel surprise.  I will say, however, that both albums have aged rather well.  There really isn't anything for Stereolab to be embarrassed about in the over twenty-five years since these albums were released.  The remastering is top-notch; you can hear many of the nuances that you missed the first time around.  The bonus discs include a fair share of demos.  And those demos are rather astounding in their sparseness and simplicity compared to their intricate released versions.  Stereolab has always been a powerful force in modern music.  These two Expanded Editions illustrate how powerful they were and still are. - Ted
Fontaines D.C – "Dogrel"  From Dublin, Ireland comes this young new band.  They play eighties influenced post-punk but with a ferocity and intensity that hasn't been heard in many decades.  At times their lyrics and delivery bring to mind the Fall.   At other times, Joy Division and Billy Bragg come to mind.  But Fontaines D.C. are more than just the sum of their formidable influences.   "Dogrel" may be the best guitar album that has been released so far this year.  Their powerful performances force the listener to pay attention to this music.  Their musical and lyrical skills then keep you listening.  "Dogrel" has to be the best debut album released so far this year. - Ted

Ron, Ryan, Angie, Marty, Evan, Matt, Ben, Will, Ed, Isaac, Larry, Sean, Andy & Mark