April 25, 2019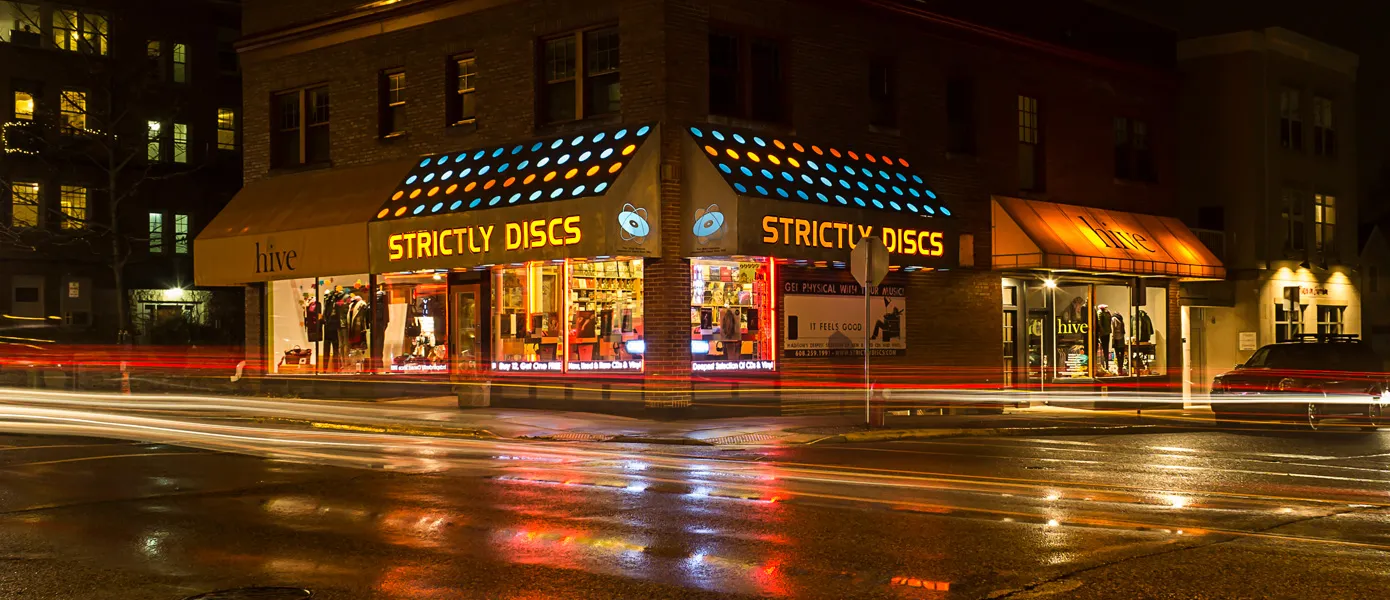 STRAND OF OAKS IN-STORE MAY 2ND 6PM!
Please join us Thursday, May 2nd at 6PM for a FREE in-store performance by Dead Oceans recording artist, Strand of Oaks.
NEW THIS WEEK AT THE SHOP:
Suns out, y'all! It's that time of year where it feels like the whole world is chirping with life, and we couldn't be more pleased with the budding crop of great new music in the shop this week. Behold the delights!
We start with a new record from The Mountain Goats. John Darnielle has cemented his place as one of indie rock's great dealers of narrative, and 'In League With Dragons' compellingly concludes his trio of album exploring the obsessions of his youth. Wrestlers begat goths and now we reach the ultimate conclusion: wizards. When not regaling us rock-opera style with tales of his young Dungeon Master sieges and reflections on dragon alliances, Darnielle slides in anecdotes of real-life wizards like, you know, Doc Gooden and Ozzy. We have two great limited vinyl versions of this available, one on colored vinyl with a bonus 7-inch, and an even more 'hardcore' edition that's wrapped in dragon scales. Also on the horizon is the next studio album from art rock auteurs The National, which we tease this week with limited supplies of the lead 45 single, the elegant 'You Had Your Soul With You', priced real nice at $3.99!
Guitarist and songwriter JJ Cale left his indelibly light touch on decades of American rock and roots music, so its fitting that the first posthumous release of his late career recordings is called 'Stay Around'. Cale passed on in 2013, but the legacy of his recordings is being lovingly maintained by his widow, the musician Christine Lakeland, and his former manager. The tunes on this collection are entirely sourced from Cale's deep trove of demos, studio jams, and session takes, and sound like they could have come from any of the last 5 decades. One songwriter borrowing on JJ's legacy is Josh Ritter, who makes a bold new statement with 'Fever Breaks', produced by Jason Isbell. A year on from the tragic passing of Irish rock icon Dolores O'Riordan, her band The Cranberries has concluded the album they had in the works before her death. 'In the End' is a powerful final statement from one of global pop's true honest voices. 
Psych and stoner-adjacent jams come our way from all over the dang globe this week. 'Gece', the latest album from Turkish band Altin Gun, continues their delirious synthy update of Anatolian hardrock for the 21st century, while Australian big boy band King Gizzard and the Lizard Wizard hoist another Guru Guru-meets-the Easybeats slab of high-grade with 'Fishing For Fishies', in the building on green vinyl. SunnO))'s monolithic new record 'Life Metal' came and went with the quickness on Record Store Day, but Southern Lord has done us the solid of pressing more on red vinyl this time around. Droneflower is the new project of partners in doom Marissa Nadler and Stephen Brodsky, he of Cave In and Mutoid Man fame. The two meet in the middle on a collab that reminds me a bit of Mark Lanegan and Isobel Campbell's duo forays.
Midwestern troubadour Kevin Morby follows his 2017 breakout 'City Music' with a new album called 'Oh My God' that blends a celebration of the myriad opportunities he's been given with a reckoning of his faith. Limited indie vinyl is here for that one, as well as for the 'comeback' album from the power-pop duo Foxygen, who seem to have reconciled their creative differences, or at least amplified them enough to make a great new record. Songwriter Heather Woods Broderick delivers a stunning album of traditional folk noir, and we have a new record from the transcendental pop singer Marina, called 'Love and Fear'.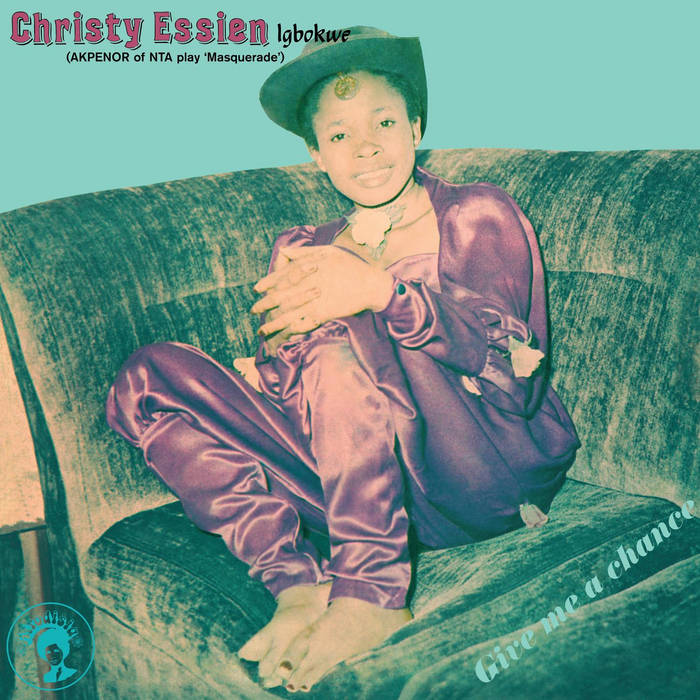 Four superpowered funky ones here this week. Prince's 2001 dancefloor friendly 'Rave In2 the Joy Fantastic' hits vinyl for the first time. Arriving late for RSD, we have this incredible collection of Patrick Adams' productions as Cloud One called 'Spaced Out', which represents the high point of jubilant NYC roller-rink disco. Norwegian happy-house veteran Prins Thomas returns with the instantly classic 'Ambitions', a perfect combination of his serene ambient and rolling nu-disco dimensions. Lastly, a repress of the 1980 Nigerian pop rarity 'Give Me A Chance' by Christy Essien. Quite a star in Nigeria thru the late 70s and 80s, the actress and singer released a handful of great albums that blended funk with the emerging sounds of disco, but this LP covers even more ground, with a couple tracks that could almost pass as country ballads. 
Five years since it's release on disc, we now have a vinyl pressing of the cerebral Malian folk genius Boubacar Traore's 'Mbalimou' on vinyl. A new one from the trio of Aidan Baker of Nadja, Faith Coloccia, and Wisconsin gem Jon Mueller called 'See Through' blends doomy atmospheres with a post-rock jazzy approach. UK label Stick in the Wheel graces us with a second volume of 'From Here: English Folk Field Recordings', a selection of traditional folk performances from contemporary musicians around rural England, mostly recorded in their own homes. This is a remarkable introduction to British folk, with all the hippy-dippy ISB stuff removed from the equation (not that there's anything wrong with hippy-dippy ISB stuff). The Recital label has collected an amazing sound document of the vastly underappreciated avant-garde musician, poet, artist, and sailor Rip Hayman. Ethereal, ocean-deep drones wed Hayman's field recordings from Tibet, China and India on this impeccable object.
Two incredible compilations from the Japanese label Dub Store plumb the vaults of the early Jamaican reggae institution Federal Records, which housed the island's first recording studios and basically launched the rocksteady and ska movements from its earliest singles. Lushly restored 1960s carib-jazz, mento, and newborn baby ska await you on these fine ones. Cairo trio Islam Chipsy & Eek blew the minds of the couple hundred people who heard their last album, 'Kahraba', ferried our way somehow by the Sublime Frequencies gang. They ride again with 'Kahraman', another freakishly addictive slab of frenetic dance led by Chipsy's incredible keyboard flurries. Young vocalist Claude Fontaine has a name right out of the credits of a French new wave film, but her debut self titled album sets course for Jamaica with a pit stop in Brazil. I had a bit of double take reading the credits here; she's got Airto Moreira, Fabiano do Nascimento, and King Tubby guitarist Tony Chin on this record!  
Garage veterans Reigning Sound return with a new record, Metric's 'Fantasies' turns ten with a special vinyl repress, and we've got anticipated new LPs from Local Natives and Catfish & the Bottlemen. 
A rare album of blazing footwork from DJ Nate comes in from Chicago, plus we have a new LP from nu-jazz quartet Ruby Rushton called 'Ironside', and the drummer of Hiatus Kaiyote steps out solo as Clever Austin with a killer jazz-rap album called 'Pareidolia'.
Last up, some new storming dark techno LPs are here from Ossia with the dubwise 'Devil's Dance', Lakker advance their cryptic techno with the addition of vocals and classical samples, female duo Minimal Violence channel early Wax Trax on the stellar 'In Dreams', and we have a crucial collection of early work from longtime DIY ambient artist Tor Lundvall. Before he took to making music that sounded like a glacier waking up and going to work, Lundvall made some very excellent moody synth-pop of an early 90s vintage. 
USED VINYL ALERT:
Heading downstairs for this week's Used Vinyl Alert, we've got a selection of records in the new arrivals that ought to turn on any mind.
We go heavy on the household names this week, with a crucial selection of early pressings of Jimi Hendrix, Pink Floyd, the Band, Tom Petty and Waits, the Rolling Stones, Queen, Paul Simon, JJ Cale, the Eagles, Stevie Ray Vaughan, Fleetwood Mac, and Led Zeppelin, along with an impressive spread of Beatles LPs, including Mobile Fidelity copies of many studio albums, a cool assortment of bootlegs and comps, and solo LPs from Paul, John and George (shoutout Ringo, no "Goodnight Vienna" this week). Audiophiles rejoice, as we also see a nice selection of other Mobile Fidelity and Quadrophonic titles, as well as a number of cool tracking / 'audio obstacle course' type LPs for you to calibrate your Hi-Fi with as you settle in for a night of cocktails and ludes.
Headier titles from Gentle Giant, Savoy Brown, the Candymen, Danny Kirwan, Blue Cheer, Colours, Peppermint Trolley, W.A.S.P., Def Leppard, Metallica, Quiet Riot, and AC/DC appear alongside punk and wave from the Ramones, Jesus and Mary Chain, OMD, Devo, Wayne County, and the Residents.
A marvelous spread of jazz hits the bin this week, including a lot of seldom seen and must-cops from Dave Brubeck, John McLaughlin, Keith Jarrett, John Coltrane, Art Farmer, Lee Konitz, Bill Evans, Abdullah Ibrahim, John Abercrombie, Pat Metheny, Gary Bartz, Bobby Hutcherson, Lee Morgan, Herbie Hancock, Art Blakey, Grant Green, Grachan Moncur, Larry Coryell, Horace Silver, and Marion Brown.
From there its a strange and enjoyable mixed bag: soul from Sam Cooke, Billie Holiday, Stevie Wonder, the Temptations and many more; some more rare electro, plus essential party records from the Egyptian Lover, Tom Tom Club, Madonna, 2Pac, and Wham;  folk and trad from Phil Ochs, John Renbourn, Sandy Denny, and Malvina Reynolds; blues from Albert King, SRV, Junior Wells, and John Mayall; modern classical from Henry Cowell and Charles Ives; a cool assortment of African traditional LPs and latin fun, and some newer LPs from Dawes, Sole, and Wild Nothing!
And lest you forget, THE DOLLAR BIN IS BACK!
USED CD ALERT:
Refreshed and replenished, here's the lowdown for Friday. We were running low on Uncle Frank but there is a nice infusion of Zappa augmenting the archives. Look for more wild n' wooly sounds from the 13th Floor Elevators, Brian Jonestown Massacre, Beefheart and Sonic Youth. The giants are not neglected either, which means works from Pink Floyd, Beatles, Kinks and the Velvets. Doomed underdogs like Skip Spence and cult faves The Seeds and Left Banke are in there for good measure. Blues veers toward crowd favorites. Think Hooker n' Heat, Muddy Waters and Hound Dog Taylor. We love our jazz and there's great underheard titles from Bud Powell and Mingus, plus a very crispy original configuration box set of Ornette's complete Atlantic recordings. Finally, we got stray shots from 2Pac, Tribe, Gillian Welch  and a very cool 2-fer of Minneapolis burnouts White Lightning. 
NEXT STRICTLY DISCS MUSIC TRIVIA IS MAY 14TH:
Join us Tuesday, May 14th for Music Trivia at the High Noon Saloon. 

Test your music knowledge monthly at High Noon!

Registration starts 5:30 | First question at 6:00 PM
FREE | 21+

New prizes to the winning team each month and a cumulative prize for the top team of the year includes a golden ticket to every show at High Noon Saloon the next year! 

May 14 | June 18 | July 16 | August 13 | September 17 | October 15 | November 12 | December 17
SELL US YOUR CDS & LPS: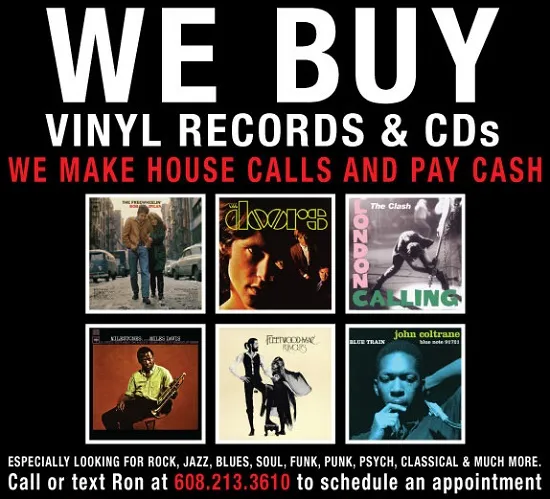 Ron, Ryan, Angie, Marty, Evan, Matt, Michael, Ben, Will, Ed, Isaac, Larry, Sean, Andy & Mark