March 14, 2019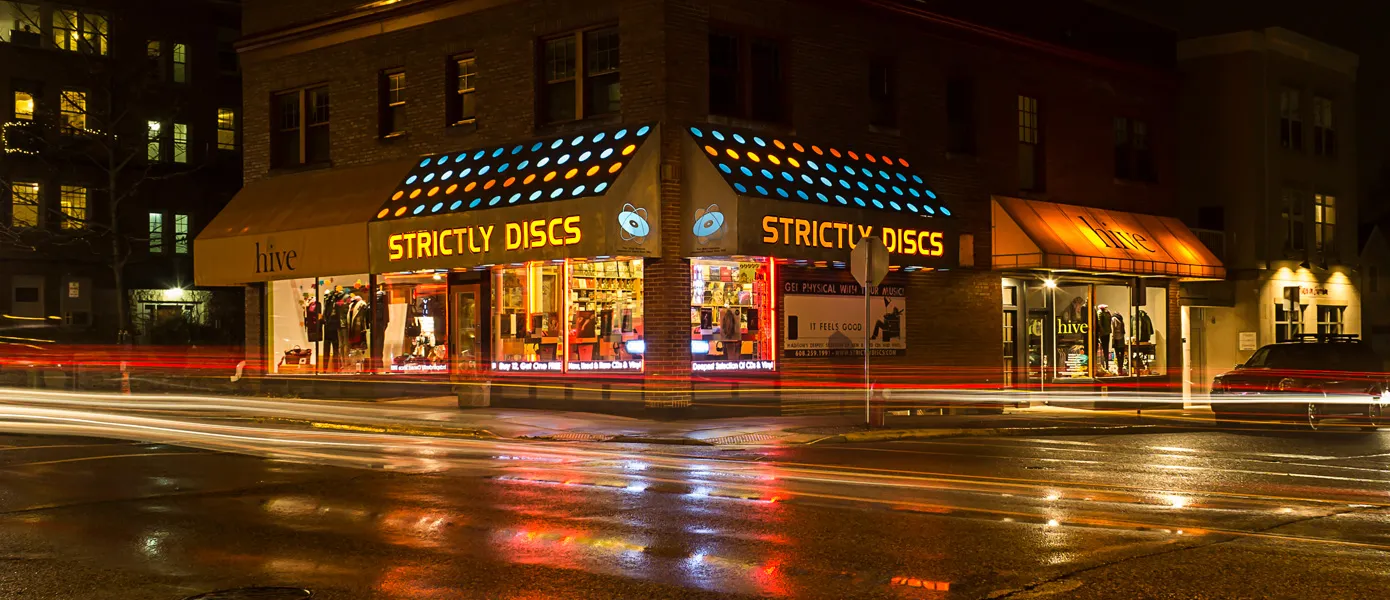 RECORD STORE DAY 2019 IS APRIL 13TH - SAVE THE DATE!

Our list of Record Store Day exclusives is now available.
The final deadline to create a wishlist or make any changes is 4PM on March 15th, so don't delay! And while we understand the time frame to create wish lists has been greatly compressed this year, we rely on your wishlist feedback to guide our buying and so we know what titles you most want to pick up! 
A couple of notes/changes:
The 3" turntable now comes with the Foo Fighters 3" record. The Third Man and Epitaph 3" records now come bundled as a boxset rather than available individually. You must purchase the turntable in order to purchase one of the boxsets since all are very limited.
Both Sigur Ros pieces have been cancelled.
Alexander "Skip" Spence - AndOarAgain 3xLP set has been added.
Lightnin' Hopkins - Strums The Blues LP has been added.
RECORD STORE DAY 2019 APRIL 13TH!
Launched in 2007 with the humble idea to recognize independent record stores, Record Store Day (RSD) has mushroomed ever since. The RSD list of LP and CD exclusives continues to expand, while more labels continue to throw open their catalogs to an appreciative customer base.
Beyond the day-long frenzy, RSD exists to offer proof of the lively role record stores play in the community and a chance for folks on both sides of the counter to offer gratitude for each other. Whether you're a hardcore type who times their arrival for a spot at the front of the line or somebody who waits until the afternoon for a more leisurely experience, we hope you'll join us on Saturday, April 13th.
RSD AT STRICTLY DISCS:
It's true, on Record Store Day there's typically a line outside the shop all morning, just as there is at hundreds of other local shops across the country (and the world). But walk through this line, and you'll find ardent music fans of every stripe: young, old, male, female, seasoned pro and beginners. The line has come to symbolize the size, passion and staying power of both the physical music audience and the locally-oriented music community. Amidst the RSD crowds, we've seen musicians discussing upcoming gigs and tours, knowledgeable jazz heads giving high schoolers tips on the essentials, people meeting up for the first time "in real life" or for the first time in a decade, parents buying their kids their first new LPs, or better yet, a huge stack of 99 centers.
BUT FOR ME, EVERYDAY IS RECORD STORE DAY:
With all of the hubbub about "The Line" each year at Record Store Day, we thought it would be nice to remind everyone that your RSD experience doesn't just boil down to how early you line up. Each year, we've gotten better and better at targeting the items that are the most in-demand, so that we have as many copies as possible to go around, and also ensuring that we have the broadest selection of everything that's available. In short, we want to make sure that whether youre busting down the door at 7 am, or rolling in by the end of the day, you're still looking at quite the spread. In some degree, this day is about our regular customers, for whom just about every day is Record Store Day, and we want you to know you are welcome to stop through any time. Enjoy the digs, the beers, the sounds of the local DJs, and just hang out!
RSD USED VINYL ALERT:
In addition to the spread of Record Store Day exclusives, we will also be celebrating with a very special selection of 1000+ fresh used records. The record gods have smiled on us with some exciting finds over the past year, and we will be culling from these recent collections for a batch of records going out on Saturday the 13th. More details about this round of LPs will go out in the final email before RSD.
NEW THIS WEEK AT THE SHOP:
Two indie avatars turn us on our ear with refreshing reinventions this week, as we roll through the ides of March. It's been close to 20 years since the dissolution of the band Pavement, a thought strong enough to induce vertigo in this writer, but Stephen Malkmus goes right on down the path of his truth, mining the confusion and nostalgia of his youth to create approachably weird pop. 'Groove Denied' is the record Matador wouldn't release until he'd put his more Gen X-friendly 'Sparkle Hard' out in the marketplace, so we get a very different side of Stevo here, as his lyrics dart about alongside synths and drum machines in a nod to Pete Shelley or, for a more recent example, John Maus, who does owe Malkmus a certain debt. With the Yeah Yeah Yeah's no longer a going concern, Karen O has taken up with producer Danger Mouse for an extremely elegant album of wistful, dramatic synthpop. 'Lux Prima' is quite a delight, mature and complex like the Bee Gee's 'Odessa' or XTC's 'Oranges & Lemons'.
Not a bad crop of archival compilations, live documents and B-side troves from rock luminaries this week! Check out the new album from The Brian Jonestown Massacre; a smartly-packaged 5LP box set containing the first five Velvet Underground albums in mono; a reissue of 'The Cheerful Insanity of GIles, Giles & Fripp', the 1968 record from the boys who would go on to form King Crimson; 'Electric on the Eel' collects three well-loved late-80s electric sets from the Jerry Garcia Band; The Fall's Cramps-&-B52s channeling duo of records 'Bend Sinister' and 'The Domesday Payoff' are reissued with bonus material; and we have a killer collection of Devo B-sides called 'Turn Around' via the Run Out Groove label. 
Heavy things here this week include the latest from Canadian death metal rippers Tomb Mold, and 'Downer Edn', the long awaited sophomore album from Low Life, who pass easily as the Australian version of Protomartyr. 
This week brings a trio of stunning solo records from talented upcoming female artists from the United Kingdom and/or Ireland, all of which possess the power to take you straight off the face of the earth. Julia Reidy's 'Brace, Brace' is a breathtaking work of extended 12-string guitar and synthscapes, Maria Somerville's 'All My People' is spectral dream-folk that reminds me of a more colorful Grouper, and Cucina Povera's 'Zoom' is an entrancing album of pure processed vocals with nods to Meredith Monk and Ursula Le Guin. Wow wow wow to all of these. 
We've got vinyl copies back in stock of 'Kankyo Ongaku', the Japanese new age compilation that has shaped up to be the top archival release of the year so far. Also in the house, a never-released 1975 performance of 'Music In 12 Parts' by Philip Glass joined by Jon Gibson and Joan LaBarbera.
On the wild and strange electronics front, this week brings new and new-to-you albums from Pye Corner Audio, a reissue of darkwave pioneers Xymox' fantastic 1984 debut, library synth from Yan Tregger with a fantastic oscilloscope cover, and a cool reissue of the Japanese minimal synth rarity 'Lady Maid' from Normal Brain. 
Speaking of new terrain, this new LP we have from UK artist Jonny Nash (one-third of the ambient group Gaussian Curve) is his most ambitious yet. 'Make A Wilderness' explores a sonic space few artists are capable of locating these days. The patient tunes here require close and dedicated listening, combining faint elements of guitar and synth with resonant acoustic objects, found sound, and voice. Also in the deep listen category is the handy reissue of Deaf Center's monumental modern classical/dark ambient album 'Owl Splinters', packaged with it's partner album 'Twin' by the Norwegian musician Svarte Greiner.
Some heaters from the dance world this week include a fresh pressing of the remix EP for Antena's 'Camino Del Sol', handled by a pair of Norwegian nu-disco dons Todd Terje and Joakim; a new installment of the 'Latino Body Music' series from Sano, where he reworks 90s afro-latin obscurities into elated club tunes; a bomb new album from mysterious disco edit duo Tiger & Woods; and a reissue of the mid-90s abstract techno delight 'fromtheoldtothenew' by UK artist Stasis, which slots in alongside John Beltran on the can't miss Peacefrog label.
Scorching nuggets from the world of funk land this week in many forms: the first ever compilation of music by the long-running Senegalese rhythm machine Star Band de Dakar; a new album from LA souljazz denizens Orgone turns towards sleek 80s boogie with a new vocalist; the 1977 self-titled album from Robson Jorge (one of the most underrated architects of Brazilian funk-fusion) is repressed for the first time in a beautiful edition; and hot on the heels of the reissue of his self-titled burner (which is still in stock!), we have yet another little-heard LP from funky Rob, this one's from 1981 and it's called 'Hell Fire'. 
This week brings a sudden influx of awesome Chilean psychedelia new and old via the BYM label based in Santiago. Alfredo Thiermann and Tres Warren (of the bands Follakzoid and Psychic Ills, respectively) deliver a wonderful record of piano/guitar chill zones called 'Land In The Sky' that recalls 'Evening Star' or deeper ECM albums. Nueva Costa's 'Dilema' is twitchy, smart synthpop ala the Knife. Chicos de Nazca's 'Ether' channels the Stone Roses via the Andes. Last up, the phenomenal 'London 69' album from Hector Sepulveda, known as the grandfather of Chilean psych. His guitar and sound collage pieces here sound like a wonderful combination of Faust, Fripp, and Six Organs of Admittance. Wow!
New jazz CDs include a promising new live disc from the duo Vijay Iyer and Craig Taborn, new albums from Dominic Miller, Snarky Puppy, The Comet Is Coming, Trilok Gurtu, and Christian Scott, plus the latest installment of Jazzman's 'Spiritual Jazz' series, which focuses entirely on seldom-celebrated tracks from the Blue Note Records catalog.
USED VINYL ALERT:
Starting off with the jazz, we have another selection of this week that covers nearly every luminary of the 20th century, with collectible pressings on labels like Blue Note, Prestige, and Mosaic, including names as diverse as Dave Brubeck, Donald Byrd, Herbie Hancock, Don Cherry, Charles McPherson, Oliver Nelson, Horace Silver, Jackie McLean, Andrew Hill, Jaki Byard, Kenny Dorham, Charles Mingus, Freddie Roach, Benny Golson, Cecil Taylor, Gene Ammons, Art Blakey, John Coltrane, Freddie Hubbard, Lalo Schifrin, Keith Jarrett, Bud Powell, Miles Davis, Roscoe Mitchell, Art Ensemble, AC Jobim, Wes Montgomery, Oliver Nelson, Louis Armstrong, Stan Getz, Eric Dolphy, and Yusef Lateef, plus some high quality exotica and the like from Arthur Lyman, Martin Denny, Cal Tjader, Les Baxter, and Esquivel. 
Plenty of classics roll in from names like the Rolling Stones, David Bowie, the Beatles, Frank Zappa, Jimi Hendrix, King Crimson, Neil Young, Queen, and Bob Dylan, along with some sweet ones from Badfinger, ELO, Fleetwood Mac, the Doors, Question Mark and the Mysterians, and the B-52s, and some more seldom seen strange like JF Murphy, Matching Mole, Touch, Cold Blood, Myrth, the Gants, Malachi, Kim Fowley, and Country Funk.
A super solid assortment of classic and obscure folk kicks off with some sorta-folky, not-so-classifiable-at-all albums from Wilburn Burchette, Bobby Brown (not that Bobby Brown), Gayle Caldwell, Ivor Cutler, Jo Ann Kelly, Tom Rapp, and Annette Peacock, plus more from Leo Kottke, John Martyn, Pentangle, John Fahey, Jack Elliott, John Lee Hooker, Rolf Cahn, Big Mama Thornton, Chad & Jeremy, Pete Drake, Utah Phillips, the Dillards, Pete Seeger, and Rosalie Sorrels!
Country is here from Chet Atkins, Gene Autry, Charlie Louvin, Kris Kristofferson, Marty Robbins, Conway Twitty and many more. Early alternative is in from Siouxsie & the Banshees, Fishbone, Scruffy the Cat, Wolfgang Press, Spandau Ballet, INXS, and Nine Inch Nails, along with some quality, hard to find 90s electro, trance and acid techno!
We've got a very eclectic selection of soul this week, with some scarce early pressings of the 5 Stairsteps, Inez Andrews, Marvin Gaye and Sam Cooke joined by classics from the Staple Singers, Curtis Mayfield, Imagination, Bobby Womack, and Mandrill. Of course, we've got more odds and ends than we know what to do with in between all these genres, from soundtracks and sound effects LPs, to crucial reggae and indian classical, to whatever you call Sufjan Stevens. Come have a look for yourself!
USED CD ALERT:
Our jazzy ways continue as we inch closer to spring is what it says here. Leading off, we're putting out 8 (!) new titles from Nina Simone and this goes deeper than compilations and best-ofs. Store favorite Rahsaan Roland Kirk is repped with a trio of releases including the essential and mindbending "Rip, Rig and Panic," featuring Elvin Jones, Jaki Byard and our favorite bass-playing Madisonian, Richard Davis. The same group minus Elvin makes a return appearance on Byard's "Jaki Byard Experience," a terrific companion piece. Byard serves as the pianist on Booker Ervin's highly-regarded "Book" series, of which we have three of the four entries. Look out for healthy portions of Mingus, Billie and Rollins, along with free jazz madness from Archie Shepp, Don Pullen, Albert Ayler and a chunk of late 50s-early 60s work from the Duke. We'll have some goodness from both Blue Note and some crispy Impulse digipaks as well. Apart from jazz, there's great late-period Tom Waits, Talk Talk, Fugazi and a very clean copy of Dylan's "Another Self Portrait." Finally, we have some ace folk from Dave Van Ronk, Bill Monroe and Kris Kristofferson, as well as stray shots from DJ Shadow, Lord Kitchener, and Rosanne Cash. Dang.
ENTER TO WIN JENNY LEWIS PRIZE PACK:
Jenny Lewis' new album On The Line is out on March 22nd and she'll be supporting the release with a big show in Madison at The Sylvee on 3/27! Stop in the shop or visit our website to pre-order an indie-exclusive blue vinyl version and get entered to win two tickets to the show + a $50 gift card to Brasserie V ! We'll pick a winner on 3/15.
NEXT STRICTLY DISCS MUSIC TRIVIA IS MARCH 19:
Join us Tuesday, March 19th for Music Trivia at the High Noon Saloon. 

Test your music knowledge monthly at High Noon!

Registration starts 5:30 | First question at 6:00 PM
FREE | 21+

New prizes to the winning team each month and a cumulative prize for the top team of the year includes a golden ticket to every show at High Noon Saloon the next year! 

March 19 | April 2 | May 14 | June 18 | July 16 | August 13 | September 17 | October 15 | November 12 | December 17
SELL US YOUR CDS & LPS: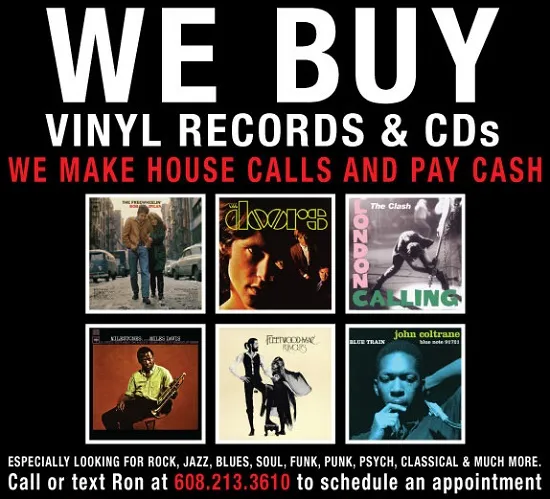 NOW HEAR THIS:
This isn't the spot to lay down odds on the third race. OTB is where Others Talk Back and give you the lowdown on what they've been feeling lately. This one's for the customers.
Nick Waterhouse – "Nick Waterhouse"  The Los Angeles king of old-school Sixties Soul and R&B makes a return to form.  2016's "Never Twice" seemed to be a bit long on atmosphere but a bit short on good songs.   This new album, while reverential  toward the period's sound, has a stellar bunch of songs that comes close to equaling the impact that his first album, "Time's  All Gone," had way back in 2012.  While the soul revival of fifteen years ago has entered the mainstream and been diluted,  there are still performers like Mr. Waterhouse who are masters of the form and will be celebrating the music for a very long time in the future. - Ted
Stella Donnelly – "Beware of the Dogs" Ms. Donnelly is a new face from Western Australia.  "Beware of the Dogs" features engaging folk-rock but with incredibly honest lyrics underneath the music.  Ms. Donnelly focuses most of her attention on the harrowing ways that men treat women that they supposedly are in relationships with.  Perhaps that is why she titled the album "Beware of the Dogs?"  The emotions that she unleashes on the album are quite stunning but also quite powerful.   The only contemporary artist who I think comes close to her sound is Courtney Barnett, but Ms. Donnelly is more powerful on an emotional level.  Ms. Donnelly is definitely an artist to watch both now and in the future. - Ted
Todd Snider – "Cash Cabin Sessions, Vol. 3"  This album was recorded in a cabin on the Johnny Cash estate in Tennessee.   You may remember that some of the music for the series of albums that Mr. Cash put out on the American Records record label was recorded in the same cabin.  Mr. Snider has called this album a return to his folk music roots.  Mr. Snider plays all of the acoustic instruments and sings, but has vocal help from Jason Isbell and Amanda Shires on some of the tracks.  The music is very sparse and quiet but the lyrics are Mr. Snider's somewhat twisted take on the world's problems and where he thinks the world is going.  Mr. Snider has been releasing records since 1994 and has released over fifteen albums in the past.  For the last several years, however, he has been involved in a rock band, the Hard Working Americans, so the return to acoustic music is not that unexpected.  What is surprising is how good "Cash Cabin Sessions, Vol. 3" is.  By the way, there is no Vol. 1 and 2; the title refers to a series of dreams Mr. Snider had about Johnny Cash. - Ted

Ron, Ryan, Angie, Marty, Evan, Matt, Michael, Ben, Will, Ed, Isaac, Larry, Sean & Andy