March 7, 2019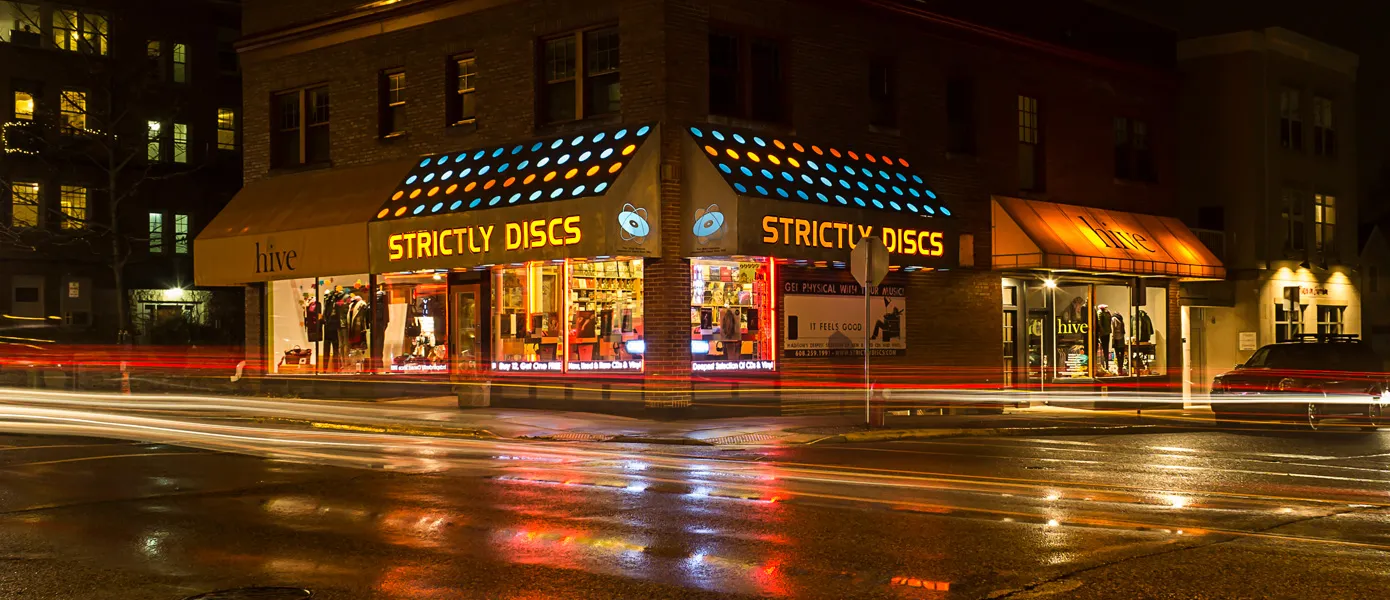 RECORD STORE DAY 2019 IS APRIL 13TH - SAVE THE DATE!
Our list of Record Store Day exclusives is now available.
The final deadline to create a wishlist or make any changes is March 15th, so don't delay! And while we understand the time frame to create wish lists has been greatly compressed this year, we rely on your wishlist feedback to guide our buying and so we know what titles you most want to pick up! 
RECORD STORE DAY 2019 APRIL 13TH!
Launched in 2007 with the humble idea to recognize independent record stores, Record Store Day (RSD) has mushroomed ever since. The RSD list of LP and CD exclusives continues to expand, while more labels continue to throw open their catalogs to an appreciative customer base.
Beyond the day-long frenzy, RSD exists to offer proof of the lively role record stores play in the community and a chance for folks on both sides of the counter to offer gratitude for each other. Whether you're a hardcore type who times their arrival for a spot at the front of the line or somebody who waits until the afternoon for a more leisurely experience, we hope you'll join us on Saturday, April 13th.
RSD AT STRICTLY DISCS:
It's true, on Record Store Day there's typically a line outside the shop all morning, just as there is at hundreds of other local shops across the country (and the world). But walk through this line, and you'll find ardent music fans of every stripe: young, old, male, female, seasoned pro and beginners. The line has come to symbolize the size, passion and staying power of both the physical music audience and the locally-oriented music community. Amidst the RSD crowds, we've seen musicians discussing upcoming gigs and tours, knowledgeable jazz heads giving high schoolers tips on the essentials, people meeting up for the first time "in real life" or for the first time in a decade, parents buying their kids their first new LPs, or better yet, a huge stack of 99 centers.
BUT FOR ME, EVERYDAY IS RECORD STORE DAY:
With all of the hubbub about "The Line" each year at Record Store Day, we thought it would be nice to remind everyone that your RSD experience doesn't just boil down to how early you line up. Each year, we've gotten better and better at targeting the items that are the most in-demand, so that we have as many copies as possible to go around, and also ensuring that we have the broadest selection of everything that's available. In short, we want to make sure that whether youre busting down the door at 7 am, or rolling in by the end of the day, you're still looking at quite the spread. In some degree, this day is about our regular customers, for whom just about every day is Record Store Day, and we want you to know you are welcome to stop through any time. Enjoy the digs, the beers, the sounds of the local DJs, and just hang out!
RSD USED VINYL ALERT:
In addition to the spread of Record Store Day exclusives, we will also be celebrating with a very special selection of 1000+ fresh used records. The record gods have smiled on us with some exciting finds over the past year, and we will be culling from these recent collections for a batch of records going out on Saturday the 13th. More details about this round of LPs will go out in the final email before RSD.
NEW THIS WEEK AT THE SHOP:
We kick the week off with two new releases from beloved artists, for whom the news of any new material is cause for great celebration. Well into her third decade making music, Patty Griffin has unlocked the secrets of an uncountable number of strains of American popular song, and she puts them all on display with her latest self-titled album. Griffin lands strike after strike in the margins of your heart, right there between sadness, longing, and redemption, as her glorious voice channels gospel, Appalachian blues, coffeehouse folk, congregational song, and even a touch of fado. 'Sky Blue' is the name of a new LP of unheard 1973 material from none other than Townes Van Zandt, recorded in the home studio of a friend in Atlanta, GA, at the height of his creative output. Fans of TVZ's genre-defining combination of whimsy and despair are richly rewarded here, and we have limited copies on sky blue vinyl.
Enigmatic pop fusionist Helado Negro is back with an incredible new album called 'This Is How You Smile', an inviting and richly-detailed collection of loose songs that flirt with R&B with the languid energy of an Arthur Russell disciple. Russian producer Vtgnike seemed to fall off the map after his great 2014 release 'Dubna'. Turns out he was just in jail. Yeesh. Back on the streets again, he's got a fresh album out on Nico Jaar's Other People imprint called 'Steals', and its another wispy, ethereal exercise in reanimated machine music. 
Next-gen pop is here from both ends of the earth this week. LA's Sasami Ashworth delivers a self-titled debut album that channels playful songwriting into lightly contoured pop reminiscent of 90s indie fare like Versus, Helium, and bit of Stereolab, with very subtle vocal hooks that don't take long to claim you. Australia's Stella Donnelly drops a new one called 'Beware of the Dogs' that cleverly couches her pointed observations in a bright Aussie jangle. If that sounds familiar, fear not, this record sounds barely anything like Courtney Barnett.
Upstart UK afrobeat unit Kokoroko deliver a blazing debut album via the tastemaking Brownsville label, and we've got a new album from Nick Waterhouse that continues to perfect his old-school strain of jazzy soul. Dreamy electronic pop from the UK comes in two installments this week, via Foals and the up and coming group Mansionair.
Hip-hop producer Kaytranada inches closer to perfection with his new EP 'Nothin Like U', which came out digitally last year and is now on vinyl. We've also got fresh heat from the pairing of Blu and Oh No. 
Two albums of precious, hard-to-hear, near-perfect music are here this week solely in the CD format (for now). Daniel Schmidt and the Berkeley Gamelan's 1977 triumph 'In My Arms, Many Flowers' gets another small printing on silver disc, offering y'all another chance to hear the most beautiful gamelan music ever recorded outside of Oceania, in stunning fidelity. Tech entrepreneur and San Jose Sharks season ticket holder Neil Young did a fair bit of soundtrack work back in the day, but his effort for the 1995 Jim Jarmusch spiritual-western 'Dead Man' stands a world apart. Young's guitar tone, stricken, noirish and yearning, is all the sound required to make one of the more evocative film scores ever. This one's been hard to come by in any format for many years. For now, we've got it on CD, with vinyl to come.
The inimitable Numero Group extends a tentacle into the weird world of private press synthwave on 'Escape From Synth City', a lovely collection of future-primitive electronic rarities from barely known individuals like Tony Palkovic and Don Slepian. Some very mesmerizing tracks here that unsurprisingly fetch major bucks in their original form. Austrian musician Feater delivers a crazy-good album of retro-leaning synth-pop that calls on a wide range of strange ideas. 
Lastly, we get new releases from some familiar names, some of whom we haven't heard from in many years. Check out new albums from the Meat Puppets, the Wild Reeds, Amanda Palmer, Dido, and David Gray, plus we now have vinyl in for the latest record from Weezer. 
Heading downstairs for this week's Used Vinyl Alert, we've got another banner crop of fresh LPs to flip through, starting off with a very healthy amount of LPs fresh from the jazz warehouse pop-up event last weekend. If the wind and cold kept you from venturing out on Sunday, fear not, we still have some incredible jazz titles running the gamut of the big name labels, like Blue Note, Prestige, Impulse, Fantasy, Groove Merchant, and Verve, with essential names like Larry Young, John Coltrane, Duke Jordan, McCoy Tyner, Jackie McLean, Hank Mobley, Lou Donaldson, Grant Green, Tony Williams, Dave Holland, Freddie Hubbard, Michael White, Eric Dolphy, Kenny Dorham, the Art Ensemble of Chicago, and many, many more.
Some high quality and seldom-seen blues LPs are in from Sleepy John Estes, Willie Dixon, Bo Diddley, Robert Cray, Johnny Copeland, Albert Collins, Papa John Creach, Eddy Clearwater, Roy Brown, and Luther Allison. We go even deeper with folk, with LPs from Sandy Bull, Carol Kleyn, Roscoe Holcomb, Dock Bocks, the Clancy Brothers, and a boatload of Irish traditional music (just in time). 
Some choice pressings in classic rock and pop include the Beatles, John and Yoko, Neil Young, Frank Zappa, Paul Simon, Led Zeppelin, Pink Floyd, the Grateful Dead, Tom Waits, John Prine, Lou Reed, and the Rolling Stones, plus more from Dusty Springfiel, Bob Seger, Harry Nilsson, JJ Cale, the Shangri-Las, Hermans Hermits, Spirit, the Kinks, and Todd Rundgren. Psychedelic fare is here from Duffy Power, the Nazz, Love Sculpture, Bo Hansson, and HP Lovecraft, 
A truckload of hard rock is here from names like Thin Lizzy, Scorpions, White Lion, Van Halen, Rose Tattoo, Raven, Dokken, Def Leppard, Dio, Quiet Riot, Hawkwind, and Queensryche. Punk and new wave comes through from Black Flag, the Smiths, the Clash, the Police, Butthole Surfers, Eater, the Psychedelic Furs, the Jazz Butcher, Soft Cell, the Smithereens, Shriekback, Gary Numan, Oingo Boingo, Patti Smith, Depeche Mode, Ministry, Men at Work, Sparks, Nine Inch Nails, Mogwai, Jane's Addiction, and REM!
On top of soul and funk like Marvin Gaye, Aretha Franklin, George Clinton, the Supremes, Vanity 6, Gloria Lynne, Clarence Carter, and Donny Hathaway, we've also got some reggae heat from Dillinger, Burning Spear, and Mighty Diamonds, a bevy of picture discs in a range of genres, all kinds of folk and traditional music LPs from Asia and Africa, a slew of poetry and spoken word LPs, some Tangerine Dream essentials, and a solid range of fresh classical!
USED CD ALERT:
The jazz deluge continues, with plenty of run-off we didn't have a chance to unveil at last Sunday's warehouse pop-up. We have a nice stretch of Coltrane in the early 60s, comprising the tail end of his run at Atlantic and the opening moments of his tenure at Impulse. His short-lived quintet with Eric Dolphy is highlighted and you are well-advised to take advantage. Apart from Trane, look for Impulse classics from Oliver Jones, Charles Mingus and Alice Coltrane. Blue Note is well-represented via a trio of dates from Art Blakey and assorted goodness from Big John Patton, Jimmy Smith, Hank Mobley and Sonny Clark, among others. For something out of the ordinary, we got a massive infusion of Brazilian music. There's both early and more recent vintage work from tropicalistas Gilberto Gil, Jorge Ben and Elis Regina along with legendary composers Jobim, Marcos Valle and Joao Gilberto. Really tremendous stuff and cds we see pass this way only rarely. That's not it for this week. We also have a nice run of soul and blues, including the heavy-duty "In TheJungle Groove" James Brown comp, career-best efforts from Boogie Down Productions and Eric B & Rakim, Graham Central Station, Zapp and three from Donny Hathaway, including the expanded live album and "Extensions of a Man," both of which rival Stevie Wonder at the top of his powers. Plenty of other gems are sprinkled in this week, too, so get them mitts in grab mode.
ENTER TO WIN JENNY LEWIS PRIZE PACK:
Jenny Lewis' new album On The Line is out on March 22nd and she'll be supporting the release with a big show in Madison at The Sylvee on 3/27! Stop in the shop or visit our website to pre-order an indie-exclusive blue vinyl version and get entered to win two tickets to the show + a $50 gift card to Brasserie V ! We'll pick a winner on 3/15.
SELL US YOUR CDS & LPS: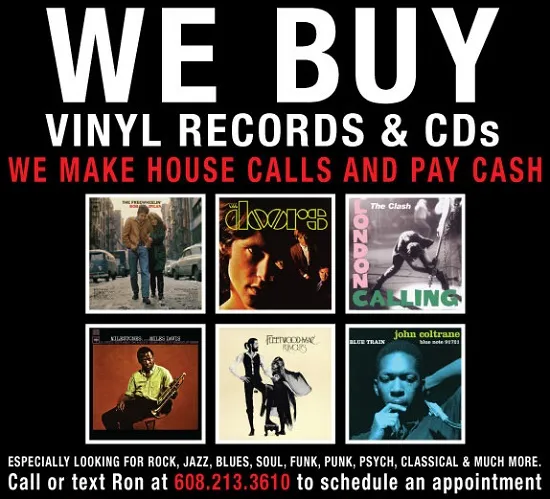 Ron, Ryan, Angie, Marty, Evan, Matt, Michael, Ben, Will, Ed, Isaac, Larry & Sean