Email January 31, 2019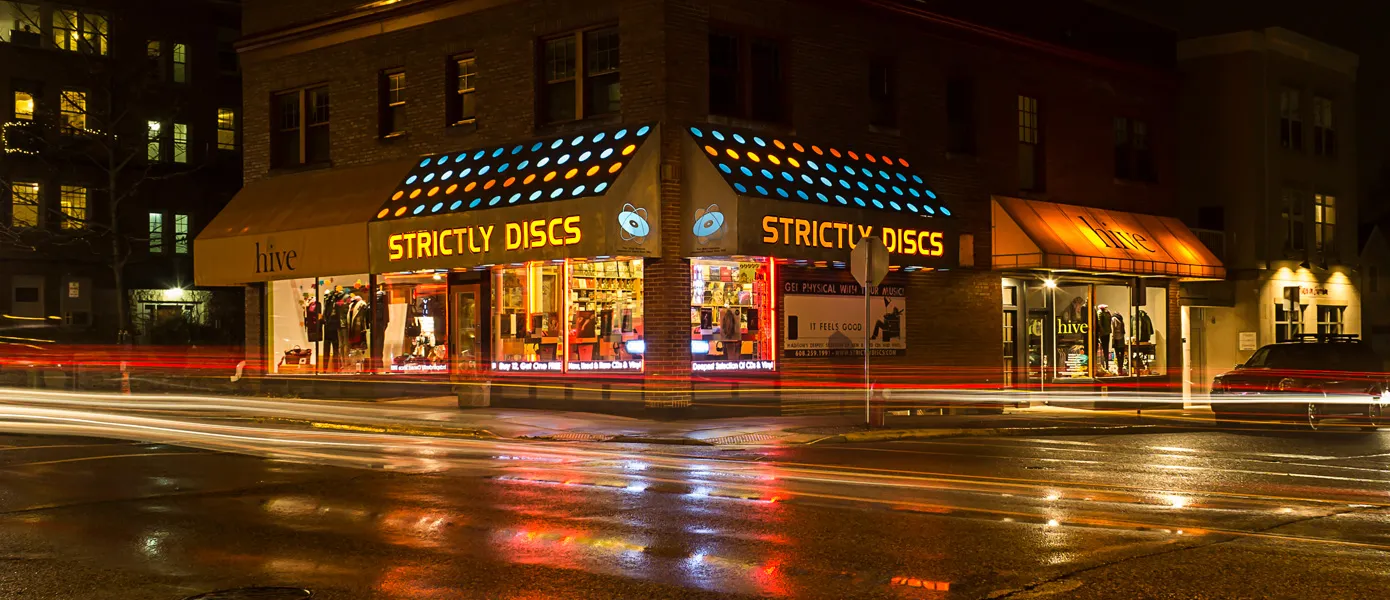 NEW THIS WEEK AT THE SHOP:
Decades into his one of a kind musical journey, it's always an occasion when we get a new album from Beirut. 'Gallipoli' finds Zach Condon's effortless melisma of yearning indie rock, Balkan folk, and atmospheres drawn from the Northern Africa-Turkey axis as potent as ever. In stock on limited t

urquoise vinyl. Beloved indie men Deer Tick deliver 'Mayonnaise', a companion album to their recent spate of releases with alternate takes and unreleased cuts, on limited white vinyl with bonus 7". The cosmically intimate duo Girlpool expand their sound immensely on their latest, 'What Chaos is Imaginary', sprawling from close-drawn folk to crunchy grunge, in the house on pineapple vinyl limited to just 500.
Raw 21st Century Jett moves pass through a filter of sleek synth-noir on the latest from Cherry Glazerr, 'Stuffed and Ready'. Portland soulful folk unit The Delines bring us a lovely, long-awaited follow-on to their 2014 debut, which sounds like the crossroads of a Rhye/First Aid Kit collab. Beloved folkies Mandolin Orange slide us their most elegant record yet, 'Tides Of A Teardrop', ahead of their big show at the Majestic in a few weeks. We've got the limited indie vinyl of that one while it lasts.
Former Talk Talk bassist Paul Webb occasionally records music as Rustin Man, and I do mean "occasionally". 'Drift Code' is his first release since his 2002 duet with Portishead's Beth Gibbons, and it sounds like its been cask-aged in Robert Wyatt's dry basement for decades. What a doozy here! Just as welcome is a new solo record from Masaki Batoh, the leader of the always-existing Japanese psych-folk godfathers Ghost (no, not that Ghost). 'Nowhere' is a lush, inviting trip into Batoh's baroque soundworld of stately steel strings and peculiar curlicues of tone. We've also got a cool recent CD of Philip Glass pieces performed on the trumpet by Craig Morris called 'Three Pieces in the Shape of a Square'.
Sultry, snappy R&B is here from LA's Harriet Brown on his latest, 'Mall of Fortune', which marries his fleet, vaporous vocals over lovely jazz-tech production. Massachusetts power duo Boy Harsher continue their reign as our century's answer to 80s Nettwerk records like Chris and Cosey's 'Exotica' or Moev's 'Head Down'; icy, wiggly synth with headkick drum programming and urgent vox. We've also got limited edition synth-dripping soundtracks from the video game Ninja Gaiden and the film Mandy.
NYC chameleon Anthony Naples has stuck his finger in a lot of pots in his decade releasing records, from his house bangers for Mr Saturday Night, his loopy textural excursion on Four Tet's label, or his murky electro grinders on The Trilogy Tapes. His latest, 'Take Me With You', is quite the sensation primarily because it avoids all of these area codes, a perceptibly-mixed voyage through calming Pengui-Eno sound sketches, the occasional remnant of a beat, and jazzy/folky riffs that almost call to mind Les Baxter or Ferrante & Teicher. For real. Remember, if you don't go to the party, the afterparty records ARE the party records! Speaking of, I want to go to parties where records like Jay Mitta's 'Tatizo Pesa' or Nkisi's '7 Directions' are playing. We're only a few days into it but these are easily two of the most forward thinking techno records of the year: Mitta delivers a blistering Tanzanian take on singeli, sounding not too off from footwork, and Nkisi drops a set of relentless, imaginative electro that sounds fully adrift yet locked in. We've also got killer fresh EPs from some clever techno producers: Sleep D, DJ Sports, and Russia's Pavel Milyakov aka Buttechno.
Modern indie and hip-hop classics that don't feel like they came out THAT long ago are back in print on LP. We've got The Cardigans 'First Band on the Moon', 

Cold War Kids' 'This Will All Blow Over In Time', 

P.O.S.'s 'Never Better' expanded onto triple colored vinyl, and a fresh LP printing of 

Lupe Fiasco's 'Lasers'.
New CDs from international realms come to us from 

Fidel Fourneyron's new project Que Vola, Israeli fusionist Idan Raichel, and Mexican-American jazz drummer Antonio Sanchez.
A little over 25 years ago, the debut album from a Chicago instrumental unit named Tortoise hit shelves, a wise scribe classified the LP with the term 'post-rock', and a hundred flowers bloomed across the great land. All these years on, it turns out to be a very useful catch-all genre for some fantastic records that have withstood, nay, strengthened with time, and we've got a bunch of them in the house this week. Check out Tortoise's aforementioned debut, Pittsburgh guitar-welding Don Caballero's earth shaking 2nd and 3rd albums, Toronto band Do Make Say Think's mindblowing pairing 'Goodbye Enemy Airship The Landlord Is Dead' and '& Yet & Yet', Louisville chamber ensemble Rachel's headlong dive into cinematic rock 'Selenography', 'Those Who Tell The Truth Shall Die', the 2001 record that put Explosions in the Sky on the map, and Tarentel's 'From Bone to Satellite', the first great record of the 21st century, which fused Kubrick, Steve Reich and Pat Metheny into one superhuman creature.
Two ECM releases come to us this with some great names on them. Ralph Alessi is joined by Ravi Coltrane on 'Imaginary Friends', and guitarist Thomas Stronen joins fellow Norwegian Mats Eilertsen on 'And Then Comes the Night'. 
A veritable deluge of rarely-heard vinyl issues of modern minimalist classics, some canonical and some long-lost, comes to us all at once this week. Check out two new LP editions of work from Julius Eastman, the recently-rediscovered New York composer and Steve Reich contemporary/rival (some even say he got the better of him) who only saw a few of his performances recorded before he was ousted from the academy. Italian percussionist Lino Capra Vaccina saw a renewed interest in his work with the 2014 reissue of his landmark '78 album 'Antico Adagio'. We now have two LPs he recorded in the last few years since returning to the studio to follow up on that gem, 'Arcaico Armonico' and 'Metafisiche del Suono', two deeply-rendered, supple treatments of vibraphone, piano, metal, and clarinet. Lastly, run dont walk to get copies of two of the all-time great ambient records from the Lovely Music label: David Behrman's 'On The Other Ocean' and Robert Ashley's 'Private Parts'. Reissued on vinyl for the first time ever since their original release dates in the late 70s! It does not get more serene and transporting than these two!
Longtime readers of this here weekly might recall our excitement over a compilation called 'Personal Space' that came out back in 2012, and introduced the world to a truly unknown dimension of privately-produced and distributed electronic soul music from the American heartland of the 70s and 80s. This week brings not one but two fully-licensed reissues of LPs by artists on that compilation; Steve Elliott's 'Completion of a Miracle' and Jeff Phelps' 'Magnetic Eyes'. I still pinch myself every time I hear these records. What if all you had was your voice, a keyboard, a couple hundred dollars and a burning desire to make Marvin Gaye's 'Midnight Love' on the cheap? You probably wouldn't make much, but these guys sure somehow did! In a similar zone is the reissue of soulful reggae man Ken Boothe's stunning 1974 album 'Black Gold & Green', home of the all time great cover version of 'Aint No Sunshine' and many other solid gold tunes.
More classics back in print on vinyl: Buffalo Springfield's S/T debut and follow up 'Again' are in the house with restored mono audio. Funky monster Bernie Worrell's 90s trip 'Pieces of Woo' is back, and we have newly minted copies of the Grateful Dead's essential live archive, 'One From The Vault'!
A quartet of under the radar ambient records arrive this week to provide an ideal pairing to the spectral cold we've been experiencing. Leave our world behind with 'The Sorrow of Derdriu', the 2nd album from the Scottish ensemble Mac Talla Nan Creag, a union of anonymous musicians and producers tasked by the Forestry Commission of Scotland to create a soundtrack redolent of that nation's wild flora. Their first effort several years back was a highlight of 2015, and this one pushes even deeper into the near-mystical stillness of the rural highlands, merging druidic folk with an electronic pulse, and once again sporting the Firecracker label's peerless silkscreened packaging. From not too far off comes a new LP from Scottish composer Andrew Wasylyk. 'The Paralian' was also made during an arts residency, and is laden with rich tapestries of melodic instrumentals that reflect on the North Sea. Turkish composer Koray Kantarcioglu sees his album 'Loopworks' finally make it to vinyl, an enveloping suite of music made entirely from 60s/70s Turkish LP sound samples, in a manner similar to Philip Jeck. Swedish sound designer Tomas Nordmark unveils his new LP 'Eternal Words', a drifting, bleepy collage of harmonics that calms its jitters throughout, conjuring a meeting of Terry Riley and an AI bot.
The ever-reliable Little Axe label has plucked another stunning piece of music from the cassette-only ether with their limited LP release of Sosene Gebre Eyesus' self-titled 80s release. Perfoming on the begena (or Harp of King David), one of the oldest instruments on record, Sosene quietly sings ancient Ethiopian Orthodox hymns, in a stunning feat of calm. One listen to this record brought my heart rate down close to zero. Brazilian singer Luiz Melodia's 1976 album '

Maravilhas Contemporaneas' is an underrated classic in the MPB canon, now back in print on LP. Lastly, we have a treasure of a reissue of 'Green Leaves', the sole album by Nigerian "eco-reggae" couple Sheila and Des Majek, who channeled their vision of a world preserved from environmental devastation with sleek, synthy reggae and Sade-style vocal moves.
USED VINYL ALERT:
Heading downstairs for this week's Used Vinyl Alert, we've kept it toasty warm the past few days with new arrival heat, so read on!
The stars aligned to bring perhaps our most comprehensive sampler of female vocalists we've ever had in the fresh section. Early jazz, blues and lounge is here from Edith Piaf, Ella Fitzgerald, Odetta, Billie Holiday, Julie London, Sarah Vaughan, and Judy Garland. Country from Patsy Cline and Dolly Parton pairs with soul and folk from Aretha Franklin, Joan Baez and Janis Joplin. Cult favorites like Nico, Bjork, Sade join more contemporary favorites like Ellie Goulding, Elle King, Lana Del Rey, La Roux, Florence and the Machine, and Scarlett Johansen. Still more LPs come from modern icons like Amy Winehouse, Adele, Beyonce (and Destiny's Child), Solange, Alicia Keys, No Doubt and a whole lot of Lady Gaga!
Plenty of rock classics are here from names like The Doors, Tom Petty, Frank Zappa, The Beatles, Neil Young, Prince, The Who, and Fleetwood Mac, plus more jams from Canned Heat, Richard Thompson, Billy Joel, Uriah Heep, Tranquility, the Hollies, Badfinger, Hot Tuna, Babe Ruth, Camel, Batteaux, Alice Cooper, The Band, and Creedence Clearwater Revival.
Post punk and early underground LPs lurk through from the Sugarcubes, Nick Cave, Bauhaus, Sex Pistols, Comsat Angels, New Model Army, Chrome, the B-52's, U2, SPK, Test Dept, Legendary Pink Dots, Psychic TV, Current 93, Meat Beat Manifesto, and Front 242 join up with electronic and experimental records from Aphex Twin, Squarepusher, Philip Glass, Com Truise, Lustmord, Moondog, Autechre, Fuck Buttons, Bogdan Raczynski, John Roberts and Tangerine Dream.
More contemporary releases come along from Calexico, Mumford and Sons, Nine Inch Nails, Soundgarden, Gayngs, Grimes, Lumineers, Ty Segall, James Blake, Sleigh Bells, Liars, Ryan Bingham, the Flaming Lips, Iron and Wine, Yeasayer, Tallest Man on Earth, the XX, Beirut, Edward Sharoe, Puscifer, and a whole lot from the Chromatics!
We wrap it up with a cool range of soundtracks including rare ones like Kill Bill and The Nightmare Before Christmas, jazz from Red Garland, Andrew Hill and Django Reinhardt, and country and blues from Johnny Cash, BB King, Spider John Koerner, Willie Nelson, and Waylon Jennings!
USED CD ALERT:
Let us put January in the rearview and never speak of it again. Flipping the calendar to February, let's see what's hitting the front rack. This week prep yourself for a heavy batch of soul. There's a decidedly Philly flavor with multiples from Teddy Pendergrass, The O'Jays and a grab bag of Gamble and Huff-themed projects, as well as a pair from The Delfonics.  Outside of PA, we got two from the Isley's post-Hendrix Woodstock-era forays in "Get Into Something" and "The Brothers: Isley," both gritty, muscular and a nice bridge to their T-Neck albums. Look out for "Gospel" and "Roots" from Curtis Mayfield, an essential single-disc comp from the first lady of Hi Records, Ann Peebles, the "Going to a Go-Go / Away We a Go-Go" by Smokey Robinson and a blown-out 2-cd version of Marvin Gaye's "Midnight Love." Jazz-wise, there's a grip of dates from the Jarrett-Peacock-DeJohnette trio, a bunch from Weather Report and Jaco, Idris Muhammad's deeply funky "Power of Soul," and a ton from John Coltrane, including the singular for his discography "Africa Brass." Finally, we have a copy of De La Soul's "Stakes Is High," a record that still continues to sound a great, and a pair from Peruvian songstress Susana Baca off of Dave Byrne's Lauka Bop label. Hoo-boy, that's enough for this week.
STRICTLY DISCS MUSIC TRIVIA RETURNS FEBRUARY 12TH:
Join us Tuesday, February 12th for Music Trivia at the High Noon Saloon. Registration starts at 5:30PM wiht first question at 6PM.

Test your music knowledge monthly at High Noon!

Registration starts 5:30 | First question at 6:00 PM
FREE | 21+

New prizes to the winning team each month and a cumulative prize for the top team of the year includes a GOLDEN TICKET to EVERY show at High Noon Saloon the next year!

February 12 | March 19 | April 2 | May 14 | June 18 | July 16 | August 13 | September 17 | October 15 | November 12 | December 17


RECORD STORE DAY 2019 IS APRIL 13TH - SAVE THE DATE!
STRICTLY DISCS IS HIRING:
Retail Clerk & Vinyl Pricing Clerk:

Required skills:
Excellent customer service skills; ability to anticipate customer needs
Computer proficient

A passion for music, and a broad, deep base of musical knowledge
Knowledge of Goldmine standards & experience grading and pricing records

Knowledge of stereo equipment/functionality
Availability to work nights and weekends
Ability to stand for long periods of time & ability to lift and carry 50 pounds

To apply, submit letter of interest & resume to angie@strictlydiscs.com


SELL US YOUR CDS & LPS: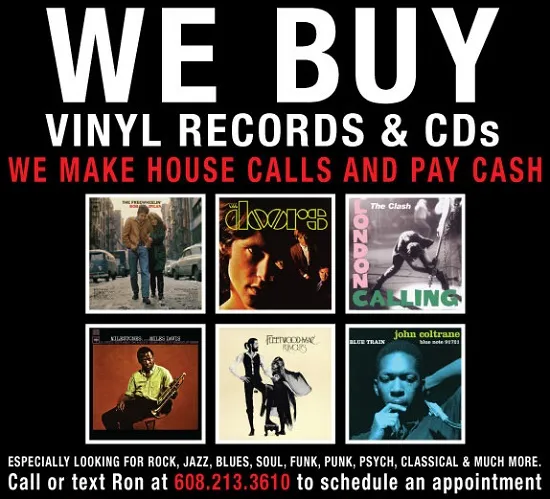 OTHERS TALK BACK:
This isn't the spot to lay down odds on the third race. OTB is where Others Talk Back and give you the lowdown on what they've been feeling lately. This one's for the customers.
Buzzcocks – "Another Music In A Different Kitchen" and "Love Bites"  In the beginning were the Buzzcocks, and they were good.  The Buzzcocks were always one of punk's most poppy bands.  They put out a run of classic pop-punk singles that still sound fantastic forty years later.  The band also released three albums in the seventies with their classic line-up.  In fact, in 1979, the band released not one, but two albums.  "Another Music" came out in March 1979, and "Love Bites" was out in September.  The albums were a combination of the styles – their pop side and a more experimental side.  A tension was present that made the albums fresh and compelling in their day and which still make both discs fresh sounding today.  Both albums are stand-alone releases without any bonus tracks.  But both are remastered and come with booklets that really detail the recordings.  "Another Music In A Different Kitchen" and "Love Bites" are classics of seventies punk and their re-release give an extra sting to losing Pete Shelley (the Buzzcocks' main songwriter, singer and guitarist) late last year. -Ted

Big Star – "Live on WLIR"  This album came out originally in 1992 and the music came from a live radio show on Long Island's WLIR FM radio station in 1974.  In 1992, any live Big Star was considered almost the Holy Grail, since there was none available at the time.  While some additional live material has been released in the intervening twenty-seven years, this release has been considered the best of the lot since it showcased both electric and acoustic versions of songs from the band's first two albums.  The strength of the music that Big Star put out almost fifty years ago is more than evident on this release.   That we talk about Big Star forty-seven years after the release of their first album and relish the reissue of any of their music speaks to the enduring quality of the band. -Ted

Ron, Ryan, Angie, Marty, Evan, Matt, Michael, Ben, Will, Ed, Isaac, Larry & Sean