Email January 3, 2019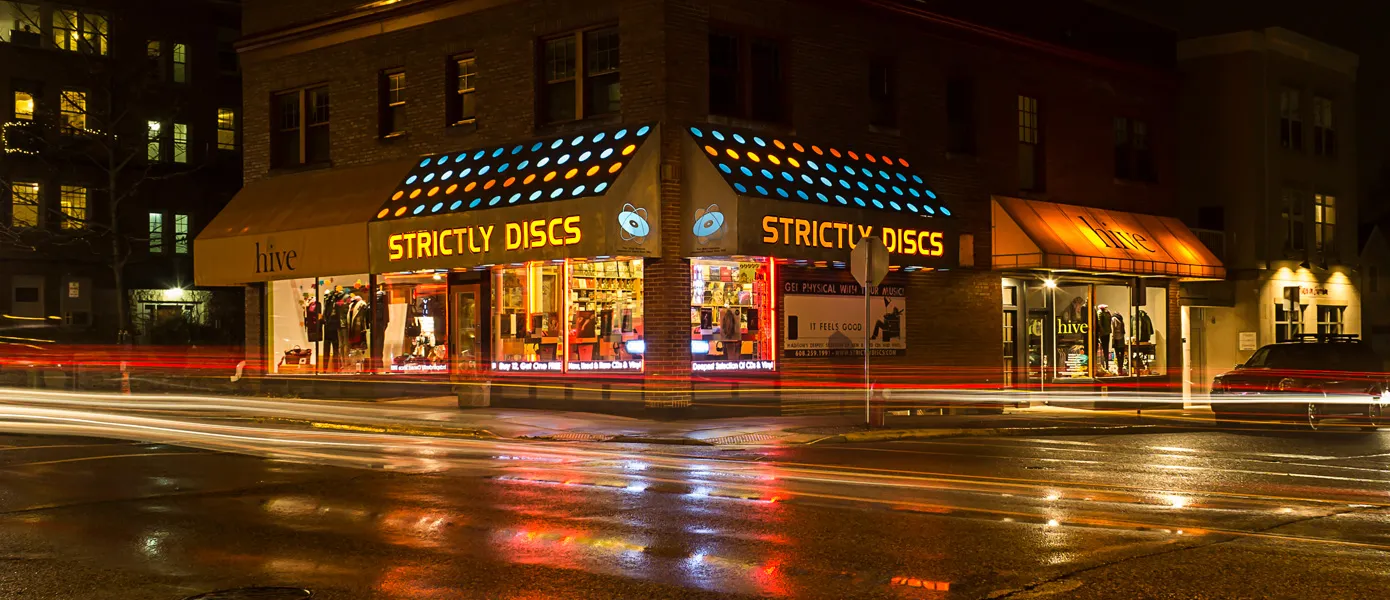 NEW THIS WEEK AT THE SHOP:
We're looking forward to another incredible year of music to discover! This week starts off with a slightly more limited menu than most weeks, but I'm glad to say it makes up in quality what it lacks in quantity. First off we have a new album from The C.I.A., the group led by singer Denee Segall (the better half of Ty) alongside her husband and bassist Emmett Kelly. Some quality moody rippers here! We've also got the new album from returning rock legend John Garcia, the founding vocalist of stoner heroes Kyuss!
Before he joined the band of afrobeat king Sonny Okosun in the 80s, Cameroonian bassist Willy Nfor released two spirited LPs of disco-tinged funk, which are now either fetching hundreds on ebay or moldering in the basement of someone's grandmother in Lagos. Luckily, a new label run by a former producer for Nigerian EMI is releasing some high-quality curations of such rarities, and we now have a lush 2LP set collecting the finest Nfor tracks, cleaned up for 21st century listening. Not brand new, but new to us, is the incredible 2018 album from reggaeton star J. Balvin. If you've been in any club this past year, you've likely heard the lead single 'Mi Gente', but 'Vibras' goes much, much deeper than that, in a sensual ride through crisp, yet trippy production that ticks every modern box. 
Two new Philip Glass CDs showcase another side of the composing titan, reflecting on his collaborations with musicians from around the globe. 'The Spirit of the Earth' documents Glass' work with the pre-Columbian indigenous Wixarika community in Mexico, and 'Introducing the Suso Glass Quartet' delivers unheard music from the long-running partnership Glass has with Gambian kora player Foday Musa Suso, first forged all the way back on the 'Powaqqatsi' soundtrack. 
Just before the ball drop (depending on your time zone), we finally got the long-awaited new album from UK techno auteur Objekt. 'Cocoon Crush' follows up 2014's chart topping album 'Flatland', and its meticulous, granular IDM makes a perfect pairing with that modern classic. We've also got a lovely vinyl edition of the 2016 cassette release from Ricky Eat Acid, long requested on LP. 'Three Love Songs' is actually a lot longer than 3 songs, and its wistful, emotional naptime house vibe will appeal to fans of Bonobo and the Field.
Since he put the world on notice with 2015's breathtakingly weird 'Drippin For A Tripp', Norwegian oddball DJ Sotofett's vast output has been largely limited to obscure remixes on hard to find EPs. Now we get a pair of 10"s from the man packaged in classic dubplate style, containing roughly an album's worth of fresh tripps once you put them together. This batch of songs contains all the Sotofett calling cards: rolling rhythms that reinvent themselves bar by bar, enfranchised voices that emerge from the ether, and a parallel-universe reimagining of kosmische, dub, and ambient tribal. Wont last!
Lastly we get two gems from the modern classical realms. Chinese-American cellist Audrey Chen has collaborated with scores of avant-garde luminaries over the decades, but 'Runt Vigor' is her first proper solo album, a delightful deep listen for voice, cello and electronics that takes a detourned narrative approach ala the works of Graham Lambkin. Italian ambient artist 

Giulio Aldinucci's latest, 'Disappearing In A Mirror', is a masterfully sound-designed slab of bleak beauty recommended to fans of Virgins-era Tim Hecker or William Basinski, and we have it on a lovely silver-screened sleeve limited to just 300.
USED VINYL ALERT:
Heading downstairs for this week's Used Vinyl Alert, we kick the year off with some very killer albums that run our full range of genres, from space age lounge to the Wu-Tang Clan. Read on for the lowdown.

Rock n roll pioneers turn up in many forms this week, with LPs from Fats Domino, the Ventures, Bo Diddley, Buddy Holly, Dennis Coffey, and Les Paul & Mary Ford. We've also got plenty of desirable pressings from some of our favorites, like Prince, Led Zeppelin, the Beatles, the Byrds, the Who, the Rolling Stones, Frank Zappa, Bob Dylan, and Fleetwood Mac.
Psychedelia and related obscurities turn up from HP Lovecraft, Kaleidoscope, Status Quo, Frijid Pink, plus rare folk and blues from Tim Buckley, John Hartford, Taj Mahal, Stevie Ray Vaughan, Elvin Bishop, Peter Lang, Robert Johnson, and John Hammond. Classic rock, early hard rock, and power pop comes in from names like Humble Pie, Al Kooper, New Riders of the Purple Sage, Robert Palmer, Foghat, Styx, Robin Trower, Sweet, Taste, Vanilla Fudge (you think those last 3 ever played on a bill together?), Ten Years After, Harry Nilsson, 10CC, Sparks, Dwight Twilley, and Rare Earth.
Just about all the building blocks for a solid reggae collection are here, including titles from Peter Tosh, Bob Marley, Jimmy Cliff, Sly and Robbie, Black Uhuru, Dennis Brown, Third World, Joe Higgs, Culture, and Keith Stewart.
All kinds of underground pioneers and new wavers turn up this week, with LPs from Beat Happening, Fugazi, the Pixies, Joy Division, Squeeze, U2, Madness, the Droogs, the Teardrop Explodes, X, Yellow Magic Orchestra, James White and the Blacks, and Laurie Anderson. We've also got some newer releases from Allison Crutchfield, Ryan Adams, Real Estate, Wilco, and more.
Dig the great jazz on offer this week: nice pressings from John Coltrane, Gato Barbieri, Pat Metheny, Thelonious Monk, Max Roach, Cannonball Adderley, Jackie McLean, Miles Davis, Sonny Rollins, Brother Ah, Hank Jones, Weather Report, Erroll Garner, and Elvin Jones.
Some disco staples are here to keep your party pack stocked, check out affordable classics from Taste of Honey, Erotic Drum Band, El Coco, Giorgio Moroder, Donna Summer, GQ, Fat Larry's Band, Confunkshun, Eruption, Dynasty, and Grace Jones, plus more R&B from Earth Wind and Fire, Aretha Franklin, Marlena Shaw, the Blackbyrds, Roberta Flack, Chi-Lites, the Dells, and the Drifters.
Lastly, we've got a whole slew of our favorite soundtracks including a ton of cult-status ones we don't get so often. Plus, check out some early country greats from Conway Twitty, the Carter Family, Johnny Cash, Glen Campbell, Jerry Jeff Walker, Eddy Arnold, Chet Atkins, and Dave Van Ronk!

USED CD ALERT:
New year but we still on our bovine evidence. Tons of fantastic post-rock, krautrock, alt-rock and anything-but-straight-down-the-middle-rock dominate the first influx of 2019. For that we have to thank a former clerk at Richmond, VA indie record store Plan 9. Like us, P9 is part of CIMS, the Consortium of Indy Music Stores, and worth a stop if you find yourself in the Land of Lovers. Look out for a grip of Bob Pollard and GBV albums, though it's merely a tiny percentage of the man's prolific output.  Likewise, check out a deep vein from Yo La Tengo. There's an abundance of Thatcher-era UK material from the likes of The Fall, Swell Maps – as well as the Young Marble Giants record -, Joy Division, My Bloody Valentine and the Wedding Present. Back stateside, there's plenty of stuff from SST – think Meat Pups, Dino Jr, Sonic Youth and Minutemen – as well as Dischord including Minor Threat's "Discography." This very clearly was a cultivated collection defined by <chef kisses fingers> exquisite taste, so get here early for this one.

SEND US YOUR 2018 FAVORITES!
It's still 2018, right? No? Oops. Well, we still want to hear what your favorites of the year were. You never stop learning, after all. Jot down your top ten albums, top ten youtube earworms, top ten shows you saw, top ten hot dogs you ate, whatever you want, and send it on over to evan@strictlydiscs.com and we will run them all in next week's newsletter!
STRICTLY DISCS 2018 STAFF TOP 10s: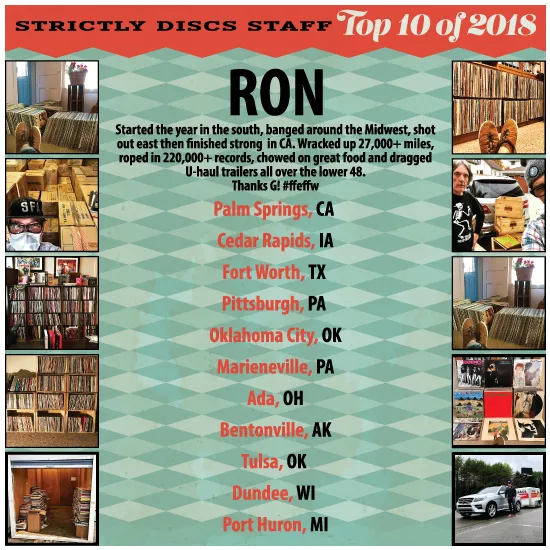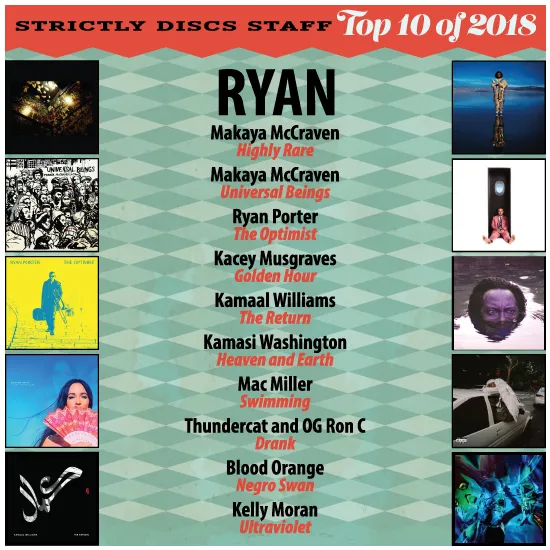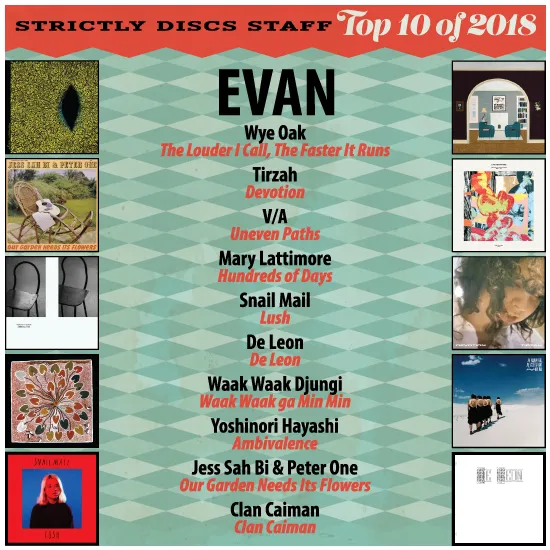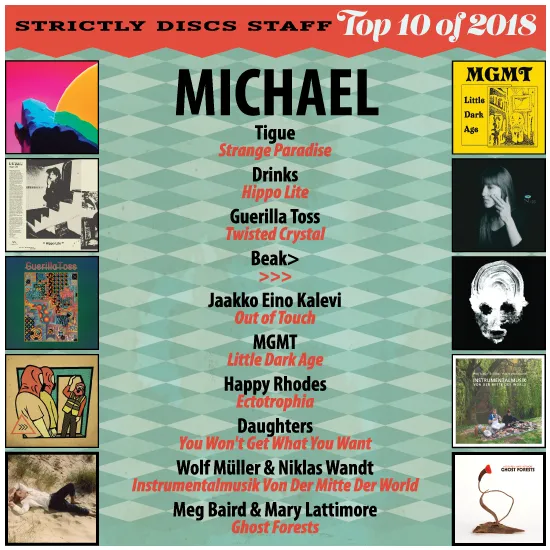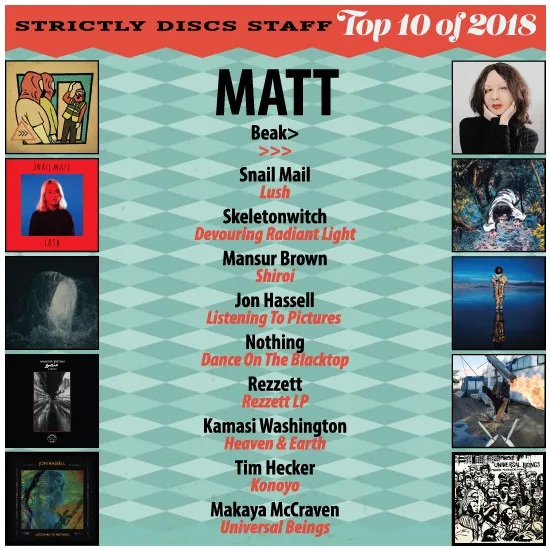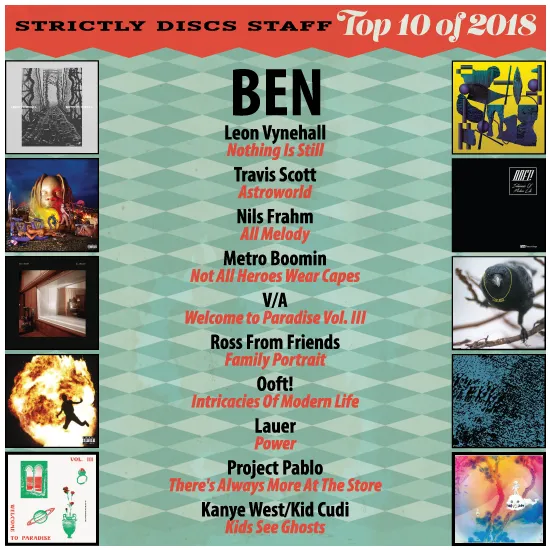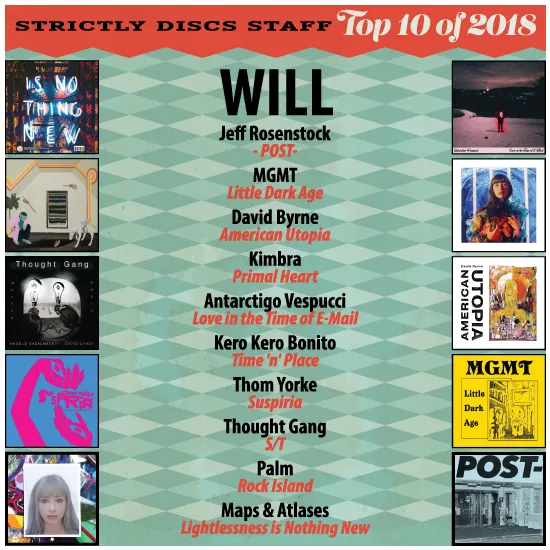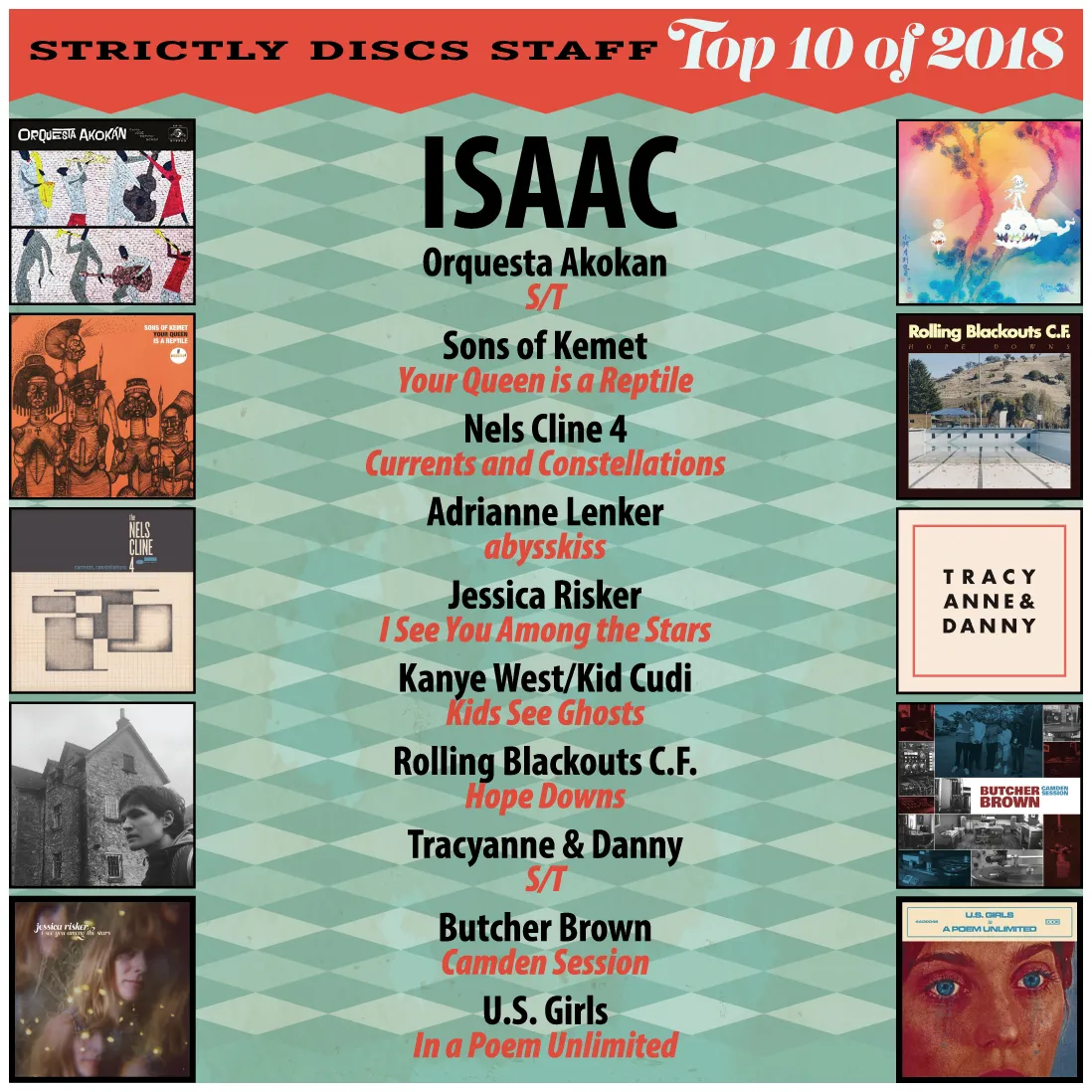 GIVE THE GIFT OF MUSIC - TOP 2018 CD/LP RELEASES ON SALE:
All CDs sale priced at $9.99 / LPs priced as marked (online and in the shop).
WE ARE HIRING - SHIPPING CLERK:
We are looking to hire a shipping clerk.
Requirements:
•    Self-motivated and independent thinker
•    Computer proficiency
•    Flexibility
•    Strong work ethic
•    High level of organization and precise time management skills
•    Ability to lift 50 pounds

Approximately 3 hours per day (9AM-NOON), up to 6 days a week. Possible additional hours filling other duties, depending on experience.
To apply, submit letter of interest & resume to angie@strictlydiscs.com
BENEFIT RAFFLE FOR 50TH ANNIVERSARY WHITE ALBUM SIGNED BY DEAR PRUDENCE:
Beginning Friday, Strictly Discs will have raffle tickets available for purchase for your chance to win a Beatles 50th Anniversary White Album (2LP version) signed by none other than "Dear Prudence," Prudence Farrow Bruns (Pictured above on Ringo Starr's left side).

The raffle is a benefit for two nonprofit organizations, The Sonder Project and Point Washington Medical Clinic, which are heavily involved in the Florida Panhandle recovery efforts in the aftermath of Hurricane Michael.
Raffle tickets are $5 each and will be available through Christmas Eve Dec. 24. There is no limit on how many raffle tickets you purchase. We will randomly draw a ticket and notify the winner on Dec. 26. One hundred percent of ticket proceeds will go to the Sonder Project and Point Washington Medical Clinic.
Strictly Discs is one of 45 member stores of the Coalition of Independent Music Stores (CIMS) receiving a signed album to raffle in our store. The benefit was organized by CIMS store Central Square Records, located in the beach community of Seaside, Florida, in the Panhandle. This October, Hurricane Michael, the strongest storm to ever hit the Panhandle, came on shore just east of Seaside and caused devastation that is vast and folks are in need.

Prudence Bruns (aka "Dear Prudence," the subject of the White Album song), is a Seaside local and a longtime friend of Central Square. She offered to help Central Square raise funds by signing 45 copies of the White Album.
About The Sonder Project:
The Sonder Project began as a group of volunteers who share a desire to strengthen not only their local communities, but communities across the world. Immediately following the storm, volunteers from The Sonder Project traveled to the impact areas to see if they could provide assistance. What began as an organic desire to assist our neighbors has since evolved into a highly organized daily operation to send volunteers and supplies street by street, neighborhood by neighborhood, with direction and support from local & emergency management officials.
About Point Washington Medical Clinic:
Point Washington Medical Clinic is volunteer driven, free medical clinic servicing the South Walton area. The mission of Point Washington Medical Clinic (PWMC) is to build a stronger and healthier community by providing high quality primary health care regardless of the patient's means or access. PWMC has now opened a satellite location in Panama City providing much needed medical care to those affected by Hurricane Michael.
About Prudence Farrow Bruns:
In 1968, Prudence Farrow Bruns traveled to India with her sister, actress Mia Farrow, and the Beatles to study meditation with the Maharishi Mahesh Yogi. She became so focused on practicing meditation that she would stay inside her room for hours. This prompted Paul and John to serenade Prudence outside her door with a little jingle "…The sun is up, the sky is blue, it's beautiful, and so are you…" "Dear Prudence" received her PhD from Berkley in Sanskrit and she's an expert and highly respected teacher of Transcendental meditation, an accomplished film producer, speaker and author.
SELL US YOUR CDS & LPS: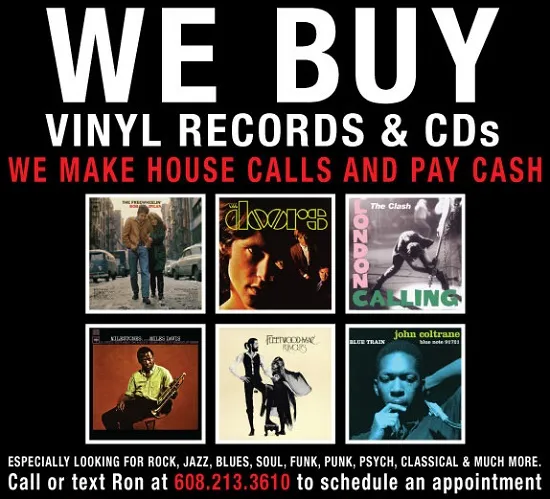 Ron, Ryan, Angie, Marty, Evan, Matt, Michael, Ben, Will, Ed & Isaac