Email December 27, 2018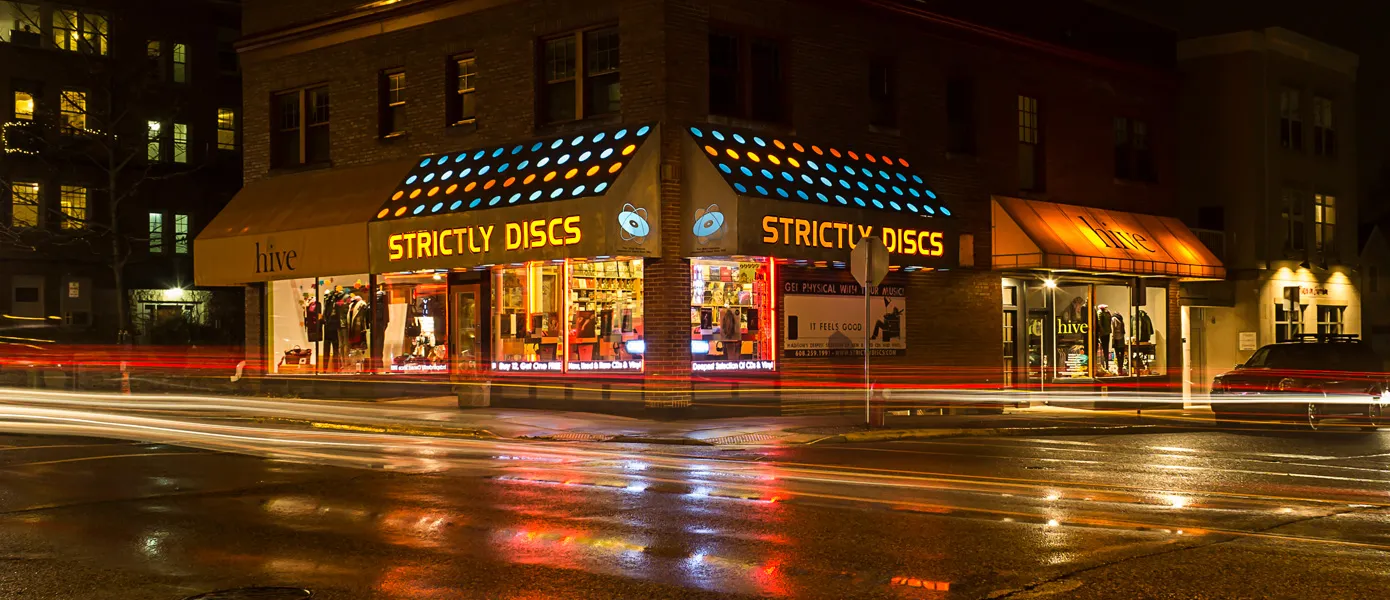 NEW THIS WEEK AT THE SHOP: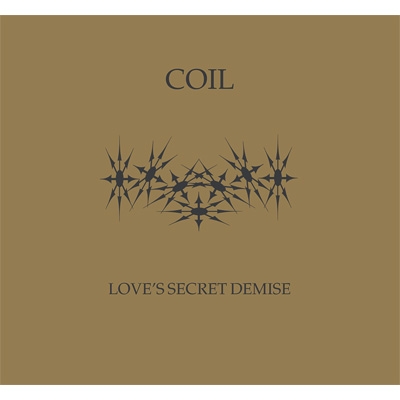 As we close a year that's brought us so very much great music, new and old, a couple of excellent releases tuck into the store just before the calendar turns. Whatever prayers we've said must have worked, because we now have remastered LP copies of Kate Bush's legendary 'Hounds of Love' album for you to treasure. After garnering critical raves all year, and teasing us with a super-limited test pressing version, we now have the standard LP versionof Angelique Kidjo's incredible remaking of 'Remain In Light'. We've also got the first ever official CD release of 'Love's Secret Demise', a previously-bootlegged disc containing Coil's demo recordings for the record that would become their cross-over hit, 'Love's Secret Demain'. With its blunter production putting John Balance's lyricism in ever starker relief, I almost prefer this version to the official one.
Big swings from the hop-hop world to close out the year, including a long-awaited new album from Ghostface Killah entitled 'The Lost Tapes', which finds Pretty Toney in fine form, rested and relaxed, snarling over deeper soul samples than ever. Uber-producer Swizz Beatz delivers 'Poison', his first producer-led album in over a decade, with billions of top-ranking guests. Talib Kweli has a new duo LP with Styles P, and at last we get the fascinating, unnerving, weird banger of an album from JPEGMafia. 'Veteran' is hitting a lot of year end lists this year and for good reason, it's easily the best avant garde rap record to come out in 2018.
90s techno and house classics hit the shop with re-printed comps and LPs from Legowelt and Infiniti (aka Model 500 aka Juan Atkins, founding member of Cybotron an pioneer of Detroit tech). We've also got all three volumes of Young Marco's extravagant overview of 90s Italian deep house, 'Welcome to Paradise'.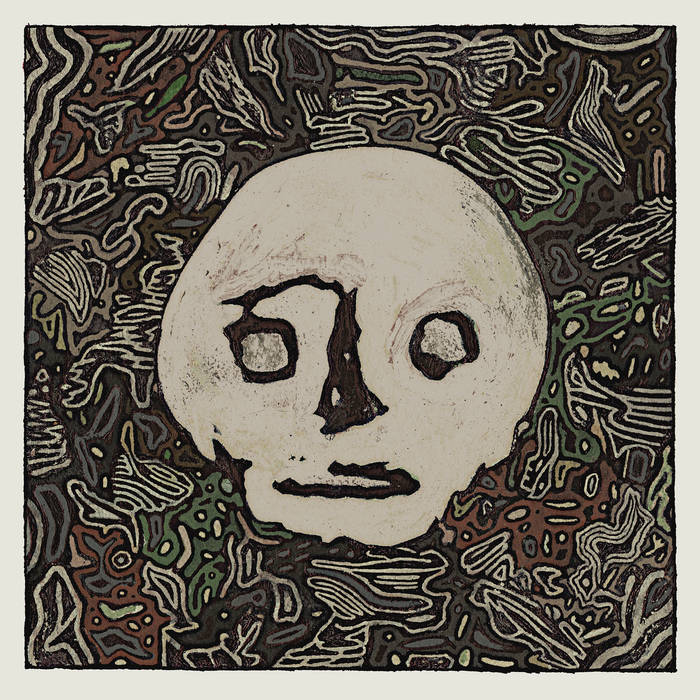 Russian producer Light The Fuse delivers a very funky, strangely simmering album composed entirely of Russian/Iron Curtain LP samples with 'Jazz Echo'. German sound-artist 
Kilchhofer dropped a stunner at the beginning of the year called 'The Book Room' which immediately went out of stock, but would have easily made my top ten list if it had stuck around. At last, this suite of hypnotic polyrhythmic sketches is back in print. We've also got a fresh printing of 
Caterina Barbieri's epic 2017 'Patterns of Consciousness', a sweeping modular synth fantasia that will appeal to fans of Kaitlyn Aurelia Smith, Laurie Spiegel and Eliane Radigue.
Swedish hard-rock turned psych pioneering legends the Baby Grandmothers see their full discography back in print on LP courtesy of Dungen's Reine Fiske and the Subliminal Sound label. Check out 'Being Is More Than Life', one of the most eternally blazing guitar songs ever recorded. Some classic 1950s Smithsonian Folkways field recordings from Java are back on the 'Music of Indonesia' LP, and Analog Africa delivers some smoking guitar/organ-led psych-funk from Orchestre Abass that's a must for any fans of the Scream Contest.
Plenty of stunners in the techno realms this week, including a delightfully diverse double LP of IDM and dreamdust from a Russian producer known as Hoavi, titled 'Phobia Airlines'. Shapeshifter and hero 

Laurel Halo unites with UK bass batterer Hodge for an extremely limber EP on the Livity Sound label. The esoteric yet reliable label Berceuse Heroique carpetbombs us with three new releases including another one from Hodge, an exquisite EP of Japanese synth-pop edits from Mori Ra, and some fogged-out industrial from Black Merlin. Lastly, we've got balearic groovers from Raiders of the Lost Arp and Mark Barrott, a fresh EP of trippy breaks by Roza Terenzi, D Tiffany, and Jayda G, and a repress of the lovely, post-dubstep roller from Peverelist 'Roll With The Punches', originally released way back in 2007 but brought back to the popular consciousness when Drake (?!) sampled it last year for a track on Scorpion. Wild times!
USED VINYL ALERT:
Heading downstairs for this week's Used Vinyl Alert, we've found some serious gems and jams upon which for you to spend your holiday knot. Read on for some highlights of the LPs, and also take note that we have some great new arrivals in the 45 section, plus our deeper-than-ever selection of rare vinyl box sets upstairs and down.
In the rocking world, we've got some choice ones from Led Zeppelin and the Beatles, plenty of Fleetwood Mac including the elusive Buckingham Nicks LP, rare ones from the Grateful Dead, plus classics from Jimi Hendrix, Santana, Eric Clapton, Bob Seger, Can, the Traveling Wilburys, Neil Young, Van Morrison, Paul Simon, Jackson Browne, and many more.
Rock obscurities this week include Paris Pilot, Soup, the Peppermint Rainbow, Ken Little, the Looking Glass, Kid Dynamite, and plenty more, plus some new wave big'ns from Love and Rockets, Living Colour, Talking Heads, U2, Michelle Shocked, the Cure, In the Nursery, the Wedding Present, and Japan.
Jazz heads, hey.....psst...HEY..ok there you are, the jazz LPs this week are seriously fantastic, and include rare and not-so-rare but still great pressings from some huge names like Charles Mingus, Miles Davis, Grover Washington, Boogaloo Joe Jones, Alphonse Mouzon, Ornette Coleman, Joe Zawinul, Lalo Schifrin, Karl Berger, Willie Bobo, Shirley Scott, Julian Priester, Jim Hall, Wes Montgomery, Barney Kessel, Quincy Jones, Kenny Burrell, Hubert Laws, Wayne Shorter, Yusef Lateef, Marion Brown, Mongo Santamaria, JJ Johnson, Oliver Nelson, Stan Getz, and Ramsey Lewis. Dang!
We roll with soul, both the household names like James Brown, the Dells, the Coasters, Parliament and Otis Redding, and some not-so-household names like Enchantment, Charles Bevel, Jules Brockington, and the Detroit Emeralds. Country turns up from names like Hank Williams, Charley Pride, Jerry Jeff Walker, Waylon Jennings and JD Souther. Plenty of vocalists like Frank Sinatra and Ella Fitzgerald here, as well as a wide swath of classical, electronic from Moroder and Yello, and hip hop from Snoop Dogg, the Roots, and De La Soul.
We wrap things up with some more recent rock and pop contemporaries like Wilco, Mount Eerie, Foo Fighters, Unknown Mortal Orchestra, Animal Collective, Interpol, Yeasayer, GYBE, Son Little, Grimes, Loose Fur, Smashing Pumpkins, the Gun Club, Fleet Foxes, Fuck Buttons, and Blues Traveler. 
STRICTLY DISCS 2018 STAFF TOP 10s: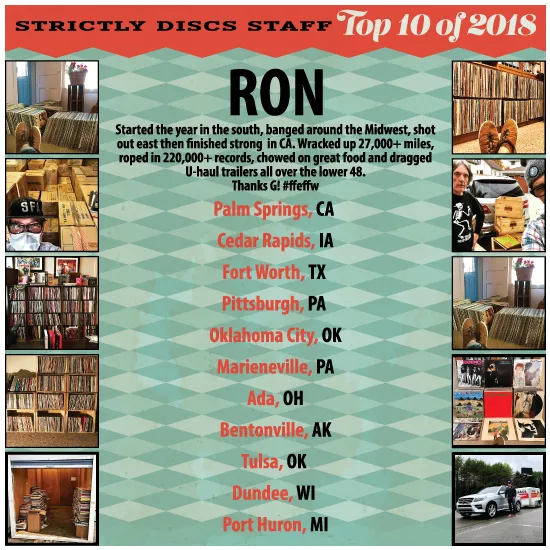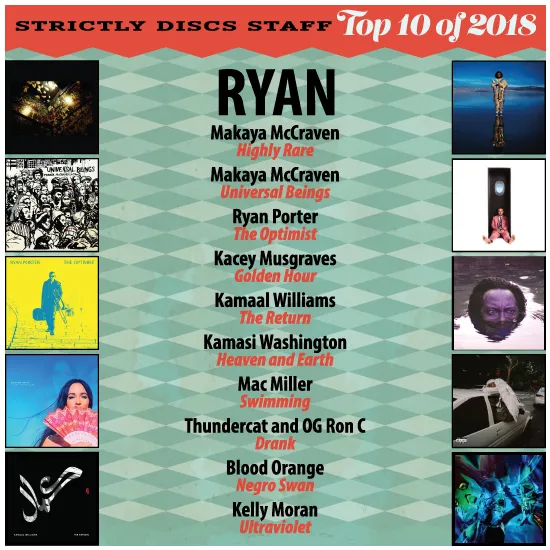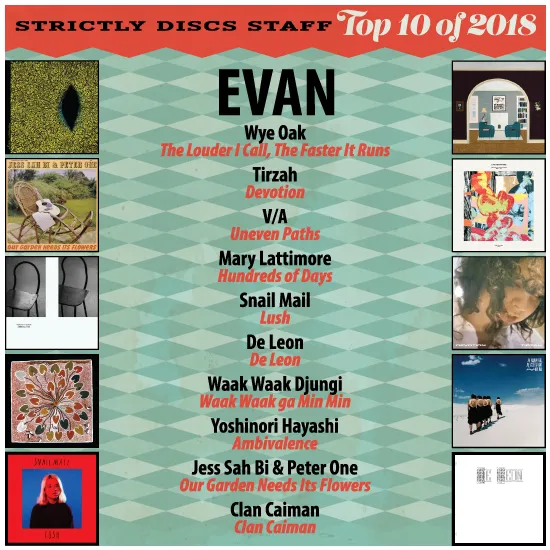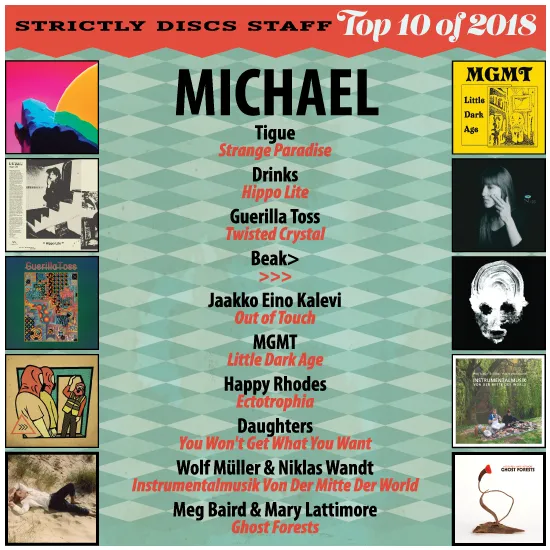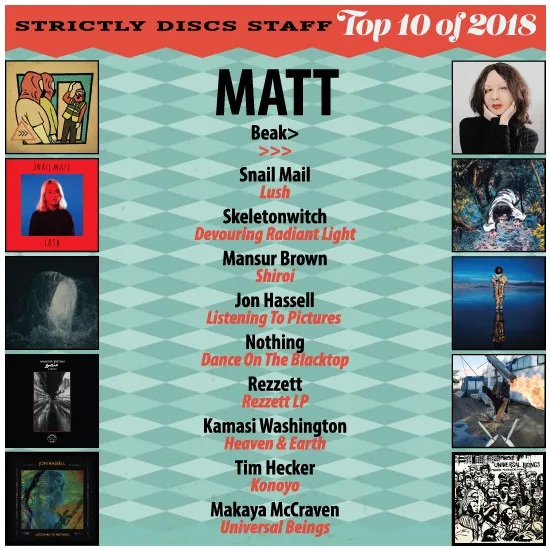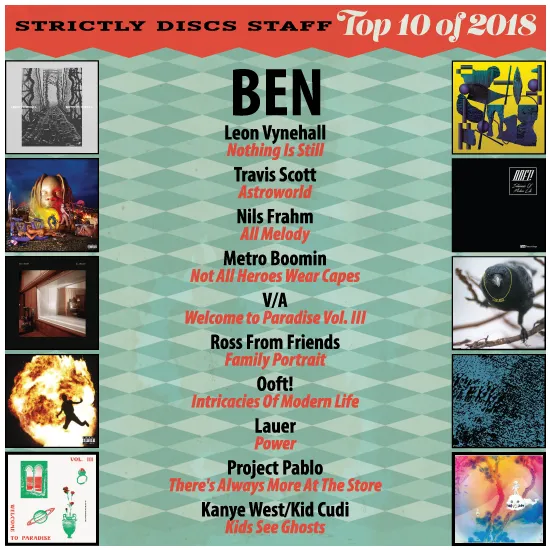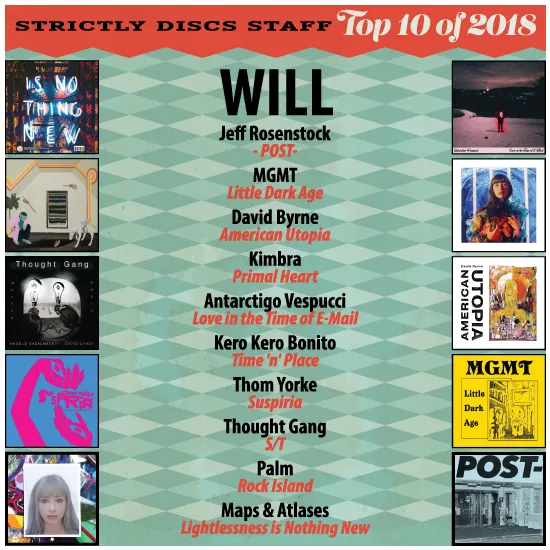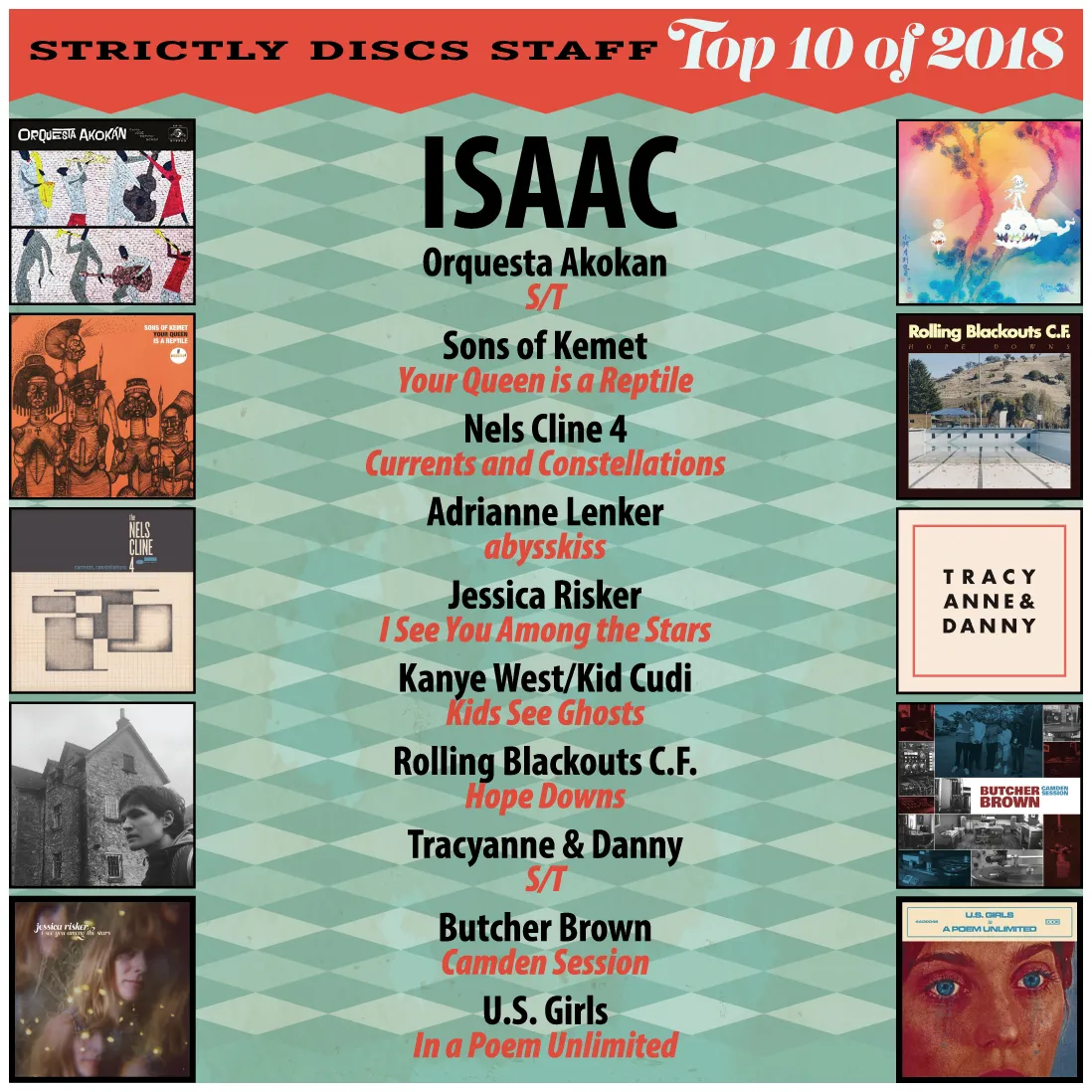 GIVE THE GIFT OF MUSIC - TOP 2018 CD/LP RELEASES ON SALE:
All CDs sale priced at $9.99 / LPs priced as marked (online and in the shop).
WE ARE HIRING - SHIPPING CLERK:
We are looking to hire a shipping clerk.
Requirements:
•    Self-motivated and independent thinker
•    Computer proficiency
•    Flexibility
•    Strong work ethic
•    High level of organization and precise time management skills
•    Ability to lift 50 pounds

Approximately 3 hours per day (9AM-NOON), up to 6 days a week. Possible additional hours filling other duties, depending on experience.
To apply, submit letter of interest & resume to angie@strictlydiscs.com
BENEFIT RAFFLE FOR 50TH ANNIVERSARY WHITE ALBUM SIGNED BY DEAR PRUDENCE:
Beginning Friday, Strictly Discs will have raffle tickets available for purchase for your chance to win a Beatles 50th Anniversary White Album (2LP version) signed by none other than "Dear Prudence," Prudence Farrow Bruns (Pictured above on Ringo Starr's left side).

The raffle is a benefit for two nonprofit organizations, The Sonder Project and Point Washington Medical Clinic, which are heavily involved in the Florida Panhandle recovery efforts in the aftermath of Hurricane Michael.
Raffle tickets are $5 each and will be available through Christmas Eve Dec. 24. There is no limit on how many raffle tickets you purchase. We will randomly draw a ticket and notify the winner on Dec. 26. One hundred percent of ticket proceeds will go to the Sonder Project and Point Washington Medical Clinic.
Strictly Discs is one of 45 member stores of the Coalition of Independent Music Stores (CIMS) receiving a signed album to raffle in our store. The benefit was organized by CIMS store Central Square Records, located in the beach community of Seaside, Florida, in the Panhandle. This October, Hurricane Michael, the strongest storm to ever hit the Panhandle, came on shore just east of Seaside and caused devastation that is vast and folks are in need.

Prudence Bruns (aka "Dear Prudence," the subject of the White Album song), is a Seaside local and a longtime friend of Central Square. She offered to help Central Square raise funds by signing 45 copies of the White Album.
About The Sonder Project:
The Sonder Project began as a group of volunteers who share a desire to strengthen not only their local communities, but communities across the world. Immediately following the storm, volunteers from The Sonder Project traveled to the impact areas to see if they could provide assistance. What began as an organic desire to assist our neighbors has since evolved into a highly organized daily operation to send volunteers and supplies street by street, neighborhood by neighborhood, with direction and support from local & emergency management officials.
About Point Washington Medical Clinic:
Point Washington Medical Clinic is volunteer driven, free medical clinic servicing the South Walton area. The mission of Point Washington Medical Clinic (PWMC) is to build a stronger and healthier community by providing high quality primary health care regardless of the patient's means or access. PWMC has now opened a satellite location in Panama City providing much needed medical care to those affected by Hurricane Michael.
About Prudence Farrow Bruns:
In 1968, Prudence Farrow Bruns traveled to India with her sister, actress Mia Farrow, and the Beatles to study meditation with the Maharishi Mahesh Yogi. She became so focused on practicing meditation that she would stay inside her room for hours. This prompted Paul and John to serenade Prudence outside her door with a little jingle "…The sun is up, the sky is blue, it's beautiful, and so are you…" "Dear Prudence" received her PhD from Berkley in Sanskrit and she's an expert and highly respected teacher of Transcendental meditation, an accomplished film producer, speaker and author.
SELL US YOUR CDS & LPS: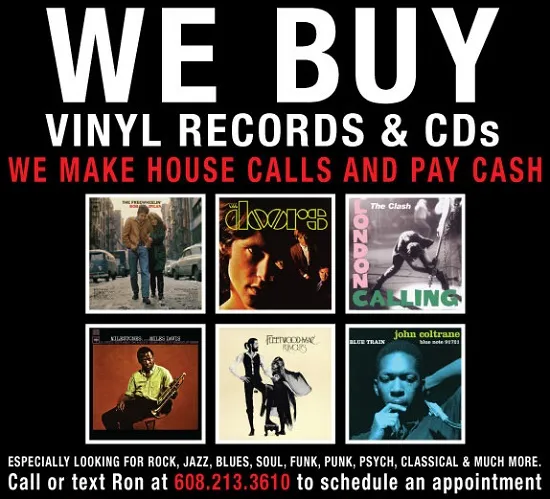 Ron, Ryan, Angie, Marty, Evan, Matt, Michael, Ben, Will, Ed & Isaac