Holiday Groove 2018 Now Available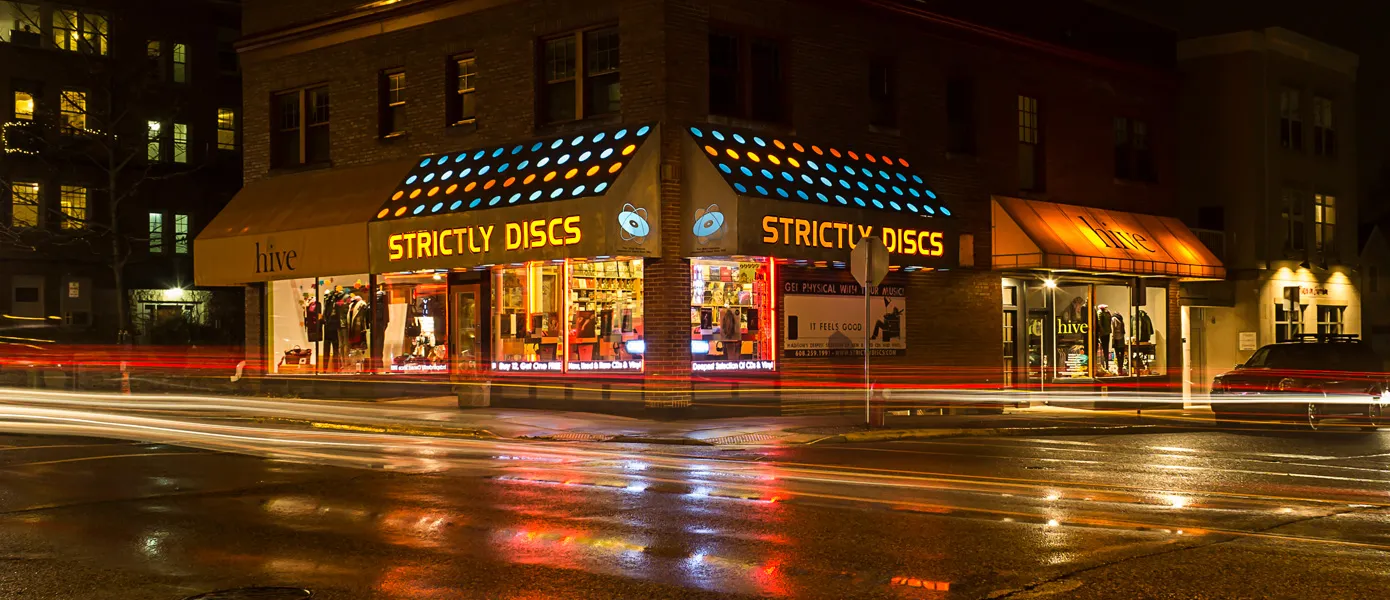 HOLIDAY GROOVE 2018 CD NOW AVAILABLE:
After the terrorist attacks on September 11th, 2001, we launched this holiday tradition to spread some much needed joy and spirit. This year's holiday groove is in its 18th edition and we hope the effect remains the same...happy holidays from all of us at Strictly Discs.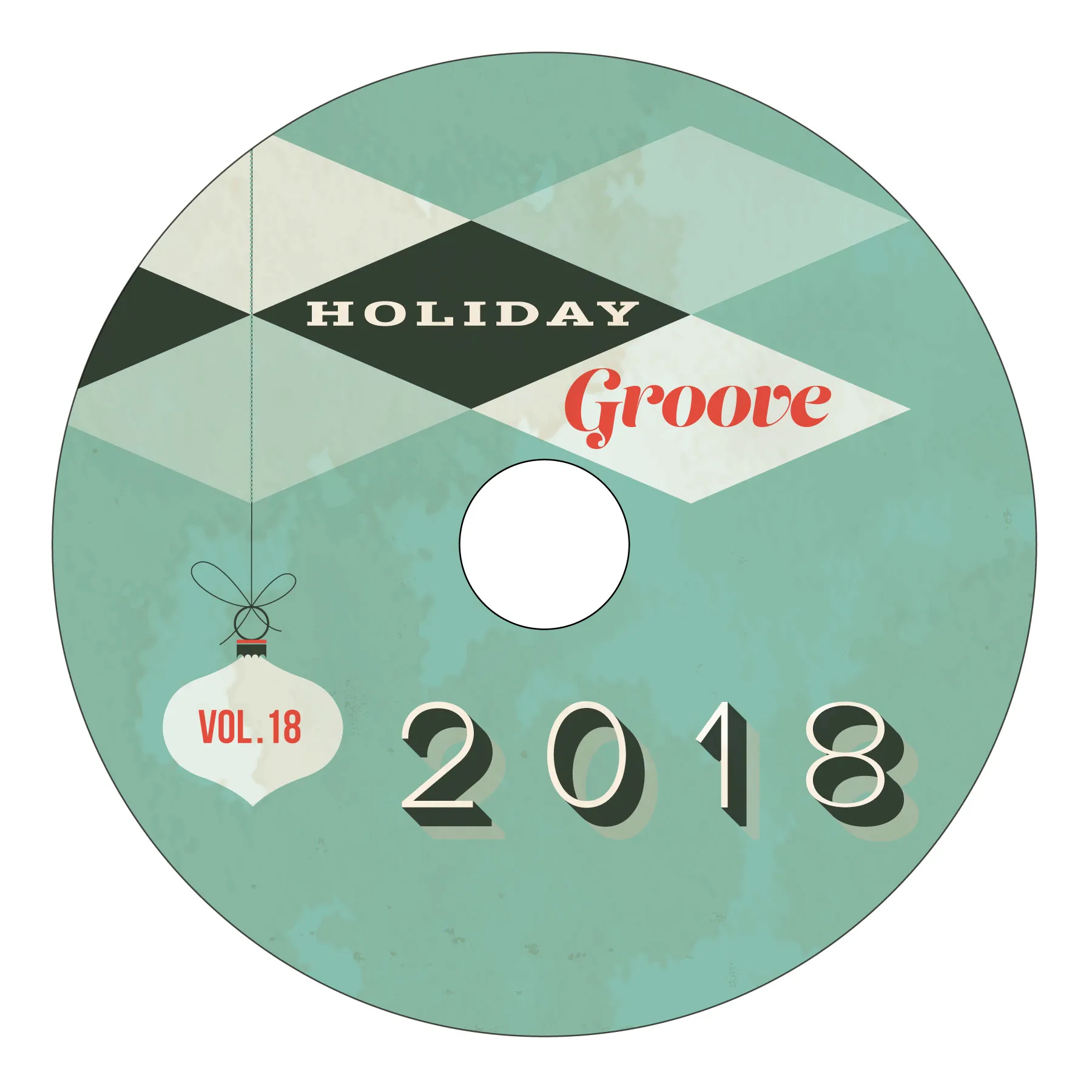 2018 Holiday Groove Tracklisting:
1. Red Simpson - Out On The Road For Christmas
2. Jessie Mae Hemphill - Merry Christmas, Pretty Baby
3. Ende Shneafliet - X-Mas Card From Outer Space
4. The Snowmen - Hokey Cokey
5. The Emotions - What Do The Lonely Do At Christmas
6. Sara Bareilles & Ingrid Michaelson - Winter Song
7. Eric Frostic - Winterlude
8. Toms Mucenieks - Jingle Bells: Sad Christmas
9. Billy Joe Shaver - You Just Can't Beat Jesus Christ
10.The Everly Brothers - Christmas Eve Can Kill You
11. Simon & Garfunkel - 7 O'Clock News / Silent Night
12. Mary Gauthier - Christmas In Paradise
13. Casiotone For the Painfully Alone - Traveling Salesman's Young Wife Home Alone on Christmas in Montpelier, VT
14. Rodney Crowell - Come Christmas
15. Jeremiah & the Red Eyes - Townes, Jesus and Me
16. My Dear Wormwood - Cold White Christmas
17. Old 97s - Blue Christmas
18. Amos Pitsch - It's XMAS (Today)

STRICTLY DISCS 2018 STAFF TOP 10s: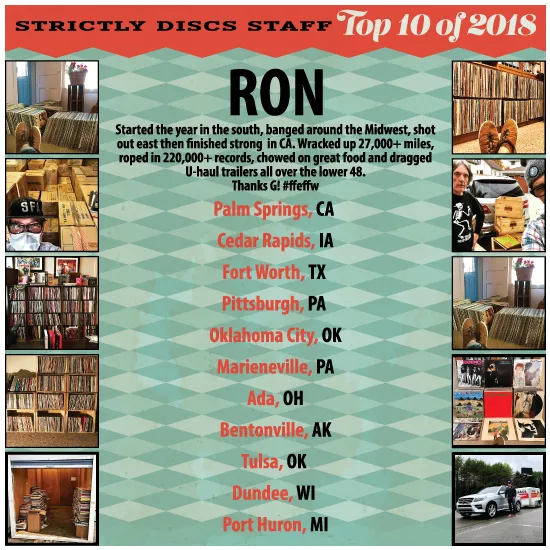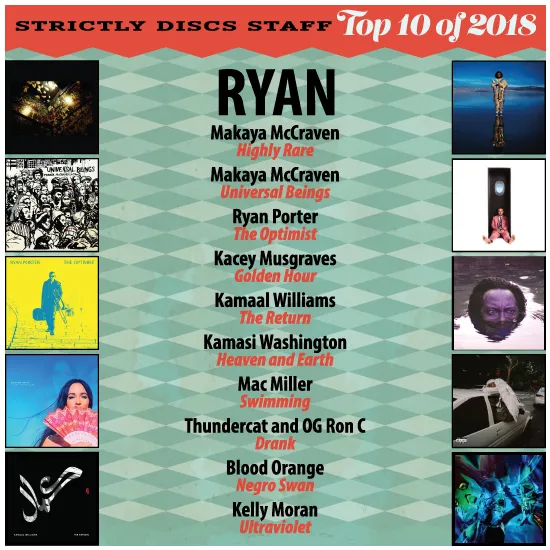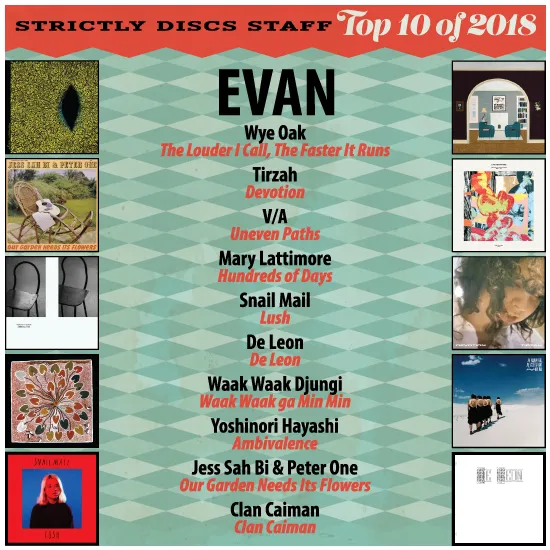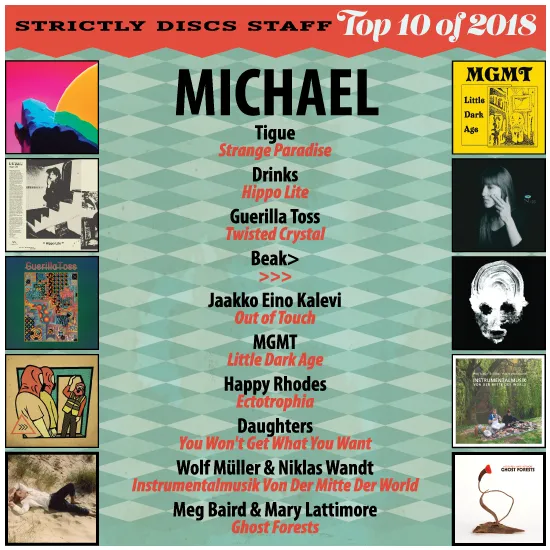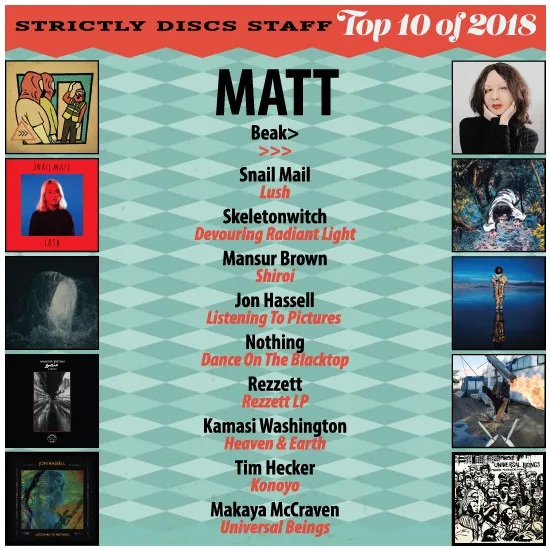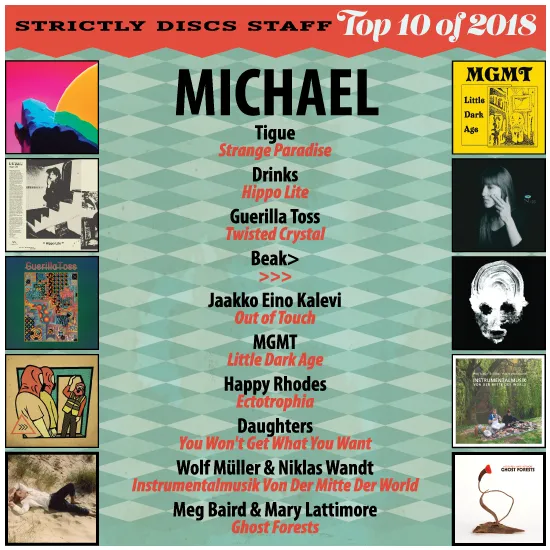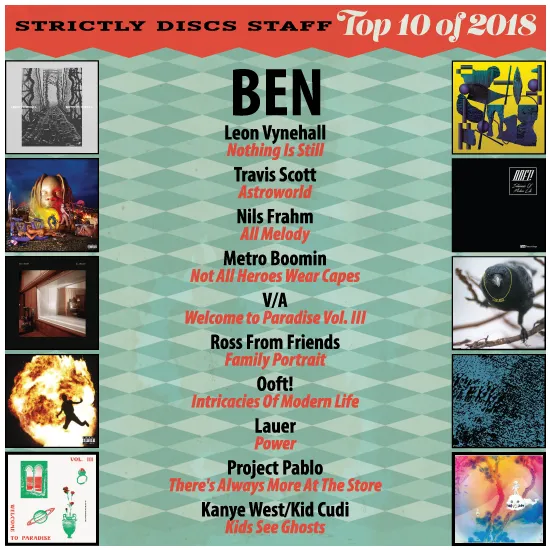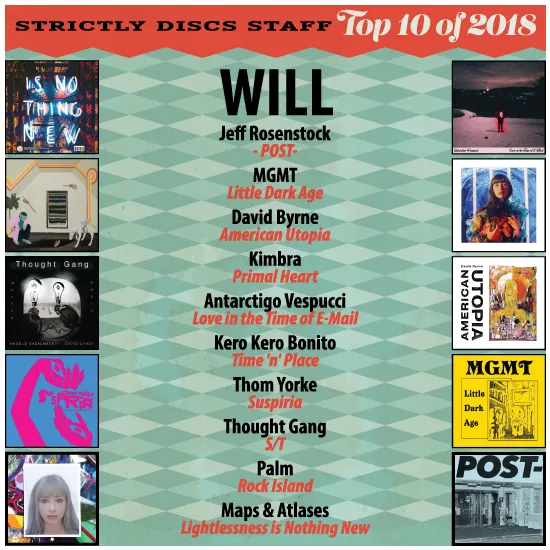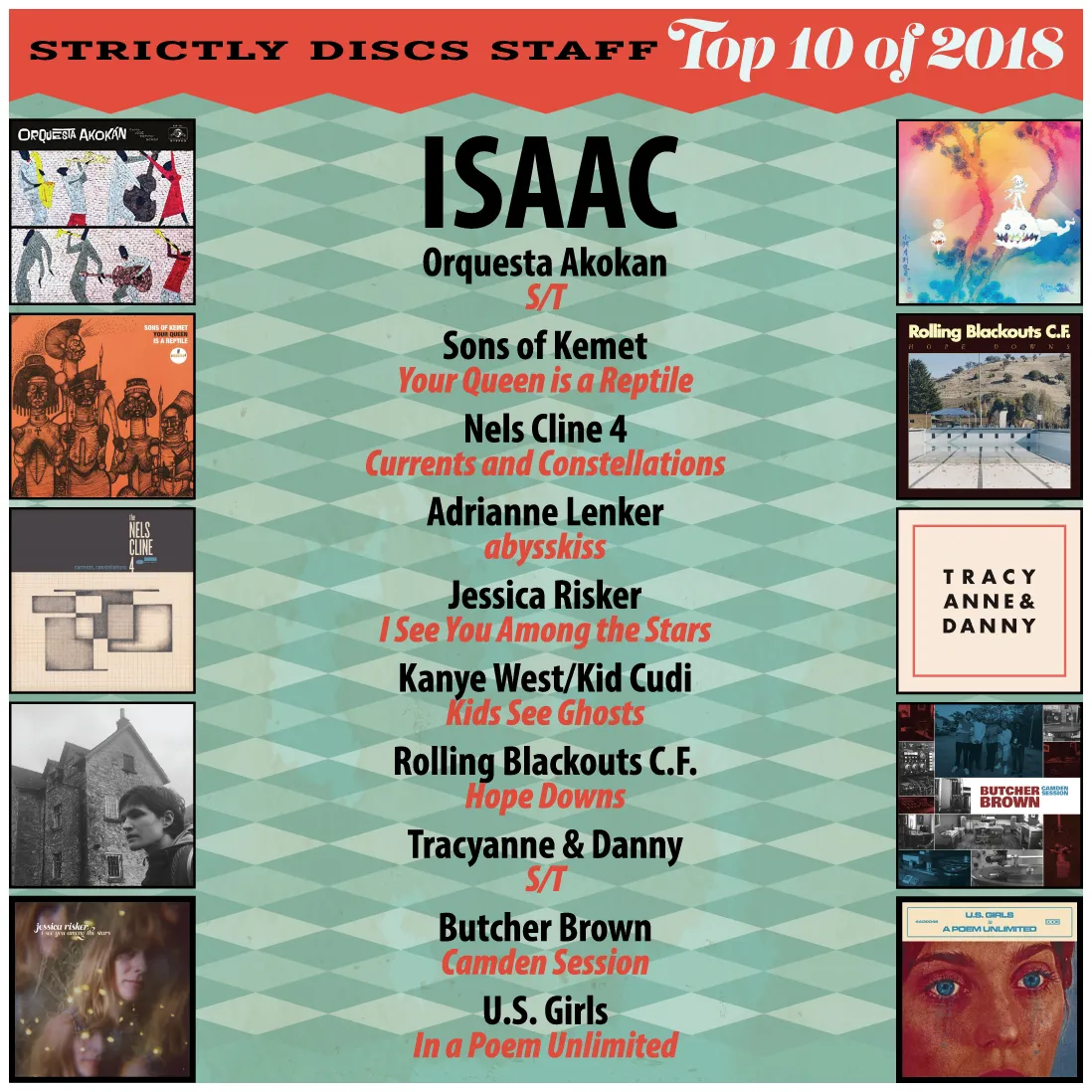 GIVE THE GIFT OF MUSIC - TOP 2018 CD/LP RELEASES ON SALE:
All CDs sale priced at $9.99 / LPs priced as marked (online and in the shop).
WE ARE HIRING - SHIPPING CLERK:
We are looking for a shipping clerk as Will is moving to Appleton.
Requirements:
•    Self-motivated and independent thinker
•    Computer proficiency
•    Flexibility
•    Strong work ethic
•    High level of organization and precise time management skills
•    Ability to lift 50 pounds

Approximately 3 hours per day (9AM-NOON), up to 6 days a week. Possible additional hours filling other duties, depending on experience.
To apply, submit letter of interest & resume to angie@strictlydiscs.com
BENEFIT RAFFLE FOR 50TH ANNIVERSARY WHITE ALBUM SIGNED BY DEAR PRUDENCE:
Beginning Friday, Strictly Discs will have raffle tickets available for purchase for your chance to win a Beatles 50th Anniversary White Album (2LP version) signed by none other than "Dear Prudence," Prudence Farrow Bruns (Pictured above on Ringo Starr's left side).

The raffle is a benefit for two nonprofit organizations, The Sonder Project and Point Washington Medical Clinic, which are heavily involved in the Florida Panhandle recovery efforts in the aftermath of Hurricane Michael.
Raffle tickets are $5 each and will be available through Christmas Eve Dec. 24. There is no limit on how many raffle tickets you purchase. We will randomly draw a ticket and notify the winner on Dec. 26. One hundred percent of ticket proceeds will go to the Sonder Project and Point Washington Medical Clinic.
Strictly Discs is one of 45 member stores of the Coalition of Independent Music Stores (CIMS) receiving a signed album to raffle in our store. The benefit was organized by CIMS store Central Square Records, located in the beach community of Seaside, Florida, in the Panhandle. This October, Hurricane Michael, the strongest storm to ever hit the Panhandle, came on shore just east of Seaside and caused devastation that is vast and folks are in need.

Prudence Bruns (aka "Dear Prudence," the subject of the White Album song), is a Seaside local and a longtime friend of Central Square. She offered to help Central Square raise funds by signing 45 copies of the White Album.
About The Sonder Project:
The Sonder Project began as a group of volunteers who share a desire to strengthen not only their local communities, but communities across the world. Immediately following the storm, volunteers from The Sonder Project traveled to the impact areas to see if they could provide assistance. What began as an organic desire to assist our neighbors has since evolved into a highly organized daily operation to send volunteers and supplies street by street, neighborhood by neighborhood, with direction and support from local & emergency management officials.
About Point Washington Medical Clinic:
Point Washington Medical Clinic is volunteer driven, free medical clinic servicing the South Walton area. The mission of Point Washington Medical Clinic (PWMC) is to build a stronger and healthier community by providing high quality primary health care regardless of the patient's means or access. PWMC has now opened a satellite location in Panama City providing much needed medical care to those affected by Hurricane Michael.
About Prudence Farrow Bruns:
In 1968, Prudence Farrow Bruns traveled to India with her sister, actress Mia Farrow, and the Beatles to study meditation with the Maharishi Mahesh Yogi. She became so focused on practicing meditation that she would stay inside her room for hours. This prompted Paul and John to serenade Prudence outside her door with a little jingle "…The sun is up, the sky is blue, it's beautiful, and so are you…" "Dear Prudence" received her PhD from Berkley in Sanskrit and she's an expert and highly respected teacher of Transcendental meditation, an accomplished film producer, speaker and author.
SELL US YOUR CDS & LPS: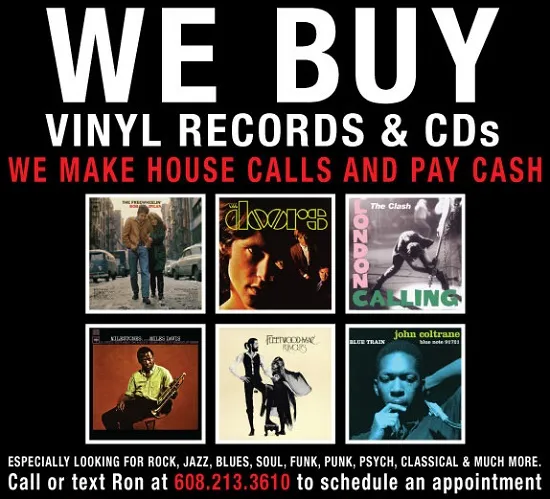 Ron, Ryan, Angie, Marty, Evan, Matt, Michael, Ben, Will, Ed & Isaac