Email December 13, 2018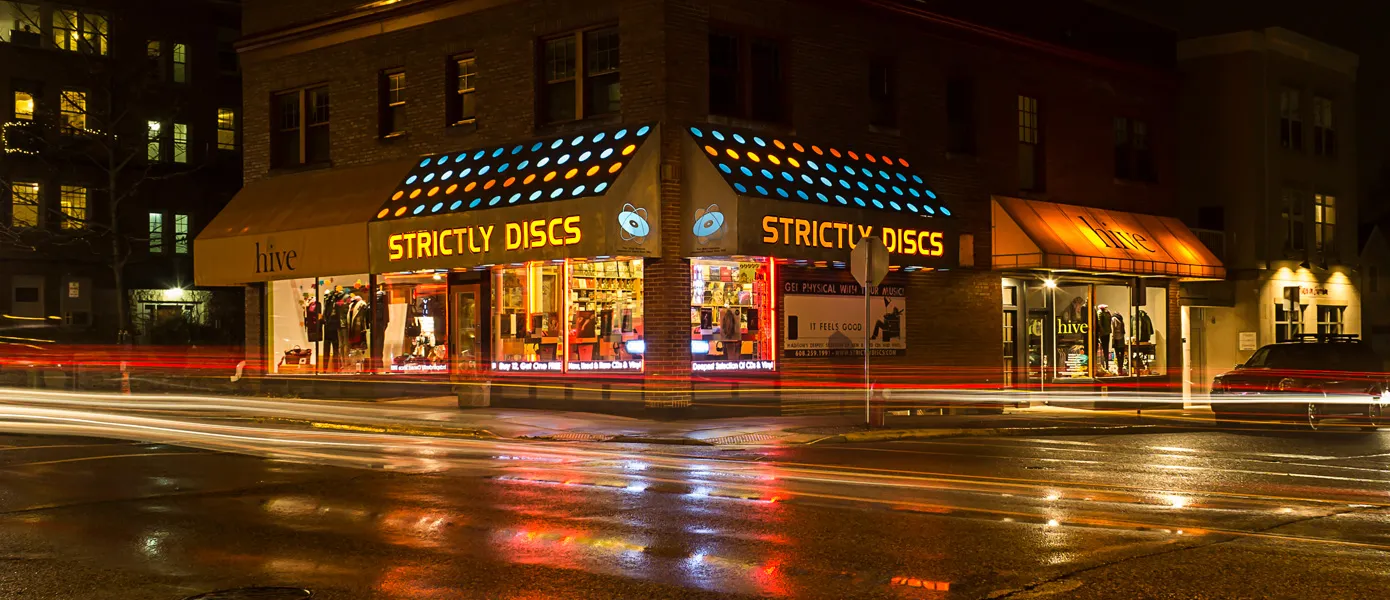 NEW THIS WEEK AT THE SHOP:
Bruce Springsteen's historic sold-out series of performances of his one man show "Springsteen On Broadway" is now commemorated with a 2 CD set accounting for the best of the run. Robyn's surprise 2018 return 'Honey' has been garnering rave reviews, and now graces our shelves on vinyl. Same goes for the excellent live archive release from Neil Young, 'Songs For Judy'. The Deutsche Grammaphon release of Shostakovich's 4th and 11th Symphonies made it high on NPR's year end list so we checked it out and we agree!
Major Lazer celebrates ten years of action with a massive vinyl collection called 'Essentials' that is studded with guest stars. Ice Cube returns to his dark side with a new album of gritty rap called 'Everythang's Corrupt'. We feel you, Cube. Two classic Lil Uzi Vert mixtapes hit vinyl for the first time: 'Perfect LUV Tape' and 'LUV Is Rage'. 6Lack's 2018 release 'East Atlanta Love Letter' is now in the house on LP, plus we have vinyl reissues of two early albums from Doomtree: 'False Hopes' and 'Doomtree'. Lastly, we finally have the vinyl version of a digital release folks have been asking for all year, 'Iridescence' from the pill-stealing sons of Eminem, Brockhampton.
Monsters of rock let loose this week with a huge, huge vinyl box set from King Crimson. '1969-1972' contains the group's first four earth-shaking albums on 200 gram, remixed by the god Steven Wilson, plus a 2LP of Crimson rarities that have never appeared on vinyl before. Swedish heavy psych pioneers Baby Grandmothers make a surprise return with a new album, plus we have the latest disc from metal legends Venom.
Fall Out Boy's breakout album 'Save Rock and Roll' turns ten years old this year. Which apparently now means its reissue time! We've also got the ten year anniversary of The Killers' 'Day & Age' in a very cool looking hardbound, silver foil 2LP edition, and the latest live album from Volbeat on CD and LP.
Indie and folk styles this week come in from Decemberists, who deliver 'Traveling On', a 10" companion to their last LP with five new songs. The Brazilian group Boogarins have a fantastic new record that blends the psych pop of their forbears Os Mutantes with some Tame Impala vibes. About ten years ago, the elusive folk guitarist Willie Lane released 'Known Quantity', one of his best albums of abstract cosmic blues, and that one's back in print on LP for now. New Zealand's Maxine Funke delivers another incredible LP of her reliably diverse, honest and compelling homemade folk pop. 'Silk' sounds like Grouper channeling Sibylle Baier. We've also got a limited white vinyl 12" with etching announcing the lead single from the new project of Karen O and Danger Mouse, called 'Lux Prima'.
Lovely British drone comes from the very appropriately named Delia Derbyshire Appreciation Society, and we've got a new CD from Can keyboardist Irmin Schmidt called '5 Klavierstucke'. If highbrow, listenable ethnological forgeries are your bag, check out the incredible LP reissue of Michael Snow's 'The Last LP', purported to be a collection of the "dying gasps of ethnic musical cultures from around the globe" but was in fact a set of multi-track recordings of Snow himself. You'll want to read the extensive liner notes anyway! And speaking of extensive, the Belgian label Stroom continues its impeccable 2018 run with a collection of music from the 1980s art/sound/poetry group 48 Cameras. 'Chosen Songs' collects haunting electro-acoustic and poetic ambient from a group led by a proud non-musician.
Japanese producer Foodman releases his second mind-bending album of the year with 'Moriyama', an idea-rich record of pointillistic organic techno. Susumu Yokota's landmark early ambient techno masterpiece 'Acid Mt Fuji' is finally here on LP. We've got a great new EP from German producer SVN that pulls three dreamy head-expanding long tracks from his archives. Always-on mixer Kassem Mosse returns to the Workshop label alongside label honcho Lowtec for a new duo called Kolorit. Their generously sized 2LP release offers more cerebral, funky minimal techno than you can perhaps handle it, recalling Kassem's epic Workshop release from several years ago. We've also got a real authentic official copy of the fabled Mutant Beat Dance box set, the two-inch thick 4LP/10"/7" package from a trio of Chicago underground producers, Traxx, Beau Wanzer, and Steve Summers. On packaging alone this is one of the top releases of the year but once you crack it open, its a multi-faceted diamond of mutoid techno and playful industrial sketches, plus so much more.
Silent Servant returns with his first longplay record in many years, 'Shadows Of Death and Desire' which, despite its title, is quite a joy to listen to, if you dig sinister, expert EBM. Dutch group Filmico bring us 'In The Senses', an awesome LP of sleazy, sweet Balearic synth, highly recommended to fans of Com Truise. German post-punk pioneer Gudrun Gut is still pushing boundaries, 30 years on from her time spent in the groups Einsturzende Neubauten and Malaria! Her latest, 'Moment', is a fantastic record of tightly coiled synthpop. The Portuguese label Principe has become a "must listen" anytime they issue one of their bewitching hand painted sleeves, and the latest from RS Producoes is no different; a heady, neo-tropical trip thru breaky techno.
Three reissues from deep, deep left field this week. We're talking like..the t-shirt vendor in the parking lot left field. Israeli composer and vocalist Judith Ravitz joined forces with a band of Brazilian's for 1983's 'Bolerio', an album of Jorge Ben covers. Funky and light and timeless, this one is. Speaking of, the honey-baked debut album of country crooner Larry Jon Wilson gets an LP repress. You may remember Mr. Wilson from the first volume of the Country Funk compilation. We've also got a Finders Keepers brokered compilation of music from the fringe-y ambient/dub/progressive musician Denis Wize, who did time in the band Gong, and appeared on Herbie Hancock's 'Rockit' single.
The hottest are saved for last, as we see three very cool reissues of some very rare Afrofunk records: Bayete's anthemic 'Blue Monday' EP, the smoking, psychedelic funana of Cape Verde's Americo & Djarama, and an utterly undeniable disco record from 1980 South Africa via Night Force and the Tom Cats!
USED CD ALERT:

This is one of those Fridays to set the alarm and get here early. Deep folkie stuff lead the charge, with a pile of a dozen-plus titles courtesy of Joni and Joan, hitting right on the peak of each's career. It doesn't stop there: look out for a pair (!) of titles from neglected stringsman

Sandy

Bull, John Fahey's "Dance of Death," the hard-times "Tragic Songs of Life" from the Louvins, and a concert featuring

Texas

hellraisers Steve Earle, Guy Clark and Townes Van Zandt. We got a trio of records from Mary Gauthier as well as works from Carrie Rodriguez, Gillian Welch and Judy Collins. Somehow, the jazz side of things may be even better. Residing for a short time up front are three Grant Green Blue Notes, along with other BN classics from Lee Morgan, Herbie Hancock, Kenny Burrell and Sonny Rollins. We have five separate dates from Bill Evans, an installment from Booker Ervin's "Book" series, three OJC Sonny Rollins titles including his essential session with Monk, and the terrific 2-cd Wes Montgomery Verve comp which includes the entirety of "Smokin' at the Half Note," which may be Wes' best album full stop. We got the usual suspects represented as well, which means plenty of Trane, Miles, Brubeck and Nina. Finally, we have a quartet of recordings from barely-remembered

Chicago

folk-soul legend Terry Callier. Included among these is "First Light:

Chicago

1969-71" which includes embryonic takes on shoulda-been classic songs cut in advance of the finished versions helmed by Chess/Cadet records wunderkind Charles Stepney. Bill Withers is the facile comparison, but TC was on his own thing. I cannot recommend this one highly enough. Not all too often where your boy makes a personal guarantee.
USED VINYL ALERT:
Heading downstairs for this week's Used Vinyl Alert, we welcome you into a veritable vonderland of vital vintage vinyl. This week the post-punk and new wave gods and goddesses have smiled upon us. Well, they don't really smile... maybe it's more appropriate to say that they have glared at us. Anyway, we've got essential LPs from Talk Talk, Joan Jett, REM, the Clash, Devo, Depeche Mode, the English Beat, Grace Jones, Echo and the Bunnymen, Jesus and Mary Chain, Patti Smith, Sinead O Connor, Gary Numan, Robyn Hitchcock, OMD, Joy Division, Bauhaus, the Cure, Love and Rockets, Kate Bush, the Cult, Lyres, the Blue Nile, Elvis Costello, Nick Lowe, Gang of Four, Psychedelic Furs, the Stranglers, PIL, the Smiths, John Cale, Iggy Pop, and Television. 
Heavy guys ike AC/DC, Iron Maiden, Def Leppard, Van Halen, Black Sabbath and Deep Purple are in the house, alongside folk and psych from Iguana, King Crimson, Gentle Giant, Kevin Ayers and lots more. We go hard and thorough with our faves this week, with lots of highly lovable, even more giftable LPs from Led Zeppelin, Pink Floyd, the Grateful Dead, David Bowie, Frank Zappa, the Beach Boys, the Beatles, the Stones, Jimi Hendrix, Gram Parsons, Tom Waits, Fleetwood Mac, Badfinger, the Allman Brothers, Big Brother, Randy Newman, ZZ Top, Love, Incredible String Band, Harry Nilsson, Robin Torwer, Hall and Oates, the Eagles, Genesis, and Richard and Linda Thompson.
Rock solid jazz LPs are here from Keith Jarrett, Miles Davis, Bill Evans, Yusef Lateef, Herbie Hancock, and Kamasi Washington, plus some great reggae and dancehall from Eek A Mouse, Clint Eastwood & General Saint, Yellowman, Black Uhuru, General Trees, and Sugar Minott. Some deeply dug blues records turn up from Stevie Ray Vaughan, Muddy Waters, Taj Mahal, Roy Brown, Eddie Boyd, Elmore James, Gatemouth Brown, John Lee Hooker, Lonnie Brookes, KC Douglas, Leadbelly, JB Lenoir, and Robben Ford, plus some country classics from Willie Nelson, Harry Dean Stanton, Johnny Cash, Ry Cooder, Waylon Jennings, and Conway Twitty.
Must-have soul LPs are in the house from Booker T, Barbara Acklin, Stevie Wonder, Parliament, Sly Stone, Curtis Mayfield, Otis Redding, Laura Lee, Aretha Franklin, James Brown, Brick, the OJays, Marvin Gaye, the Chi-Lites, Leroy Hutson, and Sam Cooke. We wrap up with some fantastic soundtracks, and some more recent releases from David Byrne and St Vincent, Lucy Dacus, Jim James, Comets on Fire, Split Single, Thunderbitch, Joseph Arthur, and Father John Misty. 
STRICTLY DISCS 2018 STAFF TOP 10s: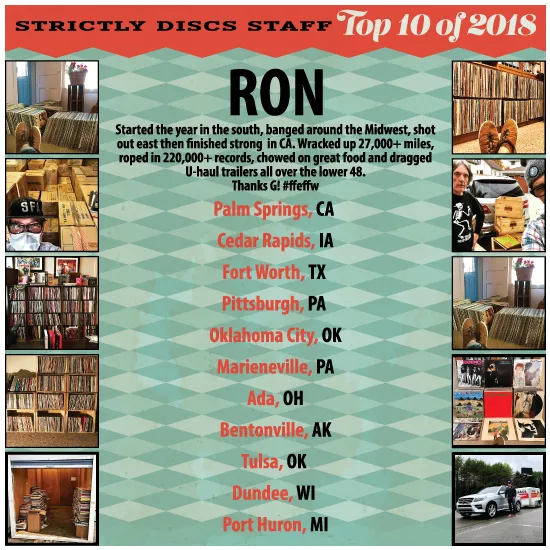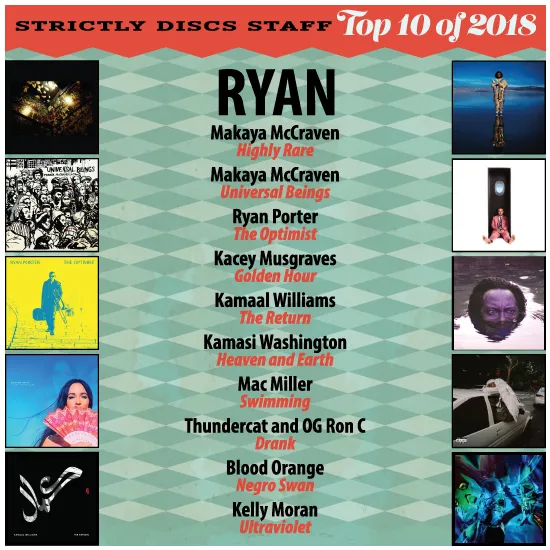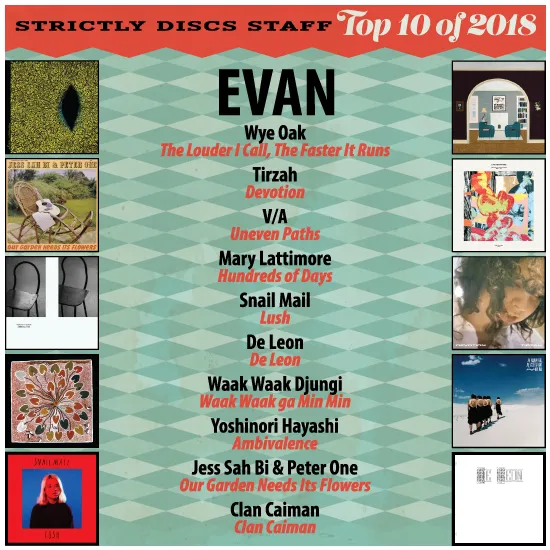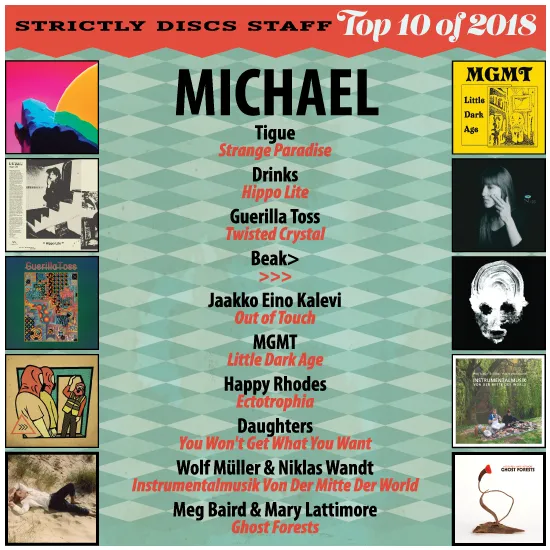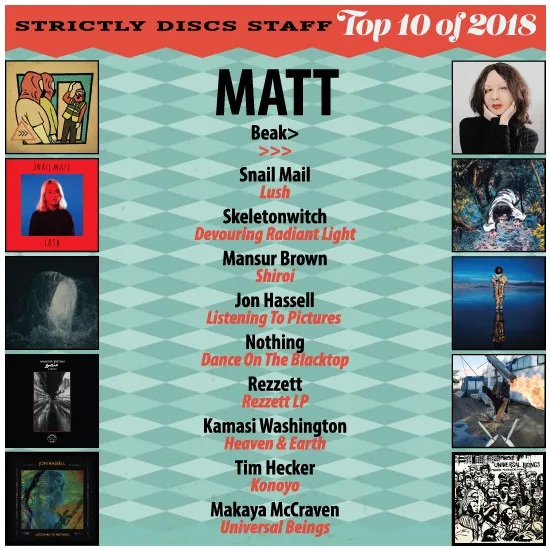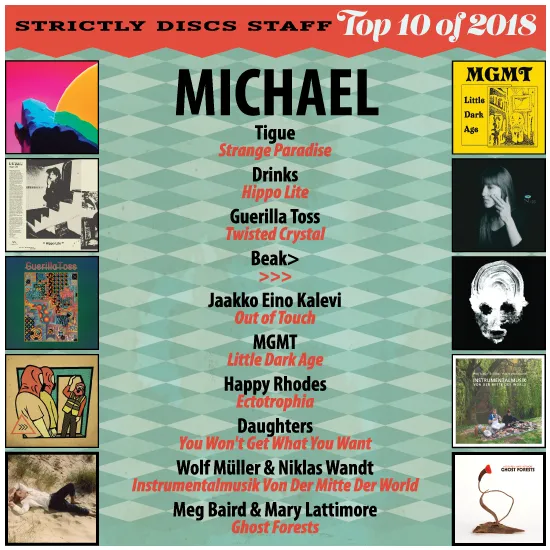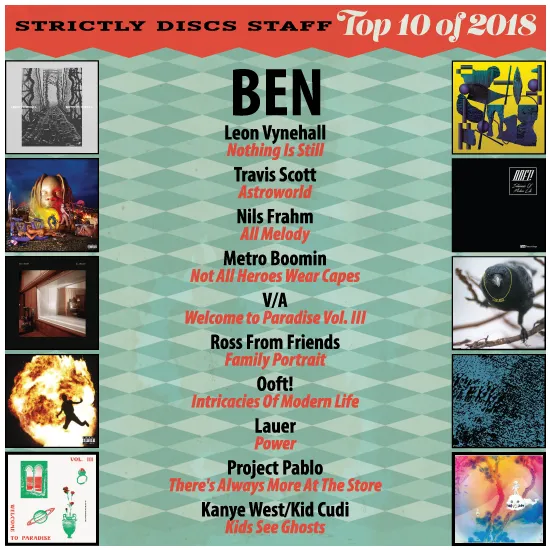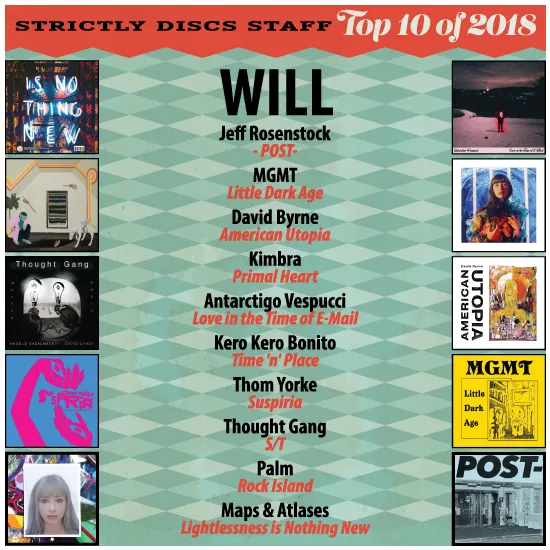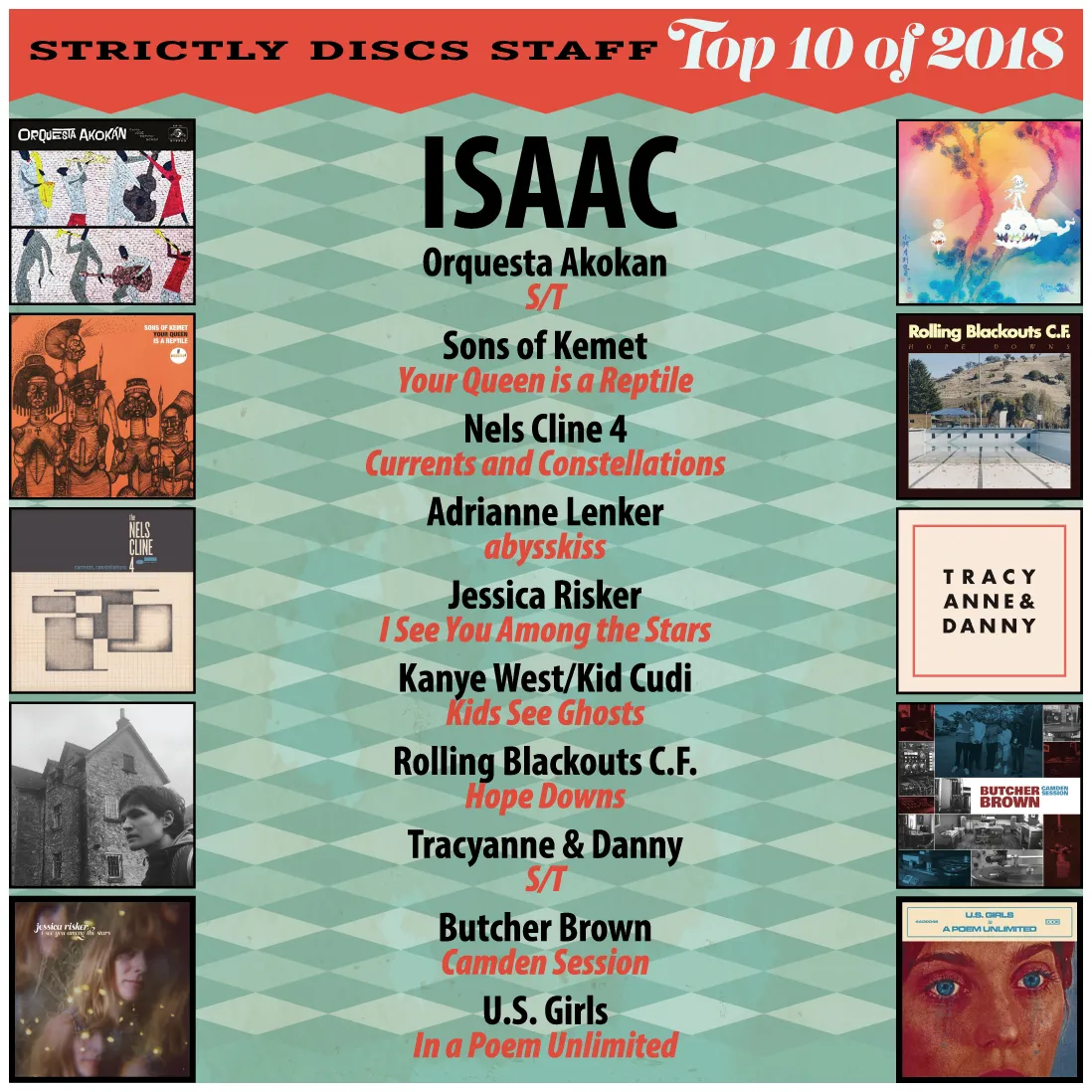 GIVE THE GIFT OF MUSIC - TOP 2018 CD/LP RELEASES ON SALE:
All CDs sale priced at $9.99 / LPs priced as marked (online and in the shop).
WE ARE HIRING - SHIPPING CLERK:
We are looking for a shipping clerk as Will is moving to Appleton.
Requirements:
•    Self-motivated and independent thinker
•    Computer proficiency
•    Flexibility
•    Strong work ethic
•    High level of organization and precise time management skills
•    Ability to lift 50 pounds

Approximately 3 hours per day (9AM-NOON), up to 6 days a week. Possible additional hours filling other duties, depending on experience.
To apply, submit letter of interest & resume to angie@strictlydiscs.com
BENEFIT RAFFLE FOR 50TH ANNIVERSARY WHITE ALBUM SIGNED BY DEAR PRUDENCE:
Beginning Friday, Strictly Discs will have raffle tickets available for purchase for your chance to win a Beatles 50th Anniversary White Album (2LP version) signed by none other than "Dear Prudence," Prudence Farrow Bruns (Pictured above on Ringo Starr's left side).

The raffle is a benefit for two nonprofit organizations, The Sonder Project and Point Washington Medical Clinic, which are heavily involved in the Florida Panhandle recovery efforts in the aftermath of Hurricane Michael.
Raffle tickets are $5 each and will be available through Christmas Eve Dec. 24. There is no limit on how many raffle tickets you purchase. We will randomly draw a ticket and notify the winner on Dec. 26. One hundred percent of ticket proceeds will go to the Sonder Project and Point Washington Medical Clinic.
Strictly Discs is one of 45 member stores of the Coalition of Independent Music Stores (CIMS) receiving a signed album to raffle in our store. The benefit was organized by CIMS store Central Square Records, located in the beach community of Seaside, Florida, in the Panhandle. This October, Hurricane Michael, the strongest storm to ever hit the Panhandle, came on shore just east of Seaside and caused devastation that is vast and folks are in need.

Prudence Bruns (aka "Dear Prudence," the subject of the White Album song), is a Seaside local and a longtime friend of Central Square. She offered to help Central Square raise funds by signing 45 copies of the White Album.
About The Sonder Project:
The Sonder Project began as a group of volunteers who share a desire to strengthen not only their local communities, but communities across the world. Immediately following the storm, volunteers from The Sonder Project traveled to the impact areas to see if they could provide assistance. What began as an organic desire to assist our neighbors has since evolved into a highly organized daily operation to send volunteers and supplies street by street, neighborhood by neighborhood, with direction and support from local & emergency management officials.
About Point Washington Medical Clinic:
Point Washington Medical Clinic is volunteer driven, free medical clinic servicing the South Walton area. The mission of Point Washington Medical Clinic (PWMC) is to build a stronger and healthier community by providing high quality primary health care regardless of the patient's means or access. PWMC has now opened a satellite location in Panama City providing much needed medical care to those affected by Hurricane Michael.
About Prudence Farrow Bruns:
In 1968, Prudence Farrow Bruns traveled to India with her sister, actress Mia Farrow, and the Beatles to study meditation with the Maharishi Mahesh Yogi. She became so focused on practicing meditation that she would stay inside her room for hours. This prompted Paul and John to serenade Prudence outside her door with a little jingle "…The sun is up, the sky is blue, it's beautiful, and so are you…" "Dear Prudence" received her PhD from Berkley in Sanskrit and she's an expert and highly respected teacher of Transcendental meditation, an accomplished film producer, speaker and author.
ENTER TO WIN JESSICA PRATT/KURT VILE TICKETS:
Jessica Pratt's new album Quiet Signs will be released Febraury 8th, 2019 but first she will open for Kurt Vile on December 20th at the Sylvee. All pre-orders (online or in the shop) for Quiet Signs will be entered to win a pair of tickets to the show.
SELL US YOUR CDS & LPS: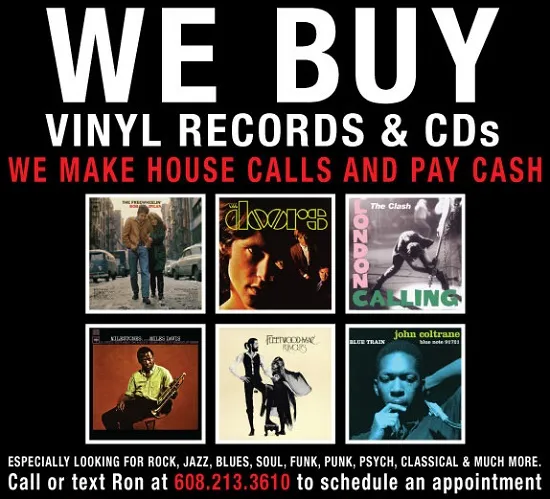 OTHERS TALK BACK:
This isn't the spot to lay down odds on the third race. OTB is where Others Talk Back and give you the lowdown on what they've been feeling lately. This one's for the customers.
Badfinger – "Badfinger (Expanded Version)" and  "Wish You Were Here (Expanded Version)."  Most music fans are familiar with the four Badfinger albums that came out on Apple Records in the early seventies.  Those albums contained all their hits and most fans didn't know that the original line-up recorded two albums for Warner Brothers Records after leaving Apple.   Both of these albums came out in one year (1974) and both have moments that equal some of the best of Apple years.  "Badfinger" is perhaps the strongest album, with several tracks that rank up there with their best.  "Wish You Were Here" is a much more consistent album; it has none of the several lows that "Badfinger" possesses.   Soon after "Wish You Were Here" was released managerial malfeasance was discovered by Warner Brothers and the band was released from their contract.  Finding all their money was gone due to their manager laundering the band money along with other funds, despair set in and the band broke up after the suicide of Pete Ham, their main songwriter and singer.  Both of these albums are incredibly strong, and it is such a shame that the band couldn't continue to make such strong music together.
Steve Kilbey – "Sydney Rococo"  The Church's main songwriter and singer releases his first solo album in four years.   And it is surely his best solo album in a long time.  The songs are much stronger and sharper and he obviously spent time on the arrangements.   The music and mood remind me of the Church's best work in the eighties.  It has that slightly psychedelic beautiful melancholy that brought the Church to the world's attention some thirty years ago.   I instantly compared "Sydney Rococo" to the Church's best work and did not find the album lacking.  "Sydney Rococo" is the strongest music that Mr. Kilbey has made in decades.  It is such a delightful album.

Ron, Ryan, Angie, Marty, Evan, Matt, Michael, Ben, Will, Ed & Isaac