Email November 29, 2018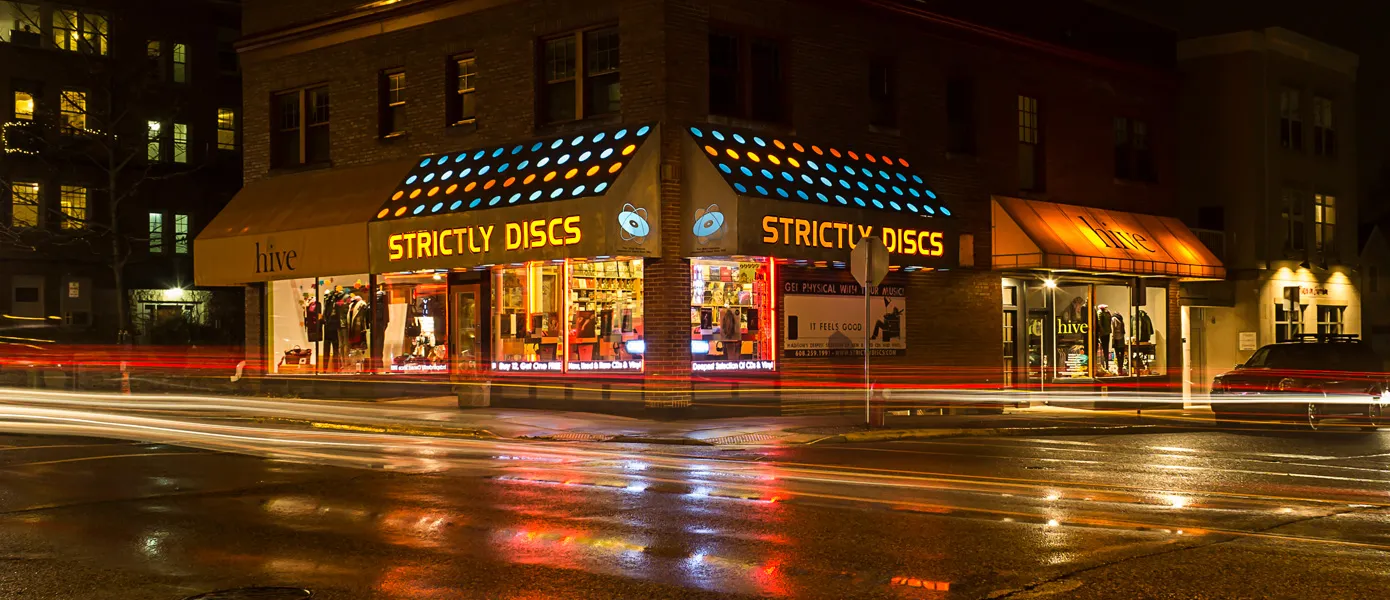 NEW THIS WEEK AT THE SHOP:
British neo-new wave rockers The 1975 kick our week off with the arrival of their third and potentially final album, 'A Brief Inquiry Into Online Relationships'. We have this one in the house on CD and limited edition white vinyl, and we'll be giving it a spin during a listening event that starts at 6PM today (Friday). Neil Young dips into his vast archives again for a lovely collection of live material culled from his fabled 1976 tours. Lots of your favorite Neil jams here, in a variety of intimate settings! Speaking of intimate, scruffy Gen X troubadour Jeff Tweedy welcomes you into his most inviting selection of solo tunes yet on a new album called 'Warm'.
The Kate Bush renaissance continues apace with the next installments of her Remastered series. We have volume 2 of the CD box set, which comes in at 11 discs, and the 3rd and 4th volumes of the LP box set. We've also got a stand alone LP repress of her 2011 album 'Director's Cut'. Still no word on the LP repress of 'Hounds of Love'; might have to say a prayer to God on that one. Oh wait, Kate Bush IS god! Dang.
New music from old names this week comes from Bryan Ferry and his orchestra; 'Bitter-Sweet' takes on some of the offbeat cocktail jazz tunes of his last album. Big Brother and the Holding Company originally wanted to call their breakout 1967 album 'Sex, Dope & Cheap Thrills' but the label execs weren't having it, and trimmed the first two items from the list. Full title restored, this 2LP set contains unheard alternate takes from the sessions that made the album, including the era-defining 'Piece of My Heart'. David Bowie's 2000 performance at the Glastonbury Festival gets the expanded treatment with double CD, triple LP, and CD/DVD combo sets.
Elvis Presley's 'The King in the Ring' collects some legendary early TV performances. Jethro Tull's 'Aqualung' is back on vinyl, this time with the 2011 Steven Wilson stereo mix. Uriah Heep's 'Demons & Wizards' gets a cool CD reissue with a ton of new liner notes and analysis of the album production and cover artwork by Roger Dean.
More new releases from indie land include a new one from Foxwarren, a band helmed by the talented songwriter Andy Shauf. UK moody rockers City and Colour have a new one, and we've got the latest from My Brightest Diamond, 'A Million And One'.
It's always cool to see a local band with a new record coming to us from a big overseas label, and this week we have the latest from elusive Madison-area psych conjurors Vanishing Kids. 'Heavy Dreamer' is the group's first LP in several years, and features contributions from former SD employee Jason Hartman and members of Jex Thoth! We've also got a new record from Hippo Campus called 'Bambi', which is in the house on two different, highly subjective shades of vinyl: 'Midwinter' and 'Blossom'. Postpunkers Liars continue their spiral into the far reaches of sanity with a new LP called 'Titles With The Word Fountain', in the shop on limited green vinyl. 
Lots and lots of hot ones from the diverse worlds of hip hop and R&B this week, including the debut from Bay Area transfemme pop star Ah Mer Ah Su, new radio friendly bad influences like Trippie Redd and Juice WRLD, a new record from UK jazz-hoppers Farai, a reissue of a great record from Moonchild, and new stuff from HPrizm, also known as High Priest of the Anti-Pop Consortium. Who remembers Anti-Pop? I do, they ruled.
Some rap classics sorely in need of vinyl pressings get sorted out this week, as well. We've got 'Undun' from The Roots, Jeremih's 'Late Nights' LP, and Yelawolf's 2011 banger 'Radioactive'.
Big reissues from the riff-filled land this week include a fresh printing of Sleep's 'Dopesmoker', with a metallic/holographic rendering of its ideal "desert druid" cover art, a huge poster, and "hazy green" vinyl. That's the weed color. We've also got a 'beer' colored limited repress of Meshuggah's 1995 album 'Destroy Erase Improve', which - in this reporter's opinion - represents the pinnacle of psychedelic mid-90s technical progressive thrash. We've also got a new printing of the Flesh Eaters' 1980 rootsy punk debut, 'No Questions Asked', out ahead of what I'm told will be a *new* Flesh Eaters album coming out early next year. Whoa!
We catch up on some of 2018's highest rated doomy, gloomy metal with the latest releases from Black Earth, 'A Cryptic Howl of Mortal Truth', and Evoken, 'Hypnagogia', plus a new purple vinyl repress of Pallbearer's 2012 debut 'Sorrow and Extinction'.
Three can't miss LPs from the wide world of contemporary electronica this week! Brainwaltzera's 2017 album 'Poly-Ana' came and went in a heartbeat on initial release, and now it's back, in all its Polygon Window/Hi-Scores era Boards of Canada channeling glory. This is one delicious listening experience, and its available to you in a 'scented' gatefold sleeve. What does that mean exactly? No idea, you'll have to pop the shrink yourself. Japanese freeform house whiz Yoshinori Hayashi has been teasing the public with a series of confounding, indelible, (and dead rare) 12"s for years, and now makes his album debut for Smalltown Supersound with an incredibly confident, wide-ranging statement of a record that instantly crashed my top ten list upon first listen. Take that, records that came out in February! Also not to be missed is a new album from The Samps, a vaguely defined group of LA musicians helmed by Cole M.G.N., the busy producer perhaps best known for being the brains behind all of the good Ariel Pink albums. 'Breakfast' is a bumping, strange trip into chopped disco and satisfying electro.
Three icons of underappreciated western songcraft have vinyl reissues in the stacks this week. Jackson C Frank's 1965 debut came out of nowhere with its plain-spoken blend of folk and blues, produced by a very young Paul Simon. While it launched an entire vibe of acid folk that resonates to this day from Bert Jansch to Sufjan Stevens, it gained Frank little monetary success, and remains a record that's too hard to find in a proper pressing, which has now been remedied in this old-style mono reproduction with liner notes from Richie Unterberger. Simon Finn's career impact makes Frank seem like Barbra Streisand in comparison. His sole album, 1971's 'Pass The Distance', lived only in cult obscurity for decades, undoubtedly due in part to Finn's brash vocal delivery, which can sound at times like Leonard Cohen if you woke him up angry in the middle of the night, or any number of punk frontmen who would dominate stages 20 years later. Nevertheless, 'Pass The Distance' stands out as a beacon of the often indiscernible world of private acid folk, buoyed by Finn's curious devotion to chaotic swaths of sound, assisted by none other than noise-art deacon David Toop. We're also blessed with a new LP printing of the Silver Jews' monumental album 'American Water', the 1998 LP that introduced the pithy observational genius of David Berman to the wider world (with the assistance of some dudes from Pavement). This one's a half-speed remaster, so you're about to experience 'Smith and Jones Forever' at a level of nuance never previously available.
Big classics from the areas of minimalism and ambient this week include a new pressing of Steve Reich's landmark collaborations with the Kronos Quartet and Pat Metheny, 'Different Trains / Electric Counterpoint', Takehisa Kosugi's 1975 yet still-mindblowing journey into looped sound 'Catch Wave', and arguably the best album among all of Loscil's incredible records, 2002's 'Submers', back in print for the first time in over a decade. 
'Full Circle', the 1982 three-way collab album from Jah Wobble and Can's Holger Czukay and Jaki Liebezeit, is a post-punk dub summit that hasn't been paralleled in over 30 years. Across six lengthy, abyssal tracks, Wobble's relentless bass spelunks amidst the Can boys' finest aural detritus (think the free-est moments on 'Flow Motion'), creating a record that literally sounds like it was just lifted effortlessly out of tapes of live jams. We've also got Holger Czukay's early experimental tape-loop/field recordings album, 'Canaxis 5', on LP for the first time in a long, long time, and a new LP pressing of Brian Eno's 'Music For Films'. 
All kinds of new jazz here this week, including reissues of the early Deodato group Os Catedraticos' 'Ataque', an LP repress of soprano sax savant Evan Parker's 'The Snake Decides', a new LP from Norwegian unit Supersilent, plus new CDs from Harold Mabern, and duo albums from Peter Brotzmann /Heather Leigh, and Joe Morris / Mary Halvorson.
Music From Memory's epically conceived overview of European experimental 80s pop 'Uneven Paths' is now available as a double CD, with even more tracks than the vinyl set (which is due back next week). We've also got a stunning new compilation from Anthology Records called 'Unusual Sounds', meant as the companion to their coffee table book about Library Music by the same name. Never has a more compelling and varied overview of the wide world of Library music been distilled onto one set of tunes as this one. Detroit lifer techno hero Robert Hood has a great new DJ Kicks release out that rounds up a lot of his and other associates' recent records. 
More experimental bidness comes in the way of a repress of Akira Rabelais' lovely 2001 album 'Eisoptrophobia', a glitchy, beautiful reimagining of the works of Erik Satie, a profound new album from Vessel called 'Queen Of Golden Dogs', and a limited LP of unreleased music from the Dutch experimental unit the Maciunas Ensemble.
International flavors hit your palate from all sides this week with a nice new CD comp of French-Indo biguine and gwo ka from the 1960s called 'Antilles Mechant Bateau', an absoutely blazing repress of the rare 80s zouk album from Feeling Kreyol, Brazilian jazz pop from Toquinho, Sudanese trad/funk from The Scorpions and Saif Abu Bakr, and clutch reggae reissues from the Upsetters and Barry Brown. Upsetters in particular is a special one, with an early career Scratch Perry finding his rocksteady roots in soul and funk.
Lastly, the undefinable. Dutch label Knekelhuis has been unearthing some incredible modern ambient/techno producers, and the comp EP 'Testimony' shows off four of them. Drew McDowall of Coil continues to describe transcendental acid trips through dark ambient sound, and a repress of the Stroer Duo's rare 1982 album 'Fluchtweg Madagaskar' aims to answer the question: What if Throbbing Gristle actually did make a record of jazz funk greats?
USED CD ALERT:

I'm going to level with you, I'm not the biggest fan of Christmas music. There's two yule-related records I will unreservedly vouch for: "Funky Christmas" by James Brown (natch) and a classic Blue Note date recorded on Christmas Eve 1964: "Speak No Evil" by Wayne Shorter. You won't find the first in the flip rack, but we got the latter and a whole grip of other foundation Blue Note titles this week. Look for blue and white discs courtesy of Herbie Hancock, Lou Donaldson, Hank Mobley, Donald Byrd and a number of other stalwarts that made Blue Note an institution. We'll have primo material from John Coltrane, Keith Jarrett (with DeJohnette and Peacock), Stan Getz and Brother Jack McDuff as well. Heading down to Texas, look for multiple titles connected to Doug Sahm, Willie Nelson, Robert Earl Keen, Billy Joe Shaver and Jerry Jeff Walker. Keep your eyes peeled for a pair of Elliott Smith's, Sun Kil Moon pre-troll material, John Prine and early Black Keys which will be out along with soul burners from Sam Cooke, the mighty JB's and Parliament. Can't lose with the blues, particularly with Al Kooper, Bo Diddley, Paul Butterfield and Allen Toussaint. That right there, that's a righteous batch to tide you over.
USED VINYL ALERT:
Heading downstairs for this week's Used Vinyl Alert, we continue to deliver you the fruits of a very large collection of contemporary releases and reissues. As you head towards downstairs, please note 50+ fresh used boxsets that grace the upstairs cubbies - from jam bands to MOFI, it's largely here. We've got all your favorites this week with 800 LPs and 100 7"s, including plenty of rare variations and small-run printings, limited edition series, fan-club items, the whole nine.
We've got plenty of classic titles from names like Neil Young, Fleetwood Mac, the Grateful Dead, Love, Tom Petty, Velvet Underground, T Rex, Leonard Cohen, Frank Zappa, Pink Floyd, Tom Waits, and Led Zeppelin, but we take it even further with even more rare recent LPs from Pearl Jam, Jason Isbell, Andrew Bird, the Alabama Shakes, Ben Harper, Umphrey's McGee, Widespread Panic, Dave Matthews, Counting Crows, Oysterhead, Phish, Weezer, the Black Crowes, the Black Keys, the Black Lips, Red Hot Chili Peppers, Sublime, Arcade Fire, Stone Temple Pilots, and Rage Against the Machine. We've also got all manner of rare White Stripes, Jack White, Third Man and other sundry titles from the Detroit-Nashville rock and roll axis.
Indie and pop is here from Mac Demarco, Brian Jonestown, Magnetic Fields, MGMT, Sufjan Stevens, the Unicorns, the Knife, Tame Impala, Frankie Rose, Ben Gibbard, Little Dragon, JJ, Gorillaz, Elliott Smith, Khruangbin, and the Mountain Goats, plus electronic stuff from Kraftwerk, Boards of Canada, M83, LCD Soundsystem, Daft Punk, and more. Hip hop and R&B is strong with LPs from Kendrick Lamar, De La Soul, Diplo, Odd Future, rare ones from MF Doom aka King Geedorah aka Viktor Vaughn, Dr. Dre, Blood Orange, Notorious BIG, Justin Timberlake, ASAP Rocky, Clipse, and Kanye. 
80s indie and wave like the Church, Flat Duo Jets, The Cure, My Bloody Valentine, Joe Strummer, Human League, Duran Duran and U2 is joined by heavier things from Queens of the Stone Age, Liturgy, Tool, Fucked Up, Battles, Nine Inch Nails, Black Sabbath, Operation Ivy, Rancid, Pallbearer, Mastodon, and Marilyn Manson. 
Some great audiophile jazz is here from Dave Brubeck, Herbie Hancock, Norah Jones, Sonny Rollins, Dexter Gordon, Charlie Haden, and Miles Davis. Blues, folk and country are here from Albert King, Junior Kimbrough, Muddy Waters, Charley Patton, Fred McDowell, Waylon Jennings, Willie Nelson, Leo Kottke, the Louvin Brothers, Jamey Johnson, Loretta Lynn, the Everly Brothers, Iris Dement, Dwight Yoakam, Johnny Cash, and Townes Van Zandt. And we wrap with soul from Curtis Mayfield, Stevie Wonder, Ray Charles, Billy Preston, Earth Wind and Fire, The Time, The New Birth, the Miracles, the Intruders, Marvin Gaye, Archie Bell, Booker T, and James Brown!
GIVE THE GIFT OF MUSIC - TOP 2018 CD/LP RELEASES ON SALE:
All CDs sale priced at $9.99 / LPs priced as marked (online and in the shop).
THE 1975 LISTENING EVENT - FRIDAY, NOVEMBER 30TH 6-7PM:
BENEFIT RAFFLE FOR 50TH ANNIVERSARY WHITE ALBUM SIGNED BY DEAR PRUDENCE:
Beginning Friday, Strictly Discs will have raffle tickets available for purchase for your chance to win a Beatles 50th Anniversary White Album (2LP version) signed by none other than "Dear Prudence," Prudence Farrow Bruns (Pictured above on Ringo Starr's left side).

The raffle is a benefit for two nonprofit organizations, The Sonder Project and Point Washington Medical Clinic, which are heavily involved in the Florida Panhandle recovery efforts in the aftermath of Hurricane Michael.
Raffle tickets are $5 each and will be available through Christmas Eve Dec. 24. There is no limit on how many raffle tickets you purchase. We will randomly draw a ticket and notify the winner on Dec. 26. One hundred percent of ticket proceeds will go to the Sonder Project and Point Washington Medical Clinic.
Strictly Discs is one of 45 member stores of the Coalition of Independent Music Stores (CIMS) receiving a signed album to raffle in our store. The benefit was organized by CIMS store Central Square Records, located in the beach community of Seaside, Florida, in the Panhandle. This October, Hurricane Michael, the strongest storm to ever hit the Panhandle, came on shore just east of Seaside and caused devastation that is vast and folks are in need.

Prudence Bruns (aka "Dear Prudence," the subject of the White Album song), is a Seaside local and a longtime friend of Central Square. She offered to help Central Square raise funds by signing 45 copies of the White Album.
About The Sonder Project:
The Sonder Project began as a group of volunteers who share a desire to strengthen not only their local communities, but communities across the world. Immediately following the storm, volunteers from The Sonder Project traveled to the impact areas to see if they could provide assistance. What began as an organic desire to assist our neighbors has since evolved into a highly organized daily operation to send volunteers and supplies street by street, neighborhood by neighborhood, with direction and support from local & emergency management officials.
About Point Washington Medical Clinic:
Point Washington Medical Clinic is volunteer driven, free medical clinic servicing the South Walton area. The mission of Point Washington Medical Clinic (PWMC) is to build a stronger and healthier community by providing high quality primary health care regardless of the patient's means or access. PWMC has now opened a satellite location in Panama City providing much needed medical care to those affected by Hurricane Michael.
About Prudence Farrow Bruns:
In 1968, Prudence Farrow Bruns traveled to India with her sister, actress Mia Farrow, and the Beatles to study meditation with the Maharishi Mahesh Yogi. She became so focused on practicing meditation that she would stay inside her room for hours. This prompted Paul and John to serenade Prudence outside her door with a little jingle "…The sun is up, the sky is blue, it's beautiful, and so are you…" "Dear Prudence" received her PhD from Berkley in Sanskrit and she's an expert and highly respected teacher of Transcendental meditation, an accomplished film producer, speaker and author.
ENTER TO WIN JESSICA PRATT/KURT VILE TICKETS:
Jessica Pratt's new album Quiet Signs will be released Febraury 8th, 2019 but first she will open for Kurt Vile on December 20th at the Sylvee. All pre-orders (online or in the shop) for Quiet Signs will be entered to win a pair of tickets to the show.
SELL US YOUR CDS & LPS: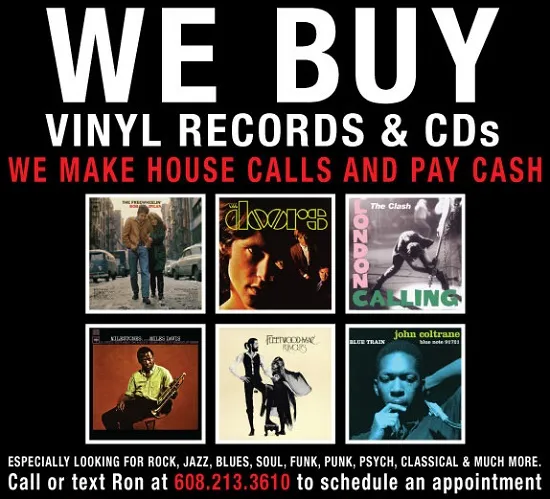 (OUR LAST) MONROE STREET CONSTRUCTION UPDATE:
Monroe Street is fully open to two-way traffic again!
To say this has been a challenging year for us, our neighbors, our guests, and all of you reading this is a bit of an understatement. Through a maze of booming trucks, dust-clouds, and traffic cones, we've all managed to work with it, and we've relied a lot on your patience. For all that and more we say a hearty "THANK YOU!"
Despite the challenges, this 9 month experiment proves that our community is dedicated to supporting local businesses, even when the logistics are inconvenient. We're happier than ever (and riding/driving smoother!) to be here serving you the latest and greatest in music. So thanks again, and please, remember to start looking both ways again when you cross the street!

OTHERS TALK BACK:
This isn't the spot to lay down odds on the third race. OTB is where Others Talk Back and give you the lowdown on what they've been feeling lately. This one's for the customers.
Calexico – "The Black Light 20th Anniversary Edition"  Even though Calexico has released eight studio albums since 1998, "The Black Light" is probably their most beloved album.  Some might even call it their most magical release.  "The Black Light" was their first attempt of melding indie roots rock with Tejano, Conjunto and Mariachi music from Mexico.  The band had just moved to Arizona and was trying to make sense of the musical landscape of the Grand Canyon state.  This album is the end result of that journey.  The original album is presented in stunning detail, and there is a second disc of bonus material, including their "Road Map" ep which followed the first release of "The Black Light."  Listening to the album,  it is manifest how great and important "The Black Light" was then and still is now. - Ted

Ron, Ryan, Angie, Marty, Evan, Matt, Michael, Ben, Will, Ed & Isaac