Email November 21, 2018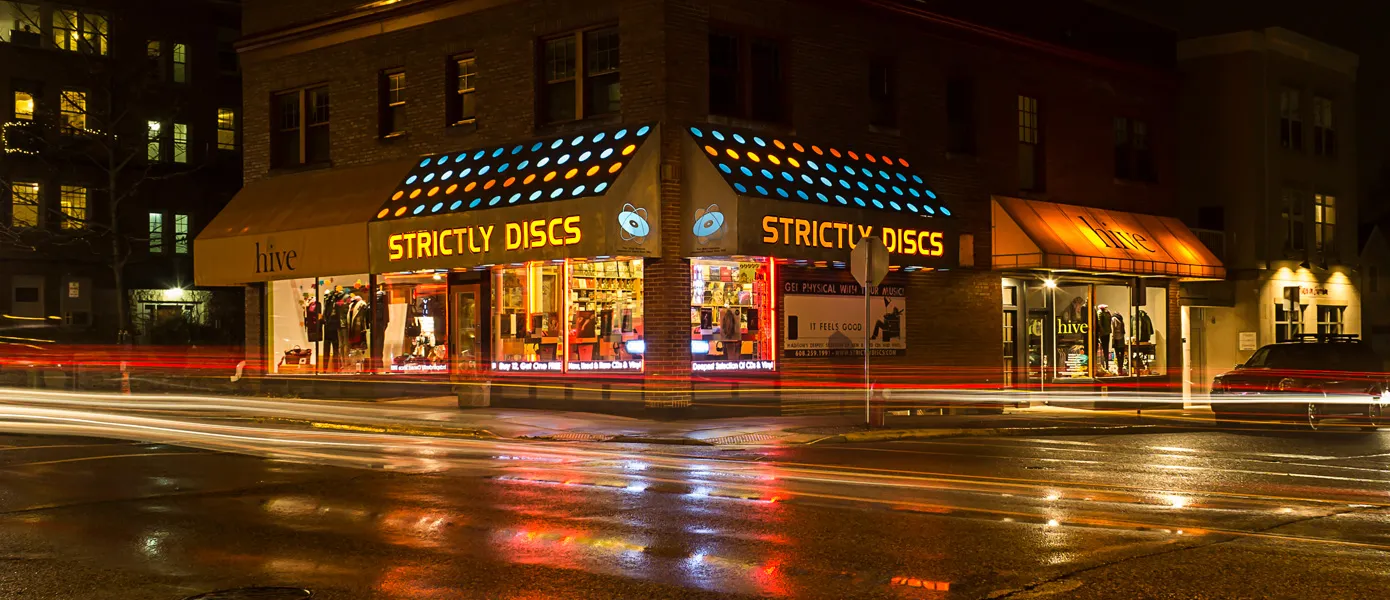 (OUR LAST) MONROE STREET CONSTRUCTION UPDATE:
Monroe Street is fully open to two-way traffic again!
To say this has been a challenging year for us, our neighbors, our guests, and all of you reading this is a bit of an understatement. Through a maze of booming trucks, dust-clouds, and traffic cones, we've all managed to work with it, and we've relied a lot on your patience. For all that and more we say a hearty "THANK YOU!"
Despite the challenges, this 9 month experiment proves that our community is dedicated to supporting local businesses, even when the logistics are inconvenient. We're happier than ever (and riding/driving smoother!) to be here serving you the latest and greatest in music. So thanks again, and please, remember to start looking both ways again when you cross the street!
BLACK FRIDAY RECORD STORE DAY IS NOVEMBER 23RD: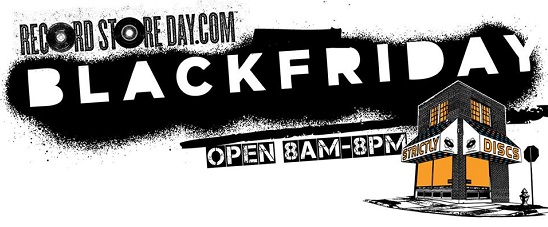 Strictly Discs will be the place to be this Post-Thanksgiving-Shopping-Melee-Day, also known as Black Friday.
And that's because certain indie stores across the country will be the place to get special releases created just for you, for giving and getting this holiday season, and they're scheduled for release on Black Friday, November 23, 2018.  

Now, this is not Record Store Day, Jr., but it is brought to you by the powers-that-be at Record Store Day. This is a group of special releases you can only find at certain independent record stores nationwide. The magic of these pieces (many uber-limited) is that every one of them is something someone will really LOVE to get, and you'll really ENJOY giving.  And you may have the added nice feeling of supporting a local, independently owned (Strictly Discs, Independently Owned since 1988) business during the holidays.
The list of Black Friday exclusives can be found HERE. And while we will try to have ample stock (one of the deepest in the midwest) of all items, please know that some of these products are extremely limited and will sell out quickly. For full pressing information on these releases, please visit the Record Store Day website.

If you created a wishlist, it will be updated within our system prior to November 22, 2018.
NEW THIS WEEK AT THE SHOP:
In addition to our bounty of Black Friday titles, we have a strong crop of new releases hitting the floor this Friday, starting with the long-awaited sophomore album from British-Kosovar R&B star Rita Ora. 'Phoenix' delivers solidly on the many years' worth of expectations for this one, and reflects on her challenges in an often brutal music industry. Next up is the solo debut from British jazz guitarist Mansur Brown, known mainly for his role in the emerging jazz-dance powerhouse Yussef Kamaal. Much like Kamaal Williams' solo venture earlier this year, 'Shiroi' takes a deeper plunge into themes YK explored on their lone album 'Black Focus'; nimble, confident, shapeshifting guitarwork commands a cosmic spaceways that occasionally deviates into straight up B-boyisms. What a marvelous album. Next up is the latest EP from Oneohtrix Point Never: 'Love In the Time of Lexapro' (oof) features an extremely rare remix from none other than Ryuichi Sakamoto.
Old stand-bys return with unheard gems this week starting with goth pioneers Bauhaus. 'The Bela Session' captures the sound of the very first recording session from Peter Murphy and the gang, just weeks after the band formed. Calexico celebrate 20 years since their landmark album 'The Black Light' with expanded liner notes and 11 bonus tracks. It's hard to point to a Songs:Ohia album that's his *best*, but if I had to, it would be 2000's 'The Lioness', which found songwriter Jason Molina embracing a more traditional song structure while plumbing ever deeper into his anguished lyricism regarding the struggles of life and love. 'Love & Work: The Lioness Sessions' expands this record with an entirely new album of unheard material from the era, and a clutch of notes, letters, postcards and other ephemera loving compiled by his family. Someone out there really, really wants this one for Christmas.
The Dublin-based All City label unearths a mindblowing gem of early Irish postpunk with a repress of the 1983 album from Stano called 'Content to Write In I Dine Weathercraft', This is one of those seemingly too-good-to-be-true discoveries that couldn't possibly have sat unappreciated for so long, but here it is. Imagine an even moodier, taciturn version of the Swell Maps, or a bedsit solo version of The Feelies, and you're about there. Speaking of the Swell Maps, we've got a jam-packed 2CD of material from the world of Dave Kusworth, who founded The Jacobites with Nikki Sudden atfer the Maps disbanded. Jazzy dark ambient wizards Bohren und der Klub of Gore see their 2011 release 'Beilied' hit vinyl for the first time.
Bookending a busy year for him, David Byrne sees an expanded version of his 'True Stories' soundtrack back on LP, with lots of material included that was excised from the original 80s release. We've got a killer LP repress of a Brazilian jazz-funk rarity from Cesar Mariano that's been out of print for decades. 'São Paulo • Brasil' is top-flight fusion, with ample chops paired with equally tasteful, downright nasty vibes. The Sahel Sounds label brings us a lovely new record in the form of Ahmoudou Madassane's 'Zerzura' soundtrack, said to be the first ever "Saharan Acid Western". That ought to be enough to get your attention on this one. 
This week's highlights include some extremely deep, obsessively curated compilations from Down Under. 'Midday Moon' comes via the radio show Sanpo Disco, and explores 1980s ambient music from Australia and New Zealand at an incredible level. Won't be taking this one off the table much for the rest of the year. Same goes for '3AM Spares', the latest edition of digger comps from the Aussie duo of Andras Fox and Instant Peterson, which goes hard in the archives of 1990s AUS/NZ rave and dance culture, a world largely unexplored by anyone not from there. As usual, these guys have dug up the countryside for tapes nobody has heard, raided radio stations for demos and 12"s, all to connect the dots of a vibrant world of Antipodean House. We've also got the second volume of the fantastic Venezuela 70 compilation in stock. 
Big rap items in the house this week include the latest from Freddie Gibbs, 'Freddie' is now here on vinyl. We've got an LP repress of the titanic turn of the century rap juggernaut Cannibal Ox's epic 'The Cold Vein' on a heavy 4 LPs. At last, Mac Miller's swan song 'Swimming' is available on LP. Check out the hip-hop section for some other awesome new titles that shant be mentioned here.
Lots of lovelies in the house from the dance world this week including a great new EP from Ethiopian Records, the strangely named project of Ethiopian dance producer Endeguena Mulu. Old SD buddies Peaking Lights slide back on the scene with an incredibly rich, trippy mini-album on the Dutch label Dekmantel. Weary traveler Black Merlin has a new album out on his Island of the Gods imprint. Like his last album drew on field recordings an experiences immersed on the island of Java, 'Kosua' is the fruit of years spent living with an recording indigenous musicians on Papua New Guinea. We've also got new EPs in the shop from Parris, Pearson Sound, and Taraval, on Four Tet's Text label. 
USED CD ALERT:

Our fresh used CD arrivals are the first thing you see when you walk in the store for a reason. They're the CDs that make you go "Who would ever sell ____?" Where the blank is, say, The Feelies, or Clifton Chenier. or Bill Evans. We don't know the answer to that question, and we're subject to strict non-disclosure agreements even if we did know. Nevertheless, the excitement is all yours, and this week it comes from a long buffet of genres. Early alt-rock from Wire, Big Star, the Modern Lovers, and the Mekons? Check. Blues classics from Prof. Longhair, Ramblin Jack Elliott, Muddy Waters and Charlie Musselwhite? Affirmative. Brain-busting jazz from Grant Green, Muhal Richard Abrams, Tony Williams, and the Art Ensemble? Why yes. Other....stuff...from Brian Eno, the Cramps, Thin Lizzy, Rush, Sleater-Kinney, Wild Nothing? That's just the start. Just a little taste of the fresh used CDs, right there when you walk in the door.
USED VINYL ALERT:
We're coming at you with full force for this special Black Friday edition of the Used Vinyl Alert. A couple of cherry collections of newer vinyl pressings have come our way in recent months and we're rolling out 1000+ of the especially primo titles. Read on for the full rundown!
Limited edition, colored vinyl, heavyweight pressings, alternate covers, and other highly collectible criteria run the day, as we see indie titles from Beach House, LCD Soundsystem, Beck, Caribou, Flaming Lips, Foxygen, Fleet Foxes, Wilco, Ariel Pink, Ty Segall, Godspeed, Fiona Apple, Spoon, Dirty Projectors, Atoms For Peace, the Black Keys, Sleater Kinney, James Blake, Vampire Weekend, the National, Weezer, Built To Spill, Bonnie Prince Billy, The Raconteurs, Animal Collective, My Morning Jacket, as well as an extremely deep grip of limited edition Third Man Records releases.
If the heavier end of the rock spectrum is where thou dwellst, listen up now. Rare and out of print titles are here from Soundgarden, Deafheaven, Mastodon, Uncle Acid, A Perfect Circle, Megadeth, Metallica, Down, Rage Against the Machine, Puscifer, Shellac, Primus, Machine Head, Crowbar, Suicidal Tendencies, Fucked Up, Iron Maiden, Corrosion of Conformity, Black Label Society, Tool, Ozzy, Alice in Chains, and Nine Inch Nails. 
80s wavers and early indie is here from Prefab Sprout, the Cure, Morrissey, Depeche Mode, Electronic, Ride, New Order, My Bloody Valentine, U2, INXS, The Sound, Mad Season, Nick Cave, REM, the Pixies, and the Butthole Surfers. 
Classic rock titles from Led Zeppelin, Bob Dylan, the Band, Pink Floyd, Velvet Underground, the Kinks, Lynyrd Skynyrd, Leonard Cohen, Fleetwood Mac, Rush, the Byrds, Allman Brothers, Tom Petty, the Black Crowes, TRex, Queen, the Sonics, and Buddy Holly are joined by more contemporary jam rockers like Red Hot Chili Peppers, Umphrey's McGee, Phish and Trey solo, Ryan Adams, and Dave Matthews.
Soul classics from James Brown, Booker T, Bill Withers, Marvin Gaye, Otis Redding, Aretha Franklin and Sam Cooke are paired with more recent R&B and hiphop from Erykah Badu, Beyonce, Norah Jones, MF Doom, Madlib, Handsome Boy Modeling School, J Dilla, Run the Jewels, GZA, Danny Brown, the Beastie Boys, Outkast, and Solange. 
Lastly, check out fine quality jazz titles from Art Blakey, Hank Mobley, Roy Ayers, Joe Henderson, Miles Davis, Cannonball Adderley, John Coltrane, Bill Evans, and Ben Webster, alongside some righteous country and folk from Johnny Cash, Loretta Lynn, Townes Van Zandt, Merle Haggard, Steve Early, Rosanne Cash, Dave Rawlings, Lucinda Williams, Willie Nelson, and Gillian Welch.
JOIN US FOR SMALL BUSINESS SATURDAY:

Show your LOCAL love and visit Monroe Street for Small Business Saturday. We will have the exclusive releases for that day + great music gifts for everyone on your list.
Every purchase of $50 will get you an entry to win a Monroe Street Tote Bag and a $25 Monroe Street Gift Certificate.
WAREHOUSE POP-EVENT/SALE NOVEMBER 28TH:
Thousands of of fresh bargain LPs, 45s, CDs and other musical ephemera for browsing, plus a large selection of collectible LPs.

Lastly, fear not: the pop up will have a ton of great records but we will STILL be doing our usual Used Vinyl Alert with the same amount of great fresh arrivals the following Friday. So cruise out to our home away from home and prepare to dig. Bring the family, bring a date, or just bring a big box to haul away the deals. We'll see you Wednesday evening!

Our warehouse is located at 4253 Argosy Court. Please park only in our front parking lot and not in the trucking company's back lot.
SELL US YOUR CDS & LPS: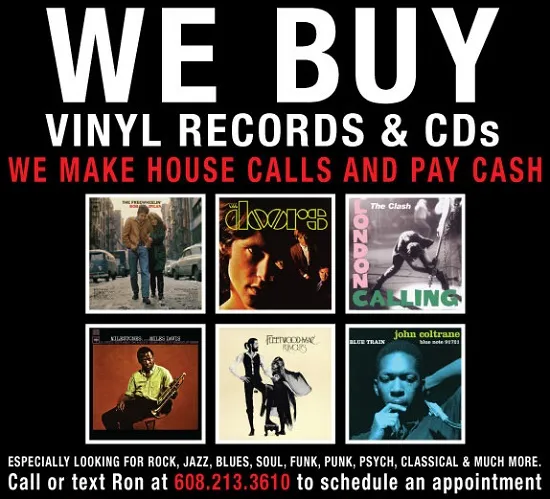 NEXT MUSIC TRIVIA TUESDAY NOVEMBER 27TH:
Join us Tuesday, November 27th for Music Trivia at the High Noon Saloon. Registration starts at 5:30PM wiht first question from Marty & Angie at 6PM. Save the date for December 11th.

OTHERS TALK BACK:
This isn't the spot to lay down odds on the third race. OTB is where Others Talk Back and give you the lowdown on what they've been feeling lately. This one's for the customers.
The Rolling Stones – "Beggars Banquet"  2018 is the fiftieth anniversary of the release of this classic Stones album.  And it is also the last full album that Brian Jones performed on.   "Beggars Banquet " seems a return to the basics after some of the excesses of "Their Satanic Majesties Request."   The Stones filter all the songs on this album through a gumbo of country, blues, folk, country and fifties influenced rock and roll.  It appears that the band upped their game with this album after being revitalized by embracing their influences again.  "Beggars Banquet" is an album that everyone agrees is one of the Stones' greatest albums.  And the album sports a brand new remaster that leaves the 2002 remaster of this album far behind. - Ted

The Posies – "Amazing Disgrace"  This has to be my favorite Posies album.  It is probably their most rocking album too.  The Posies really put the power into power pop with this release.  And this is the last of the three reissues that the band has reissued this year.  There really is an embarrassment of riches in the quality of the twenty-three bonus tracks.   You get demos of most of the songs on the original album, plus a healthy amount of outtakes from the recording sessions.   Some of the demos and outtakes are equal to the tracks on the album. The pithy liner notes detail the sessions and the album's place in the Posies universe.  This two disc reissue is a must for any power pop fan and an essential pickup for all those Posies fans out there. - Ted

Various Artists – "The Wall (Redux) – Yes, this is a reimagining of Pink Floyd's "The Wall."  But the artists are the best of the "heavy underground" and dark indie artists.  Some of the performers included are the Melvins, Pallbearer, Sasquatch, Mark Lanegan, Damkraft, Year of the Cobra along with twenty-one others.  The artists pay their respects by not straying too far from the original songs.   But there is plenty of room for the artists to experiment and revitalize the songs from the performers' often skewed sensibilities.  'The Wall (Redux)" is a great amount of fun and at times makes one appreciate the talent that the performers put into making this project such a success.  You also come away with a  healthy respect for the original 1979 album. - Ted


Ron, Ryan, Angie, Marty, Evan, Matt, Michael, Ben, Will, Ed & Isaac