November 8, 2018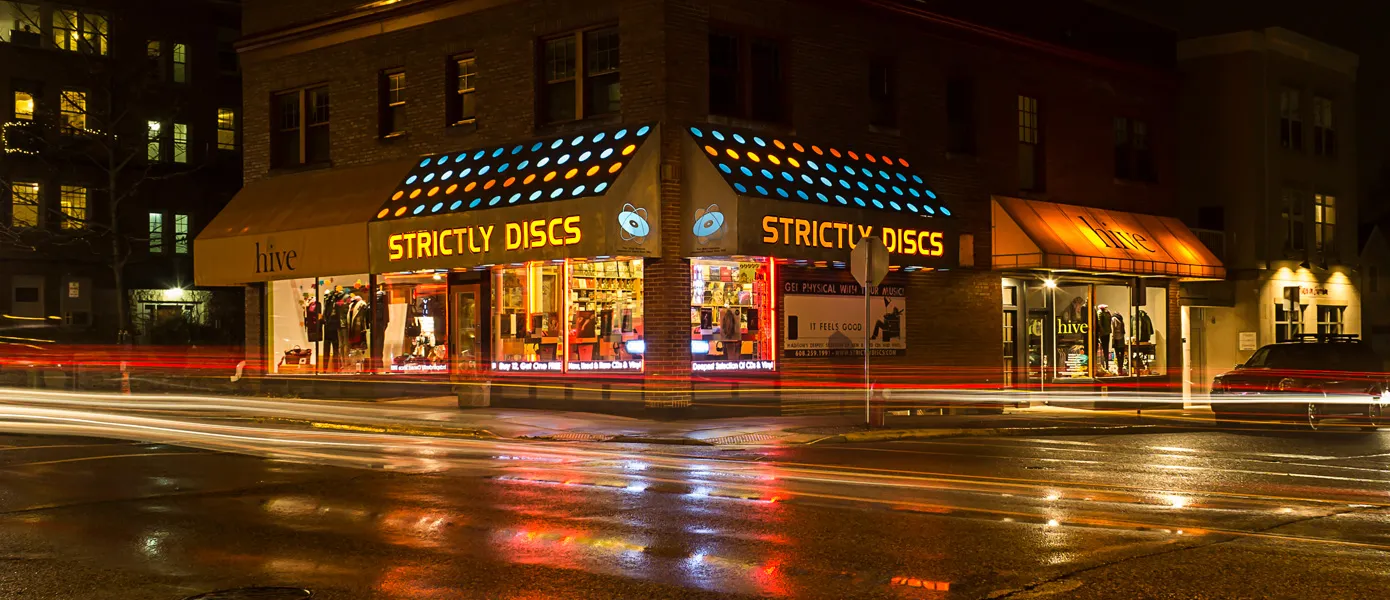 BLACK FRIDAY RECORD STORE DAY IS NOVEMBER 23RD: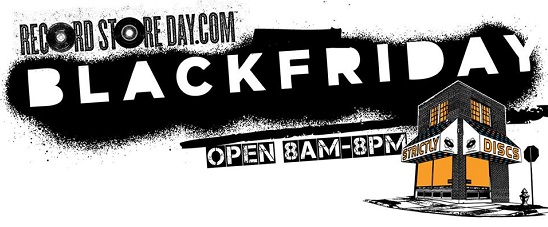 Strictly Discs will be the place to be this Post-Thanksgiving-Shopping-Melee-Day, also known as Black Friday.
And that's because certain indie stores across the country will be the place to get special releases created just for you, for giving and getting this holiday season, and they're scheduled for release on Black Friday, November 23, 2018.  

Now, this is not Record Store Day, Jr., but it is brought to you by the powers-that-be at Record Store Day. This is a group of special releases you can only find at certain independent record stores nationwide. The magic of these pieces (many uber-limited) is that every one of them is something someone will really LOVE to get, and you'll really ENJOY giving.  And you may have the added nice feeling of supporting a local, independently owned (Strictly Discs, Independently Owned since 1988) business during the holidays.
The list of Black Friday exclusives can be found HERE. And while we will try to have ample stock (one of the deepest in the midwest) of all items, please know that some of these products are extremely limited and will sell out quickly. For full pressing information on these releases, please visit the Record Store Day website.

If you created a wishlist, it will be updated within our system prior to November 22, 2018. We expect that you will be in the store on November 23rd to pick up any requested items. If you are unable to be here that day or want us to send any remaining stock after Record Store Day, please email angie@strictlydiscs.com now to make those arrangements. Thank you!
NEW THIS WEEK AT THE SHOP:
The Beatles' iconic, experimental opus known as the White Album gets the expanded treatment this week with a 3CD set containing a massive trove of incredible demo and alternate takes, a new 2LP pressing with a fresh stereo mix, and an expanded 4 LP box set version with selected demo cuts. This one's a must for all fans of the Beatlemen, and to sweeten the pot, we have a snappy lithograph to give away with purchase, featuring the shaggy mugs of the fellas. The tragic passing of Adam Yauch brought the career of the mighty Beastie Boys to an abrupt end in 2012, and since then the surviving Boys, Mike D and Ad-Rock, have been working feverishly on an epic autobiographical chronicle of their illustrious reign. 'Beastie Boys Book' is one of the coolest music documents we have ever seen: 590 pages of memories, interviews, guest essays, photos, posters, album art, and reproductions of memos from hotel front desks asking the boys to stop throwing things out their window. Few musicians led more interesting lives than these three did, and this massive tome does a remarkable job of summing it all up. Sufjan Stevens' 'Christmas Album' has been a perennial favorite since its release back in 2006, but it's never been on vinyl until now. Check out the fresh 5LP package!
Two of our favorite conjurors of ethereal folk music have finally teamed up on a duo album and it delivers big time on its elevated expectations. 'Ghost Forests' finds vocalist/guitarist Meg Baird and harpist Mary Lattimore reincarnated as a pair of Rusalki; they haunt these tracks with grace, rather than menace. At times the album has the nocturnal conjuring feel of Baird's band Heron Oblivion, at other moments Lattimore's glittering harp buoys the music into the clouds, and the occasional Albion-esque traditional folk strain keeps everything rooted in the earth. What an album! Same goes for the latest from Gaye Su Akyol, a contemporary Turkish folk rocker I would lazily call 'the Anatolian Neko Case' if I had to sum her up in three words. Angelique Kidjo has released one of 2018's most well-received albums in her re-envisioning of the Talking Heads' 'Remain In Light'. We now have copies of a very limited vinyl pressing that won't last long, it's limited to 150 copies and only a handful of stores worldwide have it. Swing in for one quick!
Three of our favorite voices have new records out this week. 'Black Velvet' is the final, posthumous album from Charles Bradley, close to completion at the time of his passing, and proof that he was still at the peak of his powers up until his final days. We've got this one on limited color vinyl, CD, and a special extended version packaged in a black velvet box. Timeless burnout rocker J. Mascis drops his latest via Sub Pop. We've got 'Elastic Days' on CD and colored Loser Edition vinyl while it lasts. The Feeding Tube label unearths an *incredible* mid-90s live set by Michael Hurley from (where else) Ljubljana, Slovenia. 'Living Ljubljana' is a fantastic document of Hurley in the live setting, where he really lets his ragged, effortless, freaky folk flag fly, and includes favorites like "I Paint A Design" and "O My Stars". This one's limited edition as well so don't go slow.
Anthemic smart poppers Helio Sequence celebrate the 10 year anniversary of 'Keep Your Eyes Ahead' with an expanded edition that comes on CD and colored Loser Edition vinyl. After lots of demand for a new vinyl pressing, cult French nu-disco producer French Kiwi Juice sees his album 'FKJ' hit LP again. Fleet Foxes revisit their nascent days with an expanded box set of early and unreleased material. 
Ahead of their much anticpated triple-headliner tour which hits Madison next week, singer-songwriters Julien Baker, Phoebe Bridgers, and Lucy Dacus have formed a group called Boygenius, and we have their vinyl-only debut mini album here for you now. Before she went solo, folkie Aoife O'Donovan was in a great progressive bluegrass band called Crooked Still, whose 2006 debut is now on LP for the first time. Laura Jane Grace steps out of the spotlight as frontwoman of Against Me for a solo record of strong confessionals called 'Bought To Rot'.
New records from some big names this week include Imagine Dragons, Muse, and The Revivalists. Old 97s singer Rhett Miller has a lovely new solo album. Influential blues guitar legend Robben Ford delivers a fresh slab, and due to popular demand, the multi-talented Jeff Goldblum has a CD of vocal standards.
Into the archives we go for some unheard gems. The all-female group Ace Of Cups wowed their contemporaries in the heady late-60s San Francisco scene, but never got a chance to cut their album. That's been rectified now, resulting in a wonderful time-travel-trip that recalls the more potent moments of Quicksilver and Jefferson Airplane, crossed with the incantations of the Dead. Just after the release of her latest studio album, Marianne Faithfull goes all the way back to her beginnings on the UK singles scene with 'Come And Stay With Me'. The Rvng. label unearths some killer avant-electronic pop from Michele Mercure, which sounds like a more obscure version of Laurie Anderson.
Reissues of some revelatory, somewhat forgotten 80s/90s gems this week. Unsane's havoc-wreaking 'Total Destruction' 1993 sounds like the Pissed Jeans band of today, but even more antisocial.
Xymox dropped the "Clan Of" from their name, and shed a lot of their goth bonafides for 1989's 'Twist of Shadows', and ended up creating a wonderful amalgam of darkwave and synthpop that paved the way for countless records all the way up until things like this year's Amen Dunes album. All the way back in 1983, the Detroit unit known as Cybotron made hash of their Kraftwerk records and their city's ragged punk spirit and crafted 'Enter', widely considered to be the first proper American techno album. Tracks like 'Clear' still resonate inside all kinds of electro, techno and pop decades later, but the whole album really works as one towards creating a beautiful, if dystopic vision, and belongs on any list of the most important albums made in the USA.
A seriously impressive bumper crop year for new jazz continues this week with a great new album from Marcus Strickland's Twi-Life, a massive double live CD from tabla player/band leader Sarathy Korwar that namechecks Pharaoh Sanders and Don Cherry, a 3 CD version compiling Christian Scott Atunde Adjuah's 'Centennial Trilogy', an invitingly groovy new quartet album from pianist Aaron Parks, and a killer vinyl-only EP of bumping modern funk/jazz hybrids from Australia's Harvey Sutherland. Look for that one in a new section created for this increasingly amazing, extremely hard to categorize strain of music, it's labeled "Beyond Jazz Funk". We've also got a great archive live CD from the Sonny Clark Trio, recorded in 1960.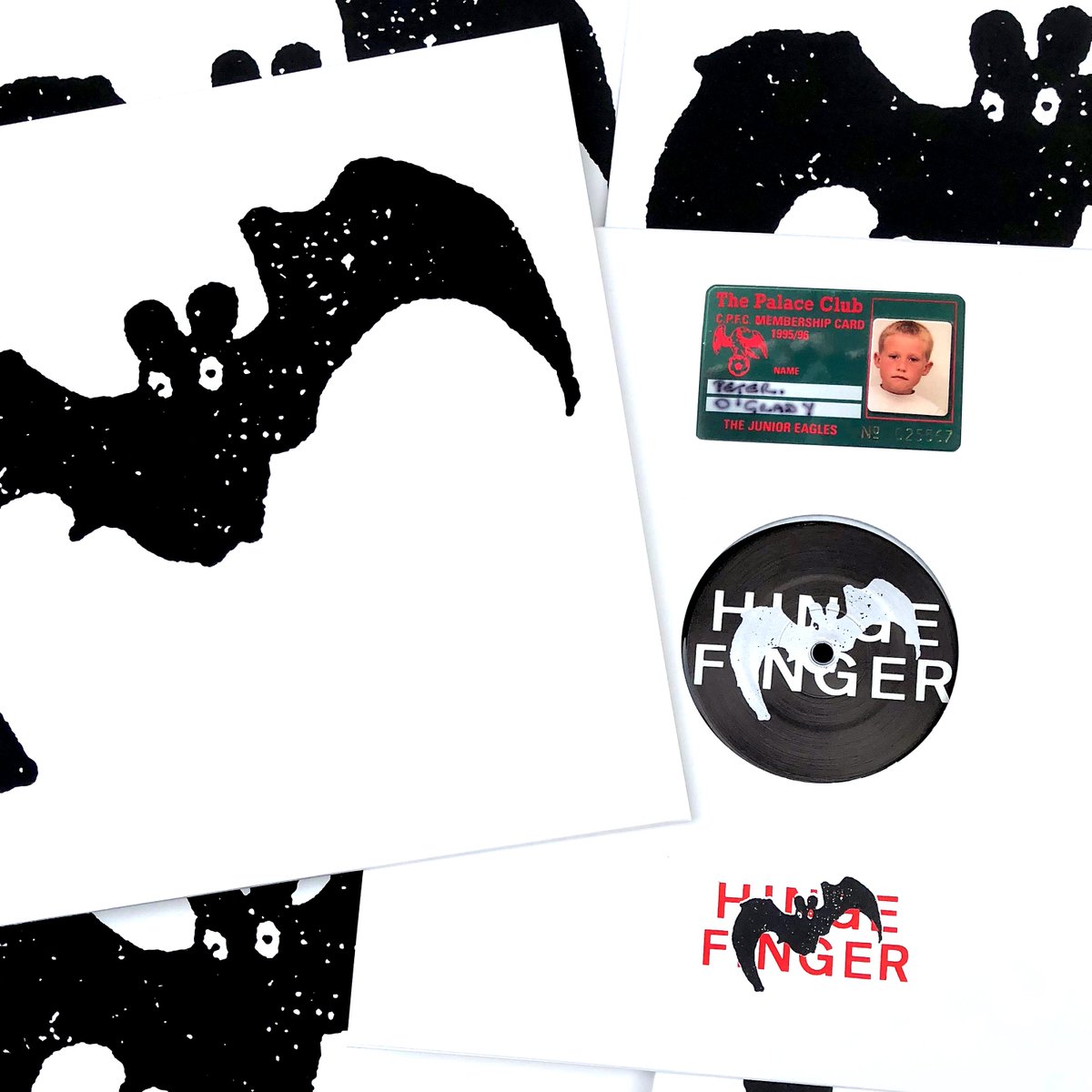 Some major figures in techno bring the goods this week. While they last, we have the vinyl version of the final Fabriclive compilation, curated by Kode9 and Burial. 3 LPs filled to the top with futuristic techno, grime, footwork, and bass. The truly mysterious Japanese producer Shinichi Atobe releases new music for the first time since his debut EP almost 20 years ago, and it rivals the gems unearthed for release since then. Koen Holtkamp of the drone duo Mountains has a new solo album under his Beast moniker that is a delight of multi-tracked percussion and melodic elements that goes down in a very stimulating way. We've got new EPs from UK heavy hitters Happa, Raime, and Joy Orbison, plus a fresh full length from the muscley Berliner known as Redshape.
'Positions' is the first offering from a cool group of electronic innovators going under the name Tkil. Ed Ruscha aka Secret Circuit is joined by the NYC duo Georgia and LA noisician Kiki Kudo on an album that overflows with ideas and synthesized psychedelia. German upstart Belia Winnewisser has a fantastic new album called 'Radikale Akzeptanz' that reminds me a bit of Jenny Hval or last years record from Kelly Lee Owens. A pair of UK house producers connect with a group of Ugandan percussionists for an extremely potent collab effort called Kawuku Sound that ought to appeal to anyone down for some worldwide dance music.
Far out reissues this week include the debut album from Leon's Creation, the band led by Santana vocalist Leon Patillo. 'This Is the Beginning' came out in 1970 in small quantities, and packs a lot of psychedelic soul in the vein of Norman Whitfield's work with the Temptations. Obscure Brazilian boogie band 

Grupo Controle Digital see their truly electric late 80s album back in print, and we've got a repress of the brief-lived Black Artist Group's live album from 1973. The unit was led by flutist/saxophonist Oliver Lake and inspired heavily by their contemporaries the Art Ensemble Of Chicago.
Glittering diamonds from the avant-garde this week. Trombonist Garrett List's 1973 album 'Your Own Self' is a triumph of studied minimalism meeting the maximalism of spiritual freedom, as he is joined by several luminaries of the 1970s out-jazz scene. Some of those same players appear on the 'Attica' album from composer Frederic Rzewski; one of the more politically-stirring, emotionally haunting works of large ensemble jazz you'll ever hear, for fans of Reich or last year's excellent release from Julius Eastman. On the more ambient side, we have rare jewels from Jean Hoyoux and Eliane Radigue, plus a repress of the obscure Yugoslavian unit Acezantez, who predicted the whimsical chaos of Nurse With Wound on their only LP in 1978. Also check out the first ever vinyl appearance of some incredible music from artist Robert Rauschenberg, made alongside Kat Epple and Bob Stohl of new age pioneers Emerald Web.
Will Sessions & Amp Fiddler unite for some fun-loving full band jazz-hop on 'The One'. Fans of Charles Bradley should check out JP Bimeni, a Burundian refugee who found solace and soul in the UK, and now releases his debut 'Free Me', which blends the Daptone style of funky soul with some touches of afrobeat. Eric Lau continues his quest to be claimed the finest live-action beatmaker with 'Examples Volume 2', an endless session of hiphop oriented jazzy instrumentals. 
Major heat from the world of rap this week with new albums from Guilty Simpson, Open Mike Eagle, Little Brother and Too Short. Masta Ace & Marco Polo deliver a record the old school has been craving a long time with 'A Breukelen Story', plus weve got lost 90s sessions from Pete Rock on LP!
We close out with some rap reissues. 2Pac's 'Greatest Hits' finally hit LP in their full glory, alongside Busta Rhymes' 'Extinction Level Event' and the cult fave oughties album from Pacewon, 'The Only Color that Matters is Green', which has lived a long life on youtube until now.
USED CD ALERT:

Until this blue-green marble stops spinning, I'll keep working the incoming used CD beat. The headliner this week is Peter Green. Though he made his name with Fleetwood Mac when there was a sho-nuff blues band, he also cut a number of great things under his own name. We're lucky to have a bunch in this week and they will go quickly. In addition, there's a cavalcade of blues from the likes of BB King, Little Milton and John Lee Hooker. There's classic rock galore from Pink Floyd, the Allman Brothers, Queen, as well as Metallica's thrash classic "Master of Puppets," which pairs well with chardonnay and battered denim. We're thin on new soul and rap, but we got a couple of stone classics: Tribe's "Low-End Theory" and Al Green's live concert from Tokyo in 1978, which is underheard but predictably great. We still got quality jazz rolling in, including multiple sides from Monk, as well as Blue Note dates from McCoy Tyner, Jimmy Smith and Lee Morgan. You know the score, now hit the front door.
USED VINYL ALERT:
WAREHOUSE POP-EVENT/SALE NOVEMBER 28TH:
Thousands of of fresh bargain LPs, 45s, CDs and other musical ephemera for browsing, plus a large selection of collectible LPs.

Lastly, fear not: the pop up will have a ton of great records but we will STILL be doing our usual Used Vinyl Alert with the same amount of great fresh arrivals the following Friday. So cruise out to our home away from home and prepare to dig. Bring the family, bring a date, or just bring a big box to haul away the deals. We'll see you Thursday evening!

Our warehouse is located at 4253 Argosy Court. Please park only in our front parking lot and not in the trucking company's back lot.
MONROE STREET CONSTRUCTION UPDATE:
Thank you for making the trip to come and see us; we appreciate it!

DIRECTIONS FROM REGENT/EAST:
From Regent Street:
Turn Left on SPOONER ST
Turn Right on West Lawn or Keyes
Turn Left on Harrison St.
We are on the corner of Harrison & Monroe Streets (the street level parking lot outside of the Trader Joe's doors is a public City of Madison lot & the side streets all have FREE 2 hour parking.
MONROE STREET IS OPEN FROM THE WEST

Coming to the shop with CDs/LPs? We can come to you or meet you at our warehouse to make it easier. Please call or text Ron at 608.213.3610 to arrange.
SELL US YOUR CDS & LPS: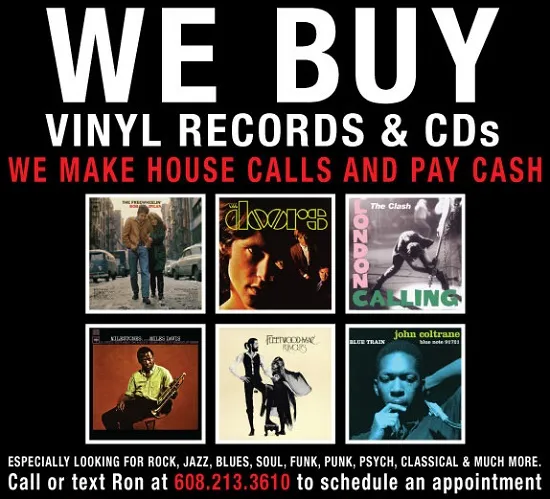 NEXT MUSIC TRIVIA TUESDAY NOVEMBER 27TH:
Join us Tuesday, November 27th for Music Trivia at the High Noon Saloon. Registration starts at 5:30PM wiht first question from Marty & Angie at 6PM. Save the date for December 11th.

OTHERS TALK BACK:
This isn't the spot to lay down odds on the third race. OTB is where Others Talk Back and give you the lowdown on what they've been feeling lately. This one's for the customers.
Marianne Faithfull – "Negative Capability"  Ms. Faithfull has released great album after great album since her creative rebirth with 1979's "Broken English."    I really can't find a bad album in any of her fourteen studio releases since 1979.  In fact, she has released more than her fair share of masterpieces during those thirty-nine years.  It is obvious that Ms. Faithfull has set an extremely high bar for any music that she releases.  I am pleased to say that "Negative Capability" more than meets any expectations.  On this album she shares the creativity with a number of collaborators.  Musical friends such as Nick Cave, Mark Lanegan, Warren Ellis and Ed Harcourt.   These songs are not retreads or leavings fed to her by her partners but songs that are true collaborations.   It is inspiring to every music fan that Ms. Faithfull, at age 71, can produce an album as great as "Negative Capability" is. -Ted

JD McPherson – "A Christmas Album – Socks"   It seems a strange choice for Mr. McPherson to record a Christmas album.  Mr. McPherson has released three albums of top-shelf fifties inspired rockabilly and rhythm and blues since 2012.  The funny thing is that "Socks" is a great rock and roll album that just so happens to deal with Christmas.  And Mr. McPherson handles the Yuletide with the humor that only a rocker can bring to the holiday season.   It is apparent, that Mr. McPherson is the rocking reason for the season with "Socks." - Ted

Ron, Ryan, Angie, Marty, Evan, Matt, Michael, Ben, Will, Ed & Isaac