November 1, 2018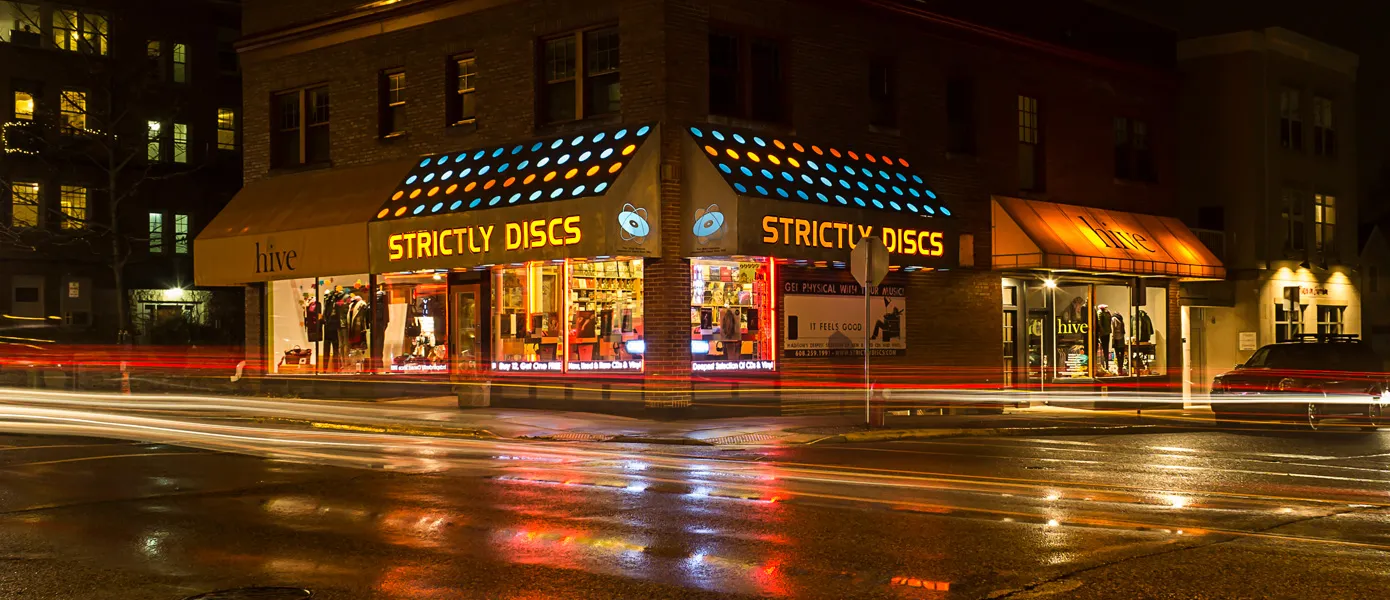 BLACK FRIDAY RECORD STORE DAY IS NOVEMBER 23RD: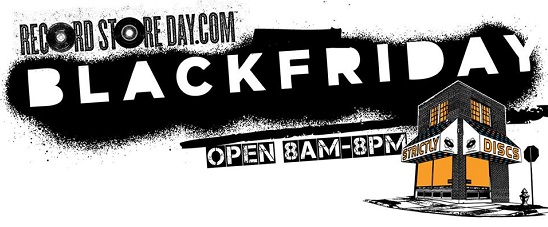 Strictly Discs will be the place to be this Post-Thanksgiving-Shopping-Melee-Day, also known as Black Friday.
And that's because certain indie stores across the country will be the place to get special releases created just for you, for giving and getting this holiday season, and they're scheduled for release on Black Friday, November 23, 2018.  

Now, this is not Record Store Day, Jr., but it is brought to you by the powers-that-be at Record Store Day. This is a group of special releases you can only find at certain independent record stores nationwide. The magic of these pieces (many uber-limited) is that every one of them is something someone will really LOVE to get, and you'll really ENJOY giving.  And you may have the added nice feeling of supporting a local, independently owned (Strictly Discs, Independently Owned since 1988) business during the holidays.
THE DEADLINE TO CREATE/MODIFY A WISHLIST IS NOVEMBER 5TH AT 8PM:

We'll be operating our Record Store Day Black Friday wish list / request system the same way as year's past, So please feel free to make your requests after logging into your account (or creating an account). You must make the jump HERE to access your RSD account information. A wish is not an order. And while we will try to have ample stock (one of the deepest in the midwest) of all items, please know that some of these products are extremely limited and will sell out quickly. For full pressing information on these releases, please visit the Record Store Day website.

We will do our best to have ample stock of all Record Store Day Black Friday releases. The status of your requests will be updated within our system prior to November 22, 2018. We expect that you will be in the store on November 23rd to pick up any requested items. If you are unable to be here that day or want us to send any remaining stock after Record Store Day, please email angie@strictlydiscs.com now to make those arrangements. Thank you!


NEW THIS WEEK AT THE SHOP:
This week brings a new installment in one of the music world's most beloved ongoing archival series, Bob Dylan's Official Bootleg series. For the 14th volume, Dylan revisits the sessions that led up to 1975's 'Blood On The Tracks'. On what is considered his most personal and anguished album, Dylan famously recorded an initial version of the LP with almost no backing band to speak of, before deciding at the last moment to juice up the songs with a speedily assembled group of Minneapolis musicians, and recutting the album at a slightly faster pitch. 'More Blood, More Tracks' reconciles these competing versions with the series' typical thorough-going attention to detail. All the takes are here, alongside rehearsal takes and live recordings, and a huge book of Dylan's notebooks from the period. Just as luxurious is the first-ever vinyl version of Joni Mitchell's 2014 retrospective of her career, 'Love Has Many Faces'. Across 8 LPs, Joni revisits songs from across her storied career, pairing them with lyrical poems and other anecdotes about each song. We've also got an incredible new set of music from Joni's muse, Charles Mingus, pulled from uncovered master tapes discovered by the wife of late drummer Roy Brooks. 'Jazz in Detroit' is a massive document, 5CDs or 5LPs worth of blazing quintet work from a 1973 radio show in Detroit, just after the release of Mingus' seminal 'Let My Children Hear Music'. with Mingus at the peak of his revolutionary powers. 
The super-duo of Kid Cudi and Kanye West, Kids See Ghosts, sees their debut mini-album hit vinyl at last. We also have a new CD from Migos mainman Quavo called 'Huncho', and an LP from Louisiana dark rap duo Suicideboys, called 'I Wanna Die In New Orleans'.
Three icons with careers made of steel deliver brand new studio albums this week. Barbra Streisand hasn't been too keen on the current events on 2018, and delivers a rare politically-oriented album with 'Walls'. 

Marianne Faithfull returns with yet another intoxicating album. 'Negative Capability' sees the timeless chanteuse joined by Nick Cave and Warren Ellis. We've also got a new album from a reflective

Rosanne Cash called 'She Remembers Everything', available on CD and limited pink vinyl.
The wild Aussie buckaroos known as King Gizzard and the Lizard Wizard return to some early gems in their catalog, rewarding their die hard fans with new versions of a couple of LPs that were originally only released in tiny editions down under. Check out exclusive color vinyl pressings of 'Float Along - Fill Your Lungs', 'Eyes Like the Sky', '!2 Bar Bruise' and 'Oddments'. 
Some great new folk and pop in the bins this week from Peter Bjorn and John, Empress Of, and Doug Paisley, who channels John Denver and Gordon Lightfoot on his latest, 'Starter Home'.
Two highly regarded practitioners of textured detail, Jefre Cantu-Ledesma and Felicia Atkinson team up on a lovely, elusive new album dedicated to Sylvia Plath called 'Limpid As The Solitudes'. NYC composer Kelly Moran wowed us with her minimal compositions on last year's 'Bloodroot', but she really diversifies her sounds on her debut for Warp. 'Ultraviolet' is a gorgeous piece of hypnotic strings boldened by layers and layers of acoustics. The one and only Dead Can Dance return with '

Dionysus', an ethereal trip through ceremonial percussion.
'Lebroba' is the historic summit of three of the jazz world's most sensuous performers: Andrew Cyrille, Wadada Leo Smith, and Bill Frisell, paying tributes to Alice Coltrane and West African percussion. From Indonesia comes the beguiling, irresistible duo Senyawa, who refine their entirely unique sound of 

doomy, 

ceremonial sludge 

from guttural chants and hypnotic 

string instruments. 

Otherworldly! Japanese trio 

O Yama O have a deep dive of a new record that sounds like a weird cross of Hosono's 'Cochin Moon' and late 80s Sun City Girls. 
Heavies! Theatrical metal legends Opeth celebrate their Red Rocks performance with the expansive 'Garden Of the Titans' available on CD with DVD, or on Green/Black vinyl. 

Daughters have a new album called 'You Wont Get What You Want', in the building on "London Fog colored vinyl". Metallica expand and refresh their classic 'And Justice For All' with a new vinyl remaster, super deluxe edition (

11 CDs/6LP/4DVD), and a cassette version. We've also got new discs in from Sick of It All and Tenacious D. 
Celebrate the 80s underground with an expanded CD reissue of Nitzer Ebb's 'That Total Age' and a cool 2CD set of the best of Dinosaur Jr called 'Ear Bleeding Country'. We've also got DVD copies of the rare Arthur Russell documentary 'Wild Combination', a lovingly drawn, very informative portrait of one of the most important 20th century American musicians, that's been hard to track down for many years.
Jump in the deep end and stay in good company with unreal, seldom heard music from Peter Kardas, Keiji Haino, and the Thought Gang. 'I Saw You' collects music from two obscure cassettes by Colorado guitarist Peter Kardas, who crafts intoxicating ambient soundscapes ala K. Leimer or Robert Fripp. 'Watashi Dake' was the 1981 debut from elder experimenter Keiji Haino, an entrancing trip thru avant-blues. Thought Gang was the one-off art jazz duo of David Lynch and Angelo Badalamenti who, when they weren't concocting the most bone-chilling music possible for Twin Peaks, we're also creating this strange blend of freakiness that sounds like William Burroughs jamming with Adrian Sherwood and the Lounge Lizards. I didn't think it was possible for anything Lynch-related to still surprise me, but I should have known better!
More world sounds come through from the Sahel's Tallawit Timbouctou, plus reissues of Infinite Sound's 'Contemporary African American Music', a 1975 spiritual jazz meditation starring the legendary Roland Young, plus a blazing new printing of a young Eumir Deodato putting a hot spin on bossanova with the group Os Catedratico on 1964's 'Impulso!'.
Some out of print classics come back to wax this week. We've got '

Wu Tang Forever' and Blink 182's obscure punk classic 'Enema of the State', a new printing of Arcade Fire's self-titled debut EP. Volume one of the Traveling Wilburys albums is here on picture disc, plus we have a new LP version of Faust's comeback album 'C'est Com...Com...Complique'. Lastly, after close to 2 decades out of print, the legendary Unwound's swansong 'Leaves Turn Inside You' is back on LP via the Numero Group. Behold, the best autumn album ever made!
Glasgow's Auntie Flo delivers an incredible album of deep house inflected with West African sounds called 'Radio Highlife'. Longtime German club DJ maestro Roman Flugel turns in an incredible and surprising new album for ESP Institute called 'Themes', which sees him conjuring various instrumental moods, library-style, while revisiting some building blocks of proto-techno like Kraftwerk and Vangelis. Ambient house enchanter Suzanne Kraft drops another oblique mini-album of chilly tech called 'SK U Kno', and we've got 3 beautiful EPs of dreamy, breaky house from John Daly, Kuniyuki remixed by Call Super, and Harmonious Thelonious.
USED CD ALERT:

It's a dang harvestful of used CDs this week. Let's start off on a jazzy note first. We have ECM titles from Pat Metheny, Keith Jarrett, Charlie Haden, as well as prime Blue Note works from Stanley Turrentine, Bud Powell and Bobby Hutcherson's "Stick-Up," which takes up residence in my personal top dozen Blue Note dates. For neophytes, there's nice primers on Bill Evans, Coleman Hawkins and Wes Montgomery. For wilder tastes, we have the self-titled debut from the Tony Williams Emergency and "Iron Man" by Eric Dolphy, as well as stone-cold essentials like Monk's "Live at Carnegie with John Coltrane" and Mingus's "Pithecanthropus Erectus." Rocktober extends into November with the meat of the Stones' classic run, a bunch of Dylan digipacks and multiple albums from friendly Twin Cities rivals Husker Du and The Replacements. Down to soulsville we head for a pair from the eternally-relevant Gil Scott-Heron, as well as a couple sides from one-time Madisonian Luther Allison. Finally, we have a batch of rootsy stuff from Dwight Yoakam, Jimmie Dale Gilmore (of "Mark it 8, dude" fame!), and a trio from Gillian Welch. That's a whole lot of ear candy is what it is.
USED VINYL ALERT:
Heading downstairs for this week's Used Vinyl Alert, we cover all the genre bases this time around. 
We roll out a nice selection of Beatles records this week, including some out of print Mono pressings, some boots, and other delights. Lots of classics from Led Zeppelin, David Bowie, Bob Dylan, Jimi Hendrix, Pink Floyd, Fleetwood Mac, John Lennon, and all the various configurations of CSNY. We've also got heat from King Crimson, Exuma, Them, Evie Sands, John Martyn, Fairport Convention, the Free Design, the Yardbirds, the Kinks, Deep Purple, and Bob Seger.
80s new wave, punk and metal aplenty, with names like Def Leppard, AC/DC, the Runaways, the Ramones, Sparks, Human League, Peter Gabriel, Bad Brains, the Cure and the Scorpions. More recent alternative rock and such comes through from the Arctic Monkeys, Mastodon, Jeff Buckley, the Flaming Lips, Black Rebel Motorcycle Club, Hippo Campus, Jack White, the Black Keys, and Vampire Weekend, alongside a slew of other obscure recent releases!
The soul hole is filled this week by James Brown, Jimmy Castor, Martha and the Vandellas, Stevie Wonder, Donna Summer, SOS Band, the Isleys, Kool and the Gang, Norman Connors, Madonna, the Supremes, the Foundations, Sly Stone, Aretha Franklin, and some gems from Sam Cooke. Also check out hiphop from Travis Scott, Tribe Called Quest, Run DMC, Flying Lotus, and the Breakin soundtrack.
Quality jazz comes in from Thelonious Monk, John Coltrane, Lalo Schifrin, Herbie Mann, Eddie Harris, Gabor Szabo, Bobbi Humphrey, and Charlie Haden, augmented with some great Latin LPs, plus some Indian and Japanese traditional LPs.
Country, folk and blues shows up from Doc Watson, Johnny Cash, Flatt and Scruggs, Randy Travis, Merle Haggard, Waylon Jennings, Dolly Parton, Willie Nelson, Muddy Waters, Ida Cox, and Gatemouth Brown. We've got electronic stuff from Mort Garson, John Cage, Steven Halpern, the Penguin Cafe Orchestra, Tangerine Dream, and Symmetry, as well as some cool vintage children's records (Dr. Suess!), some cult soundtracks, and a random, chugging assortment of train sounds LPs! All aboard, my friends.
RODNEY CROWELL / JD McPHERSON 7" PROMOTION:
JD McPherson & Rodney Crowell both release Christmas albums in November. And we've got a jump on those full lengths with a special limited edition split 7" from the pair. It costs just $2 and comes with a coupon for $2 off that can be used on either artist's full length CD or LP.
MONROE STREET CONSTRUCTION UPDATE:
Thank you for making the trip to come and see us; we appreciate it!

DIRECTIONS FROM REGENT/EAST:
From Regent Street:
Turn Left on SPOONER ST
Turn Right on West Lawn or Keyes
Turn Left on Harrison St.
We are on the corner of Harrison & Monroe Streets (the street level parking lot outside of the Trader Joe's doors is a public City of Madison lot & the side streets all have FREE 2 hour parking.
MONROE STREET IS OPEN FROM THE WEST

Coming to the shop with CDs/LPs? We can come to you or meet you at our warehouse to make it easier. Please call or text Ron at 608.213.3610 to arrange.
SELL US YOUR CDS & LPS: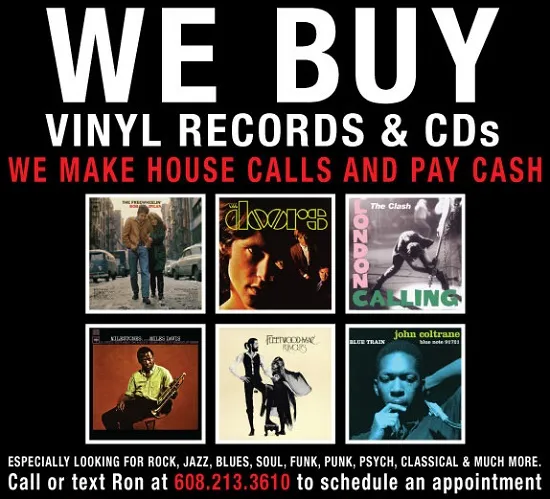 NEXT MUSIC TRIVIA TUESDAY NOVEMBER 27TH:
Join us Tuesday, November 27th for Music Trivia at the High Noon Saloon. Registration starts at 5:30PM wiht first question from Marty & Angie at 6PM. Save the date for December 11th.

OTHERS TALK BACK:
This isn't the spot to lay down odds on the third race. OTB is where Others Talk Back and give you the lowdown on what they've been feeling lately. This one's for the customers.
Will Oldham – "Songs of Love and Horror" This album is a collection of songs from Mr. Oldham's thirty five year career encompassing songs he originally released on Palace Music, Palace Songs and Bonnie Prince Billy albums.  This release is not a greatest hits collection; instead these songs are acoustic reinterpretations of the earlier material.  Yes, it is just Mr. Oldham and his acoustic guitar revisiting some of his best songs.  The degree of intimacy on these songs is astounding.  It is as if you are in a corner of the room while he is recording.  The stripped down sound focuses the listener on the quality of the songs and strengths of Mr. Oldham's voice.  "Songs of Love and Horror" is yet another astounding album in a career that has produced astounding album after astounding album.   Oh by the way, there is also a Linda and Richard Thompson cover on the album too. - Ted
Ty Segall – "Fudge Sandwich" I may be wrong, but I think that this is the  fifth album that Mr. Segall has released so far this year.  But, it doesn't contain any songs by Mr. Segall.  Instead, all of the eleven cuts are covers.  Some of the artists covered include John Lennon, War, Neil Young, Spencer Davis Group, Gong,  Funkadelic, Sparks, the Grateful Dead and three others.  To hear Mr. Segall's garage inspired takes on these songs is nothing short of total fun.  These covers aren't, however, just total goofs on the classic songs.  At times they illuminate what made these songs tick in the first place.  I think that "Fudge Sandwich" may be Mr. Segall's second best album of 2018.  It ranks right behind January's "Freedom's Goblin." - Ted
The Pixies - "Come On Pilgrim…It's Surfer Rosa"  2018 marks the thirtieth anniversary of one of indie rock's  classic albums – "Surfer Rosa."  The original album is remastered, and it sounds simply great!  Also included in the package is a remastered version of "Come On Pilgrim," their 1987 ep.  And if that wasn't enough, there is a 1986 live show included in the package.  That 1986 show is one of their earliest shows ever released.  Their infectious enthusiasm playing live more than makes up for any instrumental shortcomings that they may have possessed that early in their career.   "Surfer Rosa" is a stone cold classic and this new edition, with the additional material, makes it easy to see how the Pixies produced such a monumental work mere years into their career. - Ted

Ron, Ryan, Angie, Marty, Evan, Matt, Michael, Ben, Will, Ed & Isaac