October 26, 2018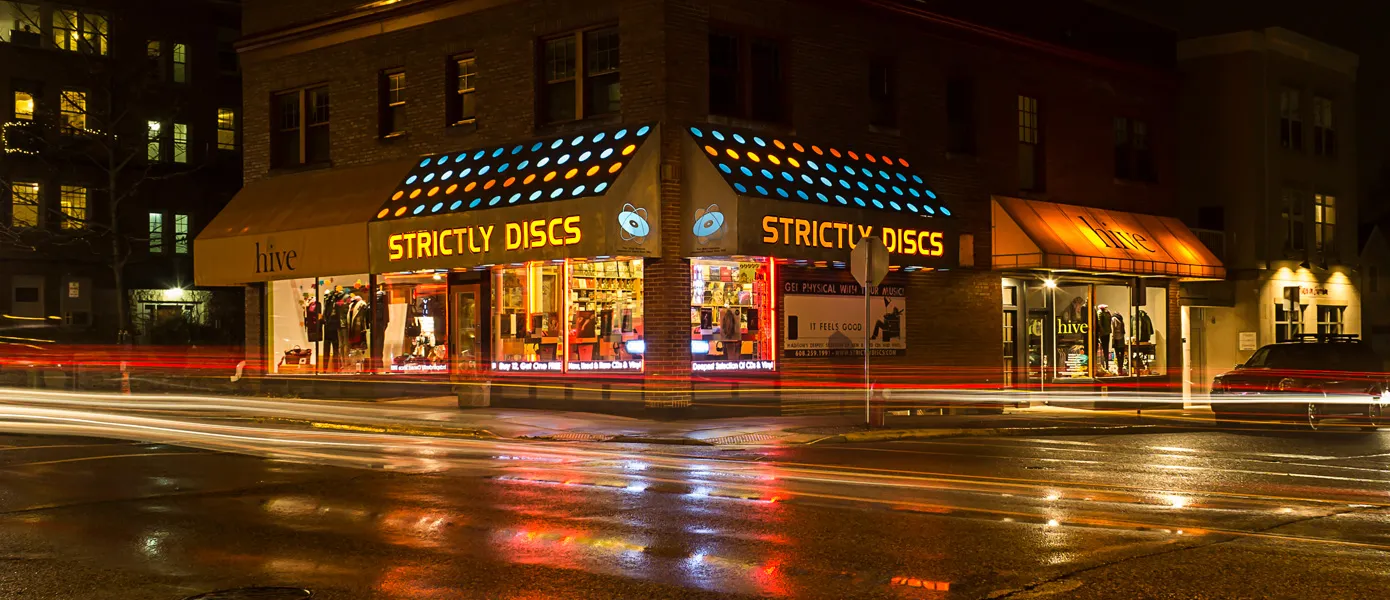 BLACK FRIDAY RECORD STORE DAY IS NOVEMBER 23RD: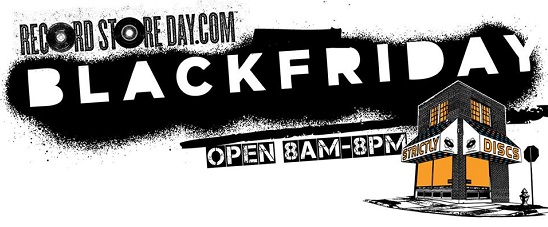 Strictly Discs will be the place to be this Post-Thanksgiving-Shopping-Melee-Day, also known as Black Friday.
And that's because certain indie stores across the country will be the place to get special releases created just for you, for giving and getting this holiday season, and they're scheduled for release on Black Friday, November 23, 2018.  

Now, this is not Record Store Day, Jr., but it is brought to you by the powers-that-be at Record Store Day. This is a group of special releases you can only find at certain independent record stores nationwide. The magic of these pieces (many uber-limited) is that every one of them is something someone will really LOVE to get, and you'll really ENJOY giving.  And you may have the added nice feeling of supporting a local, independently owned (Strictly Discs, Independently Owned since 1988) business during the holidays.

We'll be operating our Record Store Day Black Friday wish list / request system the same way as year's past, So please feel free to make your requests after logging into your account (or creating an account). You must make the jump HERE to access your RSD account information. A wish is not an order. And while we will try to have ample stock (one of the deepest in the midwest) of all items, please know that some of these products are extremely limited and will sell out quickly. For full pressing information on these releases, please visit the Record Store Day website.

We will do our best to have ample stock of all Record Store Day Black Friday releases. The status of your requests will be updated within our system prior to November 22, 2018. We expect that you will be in the store on November 23rd to pick up any requested items. If you are unable to be here that day or want us to send any remaining stock after Record Store Day, please email angie@strictlydiscs.com now to make those arrangements. Thank you!


NEW THIS WEEK AT THE SHOP:
Radiohead fronthead Thom Yorke's rare solo albums have each emerged in a unique form: 'The Eraser' came in a sleeve with so many folds, you couldn't close it again once you'd gotten it open without the assistance of someone from Mensa; 'Tomorrows Modern Boxes' was available only from Yorke direct, and came packaged in a ziploc biohazard slipcase. His third arrives disguised as a soundtrack for the modern remake of the classic Italian thriller 'Suspiria', and while it is technically music to accompany the film, it exists in its own bold Yorkeian space, and sounds to me like his strongest solo effort yet, complete with rich piano and electronics, orchestral arrangements, and his inimitable vocals. While they last, we have some very gorgeous silkscreened film posters to give away with purchase. Ty Segall puts out a new record at about 5x the pace as Yorke, but that's fine by us. 'Fudge Sandwich' is a covers album, with Segall doing his smudged take on underground rock classics from the Dils, Funkadelic, the Spencer Davis Group, and others. Alongside the Breeders, Segall is now the second act to cover Amon Duul's 'Archangels Thunderbird' in the year 2018. Weird. New Zealand freaks Unknown Mortal Orchestra continue to display their many sides with a new album of instrumentals that sprang from the sessions of 'Sex and Food', released earlier this year. Recorded in Vietnam with a local producer, 'IC-01 Hanoi' is an unpredictable hypno-jazz dervish of an album from a band at the peak of their creativity.
Chicago drummer and jazz production wizard Makaya McCraven delivers a heavy wallop of a new album with 'Universal Beings', a lengthy disc thronged with collaborators that from early listens sounds like it could easily be the jazz album of the year. Just as anticipated is the latest from UK space-jazz magician Moses Boyd, who follows up last year's Four Tet/Floating Points assisted effort with a new one called 'Displaced Diaspora'. Just CDs in the house on both of these, with vinyl to come in November. Another riveting listen from the vital fringes of jazz comes from New England drummer Eli Keszler. 'Stadium' finds Eli's trademark microscopic arrangements of snare 16ths and wafer-thin electronics in perfect formation, evoking the site-specific environments that have seen him collaborating with everyone from producer Laurel Halo to author Laszlo Krazsnahorkai.
The past handful of years have seen Julia Holter develop from startling new talent to one of our most trusted sound artists. For 'Aviary' she broadens her perspective to the widest aperture yet, inviting a large chamber ensemble to illuminate her sound poems, which feel as freighted with complexity as ever. Foreboding pedal steel manipulator Heather Leigh has a new album out on Editions Mego called 'Throne' that ain't for the faint of heart. Kranky brings us an awesome record from an unheard artist, Portland synth healer Saloli. 'In The Deep End' was scored for play at an indoor sauna, and it has the enclosed, humid, adventurous feeling of a place like that, with endlessly inventive synth sketches that far outpace their simple elements. Pacific Northwest folkie Laura Gibson has a lovely new album called 'Goners', and pop genius Robyn blesses us with a crisp, synthy keeper called 'Honey'. The Modern Love label takes another left turn with a collection of pieces from the NYC avant-garde flutist Mary Jane Leach, which haunt and charm with equal strength. 
Here come the icons. Post-punk legends Ana Da Silva (The Raincoats) and Phew (Aunt Sally) collaborate on 'Island', which is a bit of an understatement as far as titles go. This incredible meet-up sounds more like a remote, uninhabited wilderness than, say, Maui. Sundazed revisits the solo and unreleased work of Moe Tucker, who's blunted drumming for the Velvet Underground is one of the 20th century's most influential pieces of untrained musicianship. If you've ever wanted to hear an even more deadpan, even bleaker version of 'Heroin', it's here. With the recent passing of folk legend Maggie Roche, it's time to reflect on her four decades as a songwriter. 'Where Do I Come From?' is a loving tribute to your favorite singer's favorite singer, with tracks from across her career and some great early demos.
Some fine new live sessions come our way from a list of jazz greats. In 2007, Charlie Haden played a live performance in Germany with Brad Mehldau, the pianist he had mentored from early in his career in the 1990s before pronouncing him the greatest of a new generation of American jazz players. 'Long Ago and Far Away' is the first time that concert is available for a wide audience to hear. Same goes for 'La Fenice' from Keith Jarrett and 'Espace Cardin' from Dexter Gordon.
Reissues and archival gems from all over the world are here this week. First up, the Akuphone label's latest, 'Music Of Southern Laos', compiled by canny field recorder Laurent Jeanneau, is a deep and heady exploration of hypnotic flute and gong music from several Laotian minority communities. The Kinks' 1968 classic  'Are The Village Green Preservation Society' gets a fresh stereo remaster on CD and LP, and also comes in a massive super deluxe edition with unreleased material and ephemera. Jorge Ben's groundbreaking 1969 solo album is back on LP, and we've got a cool CD of some very early recordings from Terry Callier. The late 80s debut from UK dub act 'Alpha & Omega' gets a striking new vinyl issue that will appeal to fans of the On-U Sound and Jah Shaka, and the Art Ensemble of Chicago's hallowed 1970 masterpiece 'Les Stances A Sophie' is back in print on LP.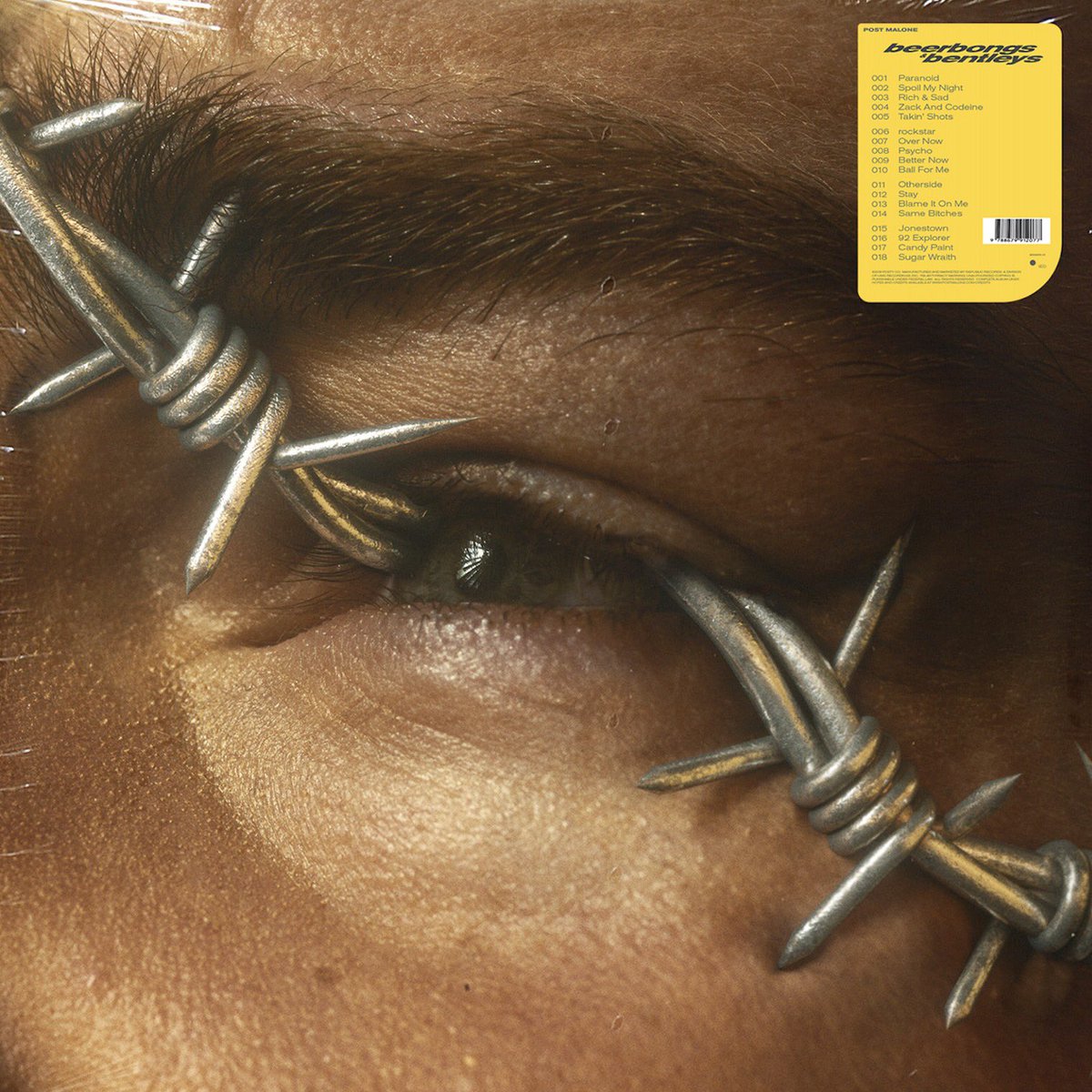 Hot rap items in the house this week: a vinyl reissue of TI's 'Paper Trail', the vinyl release of Post Malone's iconically dreamy/depraved 2018 album 'Beerbongs and Bentleys', and a promising new collaboration between rapper Homeboy Sandman and producer Edan, called 'Humble Pi'.
More reissues on the darker end of things! Bauhaus' legendary album 'In The Flat Field' taught the wider world about the goth style in 1980, and is back on LP in a bronze vinyl edition via 4AD. Legendary Memphis crust band His Hero Is Gone released two venomous album-length pummelings in 1997 before splitting up and forming scores of other underground hardcore bands like Tragedy and Criminal Damage. 'Monuments to Thieves' and 'Fifteen Counts of Arson' stand up two decades later as the pinnacle of American crust, alongside UK acts like Amebix and Doom. Coil's dark ambient masterwork 'The Black Light District' is also back in print on LP.
The Numero Group has restored the original tapes of the songs that went on to become Blondie's crossover hit 'Heart of Glass' for a cool new EP release. Hear the evolution of a song from a nearly unidentifiable track titled 'Once I Had A Love' to the Kraftwerk goes punk smash we all know and love across six distinct versions, with plenty of notes and bits along the way. Ministry members reunite for a new album as Bells Into Machines. Luna/Galaxie 500 mainman Dean Wareham is back in the spotlight with a collaborative album with Cheval Sombre. Pro skater turned funk machine Tommy Guerrero has a great, afrobeat channeling album called 'Road To Knowhere', and Jonathan Richman releases a fresh CD called 'SA'. 
Elder rock and bluesmen have some new discs out. Check out David Crosby's 'Here If You Listen', plus new CDs from 

Joe Louis Walker and 

Eric Bibb.
Cutting edge techno blesses up the bins this week. Check out the ballistic new album from Forest Drive West on Livity Sound, the latest dystopic electro from LIES honcho Ron Morelli with '

Disappearer', and a new cassette-expanded-to-LP from the always enticing 

Rainforest Spirital Enslavement, to date the most compelling project from Prurient's Dom Fernow (shoutout, as always, to Prurient's mom) - moody, humid ambient creep abounds.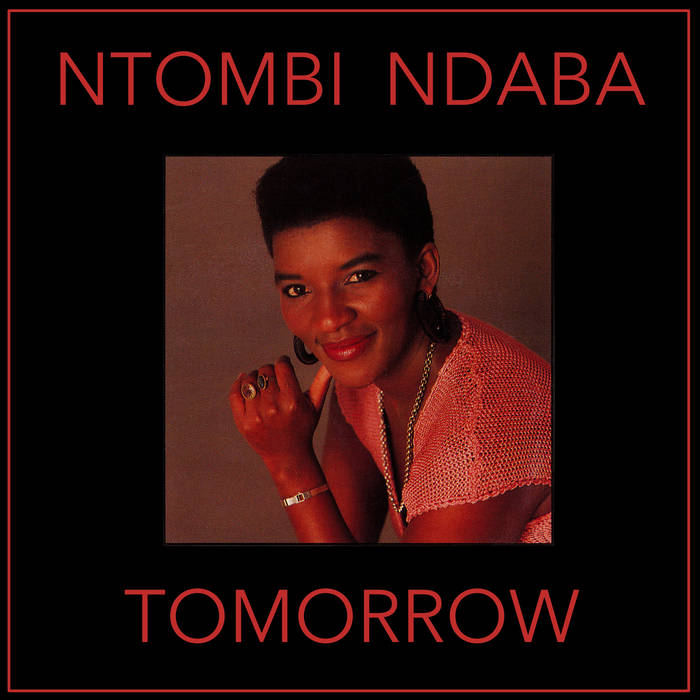 One week, three incredible electro/disco/pop rarities from Nigeria and South Africa. N'Draman Blintch's 1980 LP 'Cosmic Sounds' is an absolute funk monster, back in print for less than $1K with restored sound. Hycentto Junior's 1991 album 'Mama Groove' updates the Nigerian disco-funk sound with wet keys and some Bronx-style rapping. N'Tombi Ndaba's rarest bubblegum tracks (a variant of electro popular in 1990s South Africa) are collected on a single LP called 'Tomorrow', and it's a smash.
Last up are some special jewels from the experimental world. Turkish composer Koray Kantarcioglu has a new LP called 'Loopworks', comparable to Jan Jelinek or The Caretaker, but with Turkish sound sources. Speaking of Jan Jelinek, we have the compilation of his works as the "lost composer" Ursula Bogner back in print, and speaking of the Caretaker, we have the 5th installment of his 'Everywhere At The End Of Time' series. The forward-thinking UK electronic label Timedance delivers its 'Patina Echoes' compilation, full of unknown treasures. 'Voices Of The Air' is the delightful new album from Jon Porras, one half of the drone duo Barn Owl. I save the best band name of the week for last with the self titled album from Northampton, MA's Weeping Bong Band, a loose group that includes guitarists PG Six and Anthony Pasquarosa, performing some lovely, dusty ambient guit jams.
DEAD CAN DANCE LISTENING PARTY NOVEMBER 1:
On November 1, we'll be offering some very cool and very limited value added items for folks that swing by a Dead Can Dance listening event from 6-7PM. When can pick up their new CD/LP (a day early!), you will receive a FREE limited edition Dead Can Dance votive candle holder & autographed lithograph (while supplies last).

USED VINYL ALERT:
Heading downstairs for this weeks Used Vinyl Alert, we get spooky, funky, and maybe a little bit stoney with this week's selections.
We embrace the candy season with some Halloween-related soundtracks, novelties and other assorted frights, all for the nice price.
Soul is in the house from Marvin Gaye, Otis Redding, Stevie Wonder, the Temptations, Al Green, the Dramatics, Eddie Floyd, Isaac Hayes, Brenton Wood, George Duke, the Fatback Band, and Teddy Pendergrass. We've also got a deep trove of disco and funk from some great names like Gino Soccio, Cerrone, People's Choice, McFadden & Whitehead, Giorgio Moroder, the Chicago Gangsters, Invisible Man's Band, Love Committee, Munich Machine, Peter Brown, Central Line, Taana Gardner, Indeep, GQ, and Inner Life!
The jazz is quite strong this week with crucial selections from John Coltrane, Miles Davis, Oliver Nelson, Steve Kuhn, Ron Carter, Sonny Rollins, Lee Morgan, the Adderley Brothers, Chick Corea, Roland Kirk, Stan Getz, Esquivel, Antonio Carlos Jobim, Oscar Peterson, Django Reinhardt, John McLaughlin, and the Mahavishnu Orchestra. 
Deep caches of the classics, with some essential LPs from Pink Floyd, the Grateful Dead, Bob Dylan, The Doors, Led Zeppelin, Neil Young, Fleetwood Mac, and Jimi Hendrix, plus a slew of early presses, rarities, and boots from the Beatles and the Rolling Stones. More nice ones come in from Jefferson Airplane, Paul Simon, John Prine, Tom Waits, Mountain, Stevie Nicks, and Buffy Sainte Marie, plus a clutch of cool early rock/pop compilations. Slightly obscurer and stranger are LPs from Judy Henske/Jerry Yester, Gong, the Electric Prunes, Gypsy, Nektar, Soup, Bliss, Jim Ford, the Great Scots, Schloss, and Kevin Coyne. 
USED CD ALERT:
This week we're looking at a mixed bag. Plenty of recent vintage, even from this year, going out this week. Look for sides from Blitzen Trapper, Destroyer, Cat Power, The Shins, Low, War on Drugs and Slowdive. Roots, Americana, whathaveyou is well represented by the likes of Lucinda Williams, Jason Isbell and Ryan Adams. Continuing from last week's deluge, keep the peepers peeled for jazzy sounds from Art Blakey (multiple Blue Notes), Lee Morgan, Sun Ra and Charlie Parker. Only a smattering of soul and r&b, but new arrivals include Sharon Jones and Jim Ford's "Harlan County," re-issued from our good buddies at Light in the Attic. Throw in usual suspects like Dylan and The Smiths, as well as hip efforts from Kaitlyn Aurelia Smith and Waxahatchee, and it looks like a well-balanced breakfast. Dig in.
RODNEY CROWELL / JD McPHERSON 7" PROMOTION:
JD McPherson & Rodney Crowell both release Christmas albums in November. And we've got a jump on those full lengths with a special limited edition split 7" from the pair. It costs just $2 and comes with a coupon for $2 off that can be used on either artist's full length CD or LP.
MONROE STREET CONSTRUCTION UPDATE:
Thank you for making the trip to come and see us; we appreciate it!

DIRECTIONS FROM REGENT/EAST:
From Regent Street:
Turn Left on SPOONER ST
Turn Right on West Lawn or Keyes
Turn Left on Harrison St.
We are on the corner of Harrison & Monroe Streets (the street level parking lot outside of the Trader Joe's doors is a public City of Madison lot & the side streets all have FREE 2 hour parking.
MONROE STREET IS OPEN FROM THE WEST

Coming to the shop with CDs/LPs? We can come to you or meet you at our warehouse to make it easier. Please call or text Ron at 608.213.3610 to arrange.
SELL US YOUR CDS & LPS: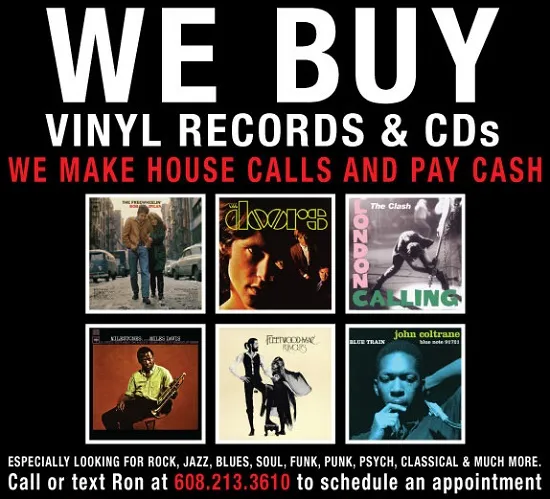 NEXT MUSIC TRIVIA TUESDAY NOVEMBER 27TH:
Join us Tuesday, November 27th for Music Trivia at the High Noon Saloon. Registration starts at 5:30PM wiht first question from Marty & Angie at 6PM. Save the date for December 11th.

OTHERS TALK BACK:
This isn't the spot to lay down odds on the third race. OTB is where Others Talk Back and give you the lowdown on what they've been feeling lately. This one's for the customers.
Tess Parks and Anton Newcombe – "Self-Titled"  This pair released their first duet album in 2015.  But compared to this album, that 2015 album now sounds extremely tentative.  This 2018 release is a bold take on modern, but very personalized, psychedelic music.  While Mr. Newcombe has put out heavily influenced sixties music for a number of decades as a member of the Brian Jonestown Massacre, he now enlarges that formula to showcase Ms. Parks' ample vocal talents.   The music on this album is lighter than most new century psych, which at times can be unnecessarily harsh and heavy.   A good touchstone for this album would be Mazzy Star, but Ms. Parks and Mr. Newcombe have an individualized touch that really defies any comparisons. - Ted
Jason Isbell and the 400 Unit – "Live From the Ryman"    I was recently reading an interview of Mr. Isbell in which he stated that he gave up drinking some six years ago.  In that interview, he had a number of reasons for that decision.   Whatever his reasons for saying no to alcohol, it seems that since that life changing event, Mr. Isbell's music has certainly gotten "better" than it was before.  There is a musical and lyrical spark to his new music that differentiates it from his body of work that came before.  Now Mr. Isbell continues his career renaissance with this live album.  This album leaves his other three live releases in the dust.   Mr. Isbell has to now be the master of modern country rock/alt-country, or whatever you want to call it. Not only is "Live From the Ryman" his best live album to date, it has to be one of the best live albums of the year. - Ted

Ron, Ryan, Angie, Marty, Evan, Matt, Michael, Ben, Will, Ed & Isaac