October 18, 2018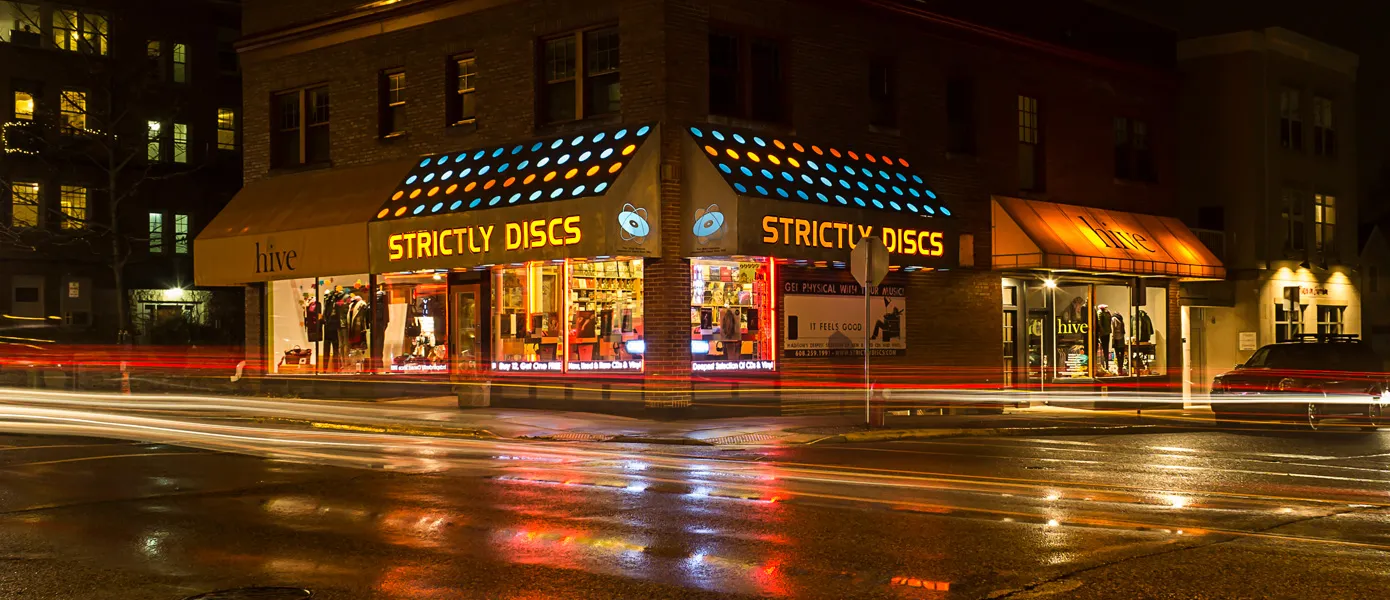 BOOZE & VINYL EVENT AT STATE LINE DISTILLERY SATURDAY 3-5PM: 
We will be scooting over to State Line Distillery with records this Saturday for a special event with Andre and Tenaya Darlington, sibling authors of the book Booze & Vinyl. Booze and Vinyl explores the intersection of timeless music and mixed drinks with a spotlight on 70 great records from the 1950s through the 2000s.

We will have records, State Line Distillery will be crafting some great cocktails, and 702WI will have the book available for signing. The event is ticketed with various levels available HERE. We hope to see you there (3-5PM 1413 Northern Court)!
BLACK FRIDAY RECORD STORE DAY IS NOVEMBER 23RD: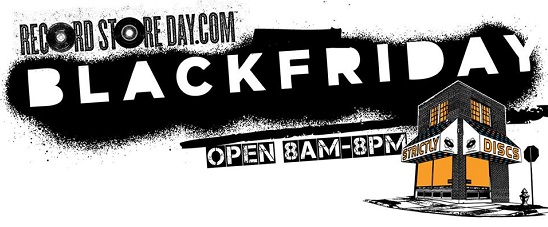 Strictly Discs will be the place to be this Post-Thanksgiving-Shopping-Melee-Day, also known as Black Friday.
And that's because certain indie stores across the country will be the place to get special releases created just for you, for giving and getting this holiday season, and they're scheduled for release on Black Friday, November 23, 2018.  

Now, this is not Record Store Day, Jr., but it is brought to you by the powers-that-be at Record Store Day. This is a group of special releases you can only find at certain independent record stores nationwide. The magic of these pieces (many uber-limited) is that every one of them is something someone will really LOVE to get, and you'll really ENJOY giving.  And you may have the added nice feeling of supporting a local, independently owned (Strictly Discs, Independently Owned since 1988) business during the holidays.

We'll be operating our Record Store Day Black Friday wish list / request system the same way as year's past, So please feel free to make your requests after logging into your account (or creating an account). You must make the jump HERE to access your RSD account information. A wish is not an order. And while we will try to have ample stock (one of the deepest in the midwest) of all items, please know that some of these products are extremely limited and will sell out quickly. For full pressing information on these releases, please visit the Record Store Day website.

We will do our best to have ample stock of all Record Store Day Black Friday releases. The status of your requests will be updated within our system prior to November 22, 2018. We expect that you will be in the store on November 23rd to pick up any requested items. If you are unable to be here that day or want us to send any remaining stock after Record Store Day, please email angie@strictlydiscs.com now to make those arrangements. Thank you!


NEW THIS WEEK AT THE SHOP:
If it seems like the modern day rock gods have been sleeping lately, it's not just you. This week, they wake up with a couple roars from bands new and old. Call it celebration day, as Greta Van Fleet deliver their much, much, very, seriously anticipated full-length debut to follow up last year's run of EPs (seriously, I don't know how many more times I could tell you all they'd put out an LP). I don't want to ramble on, but I'm not dazed and confused about why everyone has a whole lotta love for this band. Be sure you don't get trampled under foot on your way to bring this one on home on CD or LP. Elsewhere, arena-metal elders Disturbed return with a fresh new album, and we have the debut from Oklahoma fuzz-rock inheritors Broncho, bringing a fresh take on American power pop.
With the leaves changing, we needed a nice hazy record of dreamy, doomy psych-pop to ring in the season, and the duo of 

Tess Parks and Anton Newcombe have delivered just the thing with their new self-titled album. Miz Parks has proven her knack for retro-timeless noir garage with a handful of great solo records, and Mr Newcombe comes to us from the inscrutable UK mod outfit Brian Jonestown Massacre. 

Fiery modern blues diva Elle King continues her vigorous crossover with a great new album, 'Shake the Spirit', that ought to appeal to fans of the Alabama Shakes. We've also got a snappy new disc from Minnesota singer-songwriter Martha Scanlan.
Living legends of American songcraft revisit their catalogs this week, on a couple of levels. Jason Isbell and the 400 Unit present their "Live at the Ryman" effort on CD and limited green vinyl. Impish folk druid 

Will Oldham takes a trip through his vast archive on 'Songs Of Love and Horror', recasting classic and obscure Bonnie Prince Billy and Palace songs in new arrangments, Cat Power Jukebox style. Being a band for over 3 decades meant playing the BBC studios quite a bit for R.E.M., and they've collected the best cuts from those many sessions on a nice 2 CD set. 
Three great records from singular icons of chameleonic song-art are out to burn up the charts this week, starting with an always-welcome new album from Neneh Cherry. This one's called 'Broken Politics' (hm, hard to read the intent here), and it's produced by Four Tet, in their first pairing together. Fans of Cherry's agitated dub-jazz will welcome the producer Hebden's addition of polychromatic electronics to the mix. For 'Warzone', avant-garde pop goddess Yoko Ono revisits odds and ends from her catalog with a new context in a world that has only changed for the worse since she first started upsetting it in the 1960s. Brigitte Fontaine's fantastic 4th album with partner Areski Belkacem has been impossible to find on vinyl since the late 70s. 'Vous Et Nous' is an incredible broad set of the duo's characteristic dark folk/chanson blend, rendered a bit stranger (and slowly digestible) by some very funky synthesizer experimentation. 
Existential rap and R&B comes in this week with the first major label vinyl release from Cali rapper Kyle, called 'Light Of Mine', a new Rhymesayers-released album from hot phenom and perpetual Atmosphere tourmate Dem Atlas, and a very moody new album from How To Dress Well, who was one of the first ones to do this sort of thing. 
Cloud Nothings deliver a fresh album of blistering, early-Archers of Loaf-channeling fast pop with 'Last Building Burning', in the house on clear vinyl. Finnish enigma 

Jaakko Eino Kalevi is back with 'Out Of Touch', another infinitely listenable album of bizarre yet buttoned up jazzdance pop. Chicago post-postrock stoner jam heroes Cave return with 'Allways', their first album in five years, which is a more full-band experience of their other project, Bitchin Bajas.
The Numero Group is at it again after what's already been a crowning year for them and their always-peculiar, always-rewarding archive projects. 'Switched-On Eugene' documents the cassette-only output of the Eugene Electronic Music Collective, a tight-knit group of uncool Oregon outsiders who dedicated the better part of the 1980s to experimenting with synthesizers, skronk, ambient music, and pop. As always, you might say "Why do I need to hear this?" and, as always, one or two songs in, you have your answer. Not convinced? One of the cuts here is titled "Floating Landscape (Including Chase Scene)". Book it, another instant classic from them Numbero boys. Also on the archival ambient level, we see a lovely compilation LP of the works of French expressionist synthesist Sebastian Gandera, put together by Julien Dechery, one half of the duo who brought us the indelible Sky Girl compilation. If you fell for that collection's sense of woeful curiosity, the tracks here, selected from a variety of rare cassettes, will provide more of what you're looking for. Also in the house, an EP of dropdead lovely, insanely rare US new age from Clifford White.
Houston avant-grime savant and Bjork co-conspirator Rabit returns with an incredible album of woozy beatladen ribbons, while we at last see copies of the incredible album from Spanish dreamy folk unit Beautify Junkyards, who sound a bit like bygone American folkies Espers if they jammed with Broadcast. And would you look at that, the group even includes Helena Espvall, the cellist from Espers. Great stuff here! We've also got lovely modern pop ambient from Leifur James.
On the new jazz front, we've got a new release from James Francies on Blue Note. The 23 year old Houston pianist was mentored by Questlove, and has already played on the Tonight Show and a couple Chance the Rapper albums before making his major label debut. Not bad. We've also got a new disc from Jose James, and the latest volume of Herb Alpert reimagining his Tijuana Brass. 
Malian bassist Sekou Bah has played in the bands of Salif Keita and Fatoumata Diawara, and now brings his first CD as a bandleader, a smooth and suave piece of modern Mali pop called 'Soukabbe Mali'. We've also got a crucial 1979 dub album from Mikey Dread, and a CD version of the fantastic and soulful lovers rock reggae album 'One Life To Live' by Phyllis Dillon. 
Lots of news on the Grateful Dead beat. The latest Road Trips set is here, a 3 disc collection of tunes from the 'Big Rock Pow Wow' in 1969. We've also got fresh vinyl represses of 'Steal Your Face' and 'Mars Hotel', both of which have been unavailable on LP for a long, strange time. 
Metal and other assorted heaviness abounds this week with new releases from long-dormant bands like Voivod, Dead Rider, and Smoking Popes, plus vinyl reissues of a couple old classics: Big Black's 'Songs About Fucking', Alkaline Trio's 'From Here To Infirmary', and Wolves in the Throne Room's 'Celestial Lineage'. 
Some blink-and-theyre-gone titles in the house on the soundtrack front. We've got the scores for the classic video games 'Revenge Of Shinobi' and 'Altered Beast', plus, just in time for the season, a fresh printing of John Carpenter's iconic soundtrack for 'Halloween', including a few on orange vinyl for the first ghosties to come claim it. It's almost time to put on your masks, kids!
Two more Haruomi Hosono vinyl reissues have been unleashed from the East. 'Cochin Moon' is the magic man's 1978 record that took on electro, jazz, and exotica in a strange, once in a lifetime brew that has become one of the most sought records in the Hosono discography. Same goes for 'Hosono House', the 1973 LP where HH mastered soft-rock's easy lean into funk territory about a year or two ahead of schedule elsewhere. Two huge jewels in the Haruomi crown here. Also be sure to check out the reissue of the 1983 album 'Lingua Franca' from EP-4, the obscurely named Japanese funk/electro group who navigated a similar axis to early Material or Talking Heads but.....a lot weirder. 
Titanic rarities in the spiritual jazz realm hit vinyl en masse this week, including the Strata East LPs from John Gordon and Music Inc, the group that included Cecil McBee, Charles Tolliver, and Stanley Cowell. We've also got an incredible deep Detroit rarity from Doug Hammond called 'Reflections', paired with the funky/astral classic 'Vibes From the Tribe' by the one and only Phil Ranelin. Treat yourself to a righteous party with this one. Lastly, check out some hard to find deadstock CDs from Frank Lowe and David Behrman!
USED VINYL ALERT:
Heading downstairs for this week's used vinyl alert, it's a soul lover's paradise in the new arrivals this week, in addition to our deep and wide assortment of rock, jazz, folk, and hip hop.
Let's get to that soul. Quite a haul this week, including a lot of pristine copies of things you usually only see in well-played shape, and a lot of original covermount stickers and ephemera for yall who get into that sort of thing. Disco, funk, early crooners, rare boogie, we've got a little of everything. Check out heaters from names like the Emotions, Faze-O, the Coasters, Curtis Mayfield, Gwen McCrae, Parlet, Zapp, First Choice, the Royalettes, Isaac Hayes, Pleasure, Wilson Pickett, Aretha Franklin, Chiles & Pettiford, Chuck Berry, Marvin Gaye, Al Green, James Brown, Jimmy Holiday, Tower of Power, Janet Jackson, Vanity 6, Stevie Wonder, Candido, Dayton, Dexter Wansel, the Blackbyrds, Funkadelic, Delegation, and Tyrone Davis, and that's just when my hand got tired!
Some essential modern and vintage hip hop here this week. Check out big ones from Danny Brown, Wu Tang Clan, Vince Staples, ASAP Ferg, Flying Lotus, the Beastie Boys, Tribe, Tyler the Creator, King Geedorah, and Earl Sweatshirt.
We've got classic ones from David Bowie, Velvet Underground, Bob Dylan, Led Zeppelin, the Kinks, Leonard Cohen, Van Morrison, the Doors, and a very deep run of Beatles LPs including rare pressings and color variants. The rock stuff continues with Dr. John, Genesis, Green Lyte Sunday, King Crimson, Elf, and Medusa, plus 80s waves from the Violent Femmes, Clash, Tom Tom Club, INXS, Pat Benatar, the Style Council, Madness, Berlin, the Romantics, Elvis Costello, Guns n Roses, and Patti Smith.
We've got some heavy jazz from John McLaughlin, Larry Coryell, John Coltrane, and Johnny 'Hammond' Smith. Reggae comes in from Bob Marley and Gregory Isaacs. Roots music from all over creation this week from Doc Watson, Leon Bibb, John Fahey, Hank Snow, the Parton Family, a slew of rare and obscure cajun music compilations, virtually the entire Johnny Cash discography (a tall order, but we've come close here), Woody Guthrie, BB King, Merle Haggard, and Loretta Lynn.
Newer releases come through from Radiohead, Waxahatchee, the Flaming Lips, Temper Trap, and the Pixies. And speaking of new records, we've done a rather large sweep of housekeeping from the new bins upstairs, and the sale bin is full of more quality, still-to-be-owned records than ever. Have a look for some jazz, electronic, psych, rock, and experimental jams. You might just find your new favorite record for half the price!
USED CD ALERT:
This week's used CDs are notable for their recent vintage. More than a couple of these will end up populating staff year-end round-ups, including efforts from Blood Orange, Foxing, John Prine and Mac Miller. We also have plenty of the old battleaxes, so look for essential sides from The Band, Rolling Stones, Dylan and Black Flag. Continuing on last week's jazz haul, peep for crucial albums from Les McCann and Eddie Harris, Jeff Lorber, Nina Simone and "Search for the New Land" by Lee Morgan, easily one of my top 10 Blue Notes. Hard-driving work from the MC5, Nirvana and Sleater-Kinney round out the week.
2018 RELEASES YOU MAY HAVE MISSED:
We get it, it's been a somewhat eventful 2018, and you might be waking up wondering what color the sky will be today rather than scouring the universe for great new under-the-radar music releases. Luckily, we handle those concerns in the reverse order. Here are just a few discs that have come out this year that deserve a second look. Some are archival compilations, but mostly this is brand-new stuff; not in any order and by no means comprehensive, but we wouldn't be surprised to see a lot of these on our Top Tens this year. In stock now on all formats available!
Wye Oak - The Louder I Call, The Faster It Runs
The Baltimore duo multiply their sound out as far as it's ever gone. Jenn Wasner cements herself as one of our great real lyricists, while her and partner Andy Stack have more rhythmic invention than ever. Plain-intentioned drama from the Kate Bush school.
Kamaal Williams - The Return
The UK-based Rhodes piano scholar continues to map a vibing path between contemporary jazz and downtempo house, on an album that works at the dinner table or warming up a living room dancefloor. 
Poignant, slimmed-down R&B that drifts slow like a swollen cloud. Tirzah's laconic yet expressive vocals are perfectly paired with the artful production from two modern pros: Micachu and Kwes.
Various - Onda De Amor (Synthesized Brazilian Hits That Never Were 1984-94)
The Soundway label - home of timeless compilations like Ghana Soundz, Nigeria Special, and Tumbele! - adds another one to the instant classic column with this set of deeply-dug Brazilian hip-house and electro-funk. No samba here; just synth-heavy bangers!
Grant Green - Slick! Live at Oil Can Harry's
Hear the gestation of jazz-funk evolving in real time with this expansive disc from a 1975 radio show that's never been heard before outside of the Vancouver metro area. The remastered sound on here is positively blazing.
The American rock band isn't quite the critical darling it once was, but oddly enough they are making their most inventive, clever, and listenably wacky kitchen-sink pop yet.
Ryan Porter - The Optimist
The trombonist and composer travels in the same LA circles as Kamasi Washington, Brandon Coleman and Kendrick Lamar, and on this massive set of tunes he bridges the space between cool, bopping jazz and gritty hip-hop.
Papa M - A Broke Moon Rises
The rock vagabond David Pajo (Tortoise, Slint, Aerial M...you know, just some bands) has a singular grapple on the hummably expressive depths of the guitar, and he puts them on direct display like he hasn't done in many, many years here.
Kadhja Bonet - Childqueen
For her first album-length effort, the LA neo-soul sprite casts a wide net. Across this patient, hushedly psychedelic album, she channels Gainsbourg's conceptual vistas of lush strings and Martina Topley-Bird's breathy elegance, restlessly drifting between neo-classical soundscapes and bumping boogie. 
You wouldn't expect a group called The Internet to sound so sexy and cool, but the Odd Future affiliates have made a brief, colorful career of confounding expectations. Jazzy, hooky R&B straight from the Badu tradition.
Mary Lattimore - Hundreds of Days
The continent-trotting harpist delivers her most deeply-felt and resonantly-captured album yet. Each track here is like a miniature epic, describing vast, lonely areas of the American interior. This one never fails to reset the mood.
Ursula Le Guin & Todd Barton - Music and Poetry of the Kesh
A restored version of an obscure 1985 cassette release from the fringes of sci-fi writer Le Guin's large body of work. The writer invented songs, stories, and a language for a fictional indigenous community, and taught a fellow musician, Barton, how to perform them alonigside her. The result is a truly otherworldly ambient folk music like nothing else out there.
MONROE STREET CONSTRUCTION UPDATE:
Thank you for making the trip to come and see us; we appreciate it!

DIRECTIONS FROM REGENT/EAST:
From Regent Street:
Turn Left on SPOONER ST
Turn Right on West Lawn or Keyes
Turn Left on Harrison St.
We are on the corner of Harrison & Monroe Streets (the street level parking lot outside of the Trader Joe's doors is a public City of Madison lot & the side streets all have FREE 2 hour parking.
MONROE STREET IS OPEN FROM THE WEST

Coming to the shop with CDs/LPs? We can come to you or meet you at our warehouse to make it easier. Please call or text Ron at 608.213.3610 to arrange.
SELL US YOUR CDS & LPS: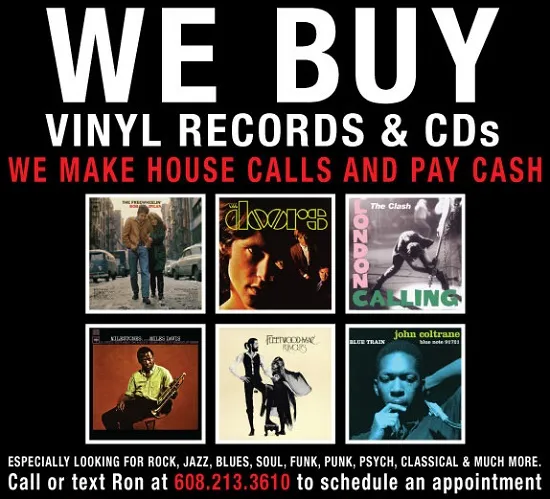 NEXT MUSIC TRIVIA TUESDAY NOVEMBER 27TH:
Join us Tuesday, November 27th for Music Trivia at the High Noon Saloon. Registration starts at 5:30PM wiht first question from Marty & Angie at 6PM. Save the date for December 11th.

OTHERS TALK BACK:
This isn't the spot to lay down odds on the third race. OTB is where Others Talk Back and give you the lowdown on what they've been feeling lately. This one's for the customers.
Peter Holsapple vs. Alex Chilton – "The Death of Rock"  Before Peter Holsapple joined the DB's he spent a short time in Memphis.  While there, he found a few like-minded musicians and started recording at Sam Phillips Recording Service in the fall of 1979.  He also met Alex Chilton and Mr. Chilton told him that he would show up at the studio and would show Mr. Holsapple how to "do it right."  Lo and behold, Mr. Chilton arrived one night and recorded five songs with Mr. Holsapple's band.  At the time Mr. Chilton was beyond the power pop of Big Star and was about to write Big Star out of his life for over a decade.  The music he made that night was mainly fifties covers with his originals in the same mold.   Mr. Chilton then mined that same territory for most of the eighties.   Mr. Holsapple contributed the majority of the tracks here and they are power pop tracks not much different than what he brought to the DB's.  In fact, he brought several songs on this collection to the DB's.  Also included are eight additional tracks of mainly rehearsals.  "The Death of Rock" is certainly a historical document.  But it is also a fascinating look at Mr. Holsapple at the beginning of his career and Mr. Chilton starting a new chapter in his long and varied career. - Ted
The Monkees – "Christmas Party"  Yes, it is beginning to be that most wonderful time of the year!  But you may ask why a Monkees Christmas album?  The fact is that it is quite good.  I think that secret of the success is to have Adam Schlesinger, of Fountains of Wayne fame, produce the album.  Mr. Schlesinger steers the band in all the right directions for this Christmas album.  While there are several seasonal standards on the album, the boys also tackle Christmas songs from the likes of XTC, Big Star, Roy Wood's Wizzard, Elvis Presley and Paul McCartney.  This is such a fun album, regardless of the fact that it is a Christmas album.  The Monkees made a great reunion album in 2016 with "Good Times," and now follow it up with another excellent album.  And by the way, all of the Monkees are on the album, including Davy Jones via vocals he cut in the nighties. - Ted
Bottle Rockets – "Bit Logic" The Bottle Rockets are an American treasure.  Since 1992 they have released 12 albums, with "Bit Logic" being the thirteenth.  The band has never released a bad album, and in fact they have released more than their fair share of great albums.  They tour like crazy and I estimate that in the last five years I have seen them live about fifteen times just in the Madison area.  "Bit Logic" is not a let-down in any sense of the world.  It is as good as any of their last several releases.  The band always has high standards when they release an album.   "Bit Logic" meets and at times exceeds those standards.   The Bottle Rockets were at the beginning of the alt-country renaissance twenty-five years ago.  And they are still on the cutting edge of alt-country after all these years. - Ted

Ron, Ryan, Angie, Marty, Evan, Matt, Michael, Ben, Will, Ed & Isaac