October 11, 2018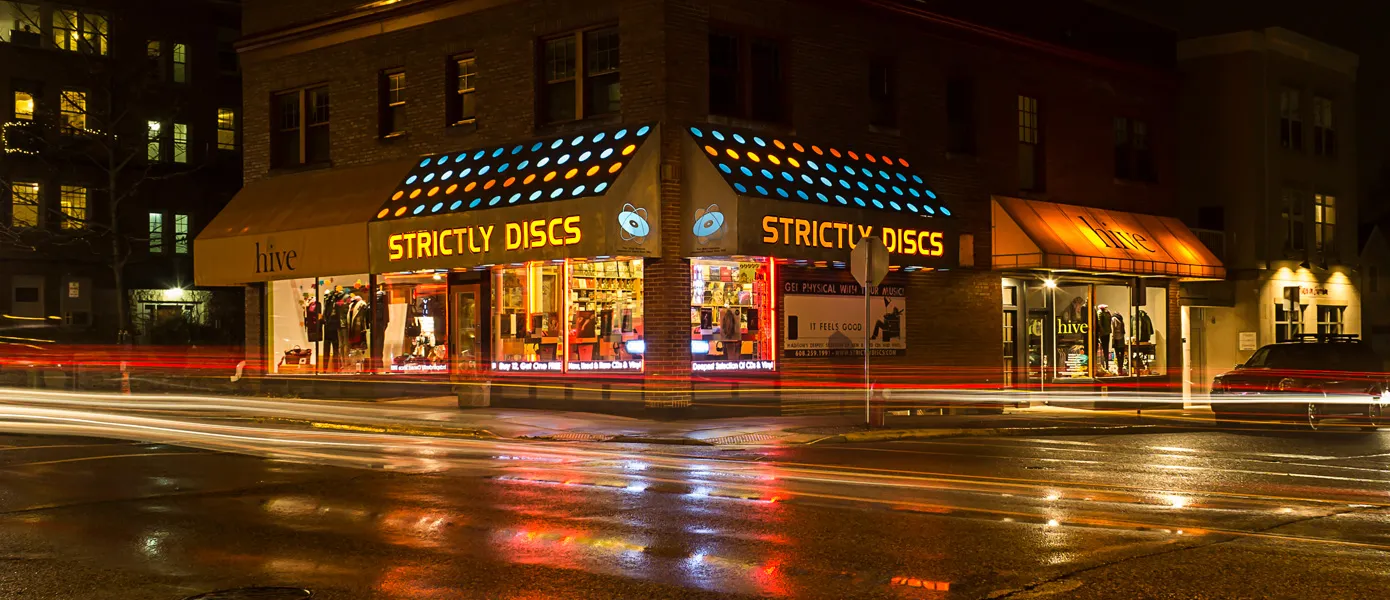 BLACK FRIDAY RECORD STORE DAY IS NOVEMBER 23RD: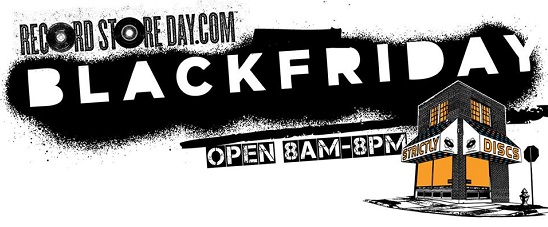 Strictly Discs will be the place to be this Post-Thanksgiving-Shopping-Melee-Day, also known as Black Friday.
And that's because certain indie stores across the country will be the place to get special releases created just for you, for giving and getting this holiday season, and they're scheduled for release on Black Friday, November 23, 2018.  

Now, this is not Record Store Day, Jr., but it is brought to you by the powers-that-be at Record Store Day. This is a group of special releases you can only find at certain independent record stores nationwide. The magic of these pieces (many uber-limited) is that every one of them is something someone will really LOVE to get, and you'll really ENJOY giving.  And you may have the added nice feeling of supporting a local, independently owned (Strictly Discs, Independently Owned since 1988) business during the holidays.

We'll be operating our Record Store Day Black Friday wish list / request system the same way as year's past, So please feel free to make your requests after logging into your account (or creating an account). You must make the jump HERE to access your RSD account information. A wish is not an order. And while we will try to have ample stock (one of the deepest in the midwest) of all items, please know that some of these products are extremely limited and will sell out quickly. For full pressing information on these releases, please visit the Record Store Day website.

We will do our best to have ample stock of all Record Store Day Black Friday releases. The status of your requests will be updated within our system prior to November 22, 2018. We expect that you will be in the store on November 23rd to pick up any requested items. If you are unable to be here that day or want us to send any remaining stock after Record Store Day, please email angie@strictlydiscs.com now to make those arrangements. Thank you!


NEW THIS WEEK AT THE SHOP:
Lowkey there is a new St. Vincent album out this week. Miz Clark revisits last year's 'Masseduction' with a clever/confusing new version called 'MassEducation', containing new takes on that album's tracklist that are as stripped-down and soft-focus as the cover art. Getting some Fiona Apple 'Idler Wheel' feelings here, and colleague Will says: "This sounds so much better than the other version." So there you go. Seldom confused with St. Vincent is the similarly pseudonamed Kurt Vile, who about-faces to his more ruminative early days on a very excellent new album called 'Bottle It In', which we have on limited blue vinyl. High-slung guitar agitator Tom Morello channels his days of Rage with a cracking new album called 'The Atlas Underground', which boasts a buffet of relevant guests from the rap and rock world, and is here on CD and limited gold and black vinyl.
The David Bowie boxset train pulls into the 80s station with 'Loving the Alien', a vast in scope set (11 CDs or 15 LPs) that takes on 'Lets Dance', 'Tonight', an entirely new production of 'Never Let Me Down', two entire live albums, and a slew of b-sides, alternate takes and other Bowie-phemera. As always, we have ace Bowie t-shirts, slipmats and totes to give away with purchase of either format. Wearer of many hats Elvis Costello delivers his first album in several years, the bright and bubbly Bacharach-borrowing 'Look Now', plus we've got a laid-back new album from John Hiatt called 'The Eclipse Sessions'.
Speaking of aliens we love, the performer known as Yves Tumor finally follows up his 2016 debut with a new album on Warp called 'Safe In the Hands of Love', and it's a real corker of perplexing, of-the-times R&Bleep pastiche. Herr Tumor builds on his unnerving juxtaposition of glowing, near-bluesy chill-pop and frantic, evil noise, maintaining an equilibrium between both that doesn't exactly calm the nerves, but won't wreck them either. Eight years since his star-turn towards noirish techno-funk, Matthew Dear returns with 'Bunny', another rewarding experience of a confindent artist in constant flux. My favorite release of the week comes from the mysterious French/Latvian unit Domenique Dumont, who follow up their striking 2015 debut with another LP of retrouvé tropical pop and dub, shot through with a carefree vitality that sounds like Isabelle Antena on candy. 
Major rap stuff in the house this week. Curren$y delivers 'Cigarette Boats', his latest album with producer Harry Fraud. Travis Scott finally has the cover art squared away for his latest magnificent album 'Astroworld', which will also be here on vinyl in a couple weeks. Doomtree major domos Astronautalis and POS have a new duo, Four Fists, and a new album called '6666', which is sounding extra evil. We've also got new releases from Lupe Fiasco and the South African melting-pot genius Petite Noir, and the soundtrack for the new film 'The Hate U Give'.
American Indie pop vets The Dodos return with a fantastic album of crunchy, Sparks-channeling genius, 'Certainty Waves', in the house on CD and limited yellow vinyl. Australian riddler Connan Mockasin delivers a lovely new record called 'Jassbusters'; a cheeky, Ariel Pink-esque take on funky AOR-era Mac. Lofi hard-psychers Uncle Acid are back with a killer new record called 'Wasteland'. Les Claypool of Primus fame revisits an early 90s album by his band Beanpole, which was ruled so unsellable that it's would-be label shut down rather than put it out. Have the years been kind to 'All My Kin'? You decide, and then maybe see if the same interval has blessed indie mainstay Calvin Johnson, who returns with the Patrick Carney-assisted new album 'A Wonderful Beast'. We've also got the striking debut album from LA art-poppers Young Jesus.
New roots and rock in the house this week from Colter Wall, the Kinks' 
Dave Davies, and a fresh album from Milo Greene.
Three extremely vital new jazz titles hit the racks this weeks, from three distinct traditions. Improviser, composer and percussionist Tyshawn Sorey delivers an expansive new 3-CD album called 'Pillars', collecting performances from many of his East Coast improv peers on a larger-than-life set that recalls loft-era Anthony Braxton and Sam Rivers. Trumpeter Ambrose Akinmusire releases yet another stunning album, the fiery 'Origami Harvest', which pairs his elevated, urgent playing with his loose-fit band that now includes the freewheeling MCing of rapper Kool A.D. from Das Racist. On paper this seemed a little suspect but one listen and I was totally sold; A.D.s flow here shares a lot of Akinmusire's deconstruction of meter, and adds a radical fire to an already blazing unit. Lastly, we see a first time on vinyl edition of South African tenor legend Bheki Mseleku's 1992 album 'Celebration', an uplifting suite of spiritual jazz so determined, it's no surprise that Alice Coltrane saw fit to gift Mseleku her late-husband John's saxophone mouthpiece from the 'A Love Supreme' sessions. (!!!)
Big things afoot in the reissue and vinyl reprint area this week. Two early and rare Laura Veirs classics are back in print: 'Saltbreakers' and 'Year Of Meteors', as well as a Run-Out Groove version of Morphine's 3rd album, 'Yes'. System Of A Down's 2001 world-dominator 'Toxicity' is back on LP, along with The Fall's 'I Am Kurious Oranj', a collection of unreleased tunes from Alex Chilton and Peter Holsapple called 'The Death Of Rock', a vinyl version of Phil Collins' singles collection, Fleetwood Mac's later majors, 'Say You Will' and 'The Dance', and 'Snakes and Ladders' from the Faces.
Worldly things come in from a pair of underrated Haitian acts, folk singer Toto Bissainthe and zouk band Ti Jacques' Tropical Combo; blazing tribal dance from Peru's Dengue Dengue Dengue, and a stunning collection of unheard music from the Somalian funk-rock group Dur-Dur Band on the unmatched Analog Africa label.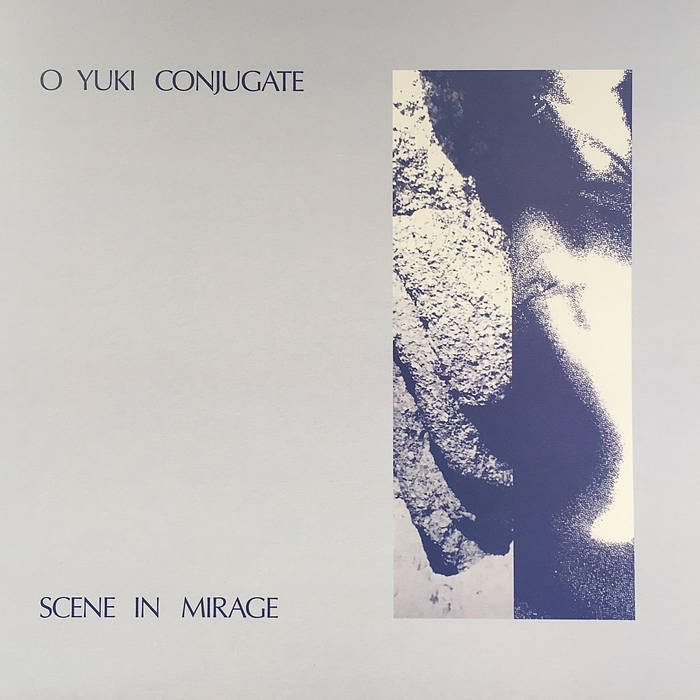 Ambient and modern sounds-beyond abound this week, with deep listens from German percussionist Daniel Brandt, who's 'Channels' merges drum-loop wizardry, piano, and acid squelch. Modern monoliths of mossy drone William Basinski and Lawrence English unite on the new record 'Selva Oscura'. The illustrious Astral Industries reissues the first album from Kim Cascone's Heavenly Music Corporation project, 1993's 'In A Garden Of Eden', which is a stunningly meditative album of chillout verging on trance, with Steve Roach guesting on didgeridoo, naturally. Italian trad/avant sampladelia duo Musci and Venosta see their third and final collaboration, 1992's 'A Noise, A Sound', hit vinyl for the first time. This is a wild one, like if Venetian Snares remixed a Sun City Girls album. The phenomenal 1984 debut from the English ambient/tribal/post-industrial group O Yuki Conjugate gets a lovely vinyl repress. 'Scene In Mirage' is tailor-made for fans of Jon Hassell's Fourth World plottings. Lastly, check out the mellifluous neo-classical art music of the obscure Italian trio Andreolina, who just released one album, 'An Island in the Moon', back in 1990.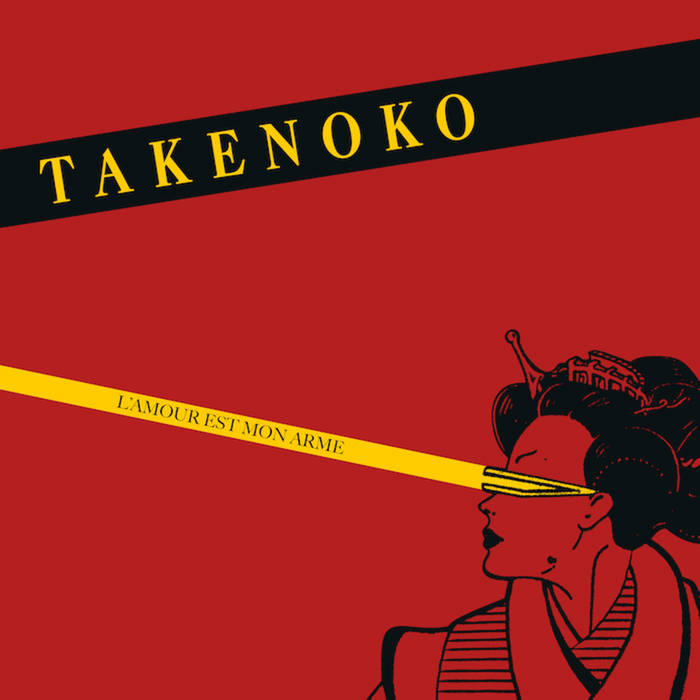 More archival electronic rarities this week come from Muslimgauze, who's late career classic 'Ingaza' sees vinyl for the first time, an enchanting, if unsettling opus of tribal percussion, murmuring rhythms, and Arab-world field recordings; Apple Music pioneer Doris Norton sees her software-powered electro epic 'Artificial Intelligence' back in print on vinyl; the Emotional Rescue label delivers the entire known discography of the brief Minimal Wave-esque act Takenoko, on an LP filled with poppy, data-driven delights.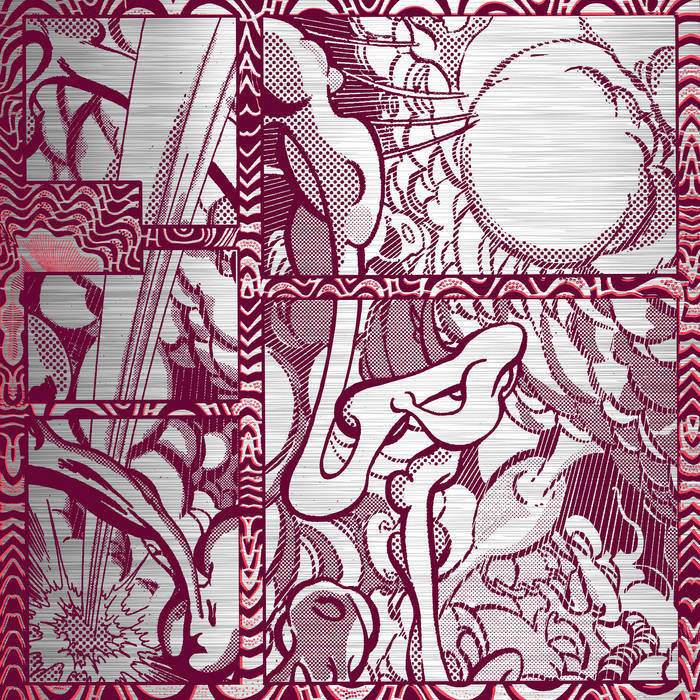 Speaking of artificial intelligence, the story goes that for the new EP from Young Paint, UK post-everything producer Actress programmed an AI bot to make music using his old samples. The resulting record is (perhaps not surprisingly) a lot easier to wolf down than your average Actress track. I welcome our new techno-bot overlords. Also welcome is the vinyl version of the latest album from slacker-house genius Galcher Lustwerk, who pares his huge digital album '200% Galcher' to a more manageable 8 track double LP. Summer might be dead but you might be able to single-handedly revive it with these relentlessly chill, driving jams. Irish producer Linkwood delivers his first new EP in years, the vivrant, twitchy 'Fresh Gildans', which comes from the one and only Firecracker label, on a mission to crank out an even more gorgeous metallic ink screenprint cover with each release. While you're dabbling in the EPs, do check out two more fantastic ones from Spain's Estrato Aurora and the UK's Forest Drive West, both are diverse excursions into cavernous dub-tech and elegant austerity.
USED VINYL ALERT:
We're heading downstairs for this week's Used Vinyl Alert and dude, put this week's collection in a museum! Or just put it in your house. This is one extremely classy and classic collection of records, from rock and jazz and blues, all the way down to the Kitaro. 
On the jazz front, we've got a slew of OG and early pressing rarities from names like Joe Henderson, Andrew Hill, Blue Mitchell, Ornette Coleman, and Chet Baker, as well as essential scores from Weather Report, Yusef Lateef, Bill Evans, Sabu Martinez, Eberhard Weber, Buddy Rich, Paul Togawa, Freddie McCoy, John Klemmer, Pat Metheny, Allan Holdsworth, John Scofield, Return to Forever, John Coltrane, Cannonball Adderley, Ahmed Abdul-Malik, Curtis Fuller, Frank Foster, Neal Creque, and the Preservation Hall Jazz Band. 
Early and original pressings on the rock front come in from the Rolling Stones, Leonard Cohen, Bob Dylan, the Kinks, the Beatles (a White Album with all the trimmings!), John Prine, Pink Floyd, Jimi Hendrix, and David Bowie, along with big ones from Rush, Traffic, Cream, the Small Faces, Uriah Heep, the Who, Yardbirds, Yes, Manfred Mann, ELP, Lou Reed, Blue Oyster Cult, Warren Zevon, Lynyrd Skynyrd, Paul Simon, Steely Dan, Thin Lizzy, and Richard and Linda Thompson.
Farther out we've got rock rarities from SRC, Kraan, Jim Spencer, the Strangeloves, and the Tygers, plus punk and wave from The Jam, Nick Lowe, the Smithereens, Soft Cell, Wham, Sparks, Split Enz, Squeeze, the Talking Heads, Byrne/Eno, heavy bits from Saxon, Black Sabbath, and the Dead Kennedys, and (no big deal) an original pressing of Television's 'Marquee Moon'. 
Marquee names in soul, as well, including classics from the Temptations, Billy Preston, Jimmy Castor, Wilson Pickett, Smokey Robinson, Stevie Wonder, James Brown, the Miracles, Otis Redding, Sam & Dave, Aretha Franklin, Michael Jackson, Nina Simone, Ella Fitzgerald, Ray Charles, and Bobby Womack!
Some country finery from the Carter Family, Dolly Parton, and Bill Monroe pairs nicely with old school blues LPs from Albert King, Johnnie Johnson, John Jackson, Blind Lemon Jefferson, Lonnie Johnson, Bessie Jones, Robert Johnson, and Mahalia Jackson.
Some nice bits of newer stuff and recent pressings from Radiohead, Can, Metallica, the Beastie Boys, Alt J, the Strokes, the Velvet Underground, Hozier, Joy Division, Neutral Milk Hotel, and Fleet Foxes. We've also got a freaky range of soundtracks including some that are pertinent to the coming Halloween season, and some delightful world music from King Sunny Ade, Perez Prado, Kitaro, Satie, Bob Marley, and Bollywood!
USED CD ALERT:
Our jazz rack has gotten a bit threadbare thanks to all you vultures, but we've rectified it with this week's used batch. Multiple titles incoming from touchstones like Coleman Hawkins, Oscar Peterson, Stan Getz, Bill Evan, Miles and Lester Young. Strong emphasis on the guitar courtesy of albums from Grant Green, Kenny Burrell, Joe Pass, John Scofield and Jim Hall. Aside from jazz, we got in Fennesz' great "Endless Summer," both "Mezzanine" and "Blue Lines" from Massive Attack, "Random Access Memories" from Daft Punk, an anthology from The Clean and leftfield stuff from the likes of Trans Am, Brian Eno and Squarepusher. Bring some collateral and maybe you can score.
2018 RELEASES YOU MAY HAVE MISSED:
We get it, it's been a somewhat eventful 2018, and you might be waking up wondering what color the sky will be today rather than scouring the universe for great new under-the-radar music releases. Luckily, we handle those concerns in the reverse order. Here are just a few discs that have come out this year that deserve a second look. Some are archival compilations, but mostly this is brand-new stuff; not in any order and by no means comprehensive, but we wouldn't be surprised to see a lot of these on our Top Tens this year. In stock now on all formats available!
Wye Oak - The Louder I Call, The Faster It Runs
The Baltimore duo multiply their sound out as far as it's ever gone. Jenn Wasner cements herself as one of our great real lyricists, while her and partner Andy Stack have more rhythmic invention than ever. Plain-intentioned drama from the Kate Bush school.
Kamaal Williams - The Return
The UK-based Rhodes piano scholar continues to map a vibing path between contemporary jazz and downtempo house, on an album that works at the dinner table or warming up a living room dancefloor. 
Tirzah - Devotion
Poignant, slimmed-down R&B that drifts slow like a swollen cloud. Tirzah's laconic yet expressive vocals are perfectly paired with the artful production from two modern pros: Micachu and Kwes.
Various - Onda De Amor (Synthesized Brazilian Hits That Never Were 1984-94)
The Soundway label - home of timeless compilations like Ghana Soundz, Nigeria Special, and Tumbele! - adds another one to the instant classic column with this set of deeply-dug Brazilian hip-house and electro-funk. No samba here; just synth-heavy bangers!
Grant Green - Slick! Live at Oil Can Harry's
Hear the gestation of jazz-funk evolving in real time with this expansive disc from a 1975 radio show that's never been heard before outside of the Vancouver metro area. The remastered sound on here is positively blazing.
MGMT - Little Dark Age
The American rock band isn't quite the critical darling it once was, but oddly enough they are making their most inventive, clever, and listenably wacky kitchen-sink pop yet.
Ryan Porter - The Optimist
The trombonist and composer travels in the same LA circles as Kamasi Washington, Brandon Coleman and Kendrick Lamar, and on this massive set of tunes he bridges the space between cool, bopping jazz and gritty hip-hop.
Papa M - A Broke Moon Rises
The rock vagabond David Pajo (Tortoise, Slint, Aerial M...you know, just some bands) has a singular grapple on the hummably expressive depths of the guitar, and he puts them on direct display like he hasn't done in many, many years here.
Kadhja Bonet - Childqueen
For her first album-length effort, the LA neo-soul sprite casts a wide net. Across this patient, hushedly psychedelic album, she channels Gainsbourg's conceptual vistas of lush strings and Martina Topley-Bird's breathy elegance, restlessly drifting between neo-classical soundscapes and bumping boogie. 
The Internet - Hive Mind
You wouldn't expect a group called The Internet to sound so sexy and cool, but the Odd Future affiliates have made a brief, colorful career of confounding expectations. Jazzy, hooky R&B straight from the Badu tradition.
Mary Lattimore - Hundreds of Days
The continent-trotting harpist delivers her most deeply-felt and resonantly-captured album yet. Each track here is like a miniature epic, describing vast, lonely areas of the American interior. This one never fails to reset the mood.
Ursula Le Guin & Todd Barton - Music and Poetry of the Kesh
A restored version of an obscure 1985 cassette release from the fringes of sci-fi writer Le Guin's large body of work. The writer invented songs, stories, and a language for a fictional indigenous community, and taught a fellow musician, Barton, how to perform them alonigside her. The result is a truly otherworldly ambient folk music like nothing else out there.
MONROE STREET CONSTRUCTION UPDATE:
Thank you for making the trip to come and see us; we appreciate it!

DIRECTIONS FROM REGENT/EAST:
From Regent Street:
Turn Left on SPOONER ST
Turn Right on West Lawn or Keyes
Turn Left on Harrison St.
We are on the corner of Harrison & Monroe Streets (the street level parking lot outside of the Trader Joe's doors is a public City of Madison lot & the side streets all have FREE 2 hour parking.
MONROE STREET IS OPEN FROM THE WEST

Coming to the shop with CDs/LPs? We can come to you or meet you at our warehouse to make it easier. Please call or text Ron at 608.213.3610 to arrange.
SELL US YOUR CDS & LPS: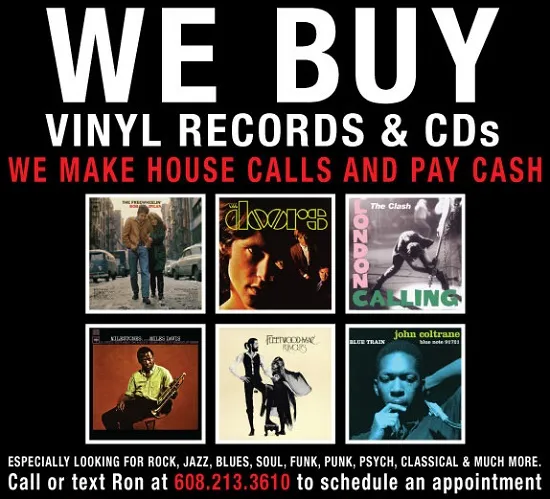 NEXT MUSIC TRIVIA TUESDAY NOVEMBER 27TH:
Join us Tuesday, November 27th for Music Trivia at the High Noon Saloon. Registration starts at 5:30PM wiht first question from Marty & Angie at 6PM. Save the date for December 11th.

OTHERS TALK BACK:
This isn't the spot to lay down odds on the third race. OTB is where Others Talk Back and give you the lowdown on what they've been feeling lately. This one's for the customers.
Echo & the Bunnymen –"The Stars, The Oceans & the Moon"  This is in reality a greatest hits album with a string session.   That being said, the funny thing is that it is quite good.   Mr. McCullough is still in fine voice, after almost forty years of fronting the band.  The string section is very subtle and tasteful.  It never really overshadows the song, unlike some bands performing with strings.  The strings are only used when the song absolutely demands them.    The autumnal feel that permeated all their best material is more than present on this album.  There has been a glut of greatest hits with strings released during the past year.  Echo & the Bunnymen is the first band to get the combination of rock and classical music right. - Ted
Joe Strummer – "001"  It seems strange that in the sixteen years since his death, that this is the first collection that takes a look at the music he made outside of the Clash.  The first disc contains tracks from his seventies pub rock band, movie soundtracks and his last band, the Mescaleros.  The track listing for the first disc is thoughtful and illuminating.  And all the prior released tracks are remastered.   The second disc contains twelve never before released tracks that his widow found in a large collection of audio cassettes that Mr. Strummer had squirreled away.  Tracks include demos from the post Mick Jones Clash, songs that never made movie soundtracks and one track recorded with Mick Jones mere years after he was forced to leave the Clash.  Remember, there is no Clash material on this album at all.  Instead the main focus is on the music he made in the sixteen years after the Clash broke up.  And much of that music was just as good as the Clash, but in very different way. - Ted
Cursive – "Vitriola"  This is first Cursive album in six years and the first Cursive with a cello present since 2003.  You would think that with a cello as one of the main instruments that the proceedings would be quiet and sedate.  That thinking is not backed up by the music on the album. This has to be the most intense album that Cursive has released in fifteen years.  Lyrically, the songs detail the shape of the world at present.  Consequently, there is a lot of turmoil on the album.  I have never heard Cursive this excited before.   But the band channels that excitement in a very professional and artistic matter.   And "Vitriola" has to be one of the first Cursive albums in a long time that you can actually tap your foot too. - Ted

Ron, Ryan, Angie, Marty, Evan, Matt, Michael, Ben, Will, Ed & Isaac