October 4, 2018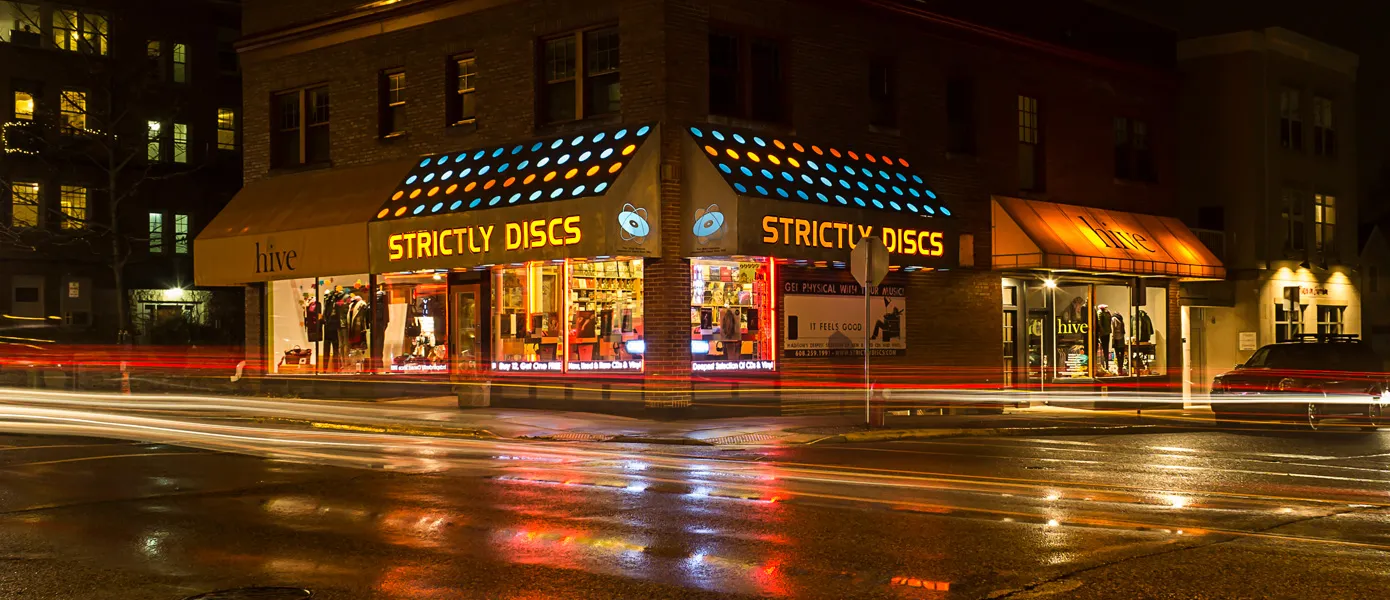 NEW THIS WEEK AT THE SHOP:
Lets hear from the women this week. We start off with a lush new album from Cat Power, who sounds as healthy and happy as ever on her latest, 'Wanderer', in the house on limited clear vinyl. We've got a new album from the recently-reactivated Philly band Swearin', led by Allison Crutchfield, sister of Waxahatchee Katie, and its a real rocker. Adrienne Lenker steps out from the deep cover of her band Big Thief for a sweet new record called 'Abysskiss', which we've got on very limited glow-in-the-dark vinyl. Incandescent crooner Phosphorescent returns with his first new album since 2013, titled 'C'est La Vie'. Midwest emo realists Cursive return from long dormancy with 'Vitriola', as well as the great Canadian concept-hardcore band Fucked Up, who deliver 'Dose Your Dreams', which has been dubbed "their Screamadelica" by....someone who knows what they're talking about, I hope. In the house on double CD and limited Peak Vinyl.
FM-wave dominators Twenty One Pilots are back with their third album, 'Trench', and we have copies of their indie-only olive green vinyl LP. Judging by the number of phone calls we've gotten on this one, its a hard slab to come by, so make a stop here now or cry to your teenage children later! We've also got colored vinyl pressings from Avatar and Coheed & Cambria.
Tim Hecker returns to his Kranky home with a new record called 'Konoyo', an album inspired by conversations with friends about how to reduce the amount of clutter in his music. Think of this as the [i]ikebana[/i] version of your favorite Hecker wrecker; he's culled a good deal of the clamor and sonic detritus of past efforts, leaving behind a thing that's slim, elusive, and intoxicating. On a similar note, the latest ECM supergroup is helmed by guitarist Wolfgang Muthspiel, joined by players like trumpeter Ambrose Akinmusire and pianist Brad Mehldau, for a breathtaking album of minimal group jazz called 'Where The River Goes'. Just ahead of their very rare Madison appearance at Communication, we have a new double LP from the Texas duo Charalambides, who's deconstructed psych-folk conjurings are as potent as ever. 
Blast your blues away with some primo heavy records this week. The almighty Windhand emerge with 'Eternal Return', another instant classic certifying them as the 21st century doom-psych version of Jefferson Airplane, in the house on limited Swamp Green vinyl and CD. For good measure we've also got a repress of their 2011 self-titled debut LP on sky blue vinyl. Also check out big new discs from High on Fire and Behemoth, and a newly remastered/recut vinyl version of the Jesu album 'Ascension', which just about sets the bar for gloomy doomgaze beauty.
Blood Orange's latest opus is now here on vinyl; come snag 'Negro Swan' on deluxe orange vinyl and pick up a bonus 45 that comes with it. We've also got great new records from Atmosphere and T.I. (king back!), a pink vinyl pressing of El-P's 'Cancer 4 Cure', the LP version of J. Cole's latest, 'KOD', and a repress of Tricky's triphop perfecting 'Maxinquaye'.
Electro-pop deviants treat us to some real heat this week. Marie Davidson's latest, 'Working Class Woman', sounds a bit like fellow Canadian Jessy Lanza's last record on a hit or two of acid. Post punk synthwaver Ssion delivers his first album in many many moons, and we get another update from the singular genius brain of Black Dice-r Eric Copeland via 'Trogg Modal Vol. 1'.
Classic reissues and represses from all corners come to us this week, starting with limited color vinyl copies of Television's 'Marquee Moon' and Love's 'Revisited'. If you haven't been mainlining Bikini Kill for the past month already, you can pick up their long OOP 'Singles' compilation. Renowned 'backup singer' Merry Clayton sees her 1971 debut hit vinyl again, and we've got represses of the debut Afro Cuban All Stars LP, and the stunning 1972 album from Brazilian group Quarteto Em Cy, who take on some MPB classics in four part harmony.   
Last up, some nice new releases from some very trusty dudes. The Joe Strummer compilation '001' covers lesser-heard material from his early and later years, as well as classic and rare Clash tunes. We've got new releases from Echo and the Bunnymen, Eric Church, and Jim James, as well as a lovely new album from the cult-favorite Gregory Alan Isakov, plus a belter of a modern folk record from the one and only Nathan Bowles.
USED VINYL ALERT:
Heading downstairs for this week's Used Vinyl Alert, we've got piles and piles of classics for you to select from.
Lots of great records from our favorite names this week include LPs from Prince, Van Morrison, the Beatles, the Who, David Bowie, Neil Young, the Doors, Can, Captain Beefheart, Bob Dylan, the Kinks. the Rolling Stones, the Grateful Dead, Frank Zappa, and Jimi Hendrix, alongside affordable heat from folks like the Byrds, Elvis Costello, the Dave Clark 5, Blue Cheer, King Crimson, Queen, Dusty Springfield, Billy Bragg, Tracy Chapman, Talking Heads, Devo, Lynyrd Skynyrd, Country Joe, Alice Cooper, U2, Bruce Springsteen, Kiss, and Roxy Music.
Punk and metal in every size, shape and subgenre this week from names like Faith/Void, the Dead Boys, the Clash, Fucked Up, Black Time, Bloodlet, Ex Cult, Dee Dee King, Daughters, and X, as well as some deep 80s hair and glam from such fine groups as Teeze, Shy, Vyper, Riot, Helix, Schenker, Heavy Pettin, Leatherwolf, Tesla, D.A.D., Dio, Black Sabbath, David Lee Roth, Ozzy, Van Halen, Scorpions, White Lion, Journey and Twisted Sister.
We've got jazz from Miles Davis, Chico Hamilton, Herbie Hancock, Roland Hanna, Coleman Hawkins, and Eddie Harris, as well as blues from Lightnin Hopkins, John Lee Hooker, and Taj Mahal. Some of our favorite vocalists Billie Holiday, Aretha Franklin, Sade and Sharon Jones are joined by other names like Bootsy Collins, the Jackson 5, and Shadow, and we've got some hiphop from Black Milk, LL Cool J, the Roots, and Death Grips.
Recent indie and alternative is in the house from the Flaming Lips, Courtney Barnett, Future Islands, Gun Outfit, Hurray for the Riff Raff, Sam Amidon, the Chills, Dan Deacon, Jason Isbell, Drive By Truckers and Grinderman, plus we've got a nice gang of cheap recentish techno, folk and experimental gems for your discovery, and some modern business from John Cage, Edgard Varese, Michael Stearns, and Ryuichi Sakamoto.
A wide variety of truly essential soundtracks this week include Back to the Future, Batman, the Big Chill and Blade Runner, as well as some interesting Italian scores, a couple John Carpenter doozies, and some other funky instrumental library compilations. We've also got deep folk and country selections from the Carter Family, Roy Clark, Willie Nelson, Bok/Muir/Trickett, David Allan Coe, Pete Seeger, Richard and Mimi Farina, Buffy Saint Marie, Waylon Jennings, Emmylou Harris, and Merle Haggard!
USED CD ALERT:
New week, new batch. Here's the lowdown on the upfront. Leading off, we got three releases from jazz bassist superwoman Esperanza Spalding. We have welcome restocks of consistent sellers from heavyweights including the Beatles, Pink Floyd and Dylan.  In addition we have stellar titles such as "Loveless" by My Bloody Valentine, "Nebraska" by Springsteen, Lauryn Hill's "Miseducation" and ideal entry point for the Dead "American Beauty."  We also have some very sharp Japanese and UK digipak issues of Hawkwind's eponymous release, "Axis Bold as Love" by Jimi, and both "Exodus" and "Burnin'" from Bob Marley and the Wailers. I'm going to be a broken record here but "Band of Gypsies" in the best Hendrix album and we do have an incoming copy back in. Finally, we asking the riddling question: which album of Rihanna's do pirates favor most? "Rated RRRRRRRRR."
2018 RELEASES YOU MAY HAVE MISSED:
We get it, it's been a somewhat eventful 2018, and you might be waking up wondering what color the sky will be today rather than scouring the universe for great new under-the-radar music releases. Luckily, we handle those concerns in the reverse order. Here are just a few discs that have come out this year that deserve a second look. Some are archival compilations, but mostly this is brand-new stuff; not in any order and by no means comprehensive, but we wouldn't be surprised to see a lot of these on our Top Tens this year. In stock now on all formats available!
Wye Oak - The Louder I Call, The Faster It Runs
The Baltimore duo multiply their sound out as far as it's ever gone. Jenn Wasner cements herself as one of our great real lyricists, while her and partner Andy Stack have more rhythmic invention than ever. Plain-intentioned drama from the Kate Bush school.
Kamaal Williams - The Return
The UK-based Rhodes piano scholar continues to map a vibing path between contemporary jazz and downtempo house, on an album that works at the dinner table or warming up a living room dancefloor. 
Tirzah - Devotion
Poignant, slimmed-down R&B that drifts slow like a swollen cloud. Tirzah's laconic yet expressive vocals are perfectly paired with the artful production from two modern pros: Micachu and Kwes.
Various - Onda De Amor (Synthesized Brazilian Hits That Never Were 1984-94)
The Soundway label - home of timeless compilations like Ghana Soundz, Nigeria Special, and Tumbele! - adds another one to the instant classic column with this set of deeply-dug Brazilian hip-house and electro-funk. No samba here; just synth-heavy bangers!
Grant Green - Slick! Live at Oil Can Harry's
Hear the gestation of jazz-funk evolving in real time with this expansive disc from a 1975 radio show that's never been heard before outside of the Vancouver metro area. The remastered sound on here is positively blazing.
MGMT - Little Dark Age
The American rock band isn't quite the critical darling it once was, but oddly enough they are making their most inventive, clever, and listenably wacky kitchen-sink pop yet.
Ryan Porter - The Optimist
The trombonist and composer travels in the same LA circles as Kamasi Washington, Brandon Coleman and Kendrick Lamar, and on this massive set of tunes he bridges the space between cool, bopping jazz and gritty hip-hop.
Papa M - A Broke Moon Rises
The rock vagabond David Pajo (Tortoise, Slint, Aerial M...you know, just some bands) has a singular grapple on the hummably expressive depths of the guitar, and he puts them on direct display like he hasn't done in many, many years here.
Kadhja Bonet - Childqueen
For her first album-length effort, the LA neo-soul sprite casts a wide net. Across this patient, hushedly psychedelic album, she channels Gainsbourg's conceptual vistas of lush strings and Martina Topley-Bird's breathy elegance, restlessly drifting between neo-classical soundscapes and bumping boogie. 
The Internet - Hive Mind
You wouldn't expect a group called The Internet to sound so sexy and cool, but the Odd Future affiliates have made a brief, colorful career of confounding expectations. Jazzy, hooky R&B straight from the Badu tradition.
Mary Lattimore - Hundreds of Days
The continent-trotting harpist delivers her most deeply-felt and resonantly-captured album yet. Each track here is like a miniature epic, describing vast, lonely areas of the American interior. This one never fails to reset the mood.
Ursula Le Guin & Todd Barton - Music and Poetry of the Kesh
A restored version of an obscure 1985 cassette release from the fringes of sci-fi writer Le Guin's large body of work. The writer invented songs, stories, and a language for a fictional indigenous community, and taught a fellow musician, Barton, how to perform them alonigside her. The result is a truly otherworldly ambient folk music like nothing else out there.
ISTHMUS MADFAVES READERS POLL:
We are honored to have won this poll after a 10+ year hiatus for the Record Store category. Thank you for your support and getting physical with your music!

MONROE STREET CONSTRUCTION UPDATE:
Thank you for making the trip to come and see us; we appreciate it!

DIRECTIONS FROM REGENT/EAST:
From Regent Street:
Turn Left on SPOONER ST
Turn Right on West Lawn or Keyes
Turn Left on Harrison St.
We are on the corner of Harrison & Monroe Streets (the street level parking lot outside of the Trader Joe's doors is a public City of Madison lot & the side streets all have FREE 2 hour parking.
MONROE STREET IS OPEN FROM THE WEST

Coming to the shop with CDs/LPs? We can come to you or meet you at our warehouse to make it easier. Please call or text Ron at 608.213.3610 to arrange.
SELL US YOUR CDS & LPS: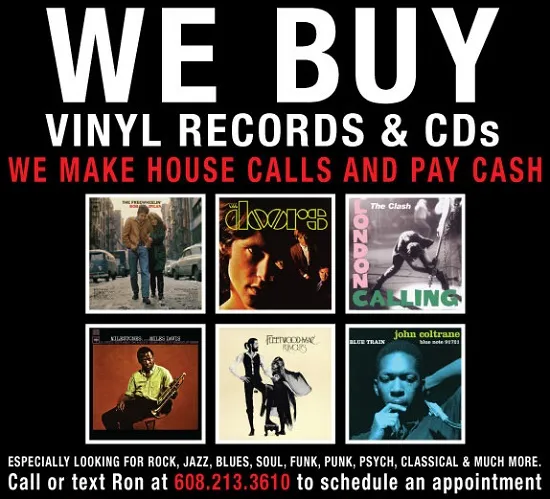 NEXT MUSIC TRIVIA TUESDAY OCTOBER 9TH:
Join us Tuesday, October 9th for Music Trivia at the High Noon Saloon. Registration starts at 5:30PM wiht first question from Marty & Angie at 6PM.
OTHERS TALK BACK:
This isn't the spot to lay down odds on the third race. OTB is where Others Talk Back and give you the lowdown on what they've been feeling lately. This one's for the customers.
Alexander Spence – "Andoaragain"  If ever there was an album that grew higher in stature since its release it has to be Alexander "Skip" Spence's "Oar" album.  The album was recorded in late 1968 after Mr. Spence was released from New York's Bellevue Hospital Psych ward.  Mr. Spence had attacked members of the Moby Grape with an axe, a band he was also a member of.   To say that the album is a raw and harrowing listen is an understatement.  Mr. Spence's sanity was tentative at the time of the recording.   It seems that his troubles had brought out a creative renaissance that is very evident on this album.  The fragile beauty of the songs on the original album is what has made this album become a lost classic in the intervening fifty years.  What is special about this release is the huge amount of additional material that is included along with the remastered album.   It appears that almost all of the album sessions have been released on this three disc release.  There are almost two hours of additional material on "Andoaragain."  Some of the outtakes and alternative takes are as good as or surpass the material released on the album.   The listener is also treated to the development of the material as the sessions unfolded.   The sheer amount of material makes this release a must for fans of "Oar" and for fans of intensely personal and fragile music. - Ted
Stereolab – "Switched On Volumes 1-3"  This box set collects all three volumes of the Switched On series.  The Switched On series collected singles, non-album tracks and compilation tracks that originally were first released in 1992, 1995 and 1998.  Many of the band's best music only came out on singles.  The original nineties releases were out of print for many years and fetched hefty prices.  Besides collecting the elements into one source, all the material was remastered.  The new remastering is stunning, akin to cleaning a dirty window into spotless clearness.  Stereo lab is the group who took electronic music in a new and different direction.  They made it cool and swinging and quite fun.  They called it "space-age bachelor pad music" at the time.   Though Stereolab has been inactive for over a decade, their best work is now available on this collection.  And "Switched On Volumes 1-3" is now available for a rather modest price for 4 discs. - Ted
Joan Jett – "Bad Reputation"  Though this album is a soundtrack from the documentary about Ms. Jett as rock heroine and feminist revolutionary, it also functions as an alternative greatest hits collection.  The music from her almost forty year career is remastered to give a crunch, heft and power that many of the original releases didn't have.  This album was made to be played loud!  And what other way is there to play a Joan Jett album? - Ted

Ron, Ryan, Angie, Marty, Evan, Matt, Michael, Ben, Will, Ed & Isaac