September 20, 2018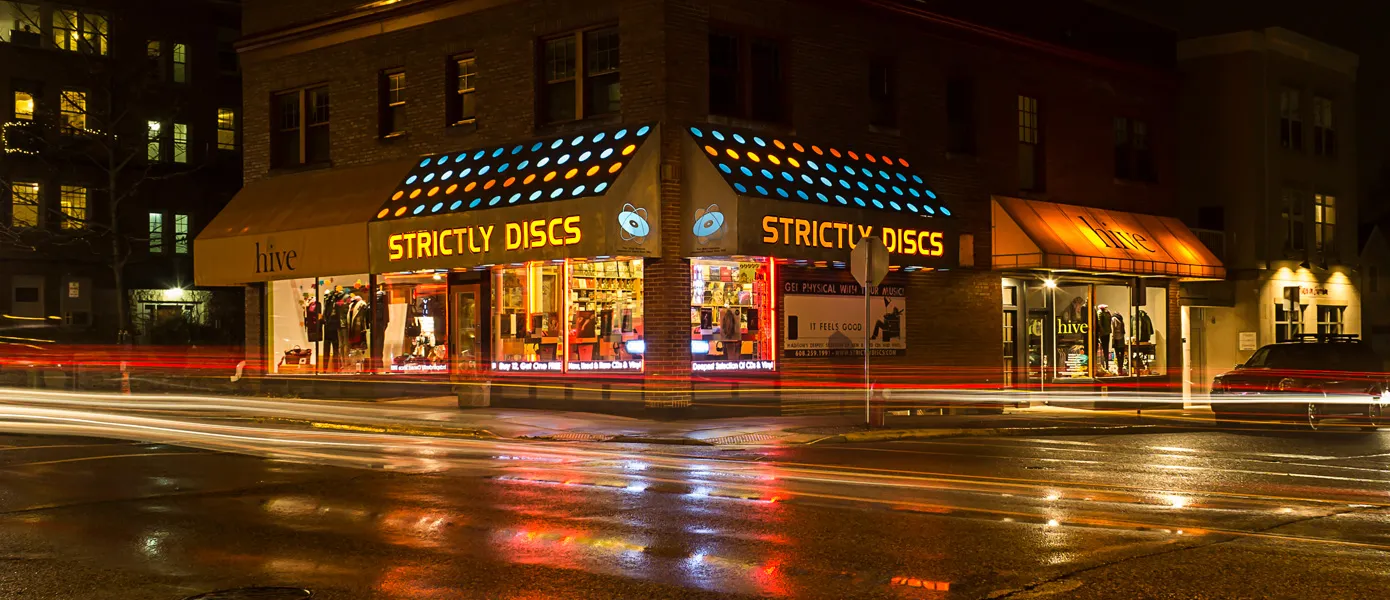 NEW THIS WEEK AT THE SHOP:
When the pure musical expression known as Prince left his human vessel a little over two years ago, we knew the dark cloud would have some kind of silver lining, eventually, in the form of the opening of his storied vault of recordings. The first significant moment in that opening comes now in the form of 'Piano & A Microphone 1983', a set of demo-style recordings that follow the form prescribed by it's title, in the sense that the Sistine Chapel can be said to have a ceiling. The collection finds Prince riffing, testing, stretching, and covering songs, as he transcends the confines of the studio with cool grace, demoing songs from Purple Rain, 1999 and Sign O The Times, plus riveting versions of Joni Mitchell's 'A Case of You' and Aretha Franklin's take on the traditional 'Mary Don't You Weep'. A highlight here is the riveting '17 Days', released in final form only as a b-side to 'When Doves Cry' and appearing on this set as a rollicking stride piano strut that hovers high above any genre, which begins with Prince asking the booth "Is that my echo?" Yes sir, it is. It's a tall order to ask a modest set of 9 tunes to express the astonishing range Prince can claim on the American songbook, but here we have it. Deluxe vinyl includes a big booklet of handwritten lyrics, essays and photo prints. Oddly comparable, if a bit rougher around the edges, is this new album from fringe American artist Lonnie Holley, first introduced to the wider world with 2012's 'Just Before Music'. His latest is called 'Mith', and packs the same startling punch as that record, as Holley's idiosyncratic approach to junk sculpture art finds its analog in sound.
Big releases in the rap world this week as Nas re-emerges with 'Nasir' on vinyl, Denzel Curry drops a hot one called '
TA1300' and
west coast badboy YG's 'Stay Dangerous' arrives on vinyl.
Deep into the archives of legendary rap we go with a couple real ones. Memphis underground don 
Shawty Pimp's 1995 tape 'Still Comin Real' is a Youtube staple, and hits vinyl for the first time over 2 decades later. Some of the finest druggy daydream production ever put to tape runs all over this LP, with S.P.'s menacing drawl calling the shots. 
Jedi Mind Tricks's 2003 epic '
The Psycho-Social, Chemical, Biological, and Electro-Magnetic Manipulation of Human Consciousness' is back on wax; witness Philly's answer to the Wu-Tang Clan at the height of their powers! We've also got a reprint of 
Pharrell's solo breakout 'In My Mind'.
The fertile world of indie rock brings us many joys this week. We've got a crunchy new one from Metric called 'Art of Doubt', 
Advance Base (who I still refer to as Casiotone for the Painfully Alone) has his most hi-fidelity release yet with 'Animal Companionship', and Australian Mark E Smith fans Terry bring us their latest and greatest album, 'I'm Terry', which is highly addictive twitchy guitar pop. Punkers Joyce Manor continue to evolve their East Bay-goes-'Armed Forces' with the fantastic 'Million Dollars To Kill Me', Mutual Benefit are back with their lush, fluid folk, and UK Tortoise-tweakers Beak> have a great new album called '>>>" which I believe documents the growing of their beak.
The blues and roots front is well-covered this week with new releases from respected axemen Joe Bonamassa, Billy F. Gibbons, and Slash, plus a long-in-the-can album from Adam's House Cat, the band Mike Cooley and Patterson Hood of Drive-By Truckers first formed in the mid-80s. Major Uncle Tupelo vibes on this one. We've also got new releases from Macy Gray, Josh Groban, and Chilly Gonzales.
Ethereal femme-folk trio Mountain Man emerge again with a transporting, vaguely pagan album called 'Magic Ship'. My Morning Jacket's pedal steel maestro 
Carl Broemel steps out with a killer solo album. The Beta Band recollect 
their best with a 2 disc set of album and live tracks.
This year's round of Breast Cancer Awareness pink vinyl releases commences with 3 faves from the last decade. Rest your eyes upon the pinkish hues of 

Silversun Pickups' 'Swoon', Local Natives' 'Gorilla Manor', and Black Moth Super Rainbow's 'Panic Blooms'.
More biggies on the vinyl reissue front. Common's 2007 classic 'Finding Forever' and Animal Collective's best album (fight me) 'Feels' are both back on LP, as well as '

The Alchemist', the 2013 album from Swedish doom-bluesers Witchcraft. This is my first time hearing this album personally and I don't know where I've been, cuz it's great. Kindof a mix of early Black Sabbath/Blue Cheer and the more rustic moments of Dungen. We've also got color vinyl pressings of Throbbing Gristle's '

Journey Through A Body' and 'Mission of Dead Souls', plus an audiophile pressing of 

Holly Cole's classic 90s album 'Temptation'.
Bow down to some towers in the world of lyrical and vocal craft this week with a live document from Nico, '

Reims Cathedral 1974',

a new album from the one of a kind Thalia Zedek (the only torch song rocker MORE haunting than Nico), and a fantastic collection from folk songstress 

Anne Briggs called 'Sing A Song For You'.
We've combed the whole world over for some incredible off-the-radar jazz releases this week and every single one is deeply backed. German group 

Fazer deliver a funky spiritual jazz on 'Mara'. Longtime UK jazz torchbearer 

Jessica Lauren comes with 'Almeria', a diverse album with nods to 90s rare groove and bossa. Akron,Ohio's Aqueduct Ensemble deliver feather-light contemplation with nods to ECM chill and rustic indie. Britisher Chip Wickham's 'Shamal Wind' is an absolute belter of latin-infused future bop. Australian trio The Necks return to beguile us with their ribbons of piano and rhythm on 'Body'. Lastly, we have a much needed reissue of Roy Ayers' headiest jazz-funk flight ever: 1977's 'Come Into Knowledge', by RAMP.
An absolutely breathtaking amount of rare reggae hits the bins this week. You might ask, "How could an album called 'Captain Ganja and the Space Patrol' ever be bad?" and I am here to tell you it can't. UK reggae icons Tradition released this album in 1980 and it quickly became rare due to it's incredible blending of cosmic jazz and alien dub. 'Captain Ganja' is a nearly peerless album of space reggae, released one year BEFORE Scientist took on the Space Invaders! We've also got 'Dubd'sco', Bunny Wailer's remarkable album of dubs from 'Blackheart Man'; two huge rarities from Phillip Fullwood, sideman of Burning Spear, called 'Words In Dub' and 'I-Mo-Jah'; a repress of the killer 90s 'weird dub' classic from Jonah Dan, 'Intergalactic Dub Rock'; and two biggies unearthed from the catalog of the mighty Wackies, the label that operated out of the Bronx studio of the same name in the 80s. The Chosen Brothers' 'Sing and Shout' is roots perfection, while Annette Brissett's 'Love Power' is the highlight of the whole week for me: an incredible blend of gospel roots, lovers rock, soul covers, and disco funk.
Buchla synth wizard and Nine Inch Nails member Alessandro Cortini has an exquisite new album under his Sonoio alias. Louis Cole's latest album 'Time' has some star quality about it, channeling the funky weirdness of Thundercat and (dare I say it) Bruno Mars into some twitchy, catchy jazzy electropop. The latest from UK trio 

Szun Waves hacks into some lush, Floating Points-esque territory full of cosmic, billowing blooms.
Rare delicacies from worlds beyond on vinyl this week. Pioneering musique concrete and soundscape artist Pierre Henry (who only recently passed away at 90) sees his 1960 work '

Orphee Ballet' back on LP for the first time in decades. It's an inviting, enveloping entry into a world of felt-sound that would later give us bands like Portishead, Stereolab and Broadcast (though it sounds nothing like them, full disclosure). We've also got a fresh vinyl printing of the final recordings of 

GI Gurdjieff, 1949's 'Improvisations'. Near death, the Armenian mystic put these harmonium laments to tape in Paris and, honestly, I don't think anyone's ever recorded sadder music. Pick this up, get really sad, then keep listening to it and find out how not-sad listening to sad music can eventually make you! Same goes for the 1970 album from French experimental chanson Catherine Ribeiro and her band Alpes: '

N°2' is a smoky seance of burning predawn psych led by ferociously compelling, sexy vocals.
Many big bombs from the techno and dance worlds this week. We've a new album from Berghain resident 

Marcel Dettman; cool 12"s from 

Against All Logic and 

GEO Corp; a nice archival EP of glittery minimal 90s techno from D Man on the Workshop label; a repress of Fingers Inc's 'Another Side' triple album, which is basically the bible of Chicago acid house, plus another repressed EP from Larry Heard as Loosefingers; plus unheard material from Drexciya's James Stinson, as Transllusion. Lastly, we get a serious re-up of heat from the LIES label: Broken English Club's latest, an incredible album of wobbly, odd ambient from MaxxxBass (the man behind that unreal KWC 92 album from a few years ago), plus killer new EPs from Krikor, DJ Overdose, and Circling Vultures, a project from Chicago techno lord and recent Willy Street Beats performer Justin Aulis Long.
USED VINYL ALERT:
Let's head downstairs for this week's Used Vinyl Alert, where a wide variety of rare delights await you in the new arrivals. This week we have special emphasis on soul and funk, 80s indie, jazz and blues, and newer pop and electronic.
So. Much. Soul. Is in in the basement for you this week, including a long run of James Brown studio and live albums, plus big ones from Prince, Funkadelic, the O'Jays, Booker T, War, Brick, the Ohio Players, Brides of Funkenstein, Jimmy Castor Bunch, Chic, Stevie Wonder, Rick James, the Delfonics, Jackson 5, Roger Troutman, Tower of Power, Sly Stone, Rufus, the Four Tops, Phil Upchurch, and of course Aretha!
A great many punk, underground, early indie, no/new/nu-wave delights arrive this week; including many we've never seen here before, from names like Crass, Bongwater, Pussy Galore, Unrest, Big Black, the Mekons, Jesus Lizard, Sex Pistols, the Lazy Cowgirls, Jad Fair, Psyclones, Urge Overkill, the Cows, Frightwig, Scritti Politti, Bikini Kill, Kate Bush, and Sonic Youth!
Affordable and necessary pressings are here from classic rock names like Pink Floyd, Rolling Stones, Led Zeppelin, the Grateful Dead, Van Morrison, Jeff Buckley, Tom Waits, and King Crimson, along with some headier stuff from the Five Americans, the Electric Prunes, and Entourage.
Our jazz offerings run the gamut this week, including LPs from John Coltrane, Coleman Hawkins, Bill Evans, Freddie Hubbard, Keith Jarrett, Duke Ellington, Dave Brubeck, George Russell, Donald Byrd, Yusuf Lateef, Dom Um Romao, Billy Cobham, Chick Corea, Stan Getz, Cal Tjader, Martin Denny, Art Blakey, and Herbie Mann.
We've got a slew of female vocalist LPs spanning several decades, with way too many names to mention them all, but including Betty Carter, Chris Connor, Marian McPartland, and Sarah Vaughan. Country comes in from Guy Clark, Willie Nelson, Waylon Jennings, the Monroe Brothers, and Flatt & Scruggs. We've also got an impressive run of vintage pressing blues LPs, including names like BB King, John Lee Hooker, Taj Mahal, Blind Blake, Fenton Robinson, Albert King, Paul Butterfield, Albert Collins, Bobby Bland, Sonny Boy Williamson, and Big Bill Broonzy.
On the more recent end of things, we have a wide spread of LPs from names like Alt J, Gayngs, Arcade Fire, Sigur Ros, Melody's Echo Chamber, Perfume Genius, Magical Clouds, Health, Nine Inch Nails, Dead Weather, Touche Amore, Daft Punk, Caribou, Death Grips, Solange, plus electronic stuff from Felicia Atkinson, Michael Turtle, Floating Points, Julianna Barwick, and Four Tet.
Plenty of space in this week's incoming batch residing in the indigo part of the spectrum. Crucial blues from the likes of Jimmy Reed, Howlin' Wolf, Shuggie Otis, Lonnie Mack and a pre-funk Johnny "Guitar" Watson. Hearing the last two Stooges record still puts a hitch in my giddyap today and we got'em along with Ig's "The Idiot." Big batch of singer-songwriter material in this week from Mark Kozelek, Smog/Bill Callahan, Joni Mitchell, Bert Jansch, Will Oldham, Karen Dalton (!) and Rodriguez' "Cold Fact." We got multiple titles from Dylan, Joy Division, Blue Oyster Cult, Queen, Savoy Brown and The Moody Blues. Finally, we have the Thunderclap Newman album with "Something in the Air," which isn't super rare but something I can't recall gracing our shelves in decent memory. So there. Watch this space for a whole new batch next week of the deepest and cleanest used CD selection.
MONROE STREET FESTIVAL - SATURDAY, SEPTEMBER 22ND:
Save the date! The 41st annual Monroe Street Festival/Sidewalk Sale will be Saturday, September 22nd.
ISTHMUS MADFAVES READERS POLL:
We are honored to have won this poll after a 10+ year hiatus for the Record Store category. Thank you for your support and getting physical with your music!

ERIC CHURCH DESPERATE MAN PRE-ORDER WITH FREE 7"

Pre-order your copy of Desperate Man on CD or LP & receive a FREE Limited Edition 7" featuring "Heart Like A Wheel" and "Monsters" included with your order...available now.
MONROE STREET CONSTRUCTION UPDATE:
Thank you for making the trip to come and see us; we appreciate it!

DIRECTIONS FROM REGENT/EAST:
From Regent Street:
Turn Left on SPOONER ST
Turn Right on West Lawn or Keyes
Turn Left on Harrison St.
We are on the corner of Harrison & Monroe Streets (the street level parking lot outside of the Trader Joe's doors is a public City of Madison lot & the side streets all have FREE 2 hour parking.
MONROE STREET IS OPEN FROM THE WEST

Coming to the shop with CDs/LPs? We can come to you or meet you at our warehouse to make it easier. Please call or text Ron at 608.213.3610 to arrange.
SELL US YOUR CDS & LPS: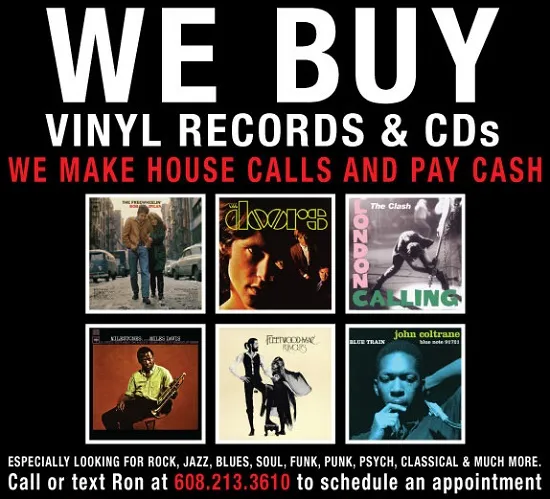 NEXT MUSIC TRIVIA TUESDAY SEPTEMBER 25TH:
Our next MUSIC TRIVIA at the High Noon Saloon is Tuesday, September 25th. Registration starts at 5:30 with the first question from Angie and Marty at 6PM. Save the date for October 9th.
OTHERS TALK BACK:
This isn't the spot to lay down odds on the third race. OTB is where Others Talk Back and give you the lowdown on what they've been feeling lately. This one's for the customers.
Blitzen Trapper – "Furr 10th Anniversary Deluxe Edition"  It is hard to believe that ten years have elapsed since this album was first released.    "Furr" is perhaps Blitzen Trapper's best remembered and beloved album.  Their roots rock mixed with sixties/seventies pop sound that they perfected with this album was what made "Furr" the classic that it is.  The original album's thirteen tracks are joined by an additional twelve tracks.  I have read that the band recorded almost three albums of material during sessions for "Furr."  The additional thirteen tracks are the best of the material that was tracked way back then.   And truthfully, most of the bonus tracks are winners.   It is fitting that an album as good as "Furr" is honored by being reissued.  And the music fan also gets another album of material in addition to the original album. - Ted
Giant Sand – "Return to the Valley of Rain"  This album was first released in 1985, but most of the recording was done in 1983.  Howe Gelb, the band's main songwriter, guitarist and singer, has been unhappy with the sound of the record since it was released.  He considered it too low-fi.   So late last year,  Mr. Gelb got together with two ex-members  of the band back in 1983, and recruited two new guitarists to rerecord the album.  The band used eighties musical equipment and the producer used eighties production techniques to get it right.  The sound is now much cleaner and crisper than the original.  Giant Sand's desert rock sound has never sounded better.  At times "Valley of Rain" sounds like a new album, but you then realize that it really isn't.   Few bands get a second chance to redo the past, especially a past that is over thirty years old.  Giant Sand made the most of that second chance. - Ted
Alejandro Escovedo and Don Antonio – "The Crossing"  The fact is that Don Antonio is the Italian band that backs up Mr. Escovedo on this album.  That being said, "The Crossing" is a concept album about two immigrants who come to America.  One of the immigrants is from Italy and the other from Mexico.   One would think that a concept album might be great in theory but clunky in practice.  Mr. Escovedo has gathered all of his musical talent to make this album succeed.  "The Crossing" has many styles of music to successfully make the concept and the album work - from rockers to ballads and all styles in between.  One has to remember that Mr. Escovedo never made a bad album.  And he has made more than his fair share of great albums.   And "The Crossing' is one of his great albums. - Ted
Bob Seger & the Last Heard – "Heavy Music:  The Complete Cameo Recordings 1966-1967" All the singles on this album have remained locked away for decades.  There was not really a legitimate way to hear this music since their release over fifty years ago. That is unless you somehow acquired the rare 45s. That being said, before Mr. Seger became a superstar in the seventies, he was a hard-scrabble musician, who was unknown outside of his hometown of Detroit.   The music on this album certainly isn't representative of his output of the last forty years.  But on the other hand, the music on this album is really catchy sixties garage pop.  You get fuzz guitars, cheesy organs – the whole sixties garage milieu.  It is also evident from this album that Mr. Seger has always had the ability to write great songs.  It was more bad luck than lack of talent that prevented some of these songs being more than regional hits.  At the very least, "Heavy Music" is a really fun record.  And when was the last time you said that about a Bob Seger album? - Ted
The Posies – "Frosting on the Beater"  The Posies and their fans call "Frosting on the Beater" their guitar album.   It has a lot of loud electric guitar, but it also has some of their best songs on it.  This is the album where the band put the power into power pop.  Not only is the original album remastered, but there are fifteen tracks on it that haven't seen the light of day until now.  Plus there are sixteen tracks appended to the album that were released on box sets, compilations and singles that are out of print.  Most power pop and Posies fans consider this 1993 album the band's finest moment.   This twenty-five year old album still sounds as fresh as it did all that time ago.  And that is really saying something in this day and age. - Ted
Spiritualized – "And Nothing Hurt"  Talk is that this is the last Spiritualized album.  After twenty-six years the band that has been called the perfect music for "floating into space"" may be calling it quits.   And if this truly is their last album, it is a fitting end to the band.  "And Nothing Hurt" is without a doubt their best album since the late nineties.  The songs are so well constructed and intricately produced that one can only really think that the main singer, songwriter and guitarist, Jason "Spaceman" Pierce, may be the new century Phil Spector.   Plus this has to be the loudest album released so far this year.  While I don't wish for Spiritualized to break up, this album would. - Ted

Ron, Ryan, Angie, Marty, Evan, Matt, Michael, Ben, Will, Ed & Isaac