September 13, 2018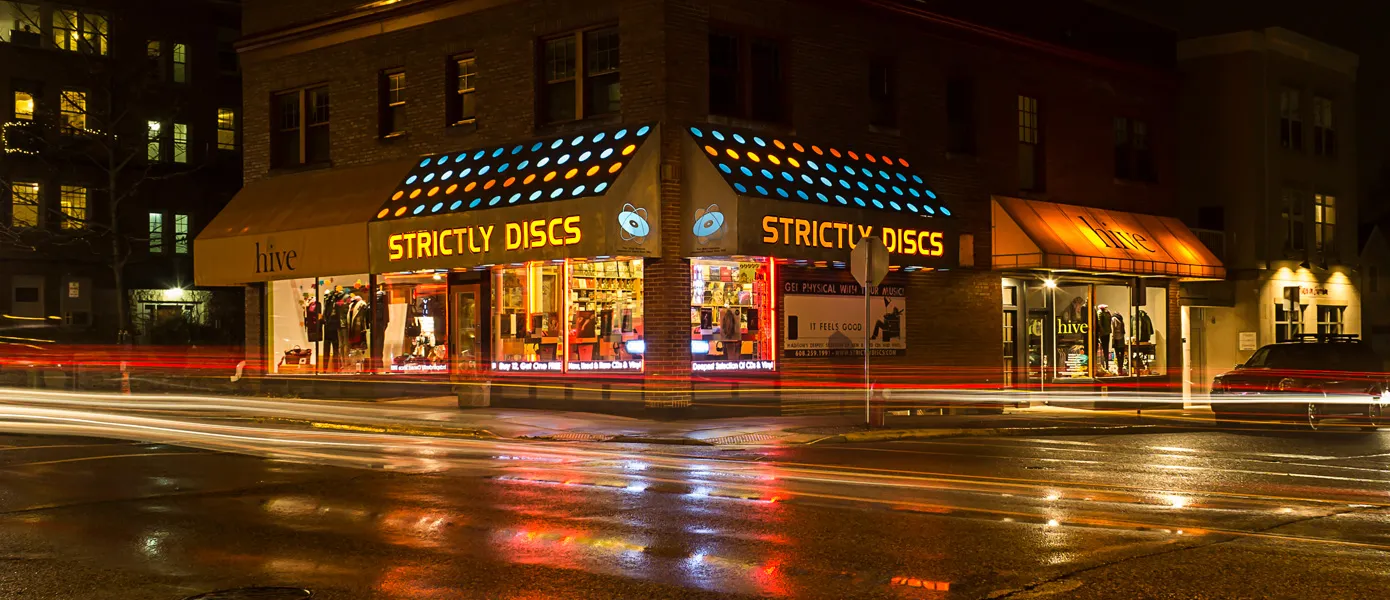 MADISON NIGHT MARKET - TONIGHT 6-11PM:
Join us Thursday night at the downtown Madison Night Market on Gilman Street from 6-11PM. We will be located on lower Gilman midway betweeen University Avenue and Broom Street. Look for us under the bright orange tent with 1200 fresh used LPs, fresh new LPs and more!
NEW THIS WEEK AT THE SHOP:
Our sidewalk may have shrunk a little this week, but it hasn't stopped the new releases from rolling in. I dare say this is the largest crop of unbelievable fresh titles we've had hit the floor all year. Lots of unmissable things here you won't find anywhere else, so put a pot of coffee on and read up!


†


Duluth downer daydreamers Low prove they can keep cranking out the mopey jams well into their third decade with 'Double Negative', a forceful new album that we've got on CD and limited Loser edition vinyl. Power-pop wunderkinds The Lemon Twigs top themselves again with a concept album about a monkey that has bonafide pop geniuses namechecking them. When Elton John and Todd Rundgren are riding for you before you hit drinking age, you know you're onto something. Richard Thompson finally reveals a new rock-forward album, '13 Rivers', and while he sounds a bit conflicted lyrically, he's still got his balm in Gilead: his nimble, expressive guitar playing has never sounded more striking.
†


After living a healthy, if illicit life in the digital world, we at last have a vinyl edition of Nicolas Jaar's unsolicited score for the cult classic Soviet-era film 'A Taste of Pomegranates'. Nico has released some stunners in his short, beautiful career, but this might be the most tantalizing showing of his true capabilities; the 2 LP set is full of colorful, hardwrought vignettes that lurch between aching beauty and frightening dread. Speaking of capable, the good lord Aphex Twin continues his recent fertile period with a new EP called 'Collapse', which we have on CD, LP, and super limited, very fancy silver foil LP. Brandon Coleman delivers the latest opus from the Brainfeeder camp that also includes Kamasi Washington and Ryan Porter, who guest on 'Resistance', an exuberant display of keyboard-driven cosmic jazz.
†


Babies and Kevin Morby Band drummer Justin Sullivan steps from behind the kit as Night Shop with 'In The Break', his first solo album. Mercury Rev, Nels Cline and Steve Shelley have an ongoing live-jam project that's releasing their first studio effort, a drop dead gorgeous album of spectral, orchestral guitarring, helped by legendary guest Peter Walker. The Numero Group extends its reach somewhere it ain't really gone before: girl groups! Naturally, they have a deeper take on this genre that will reward the intrepid. 'Basement Beehive' is here on limited deluxe CD and LP.


†


Some great, well-overdue records from synthpop acts we love are here this week. Bob Moses (a band, not a dude) have a new one called 'Battle Lines'; we finally get the follow up album from UK smoothie kings Jungle; and Detroit underground legends Adult. (who basically invented and discarded electroclash before it even got popular) return to the surface to show the kids how it's done with 'This Behavior', a razor-sharp LP of acid-flecked synthpunk.
†


If it weren't such a man's world, composer Sarah Davachi would be selling out weeks at Carnegie Hall. Ok, that might be a stretch given the often-challenging nature of her stark, modern compositions, but I haven't heard a more thought-provoking album than 'Gave In Rest' in weeks, dare I say a month. Mark Ribot emerges with a 45-fueled new album that channels protest music of the 20th century into his peculiar brand of polyglot folk, with big bearded guests like Steve Earle and Tom Waits in the mix. We've also got a deeply-felt reissue of the 1981 album from Kaleidoscope/Nitty Gritty Dirt Band man Chris Darrow, called 'Eye of the Storm'.


Nothing really connects these three except the fact that everyone loves them. New releases here from Tony Bennett and Diana Krall (with Bill Charlap backing!), Alejandro Escovedo, and Robert Pollard!
†
†


Respect your elders this week with some sweet reissues of very hard to find CDs from the underground rock and experimental scenes of the 1980s. Durutti Column's massively underrated 1984 album 'Without Mercy' gets a 4 disc expansion, with a full disc of bonus tracks, and 2 discs of live material. Power pop legend Shoes see their 3 near-perfect albums combined on a boxset. Mod angels Television Personalities get two late, great albums reissued: 'Closer to God' and 'Privilege', and the final products of the goddess Throbbing Gristle are back on CD: 'Journey Through A Body', 'Mission of Dead Souls' and 'Heathen Earth'.
†
†


World sounds abound this week, with a new Studio One comp, 'Freedom Sounds', collecting some early reggae hits. 'Two Niles to Sing a Melody' is the latest selection from the Ostinato label that brought us last year's stunning 'Sweet As Broken Dates' compilation. You need both! 'Remolino de Oro' collects rare early Colombian cumbia tracks on a single LP, while 'Zamaan ya Sukkar' gathers some truly haunting and lovely Egyptian love songs instrumentals from the 1960s. 21st century rumba wizard Gilberto Rodriguez drops a positively fiery new album with his band, Las Intocables. UK dub experimenters Creation Rebel see perhaps their most zoned-out LP, 'Dub From Creation', rescued from the triple digits on Discogs zone with a nice cleaned up reissue.
†

†
If you want to check out one, or two, or six underground synth artists you maybe hadn't heard of until this morning, you are covered here at SDHQ. The Dark Entries label delivers some goods this week, starting with a very generously vibey compilation of the early UK artist Eric Random, who moved from spare synth-punk to roiling dub-dance in the span of a few years. Los Angeles sound-memoirist Cyrnai sees two of her very rare tapes on vinyl for the first time, for fans of the Deader half of Dead Can Dance. Rare EPs come through from Talking Drums and midwest rave legend Mystic Bill under his Billy Nightmare alias. John Bender's American Gristle job 'Pop Surgery' is in print on a fully licensed LP for the first time since Reagan and, what's that? You want to hear some early 80s New Jersey no-wave from a band that includes a young, pre-fame Ben Stiller? Then check out the reissue of Capital Punishment's 'Roadkill'.


Unclassifiable, yet essential early experimental acts see some archival work hit daylight for the first time ever with some very limited reissues from the LA Free Music Society, Smegma, and Bernard Parmegiani.


We've got the debut album from Portland post-punk dynamos Collate, called 'Liminal Concerns'. A reissue comes along of an amazing album I'd not heard of until this week, Sorrow's 'Under the Yew Possessed', a 1993 album of femme-as-hell, gothic neofolk. Been playing this one a lot, as it's an odd cross of the more palatable side of Current 93 and a dash of the Cocteaus, drenched in that up-front early 90s production. We've also got new albums from Thrice, the Sleaford Mods, and Guerilla Toss, along with a very refreshing new LP from an Australian group called Retiree, who play a relaxed brand of electro-pop similar to Metronomy or Tame Impala.
†
†

†
Some out of print classics return to the vinyl world this week. 3 early oughties rock bombs from Mogwai are here: 'Happy Songs For Happy People', 'Rock Action' and 'Mr. Beast'. The Flaming Lips revisit the earliest moments of their discography with a selection of songs from 86-90 that have never been on vinyl before. Buy 'Death Trippin at Sunrise' and pick up your exclusive Flaming Lips IRON ONS, which you can apply to your favorite t-shirt or use to complete the final square of your Flaming Lips quilt. Terry Callier's soul-stirring classic 'What Color Is Love' is finally back on LP after decades of demand, along with the Weeknd's 'Kiss Land'.
†
†


More vinyl reissues roll in from Siouxsie and the Banshees ('Superstition', 'The Scream', and 'A Kiss in the Dreamhouse'), Madonna, Uncle Acid, Tom Waits, and Blitzen Trapper, whose breakout album 'Furr' turns 10 this month, and gets an expanded, Loser Edition version from Sub Pop.
†
†


Time to add another level to your jazz shelf. Some delicious, delicious rarities return to vinyl this week: Steve Grossman's Japanese-indebted 80s album 'Katonah'; Jack Wilkins' 1973 funk bomb (and Tribe-sampled) 'Windows'; Archie Shepp meets Kahil El'Zabar's Ritual Trio on 'Conversations', a 1999 album of sumptuous, spiritual freedom that was previously confined only to CD; two towering greats of early spiritual jazz influence - Pharaoh Sanders' 'Thembi' and Dorothy Ashby's 'Afro-Harping'; plus a groundbreaking live performance from the seldom-documented Swedish unit Bitter Funeral Beer Band, joined by fellow traveler Don Cherry for 'Live in Frankfurt 82'. The BFBB and Cherry walked similar paths in the 1970s, plucking elements from musical traditions near and far to craft a sound that provided the template for 'world music', long before such an insufficient coinage even existed. Aside from their ECM rarity, this live document is the best way to experience the sheer magnitude of their sound.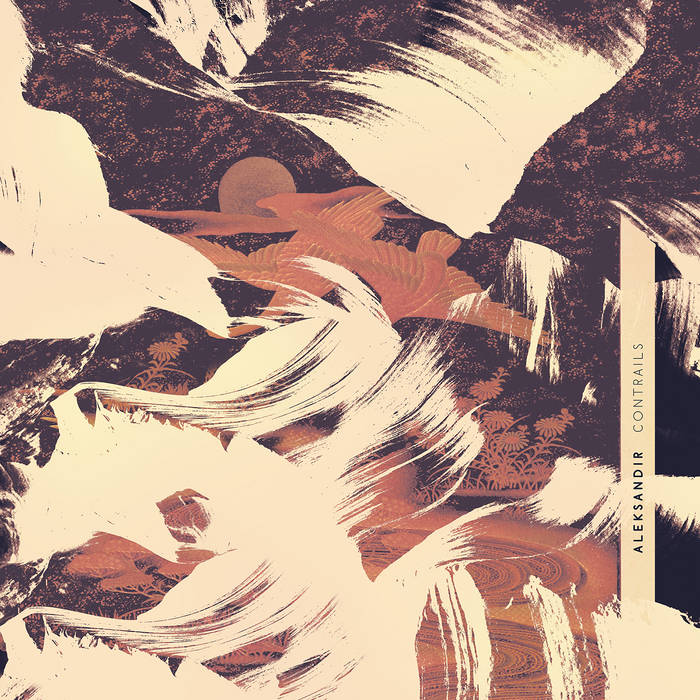 †

†
Huge things happening in techno this week, of course. Aleksandir drops a new LP for the Church label, full of heady and introspective house. New Zealand freaks Chaos in the CBD continue to keep their ish dialed in with a new EP called 'Multiverse'. The New Wave of Canadian Rave continues with cherry EPs from Big Zen and Local Artist. Lastly, but not leastly, we have a deeply bumpin full length beat-tape-on-LP from the Indian producer Jitwam, which sits about equidistant from Matthewdavid and Moodymann on the vibe spectrum.
USED VINYL ALERT:
Heading downstairs for this week's Used Vinyl Alert, we have a bit of a showdown for you to witness. Several recently acquired collections compete for your eyes and ears, in a legendary matchup for the ages: It's Disco versus Indie Rock! Who will prevail? Well, everyone will, but stay with me here.

On the indie and alternative side, we have classics, rarities, and lesser-seen collectables from names like Jack White, Frightened Rabbit, Superchunk, Arcade Fire, Bjork, Kurt Vile, OneRepublic, Purity Ring, FKA Twigs, Washed Out, Warpaint, St. Vincent, Sonic Youth, Mogwai, MGMT, Health, Fever Ray, the Pixies, Beck, Beach House, Grizzly Bear, Grimes, The Knife, LCD Soundsystem, Radiohead, Sharon Van Etten, Andrew Bird, and a whole lot more.

Also on the recently released level, we've got hiphop from Shabazz Palaces, Frank Ocean, Kid Cudi, Kanye West, and Childish Gambino, alongside emo and hardcore from names like Fucked Up, August Burns Red, Birds in Row, Hundredth, Code Orange, State Champs, and the Story So Far.

On the disco side, we have a veritable museum of early dance classics from an old DJ collection. Usually a crate of DJ records will show some evidence of parties gone by, but these are largely in excellent, lightly played shape. Their original owner sure knew what they were doing, though; it's all here. Donna Summer, Patrick Cowley, Ohio Players, Grace Jones, Paul Parker, Gino Soccio, Rinder and Lewis, Klein & MBO, Voyage, Macho, MFSB, the Skatt Brothers, Monsoon, Passengers, Fern Kinney, Easy Going, Space, High Inergy, Madleen Kane, Claudja Barry, First Choice, Linda Clifford, France Joli, plus scores more obscure names in orchestral disco, italo disco, proto-electro, sleazy covers, compilations. You name it, it's here, it's cheap, and it's probably got a butt or two on the cover.

Plenty of lovely records from the electronic and experimental realms, including names like Massive Attack, Jim O'Rourke, Harmonia, Dick Hyman, JM Jarre, Four Tet, Mica Levi, Vatican Shadow, Raime, Shlohmo, Scott Johnson, Goblin, John Carpenter plus addition synthy soundtracks galore, Studio Ghibli, Autechre, Nicolas Jaar, Stockhausen, Varese, Penderecki, Rudiger Lorenz, John Hassell, Laurel Halo, Tangerine Dream, Suzanne Ciani, The Bug, Jlin, and Laraaji!

But wait, you might be asking, where's the classic rock? Don't worry, we've still got a healthy supply here for you. The Rolling Stones (including a very minty Zipper Cover), Pink Floyd, the Beach Boys, Jimi Hendrix, Neil Young, the Velvet Underground, Pearls Before Swine, Gene Clark, Tim Hardin, Joy Division, John Cale, Iron Maiden, Iggy and the Stooges, the Faces, Edgar Winter, Lynyrd Skynyrd, Bruce Springsteen, Queen, Violent Femmes, and the Talking Heads all appear, along with some jazz and soul from Roy Ayers, Donald Byrd, Charlie Parker, Thelonious Monk, Otis Redding, Bill Withers, and James Brown, and a cool selection of blues, folk, punk and children's records.
Sinners, grinners, losers, boozers and assorted scoundrels: hereís whatíll be staring you in the face in the incoming used flip rack. Weíll be putting out a four-pack of very cool Smithsonian Folkways digipacks. Lovingly packaged and annotated, and best suited for adventuresome ears. Strong batch of roots and Americana this week from Amanda Shires, Calexico, Drive By Truckers, Rambling Jack Elliott and Sturgill Simpson. That good olí soul music is represented by those who need but one name to be identified: Prince, Marvin, and Aretha. Lots of hip-hop this week, highlighted by titles from The Clipse, Raekwon, Dilated Peoples and Hi-Tek.† Good contemporary records courtesy of Bon Iver, St. Vincent, Chelsea Wolfe and Beach House, as well as studio trickery from LCD Soundsystem, Nine Inch Nails and Can. Thereís a couple meat and potatoes rock titles, including the 3CD set from Them. Get here early and stay off that pork. Watch this space for a whole new batch next week of the deepest and cleanest used CD selection.
MONROE STREET FESTIVAL - SATURDAY, SEPTEMBER 22ND:
Save the date! The 41st annual Monroe Street Festival/Sidewalk Sale will be Saturday, September 22nd.
†MONROE STREET CONSTRUCTION UPDATE:
Thank you for making the trip to come and see us; we appreciate it!

DIRECTIONS FROM REGENT/EAST:
From Regent Street:
Turn Left on SPOONER ST
Turn Right on West Lawn or Keyes
Turn Left on Harrison St.
We are on the corner of Harrison & Monroe Streets (the street level parking lot outside of the Trader Joe's doors is a public City of Madison lot & the side streets all have FREE 2 hour parking.
MONROE STREET IS OPEN FROM THE WEST

Coming to the shop with CDs/LPs? We can come to you or meet you at our warehouse to make it easier. Please call or text Ron at 608.213.3610 to arrange.
GRATEFUL DEAD FRAMED PRINT GIVEAWAY:

Email contests@strictlydiscs.com with Grateful Dead in the subject line to be entered to win this print! You must be able to pick the print up in the shop.
SELL US YOUR CDS & LPS: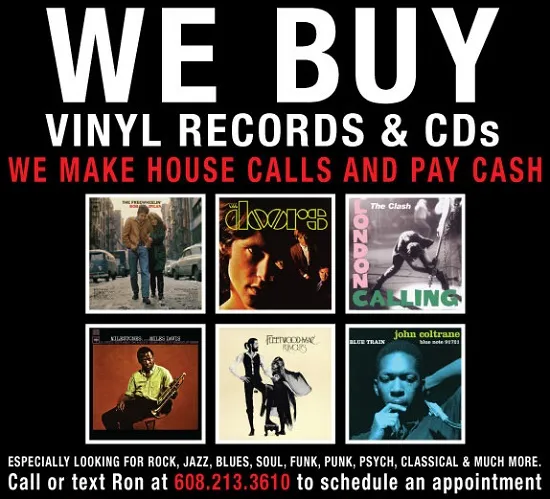 NEXT MUSIC TRIVIA TUESDAY SEPTEMBER 25TH:
Our next MUSIC TRIVIA at the High Noon Saloon is Tuesday, September 25th. Registration starts at 5:30 with the first question from Angie and Marty at 6PM. Save the date for October 9th.

Ron, Ryan, Angie, Marty, Evan, Matt, Michael, Ben, Will, Ed & Isaac