September 6, 2018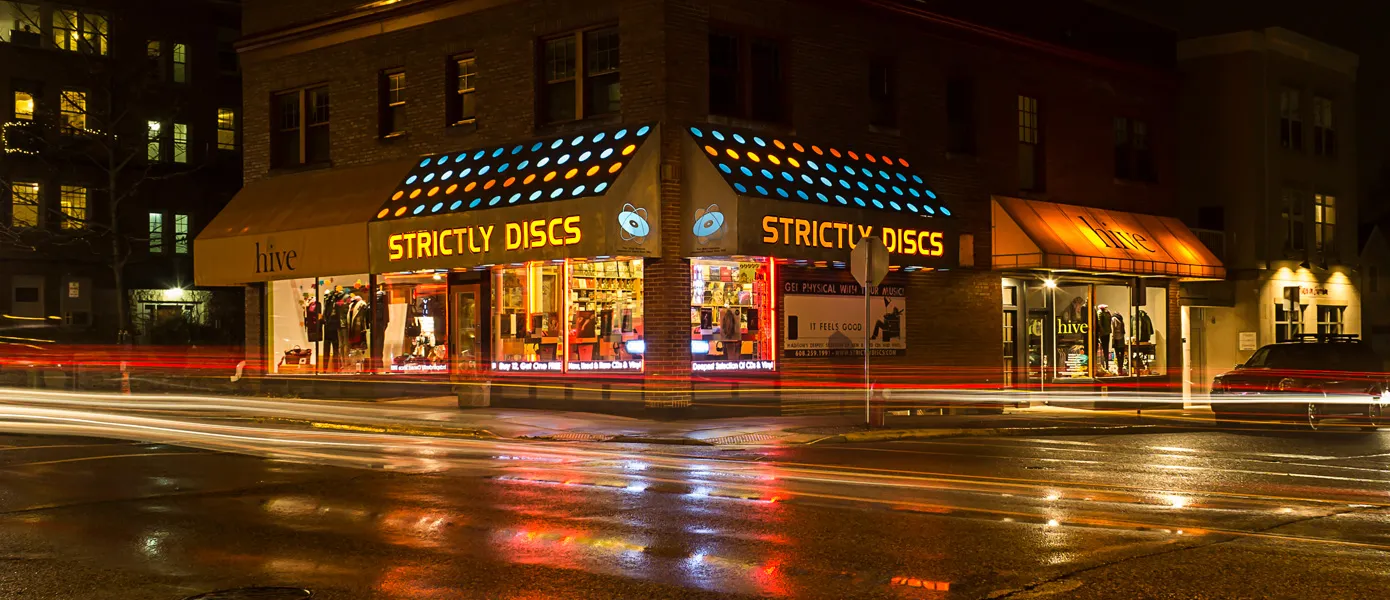 NEW THIS WEEK AT THE SHOP:
Two of modern music's most beloved and critically acclaimed Pauls bring new music this week. It's been five years since Paul McCartney last blessed us with a new studio album, and on 'Egypt Station', Paul heads see their patience rewarded. The knighted Beatle conceived this one as a concept album about the renewing power of travel, and it's chock full of his trademark pop expressiveness and fleet-footed genre dabbling. We've got this one on CD and deluxe vinyl while it lasts. For his new release, Paul Simon turns reflective; 'In The Blue Light' arrives as he embarks on his farewell tour, and here he's revisiting deep cuts from his post-Garfunkel solo catalog. No 'Call Me Al' here; this disc rewards his most devoted fans with new versions of lesser-remembered songs like 'Some Folks Lives Roll Easy' and 'René and Georgette Magritte With Their Dog After the War', often with some pretty revolutionary re-arranging.
A couple big just-announced releases from the world of melanin-free rap make it here just in time this week. Russ's sophomore disc is called 'Zoo' and features Snoop Dogg and Rick Ross, while Eminem's 'Kamikaze' features, well, Eminem, and also Justin Vernon, for some reason.
The last album from Waxahatchee, the shape-shifting project of talented songwriter Katie Crutchfield, was a surprisingly rocking affair, so she's fooled us yet again with her latest EP, which returns to a set of intricate, almost neo-classical folk songs that she first began writing many years ago. 'Great Thunder' is here on CD and limited-run yellow vinyl. Spiritualized's Jason Pierce just keeps on living, so we're blessed with another great album of gospel-bent stonegaze from him, called 'And Nothing Hurt'. Octave-collecting R&B group St. Paul & the Broken Bones grapple with their Southern identity on a rollicking new album called 'Young Sick Camellia'.
More new stuff this week: LA songwriter Gold Star is back with 'Uppers & Downers', reliable and one of a kind songwriters like Mirah, Eric Bachmann, and William Elliott Whitmore all have new releases, plus we've got a new disc from Swamp Dogg, and the vinyl version of the latest Punch Brothers album, 'All Ashore'.
Grateful Dead return to their live archives once again for 'Believe It If You Need It', a collection of songs from shows in the Pacific Northwest circa 73-74, on triple CD and six LP. Led Zeppelin's 'The Song Remains The Same' gets the full Jimmy Page remaster treatment on double CD and deluxe vinyl. NYC legends Yeah Yeah Yeahs revisit their breakout album 'Fever To Tell' in remarkable fashion; an expanded 3LP version with demos and unreleased tracks, stickers, patches, pages from Karen O's diary, Nick Zinner's incredible 160 page photo book, and more, all wrapped in red fishnet and HIGHLY limited.
German psych pioneers Faust see one of their most iconic early releases, the freely flowing 'Faust Tapes' from 1973, reissued on LP with original multilingual artwork. The 1979 LP by Gboyega Adelaja, 'Colorful Environment', is one of the hottest and rarest pieces of afro-funk out there, and is now back on vinyl, fully licensed with restored audio and artwork. Some of Bob Seger's earliest unheard music is here on CD and LP; 'Heavy Music' collects his 1966 recordings for the Cameo label, and captures the young Bob in blazing R&B mode, winning over hearts decades before he got 'Like A Rock'.
More new stuff from some trusted names: Clutch return with 'Bad Decisions' on CD, color vinyl, and deluxe CD with a hardbound book, plus we've got new ones from Suicidal Tendencies, Everlast, Lenny Kravitz, and Jeff the Brotherhood, plus an expanded version of The Posies' 'Frosting On the Beater'.
A wide swath of incredible new jazz releases runs the gamut of styles this week. Mossy stone ruin trumpeter Arve Henriksen has a new LP out called 'Composograph'. We've got new CDs from young talents Chris Lightcap, Gilad Hekselman, and Kandace Springs. Upright bass innovator Barre Phillips releases his first solo album in forever, and we've got a crucial CD collection of some of Alice Coltrane's later hard to find albums.
More vinyl reissues roll in from David Gilmour, who's 2006 album 'On An Island' returns to LP, alongside L7's classic 'Hungry for Stink', and the marvelous, experimental Stevie Wonder album, 'The Secret Life of Plants'.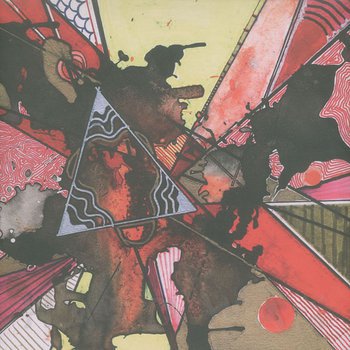 Anytime the Detroit house don Theo Parrish opens up his Sound Signature label to an artist other than himself, you know you're in for something special. Such is the case with the epic debut album from Specter, a Detroit producer with decades of experience. 'Built To Last' is a defiant statement of expressive, clever deep house. Emeralds guitarist turned rainbow warrior Mark McGuire has a lush new LP called 'Vision Upon Purpose'. Cellist, composer, Radiohead collaber Oliver Coates has a fascinating new record called 'Shelley's on Zenn-La', which finds curious pathways between mournful strings, cryptic soul vox, and glittery IDM.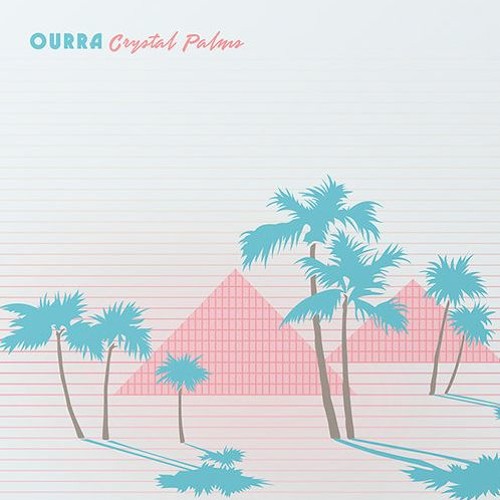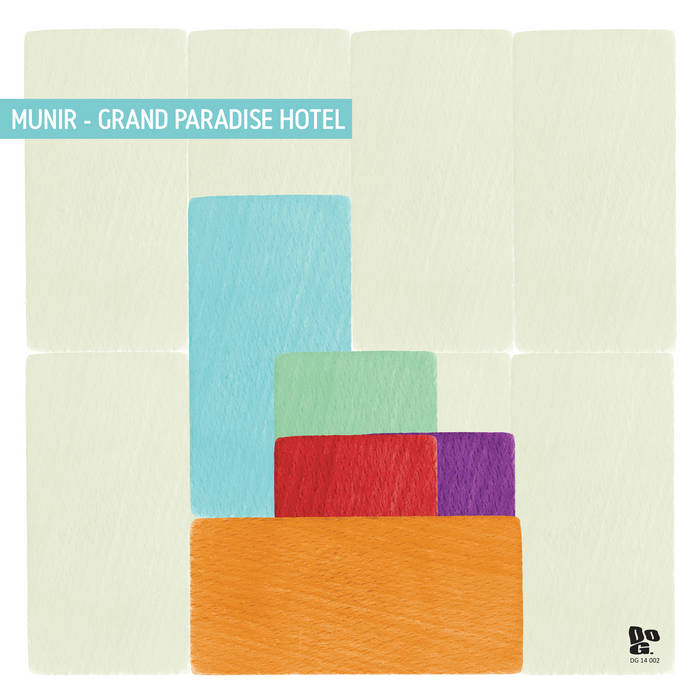 The Star Creature label continues to source some amazing, extremely pleasureful modern funk with a full-length boogie bomb from Ourra. Indonesian producer Munir makes his debut on Dopeness Galore with an amazing full length called 'Grand Paradise Hotel', and its an extensive trip through seaside funk and low-slung house with the occasional traditional element. Nadia Khan delivers a lush album of Pop Ambient, which is rounded out by a rhythmix remix from Aussies Melquiades.
The Superior Viaduct label restores an absolute classic of Italian ambient music with a new edition of Raul Lovisoni & Francesco Messina's 1979 epic 'Prati Bagnati del Monte Analogo', which remains one of the most beautiful and listenable examples of modern minimalism's embrace of melodies, harmonies, and non-western sounds. Japanese new wave band Colored Music released a single album in 1981 that barely anyone outside Japan heard, let alone appreciated, until the more recent re-assessment of the island nation's considerable 80s output of electronic music. This is one marvelous record that takes a different turn on each track, from Roxy-style vamping, to elliptical minimal synth, to freaky dub-pop, to eerie proto-techno, forming a strong foundation for the intrepid Japanese decade to follow. The Optimo label pays loving tribute to a vastly underappreciated talent named Robert Rental with an LP of his unheard demo recordings. Rental played in duos with Thomas Leer and The Normal's Daniel Miller, releasing one record on the then-freshly minted Industrial Records label, and a haunting 45 on Rough Trade, before disappearing into obscurity. Rental's approach to his solo recordings is heard, truly, for the first time on these demos, and it's a startling experience. Melodica-led cod reggae, Normal/TG style dread, and a folksy electronic innocence that reminds me a little of Arthur Russell. Anyone interested in the earliest days of synth-punk ought to check this one.
Possibly the best album in this whole email comes from a little-known Japanese duo named Singu, who are presented to us by the Growing Bin label, already batting a 1.000 this year with 3 phenomenal releases. 'Siki' is a record crammed full of ideas that still manages to float freely with every second, as drums/guitar/keys are roiled into a ethereal stew that touches on cocktail jazz, pensive post-rock, acid-jazz flecked house ala Moodymann, and kosmische delirium. I'm gonna need five more albums from these guys, on the double. The Feeding Tube label brings us a high quality LP of outer sounds from longtime sound-inventors Tim Barnes and Jeph Jerman, while the Italian label Orbeatize delivers a remarkable modern library music LP from Jolly Mare.
Italian house legend Don Carlos sees a selection of CD only tracks hit vinyl for the first time, and we also have 2 rare warehouse-find CDs of his, 1993's legendary chillout album 'Meditteraneo' and the very skillful 'Music In My Mind'. We've also got the long-churning opus from Mutant Beat Dance, the project of Chicago underground techno soldiers Traxx and Beau Wanzer; a new EP of early 80s synth-funk from Richenel; a new jazz/tech project from Jeff Mills called Spiral Deluxe; and an LP of seldom-heard piano music from the should-be icon of minimalism, Catherine Christer Hennix.
Lots of wild stuff this week in the used CDs. We got essential squall from Detroit in the form of The Stooges, The Dirtbombs and black punk godfathers Death. Rarely do we ever see anything by mindbending tropicalistas Os Mutantes, but mark it on the calendar, Mabel, cuz this is one of those weeks. Post-everything monoliths This Heat will take up residence in the front rack, as will early work from Tortoise. We have only a few reggae titles this week, but damn if you can do better than "East of the River Nile" by Augustus Pablo and Jackie Mittoo's "Champion of the Arena." Finally, we have multiple titles from genius Japanese composer Susumu Yokota, the insanely great and self-explanatory 3CD "Frettin' Fingers: The Lightning Guitar of Jimmy Bryant," and The Weeknd's Trilogy. You know the time, you know the place. Watch this space for a whole new batch next week of the deepest and cleanest used CD selection.
USED VINYL ALERT:
Heading downstairs for this week's Used Vinyl Alert, we have a full menu of vinyl finery for your consideration, with special emphasis on jazz, blues, punk, reggae, and psych. Plus, we have a fresh section of recently marked down new LPs right next to the new arrivals.

Reliable names in rock and pop turn up in droves this week, with LPs from Bob Dylan, the Grateful Dead, Led Zeppelin, Jimi Hendrix, Leonard Cohen, Neil Young, Chuck Berry, Dick Dale, Lou Reed, David Bowie, the Band, the Beatles, Jerry Garcia, the Kinks, Van Morrison, Tom Waits, Prince, and Frank Zappa.

Deeper into rock and pysch, we've got things from the Red Krayola, Flamin Groovies, West Coast Pop Art Experimental Band, the Left Banke, the Troggs, Syndicate of Sound, the Seeds, Sam the Sham, John Renbourn, the Zombies, the Illusion, Beau Brummels, and a solid selection of early Nuggets compilations.

80s waves roll in from U2, Devo, the Talking Heads, Iron Maiden, Siouxsie, Dead Can Dance, and Echo and the Bunnymen, along with another lengthy run of obscure 80s and 90s punk, hardcore, thrash, and metal, along with a lot of rare compilations.

Feel the force of our latest round of jazz LPs, including masterpieces and close-calls from John Coltrane, Jack McDuff, Freddie Hubbard, Miles Davis, Keith Jarrett, Ahmad Jamal, Charles Lloyd, Gary Burton, Larry Coryell, Joe Bonner, Art Blakey, Chet Baker, George Lewis, Kahil El'Zabar, Dave Brubeck, Charlie Parker, Coleman Hawkins, Hugh Masekela, Cedar Walton, Jaco Pastorius, John Abercrombie, Sam Rivers, Dave Holland, and scores more.

An eye-popping trove of early pressings from some big bluesmen are here this week, including LPs by Albert King, Brownie McGhee, Big Walter Horton, John Lee Hooker, Howlin Wolf, Sonny Boy Williamson, Roy Clark, Queen Ida, Junior Wells, James Cotton, Muddy Waters, Bobby Bland, John Mayall, and Little Sonny. Country shows up from Waylon Jennings, Guy Clark, Hank Williams, and Willie Nelson. Soul and funk classics also come through from Otis Redding, Aretha Franklin, Sly Stone, the Meters, James Brown, Ray Charles, Bobby Womack, Ella Fitzgerald, and Billie Holiday.

Plenty of great reggae this week, including some lesser seen LPs from Jimmy Cliff, Black Uhuru, Bob Marley, Dennis Brown, Toots and the Maytals, Bunny Wailer, Mighty Sparrow, and Dennis Brown. We've also got a slew of original international pressings from South America, India, and the Caribbean, plus some cool electronic/avant LPs from Terry Riley, JM Jarre, and Massive Attack, and a deep run of older vintage children's LPs in great condition!

 MONROE STREET CONSTRUCTION UPDATE:
Thank you for making the trip to come and see us; we appreciate it!

DIRECTIONS FROM REGENT/EAST:
From Regent Street:
Turn Left on SPOONER ST
Turn Right on West Lawn or Keyes
Turn Left on Harrison St.
We are on the corner of Harrison & Monroe Streets (the street level parking lot outside of the Trader Joe's doors is a public City of Madison lot & the side streets all have FREE 2 hour parking.
MONROE STREET IS OPEN FROM THE WEST

MONROE STREET IS NOT ACCESSIBLE FROM HARRISON CURRENTLY
Coming to the shop with CDs/LPs? We can come to you or meet you at our warehouse to make it easier. Please call or text Ron at 608.213.3610 to arrange.
SELL US YOUR CDS & LPS: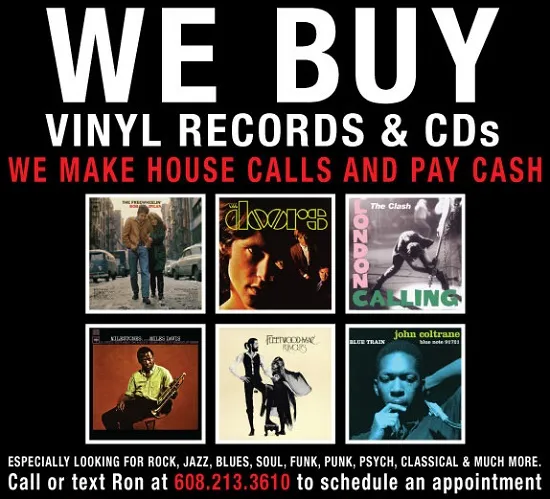 NEXT MUSIC TRIVIA TUESDAY SEPTEMBER 25TH:
Our next MUSIC TRIVIA at the High Noon Saloon is Tuesday, September 25th. Registration starts at 5:30 with the first question from Angie and Marty at 6PM. Save the date for October 9th.
MADISON NIGHT MARKET - THURSDAY, SEPTEMBER 13TH:
Join us Thursday, September 13th at the downtown Madison Night Market. Come see us outdoors to get your digging fix. Look for us under the bright orange tent!
MONROE STREET FESTIVAL - SATURDAY, SEPTEMBER 22ND:
Save the date! The 41st annual Monroe Street Festival/Sidewalk Sale will be Saturday, September 22nd.
OTHERS TALK BACK:
This isn't the spot to lay down odds on the third race. OTB is where Others Talk Back and give you the lowdown on what they've been feeling lately. This one's for the customers.
The Band – 'Music from Big Pink"  Hard to believe, but this is the fiftieth anniversary edition.  I am reviewing the single disc cd edition.  There is also a double LP cut at 45 rpm.  The interesting feature of this reissue is the new stereo mix from the original four-track tapes.  This new mix gives the music more clarity plus more punch than before.  But rest assured, the new mix is of an organic nature, not a mix that calls attention to itself.   The cd edition has six bonus tracks, with one never before released track - a stunning a cappella of I Shall Be Released.  The rest of the bonus tracks are outtakes and alternate versions from the album sessions.  "Music >From Big Pink" is a classic album that still stands the passage of time.  In fact, it has a special timeless quality that most albums from the sixties just don't have.   There is no doubt that people will still be marveling at this album an additional fifty years from now.
Idles – "Joy as an Act of Resistance"  This is the band's first release in the US.   Idles are very much in the Libertines/Babyshambles/ Arctic Monkey groove.  To an extent they are a bit angrier than those other bands.   But Idles are also much more melodic than the other bands.  The lyrics deal with politics (both of a personal and universal nature) and the state of the world, but these guys also show you a way out of the despair and anger.   "Joy as an Act of Resistance"  has to be one of the freshest releases from the UK this year.

Ron, Ryan, Angie, Marty, Evan, Matt, Michael, Ben, Will, Ed & Isaac