August 30, 2018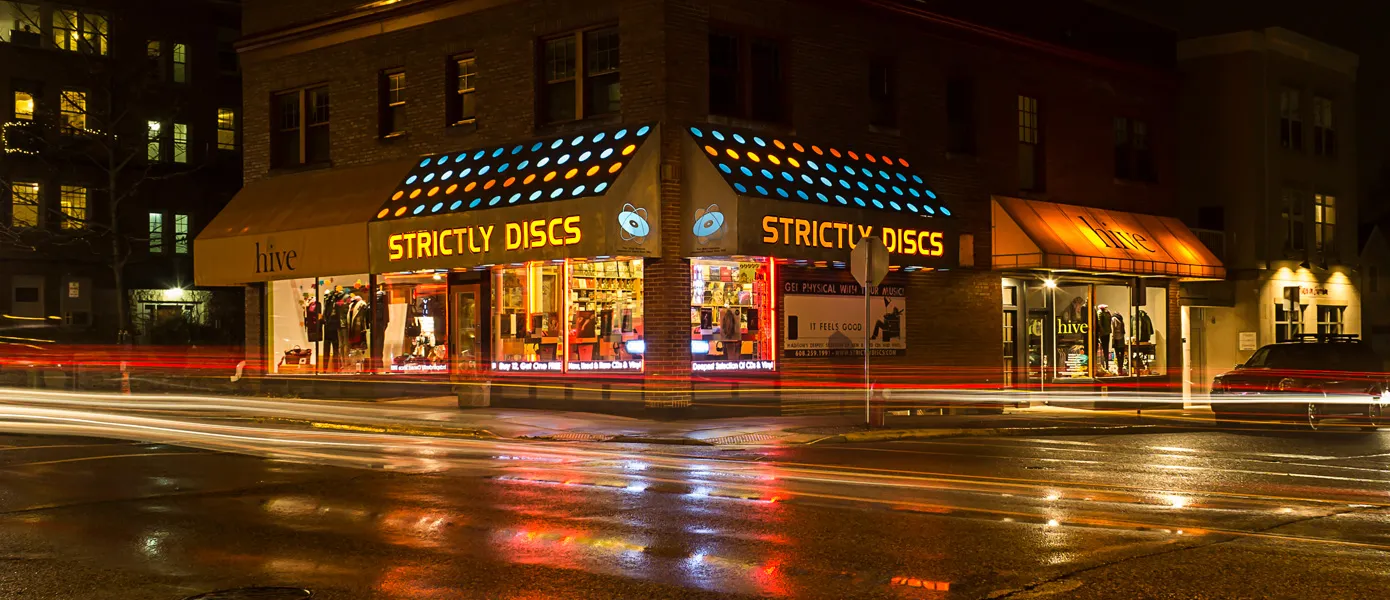 NEW THIS WEEK AT THE SHOP:
This week brings the first album-length incarnation of the work-in-progress collaboration group Big Red Machine, helmed by Bon Iver's Justin Vernon and the National's Aaron Dessner. The self-titled album is sprawling and diverse, delivering on the ethos of the pair's 'PEOPLE' digital platform, which champions the cross-pollination of the collective, which in this case includes The Staves, Lisa Hannigan, Brad Cook, and JT Bates. Nevertheless, this dreamy, restless record sits right in between Vernon and Dessner's respective upstate sweet spots, stretching polyglot, stream of consciousness songwriting across odd time signatures and layers upon layers of instrumentation. We've also got the first ever vinyl release of Sufjan Stevens long-adored odds and ends collection 'The Avalanche', originally released on CD all the way back in 2006, now in stock on orange and white vinyl.
Two long in the tooth rappers representing both coasts have new albums available on CD this week. We've been hearing about Clipse-founder Pusha T's new Kanye-produced album 'Daytona' all summer, and now we've got the CD, complete with it's last-minute, ill-advised, but ultimately kinda iconic cover photo. And hey, the album is pretty dang great too. We've also got the latest from Compton badboy YG, titled 'Stay Dangerous'. Only if you do too, Mr. YG.
Symphonic synthpop geniuses Wild Nothing grace us with their fourth album, and it's another stunner. 'Indigo' continues the band's streak of elegant pop that strikes a woozy balance between longing aches and confident declarations, led by founder Jack Tatum's trademark ochre guitar tone. Of the many, mostly already-forgotten bands mining the 4AD sound on this side of the millennium, Wild Nothing have stood themselves apart from the crowd, continuing to innovate on a style that was long thought to be set in marble. We've also got a fresh mini-album from Iron & Wine, collecting unreleased recordings from the sessions surrounding his last release, the excellent 'Beast Epic'. 'The Weed Garden' (hey, I've got one of those!) is here on CD and Loser Edition colored vinyl. We've also got the latest soundtrack effort from universe-roilers Mogwai, called 'Kin'.
The Pet Shop Boys continue to reward their rabid cult with three more expanded Further Listening compilations for their albums 'Very', 'Bilingual', and 'Behavior'.  
More new releases this week include the latest from UK neo-grungers Idles, who return with 'Joy As An Act of Resistance'. Frisco space-rockers Lumerians are back with 'Call of the Void'. Legendary Swedish psych guitarist Jakob Sjoholm has formed a new group called Traden, continuing the tradition of his timeless and pioneering 70s band Trad Gras Och Stenar. We've also got new releases from Amos Lee, Troye Sivan, and Tash Sultana.
British composer Michael Price delivers 'Tender Symmetry' via the Erased Tapes label, a lovely album of neo-classical vigor that was recorded at a variety of public spaces across England. Mass Gothic's latest, 'I've Tortured You Long Enough', finds cute married couple Noel Heroux and Jessica Zambri reflecting on their creative relationship through some crafty art-pop. Introspective proggers Pineapple Thief deliver a long-awaited album, 'Dissolution', that has critics claiming it as their finest work to date.
New jazz is here from chilled out pianist Tord Gustavsen and his trio, called 'The Other Side'. ECM also delivers a very fascinating one from Sungjae Son and his Near East Quartet, and we've got a fresh album from Madeleine Peyroux called 'Anthem'!
Vinyl reissues aplenty this week! The Band celebrate 50 years since the release of their iconic 'Music from the Big Pink' album with an expanded reissue. Soundgarden's 'A Sides' is back, as well as the 90s deep cut 'Beyond the Missouri Sky' by Charlie Haden and Pat Metheny. David Bazan's self-released CD from last year, 'Care', is now here on vinyl, and we've got LP represses of Suicidal Tendencies' 'Lights Camera Revolution' and Paul Simon's 'Rhythm of the Saints'.
Archival New Beat comes to us in an LP of mostly unreleased tracks from Schicksal, the project of Belgium's Rudi Huybrechts, that run the gamut of neo-EBM and melodic industrial while predicting the body-moving power of electro. The Gost Zvuk label brings us a staggeringly great compendium of the vast body of work of Russian synth pioneer Mikhail Chekalin, who released scores of LPs inside the USSR during the 70s and 80s, despite repeated official government rebukes for making music that was too 'Western'. Chekalin's work covers as vast an area as the Russian mainland: Berlin School soundscapes, moody TV production moves, and gauzy synth-funk that verges on boogie, which probably drew the eyes and ears of the nosy apparatchiks. What a package here! Same goes for the cool, affordable collaborative album between pop-composer Lafawndah and vibraphonist Midori Takada, she of 'Through the Looking Glass' fame. This piece, entitled 'Le Renard Bleu' is an immersive, drifting suite of ambient folk music that sounds profoundly ancient.
Kassem Mosse has thrilled and perplexed us in equal measure with his takes on minimalized techno under various aliases. This time he's before us as DJ Residue, with a mini-album on The Trilogy Tapes recorded, he claims, in a summer apartment in NYC with no AC, on a found Casio and some cymbals. Drummer Han Bennink once said that a good improviser should be able to make music with a matchbook, so it seems like KM's got enough to work with here. The Rhythm Section label returns with yet another 100% classic piece of club gear, moving through jazzy ambience to snappy breaks with aplomb. Lastly, the one and only Dam-Funk graces us with one of his rare dancefloor EPs, 'Architecture II', which finds the king of modern funk at the absolute top of his game.
BACK-TO-SCHOOL STEREO GEAR SALE:
Sweet summer days, warm, long and lazy; we thought they'd never end. Well, we hate to break it to you, but Back-To-School season is just around the corner. We want to help soothe the ache of this transition, so we've got a sale going through August on all new and used equipment and gear in the shop.
Our full inventory of new and vintage turntables, receivers, speakers, and miscellaneous stereo components at the shop will be 15% OFF this month. Whether you need to upgrade a piece, want to completely re-do your whole rig, or maybe you're putting the finishing touches on a new apartment or dorm, now is the time!
And because you need something new to listen to, all gear purchases this month come with an unlimited 15% off coupon for new and used LPs (to be used on the same day).
USED CD ALERT:
Grab them life preservers and float on over for a monumental batch of incoming used silver discs this week. Tons from Peter Green-era Fleetwood Mac, early Pink Floyd, four from Donovan and pert near all the Velvet Underground discography will be up front. For all the brain-baked space cowboys, we got plenty from Howe Gelb, the Handsome Family and the original cosmic buckaroo, Gram Parsons. Prog heads can grab from multiple releases by Gentle Giant, Camel and the Soft Machine. Television, Wire and Gang of Four are there for the blooming post-punker in your life. Finally, there's a nice portion of blues this week: essential records from Jimmy Dawkins, Fenton Robinson, John Mayall and Otis Rush. Whew! Watch this space for a whole new batch next week of the deepest and cleanest used CD selection.
USED VINYL ALERT:
Heading downstairs for this week's Used Vinyl Alert, we've got a lot of fresh ones for you to check out. Perhaps the universe felt a little sorry for us this week, with all the booming and banging going on outside, as we were blessed with some seriously unreal collections coming through the door, and now they'ready for your perusal!

Jazz classics run the day this week. We've got scores of absolute must-haves from John Coltrane, Miles Davis, Sonny Rollins, Roy Ayers, Gary Burton, Ornette Coleman, Pharaoh Sanders, Herbie Hancock, Michal Urbaniak, Hugh Masekela, Horace Silver, Roland Kirk, Thelonious Monk, Django Reinhardt, Dollar Brand, and the immortal Gil Scott Heron.

Some rock staples turn up this week from Bob Dylan, David Bowie, the Band, Genesis, and many more, along with blues from Mississippi John Hurt, and another deep dive through the obscurities of 80s punk, alt-rock, rockabilly, and hardcore. Not many household names in there, but the deep diggers will be rewarded.

A treasure trove of African pop, rock, funk and traditional styles is here. Many, many titles we have never, ever seen before are here from the Super Eagles, Asaase Asa, Nico Mbarga, Toumani Diabate, King Sunny Ade, the African Brothers International Band, Manu Dibango, and several more, alongside an interesting variety of European guitar records and a couple from Ravi Shankar.

80s and 90s and 00s rap gets a good showing this week, with records from Luke, Salt n Pepa, the Beastie Boys, Jay Z, Wu Tang and several Wu affiliates, Kid Cudi, the Coup, the Notorious BIG, the Weeknd, and a whole lot more. We've also got funk and soul from King Curtis, Sam Cooke, Betty Davis, Sister Sledge, Donna Summer, Quincy Jones, and the Dells, plus reggae from Burning Spear, Jimmy Cliff, and Peter Tosh.

Some rare and deeply-dug heat on the house and techno front this week, with a whole lot of EPs from seminal Chicago and Detroit names, plus some cool electro and acid. Check out stuff from Cajmere, Nu Groove, Kevin Saunderson, DJ Assault, Aphex Twin, Aux 88, Arnold Jarvis, Mad Mike, Bjork, and many more, along with some more contemporary electronic records from GP Hall, Black Merlin, Deviation Social, and the Healing Force Project.

Lastly, though definitely not leastly, we've got a nearly encyclopedic rundown of recent indie releases in the new arrivals at affordable like-new prices. Check out hot ones from Phantogram, the Strokes, Spoon, Animal Collective, Devotchka, MGMT, the Shins, Destroyer, Deerhunter, Fog, Atlas Sound, the National, Belle and Sebastian (many LPs, plus a box set), Tegan and Sara (many LPs, plus a box set), Mikal Cronin, Icarus Himself, Heartless Bastards, Girls, Beach House, Arcade Fire, a long run of Elliott Smith, Wye Oak, the Smiths, Kurt Vile, Total Control, Boy, Dirty Projectors, David Bazan, Iron and Wine, Ariel Pink, Angel Olsen, Neon Indian, and Sharon Van Etten. Wow!
 MONROE STREET CONSTRUCTION UPDATE:
Thank you for making the trip to come and see us; we appreciate it!

DIRECTIONS FROM REGENT/EAST:
From Regent Street:
Turn Left on SPOONER ST
Turn Right on West Lawn or Keyes
Turn Left on Harrison St.
We are on the corner of Harrison & Monroe Streets (the street level parking lot outside of the Trader Joe's doors is a public City of Madison lot & the side streets all have FREE 2 hour parking.
MONROE STREET IS OPEN FROM THE WEST

MONROE STREET IS NOT ACCESSIBLE FROM HARRISON CURRENTLY
Coming to the shop with CDs/LPs? We can come to you or meet you at our warehouse to make it easier. Please call or text Ron at 608.213.3610 to arrange.
SELL US YOUR CDS & LPS: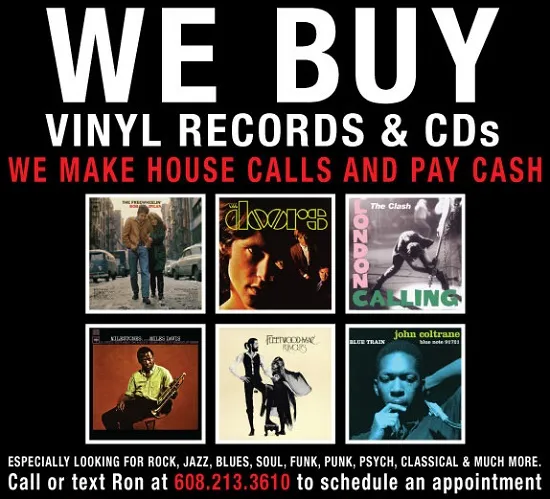 NEXT MUSIC TRIVIA TUESDAY SEPTEMBER 25TH:
Our next MUSIC TRIVIA at the High Noon Saloon is Tuesday, September 25th. Registration starts at 5:30 with the first question from Angie and Marty at 6PM. Save the date for October 9th.
MADISON NIGHT MARKET - THURSDAY, SEPTEMBER 13TH:
Join us Thursday, September 13th at the downtown Madison Night Market. Come see us outdoors to get your digging fix. Look for us under the bright orange tent!
MONROE STREET FESTIVAL - SATURDAY, SEPTEMBER 22ND:
Save the date! The 41st annual Monroe Street Festival/Sidewalk Sale will be Saturday, September 22nd.
OTHERS TALK BACK:
This isn't the spot to lay down odds on the third race. OTB is where Others Talk Back and give you the lowdown on what they've been feeling lately. This one's for the customers.
Mark Lanegan & Duke Garwood – "With Animals"  This album is a follow-up to the duo's excellent 2015 "Black Pudding" release.  Just by simple name recognition, it would appear to be that Mr. Lanegan would be the dominant partner in this project.  That thinking would be far from the truth on this album.  "With Animals" is a true collaboration.  Mr. Garwood's sparse yet evocative guitar playing immediately sets the moods for all the songs, while Mr. Lanegan's lyrics and vocals further enhance the mood that the guitar begins.  Truthfully this is not a sunshine album.  But if anyone is familiar with Mr. Lanegan's career,  they know that he is never really involved in that kind of album.   Mr. Lanegan has been involved with many colorations the last fifteen years or so (Twilight Singers, Mad Season, etc.)  "With Animals" may be the best of the bunch.
Neil & Liam Finn – "Lightsleeper"  Speaking of collaborations, this one is between father and son.   One knows Neil from Crowded House, and Liam has had a strong solo career since 2007.  Also on the album is Neil's wife and Liam's mother, Sharon, along with Liam's brother, Harper.  This is really a true family affair.   Both Liam and Neil leave their safe musical zones and try something new this time around. "Lightsleeper" is a strongly atmospheric album that highlights off-center pop with supremely expressive music.  This is a very floaty and swirly album with hints of low-keyed psychedelica.  "Lightsleeper" is true dream pop, but it is dream pop with a solid musical base that father and son provide.
Nothing – "Dance on the Black Top"  This album is released on Relapse Records.   But this album is not the brutal and totally uncompromising music that one usually encounters on Relapse.  Nothing is really a new century version of the classic nineties Shoegazing sound.  There is a slight metallic tinge to some of the guitars but really this is an album that ranks with some of the best of the Shoegaze bands.  Bands such as Ride, My Bloody Valentine, Chapterhouse and Slowdive.   It is unusual that a new band can come out with an album that is so fully formed as "Dance on the Black Top."  But this Philadelphia band's first succeeds on all levels.  It may just be one of the debuts of the year.

Ron, Ryan, Angie, Marty, Evan, Matt, Michael, Ben, Will, Ed & Isaac