August 16, 2018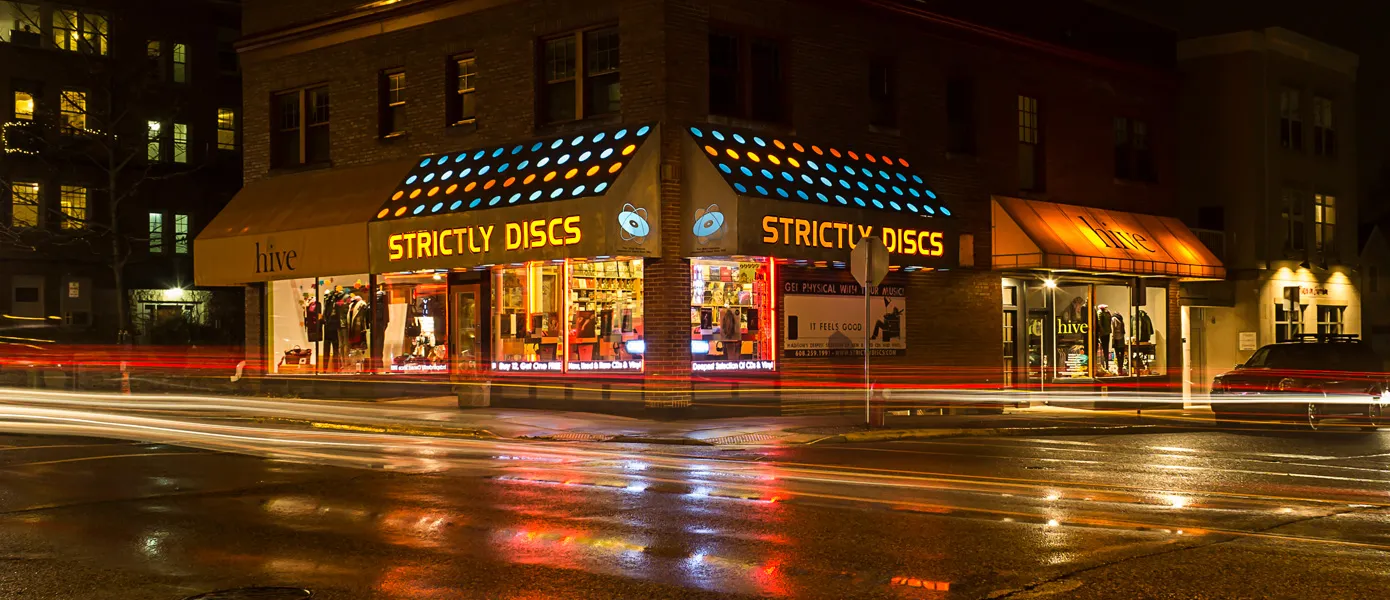 NEW THIS WEEK AT THE SHOP:
We kick off an extremely jam-packed week of new releases with a pair of albums from permanent indie darlings. Animal Collective's latest 'Tangerine Reef' is an audio-visual album that pairs beguilingly with a DVD of reef footage, and musically hews closer to the Avey Tare antipode; its a thickly-detailed bog of ambient that demands a close listen. Somewhere at the other end of this spectrum lies Death Cab For Cutie, who continue to perfect their brand of smart, immediately identifiable fuzz-pop on 'Thank You For Today', which we have on CD and limited clear vinyl.
Mitski really hits her stride on her third album, 'Be the Cowboy', a chill album of icy synthed-out ballads and unstoppable bouncy pop, in stock on coke bottle clear vinyl while it lasts. The reclusive Oh Sees rock group launches another franchise with 'Smote Reverser', a new album that verges more towards prog-garage and away from the Doors-iness of their last record. CD, black LP, and a couple of limited orange vinyl LPs on this one.
Ariana Grande continues to make her case for her brand of hyper-emotional radio dynamite with 'Sweetener', giving chart 'Queen' Nicki Minaj a bit of a run for it in the Billboard race. I do like Ariana's upside down cover, but I think it might be Nicki, by a nose. CDs only on these hot releases, for now.
Perhaps the most refreshing and surprising new release this week comes in the form of an obscure reissue. Jess Sah Bi & Peter One are a country duo from Cote D'Ivoire, who rode the regional success of their 1985 tape 'Our Garden Needs Its Flowers' to arena-sellout level fame in West Africa. One listen here tells you why. The pair have an arrestingly brilliant take on western folk, country, and what would later be termed 'Americana', with twangy lyricism that refers back to old village songs and present day political turmoil in their country, forming an intoxicating analog to an American groups like the Roches and the Flatlanders. We've heard plenty examples of the influences of Hendrix, Cream, and Funkadelic on West African music, but I dare say we haven't heard much country, until now! Another surprise comes to us from the venerable David Pajo, back again with a new record under his Papa M alias. The druidic indie denizen has been around forever, helping found bands like Slint, Tortoise, and the For Carnation (and somehow Zwan, also), but lately it's been a rare event to hear an album of straight-up Pajo guitar magic. 'A Broke Moon Rises' fits that bill and then some, finding the Papa in a rustic mode, transcribing doomy chords for use on six-string, banjo and slide, and sounding a little bit like early William Ackerman crossed with those classic Pullman LPs from the turn of the century that (checks references) he also played on, too. Totally gorgeous stuff here.
Trevor Powers, being a somewhat old guy now, has shed his Youth Lagoon moniker in favor of his given name, and has a great new album of complex, yet approachable synth-pop, in the house on CD and white vinyl LP. Jake Shears of Scissor Sisters fame re-emerges with a solo album that reminds me a lot of the fun side of George Michael. We've also got new releases from the Blue October and Great Lake Swimmers.
New York synth trio Forma have a divine new album out, called 'Semblance', made of up of warm epics that are equally elegant and psychedelic. If you saw them cram half of the synths in the known universe into the front room at Mickey's earlier this year, you know what you're in for. Equally entrancing is the latest voyage from synthesist Caterina Barbieri, 'Born Again in the Voltage', who utilizes her Buchla easel in an incredibly expressive way. Try if you like Kaitlyn Aurelia Smith.
Plenty of releases out this week from lifer freaks! Joe Ely's 'Lubbock Tapes' collects rehearsal tapes from the 70s that the Texan legend himself can't remember the dates or details of. Sounds good to me! Neal Casal initially formed his band Circles Around the Sun to play the interlude music at the Grateful Dead 50th Anniversary shows, but it went so well that they've made a second album, called 'Let It Wander'. Chilean psych buggers Follakzoid teamed up with stoner legend J. Spaceman in London for a new disc. New Zealand drone-folk-pop whiz Roy Montgomery has always wanted vocals on his records, but hates the sound of his own voice, so for 'Suffuse', he's enlisted some heavy hitters like Haley Fohr of Circuit des Yeux and Liz Harris aka Grouper. I agree with him, its better this way.
Two elusive chanteuses of days gone by have some deep catalog wonders in the house on vinyl this week. 'The Voice of Love', Julee Cruise's incredible follow-up to 'Floating Into the Night', was only ever released on CD back in 1993. As part of their blood pact with David Lynch and all things ancillary to Twin Peaks, the Sacred Bones label has come through with a vinyl pressing of this marvelous album, which takes Cruise's signature drifty dream pop into darker, dubbier, noirish nooks and crannies. We've also got 'Three Demos', an EP of demo versions of Cruise's best known jams, 'Floating', 'Falling', and 'The World Spins'. Cabbie, take me to the Roadhouse! Heading back a few more years, we've got represses of crucial early Siouxsie and the Banshees LPs, 'Juju' and 'Through the Looking Glass'.
Even more vinyl reissues for ya: Teenage Fanclub's 'Thirteen' and 'Bandwagonesque', a 10th anniversary reissue of Ra Ra Riot's 'The Rhumb Line', Bad Religion's 'The New America', an expanded version of Why?'s 'Alopecia', and a heavy-weight repress of an early classic from Nola doomers Thou's great 'Peasant'.
It may not be much to look at, but I'm chalking up the new compilation from the Discomanos label, 'La Llama de Prometeo', as one of the best introductory sets of the year. Like last year's 'Outro Tempo' comp, this LP dunks you deep in a world you may not have even known existed. Subtitled 'A Gateway to New Spanish Music', this collection features nine lush, hard-to-hear CD-only tracks from several Spanish new age, folk and electronic artists of the 80s and 90s, such as Suso Saiz and Iury Lech, each track more enchanting than the last. Equally momentous is a new album from an Argentinian (maybe? not sure) group called Clan Caiman, whose sound seems much too deep and detailed to come from a band with such little biographic documentation existing anywhere online. Their self-titled debut is a marvel, trading somewhat on the poise of a genre-straddling group like Tortoise
as they gently blend strands of Martin Denny's exotica, Hawaiian folk, gamelan, surf rock and baritone guitar noir, hemmed together with some incredibly hypnotic percussion grooves in a vast, vaguely familiar landscape.
After Peanut Butter Wolf and Madlib had made ample use of his catalog via sampling, the Stones Throw label put out a killer compilation of the best tracks by private press Cali soft-psych scion Matthew Larkin Cassell. We've now got the much needed represses of his two sole full-length albums, 'Matt the Cat' and 'Pieces', two extremely mindblowing slabs of very mellow, very funky AOR. It's rare to hear a sound so wistful and so uplifting at the same time.
Two unicorn-rare Japanese LPs in the house this week. Electric bass, synth and marimba come together in a morning mist on Motohiko Hamase's 1986 debut 'Intaglio', which somehow compounds the elegant beauty of recent reissued wonders from Yasuaki Shimizu and Midori Takada. We've also got an LP repress of the Tohru Aizawa Quartet's spiritual jazz pinnacle, 'Tachibana'.
More new stuff in all genres this week. An LP repress of Open Mike Eagle's 'Rappers Will Die Of Natural Causes', a vinyl version of Mark Kozelek's latest self titled album, a new LP from the Matthew Lux Communication Arts Ensemble, which finds the Chicago Underground Duo bassist grouped up with Ben Lamar Gay for a contempo-Chicago freakout, a first-ever vinyl version of the 2000 improv summit of Paul Flaherty and Chris Corsano called 'The Hated Music', a new LP from NYC industrial/power electronics unit Uniform, and a repress of the killer debut album 'Borrowed Floors', from the best band in Portland, the wiry postpunkers known as Lithics.
Some essentials new and old in the house on compact disc this week. A new set of Bach cello suites from Yo Yo Ma, the Brian Eno box set 'Music For Installations', two from the Pere Ubu catalog, 'Cloudland' and 'Raygun Suitcase', ESG's debut album 'Come Away With ESG', a reprint of Josephine Foster's 2006 folk wonder 'A Wolf In Sheep's Clothing', and an archival reissue of long-lost folk/psych almost-was Alan Munson's 'One Man's Journey'.
Passport time, we've got international gems for ya. Toni Tornado's 1972 rarity is a gleaming example of black Rio funk. An EP of rare 80s tracks by Ghanaian Gyedu-Blay Ambolley see his contempo high life morphing into some truly sick synth-funk. A compilation of thumb piano and drum machine tracks from Ugandan street performer Ekuka Sirikiti wander far beyond the Konono No1 axis. Serge Gainsbourg's 'Le Pacha' soundtrack is classic late 60s French pop-psych.
Midwest new age guitarist Carl Weingarten sees the peak of his 1980s cassette output reissued on LP; 'Living in the Distant Present' is a introspective meditative marvel, for fans of K. Leimer and Ariel Kalma. Legendary deep house regulator DJ Sprinkles teams up with fellow fiend Hardrock Striker for a double-CD set that pairs up two must-hear mixing sessions that go very deep on Terre Thaemlitz's signature brand of mellifluous yet agitated house seminars. Last up, two very banging EPs: one from Nathan Micay on the neo-trance label Whities, and a pair of Young Marco edits on his own Safe Trip label, tackling some infectious 90s afro-pop/bubblegum/house curiosities, and transforming them into floor-fillers.
BACK-TO-SCHOOL STEREO GEAR SALE:
Sweet summer days, warm, long and lazy; we thought they'd never end. Well, we hate to break it to you, but Back-To-School season is just around the corner. We want to help soothe the ache of this transition, so we've got a sale going through August on all new and used equipment and gear in the shop.
Our full inventory of new and vintage turntables, receivers, speakers, and miscellaneous stereo components at the shop will be 15% OFF this month. Whether you need to upgrade a piece, want to completely re-do your whole rig, or maybe you're putting the finishing touches on a new apartment or dorm, now is the time!
And because you need something new to listen to, all gear purchases this month come with an unlimited 15% off coupon for new and used LPs (to be used on the same day).
USED CD ALERT:
We've flipped over the entirety of the recent used cd arrivals area at the front door. Here's the rundown on this week's used cds. Jazz takes up the prime real estate in this week's incoming used CD infusion. There's a sizeable portion of greasy B-3 organ dates from the likes of Charles Earland, Baby Face Willette and four (!) sessions from Larry Young. We've got a smattering of John Coltrane-affiliated pieces: some under his name, some featuring supporting work from Trane and some led by like-minded compatriots like Elvin Jones and Marion Brown. Modernists like Dave Douglas, Ricky Ford and Steve Coleman take up welcome space as well. Outside of jazz, there are stray shots from blues titans Mike Bloomfield, Muddy Waters and John Lee Hooker, and forward-thinking hip-hop from El-P, Dan the Automator, and the criminally slept-on debut from the Mountain Brothers. Watch this space for a whole new batch next week of the deepest and cleanest used CD selection.
USED VINYL ALERT:
Heading downstairs for this week's Used Vinyl Alert, we've got a spread for the ages here for you.

Early pressings from the Beatles cover just about their whole catalog, and we've got thorough discographical runs on Frank Zappa, Neil Young, and Led Zeppelin, as well. Must-haves from Bob Dylan, the Kinks, the Doors, Fleetwood Mac, Lou Reed, David Bowie, and the Who, as well as cheap heat from CSNY, Jim Croce, ELO, Dire Straits, Emerson Lake and Palmer, Elvis Costello, Bob Seger, Paul Simon, Bruce Springsteen, Hall & Oates, Genesis, John Hiatt, Donovan, Van Dyke Parks, CCR, Joan Jett, and many, many more.

Rarer rock stuff rolls in from Frijid Pink, the Electric Flag, Sweathog, elusive Wisconsin psych band The Corporation, Atomic Rooster, the MC5, Savage Rose, Stone the Crows, and Stealers Wheel. Some lovely folk and trad LPs are here from Mimi and Richard Farina, Gordon Bok, Kevin Roth, Buffy Sainte Marie, Incredible String Band, David Santo, and Stefan Grossman, plus some great early Texas fiddle compilations, and early country from Johnny Horton, Ferlin Husky, Wanda Jackson, Delbert McClinton, Waylon Jennings, Willie Nelson, and Emmylou Harris.

We've got garage and -billy LPs from the Reducers, the Raunch Hands, Billy Lee Riley, and more, while new wave comes in from U2, REM, Gary Numan, the Stranglers, the Tubes, Talking Heads, and the Tourists. We also have a couple more recent LPs from the Gorillaz, Arctic Monkeys, and Fidlar.

You've got a deep strain of jazz to dig through this week, including a lot of seldom seen titles on labels like ECM, Enja, Black Saint, Inner City, and Soul Note. Check out LPs from George Adams, Jerry Gonzalez, Cedar Walton, Chet Baker, the Art Ensemble, Joe Zawinul, Kenny Wheeler, Phil Woods, Ron Carter, Astor Piazzolla, Zakir Hussain, Kenny Barron, Sun Ra, John Abercrombie, John Carter, Donald Byrd, Marion Brown, Anthony Braxton, Sonny Sharrock, John Coltrane, Melvin Sparks, Miles Davis, Andrew Hill, Stanley Cowell, Paul Bley, and the Lounge Lizards.

A bit of soul comes in from Michael Jackson, Stevie Wonder, Marvin Gaye, Tower of Power, and the Bar-Kays, while we also see blues LPs from names like Johnny Copeland, James Cotton, Lloyd Glenn, Smokey Hogg, Butterfield Blues Band, Bessie Smith, and Mississippi John Hurt.

Lots of contemporary electronic and dance needs a new home this week, including killer LPs from Move D, D.K., Marcos Cabral, Ron Morelli, Gonjasufi, Major Lazer, and Pantha du Prince, as well as a wide assortment of IDM, techno, house and electro oddities. We've also got a tantalizing spread of Erik Satie LPs, along with  records from Tangerine Dream and Raymond Scott. Yes, the (not so) Soothing Sounds For Baby are here.

We wrap up with a nice selection of cool retro children's records, including several Disney titles, plus some from Dr. Seuss, and the Fantasia soundtrack. Plenty of other classic soundtracks here as well, along with a couple cool Italian and Bollywood LPs! International stuff is here from Laurindo Almeida, Milton Nascimento, Mercedes Sosa, Eddy Grant, Inti-Illimani, Ray Barretto, and some smoking calypso and mariachi LPs!
WAREHOUSE POP-UP EVENT/SALE - AUGUST 23 - SAVE THE DATE: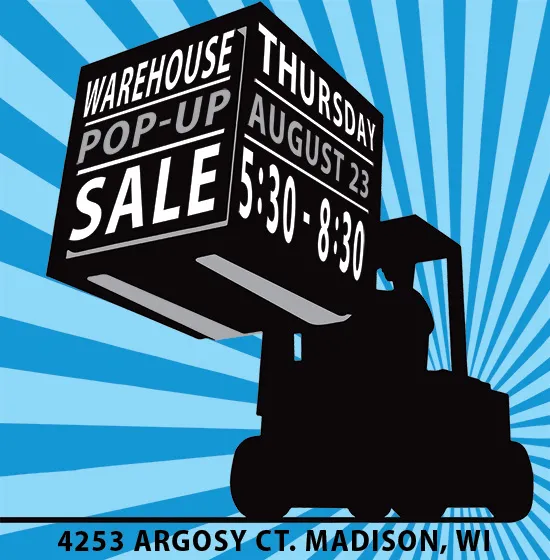 MONROE STREET CONSTRUCTION UPDATE:
Thank you for making the trip to come and see us; we appreciate it!

DIRECTIONS FROM REGENT/EAST:
From Regent Street:
Continue on Regent through the Monroe St intersection
Turn Left on SPOONER ST
Turn Right on West Lawn or Keyes
Turn Left on Harrison St.
We are on the corner of Harrison & Monroe Streets (the street level parking lot outside of the Trader Joe's doors is a public City of Madison lot & the side streets all have FREE 2 hour parking.
MONROE STREET IS OPEN FROM THE WEST
SELL US YOUR CDS & LPS: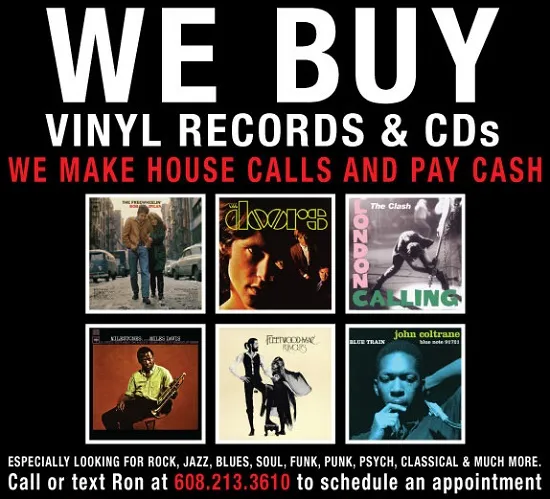 NEXT MUSIC TRIVIA TUESDAY AUGUST 28TH:
Our next MUSIC TRIVIA at the High Noon Saloon is Tuesday, August 28th. Registration starts at 5:30 with the first question from Angie and Marty at 6PM.

MADISON NIGHT MARKET - THURSDAY, SEPTEMBER 13TH:
Join us Thursday, September 13th at the downtown Madison Night Market. Come see us outdoors to get your digging fix. Look for us under the bright orange tent!
MONROE STREET FESTIVAL - SATURDAY, SEPTEMBER 22ND:
Save the date! The 41st annual Monroe Street Festival/Sidewalk Sale will be Saturday, September 22nd.
OTHERS TALK BACK:
This isn't the spot to lay down odds on the third race. OTB is where Others Talk Back and give you the lowdown on what they've been feeling lately. This one's for the customers.
Thirty years ago New Zealand was a hotbed for slightly psychedelic extremely catchy indie guitar pop.  Bands like the Clean, the Bats, the Verlaines, Straightjacket Fits, the Chills and Tall Drawfs made some of the best music of the eighties and early nineties.  While some of the old guard still makes vital music, there is a dearth of new and exciting NZ bands.   The release of "Future Me Hates Me" surely ends that musical drought.  This album has to be one of the catchiest and most exciting guitar pop albums of the year.  This Auckland quartet also writes smart and witty lyrics to accompany their music.  Band member Elizabeth Stokes is not only the main vocalist, but she is also the main songwriter and lead guitarist.  Without a doubt, Ms. Stokes is the heart of the band and is also the main ingredient for any of the success that the band has had.  "Future Me Hates Me" really is an equal to any of the bands from New Zealand's classic eighties period.
Luluc hails across the Tasman Sea from New Zealand.  This Australian duo makes some of the most beautiful and understated music out there.  If you need a somewhat apt comparison think of Low.   This is quiet and atmospheric music, where a band's talent and skill of presentation counts for a heck of a lot.  And "Sculptor" really shows the band's songwriting has substantially improved since their "Passerby" album in 2014.  They are much more song orientated that they have ever been.  Like their performances, Luluc has been quietly gathering fans for the past ten years.  "Sculptor" may just break the band into a somewhat louder disturbance.
Bird Streets consists of Jason Falkner and John Brodeur.  Mr. Falkner is one of the most talented power pop performers (and producers) around.  Mr. Brodeur has been toiling for the last fifteen years or so in relative obscurity putting out bedroom pop and guitar pop that not many music fans have heard.  Mr. Brodeur writes the lyrics and Mr. Falkner the music.  "Bird Streets" has to be one of the best power pop albums released so far this year.  It is obvious that both performers stepped up their game to A-Level material for this album.   This project has to be one of Mr. Falkner's best albums in years.  And Mr. Brodeur's rather quirky lyrics are a great counterpoint to the straight ahead music.  Ad hoc musical ensembles can certainly be a fizzle at times.   But "Bird Streets" is perhaps one of the strongest in recent memory.

Ron, Ryan, Angie, Marty, Evan, Matt, Michael, Ben, Will, Ed & Isaac