August 9, 2018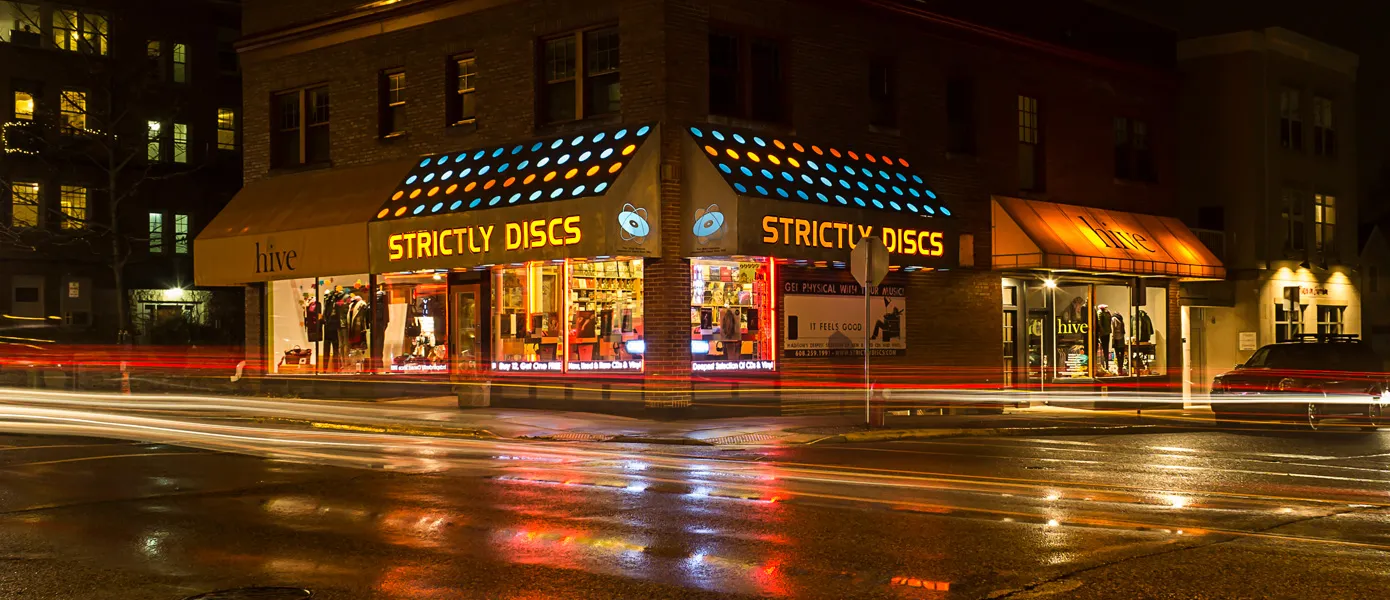 NEW THIS WEEK AT THE SHOP:
We begin this week's new arrival rundown with two of this generation's great folk underground legends, who see diamonds from their catalog freshly restored to vinyl. 'Soul Journey' was Gillian Welch's fourth album, released in 2003. After a trio of records that cemented her as America's foremost songster of sorrow since Norman Blake and Townes Van Zandt, this album was presented as her turn towards the light. Added instrumentation from collaborator David Rawlings took Welch out of the pure traditionalism of her earlier efforts, as her lyrical power grew in strength, showcasing a new dimension of a fascinating artist. Speaking of dimensions, no guitarist this century has pushed his craft in more directions than the late Jack Rose, who's final album 'Luck In the Valley' is back on vinyl via Thrill Jockey. Released months after his tragic passing in 2009, this slab finds Jack in peak form, describing distant vistas, hypnotized wanderings, and dark nights of the soul with his fingertips, joined at times for more countrified rambles by longtime cohorts Glenn Jones, Nathan Bowles, and Mike Gangloff.
Boundary pushers in the hip hop world rear their heads this week. At last, the very pissed off, slightly online, resolutely indescribable "rap duo" Death Grips drop their latest, 'Year Of The Snitch', which sounds (to me) like the Judgment Night soundtrack and My Life With The Thrill Kill Kult, with some lo-fi interludes to cleanse the palate. It's good times. The vinyl will be here next month. Equally challenging is a new album from NYC-via-London rhymer Mike, who enlists the very fascinating musician known as Standing On the Corner for the back tracks through a solipsistic journey through a crowded urban landscape.
Plenty of fresh excitement in the rock, country and folk genres this week, with new albums from Jason Mraz and Shooter Jennings, Austin psych-poppers White Denim, clever midwest indie fellas Foxing, plus new ones from Americana legends Jim Lauderdale and Glenn Jones.
Ballistic acid consciousness meets The Knife's sense of drama on Helena Hauff's latest, 'Qualm', via Ninja Tune, while leftfield chanteuse Tirzah delivers some addictingly strange R&B with 'Devotion'.
We see a reissue of 'Big Beat', a very singularly heady library album from percussionist and composer Nick Ingman. Released in 1973 and rare as all get out, this one is coveted for a reason; breaks for days, and an irresistible chilled funk vibe all over this record. Continuing on the Sun Ra spaceways we go with 'The Saga of Padani', an early 90s recording of elementary students in Oakland joined by Marshall Allen, Fred Frith and Terry Riley to do some full-on improvs, as well as some Sun Ra covers. We've got a lovely tribute to the recently departed Cecil Taylor from the Tzadik label, collecting encomiums to the legend from six of today's most creative pianists, including Craig Taborn and Sylvie Courvoisier. We've also got copies of the late Serbian ambient composer Rex Ilusivii's rarities collection on vinyl.
We've got reissues of doom drone meisters Sunn's pair of white albums, 'White1' and 'White2', on limited vinyl. Boom-bap legends Showbiz and AG see their genre defining 90s album 'Runaway Slave' back on wax, and we've got a new EP from the Wu-Tang Clan.
Vinyl reissues! If you only own one Fall album, well...get more! But if you really only want one, you could do much, much worse than their A-Sides compilation, which collects big boomin hits like 'LA', 'Cruisers Creek' and 'Hit The North'. We've got remastered LPs of Warren Zevon's 'The Wind' and Tom Waits' 'Blue Valentine', and the first ever vinyl version of the oughties answer to Tuli Kupferberg: Jeffrey Lewis and his 'City and Eastern Songs'.
BACK-TO-SCHOOL STEREO GEAR SALE:
Sweet summer days, warm, long and lazy; we thought they'd never end. Well, we hate to break it to you, but Back-To-School season is just around the corner. We want to help soothe the ache of this transition, so we've got a sale going through August on all new and used equipment and gear in the shop.
Our full inventory of new and vintage turntables, receivers, speakers, and miscellaneous stereo components at the shop will be 15% OFF this month. Whether you need to upgrade a piece, want to completely re-do your whole rig, or maybe you're putting the finishing touches on a new apartment or dorm, now is the time!
And because you need something new to listen to, all gear purchases this month come with an unlimited 15% off coupon for new and used LPs (to be used on the same day).
We've flipped over the entirety of the recent used cd arrivals area at the front door. Here's the rundown on this week's used cds. No shortage of great used CDs this week. Heavy vibrations from the likes of MBV, The Jesus and Mary Chain and Lightning Bolt arrive alongside jazz firebreathers James Ulmer, Sun Ra (!) and 8:00PM store favorite Albert Ayler. Tons of titles from Eels to either put you in or maintain the foulest of moods. Very choice selection of reggae this week, including a pair of Lee Perry 2-cd single collections and the Jackie Mittoo Soul Jazz comp. Early birds will be rewarded with first crack at some tropicalismo [Mutantes, Tom Ze], as well multiple titles from De La Soul, J Dilla and the Minutemen. Why somebody would sell "Double Nickels" is beyond me, but sense is a commodity in short supply nowadays. Turn that questionable life decision into smart shopping. Watch this space for a whole new batch next week of the deepest and cleanest used CD selection.
USED VINYL ALERT:
Heading downstairs for this week's Used Vinyl Alert, we have yet another balanced diet of records to serve you. Read on for a briefly sketched run-down of what's just arrived.
Plenty of staples in the pop, rock and folk realms, including cornerstone titles from Bob Dylan, Jimi Hendrix, Gene Clark, the Beatles, David Bowie, the Grateful Dead and Jerry Garcia solo, Hawkwind, Led Zeppelin, Blue Cheer, Black Sabbath, Fleetwood Mac, the Groundhogs, Gram Parsons, and Link Wray.
Plenty more in the way of rock from names like Warren Zevon, Blues Image, Green on Red, the Kinks, Captain Beyond, Stealers Wheel, the Doors, Joan Jett, Camel, Jethro Tull, Blue Oyster Cult, the Animals, Cream plus some Derek & the Dominoes, the Box Tops, Canned Heat, Jeremy Spencer, Giant Crab, plus some Soup!
Jazz runs the gamut from Miles Davis, Herbie Hancock, Bill Evans, Paul Bley, Coleman Hawkins, Chet Baker, Donald Byrd, Jack McDuff, Esquivel, Michal Urbaniak, Yusuf Lateef, Jan Garbarek, and many many more!
Folk and Blues is here from names like Doc and Merle Watson, Leo Kottke, Buffy Sainte Marie, Steve Earle, Sonny Boy Williamson, Johnny Copeland, James Cotton, Lloyd Glenn, Lowell Fulsom, and Bobby Bland. We've got some great soul along the lines of Carl Carlton, Sade, Stevie Wonder, Michael Jackson, Bootsy Collins, Rotary Connection, Rance Allen, Creative Source, Arthur Conley, and many many others.
New wave, punk and hard rock rolls through from the Clash, Queensryche, the Feelies, the Specials, the B-52's, AC/DC, the Cure, the Church, John Cale, David Lindley, Alternative TV, the Buzzcocks, Everything But the Girl, Oingo Boingo, Talking Heads, Elvis Costello, and the English Beat.
Check out some great ones on the international front, like some great Bollywood records alongside Ravi Shankar, a couple of Afro-funk records, plus some very cool South African pop and dance, and some nice Hawaiian records from Sol Hoopii. Lots of great reggae as well, including a couple of crucial comps, and LPs from Burning Spear, Bob Marley, Sly and Robbie, the Heptones, Jimmy Cliff, Third World, and Mutabaruka.
We've got some more recent releases from the White Stripes, Korn, Shearwater, Sublime, and Hot Chip, plus some electronic titles from Four Tet, Efterklang, Isolee, Dopplereffekt, and more experimental things from Eno/Byrne, Carolyn Hester, Erik Satie, Laura Allan, Bill Laswell, and Wim Mertens, wrapped up with a broad selection of classical and soundtracks!
WAREHOUSE POP-UP EVENT/SALE - AUGUST 23 - SAVE THE DATE: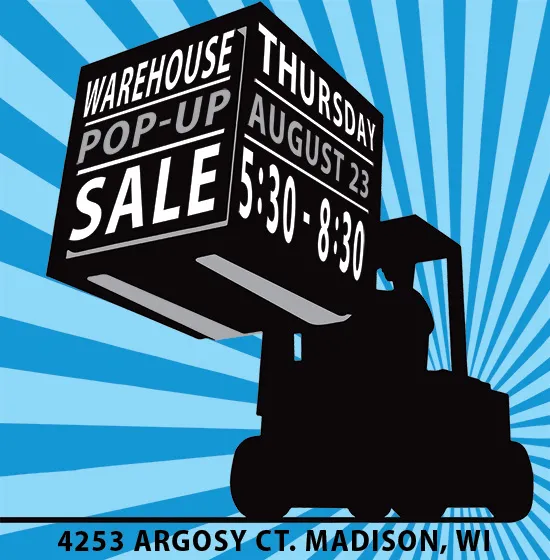 MONROE STREET CONSTRUCTION UPDATE:
Thank you for making the trip to come and see us; we appreciate it!

DIRECTIONS FROM REGENT/EAST:
From Regent Street:
Continue on Regent through the Monroe St intersection
Turn Left on SPOONER ST
Turn Right on West Lawn or Keyes
Turn Left on Harrison St.
We are on the corner of Harrison & Monroe Streets (the street level parking lot outside of the Trader Joe's doors is a public City of Madison lot & the side streets all have FREE 2 hour parking.
MONROE STREET IS OPEN FROM THE WEST
SELL US YOUR CDS & LPS: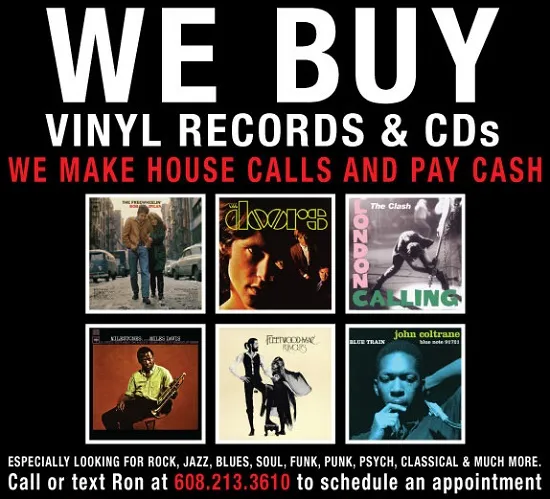 NEXT MUSIC TRIVIA TUESDAY AUGUST 28TH:
Our next MUSIC TRIVIA at the High Noon Saloon is Tuesday, August 28th. Registration starts at 5:30 with the first question from Angie and Marty at 6PM.

MADISON NIGHT MARKET - THURSDAY, SEPTEMBER 13TH:
Join us Thursday, September 13th at the downtown Madison Night Market. Come see us outdoors to get your digging fix. Look for us under the bright orange tent!
MONROE STREET FESTIVAL - SATURDAY, SEPTEMBER 22ND:
Save the date! The 41st annual Monroe Street Festival/Sidewalk Sale will be Saturday, September 22nd.

Ron, Ryan, Angie, Marty, Evan, Matt, Michael, Ben, Will, & Ed