August 8, 2018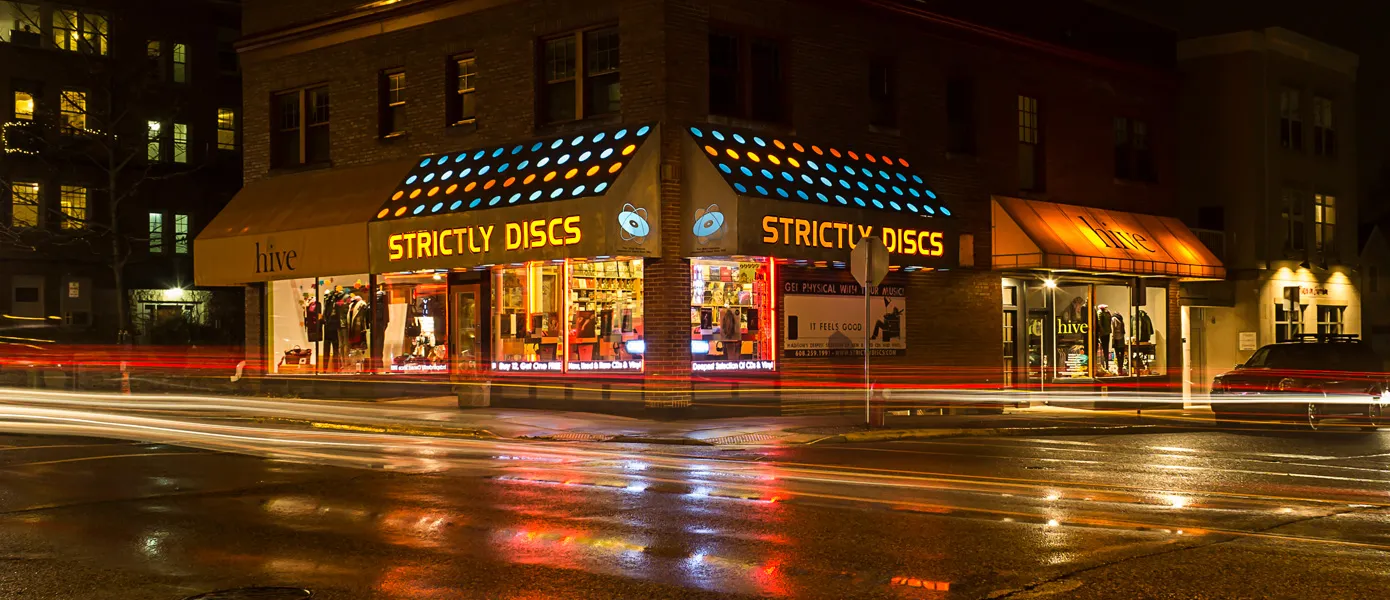 MADISON NIGHT MARKET - CANCELLED:
MARKET BOOTH NOW AT STRICTLY DISCS WAREHOUSE:
We were very excited to pop up at tonight's Madison Night Market, but it looks like inclement weather has decided to "pop up" instead. We've got a huge crop of fresh used vinyl selected for you (along with a nice selection of new vinyl from the shop) and it'd be a shame to keep it under wraps on account of some rain, so we're throwing a little impromptu pop up sale at our warehouse tonight. Stop on by from 6-8PM to check out our Night Market stall, where it's nice and dry!
Warehouse is located at 4253 Argosy Ct.
BACK-TO-SCHOOL STEREO GEAR SALE:
Sweet summer days, warm, long and lazy; we thought they'd never end. Well, we hate to break it to you, but Back-To-School season is just around the corner. We want to help soothe the ache of this transition, so we've got a sale going through August on all new and used equipment and gear in the shop.
Our full inventory of new and vintage turntables, receivers, speakers, and miscellaneous stereo components at the shop will be 15% OFF this month. Whether you need to upgrade a piece, want to completely re-do your whole rig, or maybe you're putting the finishing touches on a new apartment or dorm, now is the time!
And because you need something new to listen to, all gear purchases this month come with an unlimited 15% off coupon for new and used LPs (to be used on the same day).
WAREHOUSE POP-UP EVENT/SALE - AUGUST 23 - SAVE THE DATE: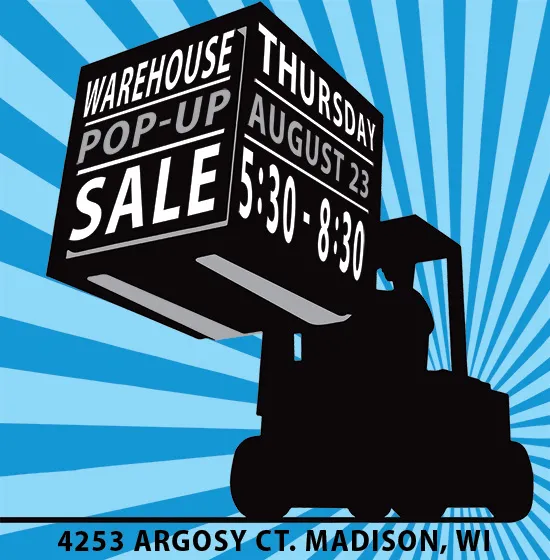 MONROE STREET CONSTRUCTION UPDATE:
Thank you for making the trip to come and see us; we appreciate it!

DIRECTIONS FROM REGENT/EAST:
From Regent Street:
Continue on Regent through the Monroe St intersection
Turn Left on SPOONER ST
Turn Right on West Lawn or Keyes
Turn Left on Harrison St.
We are on the corner of Harrison & Monroe Streets (the street level parking lot outside of the Trader Joe's doors is a public City of Madison lot & the side streets all have FREE 2 hour parking.
MONROE STREET IS OPEN FROM THE WEST
SELL US YOUR CDS & LPS: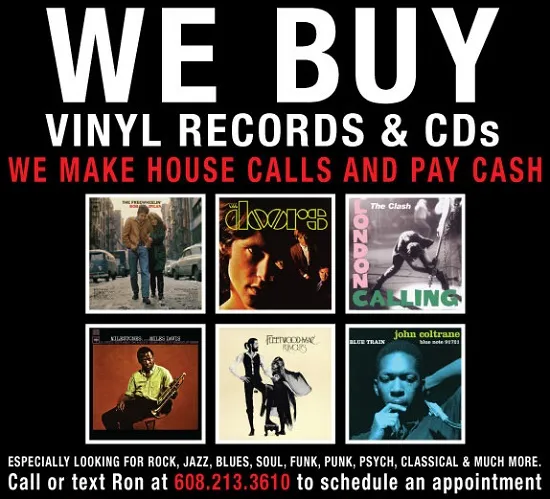 NEXT MUSIC TRIVIA TUESDAY AUGUST 28TH:
Our next MUSIC TRIVIA at the High Noon Saloon is Tuesday, August 28th. Registration starts at 5:30 with the first question from Angie and Marty at 6PM.

MONROE STREET FESTIVAL - SATURDAY, SEPTEMBER 22ND:
Save the date! The 41st annual Monroe Street Festival/Sidewalk Sale will be Saturday, September 22nd.

Ron, Ryan, Angie, Marty, Evan, Matt, Michael, Ben, Will, & Ed