August 2, 2018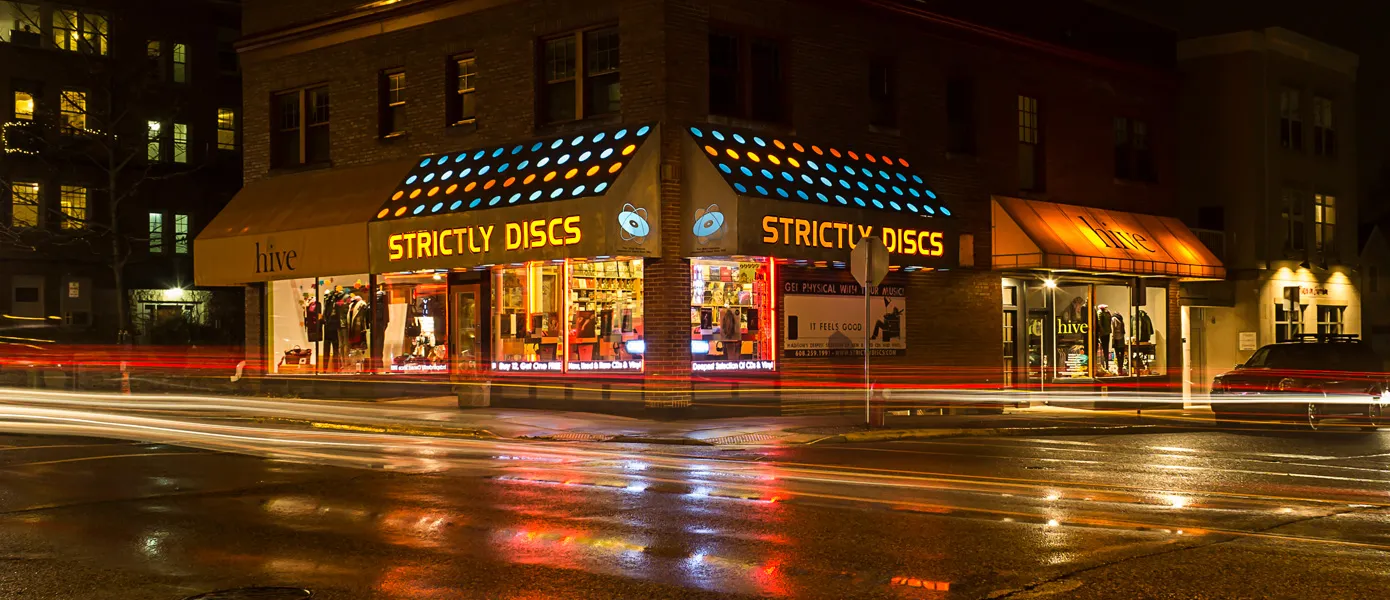 NEW THIS WEEK AT THE SHOP:
We get some new albums from beloved members of the Americana and other sundry folk revivals this week. Memphis blues-rock band Lucero goes a bit darker on their latest, 'Among The Ghosts', while violinist and vocalist Amanda Shires steps out from collaborations with Jason Isbell and Devotchka for a new solo album, which features guest appearances from Gillian Welch and Dave Rawlings. Pop crooners Love Language return with a new album of sad, yet boogie-able ditties, and folk trio Houndmouth deliver 'Golden Age', their best album yet.
Two of our favorite, eternally underrated downer rock groups see early classics in their catalog return on vinyl. Lambchop's 1998 album 'What Another Man Spills' was instrumental in establishing the Nashville band as a

*

true

*

alternative to country. Frontman Kurt Wagner croons with the ease of a barfly over a languid backing band, invoking a modern day Waylon, before splicing in tracks of minimalist austerity and jazzy vigor, or a rumbling cover of disco diva Sylvia Striplin's 'Give Me Your Love'. By the end of this record, you're not too sure what you were listening to when you started. Same goes for country/doom trio Earth, who's 2008 epic 'The Bees Made Honey in the Lion's Skull' is back in print on LP. Each of Earth's album's share some kind of heraldic majesty, but in my opinion this one is the pinnacle. Mournful yet triumphant, the trio slowly trudge through seven long pieces that situate the stately riffs of doom metal in a western, near-gospel context. Imagine waking up in a desert at dawn, slowly dying from frostbite; this would be on the old mental jukebox right then.
Since disbanding his drone trio Emeralds to focus on his solo efforts, Steve Hauschildt has raised expectations with each new album. On his latest, 'Dissolvi', he delivers big time, with the most intoxicating blend yet of glittery synthscapes straight out of Gleeson or Froese, and the thrumming bass patterns of Larry Heard, blessed this time with some great vocal contributions from Julianna Barwick. The same high quality is expected of Japanese vibraphonist Masayoshi Fujita, who brings his intoxicating brand of sonorous ambient to the Erased Tapes label with 'Book Of Life', a stellar album of ringing neo-classical as carefully-placed as antique crystal. We've also got a vinyl repress of Fujita's wonderful 2013 rarity, 'Stories'.
A pair of nice 45s hit the racks new this week. 'Nutty' from Thelonious Monk sees a 1963 gem from the sweet spot of his catalog expanded to 2 parts on a limited 7". Sampladelic savant Knxwledge, a producing partner with Kendrick Lamar and Anderson Paak, delivers 6 fresh cuts on a 45 for Stones Throw, including a serious funky banger on the A-side called 'Relapse'.
Speaking of rap, we've got a new collaborative LP from Sims of Doomtree and Chicago production duo Air Credits, a new EP from Curren$y and Harry Fraud, and new CDs from Mac Miller, Freeway, Chanti Darling, and Nav.
Set controls for ultimate relaxation with a pair of fine mellow records out this week, one old, one new. Music From Memory does it again with this archival compilation of the Spanish new age trio Orquesta de las Nubes, a fleeting unit that counted guitarist Suso Saiz as a member (who we've already heard from, thanks to MFM). This LP collects tracks from their rare 80s LPs plus some unheard ones, pairing Saiz's remarkably chill guitar which hangs in the air somewhat eternally with vibraphones, electronic samples, and haunting choral vocals. Less celestial and more rustic is the incredible new album from Swedish DJ Prins Emanuel, who forgoes the gentle rhythm tracks of his prior albums for a record that's purely acoustic guitar and beatless electronics. 'Diagonal Musik' is one of the more potent folktronic albums I've heard since last year's records from Wilson Tanner and local hero Erik Kramer.
U2 reissues! We've made it to the "weird ones"! 'Zooropa' and 'Achtung Baby' are here on vinyl at last, as well as a vinyl copy of their 'Best Of 1980-1990' compilation. Next, say hi to a finally affordable vinyl copy of Jeff Buckley's live classic, 'Mystery White Boy'.
Even more reissues! Check out 'Nastradamus' by Nas and 'Refugee Camp' from the Fugees, some essential soul from Marvin Gaye and Lou Courtney, crucial bossa nova from Quarteto Em Cy/Tamba Trio and Caetano Veloso, and experimental landmarks from Nurse With Wound, whose sound collage masterpiece 'Homotopy To Marie' finds its way back to wax, alongside an unbelievable compilation of rare tracks from the Latvian avant-pop genius Ingus Bauskenieks.
Two tireless titans of blues and jazz have new CDs in this week, Shemekia Copeland and Nicole Mitchell.
Midwest folk/emo cult darlings Murder By Death revisit their early out of print catalog, bringing us 4 LPs: 'Like the Exorcist, But More Breakdancing', 'Good Morning Magpie', 'Who Will Survive' and 'Red of Tooth and Claw'.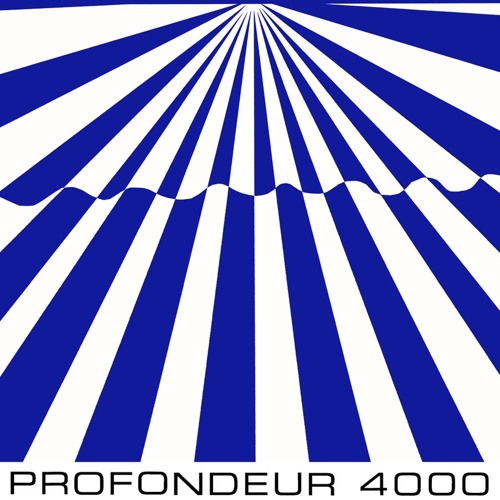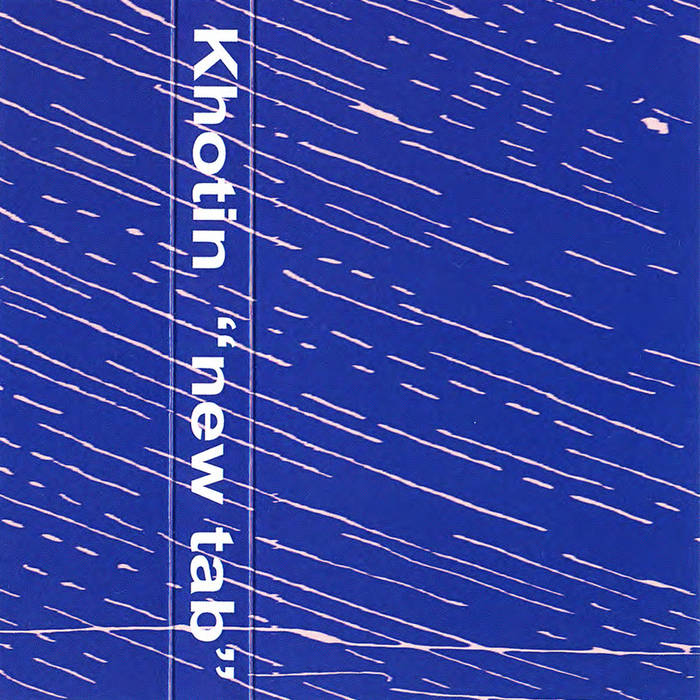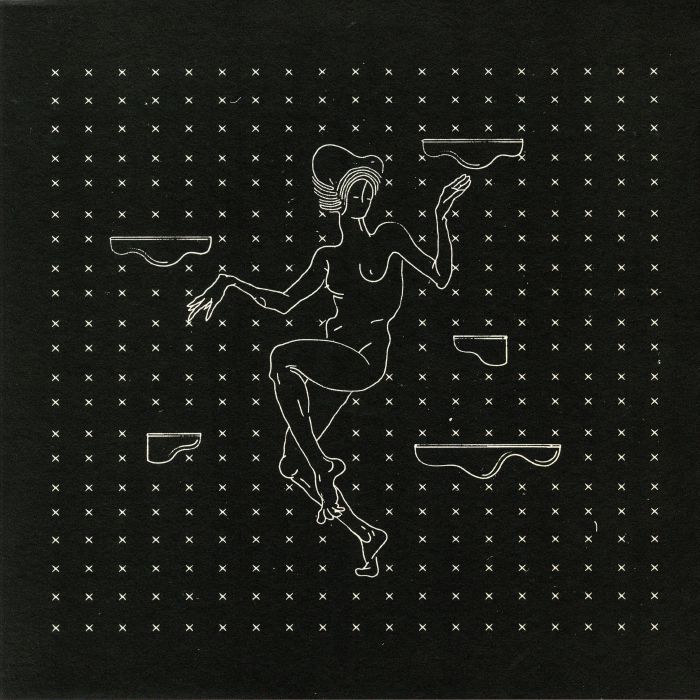 The electronic and dance realms bring a whole host of rare beauties this week. Zeitgeist Freedom Energy Exchange are a killer nujazz ensemble from Australia with a sound somewhere between Floating Points and Henry Wu. Max Essa's latest album for Music For Dreams is a balearic delight. Deepchord takes us on a dub techno whirlwind with 'Immersions', while Shelter's debut for Growing Bin has more of an underwater library music vibe. Laurel Halo's latest is her most toweringly formless effort yet, while Vancouver's Khotin sees his incredible 2017 BOC-channeling tape 'New Tab' given new life on vinyl. Dont DJ drops a doozy of a double EP in his most hypnotic mode, and we've got a great cheap comp of early works from pioneer Pauline Oliveros!
MADISON NIGHT MARKET - THURSDAY, AUGUST 9TH:
Join us next Thursday, August 9th at the downtown Madison Night Market. We will be located on Gilman Street at Lisa Link Peace Park from 6-11PM. So come see us outdoors to get your digging fix. Look for us under the bright orange tent!
We've flipped over the entirety of the recent used cd arrivals area at the front door. Here's the rundown on this week's used cds. No shortage of great used CDs this week. Heavy vibrations from the likes of MBV, The Jesus and Mary Chain and Lightning Bolt arrive alongside jazz firebreathers James Ulmer, Sun Ra (!) and 8:00PM store favorite Albert Ayler. Tons of titles from Eels to either put you in or maintain the foulest of moods. Very choice selection of reggae this week, including a pair of Lee Perry 2-cd single collections and the Jackie Mittoo Soul Jazz comp. Early birds will be rewarded with first crack at some tropicalismo [Mutantes, Tom Ze], as well multiple titles from De La Soul, J Dilla and the Minutemen. Why somebody would sell "Double Nickels" is beyond me, but sense is a commodity in short supply nowadays. Turn that questionable life decision into smart shopping. Watch this space for a whole new batch next week of the deepest and cleanest used CD selection.
USED VINYL ALERT:
Heading downstairs for this week's Used Vinyl Alert, its an extremely heavy haul awaiting you this weekend! We have some seriously impressive slabs in the house from rock, blues and folk, to jazz, electronic, rap and soul. Plus all those pesky genres in between! Read on for the lowdown.

Rare and essential jazz abounds this week, including many titles from Miles Davis, Gato Barbieri, Melvin Sparks, Eddie Harris, John Coltrane, Eric Dolphy, Gabor Szabo, Chick Corea, Bill Dixon, Ron Carter, Sonny Rollins, McCoy Tyner, Coleman Hawkins, Nina Simone, Pretty Purdie, Keith Jarrett, Willis Jackson, Alphonse Mouzon, Leon Thomas, Wayne Shorter, Bobby Hutcherson, Gene Russell, Eddie Higgins, Ramsey Lewis, Bud Powell, Lenny White, Yusef Lateef, Bill Evans, and Thelonious Monk.

Blues of several eras is here this go round, including lovely LPs from Sweet Emma, Stevie Ray Vaughan, Professor Longhair, Son House, Blind Willie McTell, Etta James, Ramblin Jack Elliott, Bessie Smith, Dave Alexander, and Dr. John. Folk, country and the like come through from Terry Melcher, Bobby Bare, Judee Sill, Johnny Cash, Van Dyke Parks, John Prine, Norman Blake, Bill Keith, Doc and Merle Watson, Patsy Cline and Arlo Guthrie.

Big names in rock and roll are here such as the Beatles, the Band, the Stones, Frank Zappa, Bob Dylan, Jimi Hendrix, Van Morrison, the Grateful Dead, David Bowie, Neil Young, Velvet Underground, Leonard Cohen, and Pink Floyd. We've got cheap classics from Abba, Steely Dan, the Animals, Bruce Springsteen, the Allmans, the Byrds, Joni Mitchell, the Monkees, Harry Nilsson, Tom Petty and many many more, plus some more rarely seen titles from Roy Harper, Summerhill, SRC, Anna Black, Pearls Before Swine, Sunblind Lion, Bonzo Dog Band, the Baroques, Baby, Freedom, and The Nice.

New wave and synthy stuff is here from Gene Loves Jezebel, the Buggles, Plastic Bertrand, Prefab Sprout, Positive Noise, PIL, The Sound, the Mighty Lemon Drops, and Gary Numan. We've got a deep and scattered selection of 80s/90s house and electro 12"s, a slew of titles from the Modern Love label, including Andy Stott, Vatican Shadow, Miles, and Turinn, and a great selection of 20th century avant garde from Klaus Schulze, Morton Subotnick, Vangelis, Stockhausen, Bruce Haack, Kurt Weill, and Wendy Carlos, plus more recent purveyors of same like Laraaji, Body/Head, and Julia Holter.

More recent releases are here from Head and the Heart, Dr. Dog, Future Islands, Fleet Foxes, Iron and Wine, Grimes, Beach House, Father John Misty, Beck, Andrew Bird, St. Vincent, Neutral Milk Hotel, Flaming Lips, Dead Weather, Puscifer, Charlotte Gainsbourg, Ride and Bad Religion, plus we've got the great Late Night Tales compilations from Four Tet, Nils Frahm, and Jon Hopkins.

Soul and funk is here from Otis Redding, the Barkays, Solomon Burke, James Brown, Brook Benton, Roy Ayers, Keith Sweat, Michael Wycoff, the Universal Robot Band, Donna Summer, and Lou Rawls. We take you back a bit with hiphop from Nice and Smooth, Young Jeezy, the Beastie Boys, Trina, Cappadonna, Shawnna, Camron, the Roots, Christina Milian, Twista, Group Home, Souls of Mischief, and Foxy Brown, plus some critical reggae from Peter Tosh, Eddy Grant, Jimmy Cliff, Bob Marley, Toots and the Maytals, and a couple of great compilations like the Countryman soundtrack and many more.

Throw in plenty of bargain mysteries, soundtracks of all eras, and children's records, and you've got quite a bit to digest this weekend. We'll see you in the shop!
WAREHOUSE POP-UP EVENT/SALE - AUGUST 23 - SAVE THE DATE: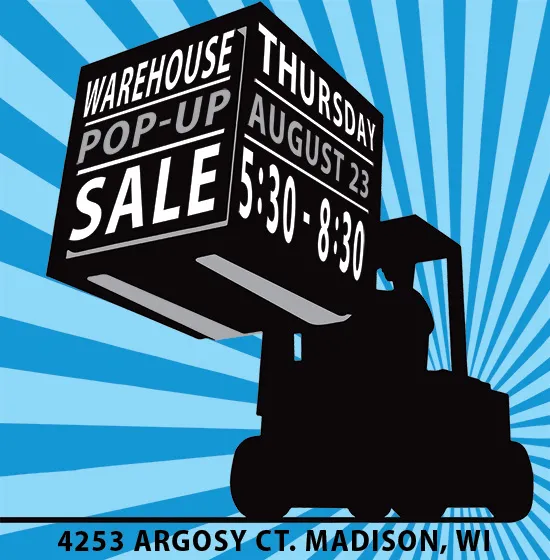 MONROE STREET CONSTRUCTION UPDATE:
Thank you for making the trip to come and see us; we appreciate it!

DIRECTIONS FROM REGENT/EAST:
From Regent Street:
Continue on Regent through the Monroe St intersection
Turn Left on SPOONER ST
Turn Right on West Lawn or Keyes
Turn Left on Harrison St.
We are on the corner of Harrison & Monroe Streets (the street level parking lot outside of the Trader Joe's doors is a public City of Madison lot & the side streets all have FREE 2 hour parking.
MONROE STREET IS OPEN FROM THE WEST
SELL US YOUR CDS & LPS: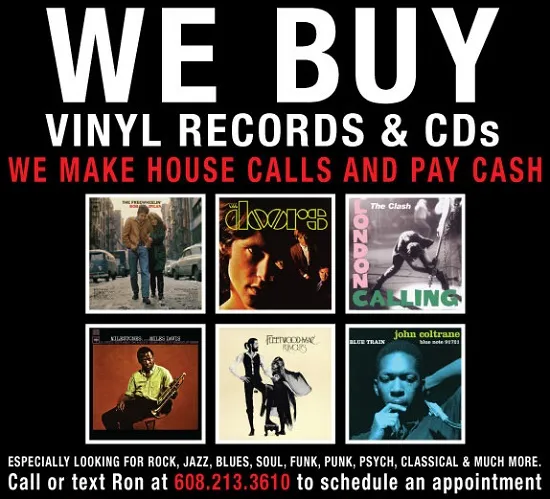 NEXT MUSIC TRIVIA TUESDAY AUGUST 28TH:
Our next MUSIC TRIVIA at the High Noon Saloon is Tuesday, August 28th. Registration starts at 5:30 with the first question from Angie and Marty at 6PM.

MONROE STREET FESTIVAL - SATURDAY, SEPTEMBER 22ND:
Save the date! The 41st annual Monroe Street Festival/Sidewalk Sale will be Saturday, September 22nd.

Ron, Ryan, Angie, Marty, Evan, Matt, Michael, Ben, Will, & Ed