July 26, 2018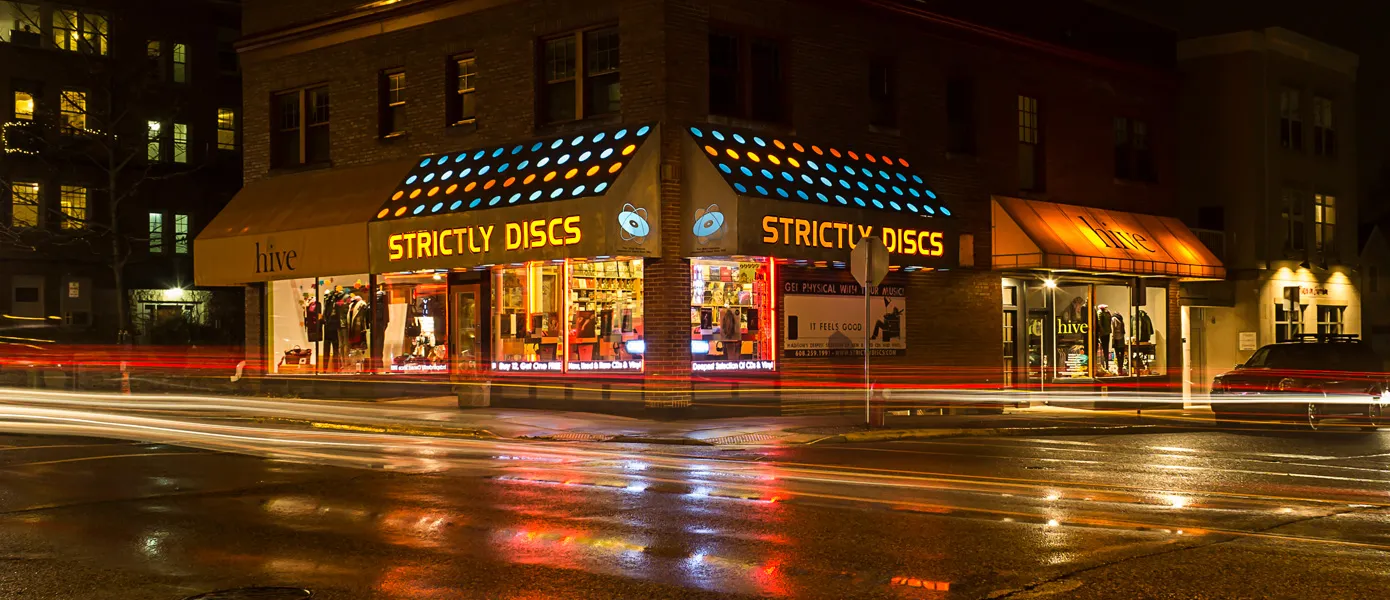 NEW THIS WEEK AT THE SHOP:
Independent hiphop institution Atmosphere collects his 'Sad Clown Bad Year' EPs, originally released in the late oughts, on a nice 4LP set that comes with crayons for you to color the cover in yourself. Nearly-institutionalized hiphop independent Kanye West sees his latest album 'Ye' hit the floor on wax, and at a very nice price I may add!
Boz Scaggs revisits the early 60s R&B sounds that influenced the beginning of his career on 'Out of the Blues', and we've got a jam-packed 2 CD set of Bob Dylan live recordings from 1962-1966.
New folk and indie in the shop includes a lush new album from Luluc, a very heartfelt Paul Simon-esque outing from Tony Molina, magical American primitive style guitar from Daniel Bachman, a new EP from the harmonizing sisters of Joseph, melodic postpunk from Chicago/Italy's Bellini, and the debut album from bedroom-pop sophisticate Rex Orange County. We've also got new releases from Cody Jinks, Deaf Wish, Israel Nash, Rise Against, and ShadowParty.
Green Day's Billie Joe Armstrong returns to his roots with his new band The Longshot, which goes back to the poppy streetpunk basics of 'Kerplunk' era GD. New Orleans sludge-dustrial kings Thou release the 1st of 3 albums coming out this year. Anywhere - the long-dormant stoner-rock supergroup that somehow includes Dale Crover from Nirvana, Krist Novoselic from Flipper, Cedric Bixler-Zavala from At The Drive In, Mike Watt from Sonic Youth, and Mario Rubalcaba from Clikitat Ikatowi, among many other names - returns with an album of delightfully woozy, bizarre psych. Iggy Pop and Underworld team up for 'Tea-Time Dub Encounter'.
A quartet of downright iconic 1980s punk acts get fantastic looking vinyl reissues this week. Gang of Four's 1990 career overview 'A Brief History of the 20th Century' chronicles their taut marriage of punk and the disco. Explosive and brief LA punk legends The Germs' debut album 'GI' is back on blue vinyl. Eternally underrated Australian surf-garage punks The Scientists see their final album, 1986's 'Weird Love' restored to vinyl by the Numero Group. Experimental dub-punkers Pere Ubu see their mid-80s compilation 'Terminal Tower' back in print on LP, collecting a slew of their early non-album singles, B-sides, and rarities.
We've got three more early Flaming Lips LPs in the house this week: 'Here It Is', 'Oh My Gawd!!', and 'Telepathic Surgery'. Early 70s UK pub-rock legends channel the Dead on 'Jug of Love', while an LP from Empool collects unheard mid-70s tracks from a band that would go onto become the Detroit art-rock legends Destroy All Monsters.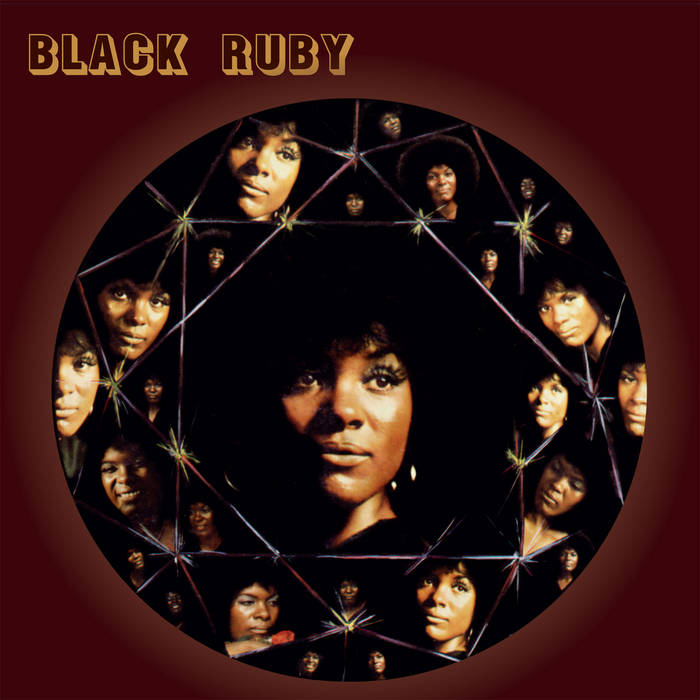 Soul and disco treasures abound this week as we see a repress of Ruby Andrews' 1972 rarity 'Black Ruby' come in on LP, plus an affordable pressing of 'High Fidelity', the incredibly catchy slab of NYC disco released in tiny quantities on the Queen Constance label in the late 70s that now sells for hundreds on Discogs. Speaking of expensive things, the Mr. Bongo label is quite keen at releasing rare disco, soul, and international dance music that would typically set you back a couple Ks, and they've collected a slew of them on their 'Record Club' volumes, of which we have the first two back in stock now. These are essential party-starting collections that also come with a nice bit of history lesson to them as well.
No shortage of smokers on the electronic front this week. Ross From Friends (yep) makes his album debut after a slew of digital and 12" releases that piqued a lot of interest. Oneohtrix Point Never has a new EP out called 'We'll Take It'. Huerco S' West Mineral label releases it's best LP yet from Pontiac Streator and Ulla Straus, an endlessly loopable session of humid dubby ambience called 'Chat'. Unparalleled soundscaper Donato Dozzy turns his efforts to acid to celebrate storied techno label Tresor's 303rd release. 1990 ambient breaks masterpiece 'Cameroon Massif' from the Ramjac Corporation gets a lovely repress. The timeless jazzy tech-house classic 'Orchestra of Bubbles' from Ellen Allien and Apparat is back in print on vinyl. Balearic house dude Dazion has a crucial new EP on Safe Trip, and Sophia Loizou expertly deconstructs grime on 'Irregular Territories'.
Two 70s avant-jazz delicacies are here on LP, Osamu Kitajima's 'Benzaiten' and Cecil McBee's 'Ultima', plus a new CD from jazz guitarist Mary Halvorson, and an incredible set of classic singles from golden voiced roots reggae legend Johnny Clarke!
ISTHMUS MADFAVES POLL - WE'D APPRECIATE YOUR VOTE!
Isthmus #MadFaves voting is live!
The poll is open through July 31 and we would LOVE your vote!
USED CD ALERT:
We've flipped over the entirety of the recent used cd arrivals area at the front door. Here's the rundown on this week's used cds. The initials EC take precedence, with a grip of classic early Attractions material as well as two multi-disc Clapton sets, including the 3CD Layla bonanza. Rough raw Detroit scuzziness from Iggy, The Dirtbombs and Andre Williams are augmented by a couple choice funk comps from the hotly-tipped German imprint Trikont. Don't overlook stray gems from the New York Dolls, Nick Cave and Thundercat, as well as a number of meat and potatoes albums we see all the time that seem to sell all the time as well. Watch this space for a whole new batch next week of the deepest and cleanest used CD selection.
USED VINYL ALERT:
Heading downstairs for this week's Used Vinyl Alert, we have a heavy spread of fresh LP arrivals for the perusal, with special emphasis on soul and funk, new wave and punk, blues and jazz.

Funk and disco fans are in for a treat this week, with a lengthy selection of some classic, seldom seen titles in very great shape. Check out names like Zapp, Dennis Coffey, George Clinton, Inner Life, the Kay-gees, Biddu Orchestra, The Originals, Omni, Trussell, Ecstasy Passion & Pain, D-Train, Faze-O, Belle Epoque, Norman Connors, White Heat, Sunbear, Sweet Charles, and Con Funk Shun! On top of that, we've got some nice first press James Brown burners, and big ones from the Brothers Johnson, Richie Havens, Michael Jackson, Kurtis Blow, the Commodores, Earth Wind and Fire, Archie Bell and the Drells, Prince, Stevie Wonder, and Otis Redding.

Many of our favorite rock names are here this week, including the Grateful Dead and Jerry Garcia solo, several from Led Zeppelin including some bootlegs, rare pressings of the Rolling Stones, the Velvet Underground, and David Bowie, plus classics from Jimi Hendrix, the Beatles, Fleetwood Mac, T. Rex, Frank Zappa, Neil Young, Sir Doug, Flying Burrito Brothers, Paul Simon, Fairport Convention, ELP, George Harrison and Macca solo, plus a couple nice ones from Brian Ferry, Cheap Trick, Peter Gabriel, and Tracy Chapman.

Punk and wave comes through from the Talking Heads, the Eurythmics, the Ramones, Voivod, Weird Al, Tom Tom Club, the Stranglers, Psychedelic Furs, INXS, Devo, the Dead Kennedys, the Sex Pistols, plus a interesting assortment of obscure compilations, and some 90s punk/grind.

Glam, hair and heavy metal this week comes from Iron Maiden, Voivod, Vinnie Vincent, Black Sabbath, Queensryche, White Wolf, Kiss, Bon Jovi, Van Halen, a fellow named Thor, and many, many more.

Jazz this week includes Paul Desmond, John McLaughlin, Chico Freeman, Ben Sidran, Bill Evans, Miles Davis, Thelonious Monk, Dizzy Gillespie, Dave Brubeck and John Coltrane.

Blues of all kinds is here this week, including some cool obscurities and compilations, and LPs from Queen Ida, Troy Turner, Big Joe Williams, Jimmy Witherspoon, Otis Spann, Sippie Wallace, Papa George Lightfoot, Andre Williams, and BB King. We've also got several of the big names in country in vast amounts. Check out LPs from Willie Nelson, Dolly Parton, Hank Williams, Bob Wills, Waylon Jennings, and Dwight Yoakam.

Newer LPs are here from Jason Isbell, Beck, Lapsley, My Morning Jacket, Badbadnotgood, and Isis, plus a heavy selection of other contemporary LPs in the indie, electronic, hiphop and metal realms.

Lastly, we wrap up with a bunch of classic soundtracks including a lot of Star Wars records. Reggae from Bob Marley, Jimmy Cliff and several essential compilations. Folkways comps of the Georgia Sea Island singers. Classic African LPs from King Sunny Ade and Youssou N'Dour, some incredible rare LPs of Turkish traditional music, ambient from Beaver & Krause, and much, much more!
WAREHOUSE POP-UP EVENT/SALE - AUGUST 23 - SAVE THE DATE: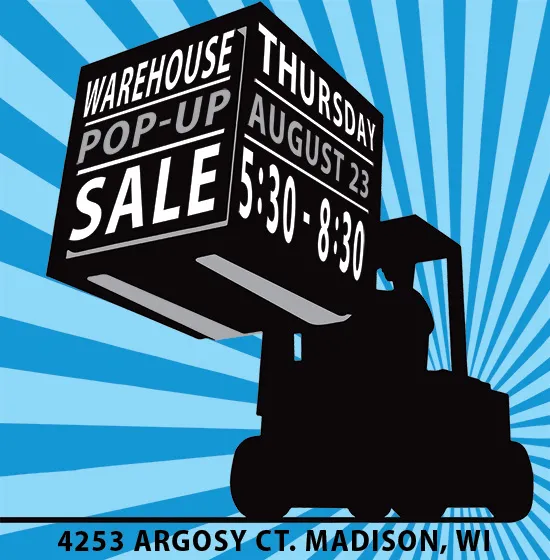 MONROE STREET CONSTRUCTION UPDATE:
Thank you for making the trip to come and see us; we appreciate it!

DIRECTIONS FROM REGENT/EAST:
From Regent Street:
Continue on Regent through the Monroe St intersection
Turn Left on SPOONER ST
Turn Right on West Lawn or Keyes
Turn Left on Harrison St.
We are on the corner of Harrison & Monroe Streets (the street level parking lot outside of the Trader Joe's doors is a public City of Madison lot & the side streets all have FREE 2 hour parking.
MONROE STREET IS OPEN FROM THE WEST
SELL US YOUR CDS & LPS: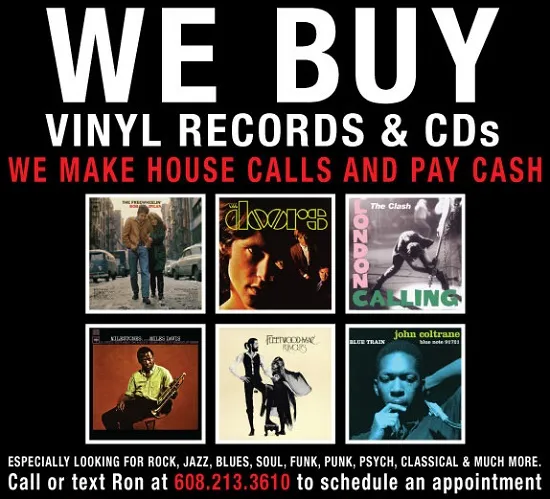 NEXT MUSIC TRIVIA TUESDAY AUGUST 28TH:
Our next MUSIC TRIVIA at the High Noon Saloon is Tuesday, August 28th. Registration starts at 5:30 with the first question from Angie and Marty at 6PM.

MONROE STREET FESTIVAL - SATURDAY, SEPTEMBER 22ND:
Save the date! The 41st annual Monroe Street Festival/Sidewalk Sale will be Saturday, September 22nd.

Ron, Ryan, Angie, Marty, Evan, Matt, Michael, Ben, Will, & Ed