July 19, 2018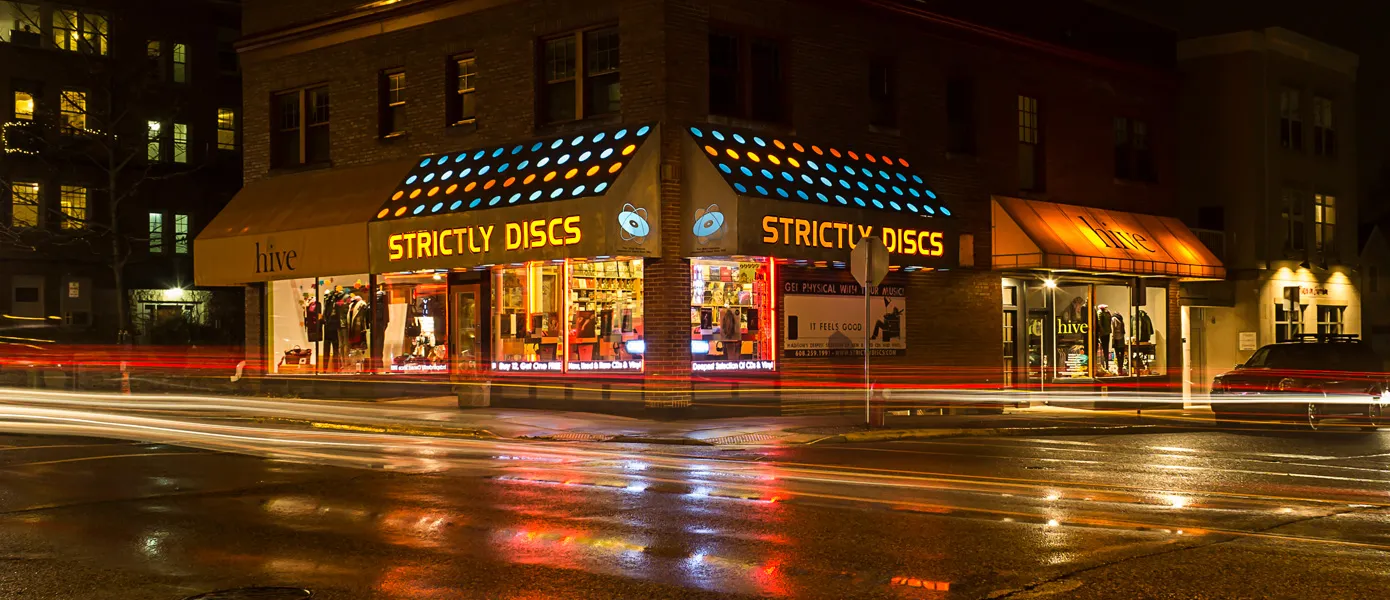 NEW THIS WEEK AT THE SHOP:


Two different sides of the Americana coin bring us new albums this week. The Punch Brothers, led by songwriter and now variety show host Chris Thile, deliver 'All Ashore', one of their most eclectic and political albums yet. Bay Area rock aristocrats Ty Segall and Tim Presley (aka White Fence) get together for the first time since 2012's 'Hair', on a clever album that channels The Who, Beefheart and the Chocolate Watch Band with a flair that only these pop savants can wrangle.




Some huge new hip-hop hits the racks this week. After a thoroughly perplexing promo rollout, Kanye West's latest missive, 'Ye', arrives on CD (the LP will be here next week). Despite his efforts to convince us he's totally lost his way, this is a concise reminder of his brilliance. Perhaps easier to get on board with is the jam packed new album from The Internet, the funky soul spinoff unit of the Odd Future axis. Snappy beats and warm vibes provide the backing for Syd the Kyd's elastic, jubilant vocals here on 'Hive Mind'. We've also got a new album from Apollo Brown, and a vinyl version of Migos' radio-wave dominating 'Culture 2'.




Big hip-hop reissue LPs this week include Notorious BIG's 'Greatest Hits', Phracyde's 'Labcabincalifornia', two from Masta Ace, 'Sittin on Chrome' and 'Slaughtahouse', and Tone Loc's 'Loc-ed After Dark'.


Beloved folkies Eliza Gilkyson and Nathan Salsburg each deliver delightful new CDs this week. We've also got a new CD from longtime UK trippy popsters Pram that provides a refreshing revamp of their catchy, jazzified sound, and a CD repress of the incredibly underrated 1993 album from darkwavers Lycia, 'A Day In the Stark Corner', which predicts about half the output of the Sacred Bones label by a decade.



Before the rediscovery and redistribution of his catalog, Arthur Russell's posthumous compilation on Soul Jazz was the finest introduction to his vast body of work. In fact, 'The World Of Arthur Russell' is probably single-handedly responsible for bringing his art back to wider acclaim. Touching on many of his dance-oriented classics like 'Go Bang' and 'Is It All Over My Face?', the set also delves into Russell's forays into wan, confessional pop ('A Little Lost'), freeform funk ('In the Light of the Miracle'), and playful minimalism ('Treehouse'). If you've never taken the plunge on Arthur, now is the time! In the house on CD and LP. We've also got an unearthed, seldom-heard performance of Steve Reich's 'Drumming' on 2CDs. This is a big one!




On the heels of the deluxe CD sets, we now have the very much needed vinyl represses of Wire's legendary first three albums. 'Pink Flag', 'Chairs Missing' and '154' typically set you back north of $50, until now. Just as essential is the early Spacemen 3 document, 'Taking Drugs To Make Music to Take Drugs To', as aptly titled an album as has ever existed, previously only available as a hard to find bootleg, now cleaned up and in the house on gatefold vinyl.




The Dark Entries label drops two nice ones on us this week. Yet another hidden gem from Greek art-pop genius Lena Platonos, 'Lepidoptera' came out in 1986, and is just as heavily laden with peculiar, lovely synthpop and Kate Bush/Laurie Anderson moves as the prior LPs DE has revealed. Equally enticing is the 1979 LP from Richard Wahnfried, an alias of Klaus Schulze working alongside vocalist and super freak Arthur Brown (yes, of 'Fire!' fame). 'Time Actor' is an incredible document of Berlin School synthesis bent towards psychedelic ends; a truly cosmic delight that has few peers.




Remastered LPs of Mulatu Astatke's pitch-perfect Ethio-jazz classics 'Afro-Latin Soul' Volumes 1 and 2 are both here, as well as a CD combining the two, with new liner notes from Astatke himself. We've also got a repress of a sweet jazz LP that's been hard to take off the player this week. Pianist Georges-Edouard Nouel's 'Chodo' is a soul-jazz rarity heard by few; a babbling brook of Fender organ and lively percussion that's straight out of the latter-period Soft Machine style, or Abdullah Ibrahim's late 70s spiritual trips.




Underground guitar-pop pioneer Hamish Kilgour (of The Clean) continues to bang out jangly classics on 'Finklestein', while Olympia's Table Sugar deliver a very addicting dose of Raincoats-style agit-pop postpunk on 'Collected Acknowledgments'.




Ben Folds Five's 'Complete Sessions at West 54th Street' is in the house on blue vinyl, and we've got a color vinyl repress of Pedro the Lion's classic 'Winners Never Quit'.

In anticipation of a new album from him this fall, two early diamonds of the Tim Hecker catalog hit vinyl for the first time in many moons. 'Haunt Me Haunt Me Do It Again' and 'Radio Amor' are crystalline examples of the budding Hecker sound, released before 'Harmony in Ultraviolet' blew everyone's mind.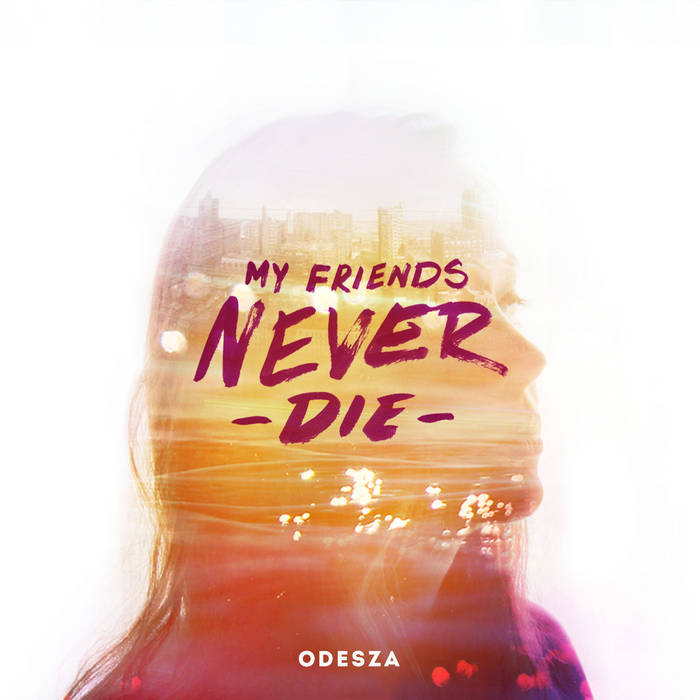 Two early digital or CD-only releases from electro-pop megastars Odesza are on LP for the first time: 'Summer's Gone' and 'My Friends Never Die'.




Woop woop, Brazil alert! We've got affordable copies of four essential psych/pop/bossa gems this week: Caetano Veloso's 1968 self-titled world-shaker and and 1972's 'Transa', Jorge Ben's 'A Tabua de Esmerelda', and Gal Costa's 'Legal'!




We've got the funk covered this week with reissues of rarities from Florida's Randolph Baker and Nigeria's Super Elcados.




On the ambient front, check out an incredible underwater trip courtesy of Italian trio Cabaret du Ciel; 'Skies in the Mirror' is a reissue of a rare early 90s cassette and seems to drift on eternally. Same goes for 'Guarda In Alto OST', a new LP of soundtrack work from Sun Araw.




Two of the finest full-length 'producer albums' to be released in the last handful of years have also been two of the hardest to snag actual copies of, but as of now we've got both in stock. Chicago house pioneer Mr. Fingers' remarkable return to form, 'Cerebral Hemispheres' is a sprawling sampler of his feather-light boogie funk and ambient house trips. Also worth every penny is '2845', the startling reappearance of Texas underground electro genius Convextion, a cosmically-oriented techno album that sounds like it was retrieved from light years outside of our realm. We've also got represses of the stone-classic Rhythm and Sound 'With Artists' and 'Versions' LPs, a new record from Johnny Jewel of the Chromatics, new records from Robert Hood and Buttechno, and a pair of raving-mad Rephlex-era IDM belters from 90s techno unit D'Arcangelo.


We've flipped over the entirety of the recent used cd arrivals area at the front door. There's a nice influx of jazz, with a heap of Weather Report-related newbies, a few Blue Note releases, and a pair of titles from multi-instrument phenomenon Rahsaan Roland Kirk. Lot of post-Syd Pink Floyd this week, along with Uncle Tupelo, Queen and Air. Scattered gems include Augustus Pablo "Original Rockers"; Frank Ocean "Channel Orange"; Buzzcocks "Singles Going Steady"; and criminally underrated "Small Talk" by Sly Stone. Watch this space for a whole new batch next week of the deepest and cleanest used CD selection.
USED VINYL ALERT:
Heading downstairs for this week's Used Vinyl Alert, its an extremely heavy haul awaiting you this weekend! We have some seriously impressive slabs in the house from rock, blues and folk, to jazz, electronic, rap and soul. Plus all those pesky genres in between! Read on for the lowdown.

Rare and essential jazz abounds this week, including many titles from Miles Davis, Gato Barbieri, Melvin Sparks, Eddie Harris, John Coltrane, Eric Dolphy, Gabor Szabo, Chick Corea, Bill Dixon, Ron Carter, Sonny Rollins, McCoy Tyner, Coleman Hawkins, Nina Simone, Pretty Purdie, Keith Jarrett, Willis Jackson, Alphonse Mouzon, Leon Thomas, Wayne Shorter, Bobby Hutcherson, Gene Russell, Eddie Higgins, Ramsey Lewis, Bud Powell, Lenny White, Yusef Lateef, Bill Evans, and Thelonious Monk.

Blues of several eras is here this go round, including lovely LPs from Sweet Emma, Stevie Ray Vaughan, Professor Longhair, Son House, Blind Willie McTell, Etta James, Ramblin Jack Elliott, Bessie Smith, Dave Alexander, and Dr. John. Folk, country and the like come through from Terry Melcher, Bobby Bare, Judee Sill, Johnny Cash, Van Dyke Parks, John Prine, Norman Blake, Bill Keith, Doc and Merle Watson, Patsy Cline and Arlo Guthrie.

Big names in rock and roll are here such as the Beatles, the Band, the Stones, Frank Zappa, Bob Dylan, Jimi Hendrix, Van Morrison, the Grateful Dead, David Bowie, Neil Young, Velvet Underground, Leonard Cohen, and Pink Floyd. We've got cheap classics from Abba, Steely Dan, the Animals, Bruce Springsteen, the Allmans, the Byrds, Joni Mitchell, the Monkees, Harry Nilsson, Tom Petty and many many more, plus some more rarely seen titles from Roy Harper, Summerhill, SRC, Anna Black, Pearls Before Swine, Sunblind Lion, Bonzo Dog Band, the Baroques, Baby, Freedom, and The Nice.

New wave and synthy stuff is here from Gene Loves Jezebel, the Buggles, Plastic Bertrand, Prefab Sprout, Positive Noise, PIL, The Sound, the Mighty Lemon Drops, and Gary Numan. We've got a deep and scattered selection of 80s/90s house and electro 12"s, a slew of titles from the Modern Love label, including Andy Stott, Vatican Shadow, Miles, and Turinn, and a great selection of 20th century avant garde from Klaus Schulze, Morton Subotnick, Vangelis, Stockhausen, Bruce Haack, Kurt Weill, and Wendy Carlos, plus more recent purveyors of same like Laraaji, Body/Head, and Julia Holter.

More recent releases are here from Head and the Heart, Dr. Dog, Future Islands, Fleet Foxes, Iron and Wine, Grimes, Beach House, Father John Misty, Beck, Andrew Bird, St. Vincent, Neutral Milk Hotel, Flaming Lips, Dead Weather, Puscifer, Charlotte Gainsbourg, Ride and Bad Religion, plus we've got the great Late Night Tales compilations from Four Tet, Nils Frahm, and Jon Hopkins.

Soul and funk is here from Otis Redding, the Barkays, Solomon Burke, James Brown, Brook Benton, Roy Ayers, Keith Sweat, Michael Wycoff, the Universal Robot Band, Donna Summer, and Lou Rawls. We take you back a bit with hiphop from Nice and Smooth, Young Jeezy, the Beastie Boys, Trina, Cappadonna, Shawnna, Camron, the Roots, Christina Milian, Twista, Group Home, Souls of Mischief, and Foxy Brown, plus some critical reggae from Peter Tosh, Eddy Grant, Jimmy Cliff, Bob Marley, Toots and the Maytals, and a couple of great compilations like the Countryman soundtrack and many more.

Throw in plenty of bargain mysteries, soundtracks of all eras, and children's records, and you've got quite a bit to digest this weekend. We'll see you in the shop!

WAREHOUSE POP-UP EVENT - AUGUST 23 - SAVE THE DATE: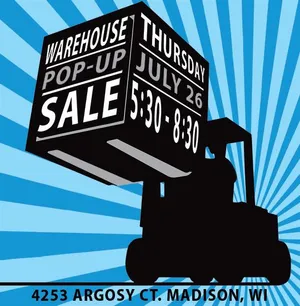 Here comes another party! Last month's warehouse pop-up was such a blast that we're gonna do it again next Thursday, July 26. If you came out to the last one, you'll recall that it turned into quite a nice little block party in the expansive parking lot, the likes of which we can't really have on our busy street, especially with all these trucks truckin' around. Delicious beer, mellow tunes, plenty of spots to sit down and relax, and ping pong! What more do you need? Oh yeah, how about 1,000s of bargain LPs, CDs, and other musical ephemera for browsing outside, plus a killer selection of rarer LPs inside the warehouse?

In addition to the thousands of bargain digs outside, we'll be pricing up hundreds of 45s from our recent large collection buys: lots of cheap classics and obscure rarities in the mix here! We've also got a pretty eye-popping selection of like new/barely used contemporary LPs across several genres: indie, classic rock and pop, electronic, and many more, including plenty of titles that are already very much out of print!

Beyond that, the skies the limit: we've got a hoarder's paradise of books and DVDs, including full season and series-runs of TV shows, as well as concert films, niche and foreign cinema; deep selections of rare and cheap books covering any and all music plus some other underground topics; and all the vintage gear we can't fit in the basement - turntables, speakers and receivers, ranging in price from entry level to audiophile.

Lastly, fear not: the pop up will have a ton of great records but we will STILL be doing our usual Used Vinyl Alert with the same amount of great fresh arrivals the following Friday. So cruise out to our home away from home and prepare to dig. Bring the family, bring a date, or just bring a big box to haul away the deals. We'll see you Thursday evening!

 MONROE STREET CONSTRUCTION UPDATE:
Thank you for making the trip to come and see us; we appreciate it!

DIRECTIONS FROM REGENT/EAST:
From Regent Street:
Continue on Regent through the Monroe St intersection
Turn Left on SPOONER ST
Turn Right on West Lawn or Keyes
Turn Left on Harrison St.
We are on the corner of Harrison & Monroe Streets (the street level parking lot outside of the Trader Joe's doors is a public City of Madison lot & the side streets all have FREE 2 hour parking.
MONROE STREET IS OPEN FROM THE WEST
SELL US YOUR CDS & LPS:
NEXT MUSIC TRIVIA TUESDAY AUGUST 28TH:
Our next MUSIC TRIVIA at the High Noon Saloon is Tuesday, August 28th. Registration starts at 5:30 with the first question from Angie and Marty at 6PM.

OTHERS TALK BACK:
This isn't the spot to lay down odds on the third race. OTB is where Others Talk Back and give you the lowdown on what they've been feeling lately. This one's for the customers.
Jason Isbell – "Sirens of the Ditch"  This album first came out in 2007, and has been remastered and expanded with four additional cuts.  I have always followed Mr. Isbell since the Drive By Trucker days, but when I listened to this album I really had no recollection of hearing it before.  Even though it was his first solo album after leaving the Truckers, none of the songs registered that I had heard them before.  I know I listened to it when it came out in July 2007, and I know that I have the original album, but it was like I had never heard it before.  My fresh ears found this a delightful album, probably one of his best before 2013's "Southeastern" and the albums after that.  The album is split between heartfelt slower songs and rocking faster songs.  About the only complaint that I have is that the songs can be a bit verbose.  Mr. Isbell had not developed the economical way of lyric writing that he found with "Southeastern." And that is only the complaint that I have, and that is a minor one.  This eleven year old album has gem after gem on it, and it really was a lost treasure until this reissue. - Ted Talks
Jayhawks- "Back Roads and Abandoned Motels"  The Jayhawks played a great concert just a few weeks ago in Madison, right before the fireworks downtown.  They played several songs from this album which wetted my appetite for hearing the album.  All the songs on this album, with the exception of two originals, were co-written by Gary Louris, the main songwriter, guitarist and vocalist of the Jayhawks, with other performers.    Performers like the Dixie Chicks, Jakob Dylan, Ari Hest, Carrie Rodriquez and others.  Even though most of the songs were not written for the Jayhawks and most had been released by other performers, they fit seamlessly into the Jayhawks oeuvre effortlessly.  The band's performance made these songs Jayhawks songs.    And "Back Roads and Abandoned Motels" is their best album since 2011's "Mockingbird Time."  Twenty-two years after the first Jayhawks album, and this album shows that the Jayhawks are still going strong. - Ted Talks
MONROE STREET FESTIVAL - SATURDAY, SEPTEMBER 22ND:
Save the date! The 41st annual Monroe Street Festival/Sidewalk Sale will be Saturday, September 22nd.

Ron, Ryan, Angie, Marty, Evan, Matt, Michael, Ben, Will, & Ed